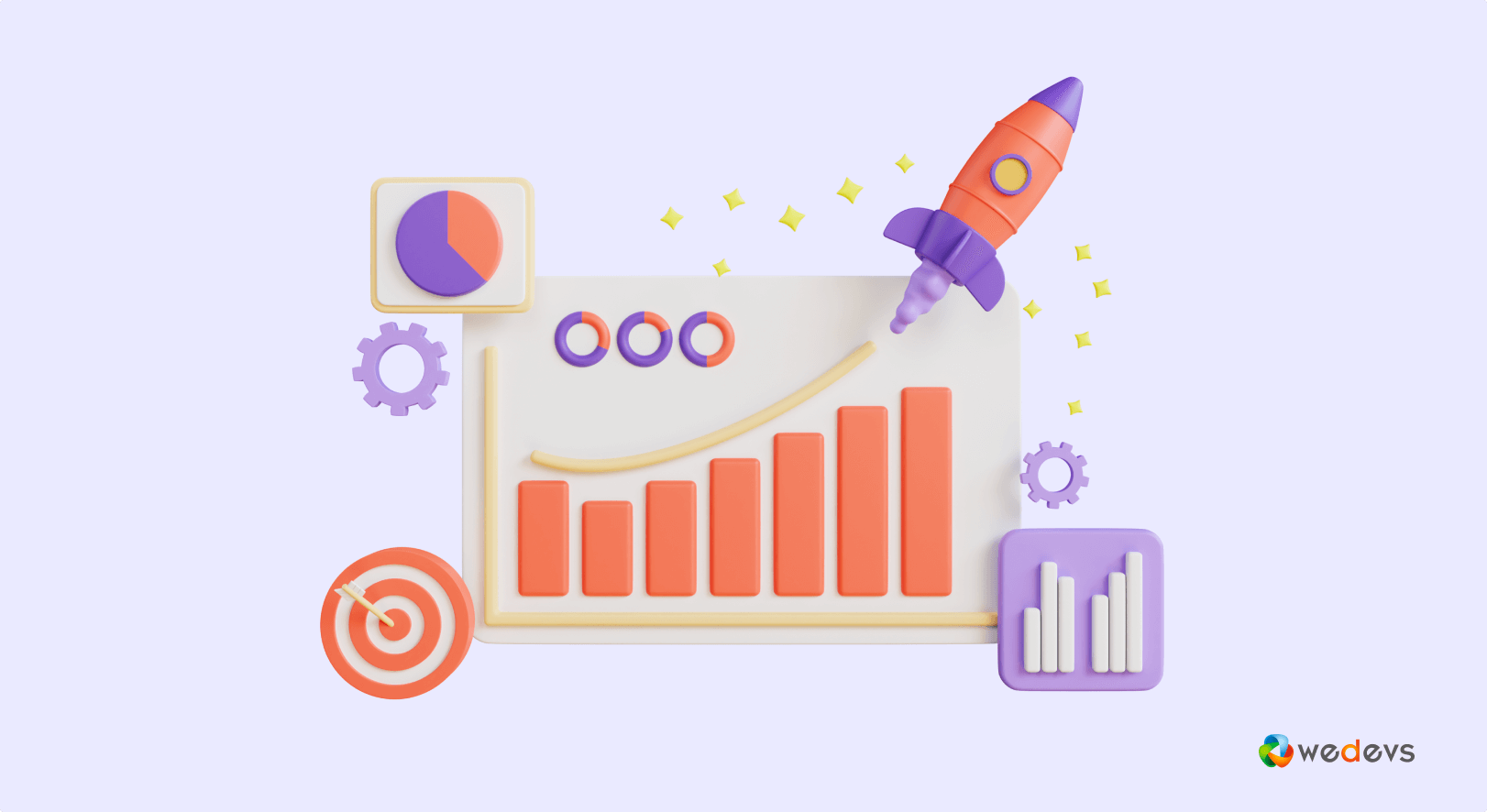 20+ Best Marketing Channels to Increase Your eCommerce Brand Exposure
With the growing competition in the eCommerce space (about 22-25 million eCommerce websites exist today), it is hard to stand out. Reaching the heights of Amazon, eBay, etc may be tough but if you utilize the best marketing channels then you can taste success.
Marketing channel refers to the medium or platform through which a company promotes its products or services to reach potential customers.
Companies that use multichannel marketing experience 3x higher effectiveness rates than those that use non-integrated campaigns.

heinzmarketing
Marketing channels are divided into two groups:
Paid channels: Where you spend money to show advertisements to potential customers.
Organic channels: Where you create and share content without direct payment to anyone via email or social media.
Today we will list the top marketing channels so that eCommerce businesses can utilize them to accelerate their growth.
Let's get started.
22 Best Marketing Channels for eCommerce Businesses That Convert
After doing extensive research, we have created a list of the best marketing channels. Some of those marketing channels are free and some eCommerce business owners need to pay.
Here is the list of the marketing channels-
Marketing Channel: Organic
Email Marketing
Social media marketing
Content marketing
SEO
Affiliate marketing
Partnership marketing
Referral marketing
Podcast
Word of Mouth
Community-Based Marketing
Cause Marketing
Webinar Marketing
Conversational Marketing
Marketing Channel: Paid
SMS
Direct-mail marketing
Paid ads
Events marketing
Influencer marketing
PR
Print Media Marketing
TV
Radio
Let's get to know them in detail, shall we?
1. Email Marketing
When business owners engage with customers via email, that is email marketing. This is one of the most popular and proven marketing channels amongst marketers. You can use email marketing to send alerts about a new product launch or release updates, holiday promotions, or any important news regarding your business.
You should send these emails when customers join your email list or after they complete checkout.
Before sending emails, you need to collect email addresses and build an email list. You can do that by creating engaging newsletter signup forms. Also, you can offer incentives that customers can't resist but signup to your email list.

You can see the example of Seafolly. Their email newsletter offers customers a $20 reward to spend on their next purchase. Along with providing value, this offer surely helps customers signup for their email list.
2. Social Media Marketing
Next up in the best marketing channels list is social media marketing. There are different social media platforms like Facebook, Instagram, TikTok, Twitter, Reddit, Quora, etc. If you can utilize the platforms the right way, then you can surely create a strong brand impression for your business.
There are currently 4.59 billion social media users worldwide.
For that, you need to create great visuals (content+video), write compelling social copies, and post them at the right time to get engagement. Social media will help you grow a following and build a relationship through the community.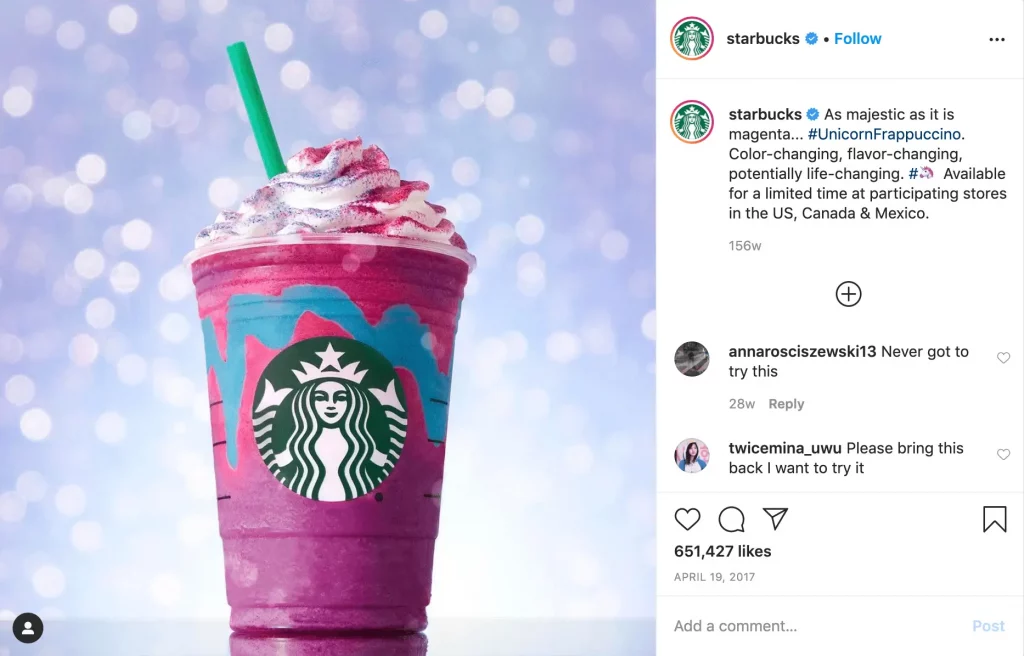 Here is an example from Starbucks. The company promoted its new drink, gigantic pink iced coffee, which looked amazing in Instagram photos. Instagram users shared their photos with the #unicornfrappuccino hashtag willingly, the number of publications with the hashtag is almost 155,000. But most importantly, this one-week campaign allowed Starbucks to raise its global sales by 3% for the second quarter of 2017.
You can even take the help of AI tools to write engaging social copies. But remember to add a human touch to your copies so that it sits perfectly with the audience.
Read more: How to Create a Fruitful Social Media Content Workflow in 2022.
3. Content Marketing
So after attracting customers through email marketing and social media marketing, next you need to engage customers through your website. And the best way to do that is by creating organic (non-paid) content. This is content marketing.
You can educate your customers through blogs, videos, podcasts, etc. That way the customers will get a detailed idea about your products and enable them to buy your products. Other than driving traffic to your eCommerce website, content marketing can help create trust among your audience.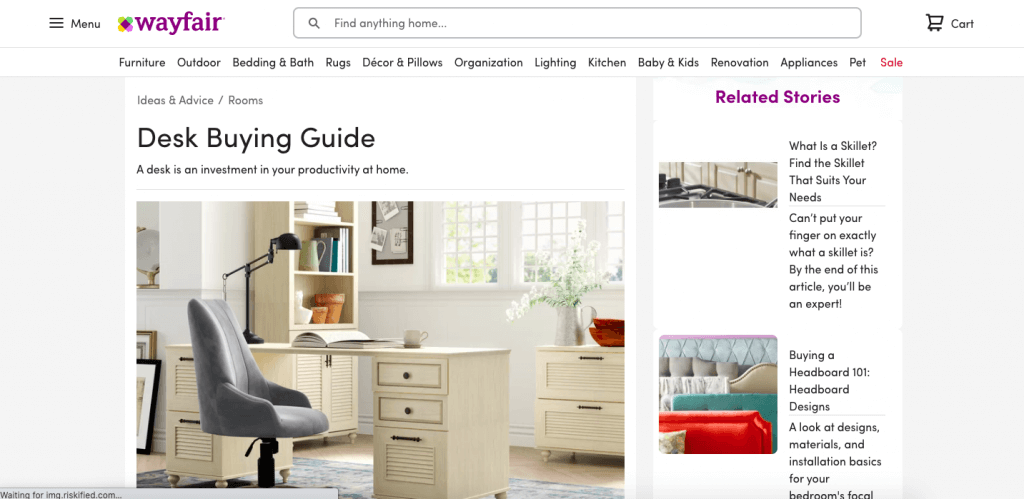 Here is an example from Wayfair. They have utilized their content marketing by creating buyer guides that help customers to learn about their products. They are able to connect to their audience by answering the question before customers are even asking.
4. SEO
If you have blog posts or a webpage, and you want those to turn up in search results in Google, Bing, and other search engines, that is the process of SEO or Search Engine Optimization. The higher up your page is in the search results, the better chance you have to drive relevant traffic to your website.
For example, if a person is searching for a "black Google Pixel Case" they might intend to make a purchase. To sell your product your webpage should be optimized to fulfill their need.
As you can see, when you search for that term, Amazon comes to the top of the search results.
If you want to learn more about eCommerce SEO, then you can click the link to know how eCommerce SEO works.
5. SMS Marketing
SMS marketing is when an eCommerce business sends direct messages to its customers. This marketing channel requires customers to sign up and provide their numbers. This is a very personal channel. However, the direct nature of SMS marketing makes it the most effective.
But the best way to utilize this marketing channel is to send SMS without annoying the customers and only when you have something important to say.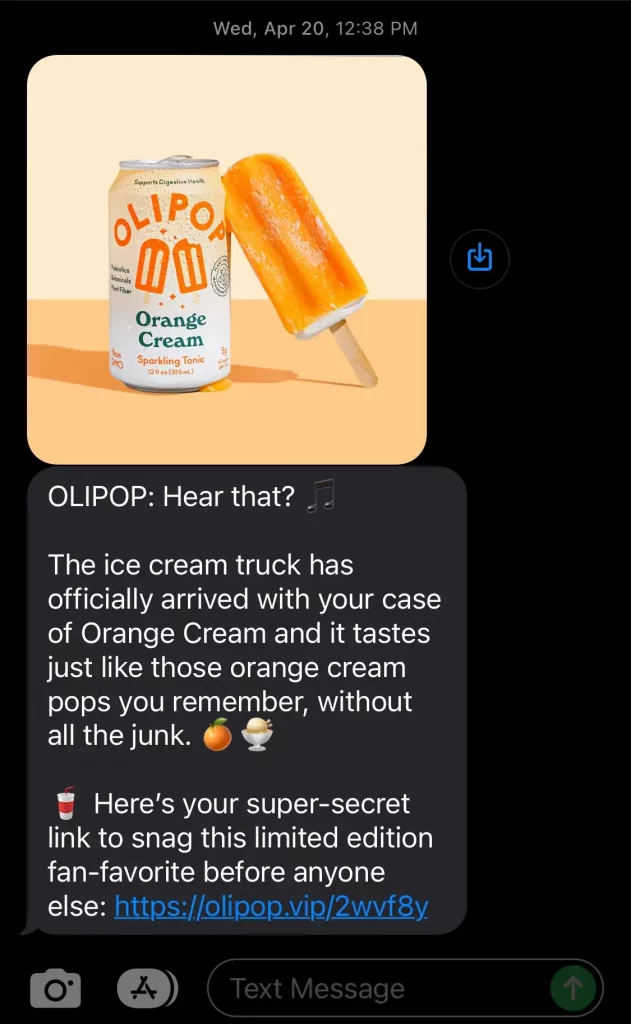 Olipop uses SMS marketing to tell its audience about new flavors and limited edition releases. Its SMS strategy sees great traction: one launch made the brand around $30,000 in 15 minutes.
6. Direct-mail Marketing
When eCommerce businesses send physical items through the mail is called direct mail. Direct mail marketing can vary from business to business. Some direct mail campaigns feature a postcard with a coupon code, others might announce a new product or a sale. Many brands still opt to send full catalogs.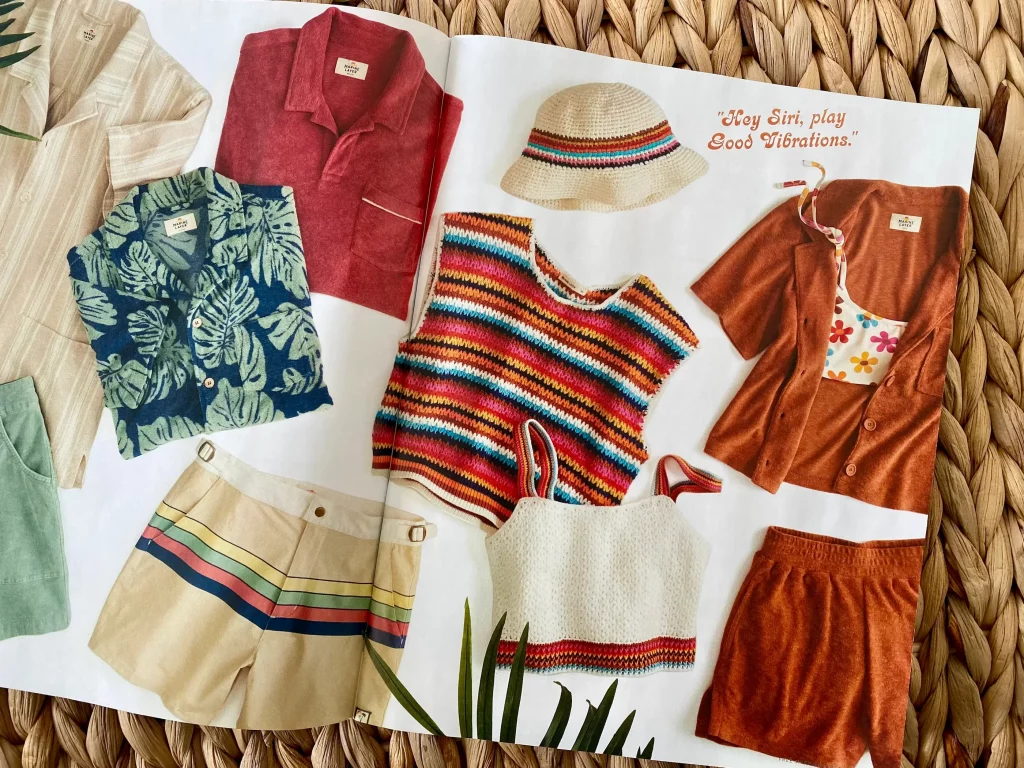 Marine Layer sends colorful catalogs that feature selections from the brand's new seasonal collections.
7. Paid ads
Showing advertisements on social platforms like Facebook, Instagram, or TikTok is called paid marketing. It can help you grow your eCommerce business by driving a stream of visitors to your website. However, paid ads also known as display advertising have their own risks.
The expense of paid ads has skyrocketed in recent years. Also, it is not a stable form of marketing as organic traffic grows steadily over time.
There is another form of marketing that is called Search Engine Marketing. This is where you pay a search engine like Google to show up above all other results and to drive traffic back to your website. Unlike organic SEO, paid search engine marketing means you'll top all other organic results for the same search term.
8. Affiliate Marketing
Affiliate marketing is where people earn money through commissions by displaying products from other brands. There are many people who earn their livelihood by doing affiliate marketing. For example, a food blogger can promote a food brand or restaurant by listing its products on its site or social handles. If a reader purchases a product from their site then they will get a commission.
This helps customers buy products as they know they are buying products from someone they trust and know.
Read more: 7 Affiliate Marketing Hacks You Must Know Before You Start!
9. Events Marketing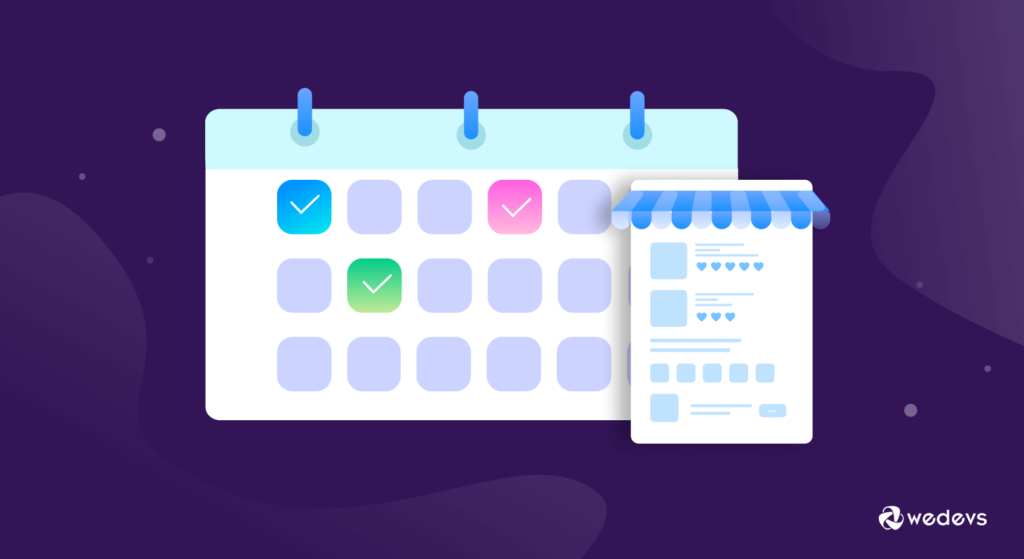 If you can get your product in front of a live audience and receive feedback, then it will surely help your brand. You will know what marketing messages are working, and what people are thinking about your products and act accordingly.
Whether it is the farmers market, trade show, craft fair, or any other type of event, you can go and present your product in front of an audience. That is called event marketing.
Events don't have to be live, you can host virtual events to promote your business.
Related resource: How to Build a Multivendor Event Marketplace Website with Dokan.
10. Partnership Marketing
When businesses partner with other businesses to promote their products, that is called partnership marketing. For an eCommerce business, this could include product collaboration, promotional videos, guest posts, etc.
Normally businesses partners with other businesses that are not their direct competitors but have relevancy. For example, popular mattress company Casper partnered with high-end furniture brand West Elm so shoppers could try out its comfy mattress on the latter's chic bedroom furniture before purchasing.
11. Referral Marketing
Customers tend to believe in their family and friend way more than believing in paid ads and content. That is why referral marketing has proven to be so effective. This marketing channel encourages people to share their brand's name, products, or website with those they know well.
To further your cause, you can propose rewards to the customers who refer your brand. Referral marketing campaigns can reward both the person making the referral and the new customer.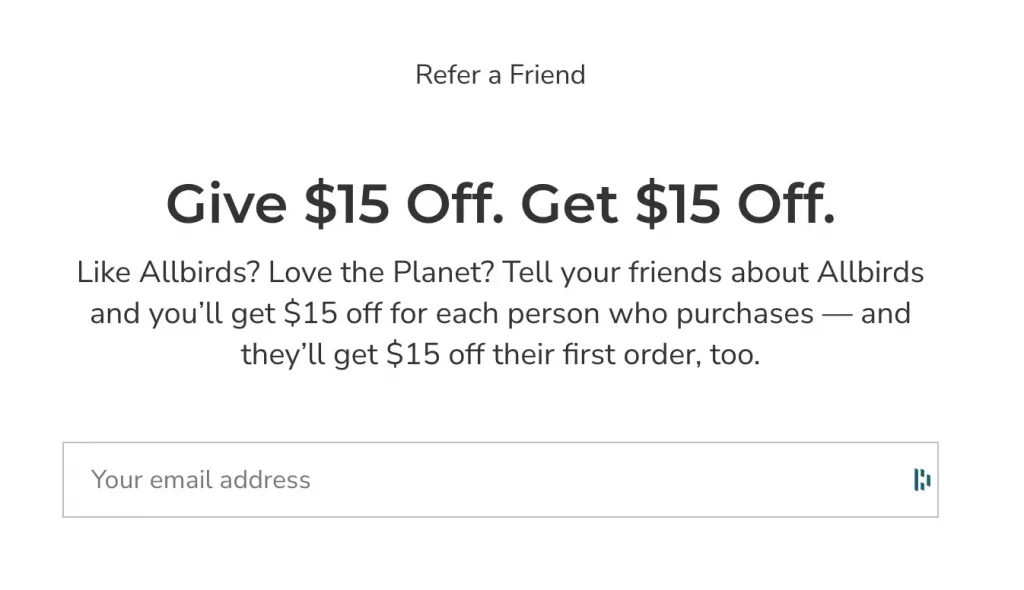 For instance, Allbirds gives you $15 off for each person who purchases through your referral and the new customer also gets $15 off their first order.
12. Influencer Marketing
Next of the best marketing channels is promoting your brand through famous personalities or social media influencers, called influencer marketing. You will see that many brands contact influencers who are popular in the community and pay them to promote their products.
For example, if a restaurant wants to promote its food, it will contact any famous food blogger and pay them or give other incentives to promote its food.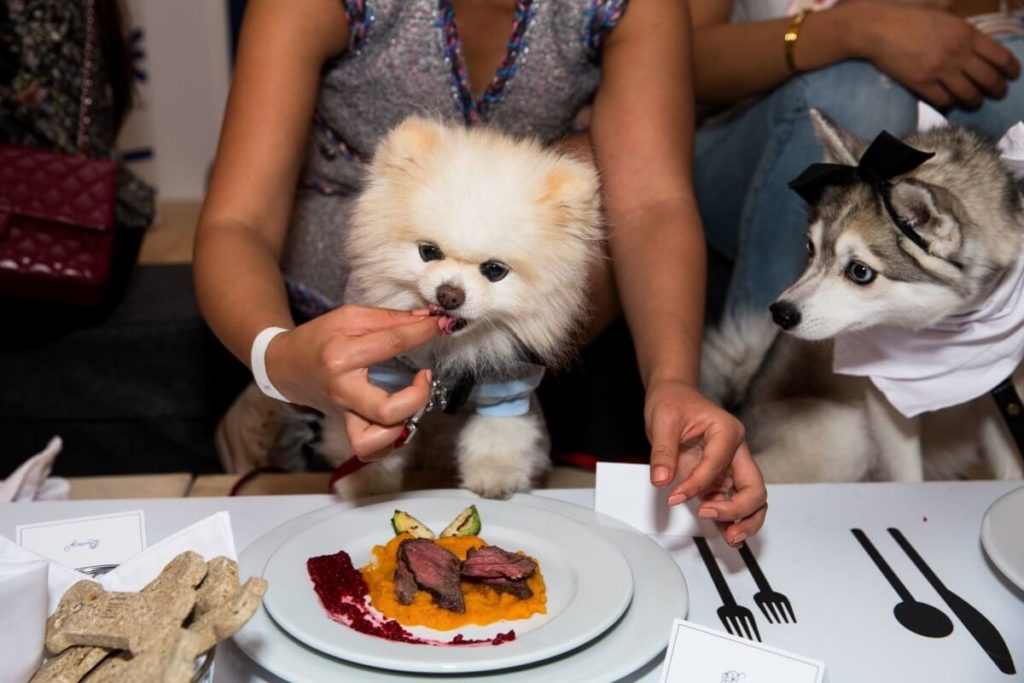 For example, the eCommerce mattress company Casper worked with several canine influencers to promote a new product for their customer's dogs. Twenty influencers with a combined following of more than 3.5 million dog lovers were invited.
13. PR Marketing
You can reach out to popular media networks so that they can cover your business or product. If your product is new and unique and can solve a really complicated problem then you can use this marketing channel.
So these are the best marketing channel you as an eCommerce business owner can use to reach out to the audience and improve their brand value.
Read more: Why eCommerce Businesses Fail & How to Resolve Them.
14. Podcast Marketing
If you have business in the USA, then you should consider Podcast marketing. Because, research says, almost 60% of USA customers are podcast listeners.
Podcast marketing is the use of Audio Content to promote any products or services.
There are quite a few ways you can promote your products using podcasts. You can publish educational content on your podcasts. Or you can invite an industry expert to talk about your products/services and discuss how they will help your customers solve their problems.
Here are some tips to take full advantage of your podcasts-
Publish 3-5 episodes first so that people don't have to wait to listen to another episode.
Include podcasts on your website's landing page
Leverage social media, and email marketing to promote your podcasts.
Read: How to Start a Podcast Website with WordPress
15. Word of Mouth Marketing
We all are trying to sell our product right? So we will obviously try to show our products in the best light possible. But in this age, people tend to believe less and less in paid content. They want real and organic reviews from actual customers.
On average, word of mouth generates $6 Trillion in annual global sales and is responsible for 13% of all sales.
Word-of-mouth marketing is not all about testimonials or just face-to-face conversations. It's about actual customers being satisfied with your product/services and posting rave reviews online or telling their roommates. They leave positive reviews on product pages.
For word-of-mouth marketing to work, not only do you need to create a magical user journey and focus on customer service. Doesn't matter if your product or service is revolutionary. If your customer journey is not up to the point then you can't take advantage of word-of-mouth marketing.
16. Community-Based Marketing
Community-based marketing is creating a solid relationship with your target audience by offering extra value.
You can create your community using social media communication platforms like Slack, Whatsapp, Facebook groups, or Subreddits. You will provide content and offers that will help your community to succeed and boost your engagement rate.
When you have your own community then you can also get assistance, get customer opinions, and collect a few testimonials.
Also, you can get a sneak peek at how others recommend your product or services.
17. Print Media Marketing
This is one of the best marketing channels to connect with your local community and audience. You can use brochures to promote your product in targeted places.
70% of households with an income above $100,000 are newspaper readers

(Mansi Media, n.d.)
But if you want to get the attention of most people then you can rent a billboard and promote your products.
You can also use customized stickers, posters, or postcards to further promote your brand.
18. Cause Marketing
This is a marketing strategy that includes you joining hands with a non-profit organization and helping them raise money and awareness.
You can kill two birds with one stone. You are helping the people in need while promoting your brand.
There are lots of examples of cause marketing. A big brand like Walgreens partners with Red Nose Day to raise money for needy children.
19. Webinar Marketing
This is quite similar to event marketing. But rather than interacting with the audience face to face, you create live presentations or meet-ups where you can educate your audience about your brand.
These webinars are effective for establishing relationships with your audience, educating them about your product, and also generating more leads.
Here is an example of how the Dokan team introduced their new shipping feature through a webinar–
20. TV
This is another best marketing channels to promote your business. You can rent a slot for a tv commercial and shoot a promotional video to air on the channels.
This way you can target your local audience and if the channel is global, then you can reach the global market as well.
21. Radio
You can use this marketing channel to target a specific demographic in a certain area. Depending on the radio channel you can expose your brand to a certain audience.
You can go on live interviews or you can use it as an advertising platform.
22. Conversational Marketing
You can engage with your customers in real-time conversations through your website's live chat, chatbot, social media, or messaging apps.
The aim is to enhance people's experiences with your brand, whether it be through your website or whatever platform your audiences use to communicate with you.
Read More: Rise of the Chatbot Marketing- How a Digital Entity Can Promote Your Brand.
Best Marketing Channels: Our Verdict
| | |
| --- | --- |
| Marketing Channel | Best Fit For |
| Email Marketing | Ideal for businesses seeking to nurture leads, engage with customers, and drive conversions through targeted email campaigns. |
| Social media marketing | Suitable for businesses that can leverage social media platforms to share engaging content, interact with customers, and showcase their products or services. |
| Content marketing | Ideal for businesses focused on building brand authority, thought leadership, and providing educational resources. |
| SEO | Recommended for businesses aiming to improve their organic search visibility and increase website traffic. |
| SMS | Suitable for businesses that want to drive immediate engagement or conversions through personalized text messages. |
| Direct-mail marketing | Ideal for businesses seeking to create tangible and personalized experiences for their audience. |
| Paid ads | Suitable for businesses looking to drive targeted traffic, generate leads, or increase conversions through paid advertising platforms. |
| Affiliate marketing | Suitable for businesses with products or services that align well with affiliate marketing models. |
| Events marketing | Ideal for businesses that can benefit from face-to-face interactions, product demonstrations, or networking opportunities. |
| Partnership marketing | Well-suited for businesses interested in collaborating with complementary brands or influencers to expand their reach and customer base. |
| Referral marketing | Suitable for businesses with a loyal customer base and products that can benefit from word-of-mouth recommendations. |
| Influencer marketing | Ideal for businesses targeting specific demographics or niches that align with the influencers' audience. |
| PR | Well-suited for businesses aiming to generate positive media coverage, manage their reputation, or launch new products or initiatives. |
| Podcast | Suitable for businesses with the ability to create engaging and informative podcast episodes that align with their target market. |
| Word of Mouth | Ideal for businesses relying on trust and personal recommendations within their industry or community. |
| Community-Based Marketing | Beneficial for businesses with products or services that can benefit from user-generated content and active community participation. |
| Print Media Marketing | Suitable for businesses seeking to establish a presence in offline publications or industries where print media is influential. |
| Cause Marketing | Ideal for businesses that can genuinely support a cause and communicate their values effectively. |
| Webinar Marketing | Beneficial for businesses that can deliver valuable content through live or pre-recorded webinars. |
| TV | Suitable for businesses seeking to increase brand awareness and reach a mass audience. |
| Radio | Ideal for businesses looking to generate awareness, promote local offers, or reach commuters and radio listeners. |
| Conversational Marketing | Beneficial for businesses with the resources to manage chatbots, live chat, or social media messaging platforms effectively. |
How to Utilize the Traffic from Marketing Channels
After knowing the top marketing channels, now it is time to learn how you can utilize the traffic from these marketing channels-
Add Personalisation
Include User-generated Content
Implement Live Chat
Create a Responsive Website Design
Measure All the Data Regularly
Add Personalisation
Customers like that you are speaking directly to them. That is why personalization is a great tactic to entice the audience and drive your sales figure. You can use personalization on behavioral data, age or gender, and geographical location. By personalizing your marketing, you're bringing your customers closer to you and making a sale more likely.
Take Advantage of User-generated Content
User-generated content (UGC) can produce a high-referral rate. Using UGC you can cover everything from reviews and testimonials to videos of customers using your product. It can be shared across social media and you can also integrate the best examples on any landing page or the product page.
Implement Live Chat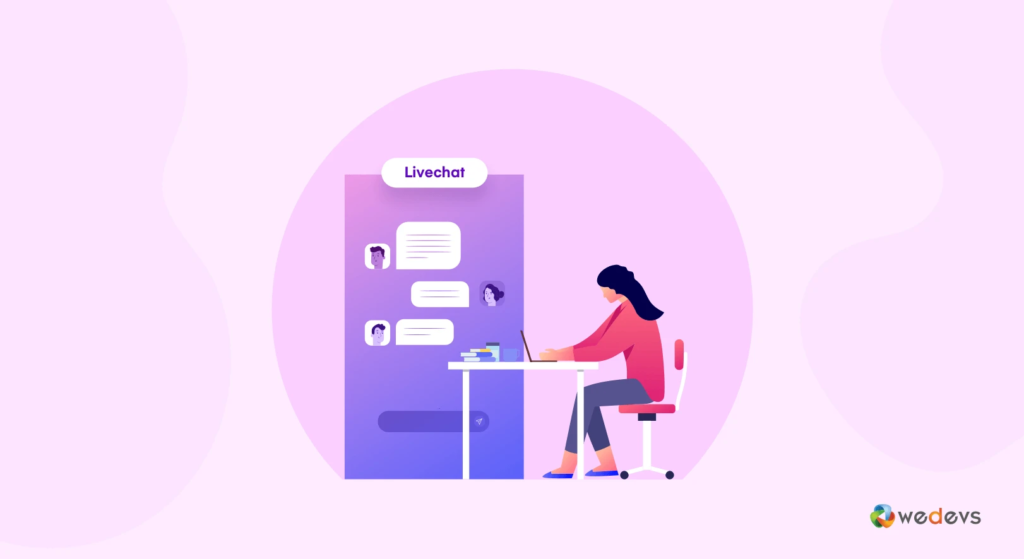 Live chat is an important factor for any eCommerce store. It can help answer the customer's queries and help them make the purchase. When customers come to your online store, they sometimes want a detailed description of your product.
That is where live chat can come into play. You can also trigger the use of live chat as a pop-up according to different factors, such as the amount of time spent on a product page or hesitation to process their shopping cart at the checkout.
Read More: How Direct Human Interactions & Live Chat for eCommerce Can Change Your Sales Game.
Create a Responsive Website Design
Research says that 10% of online sales will happen from mobile by 2025. So if you don't have a responsive website then you are missing out on a big chunk of potential customers. After you create your eCommerce site, do an A/B test to see if your website is responsive or not across different devices.
Measure All the Data Regularly
Lastly, measure all your data. The KPIs, analytics, and pageviews are not just indicators of how your online store is doing, but also give you insights about future decisions and how to improve your marketing. That is why it is very important to measure all the data and record your progress.
Read More: How to Configure Google Analytics for eCommerce
FAQ(s) on Best Marketing Channels
What are the 5 most powerful marketing tips?
1. Set a Goal and a Budget
2. Leverage Influencer Marketing
3. Focus On a Single Social Channel
4. Leverage Email Marketing
5. Focus On SEO and Content Marketing.
What are the 5 key marketing concepts?
1. Production Concept.
2. Product Concept.
3. Selling concept.
4. Marketing concept.
5. Societal marketing concept.
What are the six pillars of marketing?
1. Content.
2. Email marketing.
3. PPC (Pay-per-click advertising)
4. PR.
5. SEO
6. Social Media.
Utilize the Best Marketing Channels & Drive Relevant Traffic to Your Store
In a world full of competition, you need to take advantage of every opportunity. There are many eCommerce stores available on the internet. In order to stand out and make people come to your online store, you have to make the best use of every marketing channel.
However, if you are starting out, don't overwhelm yourself by trying to use every marketing channel. Start with the basics like email marketing, content marketing, SEO, and social media marketing. After creating a strong foundation on these platforms, then you can move on to the other marketing channels.
We have listed the top marketing channels that will help your online store grow. If you face any issues, don't hesitate to reach out.