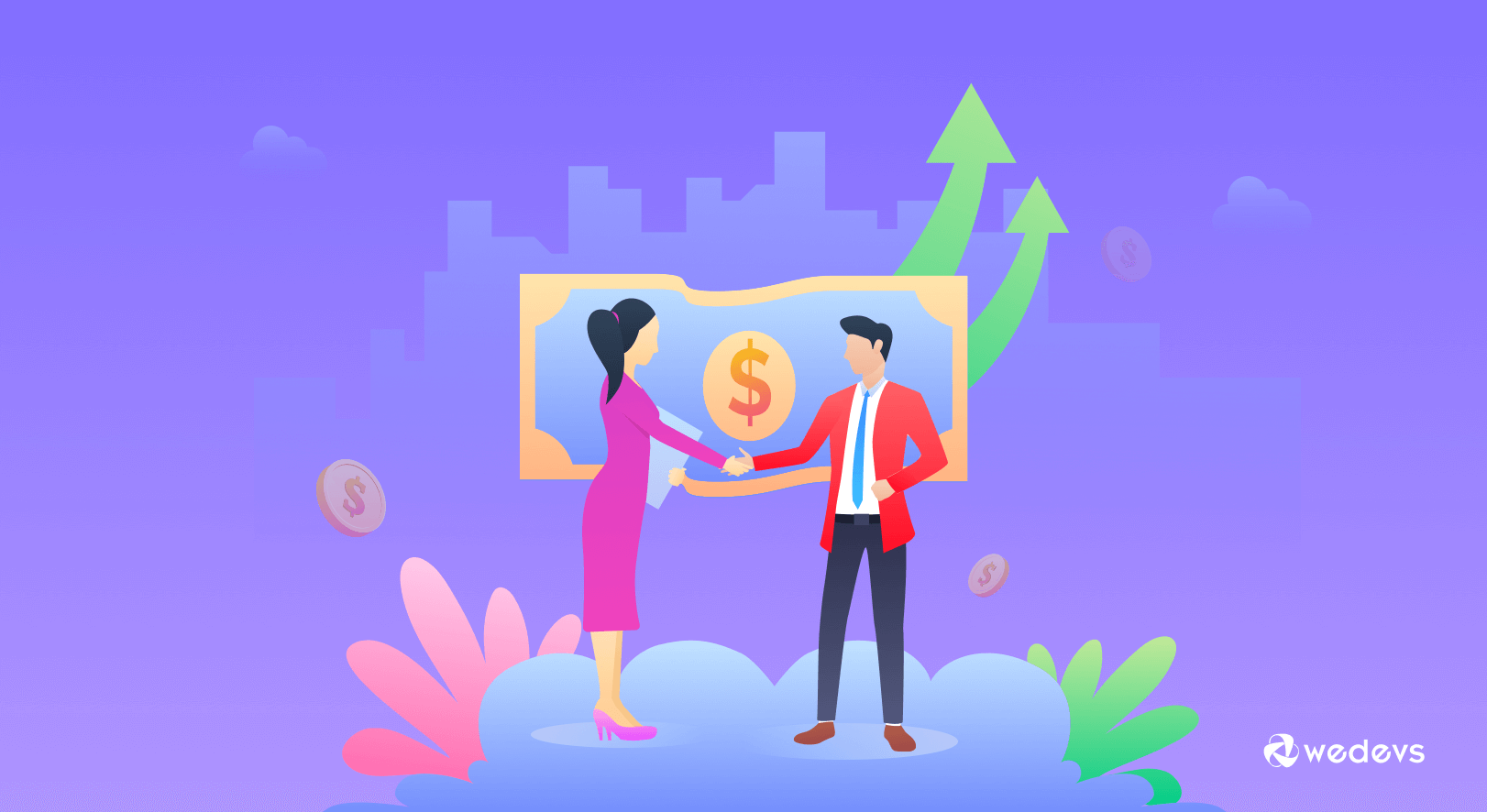 How To Start Affiliate Marketing In WordPress With A Perfect Niche (Pro Tips For Beginners)
Affiliate marketing has become a buzzword online, with countless people searching for ways to earn money through this exciting field. But let's be honest, finding reliable and actionable advice can be a daunting task.
That's where we come in! Drawing from our own experience as we have our own affiliate program, we've curated a list of tips, tricks, and tools to help you succeed.
In this comprehensive guide, we'll cover everything from finding your niche and selecting the right affiliate programs to optimizing your WordPress website and driving traffic to your offers.
Our goal is to equip you with the knowledge and resources needed to turn your passion for marketing into a profitable venture.
So, buckle up and get ready to embark on this thrilling affiliate marketing journey. Let's dive in and make your affiliate dreams a reality!
What is Affiliate Marketing?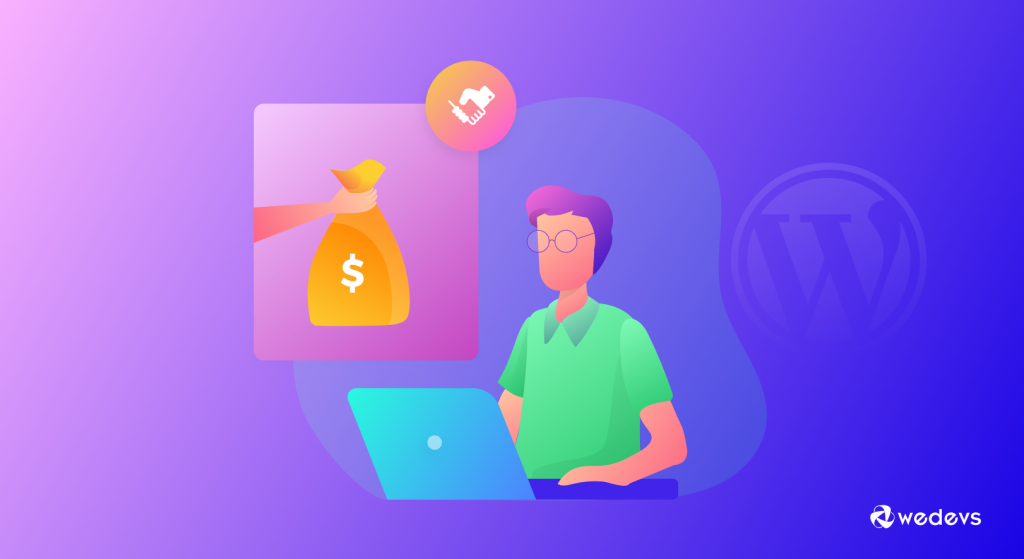 Affiliate marketing is when you promote someone else's product or service and earn a commission for each sale you generate. It's like being a middle person who connects buyers with sellers.
Let's say you have a blog about fitness. You find a company that sells exercise equipment and become their affiliate. Then write a blog post recommending their products and include a special link.
When someone clicks that link and buys something from the company, you get a percentage of the sale. So, you make money by helping the company sell their products through your blog.
It seems so easy, right?
But nowadays- it's not such easy as it looks! You have to build trust between the buyer and seller. Too much promotional content failed to convert visitors into customers. So you have to be careful while promoting your targeted products or services. Don't worry here we will share all the aspects to become a successful affiliate marketer.
How Does Affiliate Marketing Work?
The Affiliate Program provider of your niche may track your affiliate activities in so many ways. But all the tracking starts from the referral link which you have generated from their program.
The affiliate link basically creates a cookie on the visitor's browser. From the cookie, your affiliate owner tracks the activity of your visitor. When the visitor buys from your referral link, owners make a profit and keep your portion of the revenue amount for your tremendous effort and support.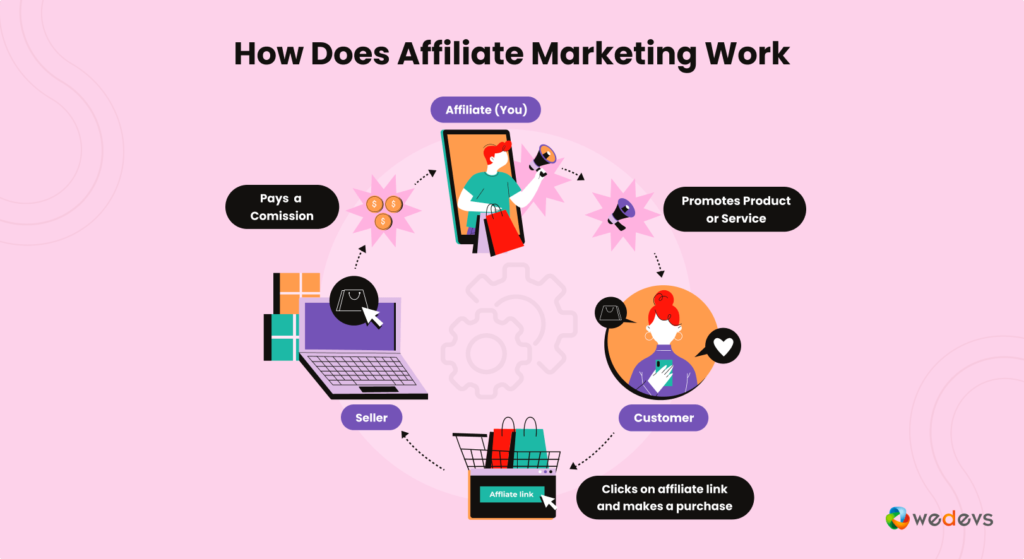 So, the whole process works following this pattern:
As an affiliate, you receive a special link that contains a tracker.
When someone clicks on your affiliate link, the tracker is placed in their web browser as a cookie.
The tracker helps the company track the visitor's activity and purchases.
If the visitor makes a purchase from the company, the tracker identifies it as a referral from you.
The company then pays you a portion of the revenue generated from that sale as a commission.
This is how affiliate marketing actually works.
How to Start Affiliate Marketing from Scratch- 6 Easy Steps for You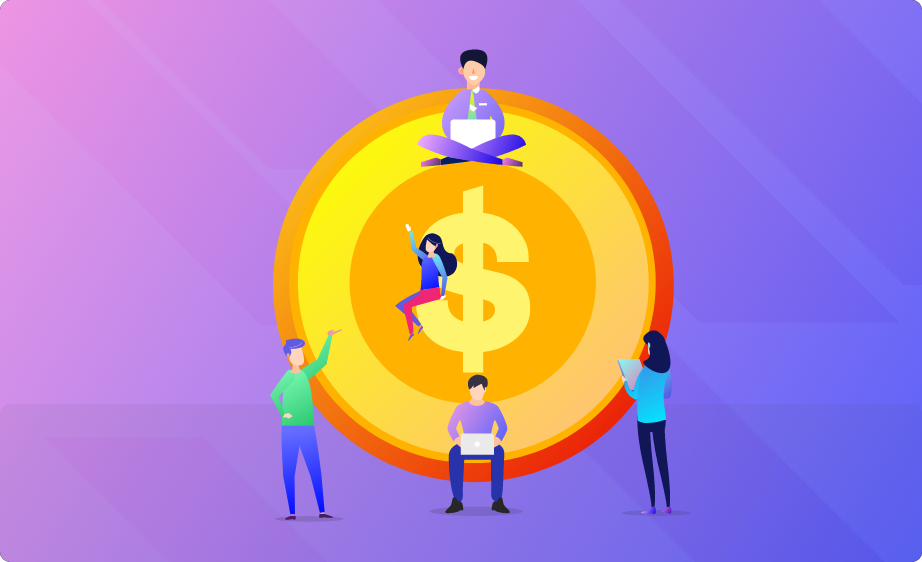 Starting affiliate marketing through your blog can be an exciting way to monetize your online presence. By partnering with companies and promoting their products or services, you can earn commissions for each sale you generate.
To help you get started on your affiliate marketing journey, here are six easy steps that can guide you in setting up and implementing a successful affiliate marketing strategy:
Create a Website for Your Blog
Choose an Industry and Find a Specific Niche within That Industry
Identify Suitable Products to Promote within Your Chosen Niche
Sign up for Affiliate Programs in Your Selected Industry
Create High-Quality Content with Proper Optimization
Publish, Promote, and Repeat- Again & Again
Now let's discuss each of the above mentioned points in detail so that you can easily understand what initiative you should take in each phase to launch a successful affiliate marketing business.
1. Create a Website for Your Blog
Creating a website for your blog is an essential step in starting your affiliate marketing journey. It provides you with a platform to showcase your content, engage with your audience, and promote affiliate products or services.
To create a website, you'll need to choose a domain name (the web address of your site) that aligns with your blog's niche. Next, you'll need to select a reliable web hosting provider to store your website's files.
Then, you can choose a user-friendly content management system (CMS) like WordPress to design and manage your website. Finally, customize your site with a visually appealing theme and start creating valuable content for your readers.
We have a series of blog posts to create a WordPress website with ease. Follow these blogs to get your job done:
2. Choose an Industry and Find a Specific Niche within That Industry
Choosing an industry and finding a specific niche within that industry is another crucial step in affiliate marketing. An industry is a broad category like health, technology, or fashion, while a niche is a more specialized segment within that industry, such as organic skincare, smartphone accessories, or sustainable fashion.
By selecting a niche, you can target a specific audience and establish yourself as an expert in that area. To choose your niche, consider your interests, knowledge, and the potential profitability of the niche. Research competition, audience demand, and product availability to ensure you select a niche that aligns with your passion and has the potential for success.
3. Identify Suitable Products to Promote within Your Chosen Niche
Once you have chosen your niche, the next step is to identify suitable products or services to promote within that niche. Here's how you can do it:
Research: Conduct thorough research to understand the needs, preferences, and pain points of your target audience. This will help you determine the types of products or services that would resonate with them.
Affiliate Networks: Explore reputable affiliate networks such as Amazon Associates, ShareASale, or ClickBank. These platforms offer a wide range of products across various niches.
Product Relevance: Look for products that are directly related to your niche and align with the interests and desires of your audience. Choose products that provide value and solve problems for your target market.
Quality and Reputation: Prioritize products or services that are of high quality, have a good reputation, and are backed by reputable brands. This will build trust with your audience and increase the likelihood of conversions.
Commission Structure: Consider the commission rates offered by different affiliate programs. Look for programs that offer competitive commissions to ensure your efforts are rewarded appropriately.
4. Sign up for Affiliate Programs in Your Selected Industry
To sign up for affiliate programs in your chosen industry, begin by researching companies that offer such programs. Visit their websites or browse through affiliate program directories. Complete the application process by providing the necessary details about your website and marketing strategies.
After approval, you'll receive unique affiliate links or codes to track your referrals and commissions. Access the affiliate dashboard provided by the company to monitor your performance, earnings, and access promotional materials. Familiarize yourself with the payment terms, such as commission rates, payment schedules, and methods.
Once you sign up for relevant programs, you can start promoting their products or services and earn commissions.
5. Create High-Quality Content with Proper Optimization
You may have already heard that content is king. And that is true. You can attract your target audience by creating top-quality blog posts. You can write different types of blog posts like how-to tutorials, review blogs, listicle articles, etc., to promote your affiliate products.
Take inspiration from popular authors writing style then try to build your own style. But you have to optimize your content to get ranked on Google's top search. Otherwise, you would fail to get your desired traffic as well as sales.
We have published a couple of blogs on SEO for beginners. If you have any confusion related to SEO, you can check these blogs:
6. Publish, Promote, and Repeat- Again & Again
After publishing a blog, tutorial, or comparison post, don't stop from your side. Give time and promote it. Follow these tips to promote your article:
Share on Social Media: Utilize popular social media platforms like Facebook, Instagram, Twitter, and LinkedIn to share your blog posts. Craft compelling captions, use relevant hashtags, and include eye-catching visuals to attract attention and encourage clicks.
Engage in Online Communities: Participate in relevant online communities such as forums, niche-specific groups, and question-and-answer platforms. Share your blog posts when appropriate, provide helpful insights, and engage with other members to establish yourself as an authority in your niche.
Email Marketing: Build an email list of subscribers interested in your niche. Send newsletters highlighting your blog posts and affiliate product recommendations. Personalize your emails, provide valuable content, and include clear calls-to-action to encourage clicks and conversions.
Collaborations and Partnerships: Collaborate with other bloggers or influencers in your niche. Guest post on their blogs or invite them to contribute to yours. This cross-promotion can introduce your blog to new audiences and expand your reach.
Paid Advertising: Consider running targeted advertisements on platforms like Google Ads, Facebook Ads, or Instagram Ads. This can help increase visibility and drive traffic to your blog posts.
Essential Affiliate Marketing Tools for Seamless Experience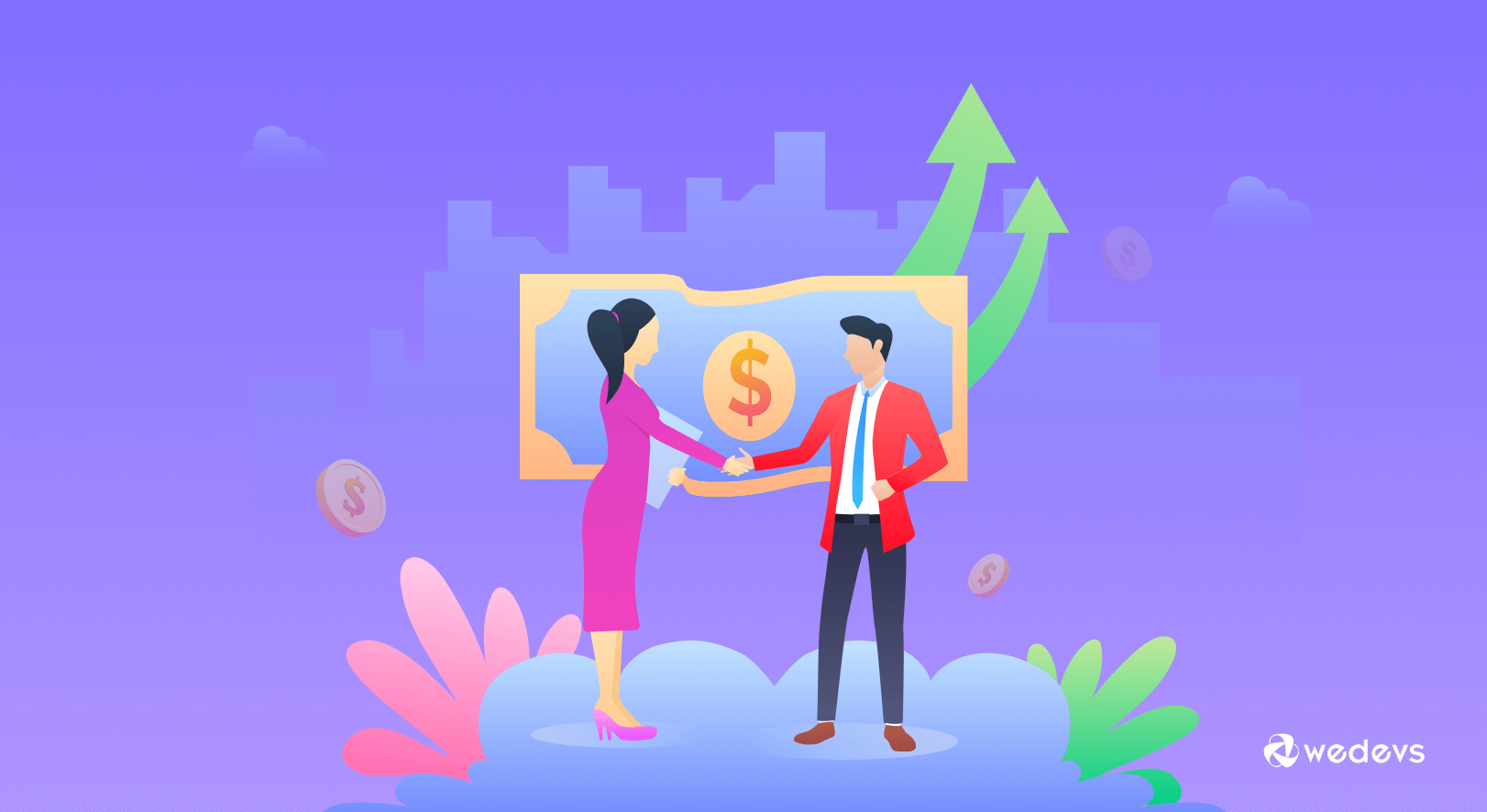 To ensure a seamless and productive affiliate marketing experience, it's crucial to leverage the right tools. These tools can streamline your workflow, provide valuable insights, and enhance your overall effectiveness as an affiliate marketer.
From analytics and tracking solutions to content creation and promotional tools, the right set of resources can help you optimize your strategies, track your performance, and ultimately boost your affiliate sales.
Let's explore some of the essential tools that can empower you to succeed in your affiliate marketing endeavors:
i) ThirstyAffiliates
As an affiliate marketer, you have to monetize your WordPress site and Thirsty Affiliates would give you the facility. It will help you in adding links in your WordPress Blog. According to successful affiliate marketers, it's one of the best solutions in the market.
They have premium features also. Price starts from $49 for a single site.
ii) Ad Inserter
Inserting Ad to an optimal position seems challenging. The Ad Inserter plugin has all the features which will help you feature your ads in your site. It will allow you to add opt-in forms, header scripts, Javascript, CSS, HTML, PHP, analytics, tracking or advert code anywhere on the page.
Maybe you can ask us why we choose it as the best one of all the AD Manager plugins! Here is your answer-
1,009 users shared their feedbacks saying that it helped them the best. This large group of people couldn't be wrong.
Ad Inserter also has a premium service. The premium plan starts from $20 for two sites.
iii) MailChimp For WordPress
When a visitor comes to your site for the first time through any of your articles, don't miss the chance of inviting him to give a visit again.
The MailChimp plugin will help you collect the visitor's email through Newsletter subscription offers. In the premium version, you will get the customization facility. The premium package starts from $59.
iv) Popups by OptinMonster
To generate more sales you need to build your email lists. To attract your visitors you need to place popup forms with the exciting offer or free guides or anything else. In the case of popup makers along with lead generation perspective, OptinMonster is the best option.
With Popups by OptinMonster, you can create lightbox popups, slide-in signup forms, sidebar forms, after post signup forms, floating bars, and more with tracking and reporting facility.
They have premium support, but too much pricy. Their basic plan starts from $19 per month.
v) Google Analytics
It's a free tool by Google mostly used by all the site owners of this time. You can track your visitors, all sort of data. You can find the most visited content. By knowing the graphs you can then make your decisions for the next step what should you have to take.
vi) Google Webmaster Tools (Google Search Console)
If you want to get a huge amount of organic traffic, then Google Webmaster Tools (Google Search Console) is the best option for you. It's a day to day using tools for Affiliate Marketers.
You can find the top relevant keywords which are suitable for your site. If your site has issues, you can easily find it with Google Search Console.
vii) SEMrush
SEMrush is a famous tool to analyze your competitors. As it's high time for competition, you need to be aware of your competitors. For example, which Keywords are giving them more traffic in your niche; you can find it easily through SEMrush.
viii) WP Project Manager
Maybe you have a doubt in your mind that why should I need a project management tool for affiliate marketing! You can manage your whole work with Excel sheets. Right? Let allow us to clear your doubts.
There are too many works you have to manage while running a blogging site. You have to maintain prior works along with works after publishing a content. Sometimes you have to outsource your work and with WP Project Manager you can track your works easily. It's too tough to track your team members' works in excel sheets.
Here is a Project Management guideline how you can manage your work with WP Project Manager Plugin.
You may have already heard this before that-
3 skills you need to be a better blogger or content marketer.
1️⃣ Consistency
2️⃣ Consistency
3️⃣ Consistency
Our WP Project Manager will help you to be a consistent blogger as you can set your milestone to your projects. And this will push to stay focus on your target.
ix) Bonus Tool For Writing: Grammarly
You may give an excuse to everyone that you are not a Native English Speaker but it won't help you to grow your business. Your visitors will not consider any sort of error or misspelled words in your writing.
To overcome the errors you can rely upon Grammarly. They have just created an awesome tool. Freemium features will cover more than your basic needs. But in premium features, you will get the plagiarism checker and many more.
How to Increase Affiliate Sales- 11 Proven Tips for Beginners
After doing all sorts of work correctly if you failed to meet your desired goal then you need to stay calm and rethink what you can do next. If you really want to increase your sales, try in a different way.
In this section, we will share some actionable tips which will definitely help you to increase your affiliate sales.
1. Find Out Some of Your Popular Posts
First of all, you have to find popular or top-performing content on your site. You can easily identify the popular one by taking help from Google Analytics. Follow this navigation.
Google Analytics> Behavior > Site Content > All Pages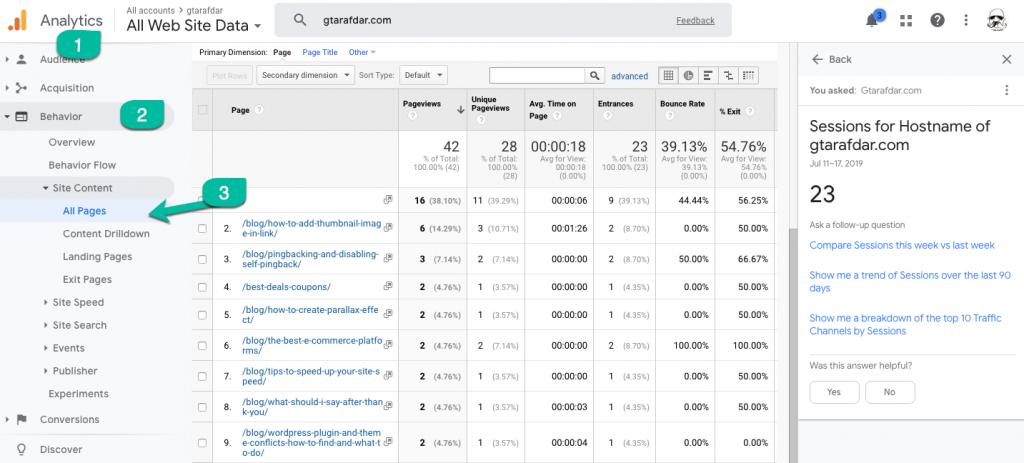 After finding the popular content, you should restructure your plan. Try to get the best output from these posts and also improve related posts' performance through these posts. Here is how.
Link your relevant contents
Share your affiliate link where it's possible
Try to promote relevant products on the same article
2. Shapes Your Contents to 'Sales Generating Posts'
When you find some contents which are good at making sales you need to reshape the content. The best way to make it more sales-centric content. There are no fixed ways of how you can make a sale generating content.
You have to do it trial and error basis. But you can follow these tricks to kick start your practice,
You can make it more readable by removing distracting pop-ups, sidebar from that content. So that reader will be more focused on your content.
Optimize your images, which will help you to increase the site speed.
3. Add Tables to Your Blog Posts
Adding a table is the most important part of your blog. It helps the reader to find the relevant information in a short span of time. If you add a comparison table then it becomes more helpful for the readers to buy your product without leaving your site. They will get all the info in a simple table.
There are many plugins available to make tables but if you are looking for specific pros & cons table here is a free one 'JoomDev WP Pros & Cons'.
4. Display Target Affiliate & Relevant Offers in Sidebar/Footer
In your popular posts which get huge visitors but can't make sales, you can attract users by sharing some relevant offers to the sidebar or in the footer. But be careful about that too much ad also distracts users and loses the readability of your content.
Here is an example of how you can place your ad in the sidebar.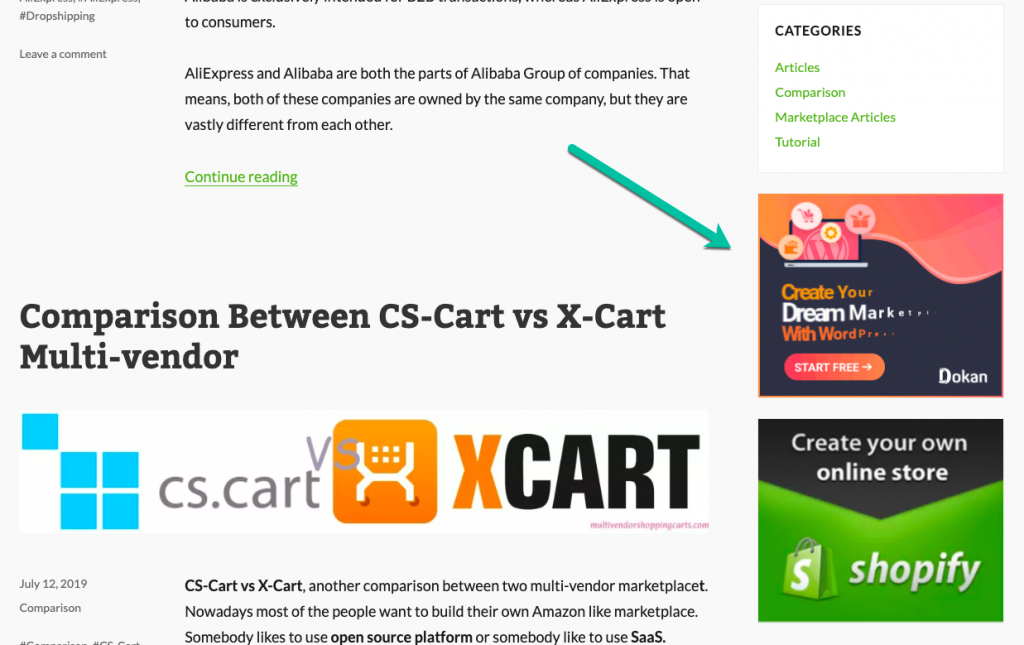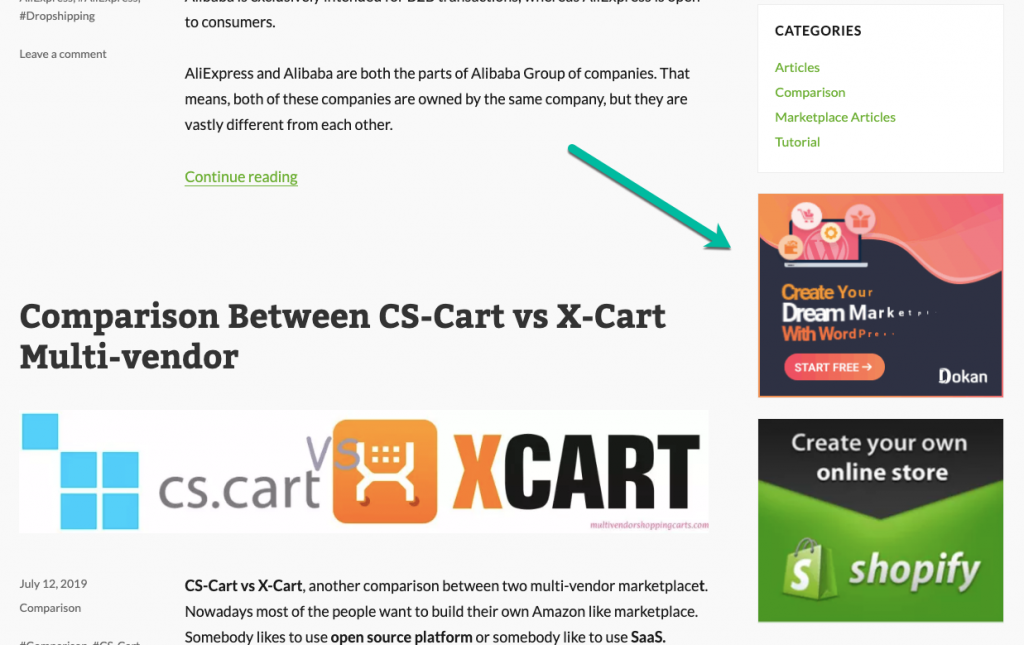 This site sharing banner ads of eCommerce platforms, Dokan, and Shopify in a comparison blog.
5. Exit-intent Popup Will Help You Increase Sales
Exit-intent popups always remain successful for increasing the number of your email list. But you can use it for your selling purpose. Share an exciting offer of your products given by the owner of the products. This will help you convert your sales.
Here is an example of exit-intent,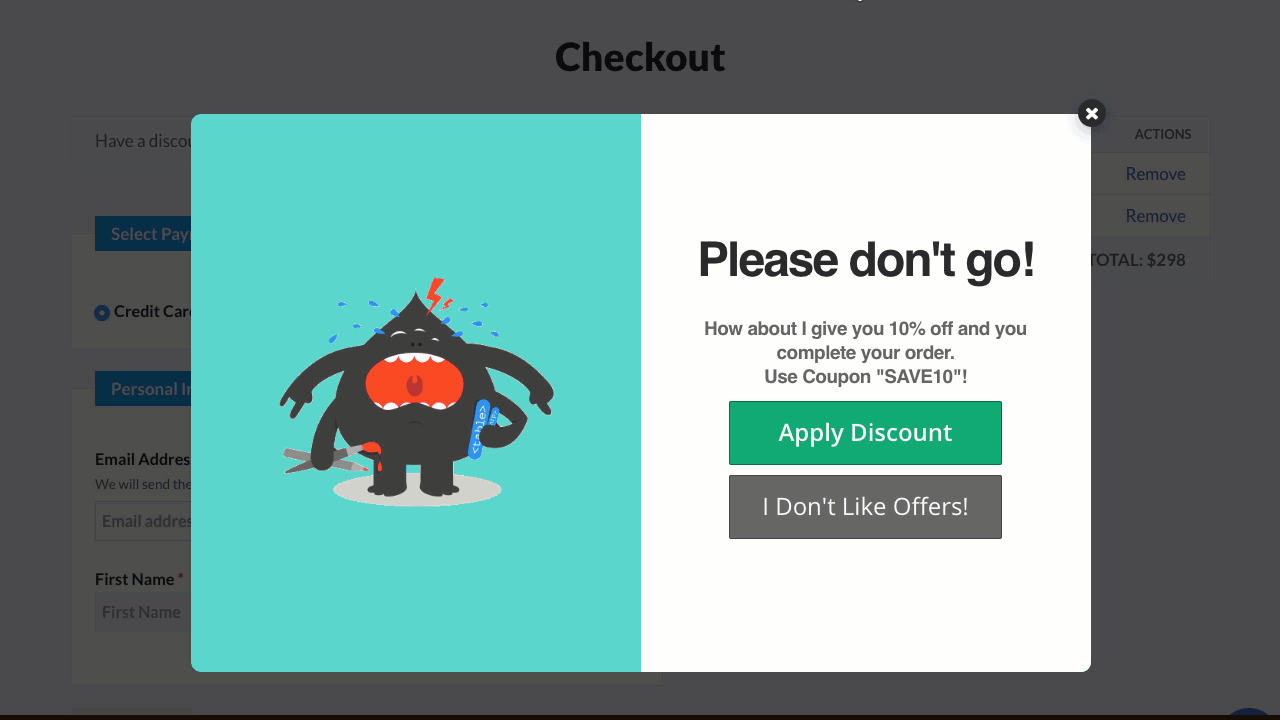 6. Add Affiliate Links Automatically to the Specified Keywords of Your Older Posts
Most of us missed adding affiliate links to our beginning time blogs. But those contents become assets day by day. The challenge is- if you want to add links to those blogs in specific keywords manually, it will kill your valuable times. In this case, Thrives affiliates will help you to add links to specific keywords.
But it's a premium feature. Their premium plan starts from $ 49.
7. Hide Affiliate Links from Your Banner
Due to the disturbance of the ADs on web pages, readers use AD blockers to get rid of that. But it also hampers the marketers to cut revenue from ADs. The AD Blockers are now too strong. They also remove the affiliate links from the Banner ads, if you use the direct affiliate links.
You need to hide your affiliate links to ensure your revenue. You can hide your affiliate links with Thirsty Affiliate Plugin. Or you can use Pretty Link plugin.
8. Call to Action Buttons will Increase The Possibility of Sale
CTA always attracts visitors' attention. You may already see that we add several CTA in this blog. You can try any of these. Eye Button will help you to convert more sale.
9. Add Affiliate Links to Image/Videos & Captions
Images create a visual representation at your blog. You can insert image link to your images there is a high chance to get more clicks to that. And you have the freedom to insert a link at your image caption.
If your visitor like the image they may pay a visit to that link. And you get your desired attention.
10. Try Deep Linking Method
It's a very essential trick.
Deep linking means creating different affiliate links for different pages. If you are writing about special product features then try to add the feature page or pricing page rather than the home page of your product.
It will help you in conversion. As the visitor will not be distracted. Deep linking is working great in this way.
For example, if you are writing about our Dokan Multivendor plugin's features then you need to link its feature page rather than the Dokan's home page. We found it helps to convert more.
11. Try to Write Problem Solving Articles
There is a wise saying,
People don't care about your business, they care about their problems. Be the solution that they are looking for – Melanie Dodaro
We hope that you have already understood what we want to share. So, try to write some articles about your products on how a product would solve a particular problem of your audience. When they would find the solution to their problem, they would definitely the products.
These are some essential tricks for increasing affiliate sales. Actually, you need to do trial & error test to boost up your affiliate sales. But keep a record of every single test to increase your sales.
If you are able to do so, you can find your own way out to maximize your sales target on a regular basis. Now you will find the best affiliate programs in the WordPress Niche in the below segment.
Best Affiliate Programs to Start Affiliate Marketing within WordPress Industry
You can generate a huge amount of revenue from the WordPress industry with your niche. This industry has so many sectors to look back and has the maximum possibility to earn from each segment.
Here we listed down some of the best affiliate programs in the WordPress Ecosystem. We have divided it into four sections:
Top Affiliate Marketing Network
Web Hosting Affiliate Program
Popular Plugins Affiliate Program
Popular Themes Affiliate Program
a) Top Affiliate Networks
Besides the plugin & themes' affiliate programs, there are some popular affiliate networking sites. Where you can find so many products to promote.
Basically, many of the companies don't want to handle affiliate programs on their site. So that they share their products with these affiliate networks. Get some affiliate networking sites.
b) Web Hosting Affiliate Program in WordPress
Here is the list of the WordPress web hosting affiliate programs along with commission rate & joining link:
c) Affiliate Programs of Popular WordPress Plugins
In this WordPress Ecosystem, there are so many plugin-developer companies and they are offering attractive affiliate programs. Here we have listed only those who are famous for their cooperative attitude and time-to-time payout facilities.
For example, if you join weDevs affiliate program you can earn up to $200 from one single sale. weDevs offer a 20% commission for every successful sale. If you are able to sell Dokan Plugin Enterprise Plan ($999) you will earn $199.8 which is almost $200.
Here are other popular affiliate programs from WordPress Plugin-developer companies. Check this out.
d) Affiliate Program of Popular WordPress Themes
As like as the plugins, there are so many theme-developer companies available in the WordPress industry. They also are offering affiliate programs. Here we listed a few of them.
Note: Before joining any Affiliate Program, Please read the Terms & Conditions carefully.
Common Mistakes in Affiliate Marketing That You Should Avoid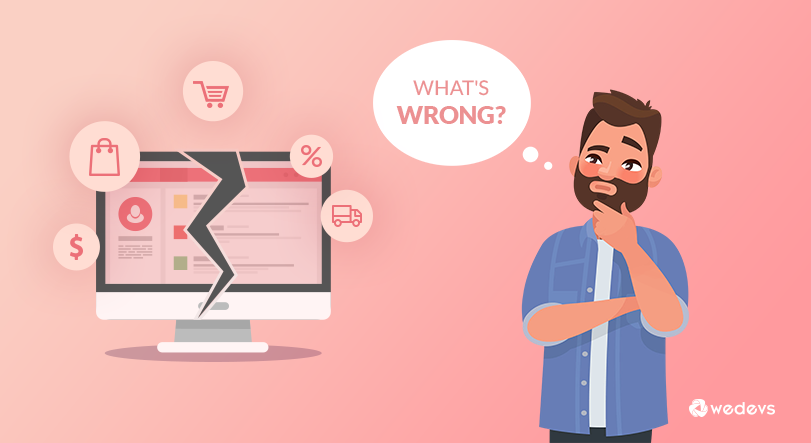 In this section, we will share some common errors made by bloggers while doing affiliate marketing through their articles. And also share the remedies to avoid these errors.
1. Targeting too Many Categories at The Same Time
We found that over half of the affiliate marketers start promoting different types of products for the sake of quick profit. Sometimes they add products that are totally not relevant to their target audience. Please don't do that.
Stick on your plan and wait for your desired moment. If you are ok with your plan, it will definitely work. Remember, your audience is your asset. Don't lose them.
2. Ignoring Premium Themes and Plugins
Most of us start their blogging site with the freemium facility of the WordPress ecosystem. It's good to kick start with this plan but when you grow, you will face so many unavoidable issues.
Moreover, some of us take the wrong initiative to use even nulled plugins and themes. Nulled plugins and themes may full of malicious code. So, avoid using nulled plugins or themes and go for the premium resources.
3. Sharing Unfit Products
Sometimes, for the sake of instant profit, many of us allow sponsored guest post on their site without knowing the details about the products. If you do that, your site's credibility will be questioned.
You have to stick to your point. Think bigger and wait for the right moment. These are some of the most common mistakes are occurred by affiliate marketers. We hope you will not do the same.
Most Common FAQs on How to Start Affiliate Marketing
How do I become an affiliate marketer?
To become an affiliate marketer, you need to follow these steps:
1. Choose a niche or industry that aligns with your interests and expertise.
2. Research and select affiliate programs relevant to your niche.
3. Sign up for the affiliate programs and obtain your unique affiliate links.
4. Create valuable content promoting the affiliate products or services.
5. Share your content through various channels and drive traffic to your affiliate links.
Do I need a website to start affiliate marketing?
While having a website can provide a solid foundation for your affiliate marketing efforts, it's not always mandatory. You can leverage social media platforms, email marketing, or other online channels to promote affiliate products. However, having a website allows you to establish your brand, provide valuable content, and build an audience over time.
Is WordPress good for affiliate marketing?
Yes, WordPress is an excellent platform for affiliate marketing. It's a user-friendly CMS that allows you to easily create, manage, and optimize your website. With thousands of plugins and themes available, you can enhance the functionality and appearance of your site. WordPress also offers various SEO plugins to optimize your content for search engines, helping you attract organic traffic. Additionally, there are affiliate marketing-specific plugins that can help you manage and track your affiliate links effectively.
How to start affiliate marketing with no money?
While having a budget can enhance your affiliate marketing efforts, it's possible to start with no money by following these steps:
1. Choose a niche that doesn't require significant upfront investment, such as digital products or information-based niches.
2. Utilize free online platforms like social media, blogging platforms, or YouTube to create and promote your content.
3. Find affiliate programs that have no or low entry fees.
4. Focus on creating high-quality content and building an engaged audience.
5. As you start earning commissions, reinvest them into your affiliate marketing activities to further scale your efforts.
How much money does an affiliate marketer make per year?
The amount of money you can make as an affiliate marketer varies greatly and depends on several factors such as your niche, the affiliate programs you join, your marketing strategies, and the effort you put in. A recent stat shows that an affiliate marketer earn anywhere between $0 to $80,000 annually on an average.
How to Start Affiliate Marketing- A Quick Recap for You
We have tried to give you a vivid guideline to maximize your affiliate marketing sale along with some popular affiliate program providers within WordPress Industry. Now it's your turn to imply the methods in your works.
So, there you have it – a quick recap on how to start affiliate marketing:
Find your passion and select a niche that aligns with your interests and expertise.
Research and choose reputable affiliate programs that offer products or services related to your niche.
Build a strong online presence through a website or utilize social media platforms to share valuable content.
Create compelling and informative content that resonates with your target audience.
Promote your affiliate products or services through various channels, such as social media, email marketing, and collaborations.
Continuously track your performance and make necessary adjustments to optimize your strategies.
Remember, success in affiliate marketing takes time, effort, and persistence. Stay consistent, provide value to your audience, and keep refining your approach. Be patient with the process and don't be afraid to learn from your experiences and experiment with new ideas.
That being said, you are highly requested to share any query, confusion, or feedback related to this- how to start affiliate maketing blog using the comment box below. We would love to hear from you. Thank you!