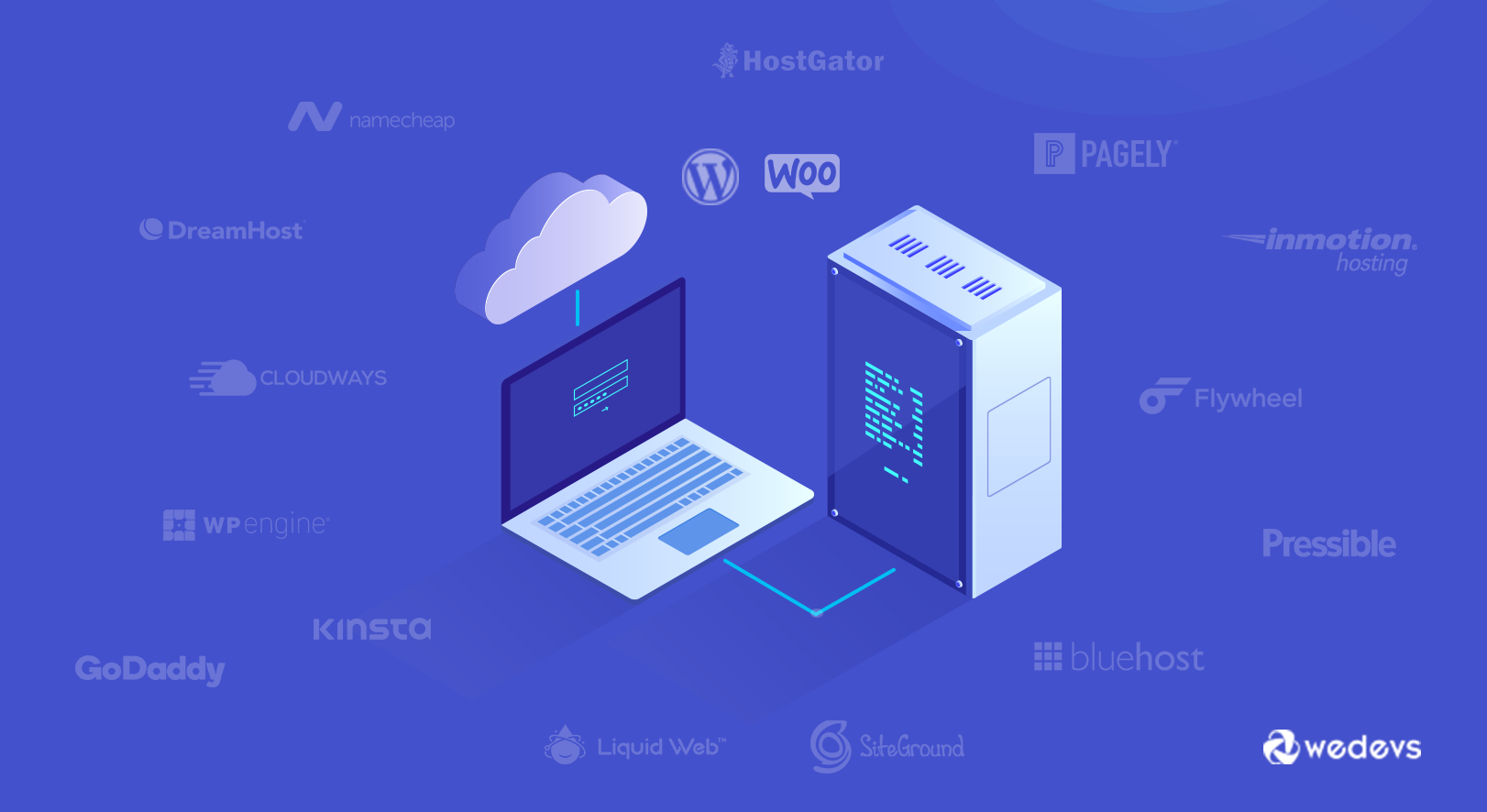 Top 15 Reliable Managed Hosting for WordPress and WooCommerce Sites [Updated]
Ask anyone who has ever used WordPress, and they would all agree that this CMS platform offers the easiest and quickest ways to get your site up and running.
But is it all you need to stay ahead in the game of having a complete & popular site for yourself?
Of course not. You need to take care of web design, content management, marketing strategy, and more but above all, you would require the right managed WordPress hosting to make sure your site is running smoothly & trouble-free.
Nowadays, it cost only a few dollars to get a good enough hosting service for your WordPress. But the quality and reliable managed hosting are the ones you are looking for. So, here we have featured (not in any preference order) some of the most reliable and widely used managed WordPress hostings.
We are quite hopeful that by the time you are done with this post, you will be able to come to a conclusive decision on which managed hosting would suit you better for your WordPress or WooCommerce site.
When Do You Need a Good Managed WordPress Hosting
Now, this is a very important question to ask, and the answer is right here. You would know whether it is the right time to get yourself a good-managed WordPress hosting if:
Your website is growing faster than your expectations
Your site traffic is showing exponential growth
You are looking to maintain a hassle-free WordPress site for personal use, blogging, and businesses without much technical knowledge
You can't afford to have your WordPress site offline
Your site is running slow and you need responsive support whenever any technical issue arises
You are planning to get your business bigger and you want your server to grow big with it
Why It Is Important to Have a Reliable Hosting Service for WordPress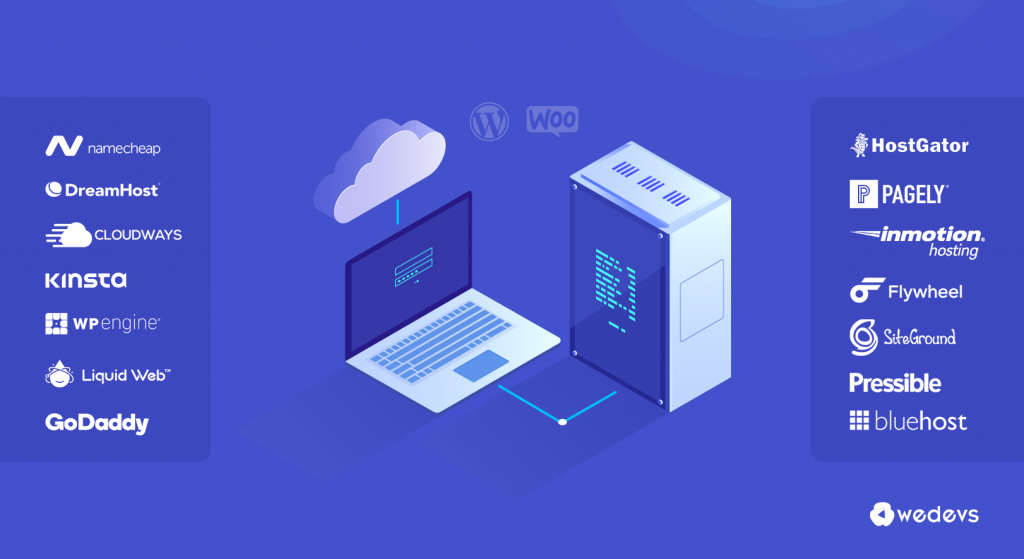 Now you know when is the perfect time for you to turn towards good managed WordPress hosting. But are you aware of the importance of having it? Let's find out.
Blazing fast site: Having a fast-loading site plays a vital role in getting your site to rank higher on Google and well-managed WordPress hosting helps you to do just that. All the renowned hosting company uses CDN, Caching plugins & reduces the image size on your site to boost the speed of your site.
Full-proof security: With the constant security breach and hacking vulnerabilities of sites at their peak, this has become an essential demand for site owners. And you get a highly shielded layer of security for your WordPress site with all the professionally managed hosting for WordPress.
Professional customer support: You might need expert advice or instant support regarding your WordPress site's hosting services. And this is exactly what you get when you decide to have managed WordPress hosting.
Regular backups & automatic updates: Now you do not want to lose your daily content, themes, plugins, or data due to any kind of mishaps. And you wouldn't want to miss out on the latest features either. With premium standard managed WordPress hosting, you get to have daily backups of your site and regular automatic updates in the new version to keep you ahead in the game.
Site is never down: It won't lay a very good impression on your visitors if your WordPress site keeps going offline or down due to not being able to handle the sudden frequency of traffic. But with top-notch WordPress-managed hosting functioning on your site, it will never go down no matter how much traffic it gets.
10+ Most Trusted WordPress Managed Hosting Providers in 2023
Bluehost
WP Engine
HostGator
Cloudways
Kinsta
InMotion
GoDaddy
Flywheel
Hostinger
Namecheap
Exonhost
Here are ten of the top managed WordPress hosting not in any order of preferences. All of these are highly demanding managed-to-host providers for WordPress and you will probably enjoy using all of them.
Note: We have listed another top 5 managed hosting providers for WooCommerce sites in the next section. So, don't forget to check that part.
1. Bluehost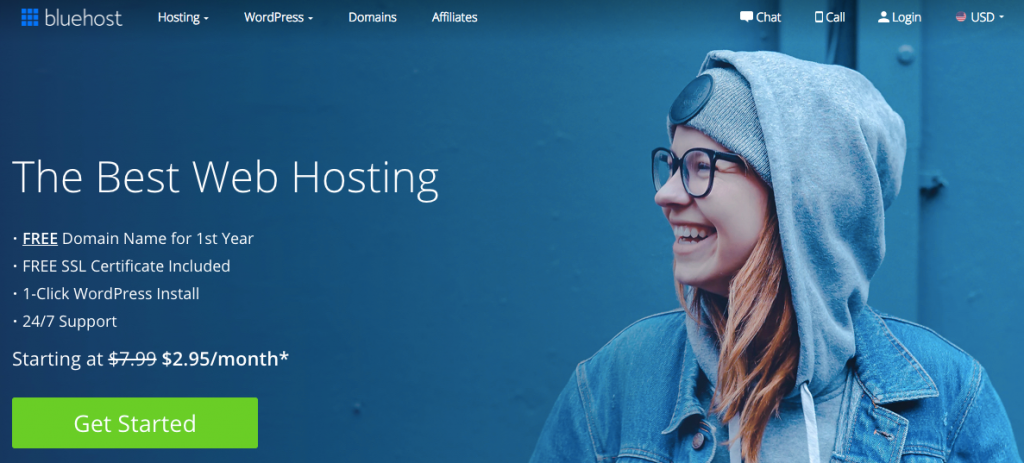 This managed hosting is said to be recommended by WordPress.org, provides a hosting solution powerful enough to handle any kind of WordPress site. You can enjoy its highly sophisticated web management tool, regular automatic update, and support from its highly professional expert support team.
Get access to hundreds of themes that best suit your business and switch them in seconds to get started quicker. Not to mention it being built in a WordPress staging environment to help you test the site before it's public. Enable a unique experience of secured managed WordPress hosting at the most affordable cost.
Key Features of Bluehost
1-year free Domain name with hosting plans
Get a free email address with your WordPress Hosting account
Auto-update & installation of WordPress
Hundreds of unique themes for your WordPress site
Robust security with expert support
Our Verdict
Even though it handles the heavy load of almost all WordPress sites but there might be some dashboard issues to be resolved. The support is well-responsive and this managed hosting server is recommended & suitable for all types of professional WordPress sites.
2. WP Engine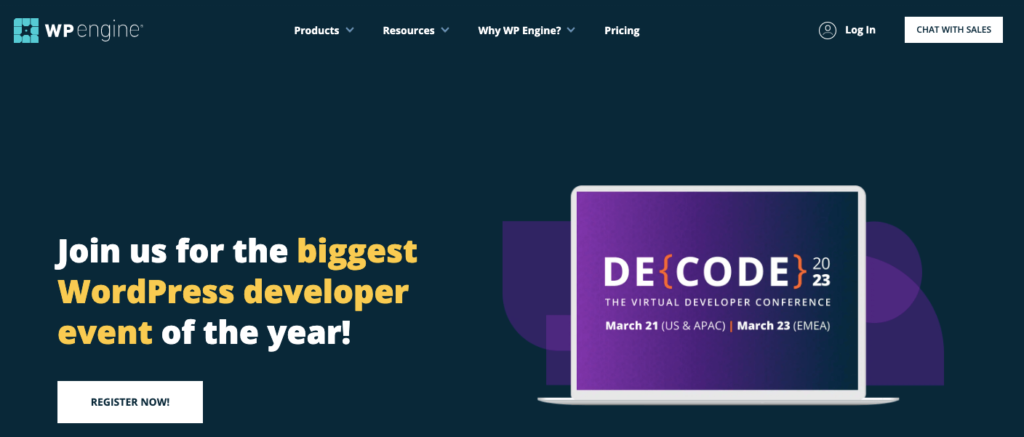 This one right here is one of the most renowned & oldest managed hosting providers for WordPress. The company has made a name for itself in the hosting industry by providing excellent support and secure servers. It provides hosting suitable for all your needs be it for shared, dedicated, or cloud-based hosting.
All its hosting plans come with endless useful features such as one-click restore and free hacking scans to fix the issue of the site. As a result of its growing infrastructure in the past, it might have gone through some rough patches but over time it has stabled itself and proved to be one of the most secure & reliable managed hosting for WordPress.
Key Features
Both beginner & developer-friendly
Fixes the site for free if your site ever gets hacked
Flexible and scalability ready for traffic-heavy sites
Regular updates, monitoring & scanning for site protection
Free automated migration & great customer support
Our Verdict
Although some add-ons options might get a little pricey the security, reliability, and customer support it provides, easily covers up for it. So if you are planning to set up a simple personal blogging site or a complex heavy-traffic business site, WPEngine will fulfill all the requirements you need to set up a site of massive scalability and speed.
3. HostGator

It is said to be one of the cost-effective yet powerful managed hosting providers for WordPress. Due to its low-density servers, it claims to supercharge your page loading speed without needing to configure your caching or CDN.
Efficiently manage any web content by turning on its dynamic content management feature to process any request at a blazing-fast speed. Its WordPress Cloud hosting speeds up your site's load time. Its utilities also include a one-click restore and backup feature. Fully equipped for sudden traffic spikes or any other increased scalability requirement.
Key Features
Unlimited email addresses
Fast & secured managed hosting
Cost-effective with most affordable hosting plans
Pre-built website builder with drag & drop feature
Automated backups including file-level restore option
Our Verdict
Its additional domain can be quite pricey but considering the kind of features, security, and functionality it provides at such a low cost makes up for it. So in case, you are looking for good managed hosting for your WordPress site at a budget cost, Hostgator can be the solution you might want to go for.
4. Cloudways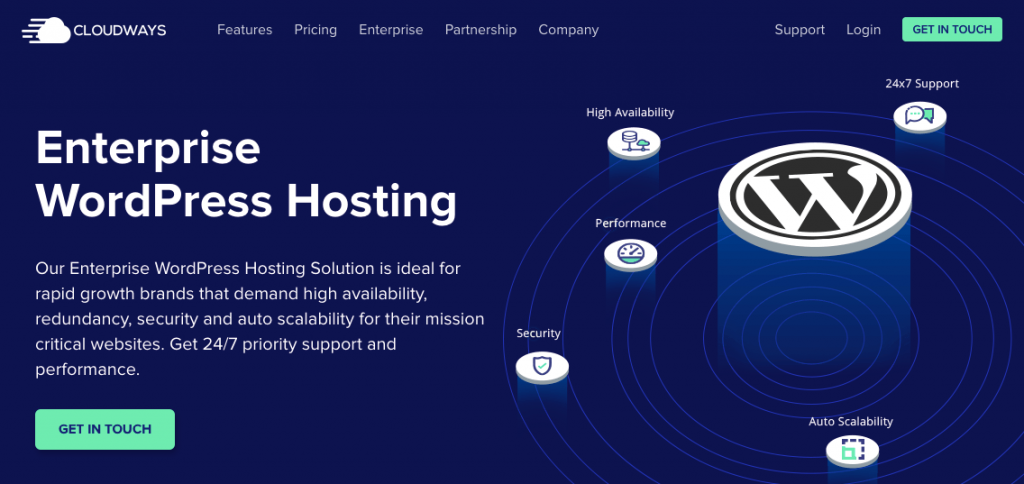 Couldways commit itself to provide with the best cloud-managed hosting for WordPress. The hosting is stacked with the latest technology offering the newest PHP versions, MYSQL as a database, and more. It has its in-built caching plugin Breeze that offers a seamless performance for the WordPress site at no extra cost.
The servers are well protected by firewalls including encrypting SSL to ensure an extra layer of security for your WordPress site. It also consists of easy & automated backups. It has an extra security feature in the form of two-factor authentication to keep your site safe from intruders.
Cloudways hosts several WordPress staging areas enabling it to test and develop the site without having to make changes to the live website. Enjoy the ease of migration from another server for free and make the best use of its hosting features on your WordPress site.
Key Features
Built-in advanced-cache
Servers ready for PHP 7
Seamlessly scale with the 1 click process
Website cloning abilities with managed backups
GT Integration, unlimited staging site creation
Our Verdict
Even though, it might seem a little too technical for many. But this solution provides an extremely flexible and accessible solution for many. Mostly because it doesn't lock anyone with a long-term contract. So if you are running a small to medium-sized business or even personal blogging then Cloudways can be the managed hosting you can turn to.
5. Kinsta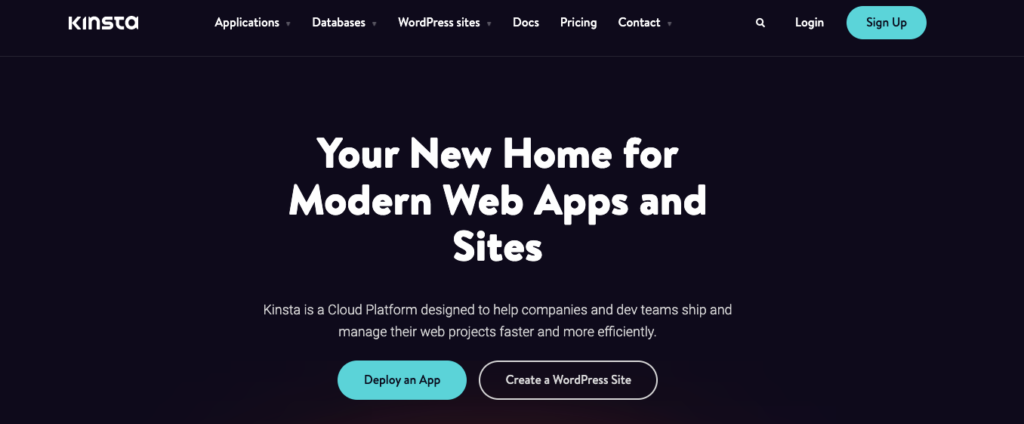 This managed to host for WordPress can be termed as a popular one among users looking for sophisticated managed WordPress hosting. This hosting has slowly made its way up the ladder proving itself to be a top-quality managed hosting provider for WordPress. It is now mostly known for providing premium solutions to large businesses.
With its fully managed features and the latest technology of PHP 7, LXD, Ngnix, you get a WordPress server designed for super-fast loading time. Hosting is served with a highly secured network to help keep a check on your site against any possible threats online.
Built with the mindset of next-generation infrastructure starting from server hardware to software it runs. The server is powered by the Google Cloud Platform for seamless connections over the premium network. With its free migration facility, you will find it really easy to switch from another hosting to it.
Key Features
Built with a highly secured server & developer-friendly platform
Created with state-of-the-art technology
Worry-free backups and up-to-date server
Scalable as needed due to a flexible infrastructure
24/7 site monitoring with a hack guarantee
Our Verdict
Suitable for users who want to keep easy scalability options open for their site. Even though some of its packages are quite pricey but if you are looking for a user-friendly yet powerful managed hosting for your WordPress then Kinsta is probably the hosting you would want to use.
6. InMotion

Known to be a secured and best-in-class hosting provider for WordPress, that comes with free SSD storage and CDN for speed-optimized hosting. With its free migration feature now anyone can easily get started quicker. Get free automatic backup and keep your site protected from malware and hacking with hosting's premium options. Keep your server up to date with its automatic security patches.
It has a number of premium plans loaded with features useful for every WordPress hosting. Using the BoldGrid included with all its pricing plans, anyone can build a stunning site in no time. Get online in minutes with its free installed WordPress and make the most of your site's hosting server.
The server stack comes blazing fast to ensure ultimate performance. Easy to customize the content with the premium themes included and use any plugins available for WordPress with ease.
Key Features
Unlimited email accounts & Free Domain
Safe upgrade & site backup facility
Complete hosting and design support
Easy content customization with free themes
No restrictions in using WordPress plugins
Our Verdict
With a hack-preventing server and one-click installer option, you can get a multi-functional and user-friendly experience in your hosting service. Also, if you need to use any plugins for WordPress or set up a customizable and cost-effective site then getting this managed hosting might be a good option for you.
7. GoDaddy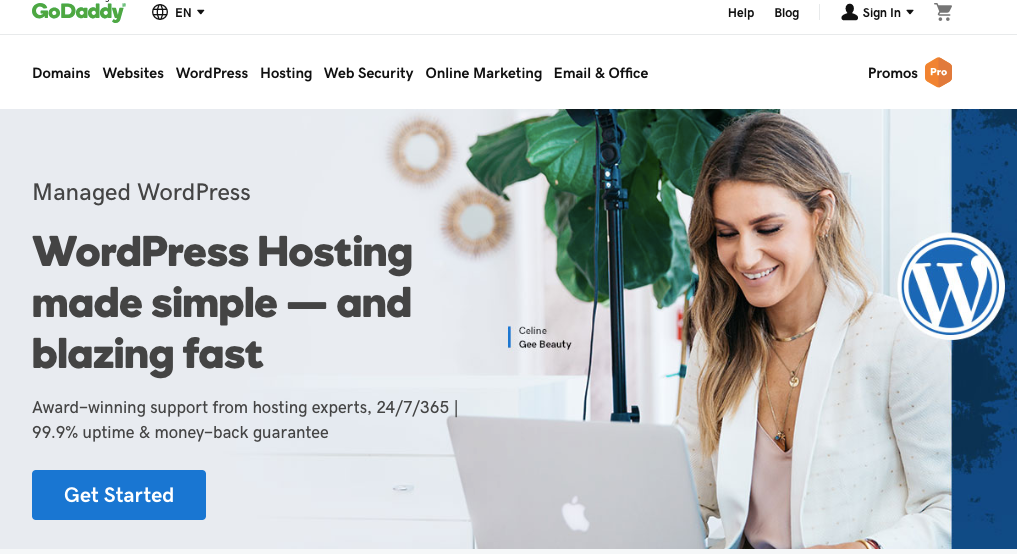 This is a hosting provider that is slowly making huge progress in the area of WordPress-managed hosting. With lightning-fast SSD-based servers, anyone can set up and get started quicker. It handles all the technical stuff like account setup, automatic nightly backups, DDoS protection, server optimization, 1-click restore, and more with the utmost professionalism. Ensures the perfect performance with the platform built for WordPress-optimized hosting.
Your sites get easily found on Google and other common search engines as it handles the SEO basics of your site with their SEO optimization plugins. As a completely new user even if you don't have a domain, GoDaddy provides you with a temporary domain to create your site faster.
The hosting serves with visitor overage protection. So that its user doesn't need to pay extra for additional visitors to their site. Get the most real staging environment to test your site before it is online. Continuous website security scan from this hosting neutralizes the malware that could prove to be dangerous to you and your customers.
Key Features
Get a temporary domain name and free email for a year
Hassle-free one-click migration
Award-winning support team
Get access to thousands of free themes and plugins
Money-back & 99% uptime guarantee
Our Verdict
For your personal and small business use, GoDaddy provides some really exclusive plans to host your WordPress websites. So if you are looking for managed hosting for your simple blogging or even a feature-rich website, then GoDaddy can present you with some awesome hosting solutions.
8. Flywheel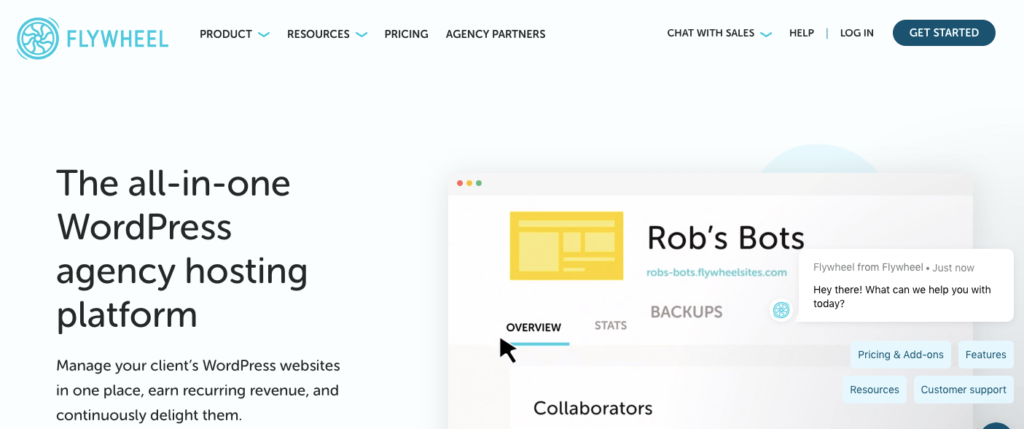 This one is relatively new in the field of WordPress-managed hosting compare to others in the list. Mostly known for its user-friendly interface and ease of use, the hosting provider currently comes with its built-in caching system and automatic backups.
All its plan comes with 24/7 live chat support and free SSL. Recently the hosting has come up with some inexpensive plans for users wanting to get started with managed hosting.
This hosting has quickly made a mark for itself in the sector of managed hosting for WordPress. And the platform it holds is built with creatives and designers in mind. Moreover, the intuitive SFTP enables collaborating with designers easier than ever.
It helps to reduce the page loading time. And also encourages easy scalability and the ability to use any WordPress plugins you want are some of the key attributes that make this hosting stand out. More importantly, the highly qualified WordPress experts it hired to resolve any issues that may transpire to their users.
Key Features
Speedy server-level caching facility
WordPress staging environment to test site before going live
Great scalability option for any site
24/7 live chat support & SSL certificate included with all plans
Beginner-friendly user interface with automatic updates
Our Verdict
Even though the additional server features can be a little expensive, the performance it serves can cover up for it. Especially for users looking for a user-friendly and fast hosting service provider for their WordPress site. So it is most suitable for users who like to manage, customize and scale up their site with ease.
9- Hostinger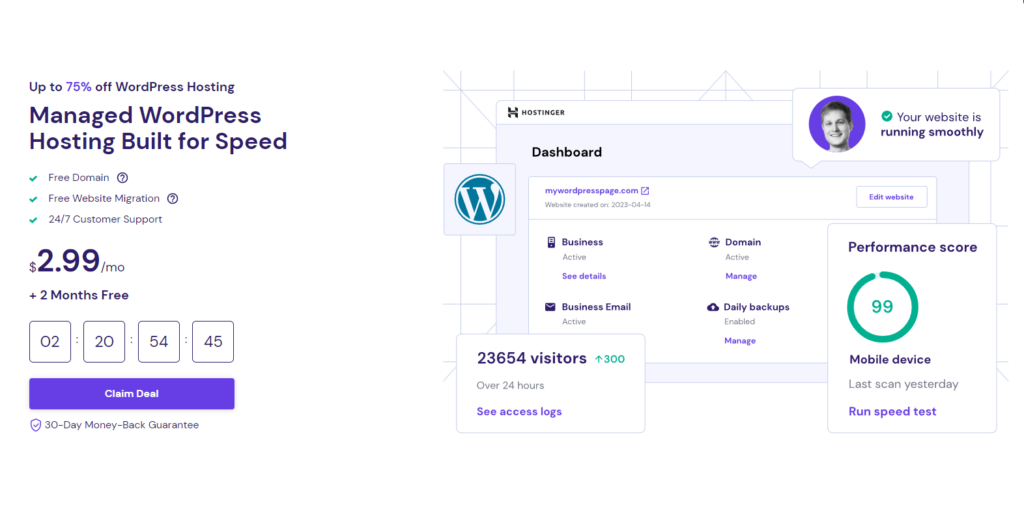 Hostinger WordPress Hosting is the ultimate solution for individuals and businesses needing a high-performing, reliable, and budget-friendly platform for their WordPress websites. With powerful servers and impressive load times, Hostinger keeps your site online and lightning-fast, even during traffic spikes.
The standout feature that sets Hostinger apart is its unbeatable pricing. Offering exceptional performance at an incredibly low cost, Hostinger WordPress hosting is a game-changer for those looking to build and grow their online presence without breaking the bank.
Key Features
Lightning-fast speed
Enhanced security
User-Friendly control panel
Extensive template library
24/7 expert support
Our Verdict
Hostinger offers great performance, user-friendly features, and affordable pricing. While there might be occasional delays in customer support, the extensive template library and easy-to-use control panel make website management a breeze. All in all, Hostinger WordPress Hosting strikes a perfect balance between affordability and quality, making it a fantastic choice for individuals and businesses aiming to create a strong online presence.
10. Namecheap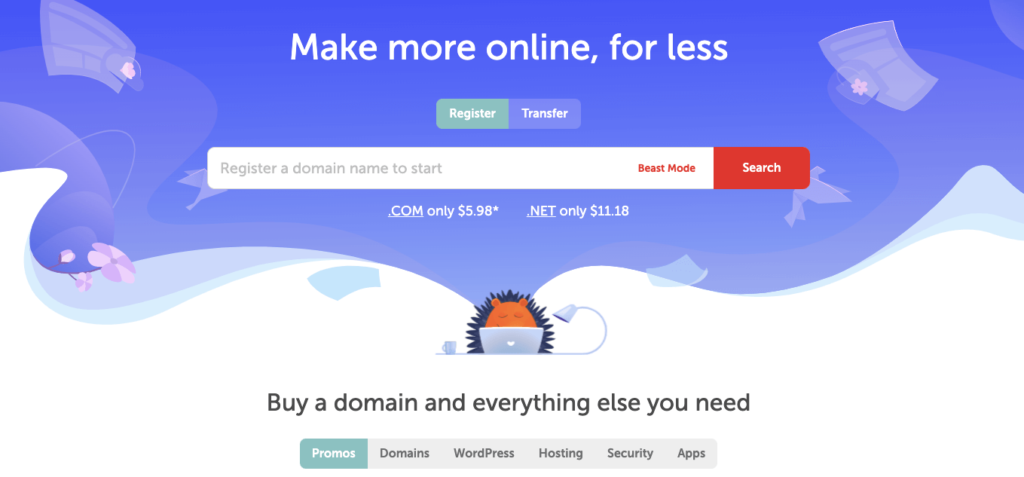 Naming the plans for WordPress hosting as EasyWP, it vows itself as the managed hosting platform for every WordPress user. Simply create and manage your site on EasyWP with its easy-to-use managed WordPress hosting options.
First of all, the pricing plans are not only cheap but it is also packed with the latest technology of cloud hosting and totally optimized for the WordPress platform. The infrastructure developed for WordPress-managed hosting allows the sites to grow without any hassle.
With the promise of risk-free investment and a 99% uptime guarantee, you can enjoy a true experience of managed WordPress hosting without any hiccups. Moreover, its next-generation technology enables your site to grow easily. That too with heavy traffic rate all the time. It consists of a powerful hosting tool that updates on a regular basis.
A maintenance mode option is there for every site to decide for its user to go live whenever they are ready. More importantly, with a single login, a user gets to manage and update all settings from one dashboard. Get quite easy accessibility to your files through SFTP for the safe sharing of credentials.
Key Features
Automatic backups and restoring ability
Free temporary domain and support
99% uptime & money-back guarantee
In-house Namecheap cloud facility
Affordable pricing plans
Our Verdict
Just like its name, it provides hosting plans at a very cheap price. Being cheaper in price doesn't always mean it's low in quality and this goes for Namecheap. Although it comes with some really reasonable pricing plans.
But it doesn't lack much in the powerfulness of managed hosting. So, if you are looking to host your WordPress sites with an inexpensive yet compelling hosting solution then this is the service you can turn to.
11. Exonhost

This hosting service provider might look like a small name in front of some of the giants in the WordPress hosting industry listed above. But in terms of functionality and quality of service, it doesn't quite lag behind. It promises its user to provide a full-proof hosting service conducted with features that suit most business websites in WordPress.
For the day & night operation of your site, it provides you with the best in-house 24/7 customer support. Moreover, you get to transfer your site from another platform absolutely free. Not just that, its hosting plans come with a free domain name for the first year.
Enjoy the advantage of setting up your site instantly without needing to waste any time. Install all the necessary plugins with just a single click and get your WordPress site ready in no time. With all its advanced & updated features always stay ahead and experience the smart way of hosting your WordPress site.
Key Features
Free site transfer
Free auto-installer
Instant setup & support
Free Domain name
One-click installation for all your favorite applications
Our Verdict
Even though it is considered new in the managed hosting market, it comes with some exciting and affordable pricing plans to manage and host your WordPress site. It beholds features and benefits that would suit most small business sites and if you are looking to host one then Exonhost will not disappoint you.
Top 10 Managed WordPress Hosting Comparison Table- All the Important Data in One Place
| Hosting | Pricing Plan (Monthly) | SSD Storage (GB) | Website Plan | Support | Suitable for |
| --- | --- | --- | --- | --- | --- |
| Bluehost | $24.95, $39.95 | 50 to Unmetered | 1 to Unlimited | 24/7 support through calls & chats | Powerful website at an affordable cost |
| WPEngine | $20,$50,$60 | 10,20,30,100-1000 | 1,5,15,25 | 24/7 chat or ticket-based support | Large businesses and critical sites |
| Hostgator | $5.95, $7.95, $9.95 | 1,2,3 | 1,2,5 | 24/7 chat or call | Complex and large business sites |
| Cloudways | $12, $26, $50, $96 | Ranges from 20 to 160 | Undefined | 24/7 dedicated support | High-performing business sites |
| Kinsta | $7, $18, $35 | Ranges from 5 to 200 | 1 to up to 150 | Through expert WordPress developers | Highly secured and professional business sites |
| InMotion | $8.99, $11.99, $15.99, $22.99 | 40,80.160,200,240 | 1,2,3,6,10,20 | 24/7 complete US-based support | Speed-optimized and secured business sites |
| GoDaddy | ₹249, ₹499, ₹699, ₹999 | 10,15,30,50,200 | 1 up to 50 | 24/7 dedicated support | Super efficient WordPress business sites |
| Flywheel | $13, $25, $96, $242 | 5,10,20 | 1 | 24/7 live chat support | Small agencies to large businesses |
| Hostinger | $2.99, $3.99, 9.99 | 50, 100, 200 | 100 to 300 | 24/7 live chat support | Small to medium-sized blogging or business sites |
| NameCheap | $4.48, $6.48, $9.48 | 10,50,100 | 1 | 24/7 support | Small to medium-sized blogging or business sites |
| Exonhost | TK327, TK489, TK796 | 0.5,1,2,4 | 1,5,10, unlimited | 24/7 professional support | High-capacity blogging or business sites |
Bonus: Top 5 Equally Good Managed Hosting Optimized for WooCommerce Sites
In WordPress, the WooCommerce site is something you can never afford to ignore. WooCommerce is the most popular platform in WordPress when it comes to building your online e-commerce store. And you would need a highly capable managed to host to handle such sites.
So here are some of the managed hosting providers that provide WooCommerce-optimized hosting.
1. LiquidWeb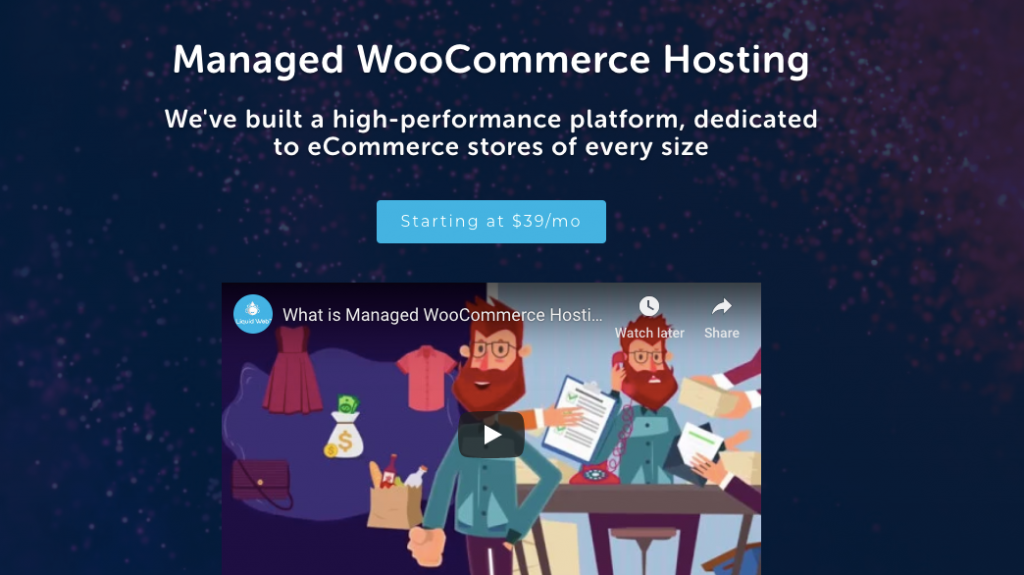 Presents its users with a highly optimized hosting service that dedicates its premium features to be unleashed for WooCommerce. You get one of the best in-hand eCommerce-supported web hosting. Also, get a complete custom feel provided with the popular page builder Beaver Builder.
Get to add unlimited products and orders. It comes with a solid site backup facility, customer support, security, and more. You can also integrate your WooCoommerce with a powerful multi-vendor marketplace solution like Dokan and become a proud marketplace owner yourself experiencing a super fast hosting server experience from LiquidWeb.
Key Features
Faster store loading time for high-traffic WooCommerce site
Enjoy great performance even under heavy load
Free migration from other hosting platforms
24/7 ultra-fast expert support
A complete solution combined with plugins, themes, and more
Pricing: From $19/mo to $449/mo.
2. Pressable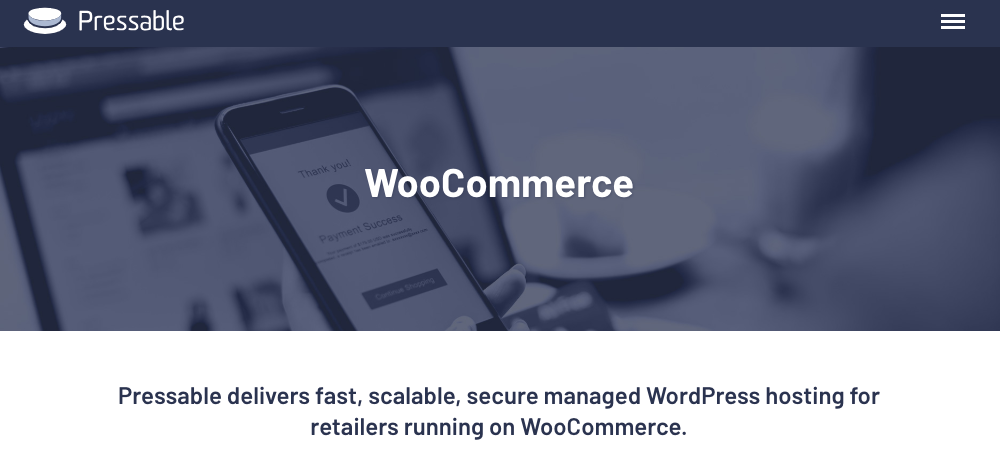 This is a WooCommerce-optimized hosting provider specializing in personalized onboarding services. It provides free migration and unlimited storage to its users. You can enjoy the facility of accessing an enterprise architecture plan for each of your WooCommerce stores.
More importantly, the hosting comes with Jilt email marketing and a free premium Jetpack feature. It highlights having a super quick customer support team that can be termed as one of the main USPs for this hosting. So, even if you are looking to manage your multi-vendor marketplace with WooCommerce, your site would experience fully optimized web hosting from it.
Key Features
Jilt email marketing support
1 click free migration facility
Great maintenance support with secured hosting
Provides an awesome multi-server environment
Control site access collaboratively whenever you want
Pricing: From $19/mo to $675/mo
3. SiteGround

Quite a popular name in the business of web hosting and made huge progress in providing WooCommerce-optimized hosting. It presents its users with almost every kind of hosting service starting from shared hosting to cloud hosting services. Moreover, not to mention it's managed WordPress hosting that people can get.
Lastly, anyone needing to get reliable web hosting at a cheaper price mostly turns to it. The hosting provides its user with top-class security features. For fast loading of sites from anywhere in the world, it has the free Cloudflare CDN system. The hosting is built under SSD servers with PHP 7 and Opcache making it one of the ultra-fast server platforms for WooCommerce.
Key Features
Specialized smart caching for WooCommerce sites
Daily backup of each account for 1 click restore
Friendly & proficient customer support
Updated Web Application Firewall to keep your store secured
Get to test and deploy any changes you need easily
Pricing: From $3.99/mo to $10.69/mo
4. Pagely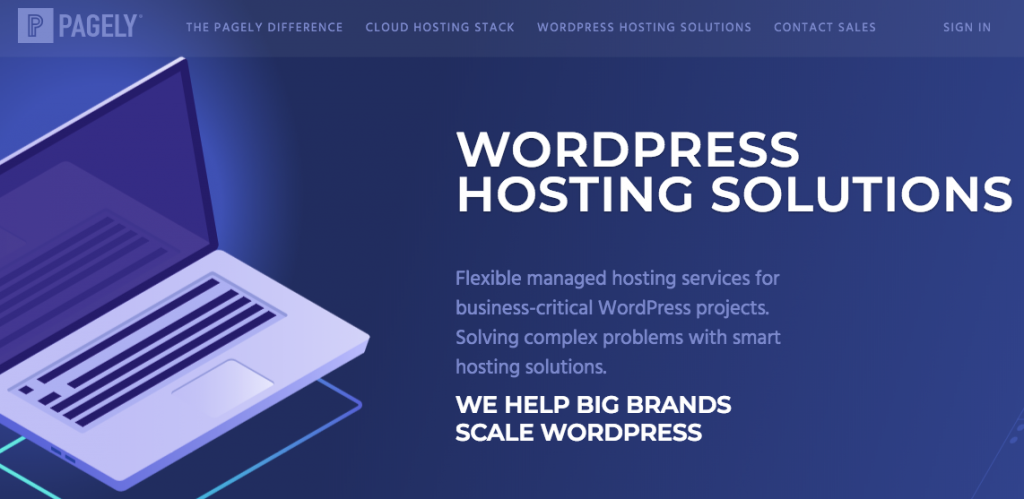 The hosting features attached to the plan of Pagely are something that most suit big businesses. Having its name made for being a developer-friendly hosting, it has also made quite a mark being one of the fastest managed hostings for WordPress & WooCommerce sites.
Besides that, the server also emphasizes a high level of security and is currently using Amazon's server allowing them access to several advanced features of it. And it improves the loading time of your websites and more importantly, focuses on the WordPress security configuration to keep the site safe from any server-related security threats.
Even though the plans are mostly on the expensive side, for businesses big enough like any WooCommerce or a multi-vendor e-commerce site, it provides one of the better solutions anyone can ask for.
Key Features
Advanced caching to improve load time
Freedom of being able to use almost any plugins & themes
Developer friendly features
Flexible design and great scalability
Automatic WordPress core updates, plugin updates, daily backups
Pricing: $499/mo
5. Dreamhost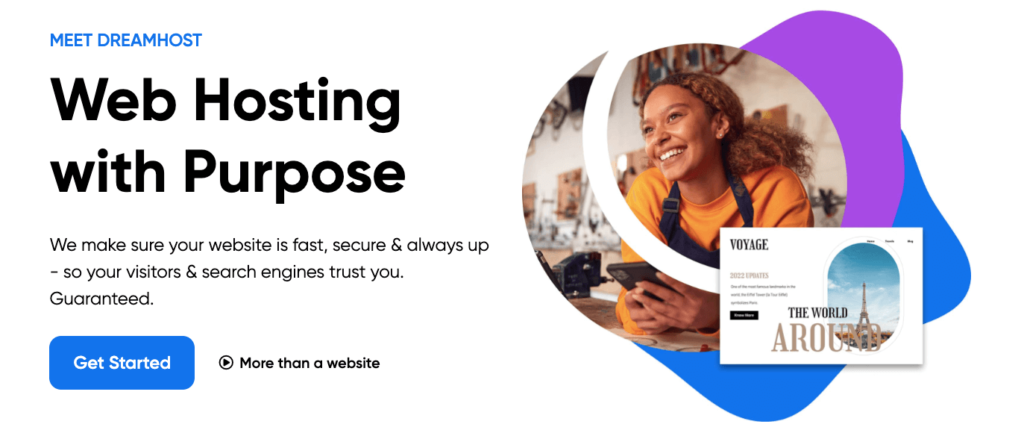 It publicizes itself to be the most efficient hosting server for the eCommerce platforms and rightly so. Optimized for WooCommerce sites, Dreamhost provides plans specially designed for WooCommerce site owners with higher traffic and storage requirements. Widely popular for its unlimited bandwidth facility and its fast, secured, and optimized for WooCommerce advanced settings.
Moreover, along with some basic plans, it has some feature-rich premium plans architecture. Especially for WooCommerce or multi-vendor marketplace for WordPress that demands high capacitive performance and extreme functionalities.
More importantly, once you choose your desired plan for your WooCommerce site, it has an effortless setup & installation process. It becomes one of the easy-to-use managed WordPress hosting service providers out there.
Key Features
Affordable pricing & a wide range of plans
WordPress & WooCommerce pre-configured to get started quicker
High-end servers with automatic updates
A stable platform with 100% uptime guaranteed
Highly professional human-driven customer support
Pricing: From $16.95/mo to $71.95/mo
FAQ(s) on Managed WordPress Hosting Comparison
Do you need special hosting for WooCommerce?
It depends on your WooCommerce store size. Any hosting that can manage WordPress will be able to manage WooCommere as well. If you just have a small store with low traffic and a couple of products, you may not need special WooCommerce hosting, because your needs aren't that different from a regular WordPress site
Is managed WordPress hosting worth it?
If you need those features, then yes managed WordPress hosting is worth it. Although you can manage any of these tasks manually or install a plugin to do it for your non-managed hosting, they will take a lot of time.
How do I choose a host for my WordPress site?
To choose the best host for your WordPress site, you need to take care of 4 things. Speed, Uptime, Customer service, Your needs.
Can I build a WordPress website without hosting?
The basic version of WordPress is free and you can build a WordPress website without hosting. Moreover, you can build a WordPress website without using a domain name.
Pick the Right WordPress Managed Hosting to Boost Your Growing Business
After reading the article, are you already getting in the dilemma of being able to pick the right hosting provider for WordPress?
Well, you probably are. Also, it is quite understandable as all the above-mentioned managed WordPress hosting has its own qualities and features that are enough to confuse new users. But we are confident, at least we were able to make the task easier for you through this WordPress hosting comparison.
Even for us, it wasn't easy to single out any particular hosting providers to recommend for you. As every managed WordPress hosting that we have talked about holds immense abilities. Also, they can outperform one another in several entities that each one of them is good at.
That's why these hosting service providers can only be termed as some of the top ones out of the hundreds and thousands out there in the market.
You can also read- How To Choose The Right Hosting Environment For Your eCommerce Store.
Ending Notes on Managed WordPress Hosting Comparison
We know that your choice of getting your managed hosting will depend on the kind of site you need to host. Therefore, we have categorized the hosting providers in this article into two parts. One for general WordPress sites and the other one for sites that want to sell products online like in WooCommerce.
So if you have a small WordPress website, then you may want to stay on shared hosting until it is actually big enough to get the expensive & well-secured advanced managed-to-host ones.
At the end of the day, it again depends on your site's demands. As they all apply to many other considerations like features, pricing, scalability, customer support of the hosting service provider, etc.
Lastly, have you been using any of the above-mentioned managed WordPress hostings? Then, we would love to hear about your experience with it in the comments section below. Also, you may add any thoughts regarding the comparison we did here.