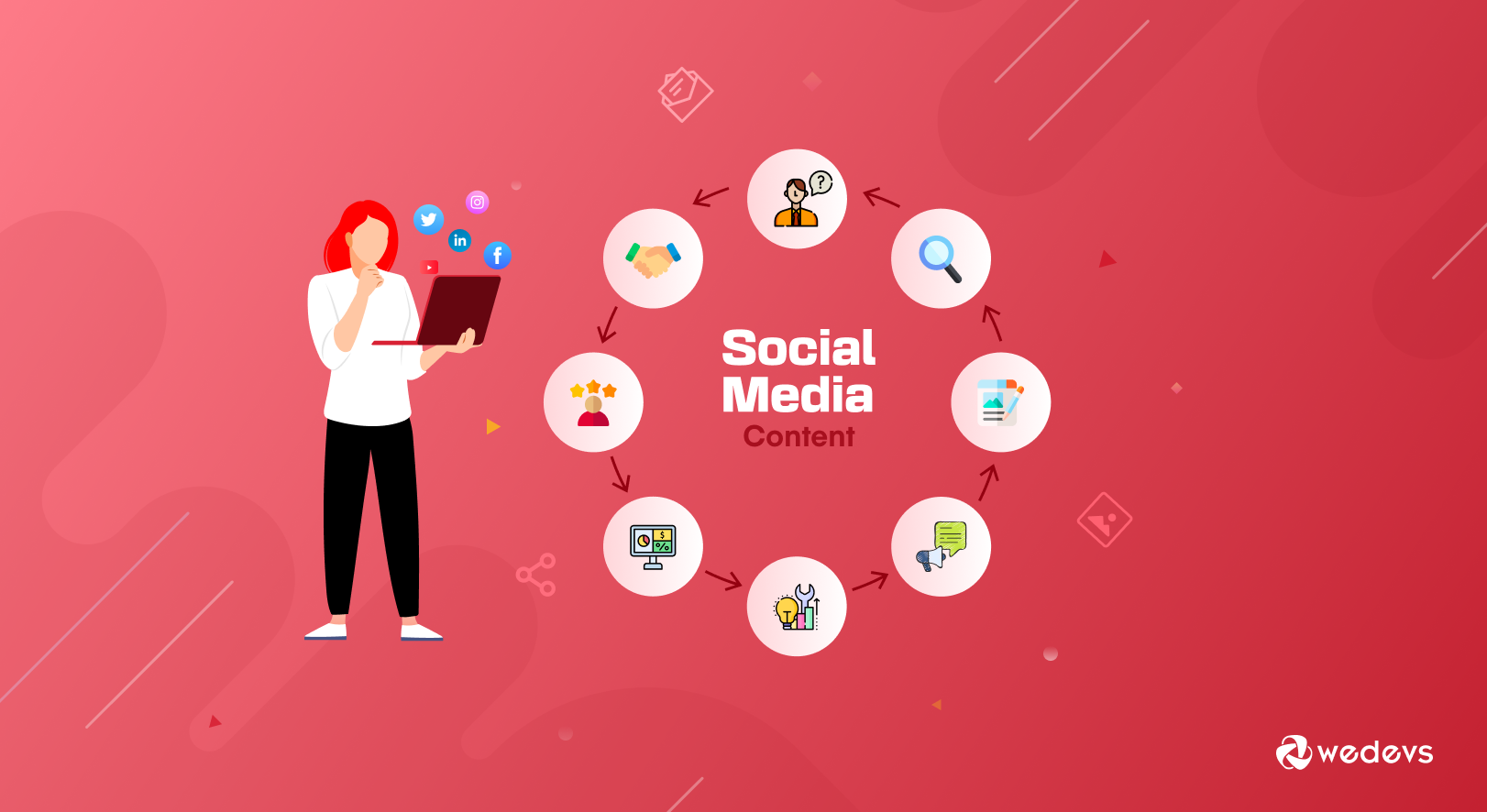 How to Create a Fruitful Social Media Content Workflow in 2023
It's no secret anymore that social media is a powerful communications tool now in the 21st century. What is less clear, especially to newcomers, is how to use it most effectively. As social media changes and evolves, it's important to have a content workflow in place. This will ensure your social media content is effective and reaches your target audience.
Creating social media content is one of the most important aspects of any online marketing strategy. But it can also be one of the most time-consuming and challenging. As mentioned, social media is a powerful platform for businesses of all sizes. What is a secret, however, is the best way to create a social media content workflow.
In this article, we will outline some key steps to maintaining a proper social media content workflow that will help you create content that is effective, engaging, and resonates with your audience to produce better results. We'll also give you some tips on how to optimize your content for maximum reach and engagement.
What is Social Media Workflow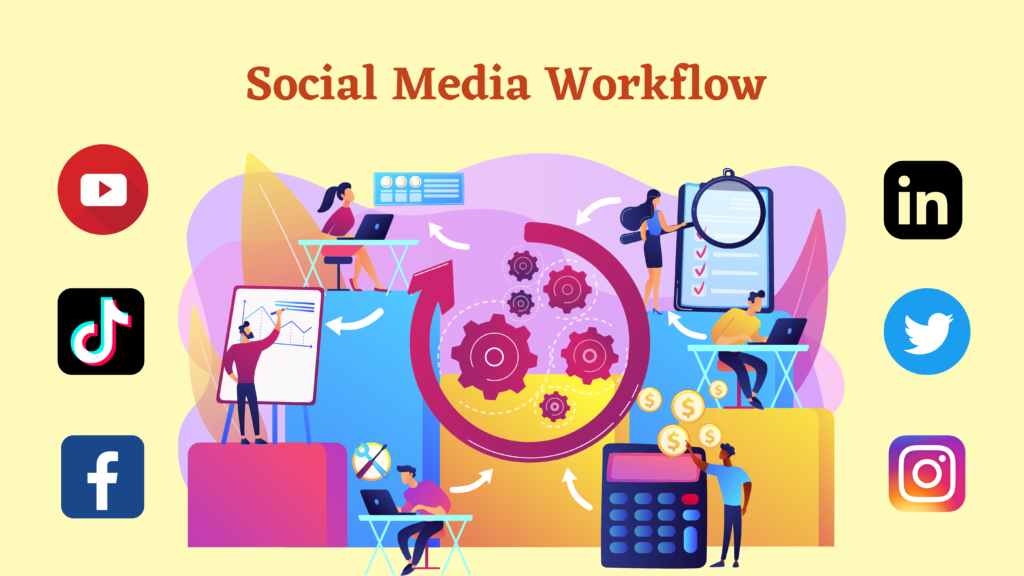 A social media workflow is a tried & true process for posting content on social media. From coming up with an idea to gathering & repurposing content to engaging your audience and analyzing reports – the workflow allows you to focus on the key aspects of your business. With a busy schedule, social media is often the first thing to fall through the cracks.
Moreover, from a marketing & strategical point of view, it is known to be a set of processes that are used to manage essential social media activities. It includes the steps that are taken to implement and monitor social media strategies.
It can be as simple as having a content calendar with all the posts on it, or it can include more complex tasks such as monitoring social media analytics, understanding the impact of various posts, and identifying trends.
A good workflow helps you keep up with your social media activity by making sure that you don't miss any important deadlines or updates. With this process, your social media campaign will always be on a schedule so you can spend more time on other important marketing tasks.
Importance of Maintaining Regular Flow of Social Media Content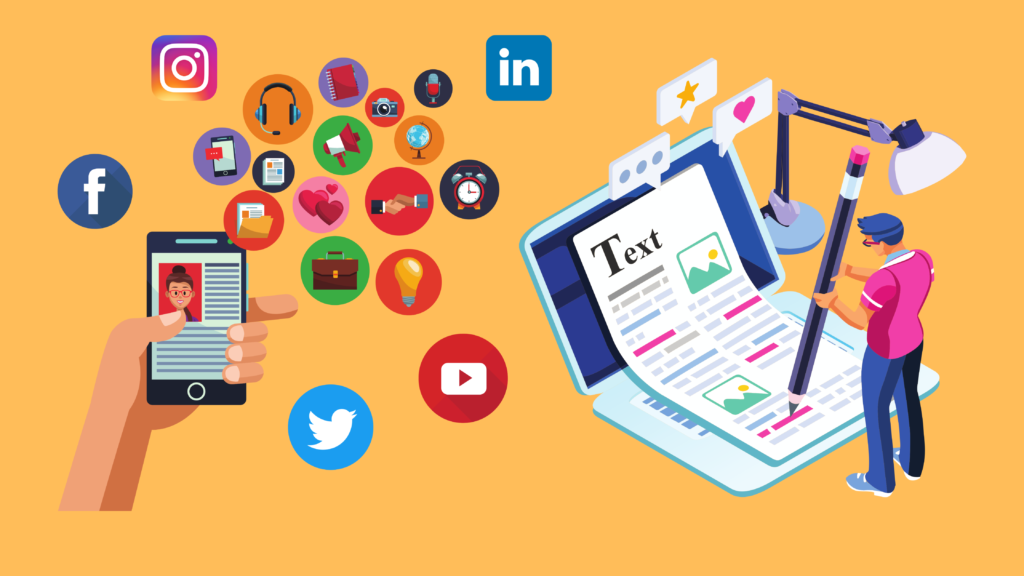 No doubt social media has changed the way we communicate and interact with others. It has also changed the way companies market themselves to their customers. The most popular social media networks have created a new outlet for businesses to reach their customers.
Nowadays, there is no better way to stay connected with your business than using the most powerful social media platforms in the world. Today, in every business, social media is an essential part of any marketing strategy. It can be used to build brand awareness, reach new audiences, and promote products and services. But it's not always easy to keep up with the ever-changing social media landscape. This is why you need to maintain a proper social media content workflow.
More essentially, a social media workflow is a system that enables you to organize your social media activities in a way that will help you stay on top of changes in the industry and make sure you have time for everything. Moreover, a good workflow should also help you keep track of what's working best for your business so that you can focus on those things.
Steps for Creating an Effective Social Media Content Workflow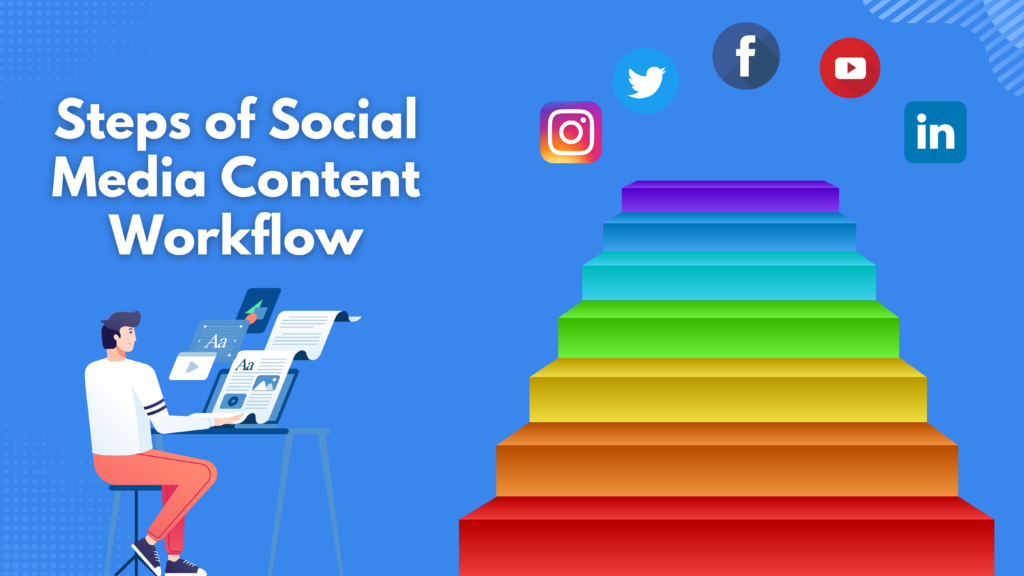 The social media landscape is constantly evolving, and what worked in 2021 may not be effective in 2022. That's why it's important to have a powerful social media content workflow in place that can adapt to the ever-changing landscape. Here are the steps to follow for an effective social media strategy, content creation, and marketing workflow:
Research and Plan
Outline Content
Creating Quality Content
Make Relevant Feature Images, Video & Info-graphs
Review Content and Take Feedback
Publish & Schedule Content Across Social Platforms
Prepare Social Media Copies And Share Content
Content Curation for Social Media
Monitor, Analyze and Report Social Media Performance
Analyze Responses and Feedback to Improve Strategy
1. Research and Plan
The first step to any social media content workflow is research and planning. It is important to know what your target audience wants and how they want it delivered. This includes researching topics that are relevant to your target audience as well as understanding what type of posts will resonate with them the most.
You should also consider the time and effort needed for each post you create, as well as how often you plan on posting on social media. These factors will help you determine how much time and money you need to invest in your social media campaign.
Therefore In order to create a successful content plan, your team should start with defining goals and success metrics. They shouldn't just jump on to generating content without proper research.
2. Outline Content
The outline of your social media content is the secret to its success. The outline helps strategize your content and helps you execute it in an effective manner. Publishing great content on social media platforms is pointless if you don't have a clear outline and goals defined. The right outline acts as a perfect social media content workflow. You cannot publish good content without a clear outline.
There are a few things to keep in mind when creating a content outline for social media.
The first thing is to make sure that the content is going to be engaging and interesting enough for people to want to share it.
The second thing is the format of the post. There are two formats that you can use, a video or an image with text.
The third thing is the length of your post. It should not be too long or too short as this will confuse your audience and may cause them to lose interest in what you have written.
The fourth thing is the timing of your posts, which should be at least once a day but not more than three times per day.
The last point is that you need to have consistency with your posts so that people know when they can expect new content. You also need to be consistent with what kind of content you're posting in order to maintain a healthy following.
A good outline is what supports the whole social media content strategy. If you don't have one, then you might be throwing your time and effort into a black hole. So make sure to prepare a suitable outline so that you can develop better content for the social media platforms.
3. Creating Quality Content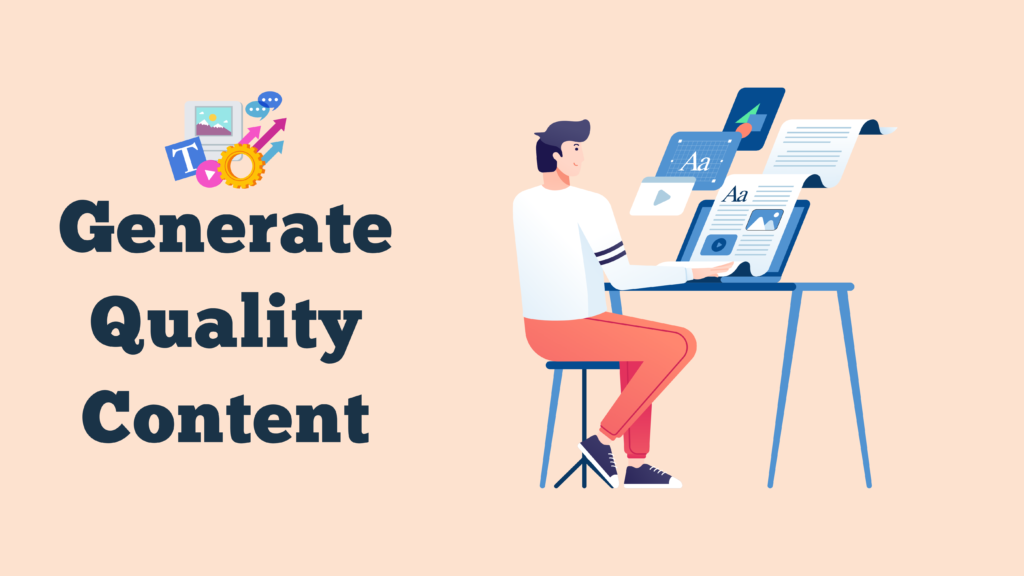 Once planning and outlining of the content is done, now you are up against creating your content.
A recent study by Harvard Business Review found that the best way to keep your social media marketing efforts on track is to create quality content. These could be blog articles on various trendy topics, videos, info graphs, etc.
This is because people are more likely to share quality content. Not to mention it is also more likely to get a positive response from followers. So, in order to maintain a successful social media workflow, you need to invest time and energy into creating quality content.
4. Make Relevant Feature Images, Video & Info-graphs
Creating images, videos, and infographics that we share on social media is a form of digital content. They have the potential to catch the attention of our followers and drive engagement.
Good digital content like that can be used as a visual representation of an article or blog post to be shared on social media. It can also be used to promote a product or service on Instagram or Facebook.
Therefore, in order to make your content look refreshing and delightful to the eye, one should create images, videos, or info graphs on relevant topics even it is for the blog content to be shared on social media posts. Nowadays anyone can easily create beautiful images, info graphs & videos using tools like Canva & Toonly. This content will resonate with our audience and it will be much more engaging than copyrighted content/images that are available online.
5. Review Content and Take Feedback
Good content is the one that is well-written and contains all the information required by the user. But, it is not always easy to write perfect content. One of the most important aspects of good content is its review process.
Therefore, once your content is ready, review the content & take feedback from your clients or team lead to make any tweaks or changes for the betterment of it.
After you have written your content, you need to go through it thoroughly for any mistakes or typos. You should also take feedback from your colleagues and clients about what they think about your content and if there are any errors in it or the scope for improvement. This will help you improve your quality of writing in the future and make sure that there are no mistakes in your next piece of written content.
6. Publish & Schedule Content Across Social Platforms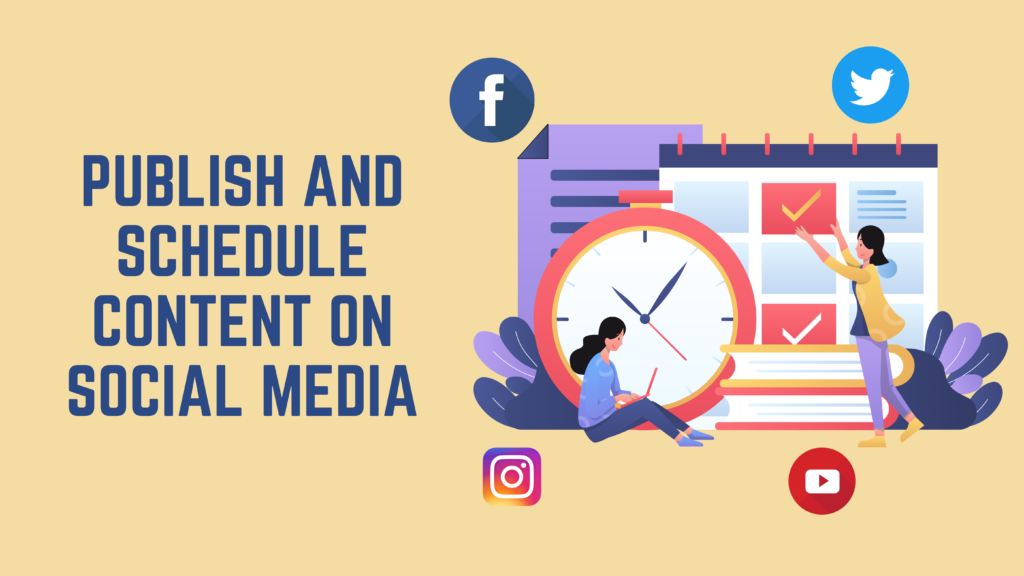 Once you have updated & improved the content after taking feedback and completing the review process. Now it's time for you to publish and schedule the content for all the social media platforms.
In order to be successful on social media, it is important for companies to publish content consistently and strategically across different platforms.
The best way for companies to do this is by scheduling posts ahead of time with a social media management tool like Hootsuite, Buffer, Sprout Social, etc. You can also use a platform like Facebook Business Manager to schedule posts on your brand's page. The goal is to create content that is relevant and timely for your customers based on the anticipation level of their needs and interests.
7. Prepare Social Media Copies And Share Content
Social media is a powerful tool that can be used for marketing and branding. So it is ever so important to have the right strategy and content in place so that you can share on various social media platforms. Therefore, it is equally essential to write engaging social copies to grow & keep the interest of your readers for your shared content.
So make sure to prepare engrossing social media copies before you share any content. You need to know the exact message that you want to convey with this copy, who your audience is, and how you are going to reach them. More importantly, it needs to be precise, talks about the pain points and solutions of the users.
But you need to remember that, there are many different types of content that can be shared on social media – videos, images, articles, quotes, etc. So the copies should be written for social media based on the type of audience that you want to target as well as what type of message you want to convey.
8. Content Curation for Social Media
People love to see what others are searching for and learning about each day, so often you should assign your marketing team a search for relevant information that will interest them to share regularly along with promoting your brand. This will help maintain the flow of great content being shared daily which makes it a win-win because people love to see what others are searching for and looking at each day.
Moreover, with the introduction of AI assistants, curating content for social media has become easier than ever before. These AI assistants are able to analyze data from trending topics on social media and then provide relevant content for users to post on their own profiles. This is a great way to keep users engaged with your company's social media accounts without having to spend hours on it yourself.
9. Monitor, Analyze and Report Social Media Performance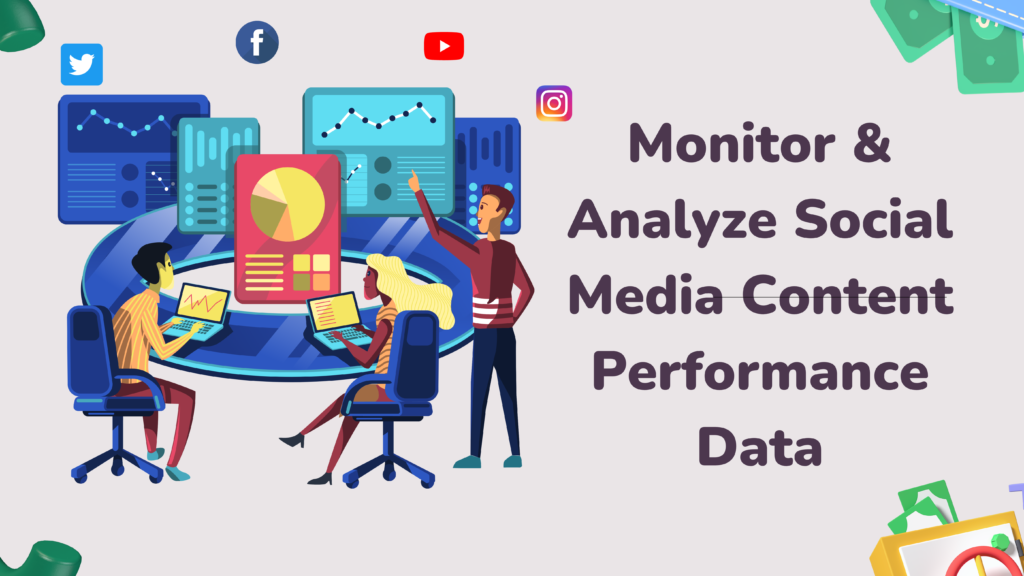 To ensure good performance in any social media strategy, you need to closely monitor and analyze social media performance.
The first step in analyzing your social media content performance is to monitor what's going on. This means logging into your accounts on a regular basis and checking for new posts, likes, shares, retweets, and mentions.
The second step is to analyze the data you have collected. This includes interpreting the data in order to identify trends or patterns that may not be visible at first glance.
The third step is to report the findings of your analysis so that they can be used to make informed decisions about future content creation, posting schedules, marketing campaigns or other aspects of your strategy.
The final step is to evaluate the impact of your efforts on your metrics. You should analyze how successful or unsuccessful you were at achieving your goals and learn from any errors that might have affected your progress.
10. Analyze Responses and Feedback to Improve Strategy
In general, businesses are all about making money. From a business perspective, the key role of social media is to generate leads. You get leads when you gather the attention of your audience. Social media engagement, in general, makes the audience angry when you don't listen to what they have to say. Therefore, you need to understand the way to deal with your audience's feedback and response, which is a vital part of the content strategy of your social media engagement, also one of the most overlooked areas of content strategy.
Therefore, understanding the feedback and how viewers are responding to your social media content is crucial to the development of a successful social media content strategy. With the help of surveys, social media comments, and engagement reports, you can easily analyze the feedback and engagement from your customers to manage your social media content in a better way and improve your social media marketing strategy.
Lastly, make sure to review & rectify any unforced errors like scheduling overlaps, repetitive posts, or unscheduled content on social media on regular basis.
Also Read: Social Media Holiday Marketing Campaign to Boost Your Business
How to Optimize Social Media Workflow (Tips for Social Media Manager)
As we know, social media is a powerful tool for marketing and business. It can help you reach a wider audience, communicate with your customers, and drive traffic to your website.
But at the same time, social media workflows can be complicated. There are multiple platforms, and it takes time to schedule posts, create content, respond to comments and messages, etc.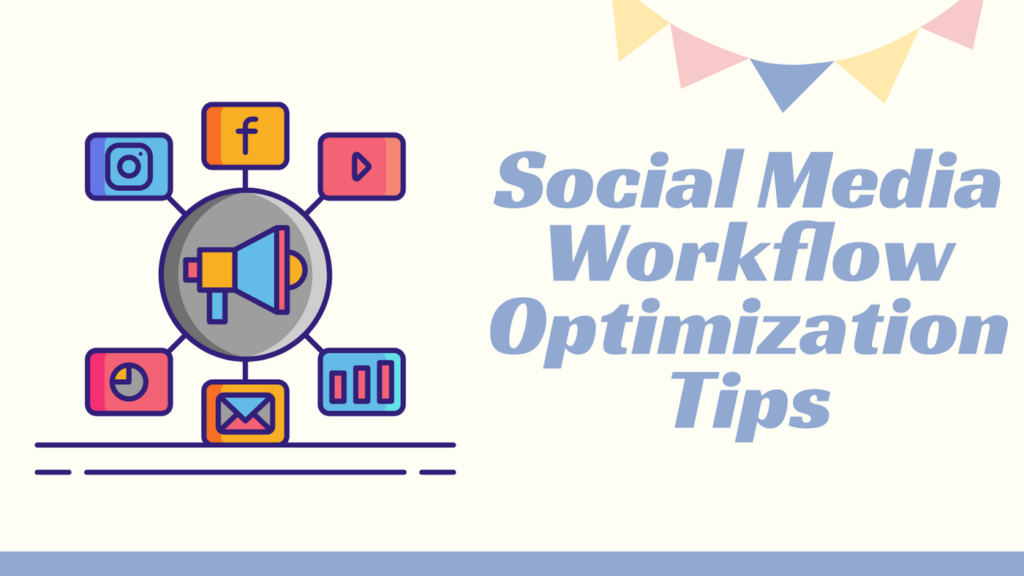 Here are some tips that will help you optimize your overall social media workflow:
Use tools like Hootsuite or Buffer to schedule posts in advance
Create a plan and maintain content for content creation
Use analytics tools like Google Analytics or Facebook Insights to track the performance of your social media channels
Use autoresponders for customer service to efficiently respond to customer queries and questions, which ultimately leads to increased customer satisfaction.
Now you know what it takes to set an effective social media content workflow and how to optimize it in the right way, but in most common cases, this workflow will be of no use if your social media manager fails to prepare & execute the right set of plans.
Tips For Social Media Managers
After creating the social media content workflow, keeping it optimized maintaining the right strategy is highly essential to sustain the ongoing success of social and marketing campaigns. And here are some useful tips for social media managers as follows:
◉ Have a strategy in place before starting on the task of managing social media which will allow you to focus on what is important, like developing and executing your content marketing strategy.
◉ Choose the channels that your company needs to be present on and then choose the best time of the day to post content on those channels. The best time for posting is when your target audience is most active. Leverage the data you have to help you decide when your viewers are most active.
◉ Be consistent with your posts, but vary them so that they don't seem repetitive or boring to followers. Build your following, and in order to grow your followers, you need to be consistent and varied!
◉ Engage with your followers and make them feel like they're part of an exclusive club by asking for feedback, opinions, or questions about their recent experience with your company's products or services. This will keep them interested in your company's social media posts and create a sense of community among the people you represent.
Also Read: A Complete Guide for Visual Content Marketing for Digital Marketers
Mistakes That Ruin Your Social Media Content Workflow & Strategy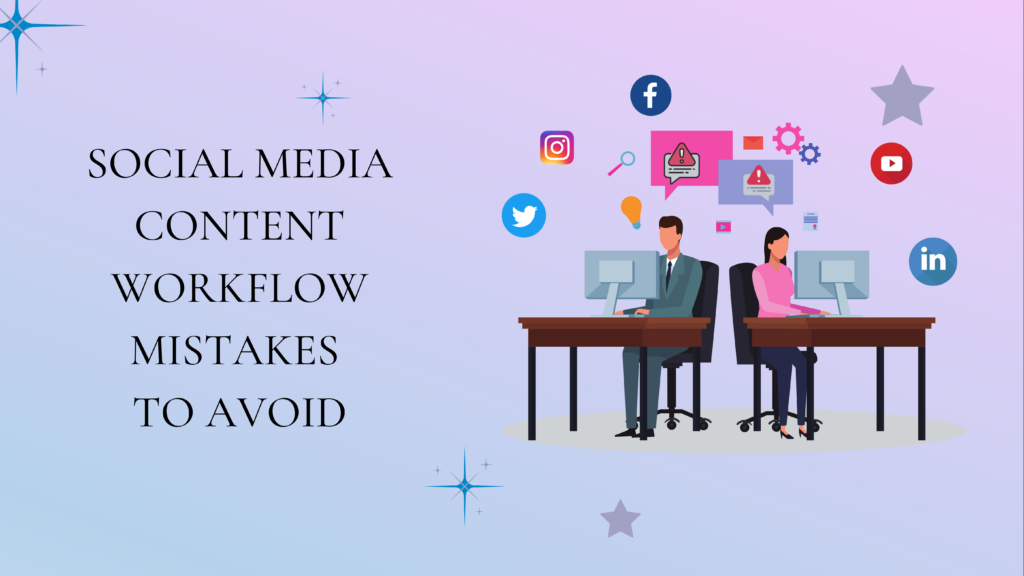 Social media is a powerful tool for any organization to reach its target audience. But, if you are not using it correctly, it can do more harm than good.
Here are five major mistakes that will ruin your social media content and strategy:
1. Not Understanding the Social Media Platform Properly
The usage of social media has been on the rise in recent years. More than 2 billion people use social media on a monthly basis, and this number is only growing. All of these users are constantly exposed to various marketing messages, so it is crucial for marketers to understand the platform they are using in order to create effective campaigns.
2. Not Knowing Who Your Target Audiences are
Having a clear understanding of who your target audience is is critical to the success of your social media content and business success. You need to know how to reach them, what they want, and how you are different from other businesses in your industry.
3. Not Having a Definite Plan for Social Media Content Distribution
It can be difficult to keep up with the ever-changing world of social media. The best thing you can do is develop a routine and stick to it. Do you post every day? Twice a day? Once a week? Figure out what will work best for you and your company, and set up an editorial calendar accordingly.
4. Not Monitoring the Analytics of Your Socially Shared Content
You share your posts with the world, but do you know how many people clicked on them? Do you know what kind of content is most popular? If not, then you're missing out on a lot of valuable information. Social media analytics is the key to success on social media platforms like Facebook, Twitter, and LinkedIn.
5. Not Measuring the ROI Generated from Social Media Content
The ROI generated from social media posts is something that many companies make the mistake of not measuring. This is because they do not know that they should be measuring it. Any post that generates more than 10 interactions in the first 30 minutes is worth analyzing. This will allow you to see which posts are the most engaging and generate the most ROI for your company.
Also Read: Common SEO Mistakes Spoiling Your Digital Marketing Strategy
Streamline Your Business Processes to Maintain a Regular Flow of Social Media Content
We are living in a time where there are many ways in which a business can streamline its workflow automation to create a regular flow of social media content. But before that, it is important for businesses to have a strategy that will work for them and the type of work they do.
A company could use an automation tool, such as CoSchedule to automate its workflow. This is an app that will connect the different tools and apps that a company uses so that it can automate some of its processes. For example, if a company wants to post on Facebook or Twitter when they publish new blog posts, CoSchedule could be used to make this happen automatically.
Moreover, a company can streamline its workflow automation by using a complete business workflow automation tool like WP ERP. This solution would help manage and automate customer data and segment them for curated social media content creation and promotion process, later on, to maintain regular flow content distribution in various social network channels.
So make sure you pick the right automation tool and then properly utilize it in the right manner to keep the flow of content well-maintained and organized.
How do you automate your workflow to maintain the regularity of your social media content? Share your experience and thoughts with us in the comments below.