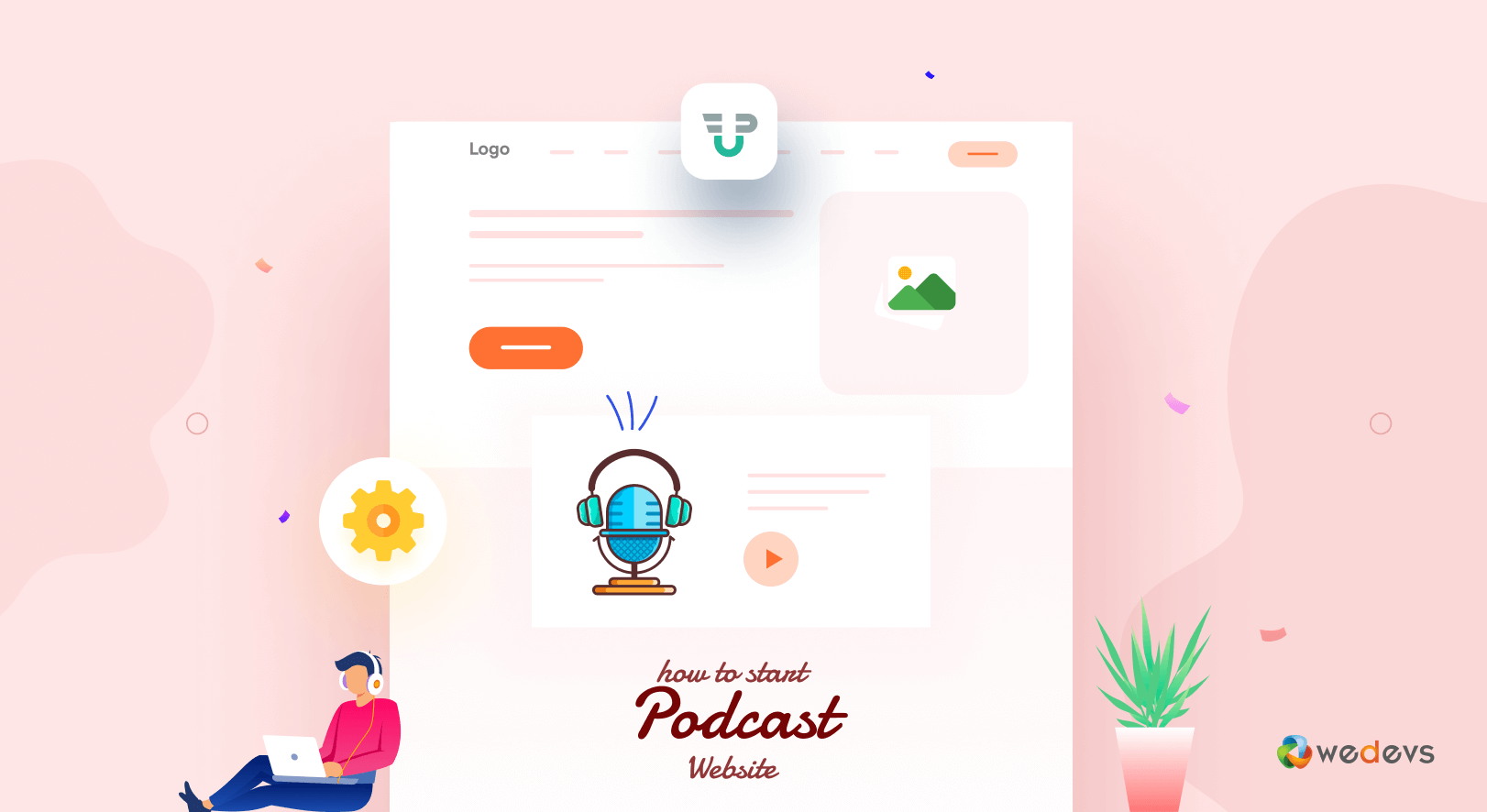 How to Create a Podcast Website in WordPress
Starting a podcast is a great way to share your ideas, build your audience and grow your business. You can talk about various topics, connect to your audience on a different level, and make a decent income.
According to research- 383.7 Million people listen to podcasts globally.
If you have also something valuable to share with a particular audience base, then podcasting could be a smart way to proceed. It may feel like creating a podcast website is complicated. But when you have a platform like WordPress, you can easily create a podcast website on your own.
In today's article, we are going to cover how to start a membership podcast website using WP User Frontend (more on this plugin later), the best practices to monetize a podcast website, and some common queries about podcast websites.
Benefits of Starting a Membership Podcast Website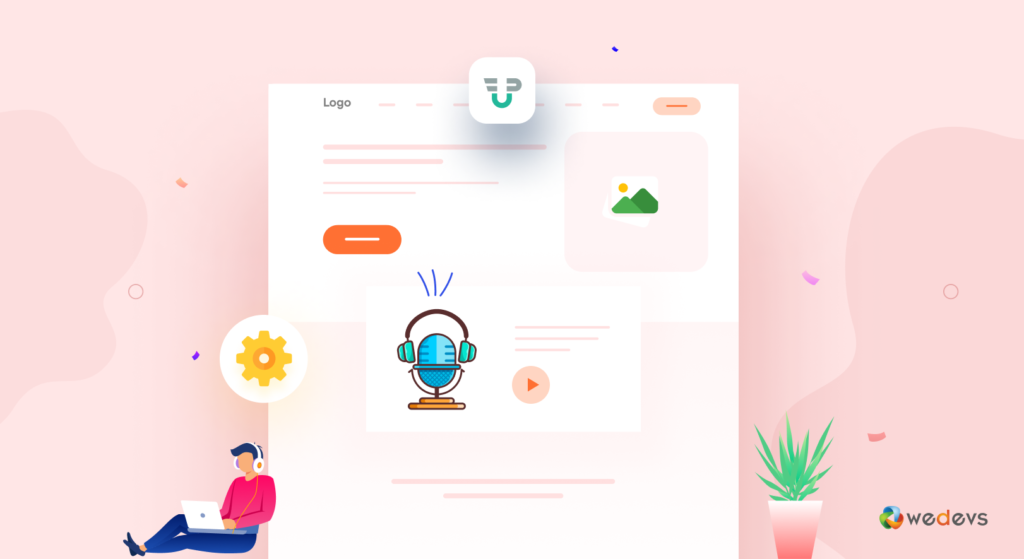 A podcast is an episodic series of audio files which users can subscribe to download and listen to.
You can create a podcast website, upload your content, and with enough promotion, you will get a sizeable audience as well. However, the real challenge is monetization. Despite having a decent audience size, that might not translate into direct profits.
Even popular platforms like Spotify and Apple Podcasts pay incredibly low amounts for each listen. Unless millions of people stream your podcast, you're unlikely to make any real money from these platforms.
That is why it is better to rely on memberships to make a profit from your podcasts. With the membership model, you can offer listeners benefits such as:
Give early access to episodes
Provide members-only content
Give the opportunity to join a private community
Have direct contact via private messages or other channels
Provide access to limited merchandise and content.
WordPress supports a wide range of membership plugins. It requires you only half an hour to build a functional membership website.
WP User Frontend- A Reliable Tool to Build Your Membership Website
When you have a big number of followers, you can entice them to join your membership site. And your loyal customers will surely jump at the opportunity to join your community. A membership program enables your listeners to show support while providing you with recurring revenue.
We are going to show you how you can add a membership feature to your podcast website using the WP User Frontend plugin.
This plugin is one of the best membership plugins in WordPress. With 30000+ active installations, it has all the features and modules to create a subscription-based membership site in no time.
It has features like-
Guest post subscription

Multistep forms to authenticate subscribers
Integration with Advanced Custom Field and WooCommerce
Restricted roles for login/registration
Partial content restriction features are available and more.
Read: How to create a membership website using WP User Frontend.
Now let's see how to start a membership podcast website using the WP User Frontend plugin.
How to Start a Podcast Website with Membership Feature Using WP User Frontend (4-Easy Steps)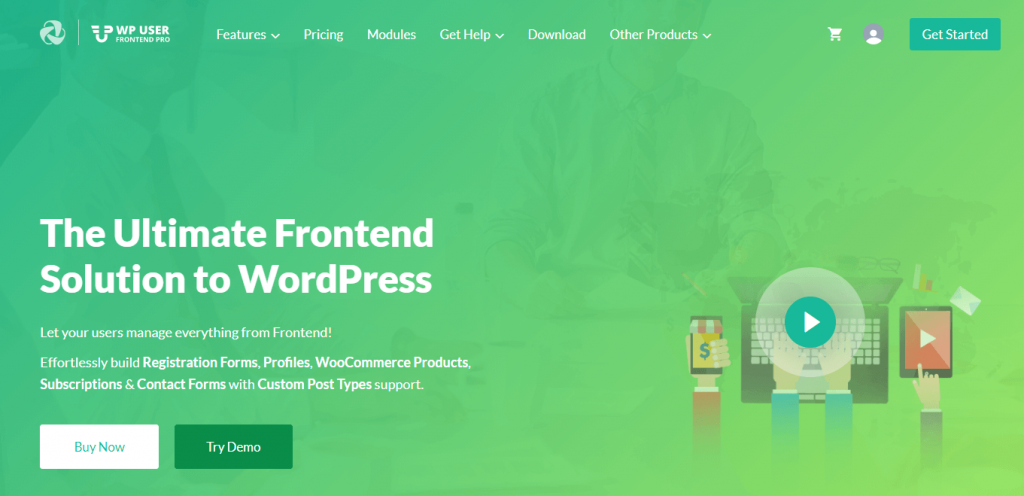 Before we start, we are assuming you already have a WordPress site, selected your niche for your podcast, purchased domain and hosting, and have all the equipment (recording devices, editing software) ready.
Using WordPress, you can upload any kind of file like video, audio, images, etc. You don't even need plugins for that. However, in order to help you organize your podcast episodes, you need to set up custom post types for them and also make sure you have access to a good audio player.
That is why you need to install a podcast plugin. Also, the podcasting plugin will help you submit your podcasts to other third-party apps like Apple, and Spotify.
So, we did our research and found that "Seriously Simple Podcasting" is one of the most popular podcasting plugins in the WordPress repository. It powers more than 20k+ podcasts on the internet. Seriously Simple Podcasting offers all the advanced features through the free plugin. You're not required to pay for additional add-ons or use a specific podcast hosting provider.
We are going to use this plugin along with WP User Frontend in order to create our membership podcasting site. Let's start.
Step1: Install and Configure Seriously Simple Podcasting Plugin
Step2: Install WP User Frontend Plugin
Step3: Create Subscription Packs with Expiry Date
Step4: Upload Your Podcast and Add Restrictions for Non-Subscribed Users
Let's see the details of these steps.
Step 1: Install and Configure Seriously Simple Podcasting Plugin
First and foremost, you have to install the Seriously Simple Podcasting plugin from your WordPress dashboard. Just navigate to WP-Admin–> Plugins–> Add New. Write the plugin name in the text field, then install and activate the plugin.

Next, you need to configure the setup wizard by adding the necessary information.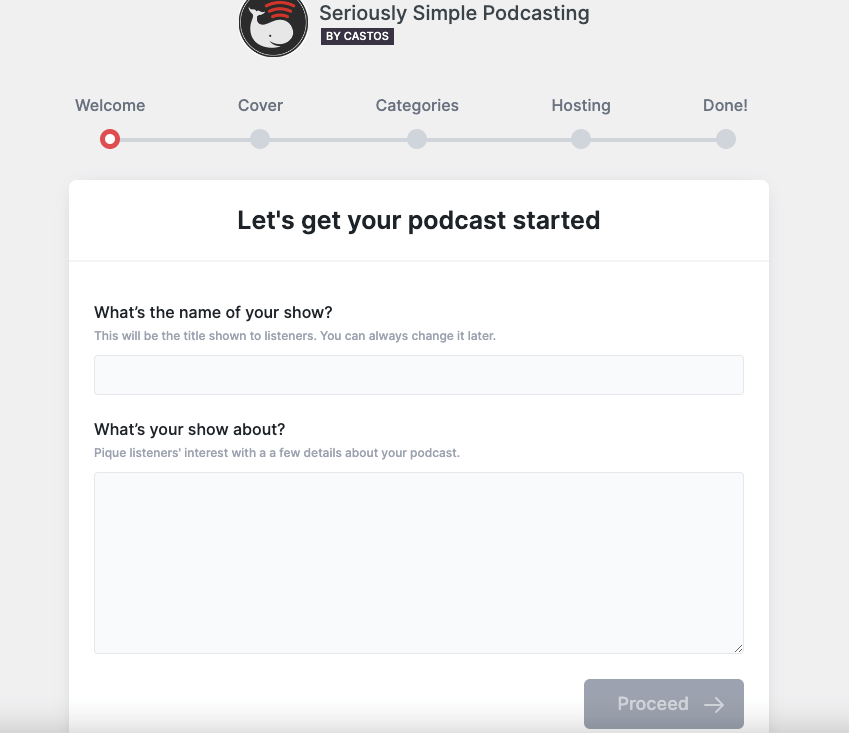 Step 2: Install the WP User Frontend Plugin
Now in order to add subscription packages for your members, you need to install the WP User Frontend plugin. You can do this the same way you installed the Seriously Simple Podcasting plugin. After installing the plugin make sure to activate the plugin and configure the setup wizard.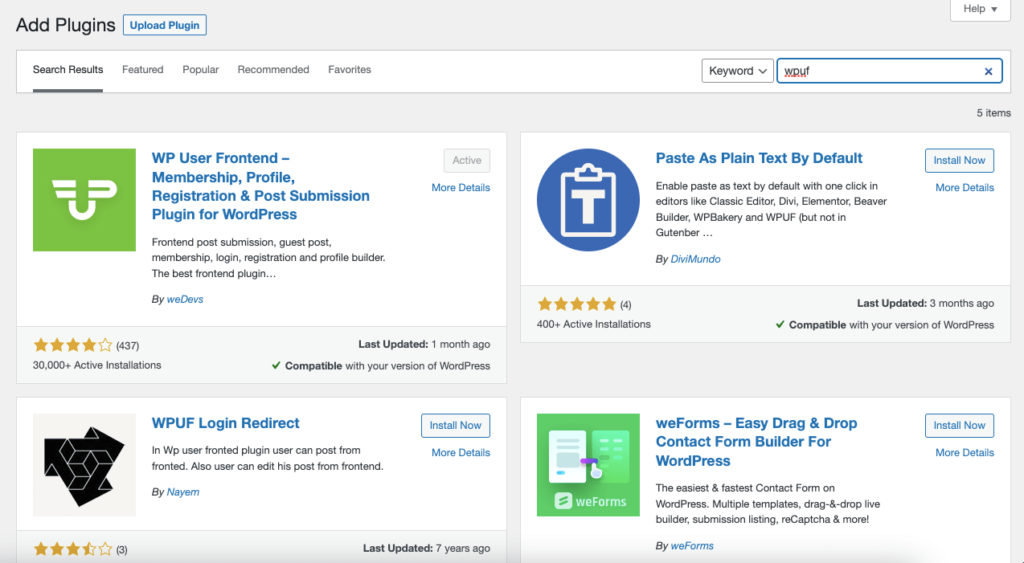 Step 3: Create Subscription Packs with Expiry Date
Next, you need to create subscription packages. You can unlimited subscription packs, but don't get carried away. The best practice is to create 3 or a maximum of 4 packs.
To create a subscription pack, go to User Frontend–> Subscriptions–> Add New. Enter your subscription pack name, add a description, subscription pack value, and expiry date. After that publish your packs.

This is what it may look like in the front,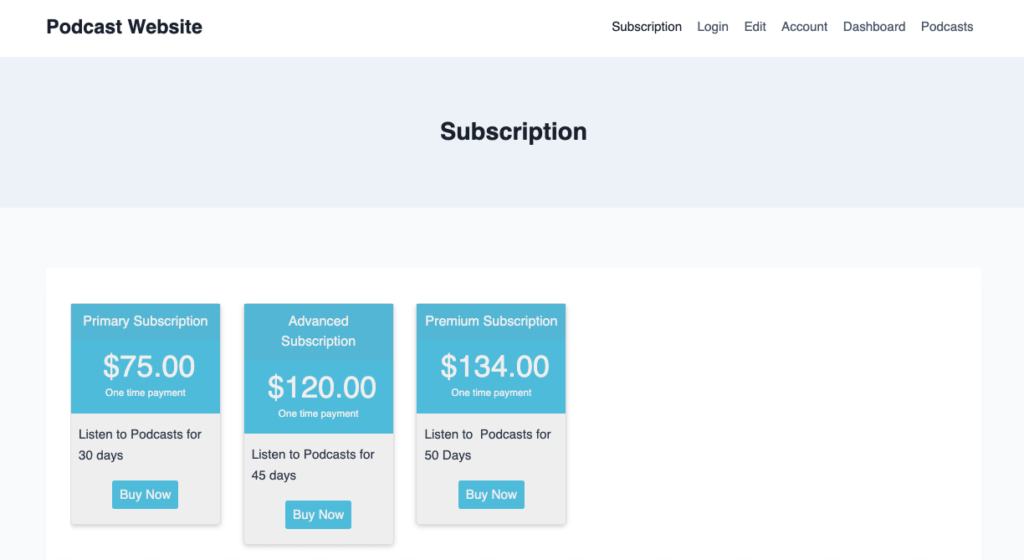 Step 4: Upload Your Podcast and Add Restrictions for Non-Subscribed Users
Lastly, you need to add content restrictions to your podcasts. Upload your podcasts from Podcasting–> Add New Episode. Add your podcast file, and give your podcast a title. If you scroll down, you will find the Content Restriction feature of WP User Frontend.
Choose "Subscription users only" from the Display option, and select which subscription plans you want to include for this podcast.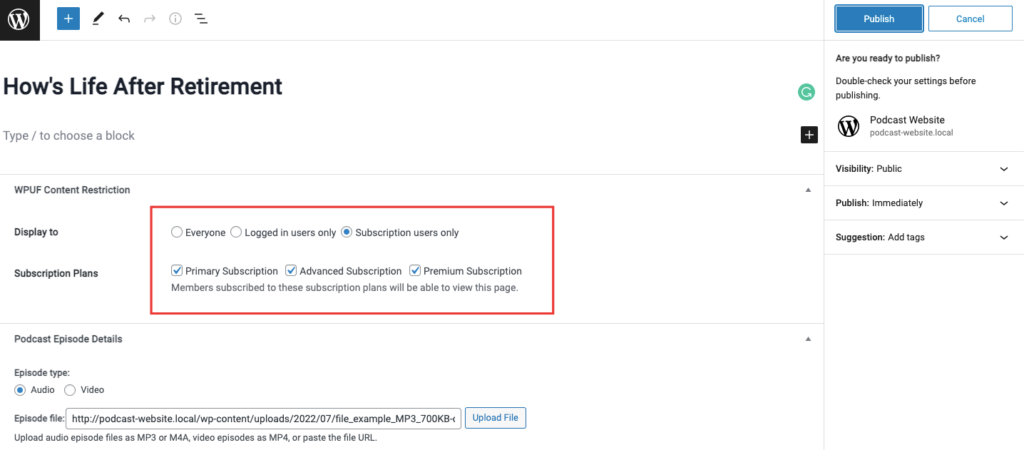 Publish the podcast and you are done.
Here is what your podcasts will look like,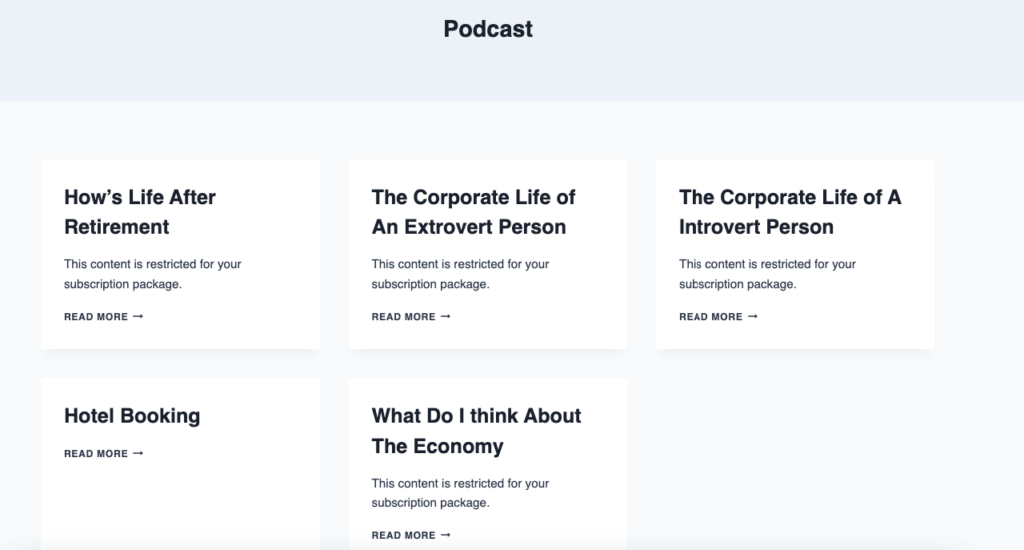 If a non-subscribed user tries to view the podcasts, they will see this message.

They need to purchase a subscription plan in order to listen to the podcasts.

This is how to start a podcast website with a membership feature using WP User Frontend plugin. Now, it is time to monetize your site.
Podcast Website Best Practices- Ways to Monetize Your Podcast Website
Now you know how to start a podcast website and also add the membership model as well. Although the membership feature will help with your earnings, you need to follow some guidelines in order to get the best result and increase your membership count.
Here are the best practices for your podcast website to shine,
Make it easy for people to listen: You should put your latest episodes on your home page and place your audio player at the top of posts.
Use attractive fonts and colors: You have to make sure the text is easy to read and don't put text on images as search engines can't read them. That will lower their SEO value.
Make your subscribe links accessible: Put your links in the footer so they appear on every page and don't forget to include every directory your show can be found.
Add social links to your pages: Try configuring your social sharing plugin to appear on each new post automatically so people can share episodes across their channels with a single click
Put your best podcast front-and-center: Use clear language and be sure to include the pitch above the fold on your homepage.
Help new listeners tune in: Show off your most popular episodes by prominently placed on your site. This will introduce new visitors to listen to your best stuff first.
Common FAQs on How to Start a Podcast Website
Do I need a website to start a podcast?
When you start your new podcast, it's critical to have a website. A website will help you get new listeners, promote your site effectively, and act as a central hub for everything related to your podcast.
What should a podcast website look like?
Clean and informative header section with a background image, description, and a subscribe button. Easy to find the latest episodes and see a page with all episodes.
What makes a podcast stand out?
Engaging with your listeners is the best way to make your podcast stand out. It provides priceless insights to the audience. It gives them a chance to overcome their pains and struggles.
How much money can you make on a podcast?
As an estimate, if your podcast has about 10,000 downloads per episode, you can expect to make between $500 – $900 per episode in affiliate sales.
How to Start a Podcast Website – Conclusion
It is not a guarantee that you will start a podcast website, add a membership system and start earning right away. But if you follow our guide where we have shared the way to start a podcast website and the best practices to monetize it, then you are sure to see the face of success.
Just remember, when you are choosing your niche for your podcast topic, choose something close to you. The topic can be something you love and are passionate about, or it can be a topic where you have a great amount of knowledge.
Then you will see that you won't have any problem talking about it and your podcast will be way more interesting.
Moreover, use the comment section if you have any confusion regarding the article or if you have any more suggestions to add.