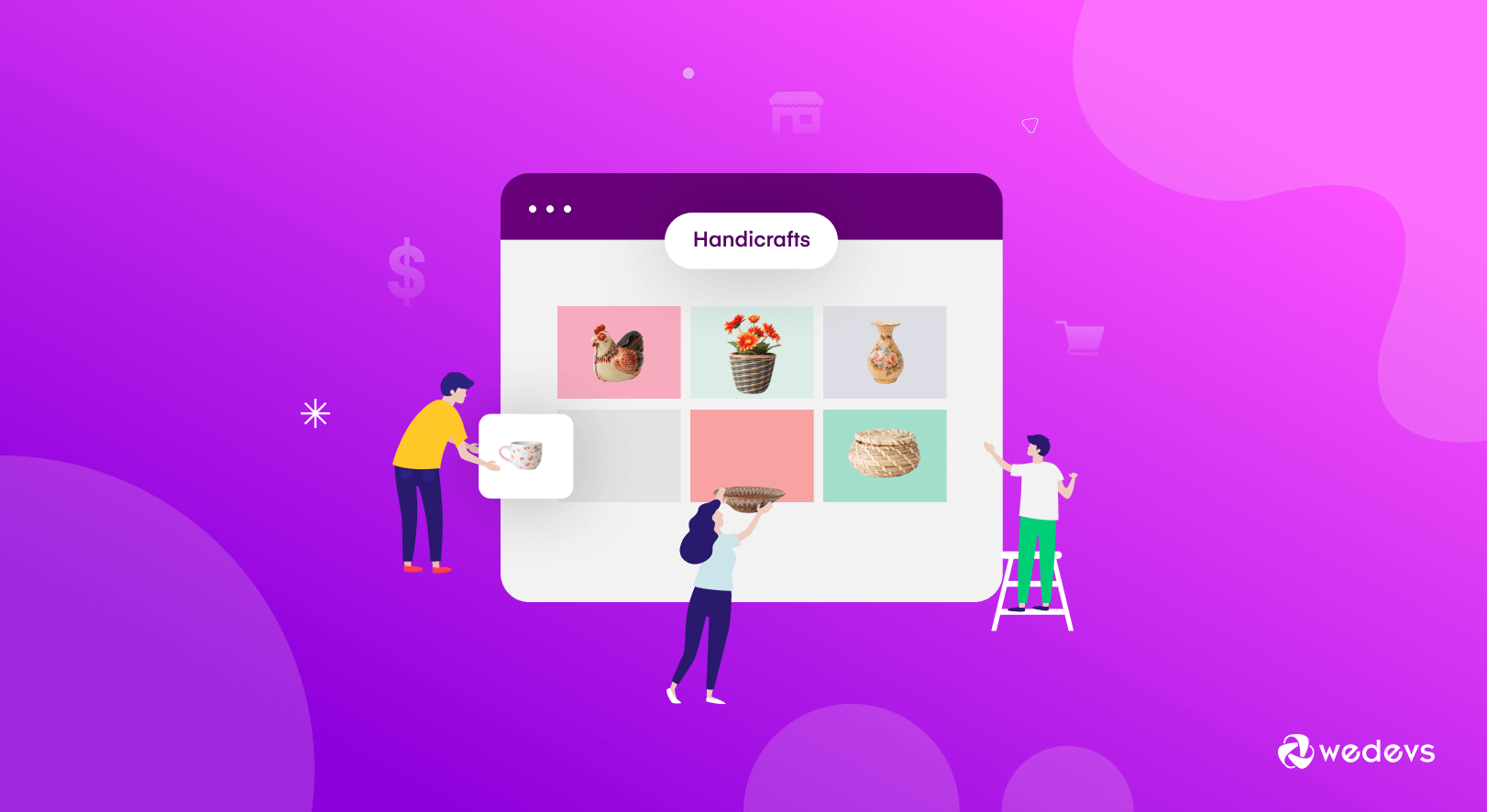 How to Create a Handmade Marketplace like Etsy
Do you want to establish an online platform like Etsy for art crafters? Follow this step-by-step guide & get your handmade product marketplace ready within a day.
Customers usually buy handmade goods due to their uniqueness and the demand for handicraft products is rising significantly all over the world.
The handicrafts market is expected to attain a CAGR of 10.9% over the forecast period of 2022-2027. It is projected to reach USD 1,204.7 billion by 2026.

expertmarketresearch
The COVID-19 pandemic, however, led to a surge in eCommerce and accelerated digital transformation. It opened a new opportunity for consumers to introduce their products to a vast customer base. The handicraft business also got a huge boost during this time. The big players like Esty, Handmade at Amazon, Facebook marketplace, and others have been rapidly expanding in this niche in the last couple of years.
If you're planning to try your luck in this industry, then build a handmade marketplace. You can earn money by selling your own products and letting other vendors open their shops on your marketplace.
Let's start with some encouraging facts that'll boost your confidence-
Handicraft Business Opportunities Across the World
Handicrafts refer to handmade products which people make with their own hands or hand tools. The concept was first introduced in the early 17th century. At that time people usually make these products for decorating their own homes. But due to the increasing popularity of handmade decorating staffs, many retailers started selling them commercially. Each handcrafted product is unique as it comes from a creative human brain rather than any automated machine.
Selling handmade products can be highly profitable depending on their quality.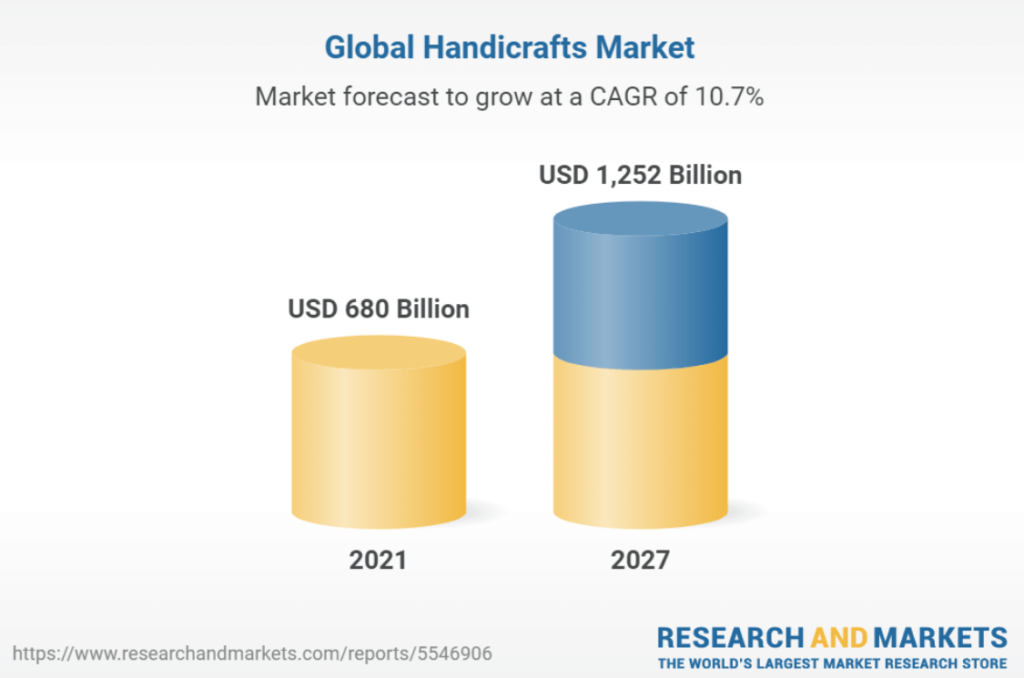 Also, with the exposure of the online business, the accessibility to handicraft items has become more convenient for consumers. Retailers are also paying more attention to this industry for growing demand and rising profits. Apart from this, the growing travel and tourism industry creates a wide opportunity to sell handicrafts products made by local artisans. Handicraft manufacturers produce customized products and sell them to tourists who are willing to spend significantly on souvenirs and other craft items.
Due to the low capital investments, the handicraft industry is flourishing, particularly in developing countries such as India, China, and Afghanistan.
Some popular handmade items you can sell online are clothing, jewelry, paintings, sculptures, dolls, wooden toys, hats, hair accessories, furniture, candles, rugs, etc.
How to Create a Handmade Marketplace Using WordPress (6 Steps)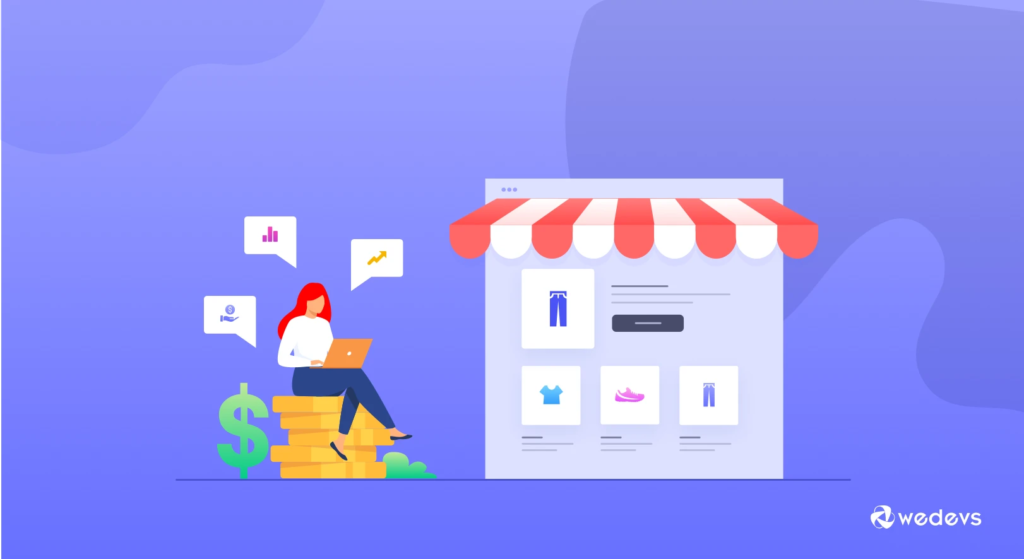 Creating a handmade marketplace could be challenging but with the right tool, you can minimize the steps.
Fortunately, WordPress makes it super easy to build any type of website from blogging to business. Moreover, it has a wide range of plugins like WooCommerce to get you the required functionalities instantly. WooCommerce lets you build your eCommerce site within minutes.
And it requires only a few seconds to extend its facilities from a single store to a multivendor marketplace using Dokan.
Dokan is a fast and feature-rich multi-vendor marketplace plugin for WordPress. It helps you establish a unified platform so multiple vendors can create their mini stores and you can earn money from each sale.
Learn all about Dokan's top features and modules from here.
Prerequisites for launching a handicraft marketplace in WordPress:
Buy a domain name and get web hosting
Install and set up WordPress
Install and activate WooCommerce
Set up Dokan multi-vendor marketplace plugin
A Suitable WordPress Theme
Let's assume you've already purchased the domain & hosting and configured your WordPress site.
For new users, this guide could be an accurate road map: How To Create a Website For Free in 5 Easy Steps.
Now, let's get into the detailed steps to build your handmade marketplace. It takes hardly 30 minutes to set up your business base. And we promise it won't break your bank either.
Step1: Install Dokan to Configure Your Online Handmade Marketplace
Step2: Configure General Setting of Dokan
Step3: Activate A Suitable Marketplace Theme for Your Website
Step4: Setup Admin Shop & Upload Products on Your Marketplace
Step5: Optimize Your Marketplace with Dokan Advanced Features
Step6: Allow Vendors to Sign Up on Your Handmade Marketplace
Step7: Publish & Promote Your Marketplace
Step 1: Install Dokan to Configure Your Online Handmade Marketplace
WooCommerce provides you with all the functionalities to establish an eCommerce platform to sell online. But if you're extending your vision and planning to build a multivendor marketplace, Dokan is the easiest way.
First of all, you have to install and activate the Dokan plugin on your WordPress site. This marketplace solution comes with all the functionalities of a marketplace.
Installing Dokan is similar to any other WordPress plugin. You need to install the lite version first which is FREE. Here, you will get all the basic features of the marketplace. In order to uncover all the advanced features and frontend capabilities, you can download and activate the Dokan Pro Version.
Note: You don't need to install WooCommerce individually. It will be installed automatically when you are installing Dokan.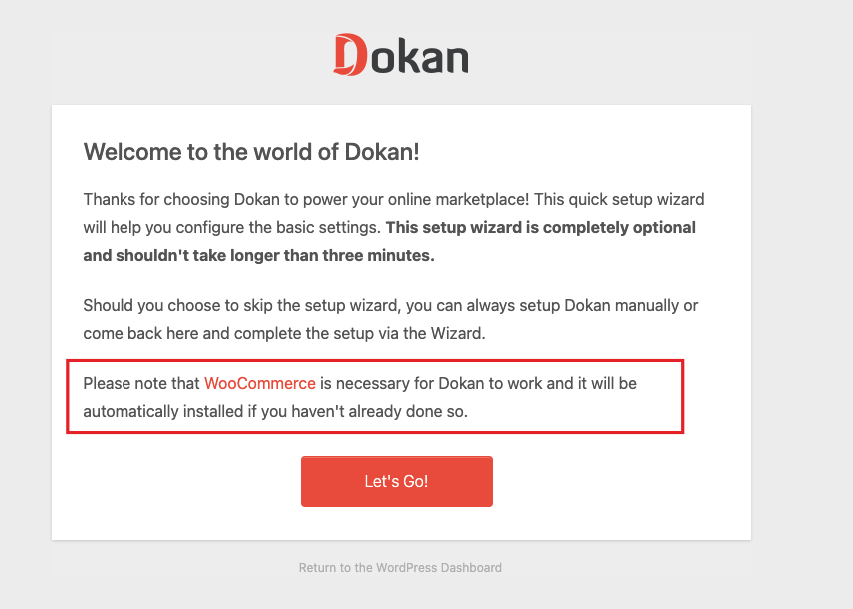 You can check our step-by-step guide to building a free eCommerce marketplace using WordPress.
Or go through the video tutorial below-
Step 2: Configure General Setting of Dokan
Now according to your requirements, you can configure the general setting of Dokan.
Go to, WP Admin→ Dokan→ Settings.
Here you'll find options to set up some crucial terms and conditions. Such as-
Set up store category
Allow sellers to display their products
Create necessary tags
Choose the new product status
Select withdrawal methods
Set minimum withdrawal limit
Set commission terms and rates.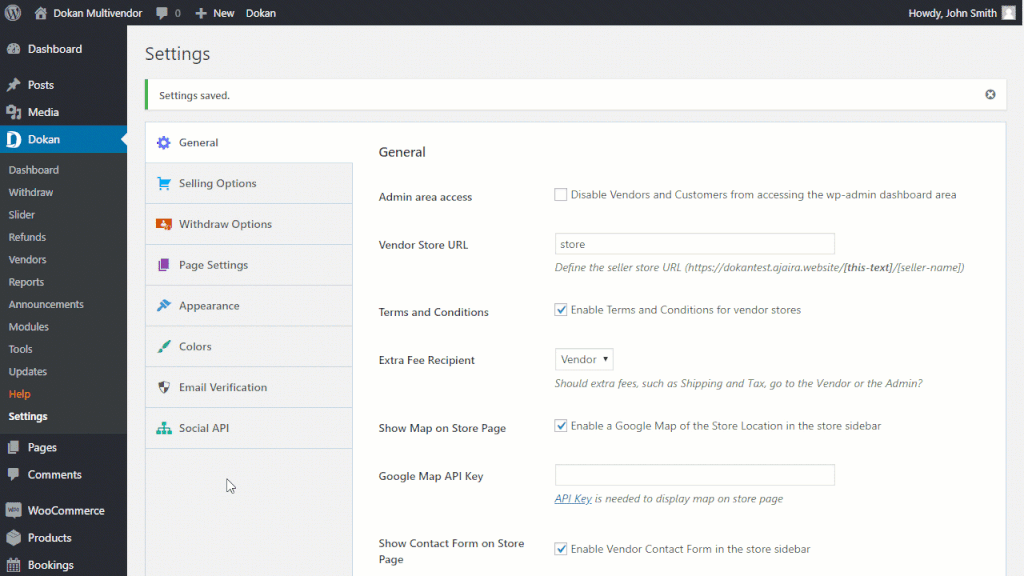 Dokan gives you options for both percentage and flat commission. So that, you can Earn with Dokan Plugin Using Different Vendor Commissions.
Click the Save Changes button once you've done with all the changes. Or you will lose all your setups.
Read More: Configure Dokan Basic Settings
Step 3: Activate A Suitable Marketplace Theme for Your Website

Your marketplace structure is ready to go. Now you have to decorate it for attracting customers.
We recommend our Dokan Themes for your multivendor handmade product marketplace. It'll add an elite look to the site.
Also, you can select any Dokan-compatible theme from ThemeForest specially designed for the multi-vendor marketplace builder Dokan.
Check all the popular themes that also work nicely with Dokan.
Step 4: Setup Admin Shop & Upload Products on Your Marketplace
If you have your own handicraft products to sell then you can set up your own mini store as well. And sell products just like a single WooCommerce store.
There are 2 ways to do this-
Register as a vendor
Enable yourself to add products
In order to upload images from FrontEnd, you have to follow the steps properly.
Navigate to WordPress DashBoard→Users→All Users→Enable Adding Products.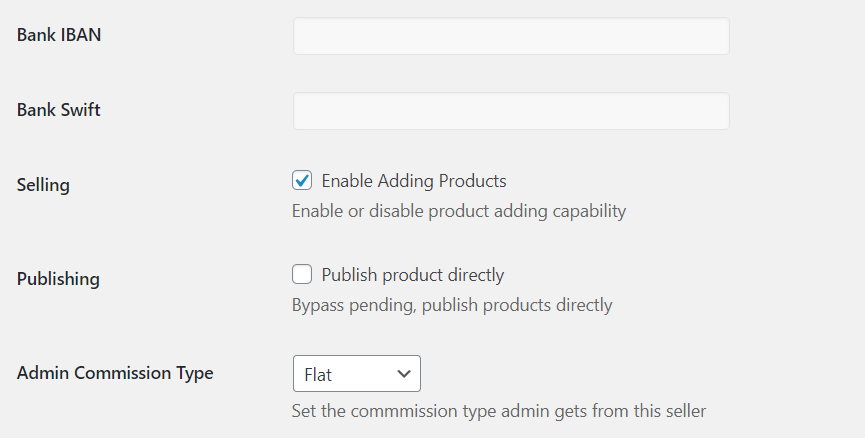 Now, you can easily customize your mini store on your marketplace.
If you want you can upload products from the front end. Simply go to WordPress Dashboard→Visit Site→Vendor Dashboard.
You'll find an option to add new products to your store. Click on the Products tab and upload the product image and other information.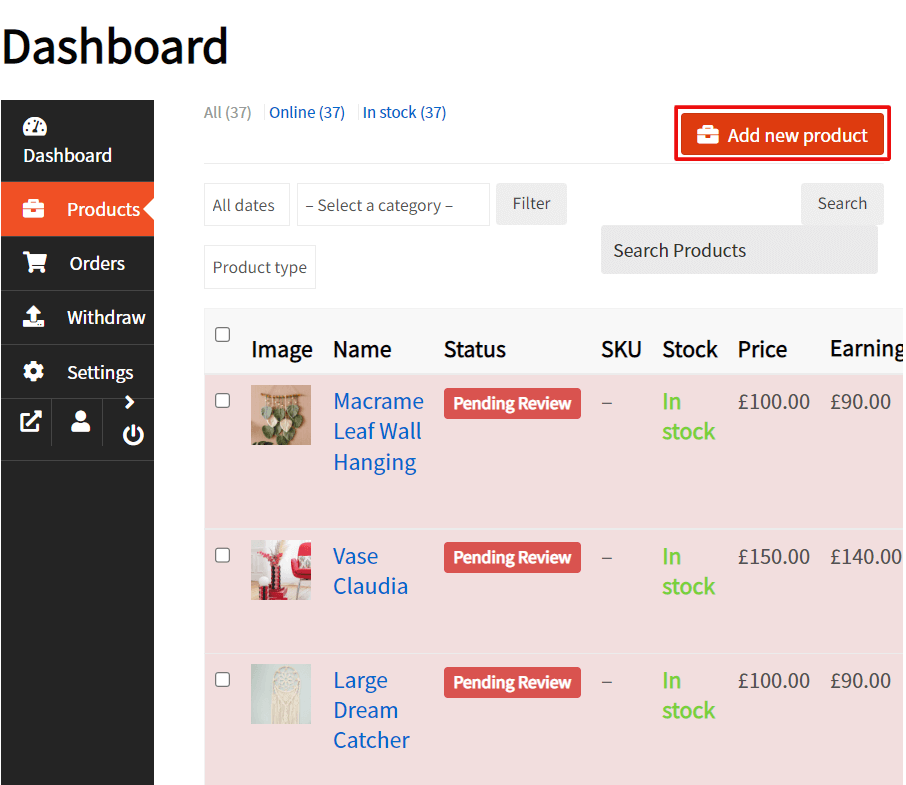 As an admin, you need to approve the product status from the backend. Once you've approved them the view of your store would be something like this-
To personalize your store, go to Vendor Dashboard→ Settings and update all the required information.
Special Note: It's not mandatory to set up the admin's shop unless you intend to sell your own products.
Step 5: Optimize Your Marketplace with Dokan Advanced Features
The good news is that Dokan free version comes with all the basic features to build and run a fully functional marketplace. With the growing demand of your marketplace or based on special requirements you can unlock premium modules of this marketplace solution.
Dokan support 35 exclusive modules to extend your marketplace functions to the next level. Below we'll walk you through the necessary Dokan modules you'll need for your handmade marketplace.
Read More: Build Your Own Marketplace Website for Beauty Care Items Using Dokan.
Necessary Dokan Modules for Handmade Marketplace
Dokan Live Chat: Helps vendors ensure real-time support through Facebook Messenger, WhatsApp, Talk.Js, or Tawk.to platforms. It enhances customers' experience and increases sales by resolving customers' issues faster.
Dokan Delivery Time: This makes your marketplace delivery system more reliable and transparent. It enables customers to choose their delivery times and date on their own.
Read More: How to Allow Your Customers Choose Desired Delivery Date & Time with Dokan.
Dokan Product Addon: Encourages your customers to buy additional items. Vendors can include additional products under a particular item. Customers will see those products while intend to buy the main product. It's a great format for upselling and cross-selling products on your marketplace.
Dokan Vendor Review: Enables customers to share their feedback with the individual vendors. They can rate vendors and it can rise the trustworthiness of your vendor's stores.
Dokan Store Supports: By activating this feature on your marketplace you can help your vendors to ensure advanced customer support. It enables a ticket-based support system right from the store page.
Return and Warranty Request: Creates an effective return policy for customers. It allows vendors to offer customized return and warranty facilities for their sold products to customers.
Dokan Vendor Analytics: This shows a detailed store overview for vendors. It helps vendors to make data-driven decisions by giving useful insights about the store. Such as-Number of users, Pageviews, Bounce rate, Best-performing pages, Session duration, and more.
Apart from these, Dokan has seamless integration with many helpful tools and payment gateways to make your development process easier and lets you run your handmade marketplace with great profit.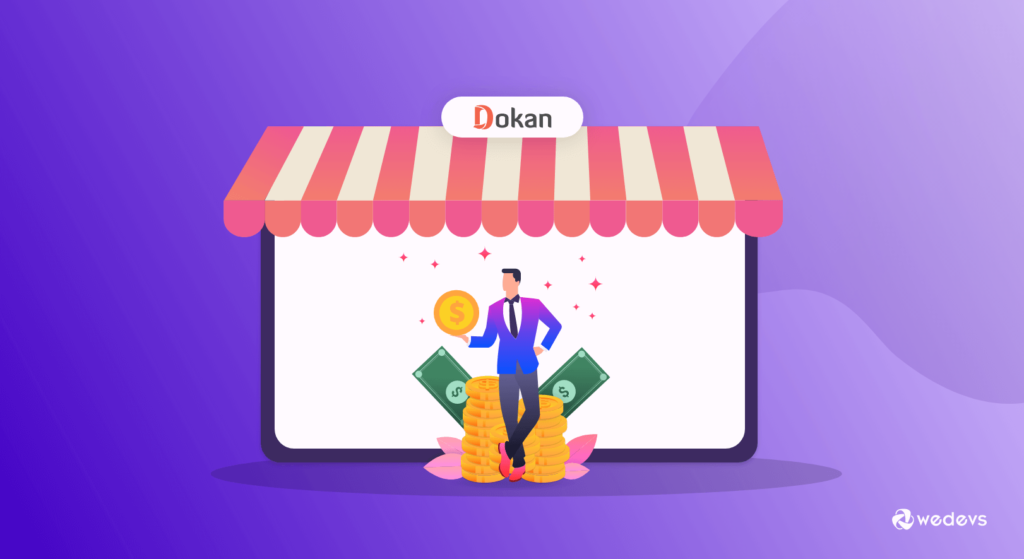 Check all the Premium Dokan Modules & activate the suitable one for your business!
Step 6: Allow Vendors to Sign Up on Your Handmade Marketplace
You have successfully created your own multivendor marketplace for selling handmade products.
Now you need vendors on your marketplace to sell their products. You can send invitations to your vendor community and encourage them to register on your site and start selling immediately. In the beginning, it would be great to offer some incentives or special deals to register on your site. It could be a great way for your business exposure.
Navigate to WP Admin→ General→ Settings and enable the Anyone can register option. Vendors can now fill up the registration form to sign up in your marketplace.
Finding vendors and onboarding them can be a tricky job. For your help, check this blog on How to Find and Convince Vendors for Your Multivendor Marketplace.
Step 7: Publish & Promote Your Marketplace
Congratulations! You've successfully built your handmade marketplace. Now it's time to promote your marketplace so that more and more vendors can signup for your marketplace.
In order to keep your site performance smooth and efficient, you may need other useful tools like security plugins, caching plugins, etc.
The next section is for the vendors who have signed up on your marketplace to sell.
Basic Marketplace Configuration for Vendors
Once you've opened your site for vendor registration and promoted it to the right place, you'll start getting vendors in your niche. Dokan lets you review all the vendors' profiles and allow them to sell products on your site.
After getting approval vendors can create their own stores with an individual URL. They get the chance to customize and manage their stores individually. Every vendor will have an individual vendor dashboard to upload, manage, and sell their products. Also, they'll get many other features right on their dashboard to run their store smoothly.
As we've shown above to set up a store for an admin, a vendor can also configure his/her store in the same way.
It may look like this after customization-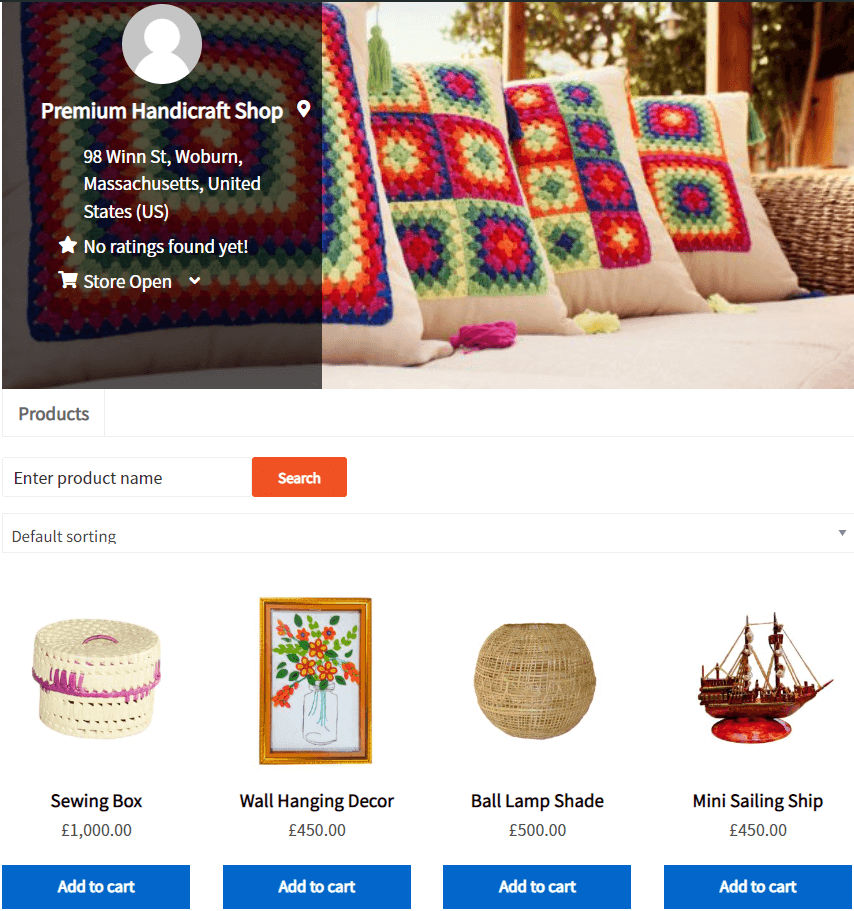 Another important fact is that a vendor can overview all the important information right from the dashboard. Such as sales, earnings, pageview, order details, product status, and so on.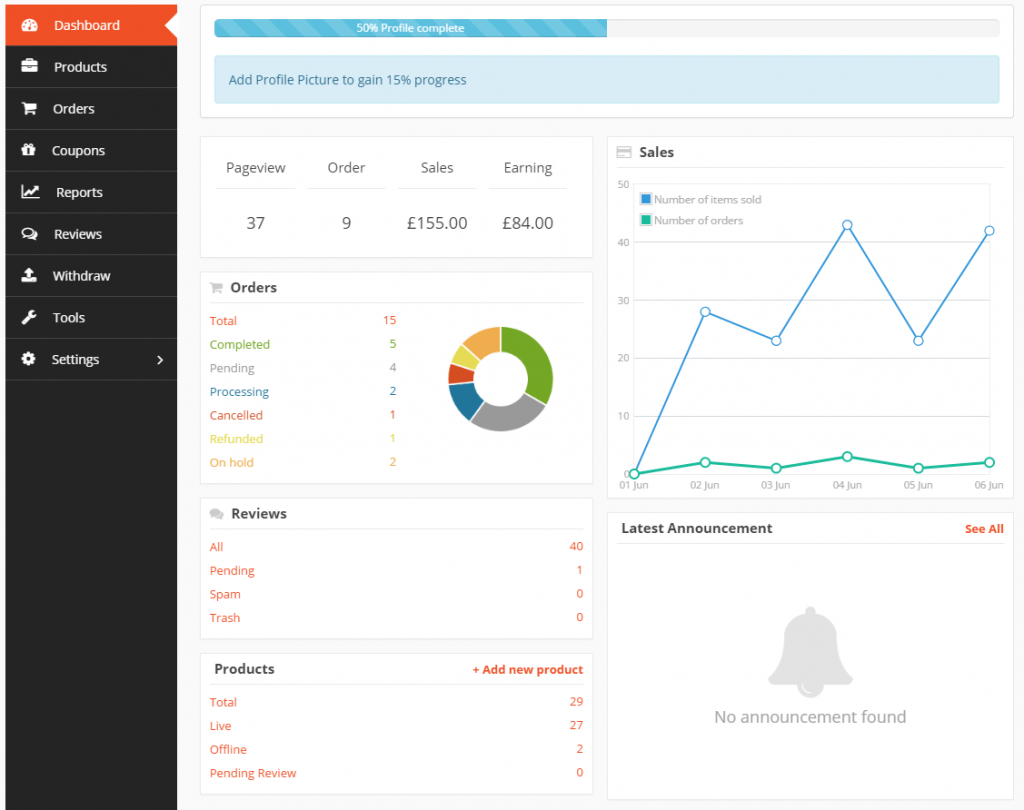 As an admin of a handmade marketplace, you can find all the stores on your site by visiting the store listing. Also, customers can see the store listings as well.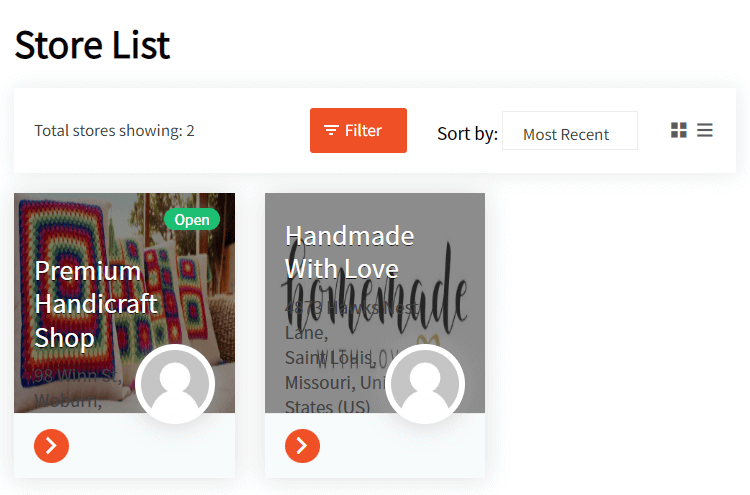 Bonus: Build Your Marketing Flywheel to Promote Your Handmade Marketplace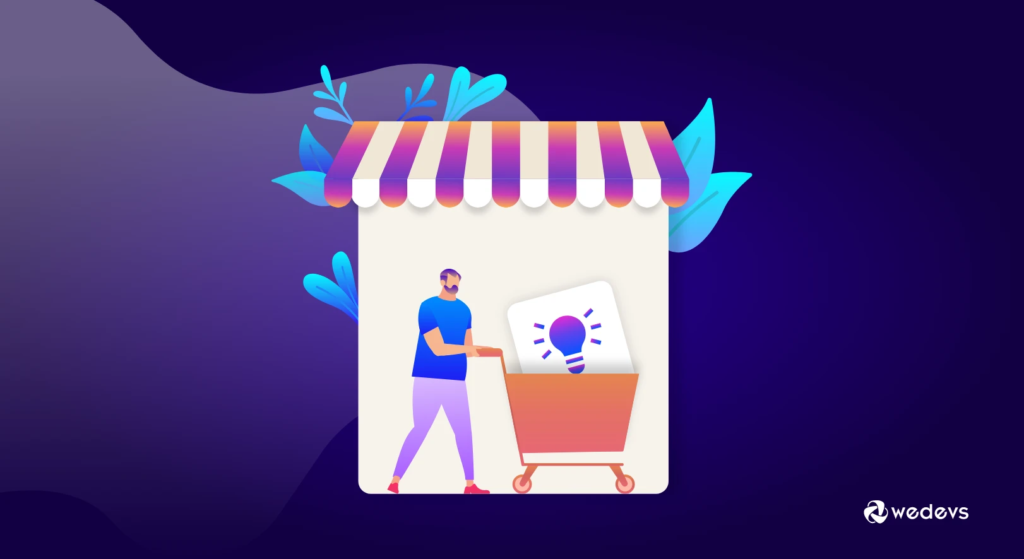 You need to remember it's very difficult to survive in this eCommerce industry. Moreover, handcraft products have a high demand nowadays so many retailers are trying to enter this business. In order to stand out and get ahead of your competitors, you need a solid business plan and marketing strategy.
You can establish a strong marketing flywheel that will grow your business around the clock and you need not personally perform every task.
Flywheel is a new concept in marketing. In real-life flywheel is a big wheel in an engine that creates and preserves energy. Marketers use the same tactic to bring big growth.
For example-
A popular marketing strategy on Amazon is to ask customers to leave a review. Many retailers offer a discount code on the next purchase if a review is published.
Besides you can introduce email marketing, paid ads, blogging sites, etc. to make your marketplace more visible on the search engine page.
Go through these blogs to get effective tips with real-life case studies and useful examples-
FAQ(s) Regarding Handmade Marketplace
Here are some common questions we find usually pop up in retailers' minds before starting-
How can I sell my homemade products online?
There are many third-party platforms like Amazon, Esty, and others where you can sell your handmade products. But you have to share your profit with them. In the beginning, you can register on these sites for promoting your business to a large audience. But the best way to make a significant profit is to build your own eCommerce platform and sell products.
How do I create an online marketplace?
It would be super easy if you choose WordPress to build your business site. You'll get a rich plugin library to choose helpful tools that would make your development process easier. For getting a marketplace feature you can use Dokan as your one-stop solution.
What handmade items are in demand?
There are so many options available for you. You should choose your niche based on your interest and expertise. Here are some ideas for your inspiration-
1. Custom Engraved Tableware
2. Pet Clothes
3. Handmade Jewelry
4. Bathbombs and Handmade Soaps
5. Textile Home Decor
How much would it cost to build a website like Etsy?
It may range from $18.36 to $506.88 based on your requirements. With Dokan you can lower your spending as it comes all FREE including basic features and required functions.
What site is best to sell handmade items?
You can check these platforms to sell and promote your handmade products-
1. Etsy
2. Amazon Handmade
3. Big Cartel
4. Bonanza
5. IndieMade
6. Goimagine
Get Ready to Build Your Own Handmade Marketplace
Like any other business, you must have a fundamental understanding of how to run a handmade marketplace and a digital strategy in order to succeed with online sales.
Once you get your business blueprint in your hand, start executing the plans accordingly. An important part is creating your marketplace. And Dokan will reduce your hassle significantly by giving all the major functionalities instantly after you've activated it on your site.
After getting your marketplace site ready, focus on your core marketing channels. To automate your marketplace growth, build an effective marketing flywheel. This is the key to opening an online marketplace, generating sales quickly, and accelerating its growth.
Do you have further queries about handmade marketplace development and promotions? Or do you have some more effective plans you could add to our list? Use the comment section below to share your views.