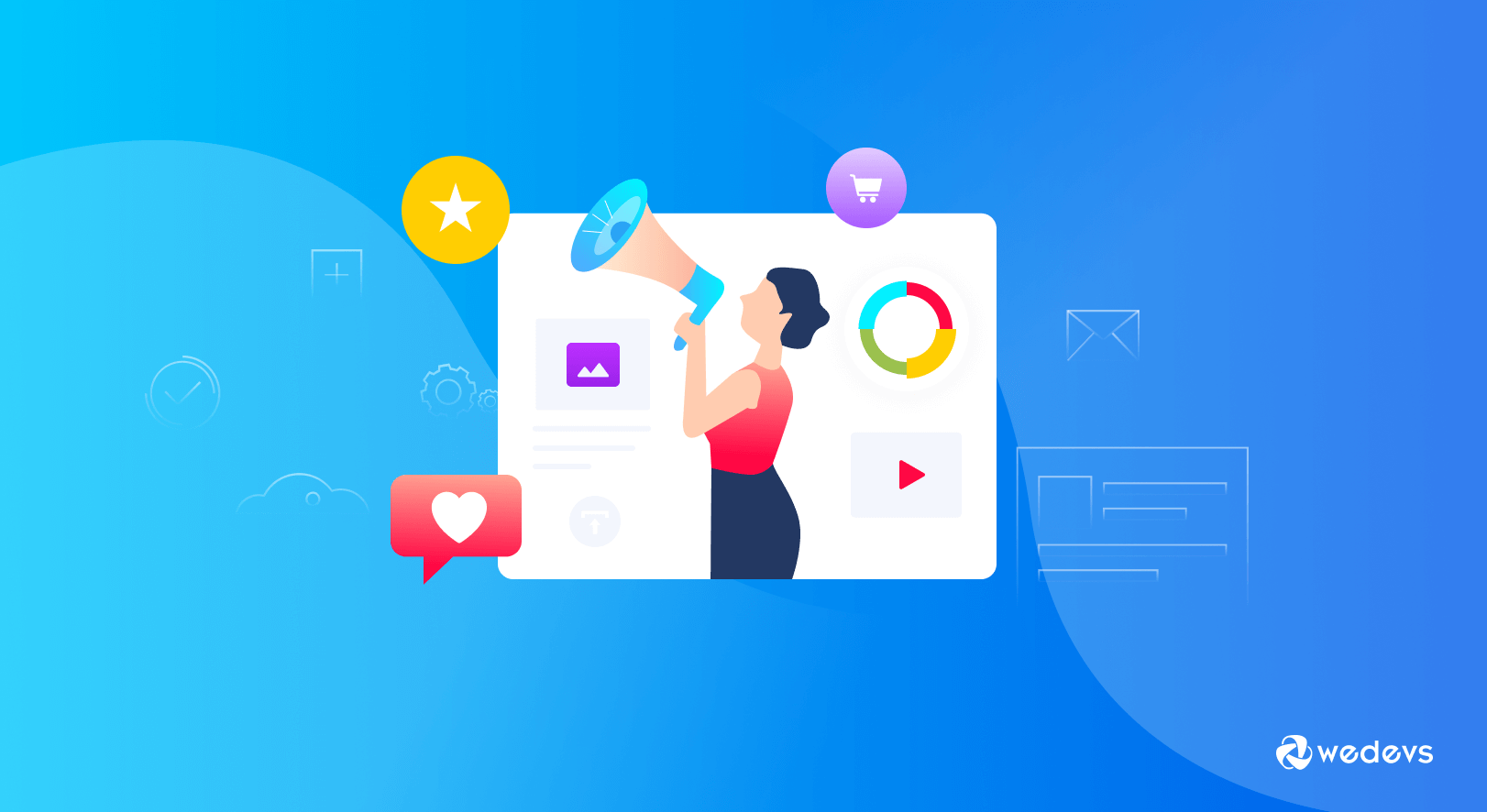 Visual Content Marketing: An Actionable Guide for Digital Marketers
Are you struggling to find leads and clients? Visual Content Marketing is the most effective strategy for 2021 to get more customers and grow your business. If you're still unaware of this marketing tactic you may have already lost many of your potential customers.
A recent study has shown, readers are 323% more likely to complete the described action if directions are accompanied by visuals.
There are several types of visual content you can include in your marketing plan. However, not all of them are suitable for your business. Depending on your business niche and audience preference you can update your visual content marketing strategy.
In this blog, we've reviewed the most popular visual content types so that you can easily set up your marketing plan. In the end, we add some real-life examples to make your selection process effortless.
Why Your Business Needs A Visual Content Marketing Strategy?
Human brains process images 60,000 times faster than text. That's why visual content will make it easier for your target audience to consume any data or particular information.
Visual Content Marketing refers to any image-based online marketing efforts that convey information in an engaging way. Common forms of visual content include images, infographics, diagrams, charts, videos, screenshots, memes, and GIFs.
With some visual content, we can easily imagine any moment which is not always possible with the text. Also, it's comparatively easy to describe things with relevant visual data. Suppose you're running an online book store. High-quality images of the book cover and a little preview from inside pages will immediately grab visitors' attention. People will emotionally get engaged to your shop and are more likely to complete their purchase.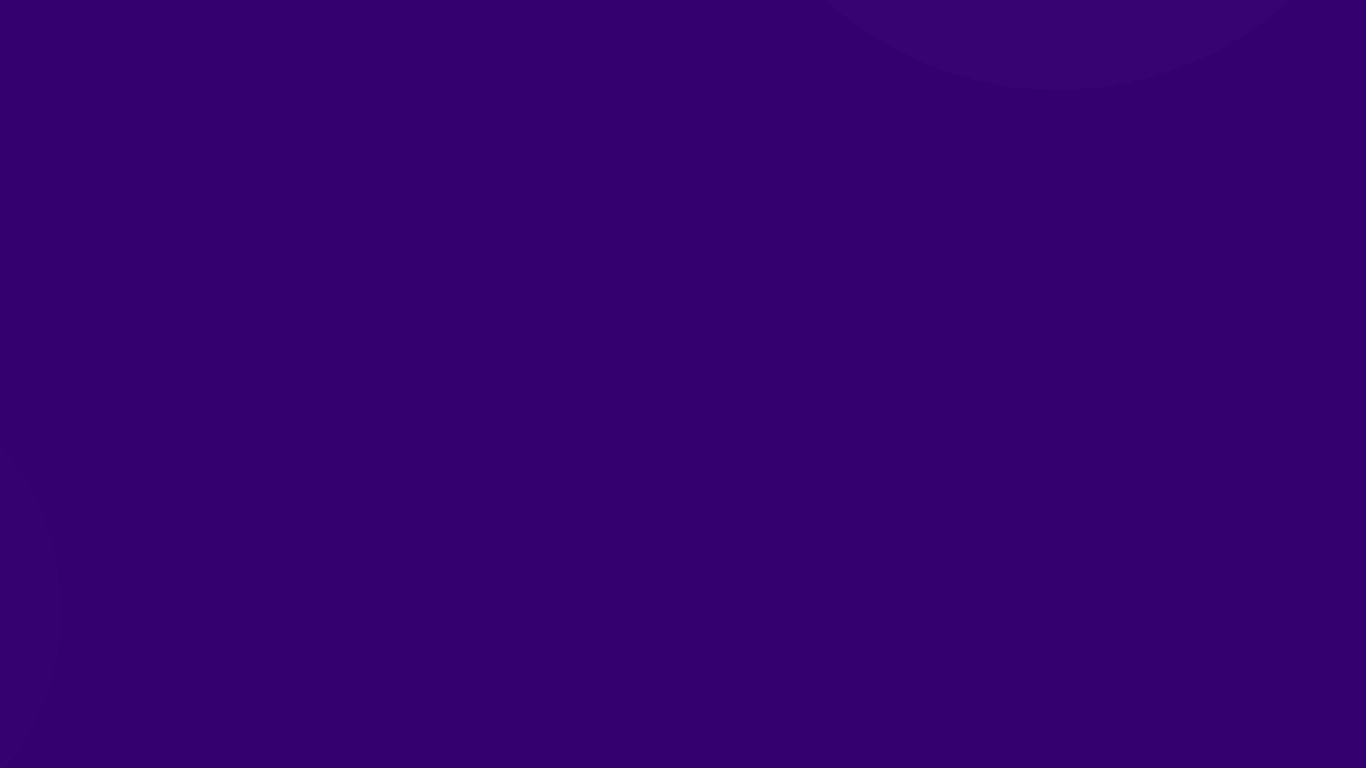 Alternatively, poor product images will ruin all your efforts and you may end up with an empty pocket. There is no wonder 65% of all eCommerce customers prefer to digest information visually.
These stats will help you to realize the importance of visual content for your business:
Human brains take only 13 milliseconds to process an image
63% of social media is made up of images and videos
People remember: 10% of what they hear, 20% of what they read, 80% of what they see
95% of B2B customers said that they want shorter and highly visual content
Businesses that use visual content grow traffic 12 times faster than those that don't.
Popular social platforms are also changing their algorithms prioritizing the visual content. Such as Facebook, Twitter, Reddit, Linkedin, etc. Perhaps, you can use visual content in almost every section of your online business promotion including website, paid ad, blogs, social media, campaigns, and so forth.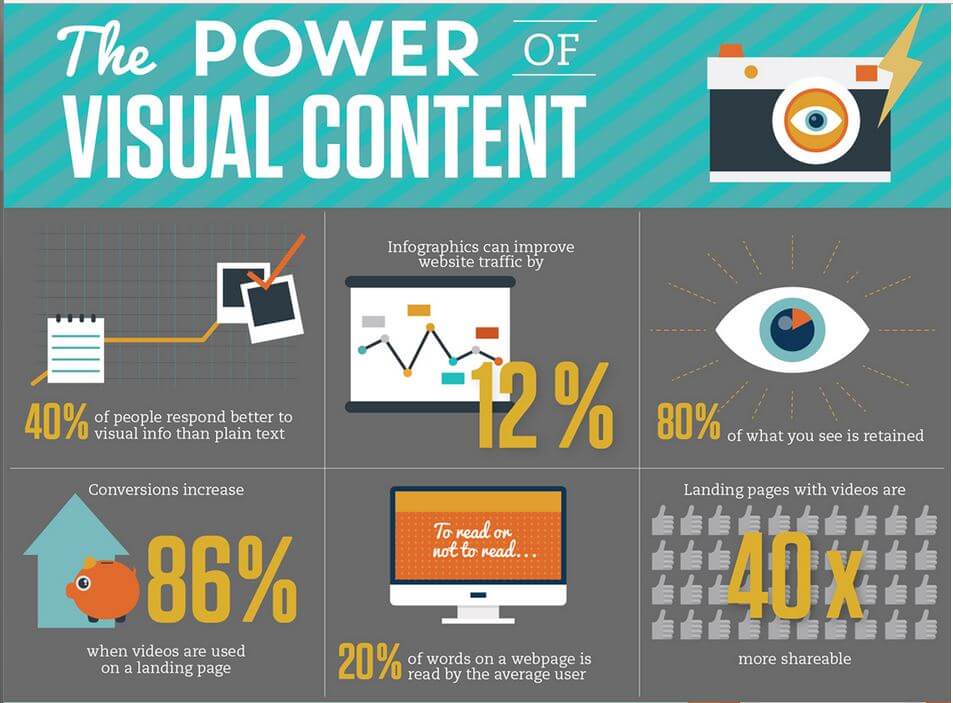 Types of Visual Content You Can Use in Your Business
Every content should add substantial value to your business and benefit the audience in an impactful way. Below, there are 8 types of visual content you can use in your marketing strategy:
Image
Videos
Infographics
Interesting Data Visualizations
Memes and Branded Quotes
Annotated Screenshots Type
Presentations Type
Strong Calls to Action
1. Image – A Picture is Worth a Thousand Words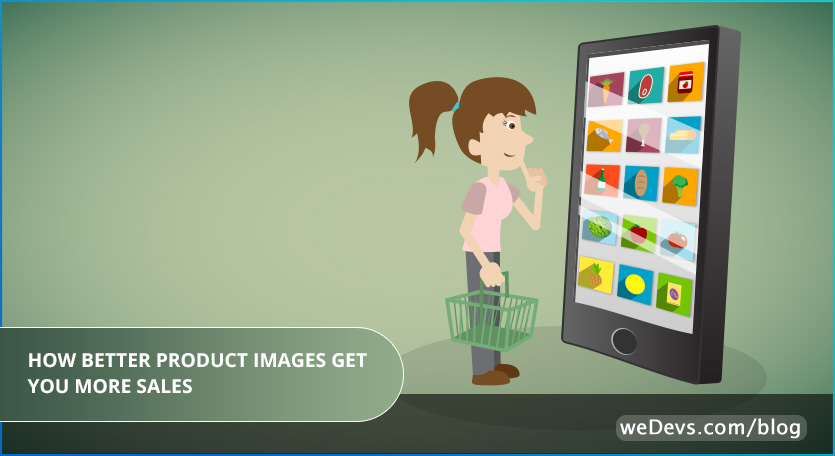 An attractive image can describe your brand more loudly than text. New research has revealed that human attention span is getting shorter day by day. In this context, splitting a long text into small paragraphs with related images can glue your audience for a longer time.
60% of consumers are more likely to consider or contact a business when an image shows up in local search results.

Marketer Jeff Bullas
It's better to use original images for your business. You can click them by yourself or design your personalized image regarding the brand's colors. Canva is a popular image creation tool with a simple drag-and-drop feature that you can use to create your feature image. Alternatively, you can find thousands of graphical resources completely free on several image-sharing sites. Such as Magdeleine, Freepik, Picography, etc.
2. Videos – Build a Lasting Relationship with Your Audience
An engaging video can highly influence people when they're in the buying process. It will guide your visitor's line of sight. Cisco recently declared that by 2022, online videos will account for 82% of all internet traffic. This is 15 times higher than it was in 2017.
The live-streaming platform, Twitch, saw year-over-year growth of 14.3% in 2020 and boasted up to 1.645 billion watch hours per month.
Videos can easily break down complex ideas and describe them into simple visual cues. They're highly effective to educate users about your products or convey any special message. Moreover, adding a related video in any plain text will make your presence memorable for the readers.
For example, HappyAddons noticed a massive boost in their sales after adding video tutorials for individual features and widgets.
3. Infographics – Convey Complex Information in a Structured Way
In recent years this format of content gets immense popularity from most industries. Digital marketers use infographics to show different types of information concisely that visitors can easily comprehend. Often people miss important data while scanning a long text as they are very impatient or in a hurry. Infographics summarize all the core data including beautiful graphics that can easily grab your readers' attention.
Infographics are 30 times more likely to be read in their entirety than blog posts or news articles. Digital Information World
According to Springer, buyers understand infographics better than the written instructions. Here at weDevs, we generally get 3 times better responses from an infographic social post than other general posts.
These infographics cover various topics according to our users' preferences. Such as influential tips, motivational speech, experts' advice, products' features, dataset, or action. Infographics are also beneficial to increase your blog traffic and keep visitors longer on your site. Try an online platform like PiktoChart or Infogram to create your first infographic
4. Interesting Data Visualizations
Data visualization helps to express complex data in a simple format. So readers can easily extract useful insights and actionable information.
Too many numbers can make your readers confused. Not all of them are able to compute them and understand the actual scenario. Rather process the raw data and present them concisely using tables, graphs, or charts. Therefore, people can quickly correlate them to their queries and conclude with some realistic ideas.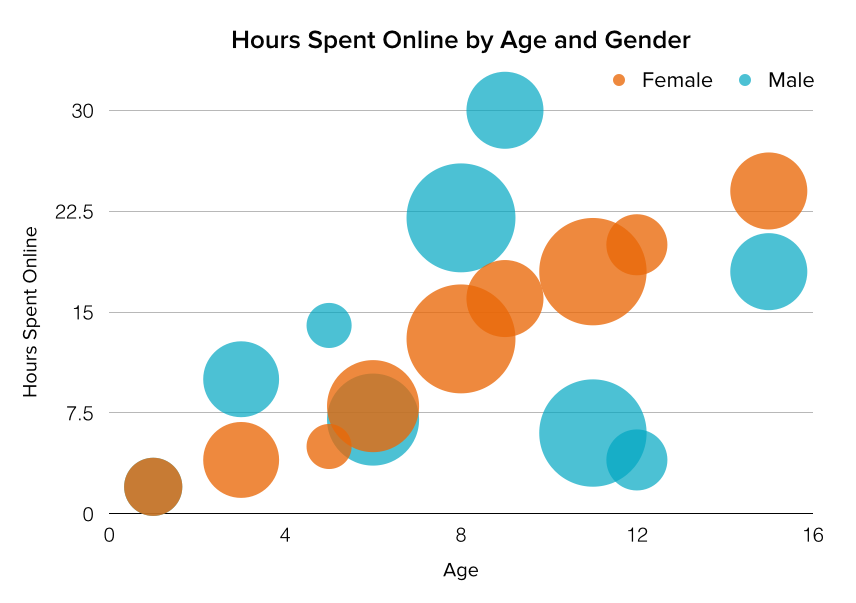 This bubble chart clarifies some particular queries. You can also practice this strategy for your business to show large quantities of data and the relationships between parts of the data.
5. Memes and Branded Quotes
Memes and quotes perform so well on social media as they are easy to digest and share. Digital marketers and entrepreneurs use this extremely low-budget marketing tactic to create engaging content. It usually triggers peoples' emotions and makes them humorous.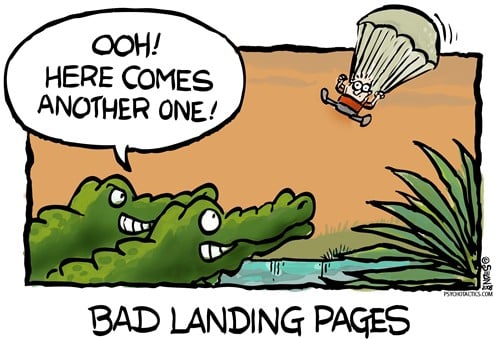 This meme is funny but insightful to give a quick message to the users. You can also create memes in the form of a GIF or static image using tools like. Better use a familiar theme, current phenomenon, popular trends, etc to get a quick response from your users. Based on your industry type design inspirational or funny quotes that readers can easily relate to their real life.
Having experts' quotes in blogs will make your statement more trustworthy. Provide authentic resources or stats with your personal branding so your customers can immediately relate them to your products or services.
For example, weMail often shares expert quotes in form of images to keep their readers engaged. They use these images on both their blogs and social platforms as well.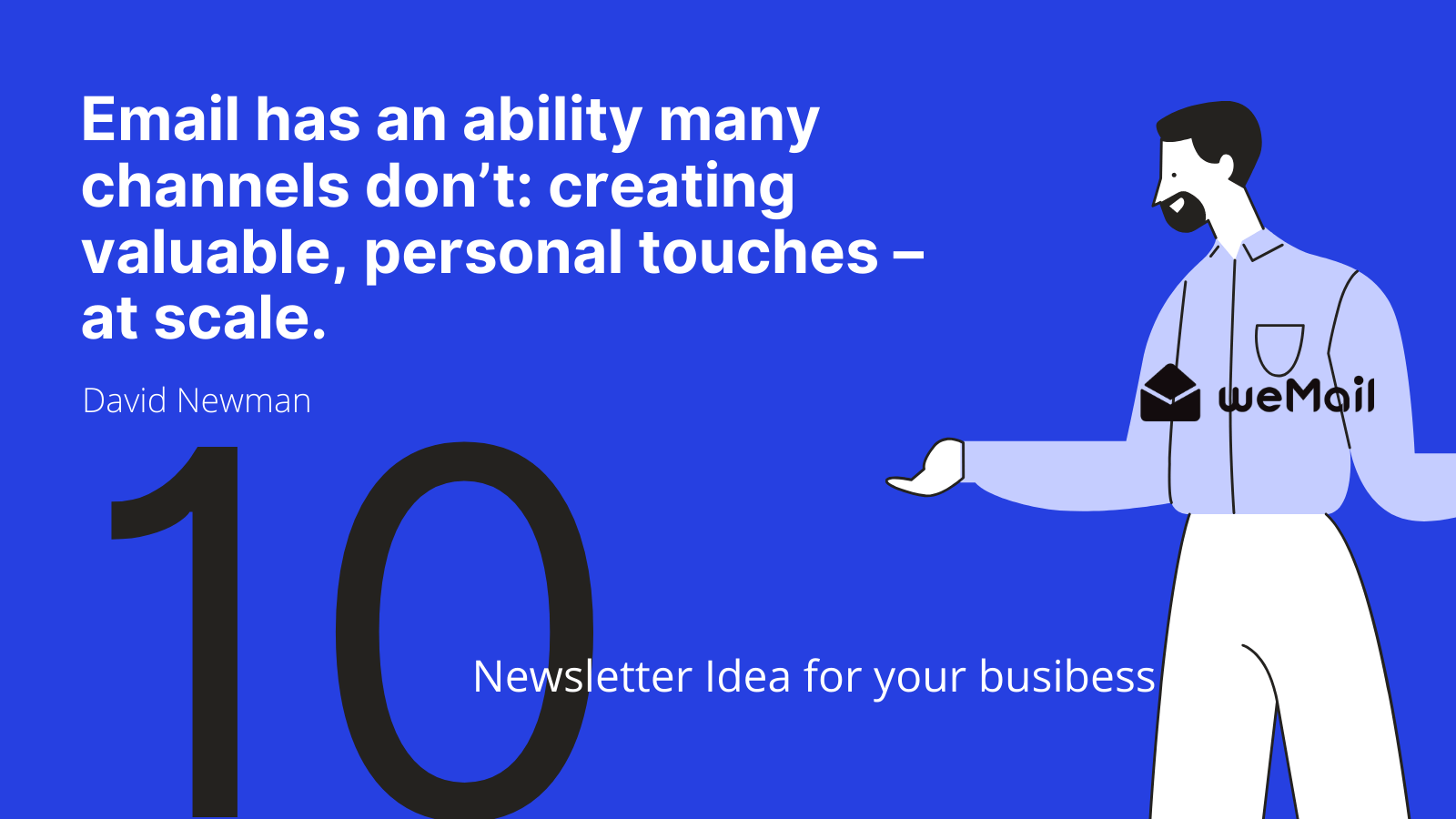 Since memes and quotes are short and quickly consumed by the audiences. Many high-end brands have started introducing them in their businesses. But make sure your memes or quote match your brand voice. Otherwise, it can bother your audience and they may unfollow your brand.
6. Annotated Screenshots to Clarify The Process
Screenshots are especially important for digital product sellers. This visual content helps you describe the inner view of your product or services with short notes. With screenshots, readers can easily perceive what features you're providing and how they actually work. Especially, when someone uses a product for the first time, screenshots give a quick way to start with.
Suppose you're going to install Elementor for the first time on your WordPress site. A beginner's guide with relevant screenshots is much needed to give you a clear vision of the tool.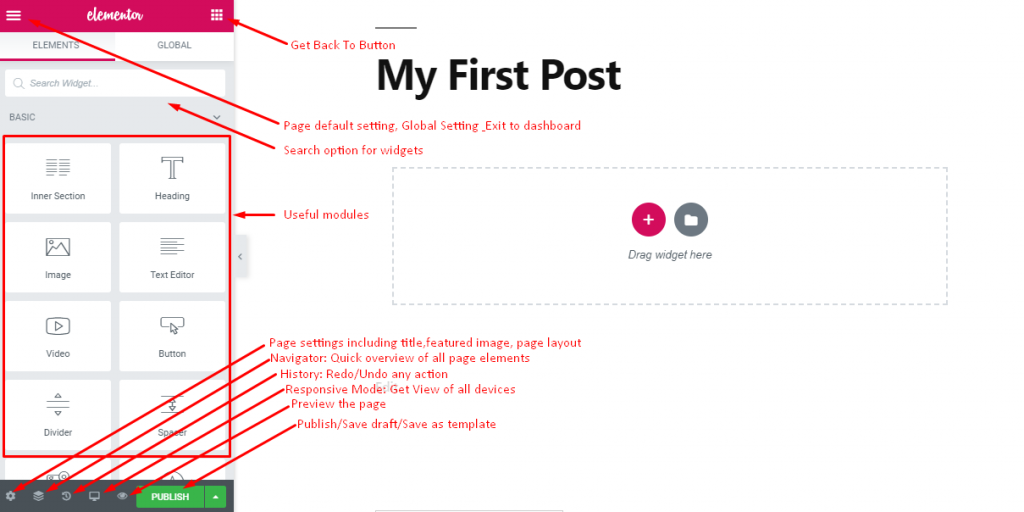 You can capture screenshots to show real-time data or verify your statements for your users. Screenshots are appropriate for landing pages, documents or software manuals, blogs, ads, as well as social media posts.
7. Presentation with SlideShare
In this digital era, you always need a strong online presence that speaks to your prospects and their specific needs. SlideShare could be a reliable platform to communicate with your audience. This slide hosting service lets users upload files either privately or publicly. These files could be PowerPoint, PDFs, OpenOffice presentations, Word documents, and more.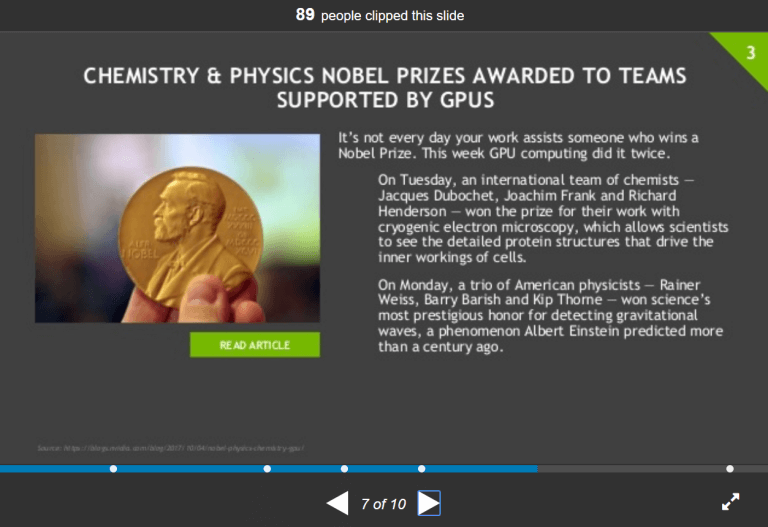 SlideShare has more than 60 million users and hosts over 18 million pieces of content. Not only that SlideShare earns 25 million views each month. This means uploading related and engaging content on this platform you can easily promote your brand to a massive audience. Furthermore, most people are familiar with PowerPoint so it won't be difficult to create content for SlideShare.
8. Strong Calls to Action
70% of businesses don't have any notable calls to action on their home pages. In turn, they're losing a lot of customers. Alternatively, optimized CTAs help you convert a visitor or reader into a loyal customer. You can use them in a designed format, such as buttons, banners, or text. It would be effective to place them on web pages, ads, blogs, emails, pop-ups, or any other core visiting points of your business.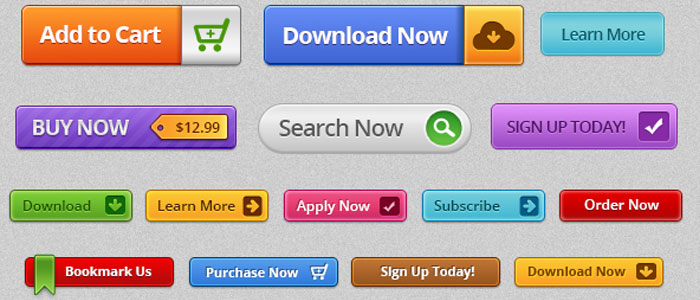 The best call-to-action phrases are clear but specific and create urgency that drives the readers to action. Suppose you're writing a blog describing particular features of your product or service. In the end, you can add a call-to-action button that leads the readers to the main landing page. It will increase your traffic at the same time improve the conversion rate too.
5 Examples of Great Visual Content Marketing
Great visual content tells a story. Let's see great examples from some good storytellers:
Starbucks On Instagram
Starbucks creates a unique lifestyle for its users. Besides making outstanding coffee they also add some new flavors to people's life. If you visit their Instagram page it gives you a complete view of their brand value and customers' interest. They always mix up their feed with colorful photos of their products as well as customer feedback. Smart visualization keeps their brand popular over the years and their shops are always full of crowds.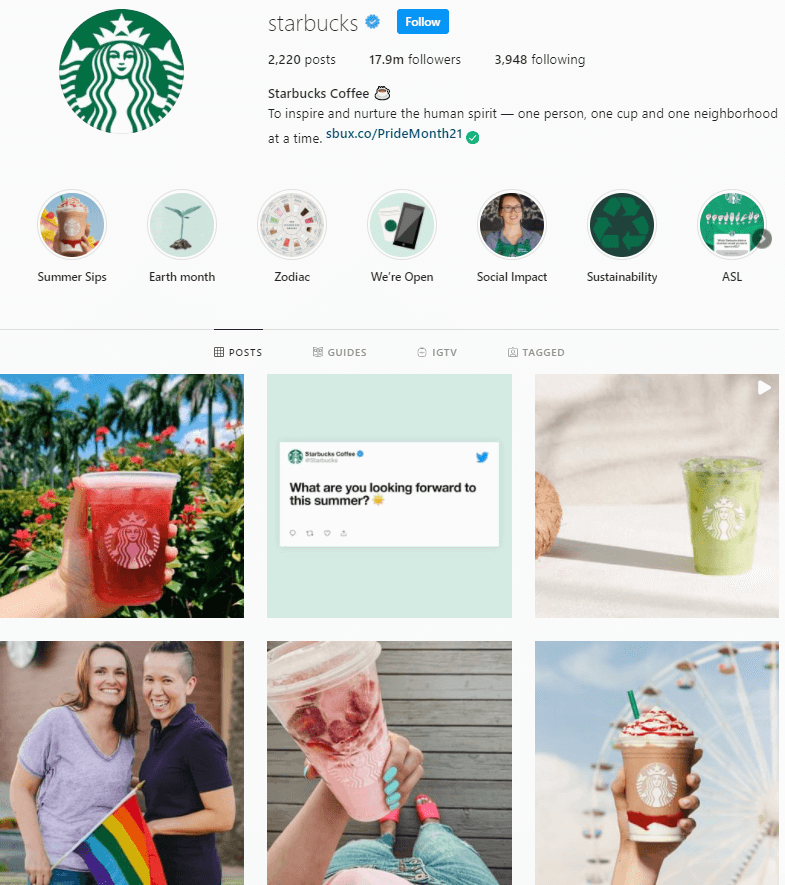 KISSmetrics Infographics
Infographics bring incredible success for many well-known brands. KISSmetrics is one of them. Many of their infographics got viral and manage large traffic for their website. They've generated 2,512,596 visitors and 41,142 backlinks from 3,741 unique domains in only two years through infographics. These infographics have earned 41,359 re-tweets and 20,859 likes on social media for Kissmetrics. Here is one of their most shared infographics:
Grammarly Social Media Graphic
Grammarly is an online proofreader that helps you correct your grammar mistakes. Considering their business values, they often share content around grammar mistakes and how it changes the context of the content. You'll find a lot of such graphical cards on different social channels of Grammarly. People also give an immense response to this particular type of content.
Below there is one example: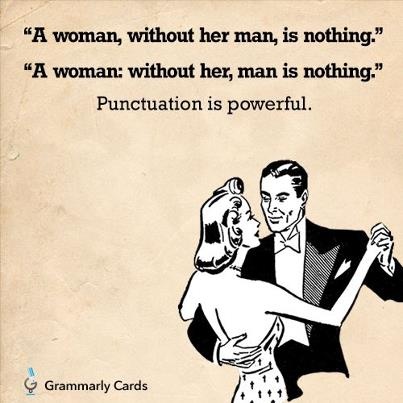 WP Hive Infographics
WP Hive has redefined the WordPress Repository. It provides detailed information about WordPress themes/plugins that simplifies the selection process for the users. To facilitate their readers they often add relevant infographics into their blogs. They also upload these images on social platforms. They've established a strong fan base within a very short time period due to their unique marketing strategy and successful implementation.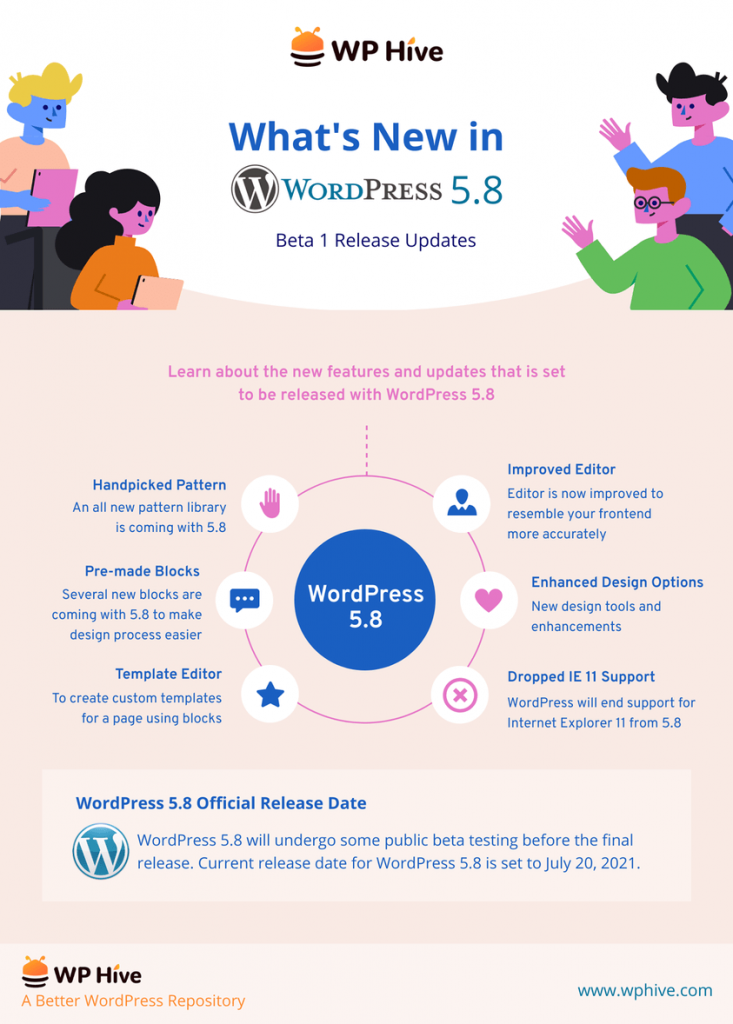 WPUF Homepage Video
This front-end WordPress plugin manages a large number of visitors every day. To attract this massive traffic, they include an introductory video on their homepage. So visitors can get a quick overview of the plugin immediately landing on the page.
They observed two major improvements after adding this introductory video to the homepage. One is visitors' average time spent on site and another is rapid conversions. Along with this, WPUF earned huge popularity by giving high-quality tutorial videos with all modules and features.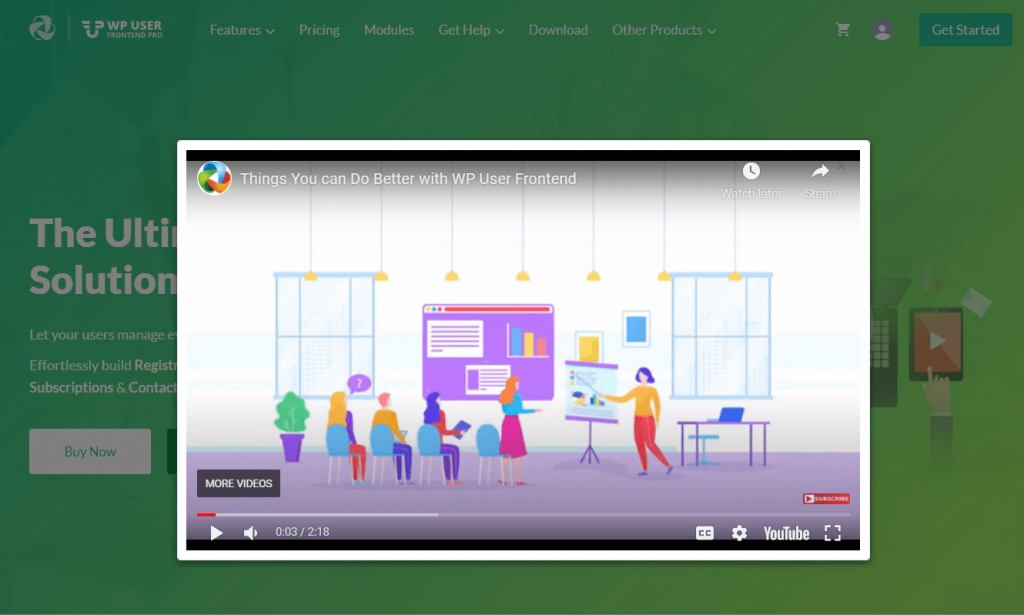 Upgrade Your Business Strategy with Visual Content Marketing
Your website visitors have a short attention span! You only have 7 seconds to convince them to stay on your site. Use these seconds in your favor with the right arrangement of visual content on your website. It'll bring you higher returns such as subscribers, conversions, traffic, likes, shares, and revenue.
Even better, apply visual content marketing in every stage of the buying process from strangers to brand advocates. So, people can relate your brand to their real-life problems. A personal touch influences them to act in the way you actually want them to do. These tips may help you to boost your visual content efforts:
Keep your branding in focus by font type, logo, colors, etc.
Arrange visual assets efficiently
Add emotions to your visuals
Use high-quality content & give them a professional look
Make visuals part of your social media strategy
It looks like the vast majority of marketers consider visual content to be an integral part of their marketing strategies in the years to come. In responses to a recent survey, more than 32% of digital marketers acclaimed visual content as the most important form of content for their businesses. It's the high time you should also start practicing this marketing tactic to faster your business growth.
So, what type of visual content do you use for your business promotion? Share your most performing visual content marketing strategy with us.