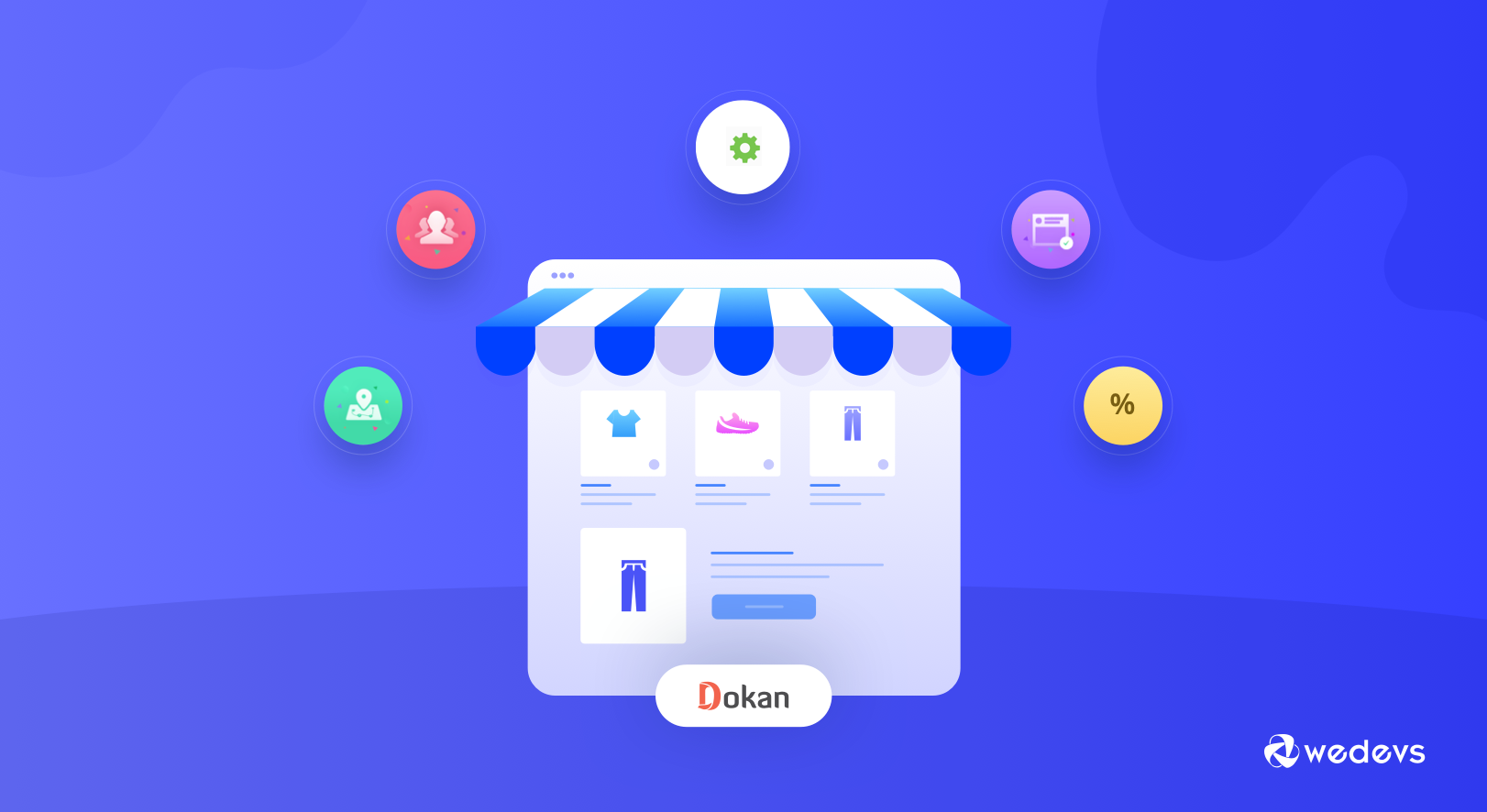 Dokan's Top Features & Modules at a Glance
If you are thinking about building a multivendor website, it would be a great idea. The main advantage of a multivendor website is, you don't need to have your own inventory to sell. All you need is to make some vendors register on your multivendor website and you are good to go!
Now, how can you start? How to choose the right platform that needs less cost to begin but with time you can scale it just like you want? Well, to keep your budget low and have full control over the eCommerce marketplace platform, we will recommend you to go for the best multi-vendor marketplace for WooCommerce.
In today's article, we will be shedding light on Dokan's top features and modules. Now, let's move forward.
A Brief Introduction to Dokan Multivendor Marketplace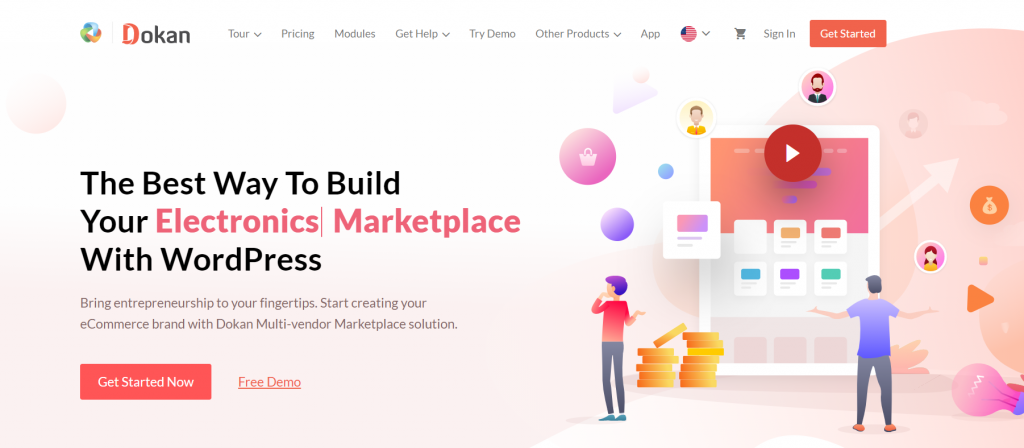 Like we already mentioned Dokan is the best multi-vendor marketplace solution for the WooCommerce marketplace and most importantly powered by the most popular Content Management System, WordPress. If you are already familiar with the use of WordPress, you will be very likely to imagine the scalability of a WordPress website.
Even the free version of Dokan comes with a fleet of features and you can get the Dokan pro to avail of more premium features with the help of extensions. In fact, Dokan is famous not only for its scalability but also for its global acceptance and recognition.
Currently, it has over 70k+ active installations from across the world with 99% customer satisfaction.
Top Features of Dokan as the Best Multivendor Marketplace
Being the best WordPress-based multivendor solution, Dokan features are really notable among many others:
1. Independent Stores for Vendors
Similar to Shopify, eBay, Amazon – Dokan gives all the vendors a customized storefront so that the vendor in a marketplace feels empowered. That means every vendor can enjoy freedom in their individual store. Customers can independently choose a store to buy their desired product.
2. Multiple Product Types
A vendor has endless opportunities to sell. A seller can list hundreds of products that can be of the same category or of different ones. Products can be simple, variable, physical, electronic, grouped, bookable, downloadable, and many more.
3. Stylish Storefronts
Dokan comes with an intuitive backend that works on the plug and play functionality. Even the sellers with a minimum knowledge of 'How to create and manage an online store?' could start their eCommerce application with bare minimum efforts and time.
4. Dedicated Frontend Dashboard for Vendors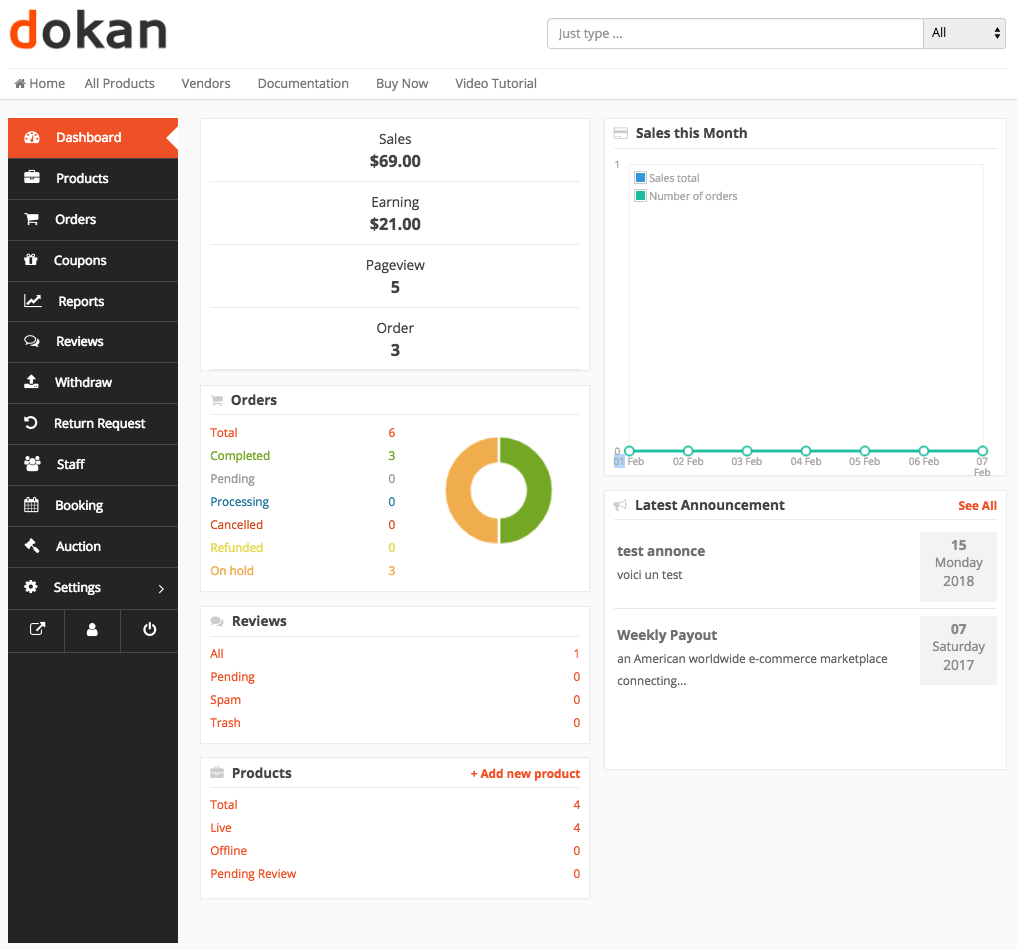 Owners and their vendors get access to their dedicated or separate dashboards that would allow easy handling of product inventory, sales, top-selling products, and highly rated vendors, orders, discounts, and more.
In other words, they will be able to see the summary of all the transactions right from their dashboards.
5. Earn From Each Sale as an admin
As an admin, you can charge a commission globally, on a vendor, or get a special commission on a single product as a part of the monthly plan or on each product.
A fair commission model allows both parties to share the success of your marketplace!
6. Store Insights with Reports and Statement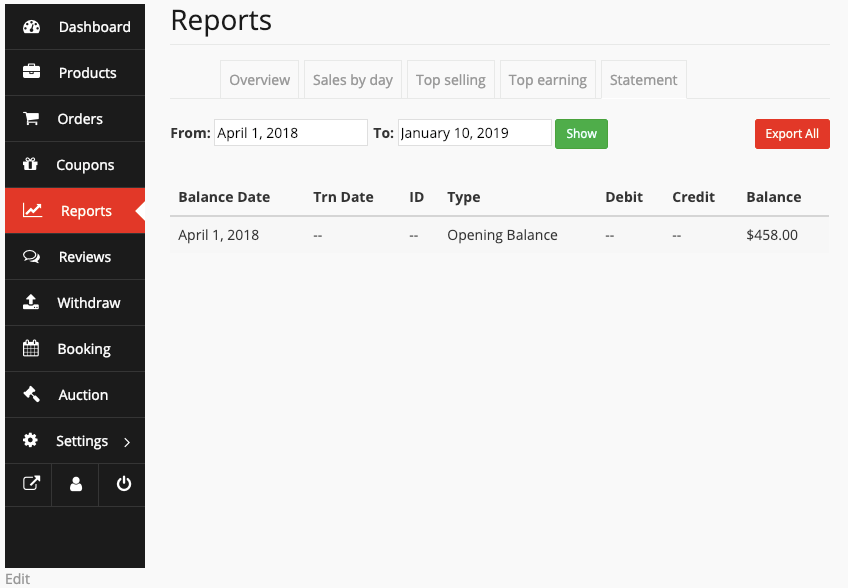 In Dokan, vendors could get a bird' eye view of the store performance. They also can see store sales report in detail. For example, they can get to see the sales volume according to by day, top-earning, top selling, and statement.
7. Use Any WooCommerce Compatible Theme
If you are using Dokan the best thing is it supports any theme that is compatible with WooCommerce. You will also get a free Dokan theme to get started so you don't face trouble when building your multi-vendor marketplace.
8. Coupon Management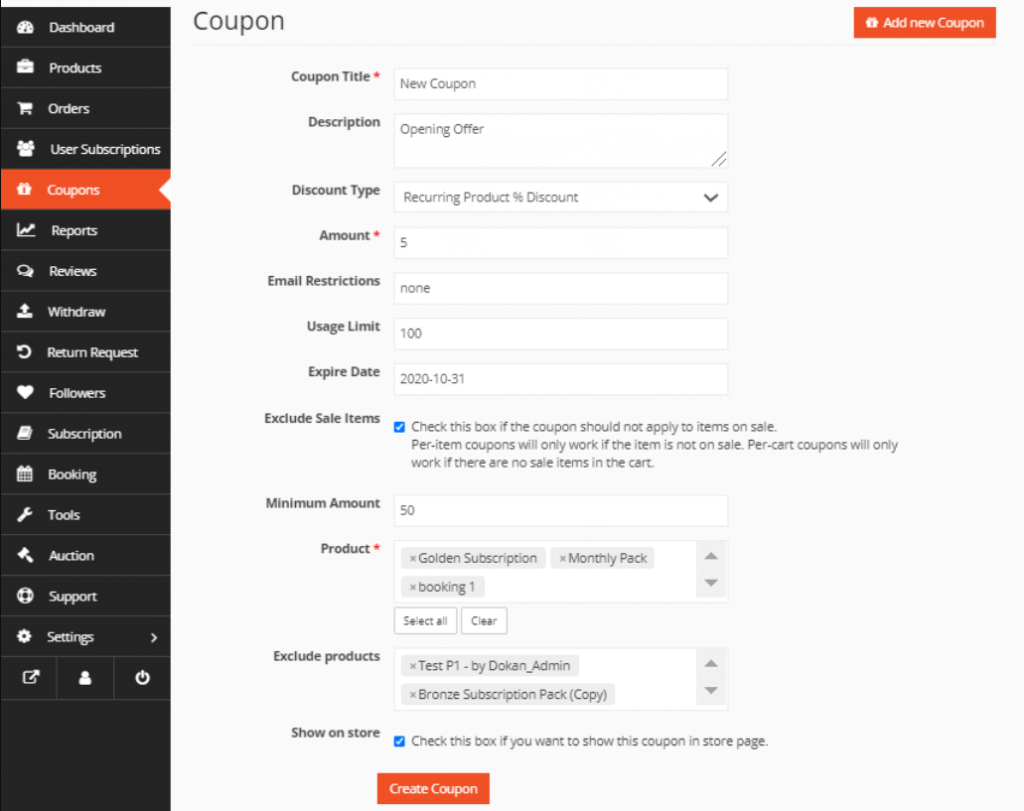 No need for you to spend time worrying about coupons. You can create exciting coupons, discounts, and notifications that could be created by the vendor during sales or off-season. A vendor can set the coupon expiry and restrictions. Let your handle their discounts on their own.
9. Order Management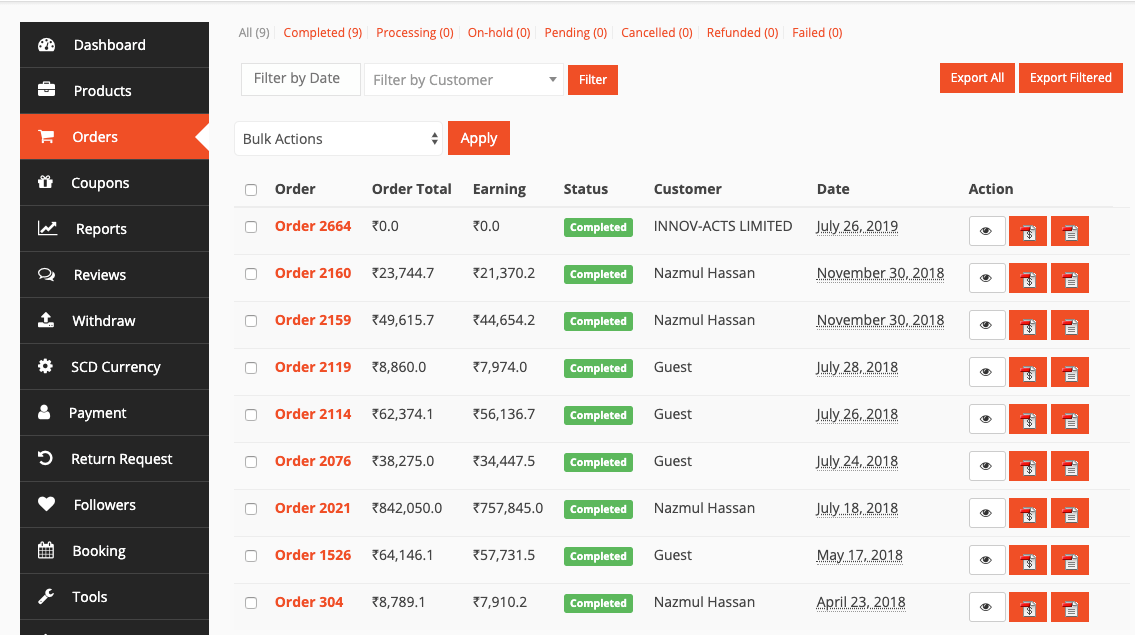 Vendors can manage their own orders from their own accounts. Dokan categorizes the order status as delivered, pending. Apart from adding general data, they can add order notes and so on.
10. Increase Brand Value with Product Reviews
Both vendors and products can be star rated and reviewed by the customers. Good reviews can help other customers to gain trust and increase your marketplace's brand value.
11. Intuitive Vendor Profile Completeness
A complete profile helps to gain more customer trust and thus encourages more sales. The vendors will be able to upload their profile photos, banner images, payment information, social profile information, and so on. This helps the vendors to stand out in the crowd.
You will also get a progress bar indicating vendor profile completeness with percentage.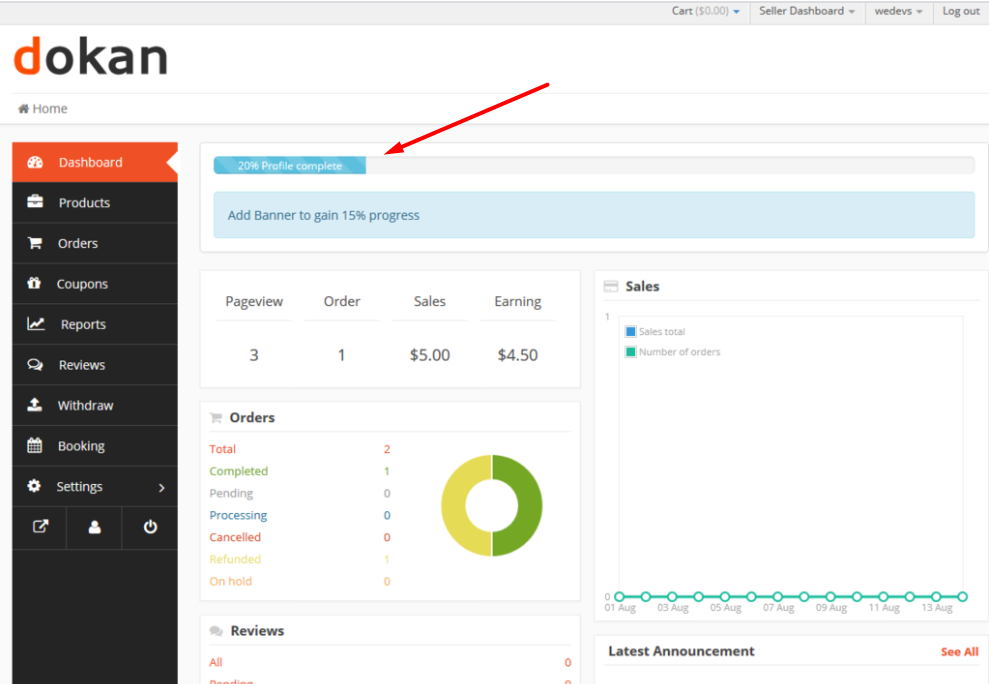 12. Easy Withdraw System for Your Vendors
Withdrawal is really easy with Dokan. Vendors can requests to you right from the frontend dashboard for payment. You can set the withdrawal limit, payment channel, minimum withdrawal limit, and more.
13. Easy Customer Refund Process
Customers could directly request a refund from vendors. All an admin has to do is review the request and issue a flag for refund processing.
14. Vendors Configure Their Own Store Settings
Vendors can include additional information about their store and brand
from the frontend dashboard. You don't need to do anything. They can also change the appearance of their store by uploading a profile photo, banner image, etc.
15. Announce Important News Right on The dashboard
The admin can broadcast important announcements for all the vendors or specifically a number of vendors. The announcements will be displayed on the vendor's dashboard.
16. Vendor Payment Method Setup
Dokan gives 3 types of payment systems in powered marketplace –
Offline – Cash on Delivery, Local Pickup, Bank, and Cheque Payment.
Online (Regular) – PayPal, Stripe, and every other WooCommerce compatible payment gateway that exists in the world to date.
Online (Instant) – PayPal Adaptive and Stripe Connect.
17. Control Who Sells and Who Doesn't
The admin can activate/deactivate a vendor selling rights. Vendors could be also promoted to the "Trusted Vendor" based on the performance, for publishing directly on the storefront. It also helps you to empower honest and reputed vendors.
Top Modules of Dokan at A Glance
As a full-fledged multivendor system Dokan comes up with 27 extensions. The below are the top popular modules of Dokan:
1. Live Chat
Customers love to chat in real-time to get their problems solved faster directly and privately. Dokan gives live support to the enrolled customers with the Live Chat module.
This swift and effective medium of business communication helps to build trust and credibility. You can integrate not only Facebook Messenger but also Talk.JS with this module.
2. Vendor Subscription Product
If you want to allow your vendors to sell subscription-based products then this is the module you should go for. The Vendor Subscription module lets your vendors sell on a weekly or monthly or annual basis. You can also facilitate your vendors pretty much with all of the WooCommerce subscription options.
This module supports all types of products whether they are downloadable, virtual, or physical. Vendors can have full control to manage their subscribers, fees, and other billing options.
3. Product Addon
To make your marketplace stand out from the others, you need to add some additional features. For example, you have to let the customers choose additional items or peripheral products while purchasing the main product.
The Product Addon helps the customers to do just that. Not only you but also your vendors can create addons for their products. As an admin, you can also add addons for individual products.
4. Single Product Multivendor
When operating a store, your vendor may see the products uploaded by other vendors. And they may want to sell the exact same product from their store.
And this is exactly where the Single Product Multivendor module comes in! With this module, the vendors can create each other's products with a single click on their store without any manual intervention. After importing a vendor can also edit the imported product like a regular product.
5. Seller Verification
Keep your marketplace authentic and free from scams by verifying the vendors. If you are using the Dokan Seller Verification module, you can verify a seller or vendor by using their phone number, social profiles, photos, and many more.
Customers are more likely to buy when they feel that the vendor they are buying from seems trustworthy. The more paying customers your vendors have the bigger your marketplace will become.
6. ShipStation Module
The ShipStation module helps the sellers of your marketplace import, manage and ship the orders without any hassle. It increases order management efficiency with effective workflows. You can even manage orders and view reports from your mobile devices.
The coolest part is that you can enjoy flexibility when it comes to user-level permissions and restrictions.
7. Vendor Review
The ability of a customer to provide reviews for vendors is a must-have feature for a professional marketplace. The Vendor Review module helps the other customers to understand the quality of a seller.
This vendor review module allows the customers to provide both reviews and ratings for the vendors in a sophisticated way.
8. Store Support Module
Customer support is the inevitable factor if a vendor wants to survive in the competitive market. Guess what! With the Customer Support module, customers can create support tickets with their order id on a store.
And vendors will be able to reply to the support tickets right from their respective dashboards. However, even if a conversation is ended, a customer can still resume talking to a vendor later.
9. Dokan WooCommerce Booking
Dokan WC Booking Integration allows vendors to create bookable products and customers to customize their booking orders with ease. Create a hotel, resort, conference rooms, cars, bikes, and more with this new add-on.
10. Dokan Simple Auctions
Want to offer your vendors auction-able products selling feature? This add-on for Dokan integrates the WooCommerce Simple Auctions plugin in your seller dashboard!
11. Dokan Delivery Time
The Delivery time module will help your customers pick the delivery date and time on their own. Vendors can select individual Opening time, Closing time, Time slot, Order per slot for each delivery day to increase delivery and logistics efficiency. With this module, the number of failed deliveries will decrease, and also the cost of those deliveries will reduce as well.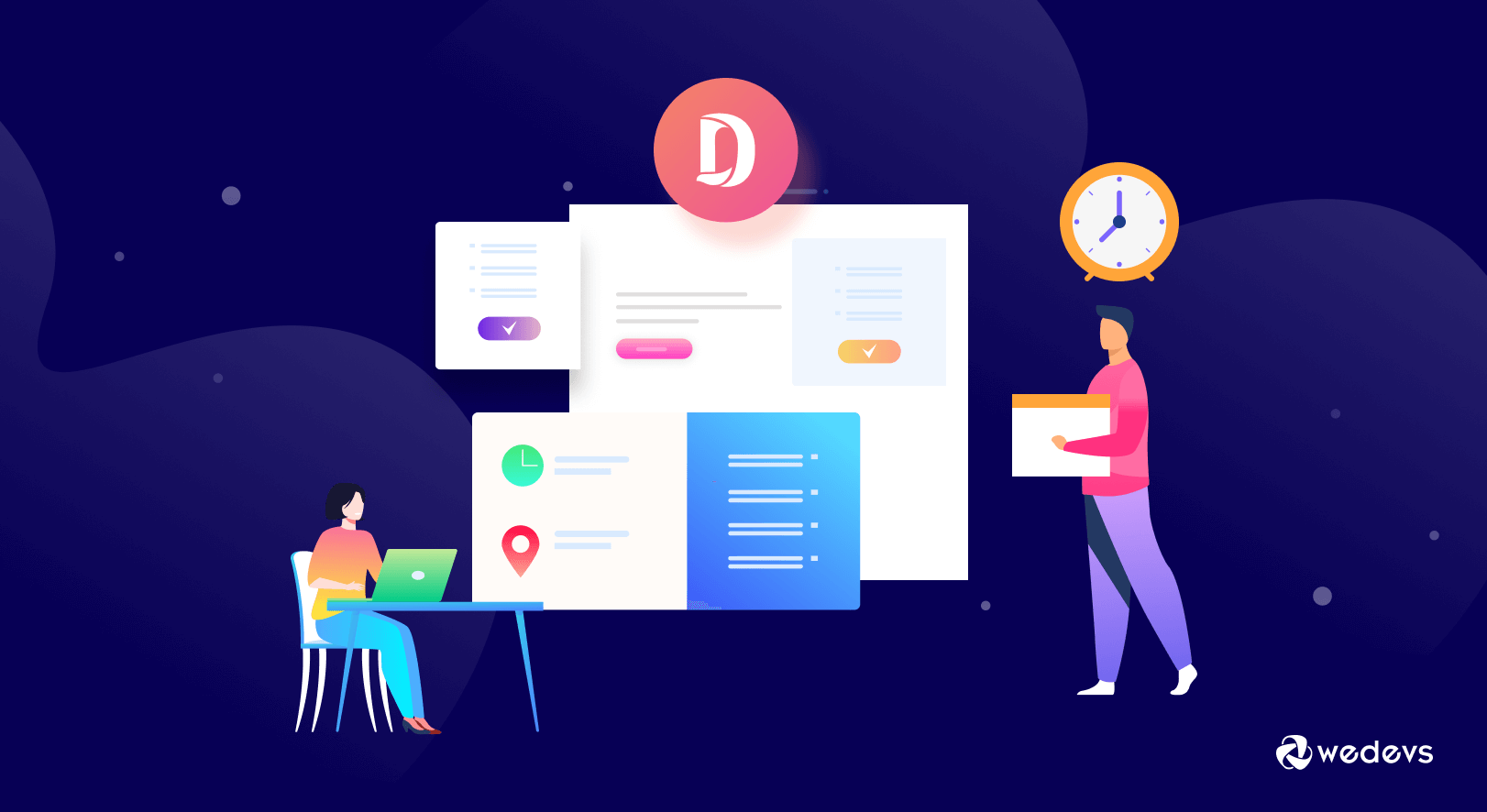 Vendors can easily know the timing of each delivery so that they don't miss out on any.
Read: How to Allow Your Customers Choose Desired Delivery Date & Time on WordPress Marketplace
12. Dokan PayPal Marketplace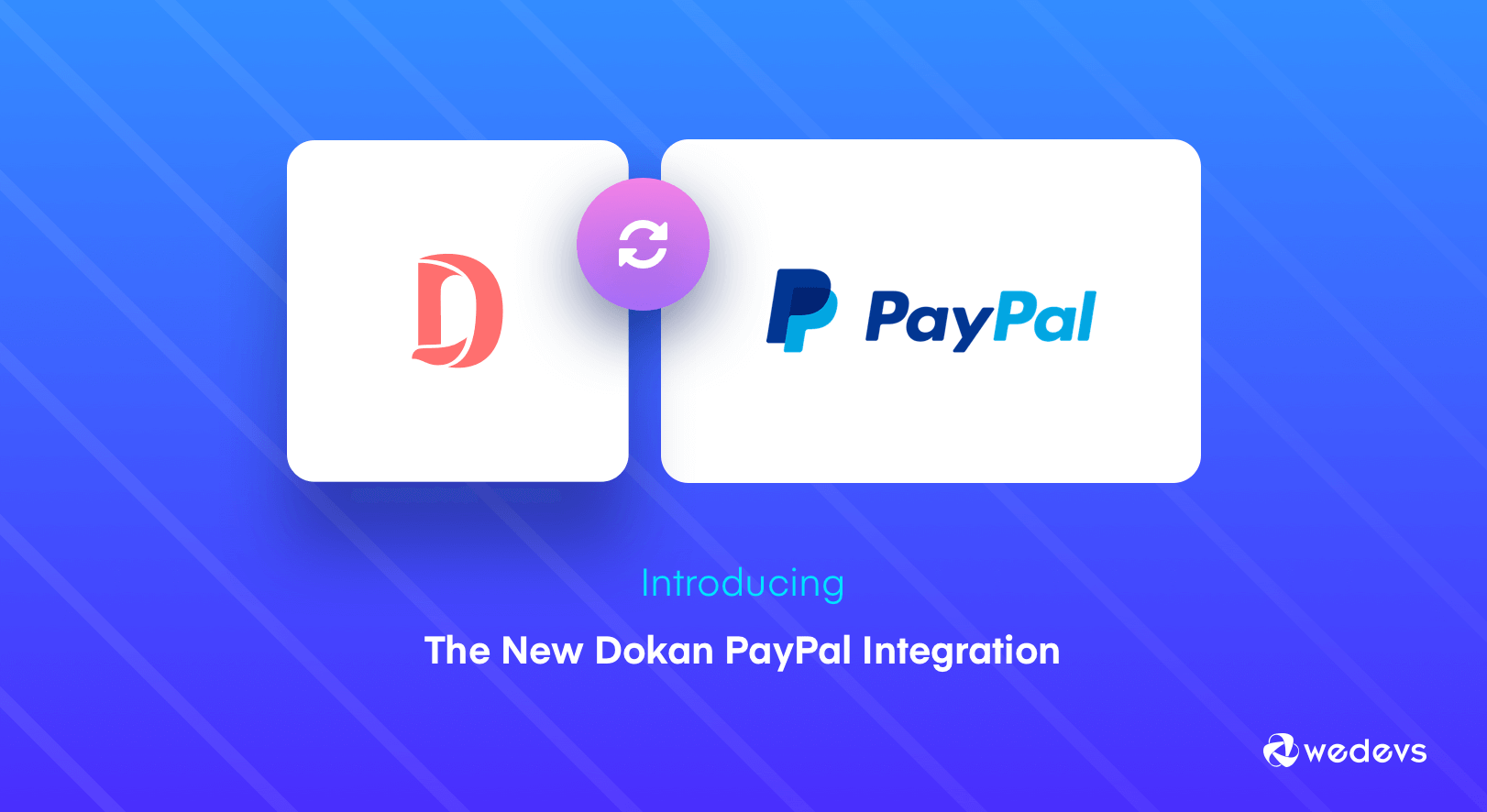 Dokan PayPal Marketplace module's features will help the marketplace owners add another dimension to their payment system. This payment system will make the transaction process smooth with features like,
Multivendor Support (Split Payment)
Multiple Disbursement Method
Robust Refund System (Automatic Withdrawal)
Unbranded Credit/Debit Cards
Checkout with Cryptocurrency.
You May Also Read Dokan PayPal Integration: Now Flexibility is Yours as a Marketplace Owner!
FAQ(s) Regarding Dokan
Can Anyone Register as a Vendor?
Yes. Using the registration form in Dokan, anyone can register as a vendor.
Does Dokan Support Shipping?
Yes, Dokan supports shipping.
How Admin will Earn from the Marketplace?
Admin can earn a commission with each sale from the vendors.
Wrapping Up on Dokan's Top Features & Modules
It's not us that made Dokan the best, it's always you who made it. Among many other features and modules of Dokan, we have only discussed a few of them.
If you have any favorite features or modules of Dokan, don't hesitate to pop your thoughts below.