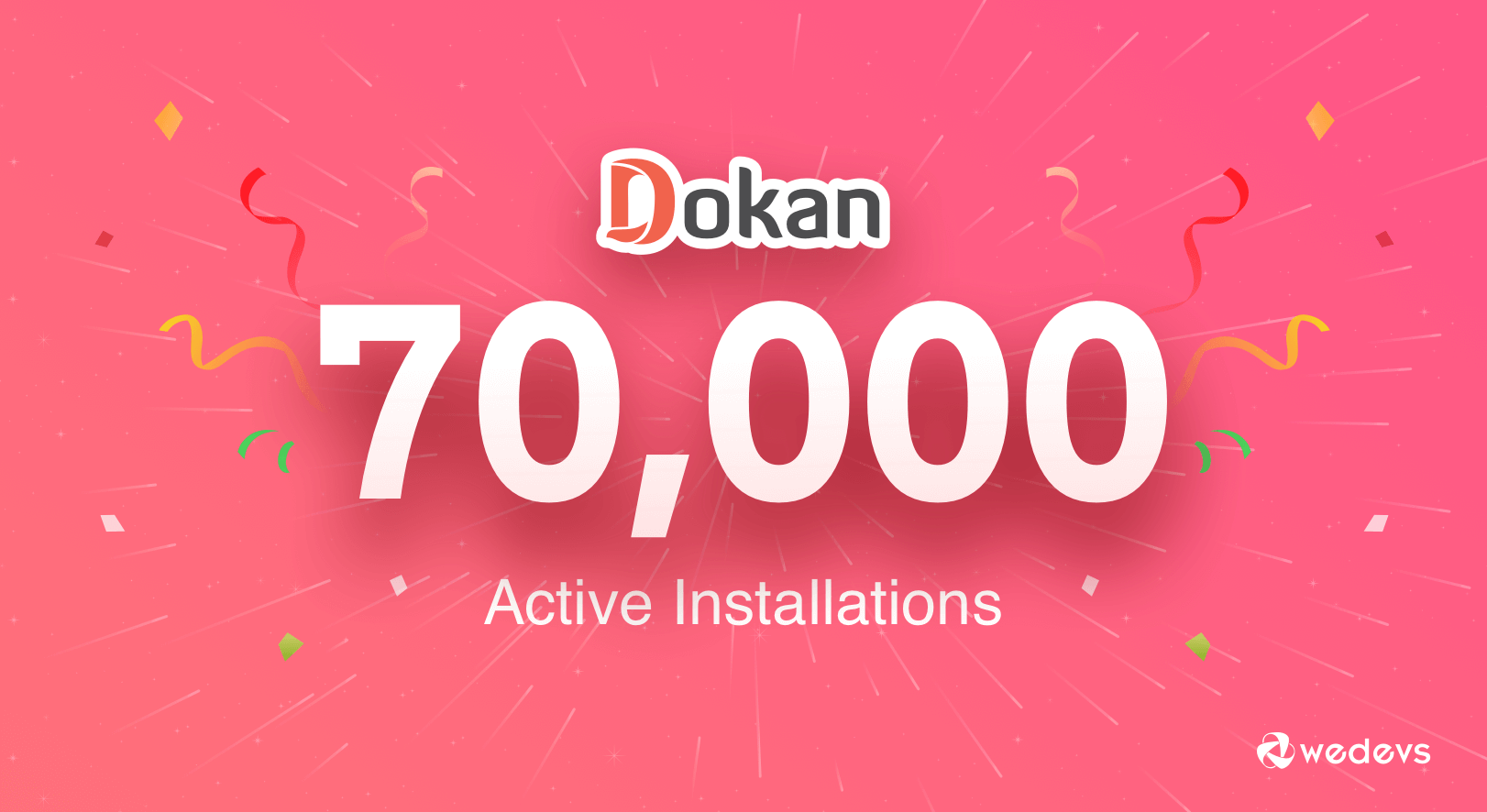 Celebrating 70k+ Active Installations of Dokan: The Best Multivendor Plugin for WooCommerce
We feel really thrilled and excited to announce that we have reached a 70k active installations milestone for the Dokan multivendor solution in September 2021.
Now, getting back to us! We are in deep shock – but obviously a good shock! That is, we are blown away by the sudden upsurge in the number of active installations by the sheer loyalty of our entire community. We feel such motivated as never before.
Let's Put These Numbers into Perspective for a Moment, Shall We?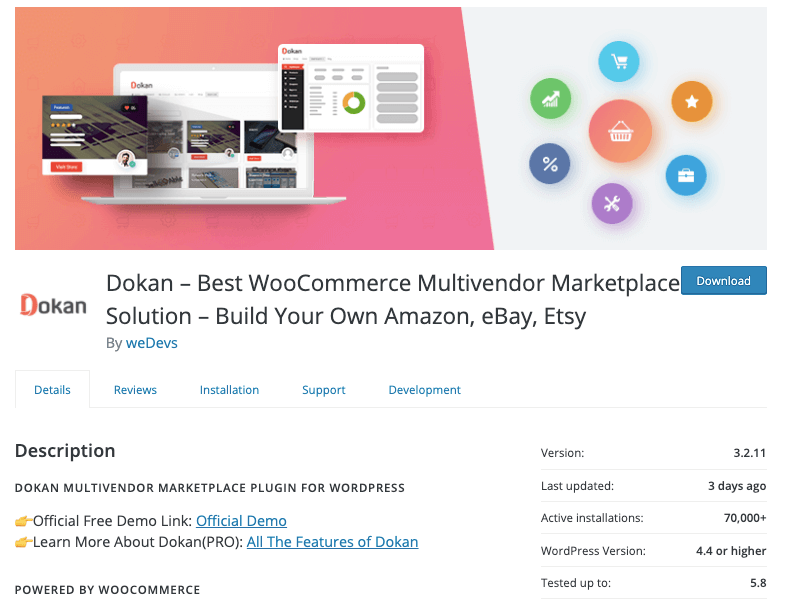 The Dokan multivendor, being a standalone solution rode a wild ride for the last 6 months. So wild that within just these 4 months it soared from 30k active installations to 40k swiftly.
And guess what! The momentum is increasing even more since then because we have got another 30 thousand active installations. So, now we are proudly celebrating the 70k active installations mark.
But that's not the end of the story!
We can not hide the fact that we have earned the soothing and proud reward of 321 5-star ratings so far out of a total of 393 ratings with an average of 99% customer satisfaction.
We began our journey in 2013 with a small team. Now, as of September 2021, we have grown up to a massive team of 90.
Check rating from wordpress.org.
And our last pat on the back is that we are now officially the best multi-vendor solution among all the other solutions based on WooCommerce.
The Mystery behind Such Awesomeness!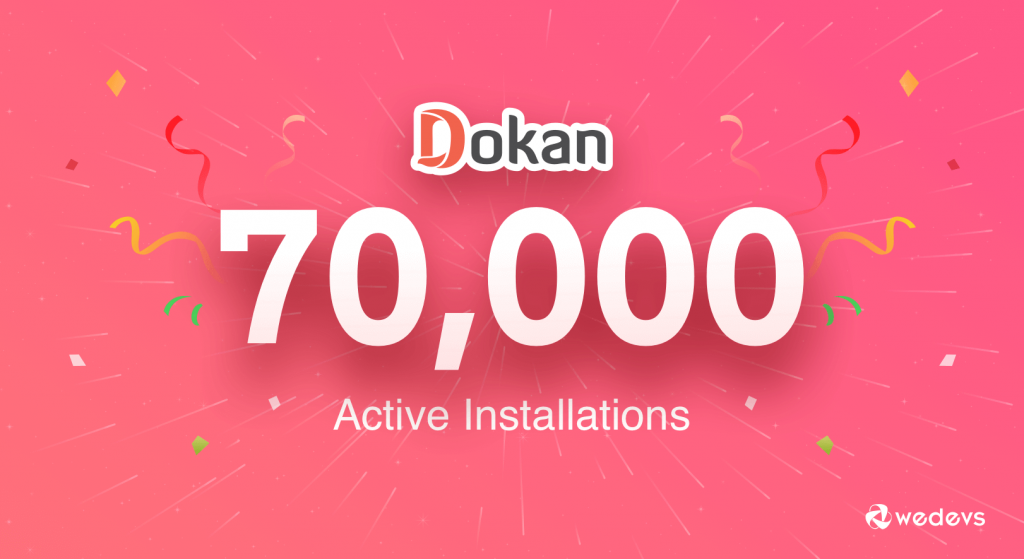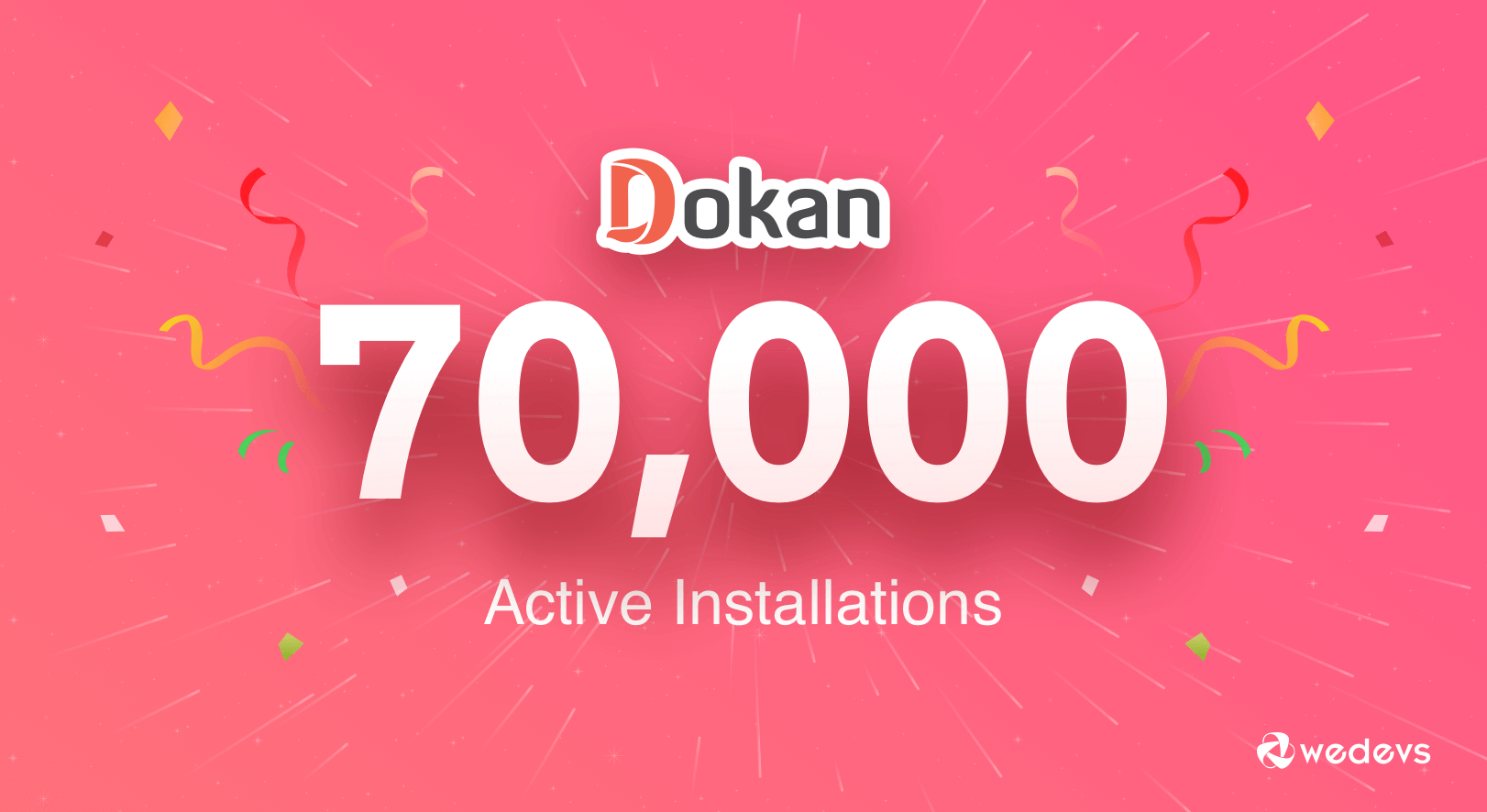 The best of the best features of our multivendor solution is nothing but the active Dokan community more so than we could have ever dreamed of. And, yes, it's you and only you, not the other way around, we should be bragging about.
The secret to our success is fixing the bugs you reported and the features you suggested to enhance the awesomeness of the multivendor system. We always took your suggestions and reports with great seriousness and thus we did it.
We are extremely grateful to all of the customers from around the world for making the love for Dokan contagious to this great extent.
Dokan Recent Features at a Glance
Now, you may have already known we have dished out the following features as hot as ever from November 2019 to September 2021:
While adding a new product add-on, you will get a warning for an outdated template on the vendor migration page.
When the vendor access the backend, he can see the Dokan menu due to a store review permission issue (Store Review)
On the product addons edit page, the required field's attributes are removed.
Customer can place an order from sellers who are on vacation (Seller Vacation. Dokan now prevents duplicate order creation on stripe 3ds checkout (Stripe) )
You can make vendor staff permissions label translatable (Vendor Staff)
MAP on the store listing page is not showing if Google API key field is empty but Mapbox (Geolocation)
Modifying the product from the Admin backend reverts the product location to `same as store` (Geolocation)
If the admin has earned from an order, only then refund the application fee (Stripe)
Brand support for single product multi-vendor and normal clone products (SPVM)
Make store support template overridable (Store Support)
The plugin build process is improved with a script to upload built zips on BitBucket
Dokan Lite Store Listing Filter Styles Got Compatible with Any Theme.
Dokan will Notify, If Your PHP Version is not Met for WooCommerce
Commission Formats Got Updated If Dokan Pro is Deactivated
Gallery image restriction count for vendor subscription module
Facebook Messenger to Dokan live chat (Live Chat)
WhatsApp, tawk.to to Dokan Live Chat
Exclude cash on delivery payments from vendor withdrawal balance (COD)
weMail plugin added on recommended plugins list when run Dokan setup wizard
PayPal Marketplace payment module added to handle the transaction process smoothly
Manual Booking support added for vendors
EU Compliance field module added to
Added Germanized plugin support
Customers can now choose their own delivery date and time( Delivery Time module )
Added Apple Signin feature under Dokan Social Login
Customer can now check the shipping status of their orders
Digital and Physical product type selling option for vendors
External product support added.
As a token of our gratitude and love for you, our users, we're putting the ball in your court with our upcoming features. 
Be a Part of Our Celebration! Get Upto 40% Off on Dokan Packages
Our loyal customers are the main reason we have reached this amazing milestone. So, we decided to offer something special to our customers.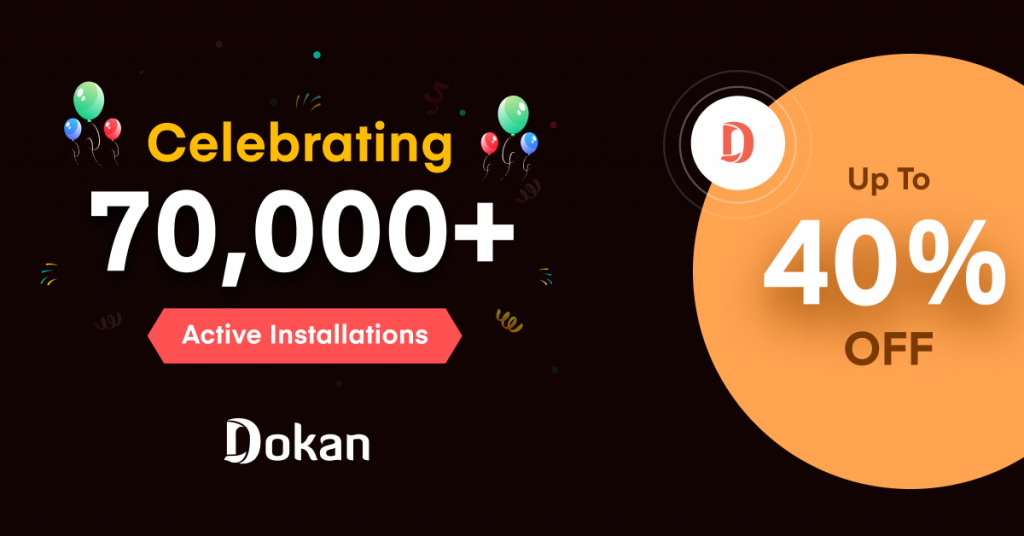 We are offering up to 40% discount on all the Dokan packages. But that's not all, we have introduced a new Two Year license for all Dokan packages. This package will help a lot of store owners as they don't have to worry about renewing their subscription after just only one year.
Dokan Installations Growth: Token of Our Gratitude & Love for You!
As a token of our gratefulness for your contribution, we want to put the ball in your court with our upcoming features:
Vendor Info hide: The vendor can hide his information from the store page.
Delivery driver mobile app helper plugin
WooCommerce weight base Table rate shipping integration release
WooCommerce distance base Table rate shipping integration
Vendor Product Advertisement
Now, which one of these four features do you like us to release first? We would like to know your verdict so that we can delight you with the Dokan as much as we can.
Over to You
The concept of making money without having one's own products is always amazing, right? This is what Dokan has been striving for you over the last 7 years.
With this short span of time, we have learned both the easy and the hard way to make our plugin awesome. And once again the best part of the development of this awesome plugin was not something that only our team has made. In fact, it was developed by our beloved customers' opinions and suggestions.
Finally, we would like to thank you all for sticking around with us to make Dokan this great!