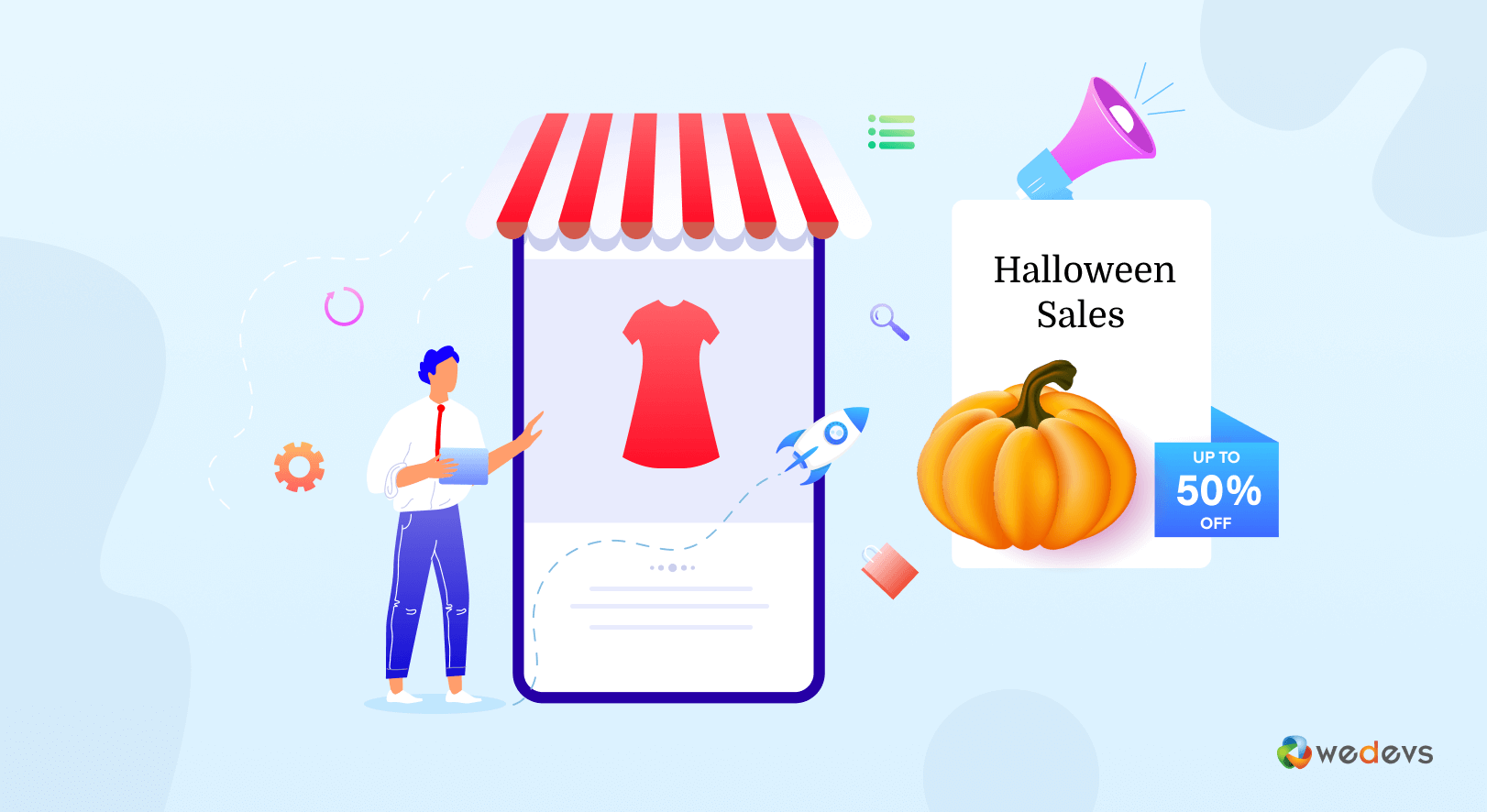 How to Boost eCommerce Sales on Halloween (7 Halloween Marketing Ideas for 2022)
How are you preparing your online store this Halloween? This holiday season is the perfect time to connect with your prospects and customers in a fun and engaging way.
Halloween is the fourth most popular holiday after Christmas, Thanksgiving, and Easter. Still, many retailers tend to ignore this holiday sale thinking of other festivals ahead. But there are a lot of customers who have their lists to buy Halloween products. This means you'll surely miss a big opportunity if you don't prepare your shop for the upcoming Spooky Night.
According to a survey, the National Retail Federation (NRF) expects consumers to spend a record amount of $10.14 billion for Halloween this year. The average person is predicted to spend about $103 on costumes, candy, decorations, and greeting cards.
Be a part of this scary fun, hence endorse your business growth to recover the downscale economic trends caused by the COVID-19 pandemic. On top of that, you can target these customers later this year on the biggest celebration of New Year.
To help you out, today we'll share some trendy Halloween marketing ideas to boost your eCommerce sales. Let's start from the beginning-
How It All Started- The Origin of Halloween Celebrations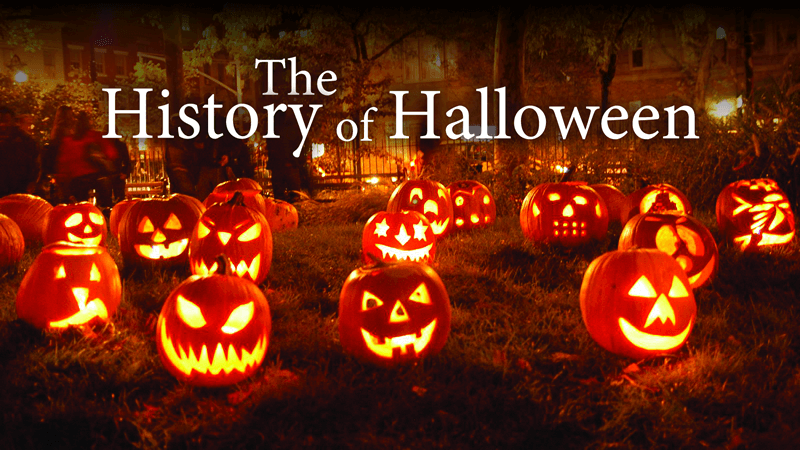 The word Halloween literally means "hallowed evening" which comes from All Hallows' Eve. Previously, people dressed up as saints and went door-to-door. This is the origin of Halloween costumes and trick-or-treating.
The concept of Halloween originates from a pagan festival called Samhain. About 2000 years ago, people of ancient Celtic religion in Britain and other parts of Europe used to celebrate their new year on November 1. This day was considered the end of summer and harvest season. And the beginning of the dark interval. The Celts believed that on the night of New Year the barrier got really thin between the world of ghosts and spirits. So, they threw a big party and observed many ritualistic ceremonies to scare away the ghosts and spirits.
Eventually, the day became known as All Hallows' Eve, especially in the Christian religion. And now people celebrate this day on 31st October- the day before All Saints' Day on 1 November.
You may also be interested in knowing: The WordPress Halloween Discounts and Deals of 2022.
Halloween Trends Over The Years
Even though Halloween is derived from ancient festivals and religious rituals, now this day is observed in many countries around the globe. It includes celebrations like costume parties, trick-or-treating, pranks, and games. According to the reports people spend billions of dollars on Halloween products. The below image gives you a quick glimpse of consumers' spending during Halloween-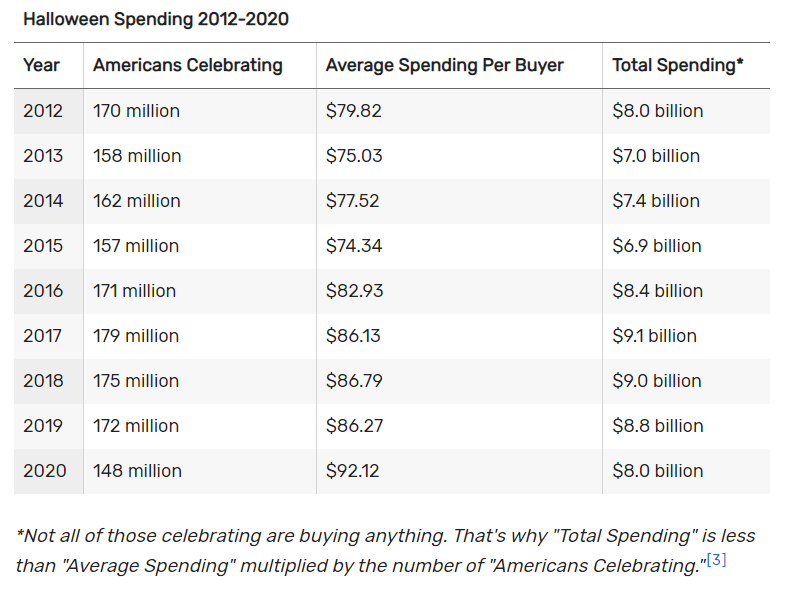 With this continuity, experts forecast the total spending for Halloween 2022-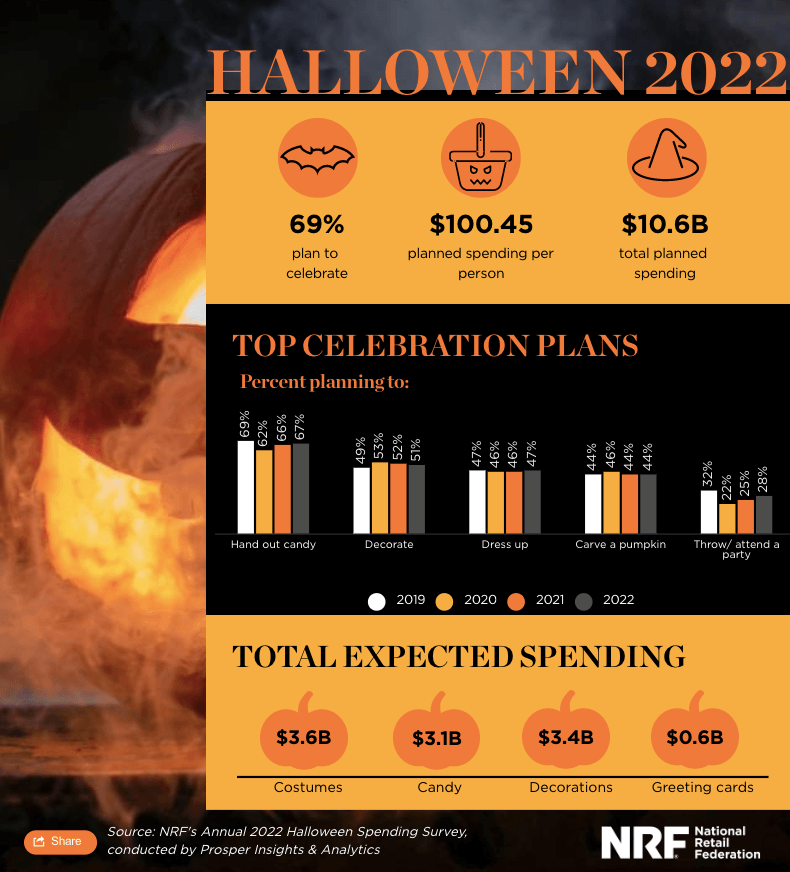 These stats must be giving you good reasons to kickstart your business for this holiday season. You must have some crazy Halloween marketing ideas evolving in your mind to rock this Halloween. You can match those ideas with ours to craft the best Halloween plan for your business.
How Online Businesses Can Leverage Halloween Spirit to Boost Sales
Like the rest of the business, Halloween has moved online. The COVID-19 pandemic, however, has increased the online shopping rate that is supposed to continue in the post-COVID world as well.
According to Influence Central, the online crowd is growing higher in 2022. They found that 55% of parents plan to shop online for their children's costumes this year while just 42% plan to look for costumes in stores.
In total, 34% of all Halloween purchases are made through eCommerce sites.
These stats show how Halloween gives another great shot to online retailers. From specified party costumes to home decor there are a lot of things people buy for Halloween. Besides, many customers wait a whole year to crack some profitable deals during this festive season. So, every type of business has a fair chance to boost its revenue on this occasion.
Besides purchasing, online search is also the top source of Halloween inspiration. Most importantly, two-thirds of shoppers today use social media as part of their shopping strategy. As an eCommerce owner, you need a 360-degree marketing strategy to cover all the digital platforms you can get customers.
Though many businessmen consider Halloween as a minor celebration compared to Christmas or New year. But it is the start of the festive season and a great chance to grab customers' attention.
Related Link: 20 Do's and Don'ts You Should Be Aware of While Running Your Online Business.
7 Spooky Halloween Marketing Campaign Ideas to Apply Right Now
After going through a very tough time this year is supposed to return us happiness. People are also ready to have some spooky fun. Digital marketers are also planning to trick-or-treat their customers in a special way this holiday.
Prepare your shop for scary fun following these Halloween marketing ideas-
Revamp Your Website with Little Bit Spookiness
Offer Exciting Freebies/Discounts
Run Halloween Theme Based Campaign
Host Halloween Contest on Social Media
Invest in Influencer Marketing
Run A Themed Email Marketing Campaign
Publish Creative Content on Halloween
1. Revamp Your Website with Little Bit Spookiness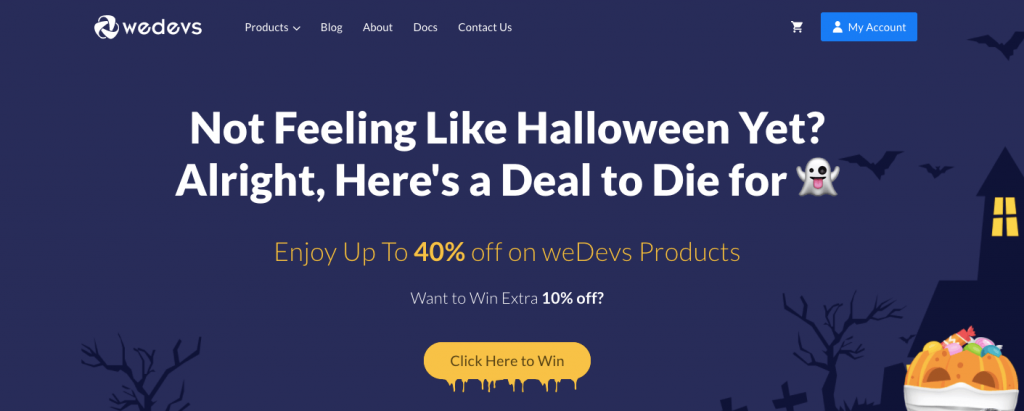 Festive Decoration can be a great way to inspire your visitors who are in the mood for celebration. By adding Halloween elements to your storefront you're notifying your potential customers about special sales. This will make your brand more engaging with visitors.
Suppose you have an online grocery shop, you can welcome your visitor with a festive look based on a Halloween theme. However, we don't suggest you completely change the design of your website. Because it would be time-consuming & need great effort in backend development. Also, these changes are temporary. Rather decorate your store with some flexible elements that help you serve your purpose as well as require less effort.
Instead of making huge differences, you might prefer the following ideas-
Website Header Bar: It is often the first thing your visitors see and read after landing on your website. You can use it to show Halloween deals or offer some specific design elements.
Hero Banner or Slider: This is the core part of your website to gain the quick attention of visitors. Include some Halloween-based banners and images to show the complete holiday spirit.
Welcome Mat: Greet your visitors with a full-screen dynamic overlay including some Halloween images and attractive message copy.
Pop-up Banners: This form of marketing is always effective for promotional branding. Adding a spooky look would be a great way to decorate your store for Halloween.
CTA Buttons: Being an important conversion point, you should decorate your CTA buttons with spookiness. Tickle your customers' celebration mood with a great conversion rate.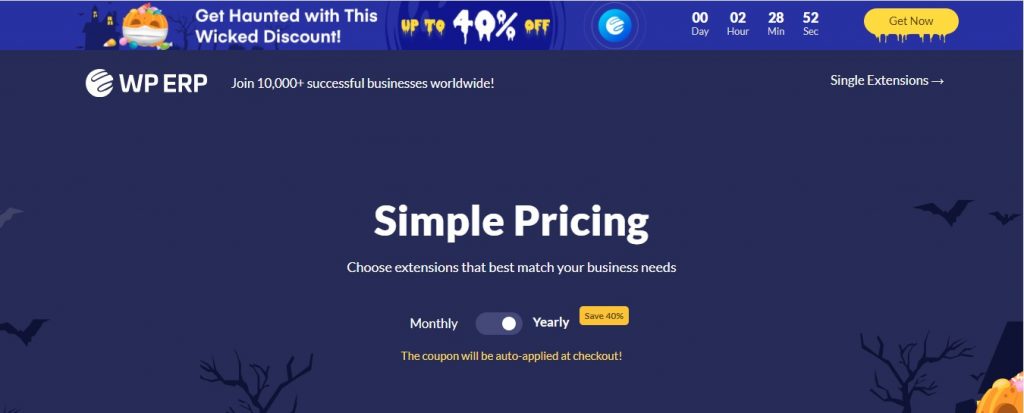 Other than these, you can apply some theme-based elements to the important parts of your website like most sale product pages, checkout pages, etc. For some extra attention, include a temporary category or landing page for showing Halloween deals, coupons, or products.
2. Offer Exciting Freebies/Discounts
Encourage people to shop in your store by offering alluring deals and discounts. Some fun Halloween marketing ideas would be:
Trick or Treat: Get a treat from our store & save your pocket for one year.
Happy Halloween: We're giving a spooky sale this Halloween; Check and enjoy some spooktacular savings off everything in the store.
Boo: Hurry up to grab our BooGO offer; It's a buy one, get one free sale this weekend only.
Free Gifts: Glorify your weekend with amazing GIFTS. Decore your home with spooky staff this Halloween.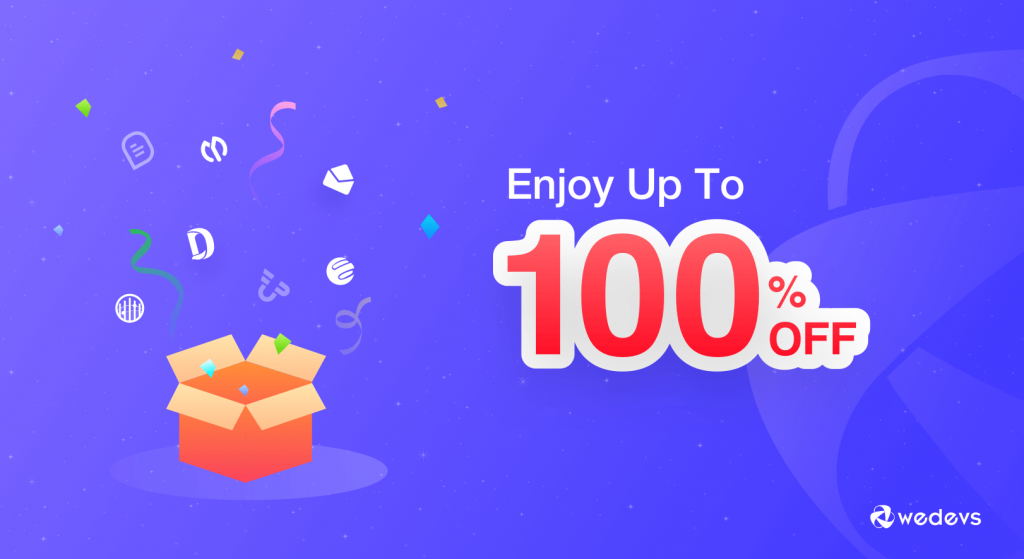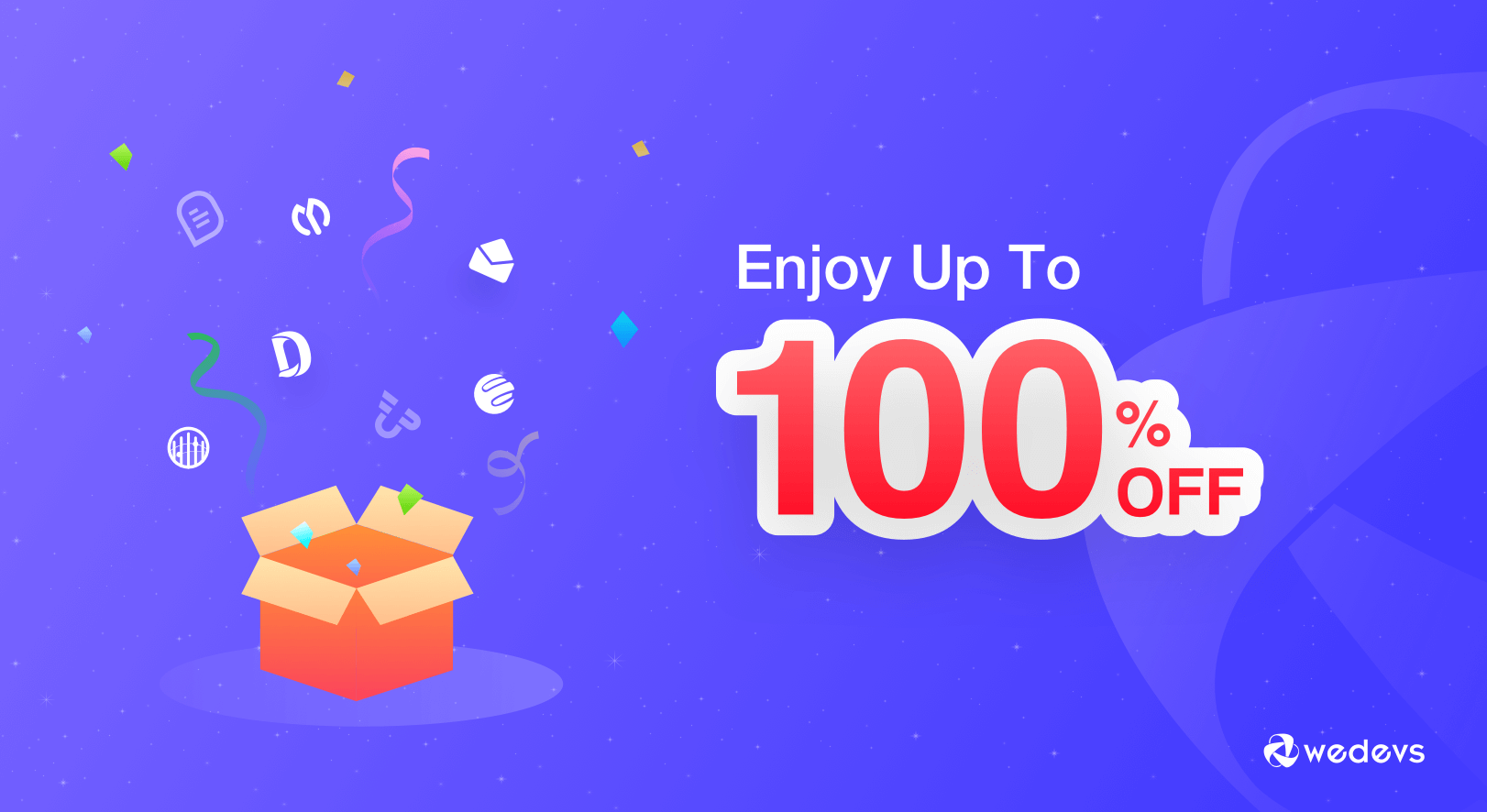 This is the time people usually find gifts for their family and friends. Also, looking for the items to get into the celebration. But don't lag behind if you're not selling any Halloween-related products at all. As many buyers wait for this holiday season so they can seal some attractive deals. You can grab this chance by giving them some discounts and gifts as well.
You can arrange any type of Giveaway program too. It can be a great way to gain exposure to your business and gain new customers while keeping your exciting customers happy. You can choose Halloween printed t-shirt, mug, or travel bag along with your business branding as promotional gift items.
Some Offline Tips: If your local community doesn't arrange any Trick-or-treat program, you can collaborate with local businesses and offer an event for kids. There you can showcase your products with great discounts or treat them with some Halloween gifts.
3. Run Halloween Theme Based Campaign
Marketing rules and tactics are kind of the same for all occasions. You just need to blend it with the related concept. For Halloween, you can take any eerie imagery to relate to people with your promotional activities.
Firstly, find the channels your potential customers are mostly available. Be creative with your campaigns on your website and social channels. Don't forget about the strong impact of visual content on modern customers. Make your campaigns more effective using impactful videos, gifs, and other formats of content. The more focused and engaging your campaign is, the more customers you'll be on board.
Backed up your campaign with social media and email marketing you get the best output from your online business. The detailed process is elaborated on later in this blog.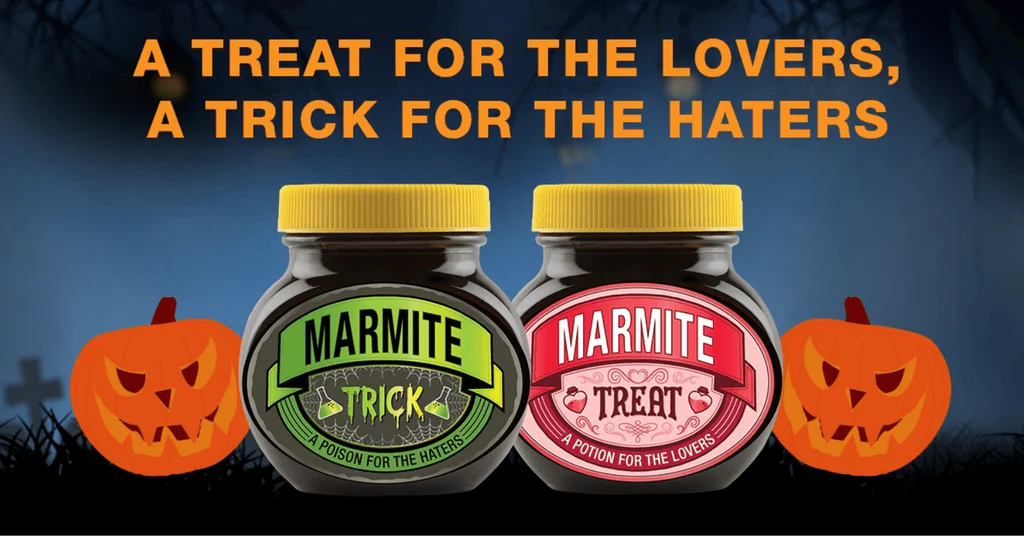 Also Read: Most Effective E-commerce Store Optimization Tips for the Holidays
4. Host Halloween Contest on Social Media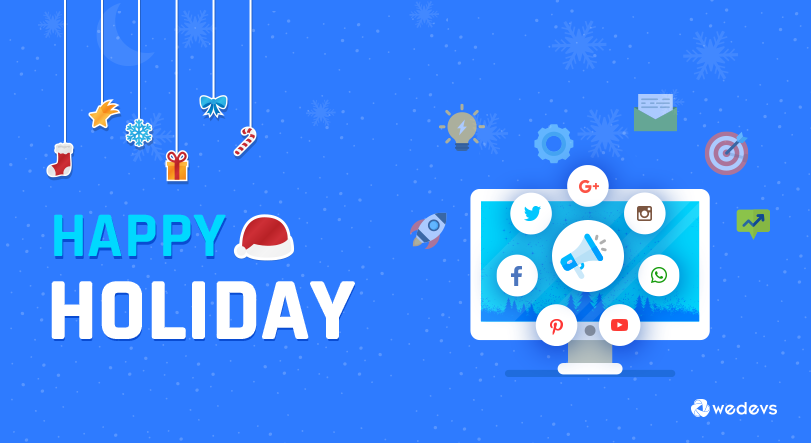 Halloween contest on Social Media is an effective way to engage people with your brand. You have plenty of opportunities to use Halloween for getting more customers in your shop. Arrange your own social media contest and encourage your customers to submit photos of things like costumes, carved pumpkins, and creative treats. The pumpkin carving contest is the most prominent among the Halloween Content.
Some Popular Halloween Captions for The Social Media Contests-
Baby Boo Halloween Contest
Virtual Costume Contest
Not-So-Scary Halloween Contest
Wicked Fun Contest
Spooky Photo Contest
Toontastic Halloween Photo Contest
Pose for Mummy Costume Contest
Boo-tiful Photo Contest
Also, use trendy Hashtags to increase the visibility of your post. Popular hashtag ideas include #HappyHalloween #HalloweenSales #HalloweenContest #trickortreat. Perhaps you can create your custom hashtags to uniquely viral your words to announce sales.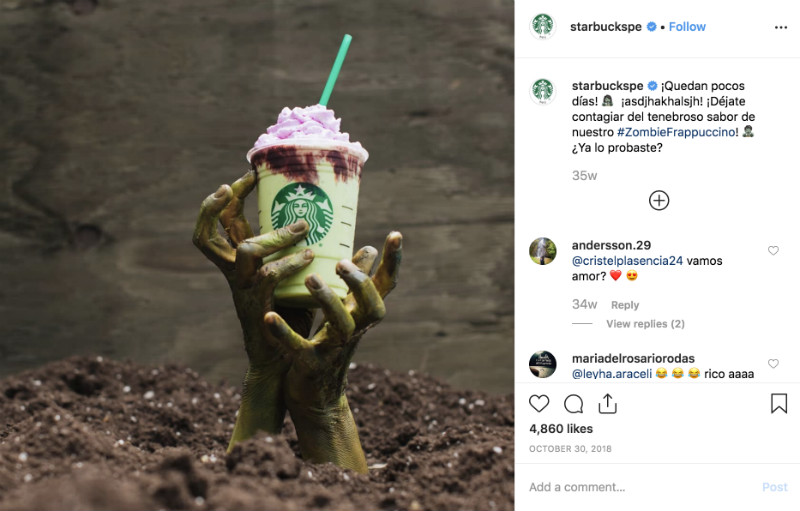 If you own a dress eCommerce store you may ask your customers to post their Halloween pictures wearing anything purchased from your shop. You can categorize the pictures as the scariest, coolest, ugliest, etc. The first of each category will avail of a 10% discount on the selected items all over the year. If anyone wins all alone will get a 10% discount on each item around the year. This craziest idea can create a big blow in your e-store sales.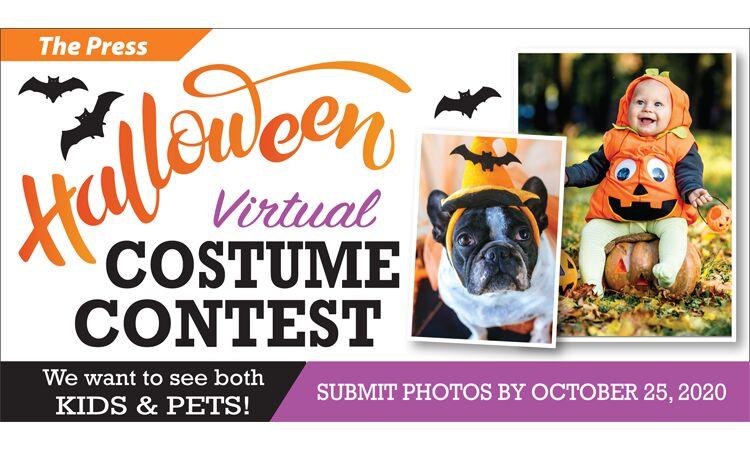 During the Halloween season, people like to participate in contests like this. They even spend more money to win a contest.
5. Invest in Influencer Marketing
From the beginning of social channels, influencers impacted a lot of marketing. Influencers are those people who have a great number of fan followers and can influence people with their posts. It is a kind of brand ambassador. But it is cheaper than having a brand ambassador and bringing instant growth to your business.
Influencer marketing can bring a great outcome on Halloween when the spending season starts following Black Friday and Christmas. As people take influencers as idols, they can purchase a lot from their influence.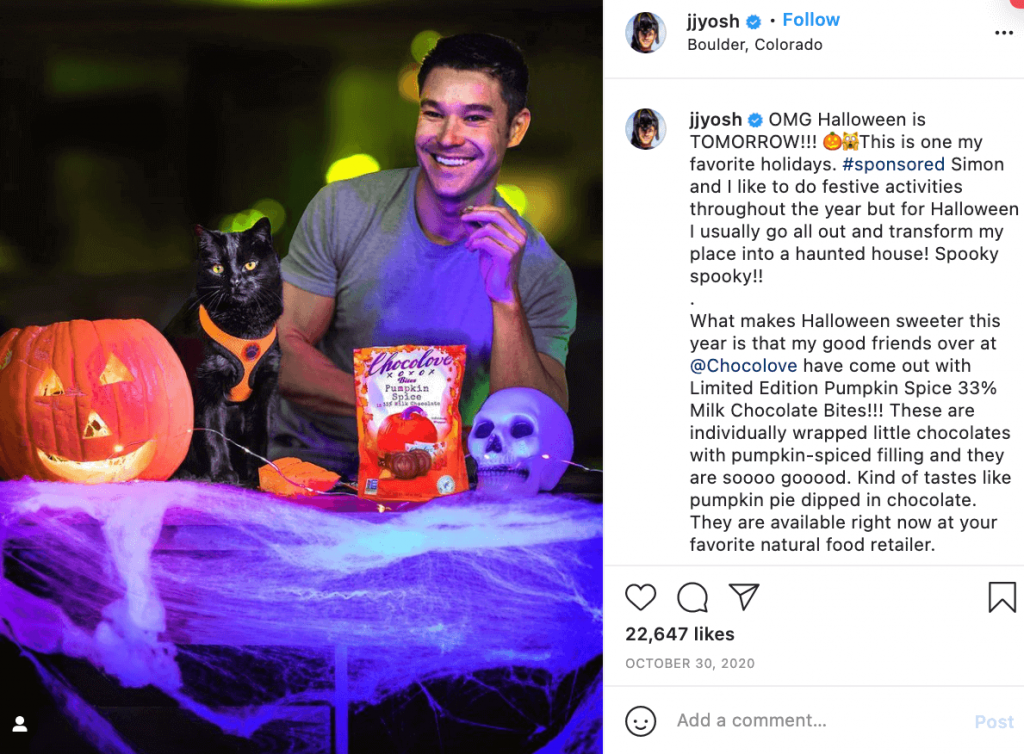 There could be a lot of influencer marketing techniques. Some are like-
Instagram Collaboration: It may be a technique to reach a maximum number of followers. If anyone can manage to get a post for their Halloween sale, they could be huge.
Social Live Streaming: Live streaming is a wonderful idea and is popular among people. You can grab the attention of a large audience and tell about your products through a live session with an influencer having a concrete fan base.
There are also a few others including-
Facebook Campaign
Blog Tours
Snapchat Campaign
Twitter Parties
Pinterest Campaign, etc.
Halloween Influencer marketing will definitely be a successful idea for this year with the cheapest price.
6. Run A Themed Email Marketing Campaign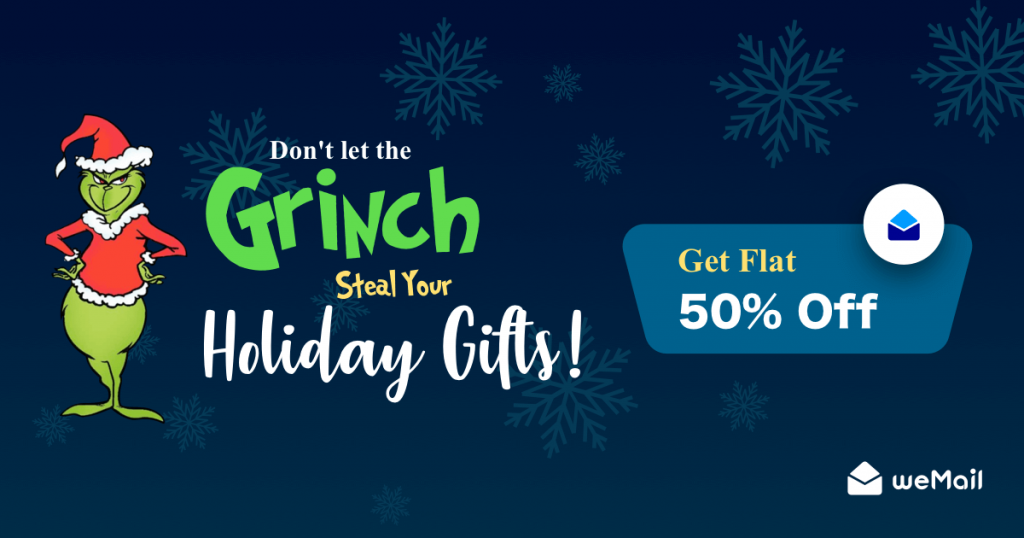 This old-school marketing idea is effective for every occasion to notify your users. If you can hit the right inbox with lucrative Halloween deals, it'll surely back you more. Indeed, use Halloween templates to conduct a successful email campaign.
In some ways, you need to be tricky to create fun and engaging email campaigns that your customers would love. Here are some inspirations to integrate a Halloween theme into your email campaigns.
Include spooky words in the subject line
Write interesting copy
Use Halloween template
Apply design & color that resemble the occasion
Use Halloween-related wit and humor to make your customer smile
Starbucks has made its campaign a little bit spooky but not intimidating. They've used spooky "chalk on a blackboard" illustrations and a Gothic font to convey the Halloween spirit through their template.

Get some great ideas to Boost Your Sales in this Spooky Season with Halloween Email Marketing.
7. Publish Creative Content on Halloween
Always creative content applauds people especially when it comes to Halloween Holiday Season. The best content for Halloween should be fun, relevant, informative, and engaging. This quality content attracts your audience to your business and makes them interested in your products.
Formulating content with the simple solution of the answers can yield a huge outcome in the upcoming Halloween.
The content creation ideas can be focused on the following points-
Content that Your Audience Love
The contents should be focused on audience interest and your products. There are tons of examples like a family restaurant that offered various Halloween-themed sweet items on their website last year. It caused a sudden increase in their number of followers.
Contents that Make Audience Feel Special
Everyone likes to feel special. Fanta grabs the chance in the previous year's Halloween. They are planning to make some limited editions of their cans using selected participants who share their Halloween pictures. There were hundreds of posts from their consumers sharing their Halloween event. It was one of their best Halloween marketing ideas.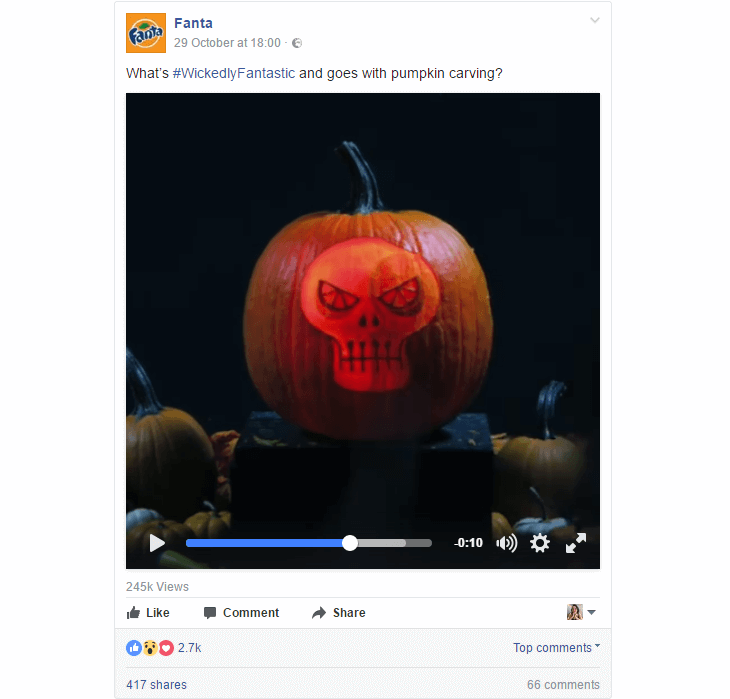 Blogs Targeting Seasonal Keywords
By targeting high-volume keywords you can publish informative content on your website. This will bring more visitors to your site and you get the chance to convert them into loyal customers. Use tools like Buzzsumo, and Ahref to find out related keywords for your content that relate to your business too. As an Online Gift Shop owner, you can share a blog on "Halloween Gift Ideas" that has an average of 10k search volume for this holiday season. It gives you some quick traffic for Halloween.
Remember, people often buy the stuff before the holidays approach. Halloween shopping usually starts from the first week of September until the end of October. Hence, you should prepare your content and graphics before the time. So you can immediately update them on time.
Best WordPress Halloween Deals And Discounts You Should Check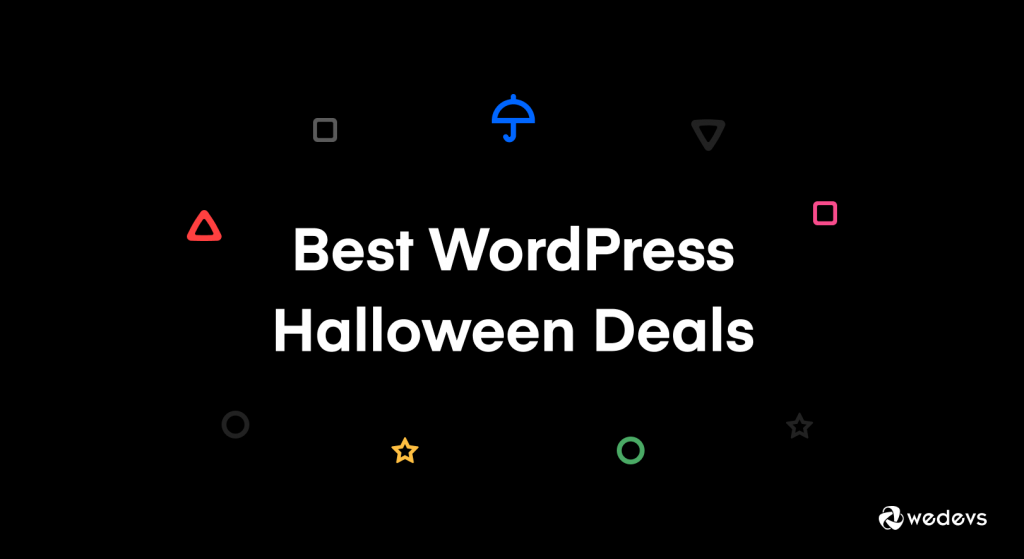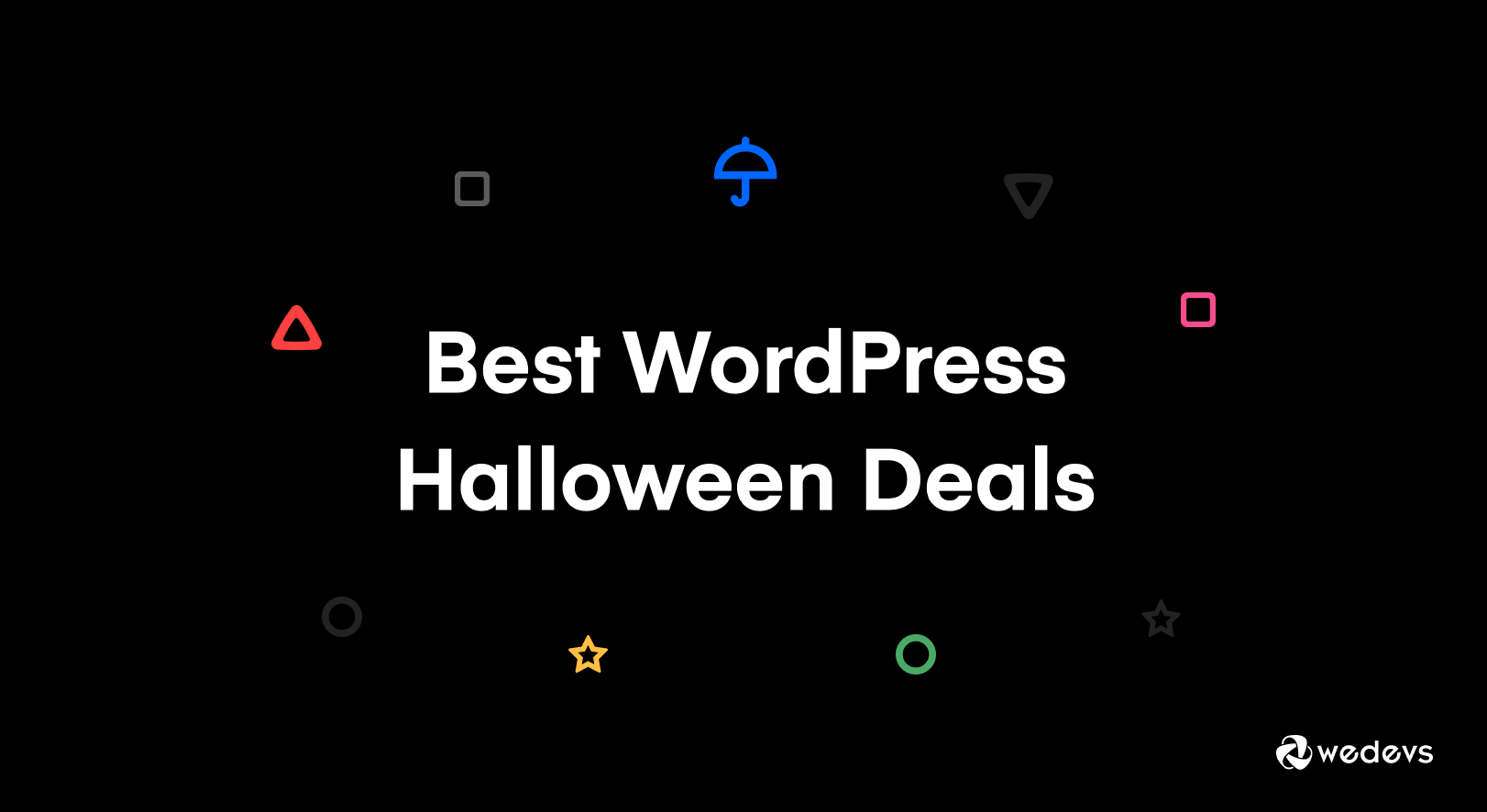 Halloween is marked as the start of the glorious holiday season. People are also in the mood of shopping. Along with other industries, WordPress also celebrates this special occasion with alluring deals and discounts.
Almost all WordPress companies within the industry give some WordPress Halloween discounts. You can grab this chance to save your pocket and secure the best deal on web hosting plans, plugins, and themes. If you're looking to switch to powerful hosting or buy a well-coded theme/plugin, now is the time to confirm the deal.
However, there are thousands of WordPress companies. Almost all of them offer one or more deals on Halloween. It's really tough to check all the plans individually and find the right one for you.
To help you out, weDevs prepare a list of great deals from the WordPress industry every year along with the great discount on its own products. Check out all the exciting deals right here! ⤵️
Celebrate Your Holiday with Spooky Halloween Marketing Campaign Ideas!
Halloween is just around the corner. Aiming to get the best deal customers are ready to buy from their favorite brands. As an eCommerce owner, this is a good chance to bring some significant growth to your online sales.
Like in previous years, online shopping is the top priority to buy Halloween products for consumers. Digital shoppers might start preparing their shops to greet their customers with fun and thrill. Whether you are one of them or not the above Halloween marketing ideas will definitely help you bring more customers to your eCommerce.
So, what's your plan for Halloween 2022? Share your weirdly fascinating Halloween marketing ideas with us in the comment section below!
And if you have enjoyed our post then Subscribe To Our Newsletters for more exciting content.