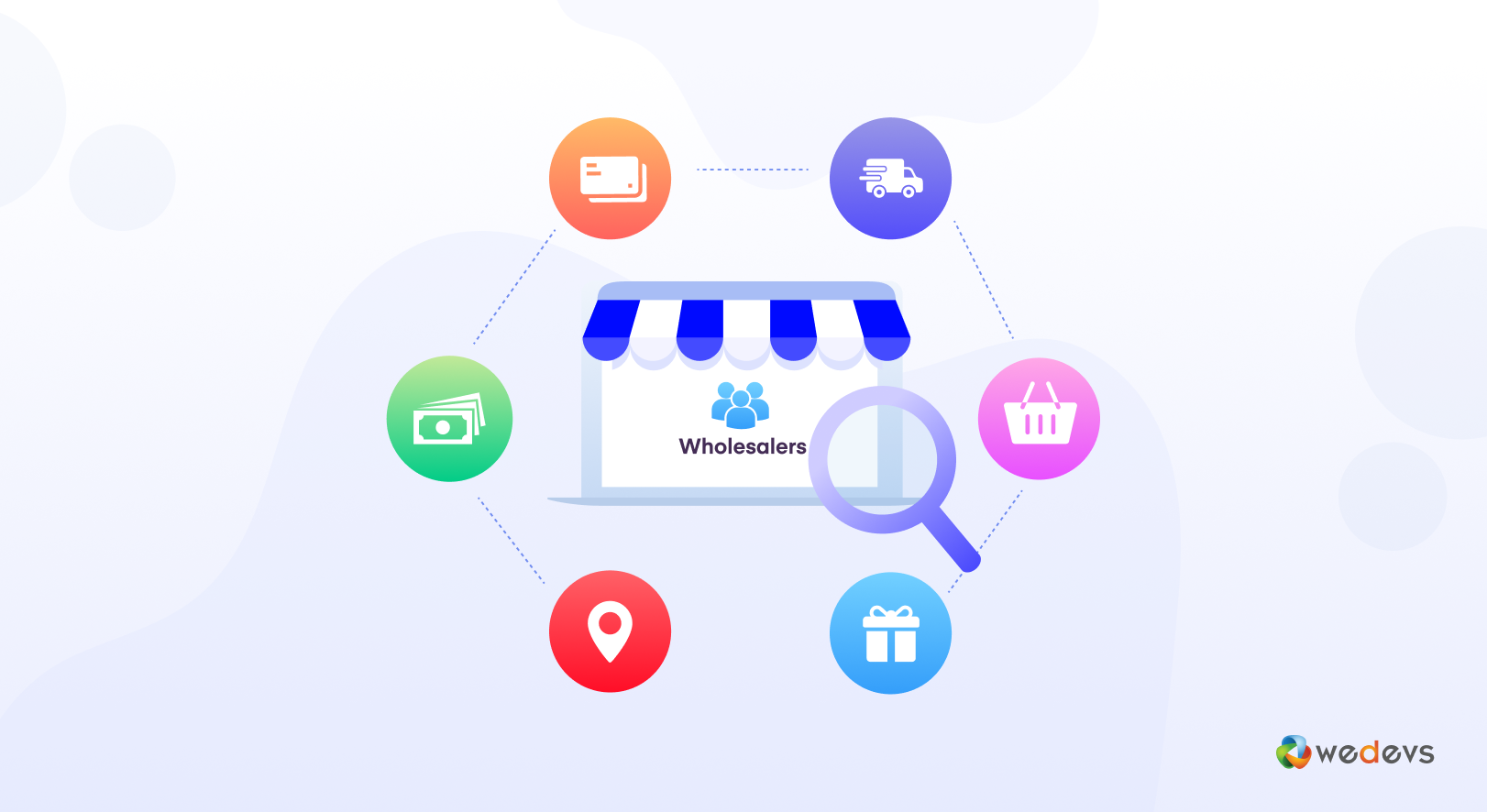 How to Find Wholesalers for Your Online Marketplace- A Starter Guide
Finding wholesalers for an online business can be one tiresome task. But it's a really crucial and necessary part of your online success. Because they create an effective connection between manufacturers and retail business owners.
Since the vendors of online marketplaces face problems purchasing products in bulk amounts, wholesalers do the job for them. Wholesalers allow you to buy a smaller number of products, but still at a relatively reduced cost. Also, they have significant contributions in the distribution channels, promotion, supply management, market analysis, and sales force. Thus they are quite invaluable for eCommerce owners to run and profit from their business.
You may need to find wholesalers for the online business you own or the vendors of your marketplace. But where do you find wholesalers for your business and how can you help your vendors connect with them?
This article will explain what to consider when searching for the right wholesalers and how to approach them. But first, let's clear a common confusion-
What Makes Wholesalers Different from Manufacturers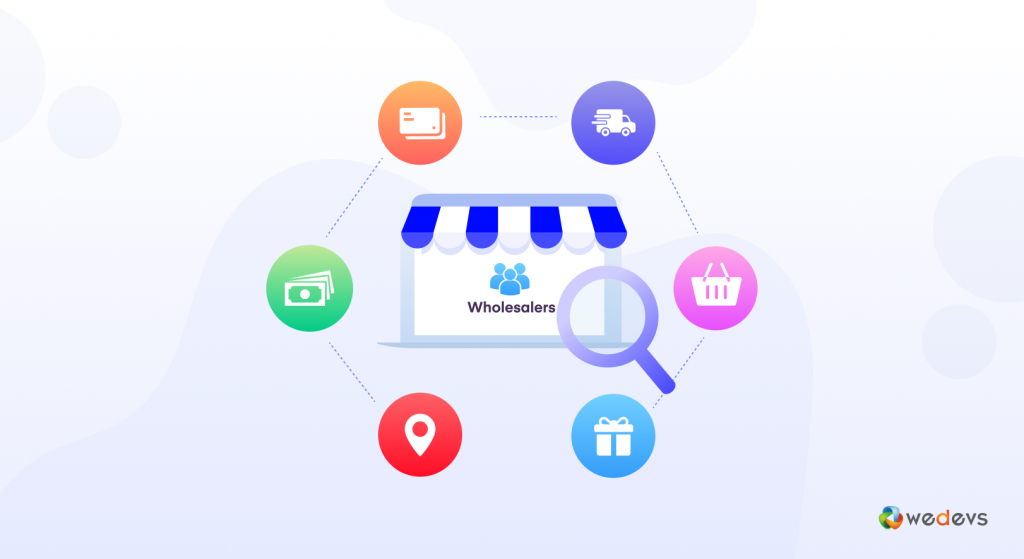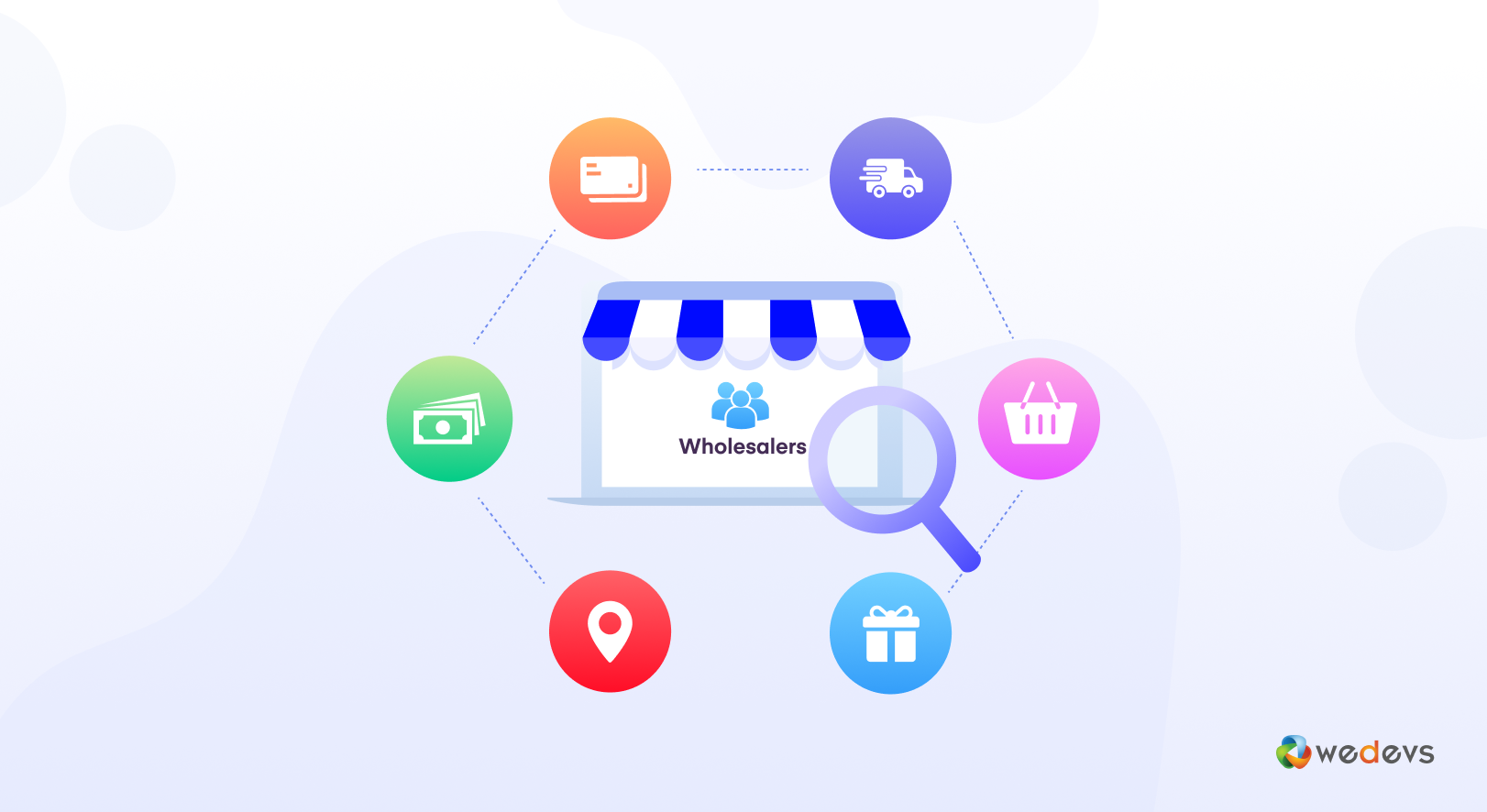 A wholesaler is a company or individual that purchases goods in large quantities and resells them to physical retail or online eCommerce businesses. A wholesaler often purchases goods directly from manufacturers at a reduced cost and sells them with a small profit margin.
If you are a new multivendor marketplace owner, then you might be wondering what is the difference between wholesalers and manufacturers. The truth is that both of these entities can supply your business with all the necessary items to sell on your website.
The main difference between a wholesale supplier and a manufacturer is that a manufacturer makes their products themselves. A wholesale supplier provides you with a product to sell, but they do not make it themselves. Thus, for an online business, the retail mainly has to buy the products from wholesalers.
The role of the wholesaler is important because it provides a middleman service between manufacturers and online businesses. An online business owner can purchase goods from a wholesale company for less than if he purchases those goods directly from the manufacturer. That is because this way they can purchase less amount of products at one go.
The Pros and Cons of Doing Business with Wholesalers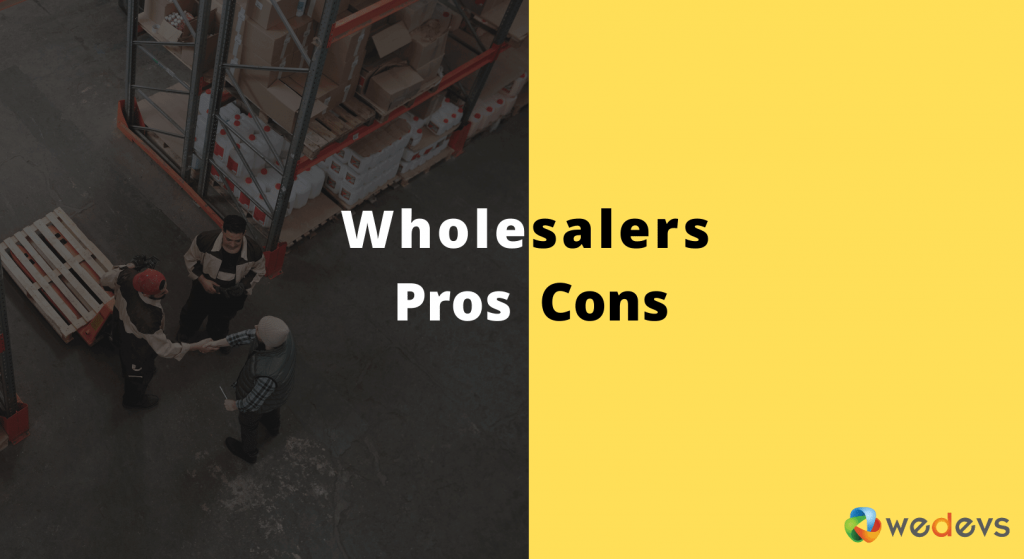 Now you know the difference between manufacturers and wholesalers. Using wholesalers for product sourcing can be cost-saving, but does it have any drawbacks as well? Let's look at the pros and cons of doing business with wholesalers.
The Pros
You can save money on your initial investment since wholesalers will often give you a discount on the product.
Tailor your products to the market you want to sell in by choosing different wholesale suppliers.
The Cons
Wholesale products are unlikely to be unique and so this limits your branding possibilities.
Wholesale products are difficult to sell online because customers don't like to buy something they can't touch first.
If you buy in bulk, it can take a while before you get your return on investment due to shipping costs.
However, despite some obvious cons, sourcing product from wholesalers is definitely a profitable way of doing business for online shops. Mostly because of the money saved and the ability to buy in small quantities. Below you find the way to find wholesalers for your online business in an efficient way-
What to Consider When Choosing Wholesalers for Your Marketplace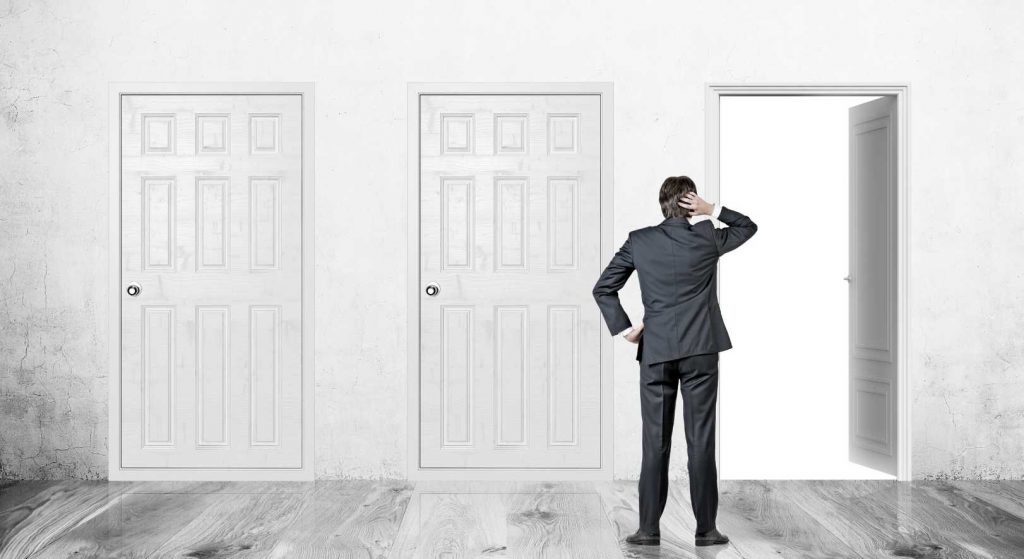 Choosing the right wholesaler can be a tricky task. There are many factors you should consider before you decide to choose one. Trying to find wholesalers for online businesses may take some time, but it's worth it. That is because choosing a wholesale supplier is one of the most important decisions that you will make as an online business owner.
Most people would agree that one of the most important factors in choosing a wholesaler is price. However, price isn't everything. There are some other factors that should be considered before picking a wholesale source for your business. Let's take a look at some of the key considerations for choosing a wholesaler for your business.
1. Wholesalers Reputation
A wholesaler must have a good reputation and credibility in the industry for years. Your supplier should be very reliable and trustworthy, especially when you do not meet them before. Whether you are sourcing from the wholesalers online or offline, you will easily be able to know the experiences of other people with them. With the wholesaler's brand reputation, you can understand if they provide quality products or not.
Choosing a wholesaler without seeing any prior testimonials will only be riding on your luck. Which is not what you should do to your business.
2. Convenient Shipping Facility
Ensure that the wholesale supplier provides a range of shipping services according to your needs including free shipping, short delivery time as well as customization service, and so on.
Shipping is a big pain point when sourcing a product from wholesalers. Often wholesale products get damaged while shipping or the supplier charges more for shipping. Choose a wholesaler who offers on-time delivery with the best shipping charge while also ensuring that the products do not get damaged en-route.
3. Special Services that the Wholesaler Provide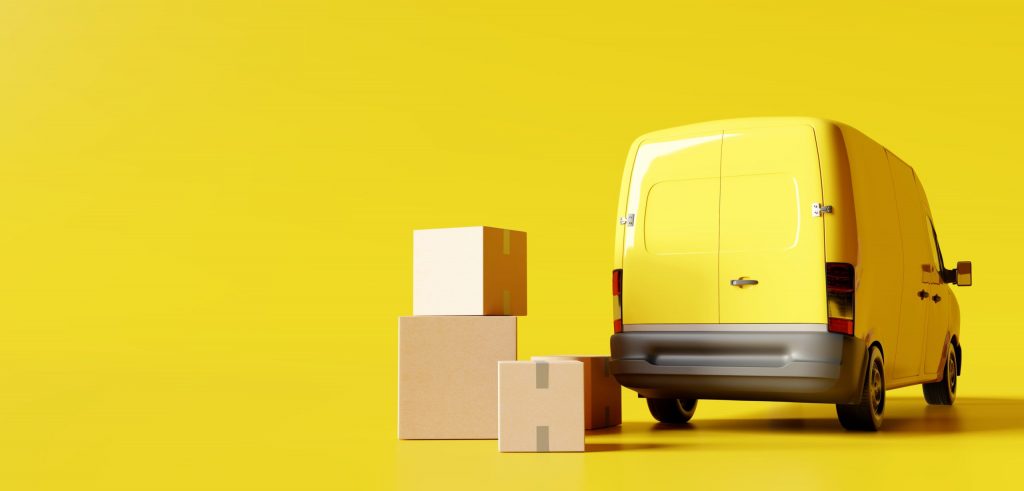 You should contact the wholesaler whether they provide any special services, such as shipping insurance, special packaging, and labeling, etc.
Such added benefits should encourage you to go for a particular wholesaler as these are indications of a quality company that is confident about its offerings.
4. Shared Culture
You can never operate successfully with a company that doesn't follow a similar thought process of running and operating their way of business. When both sides share a common value, you will feel comfortable doing business. Thus, it's important to speak with wholesalers directly to know how they operate. Constant communication and shared culture is a must if you want to build a lasting relationship with your wholesaler.
5. Good Pricing
Pricing is certainly the most important consideration when it comes to choosing your wholesaler. The wholesale price of your wholesaler should be at least 20% to 30% lower than the price you sell. This is not a fixed margin, in some products, this margin can be even higher if there is any more cost related to selling the product.
However, the pricing margin is lesser than 20%, no matter what product you sell, you will get only a small amount of profit considering the employee salary, marketing, and other related business expenses.
The Best Platforms to Find Wholesalers for Online Business
Now, let's talk about some of the best platforms to find wholesalers for online business. This will make your search for wholesalers much easier.
i. Alibaba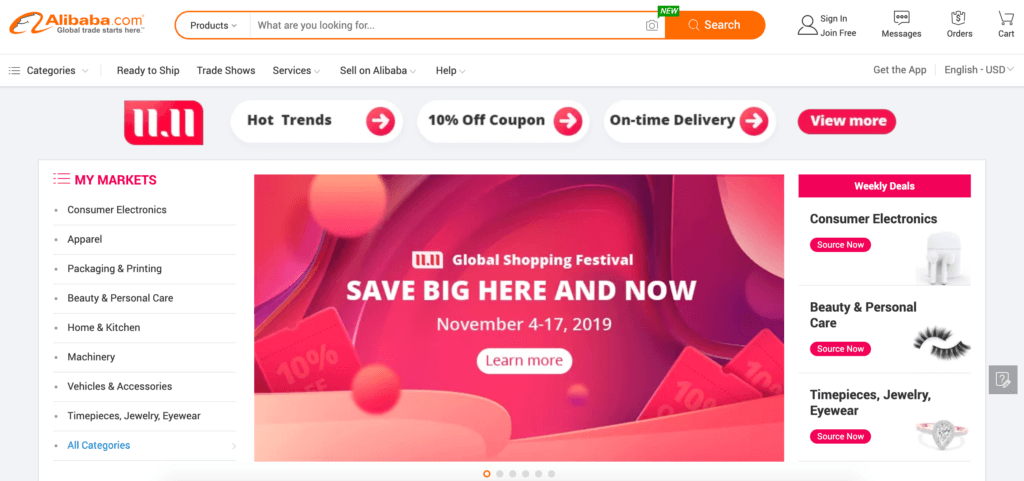 Launched in 1999, Alibaba.com is by far the world's largest online wholesale marketplace that connects you with a huge selection of reliable suppliers providing everything from A to Z. This includes wholesale items and bulk products, trade leads, manufacturers, factory direct sales, for both eCommerce and dropshipping businesses models, etc. Their sales stats are staggering with –
More than hundreds of millions of products
40 different major categories, including consumer electronics, machinery and apparel
Buyers in 190+ countries and regions
You can buy anything you want here. You can buy clothes, handbags, shoes, and jewelry at wholesale prices. On this site, you'll also find electronics and technology products such as iPods, digital cameras, and cell phones at wholesale prices. Plus you can buy auto parts and accessories such as car stereos and tires at wholesale prices too. This is certainly the best place to buy all kinds of Chinese products at arguably the best prices.
ii. DHgate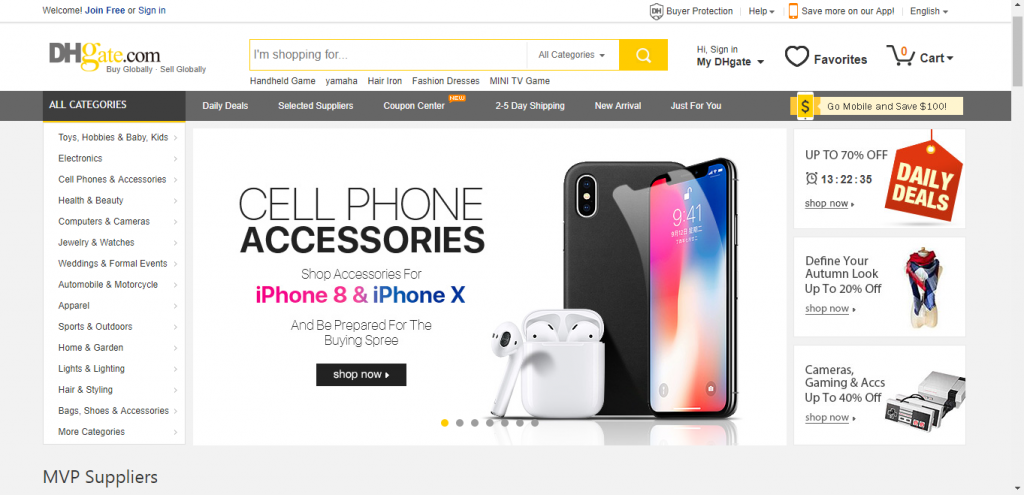 DHgate is an online wholesaler platform, which offers a wide range of products and is known as one of the best wholesale websites in China. It provides a large selection of products in almost every category and has many product categories. It has –
Approximately 2.2 million sellers globally
26 million enterprise and individual buyers from over 222 countries and regions
22 million product listings
Here you can find all kinds of products, like cell phones, cameras, e-cigarettes, clothing, bags, shoes, and home appliances. The wholesalers here offer some of the most competitive prices that you can find. However, with a wide range of products and a huge number of suppliers, it is not easy to find wholesalers for online business on DHgate. However, if you are careful enough and pay attention to details, you will find one easily. For that, it's suggested to browse through the Top Rated Listings by product category and then narrow down your search by specific product type or brand name.

iii. Tundra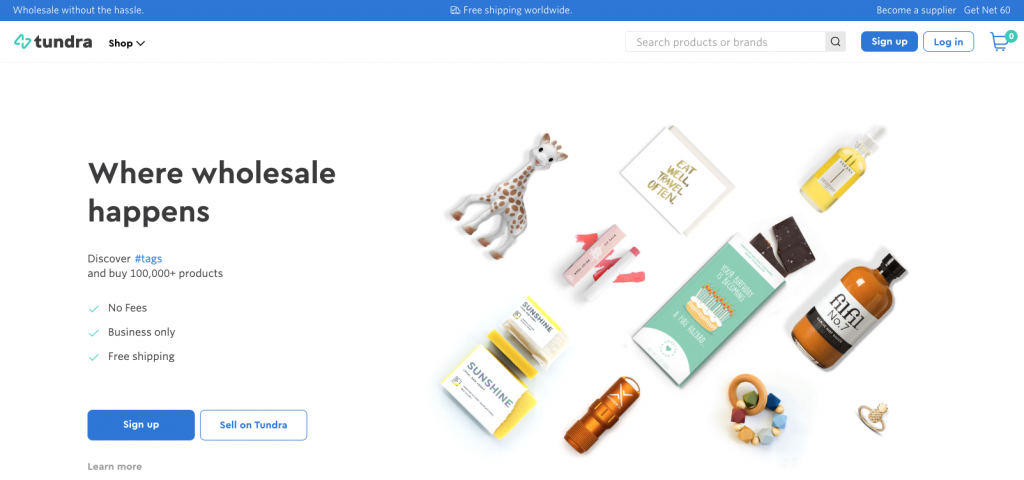 Tundra is a wholesaler platform that helps retailers and online businesses to connect with the wholesalers. It is a great platform for retailers or online shop owners based in North America. It has a marketplace of over 2 million products and connects with all of the major e-commerce platforms. Whether you're running an online store, retail store, or just starting out, they can help you sell more with our inventory and logistics solutions.
Tundra's mission is to enable small and medium-sized retailers and online shops to compete with large online retailers like Amazon. They connect you to wholesalers from all over the world who have exclusive access to the hottest products, so you can capture a bigger piece of the pie. The specialty of Tundra includes –
10K+brands with new ones added every day
2M+products ready to ship, with a 5-day average lead-time
25K+verified retailers who buy on Tundra
40K+reviews from verified buyers
They offer several different ways for you to access wholesale inventory directly from their platform so it's easy for you to find what you're looking for and get it delivered quickly.

iv. EK Wholesale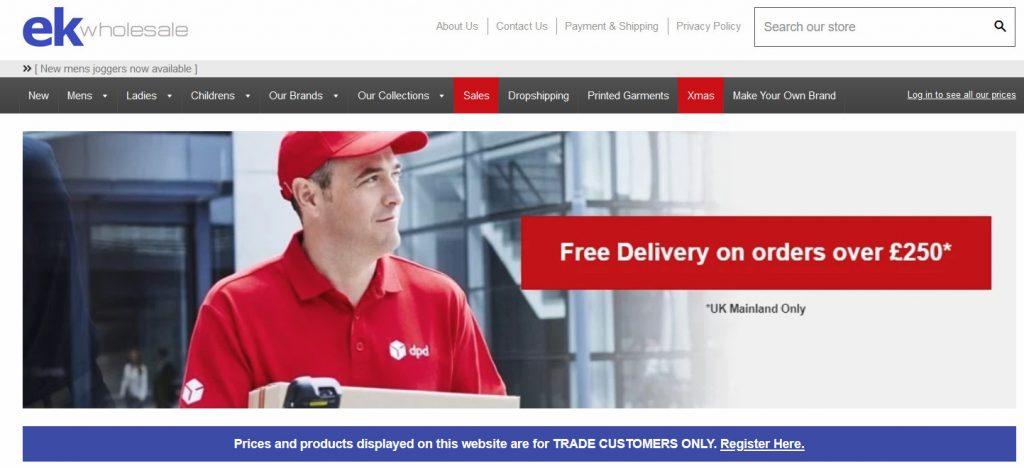 EK Wholesale is a wholesale platform offering a wide range of products for international buyers. The company was established in 1990, since then it has been growing rapidly and has become one of the best choices for thousands of customers from all over the world. This platform is mainly dedicated to items of clothing and other wearables.
EK Wholesale has a huge warehouse in Glasgow, helping it to become one of the most popular wholesale platforms for European retailers and online shop owners. Products of EK Wholesales are often high-quality and they also offer free delivery to the UK mainland on orders of £250 or more.
However, if fashion is not your niche, you might want to look elsewhere for your wholesale products other than EK Wholesale.
v. Salehoo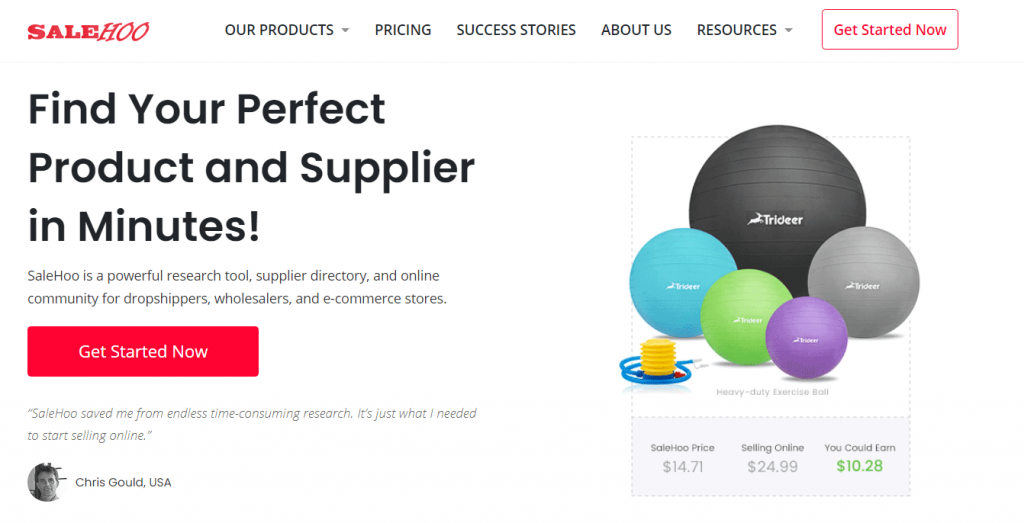 Salehoo is a wholesaler platform that allows you to find and source quality products at wholesale prices. With Salehoo, you can find products from the biggest international brands and from thousands of local wholesalers from all over the world. They have one of the largest product offerings covering almost all categories. They have –
2.5 million+ Products to Sell Online
8,000+ Pre-vetted Suppliers
Served 137,000+ customers since its inception
If you are looking for something specific, we recommend using their advanced search which will allow you to do a product filter based on any criteria. Their platform allows you to easily access millions of products from thousands of trusted suppliers. However, to get access to the Salehoo directory, you will be charged $67 per year.

Find the Right Wholesalers for Your Online Business
The wholesaler route really is the best way of sourcing products for online marketplace vendors since this way vendors are able to purchase goods in bulk, at a low price. This means that you will be able to bring down the cost of your goods and will also be able to sell at a lower price. By doing this, there is bound to be more demand for the product. This is because customers are likely going to appreciate the fact that the seller has kept the price down. Doing this will increase the profits as well and will result in higher sales for the business.
In this article along with some key considerations, we shared some popular platforms to find wholesalers for your marketplace. We hope you'll find the list of wholesaler platforms useful. If a company appears to have too high of product prices, then move on to the next one. The goal of purchasing wholesale is to obtain quality goods at a low cost, not just buy from someone who has the lowest prices.
If you are still in the process of starting an online marketplace and searching for a reliable solution, Dokan can be your one-stop solution. This is the best multi-vendor marketplace plugin for WordPress. It lets you build a marketplace like Amazon or eBay in less than 1 hour.