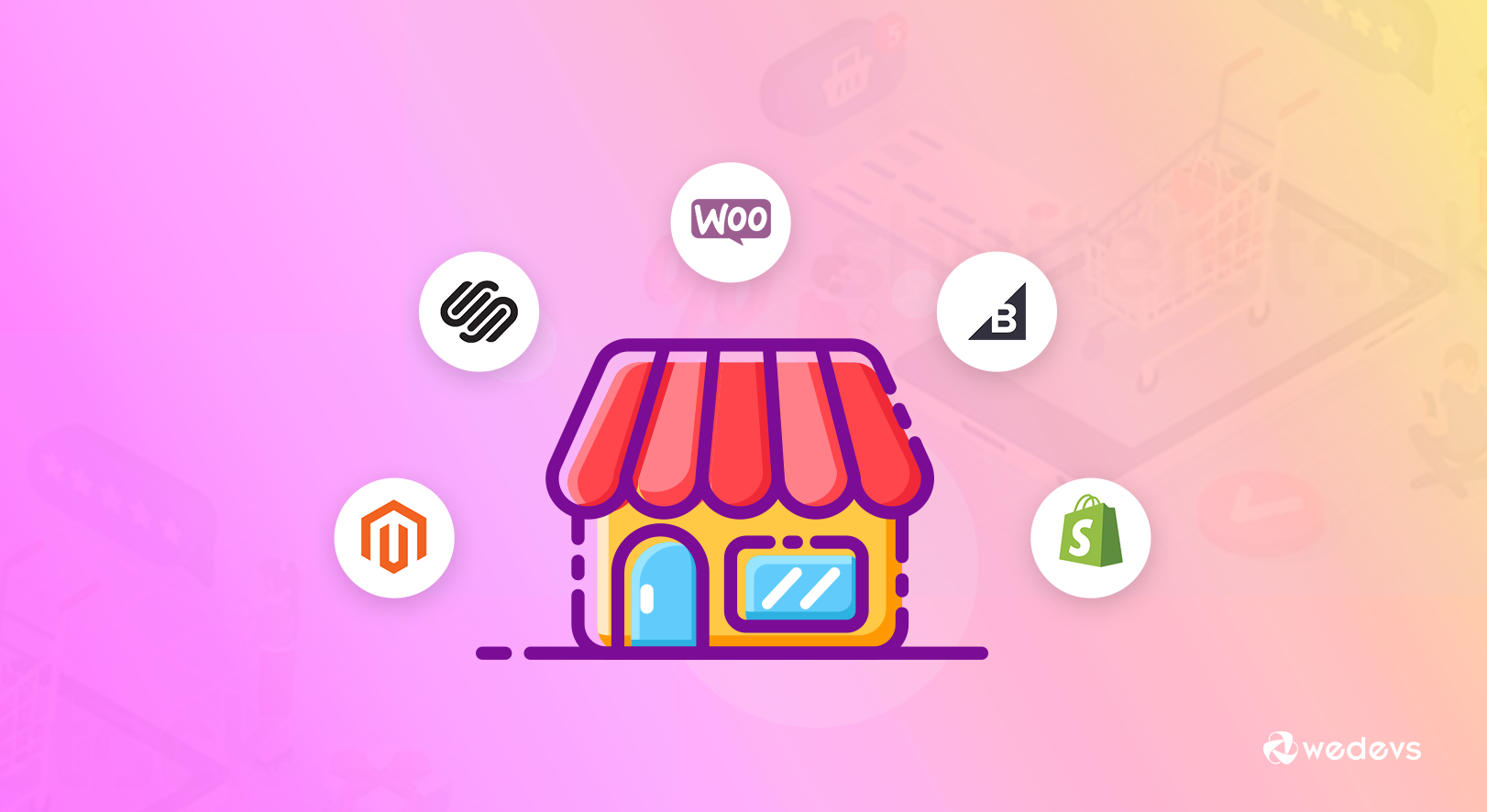 7 Best eCommerce Platforms to Start Your Business Today (Comparison and Useful Hacks)
Trying to find the best eCommerce platform to start your dream project? You're in the right place!
Internet economy or eCommerce changed the whole picture of today's business. We got a new form of interaction between consumers and organizations. If you are going to start your business thinking that it's easy to make money online, you're at risk of making a mistake.
We aren't discouraging you, it's the reality you should consider to prepare a better plan.
Finding the best eCommerce platform is like finding the best car! Obviously, it's in the market, but you need to get it as your own.
Your marketing strategies, dedication to customer experience, and the team of people are some significant considerations to ensure your long-term success growth in eCommerce. In this article, we are going to cover-
E-commerce & its evolution
Top eCommerce platforms
How to choose the best one
And the basic facts-features of an eCommerce platform to make it more engaging and user-friendly.
This detailed comparison will help you make an honest evaluation of which solution suits the needs of your plan. Let's start with a short overview and why top brands are increasingly using eCommerce platforms.
eCommerce Solutions: A Short Historical Overview
The first eCommerce transaction was an electronic fund transfer that occurred, was among banks using a secure private network. In the late 1970s, electronic data interchange (EDI) allowed companies to exchange necessary business documents through the Internet.
Ecommerce or Electronic Commerce refers to business activities using computer networks
The late 1970s and early 1980s brought the popular electronic mail service that enabled fast and cheap online communication.

In the late 1980s and early 1990s, different electronic systems were developed for easy collaboration. Finally, in the 1990s, the World Wide Web enabled smooth and low-cost digital communication. Also, made possible a variety of business exercises for companies of all sizes.
E-commerce has three main characteristics-
Technical (Networks, telecommunication, security, etc.)
Legal (Information privacy, intellectual property, and taxation)
Business (Marketing, supply chain management, payment, etc.)
The journey wasn't as easy as it seems today. Although it started long before, online shopping became possible only after the internet was opened to the public in 1991. Amazon.com is one of the first e-commerce websites in the US to start selling products online. After that, thousands of businesses including top brands have followed their way.
The comfort and freedom, safety, time management, and user experience have made it easy to achieve phenomenal growth for e-commerce.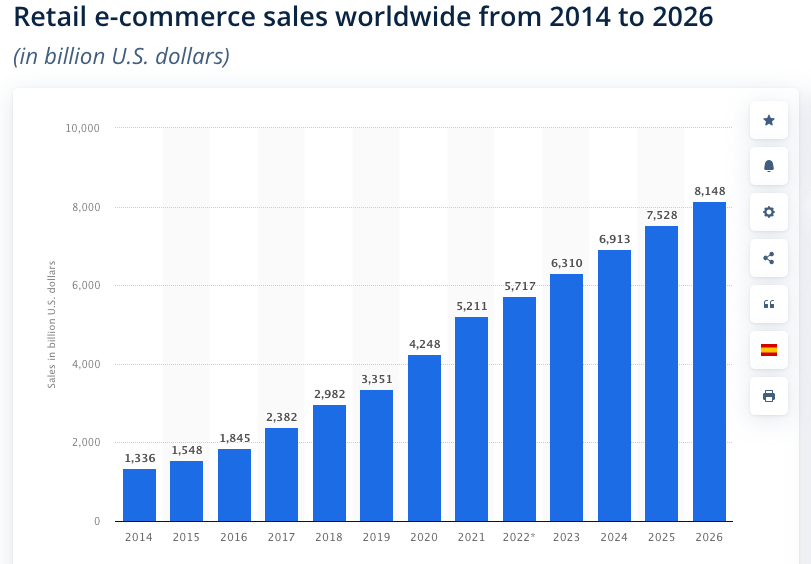 The e-commerce industry has 40 years of long and rich history. It continues to grow with new technologies, innovations, and almost all sorts of businesses entering the online market every day. E-commerce today isn't only an alternative way of making money; it's a proven platform for any organization to be considered on a priority basis.
Why Big Brands Use eCommerce Platforms? (and Don't Build from Scratch?)
Online presence is something any organization can't ignore. To maintain a real-time connection, to reach a new audience base, or simply to keep themselves updated all types of organizations now rely on the online platform.
Check some core reasons and benefits-
An easy way to reach, connect and communicate with the consumers
The flexible way to reach new customers
Starting, managing, and developing isn't a matter to worry about
Scalability and customization are the two ultimate advantages
Easy to build with awesome security
Options to form members-only areas
Outstanding feedback at low budget
Efficiency to promote and ensure business growth
Finally, it's a demand of time. Anyone could just fall behind if ignores it!
Not only that, it's estimated that global e-commerce sales will reach 7.4 trillion dollars by 2025. That would surely make e-commerce a growing and profitable industry to be in.
7 Best eCommerce Platforms: Learn Everything You Need
An eCommerce platform is basically a software application that empowers online businesses to run & manage their website, sales, and day to day operations.
There are three main types of e-commerce solutions in the market.
Open Source (Free content management system)
SaaS (Software as a service)
CaaS (Commerce as a service)
SaaS and Open-source solutions are popular among businesses. CaaS is a growing trend regarding them. It is also a cloud-based solution like SaaS.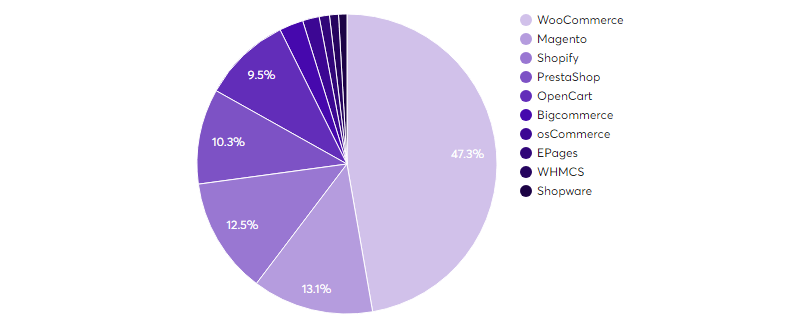 We are going to cover the top 7 eCommerce platforms with basic features, pros-cons, and the verdict. You will also get some awesome stores as examples to easily get the whole picture.
WooCommerce
Shopify
Magento
BigCommerce
Squarespace
WIX
BigCartel
Now, sit tight, and let's get started!
1. WooCommerce – The Best eCommerce Plugin for WordPress and Most Popular Online Store Builder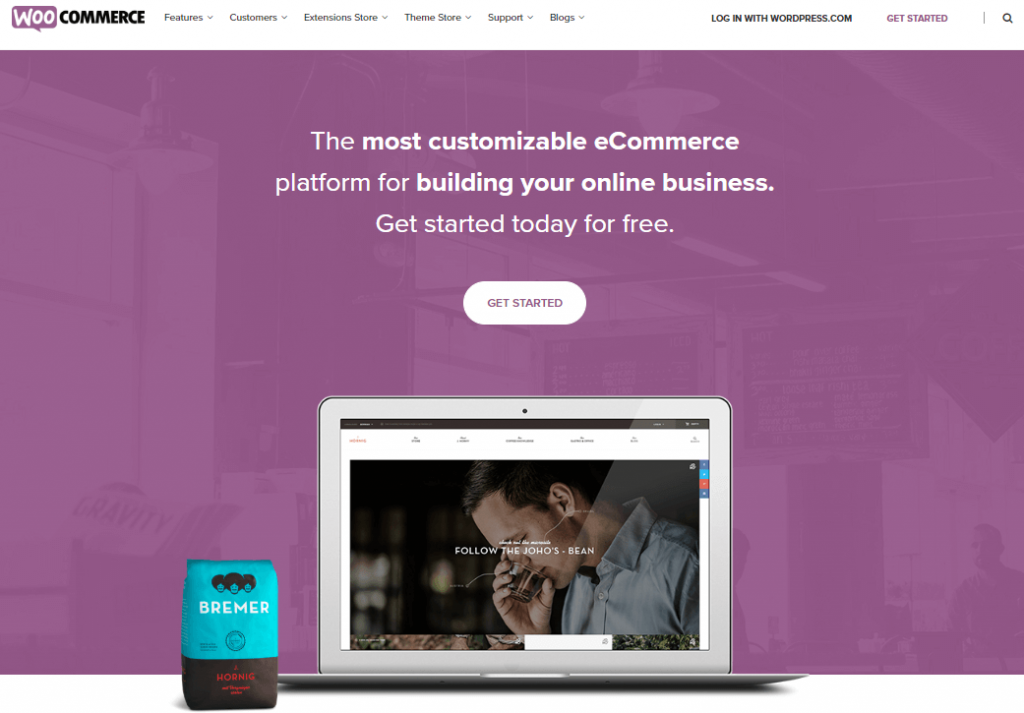 WooCommerce is a name in the e-commerce industry that needs no introduction. It's a free WordPress plugin specially designed and developed for e-commerce. Nowadays WooCommerce is the most popular eCommerce platform out there.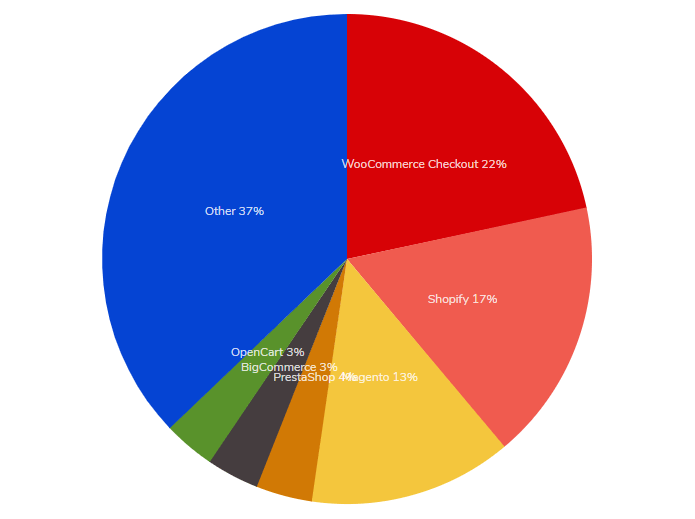 With over 258,924,308 downloads, WooCommerce powers more than 38.74% of all online stores.
Woocommerce comes with lots of handy features such as a secure payment gateway and shopping cart that serve really well. You can turn your Woocommerce single store into a WordPress multivendor marketplace anytime by just adding a free plugin like Dokan.
Noteworthy Features of WooCommerce
Easy drag-and-drop store setup
Fully customizable as you need
A vast collection of plugins and themes
Secure and reliable
Opportunity to get the best web hosting package
Incredible series of e-commerce guides and tutorial
SEO-friendly content management along with awesome WordPress support
The Verdict
WooCommerce is a flexible e-commerce solution for all sorts of business organizations, especially for startups and mid-level businesses. If you want to efficiently meet your success with a minimum budget and in a short period of time, Woocommerce can be the best solution for you. Moreover, you have the option to turn your store into a multi-vendor marketplace at any time.
Woocommerce is free as a platform and also has unlimited free plugins and themes to customize it. But integrating some unique features to make it more user-friendly and competitive may require additional investment. Lack of scalability and sometimes performance could be an issue, but you can fix them with its excellent community support.
Example:
Single store: Singer. You can check more single stores built with WooCommerce.
Multi-vendor marketplace using Dokan: Bootstrap & MyMuslimMall etc.
2. Shopify- Premium eCommerce Solution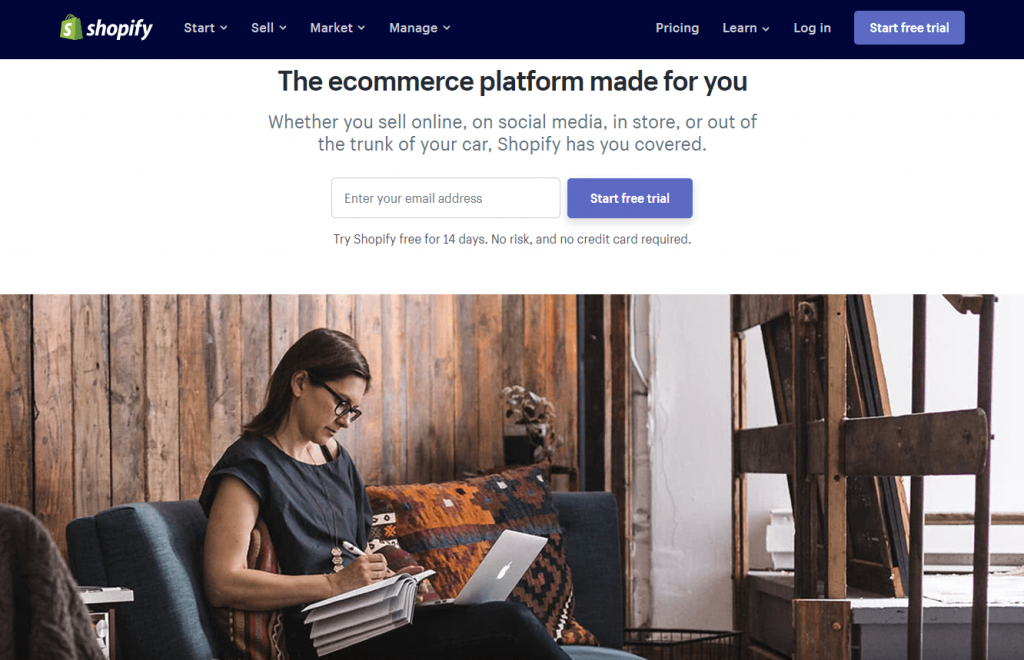 Shopify is one of the most popular e-commerce solutions in the industry. It's famous for small shops because that is the market Shopify is intending to serve. The secret behind Shopify's success is the rich app store that makes it simple to extend the capabilities of your default web store.
Shopify offers hundreds of apps, more than any other competitor within the market. It also offers a pleasant selection of professional themes.
Noteworthy Features of Shopify
Unlimited products and bandwidth
An easy-to-use mobile app for managing payments and also your store
Comfortable shipping carriers, fulfillment centers, and drop shipping
Expert support to assist you in setting up your store
A large community of store owners likes the WordPress community in the Shopify forums to exchange tips.
The Verdict
If you are going to run a startup online selling a business, Shopify can give you a great start.
When you are thinking big, functionality and customization would be a fact with Shopify. Shopify provides a very limited collection of free themes and templates. You need to spend money to make your site unique as you like. Moreover, you will have to pay to use its app store.
Sometimes, getting real-time support is a challenge with Shopify. So, you have limited options with Shopify and also need to have a good amount of budget which is not very suitable for startups.
Example: Eat Boutique
Read More: WooCommerce VS Shopify: The Real Comparison That Matters
3. Magento- One of the Best Multi-vendor Marketplace Builders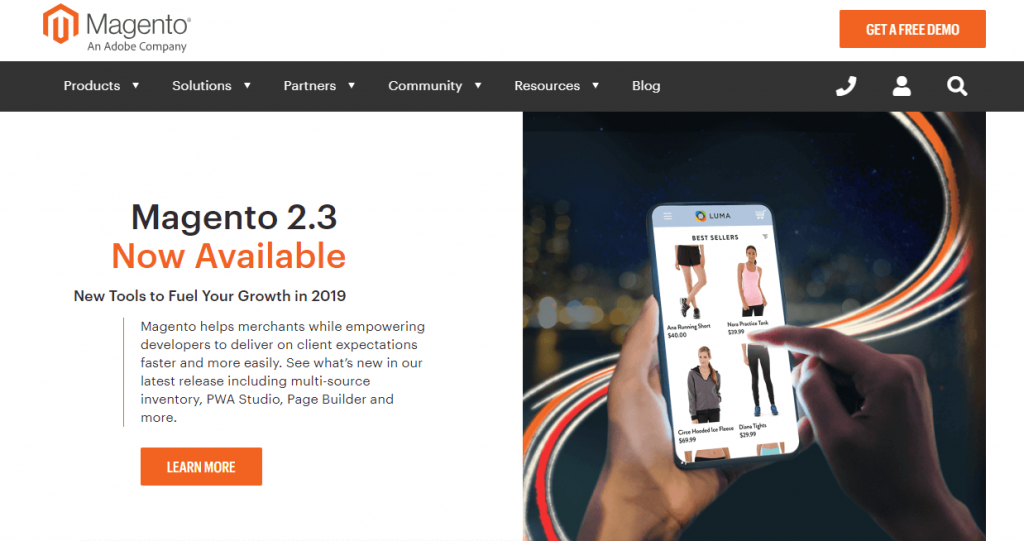 Magento is also an open-source-based e-commerce solution with a flexible shopping cart system. It's historically preferred by brands who have already invested in IT or development teams. They have launched a cloud solution in more recent years.
Noteworthy features of Magento
Customer segmentation and personalization
Dynamic rule-based product relations
Responsive design themes
Integrated B2B functionality
Powerful admin experience
Technical and account support
The Verdict
The advantages of Magento include 100% control of your own e-commerce marketplace. It's good for businesses that already doing well. When we talk about features and ease of use, Magento is one of the best solutions out there. But the cost, development, and support are the things you need to reconsider with Magento.
Example: Graze
Read More: WooCommerce VS Magento: The Battle Of Two Popular eCommerce Platforms.
4. BigCommerce- Best Ecommerce Platform for Startups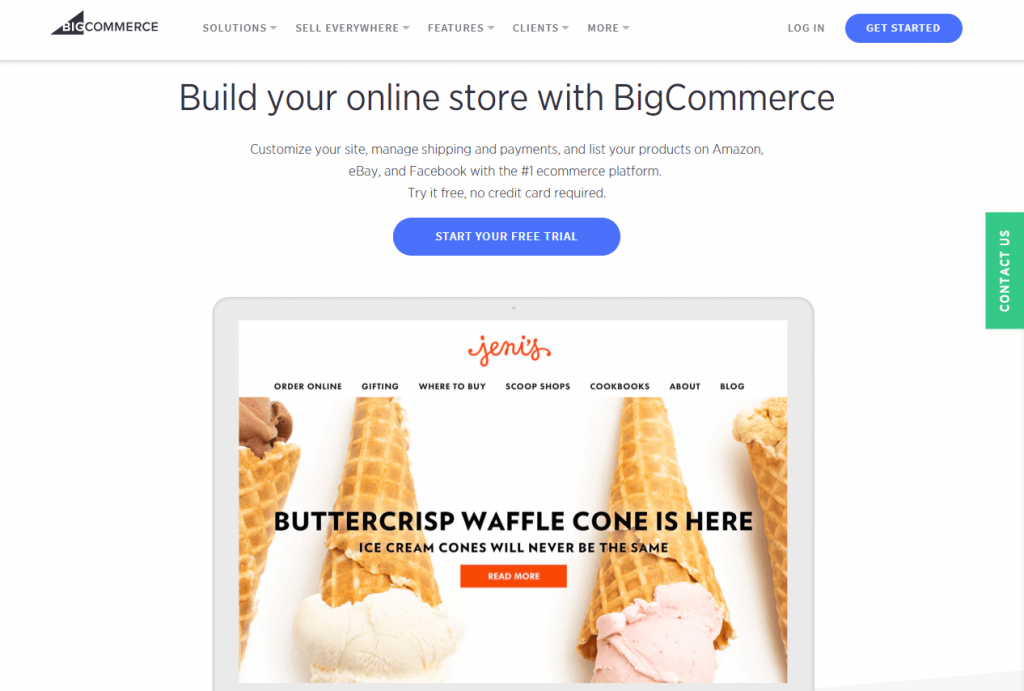 BigCommerce is one of the best e-commerce solutions with a viable and powerful interface. It has now more than 95000 live sites selling online and dealing with payments. So, there are reasons for keeping faith in their solution. It's easily understandable that BigCommerce is popular for small- to medium-sized web stores.
BigCommerce offers more features to grow your online sales than other shopping cart software within the market.
Noteworthy Features of BigCommerce
Awesome visual interface
Strong security and reliability
Support assistance 24/7
Easy integration with eBay, Google Shopping, and more
The Verdict
Although the pricing seems comparable to Shopify, the BigCommerce feature set is a bit better for each plan. BigCommerce works well with small companies. You can also consider it for your mid-level project. But it's not so perfect for enterprise-level businesses according to experts' saying, although it offers a totally different solution.
Budget is also a fact with BigCommerce. Try to find out what you need the best and BigCommerce could offer that or not.
Example: Skullcandy
5. Squarespace- One of The Best Ecommerce Platforms for Growing Brands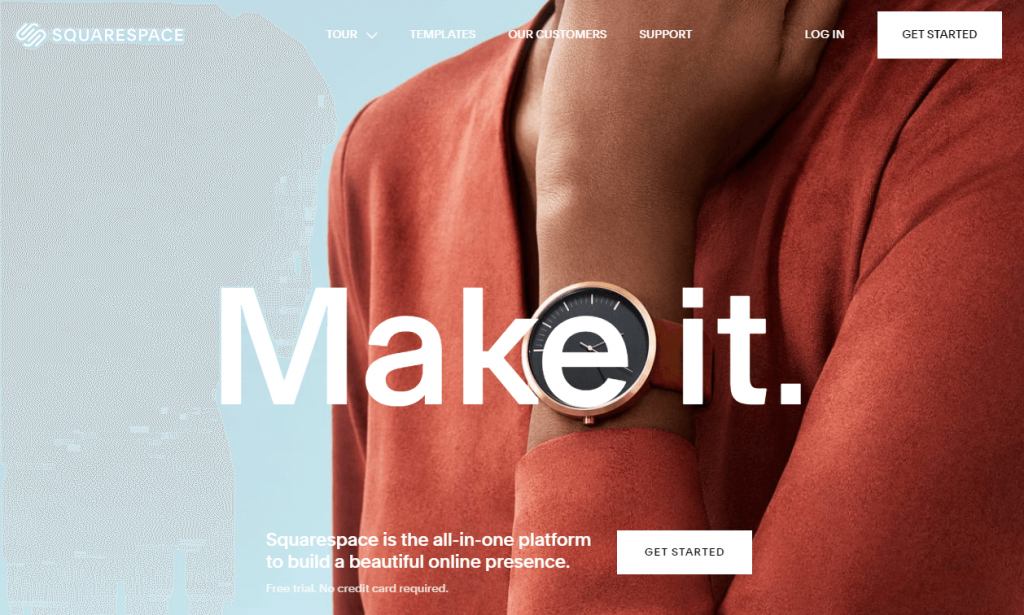 Squarespace is an all-in-one solution to create beautiful websites. It was launched in 2004 as a basic drag-and-drop website builder. Today Squarespace has over 1 million users, which is proof of its durability and care for customer satisfaction.
Squarespace has a fully loaded e-commerce solution with a traditional web-building solution.
Noteworthy Features of Squarespace
Unlimited products adding opportunities on both basic and advanced plans
Countless pages, galleries, and blogs with unlimited bandwidth, storage, and contributors
Easy drag-and-drop site builder
The Verdict
Squarespace is a great platform that is perfect for businesses that want fresh and rich imagery templates. It has a great product listing option. Lite and Pro, both of its plans allow unlimited products, which is a tremendous advantage for retailers of any size.
One downside is that Squarespace has limited integrations for payment gateways. Currently, they only offer Stripe integration. And you know Stripe isn't always available to vendors from smaller countries.
Example: Grovemade
6. Wix- Popular Drag & Drop Website Builder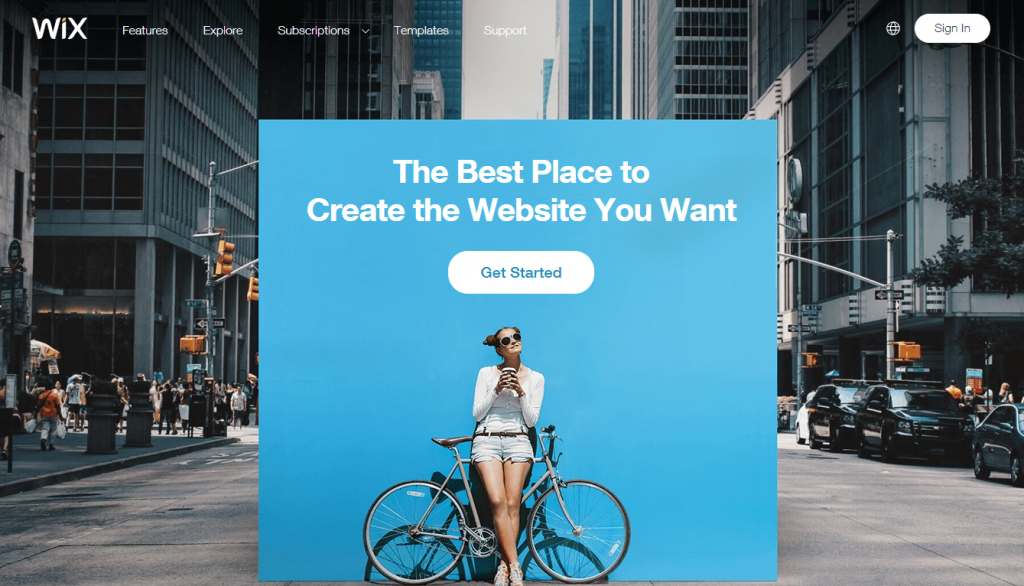 Wix is basically a free website builder, that gained popularity in a very short period of time. They also offer eCommerce solutions as part of their premium packages.
Noteworthy features of Wix
Visual editor with live examples and template reference
Low pricing and easy setup, perfect for testing the waters
No transaction costs, just the monthly fee
The Verdict
Wix eCommerce solution doesn't surprise you with its features, but it has enough to make your shop up and moving. Wix's excellent visual interface design makes it special. You can easily design and differentiate your shop's elements in any color you want.
When you are running a single-product store or selling a limited number of products, Wix could be one of the best suits for you.
Example: Seven grams caffe
7. BigCartel- Best Ecommerce Platform for Artists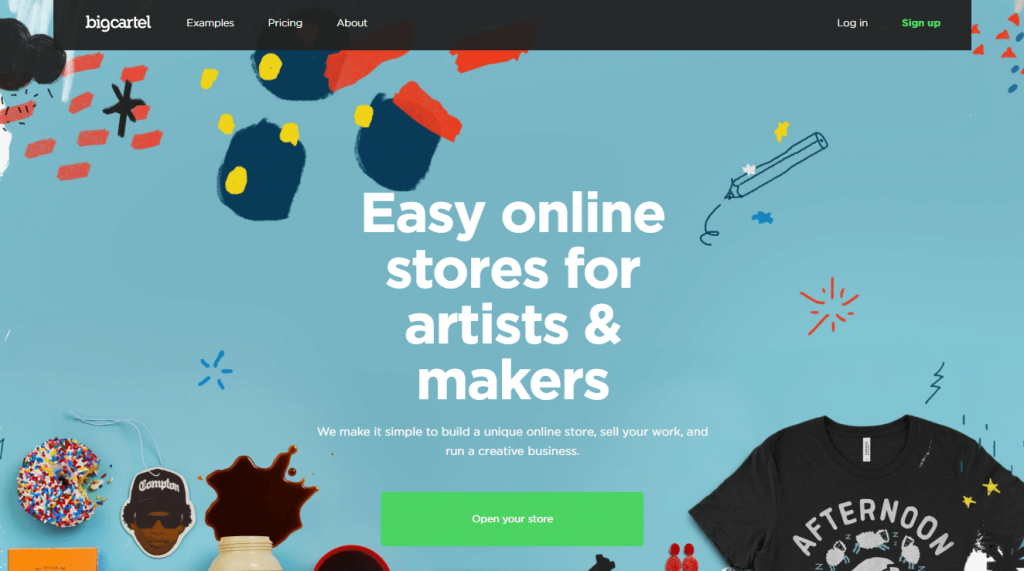 Big Cartel is a specialized solution for artists, musicians, and people who want to sell their creative products/services. It was founded by Matt Wigham in 2005. Matt was looking for an easy solution to promote his band and sell their merchandise. And there was nothing that could serve his purpose, so he built a solution with Eric Turner.
Since its inception, over 1.5 million artists have signed up and now use the platform.
The people we hire are artists in some way. They play in bands, they are photographers, they make jewelry- we try to represent that community.
– Eric Turner
Noteworthy Features of BigCartel
Easy and quick setup opportunity
Seamless checkout option
Excellent community support
No Coding knowledge required
Smart Interface
The Verdict
Being one of the best solutions, Big Cartel caters to a very specific community. It is specially designed for creative persons who want to sell their creative works as their own. Artists without any coding knowledge or web developing experience can easily start a site with Big Cartel.
As a small brand, you too choose this solution. But it's not exactly fit for general marketing goods.
Example: MediPeds
These are the top 7 eCommerce platforms out there. We have tried to describe each of them in the way that it should be. Now it's your turn to take an overview, apply your point of view, and finally, pick the best one regarding your plan.
That's not the end. There are some more facts you should certainly consider before and after choosing your eCommerce platform. Let's have a look.
Getting Best eCommerce Platforms: What are Your Benefits
The best eCommerce platform offers businesses the capability to customize product information. The key advantage of e-commerce solutions is empowering organizations to reach a broader market. These platforms also offer a low-cost channel to gather customer feedback.
In addition to the scalability and security of your data- as we mentioned earlier, eCommerce platforms offer a handful of operational advantages and business tools.
Easy product management suite
Pricing
Promotions
Search capabilities
The ability to personalize sales and services as you want
The impact on operating costs is varied with different e-commerce service providers. As per a survey report by the European Union, some users (vendors) would prefer to sell directly in order to avoid the fees and margins charged by the platform. However, platforms are much cheaper than physical stores in all senses.

What Is the Right Time to Start Your E-commerce Business
There is no certain time to start your business using an e-commerce solution. Time isn't a matter in the e-commerce industry when you have a plan or idea. Just try to understand the value of your idea. Ask yourself some questions-
What problem do you want to solve?
How efficiently your idea can solve that particular problem?
If there are already some competitors- how do they solve?
How do you differentiate your offerings regarding them?
How easily and cheaply you can provide your service?
And finally, how long people are ready to pay to solve that problem?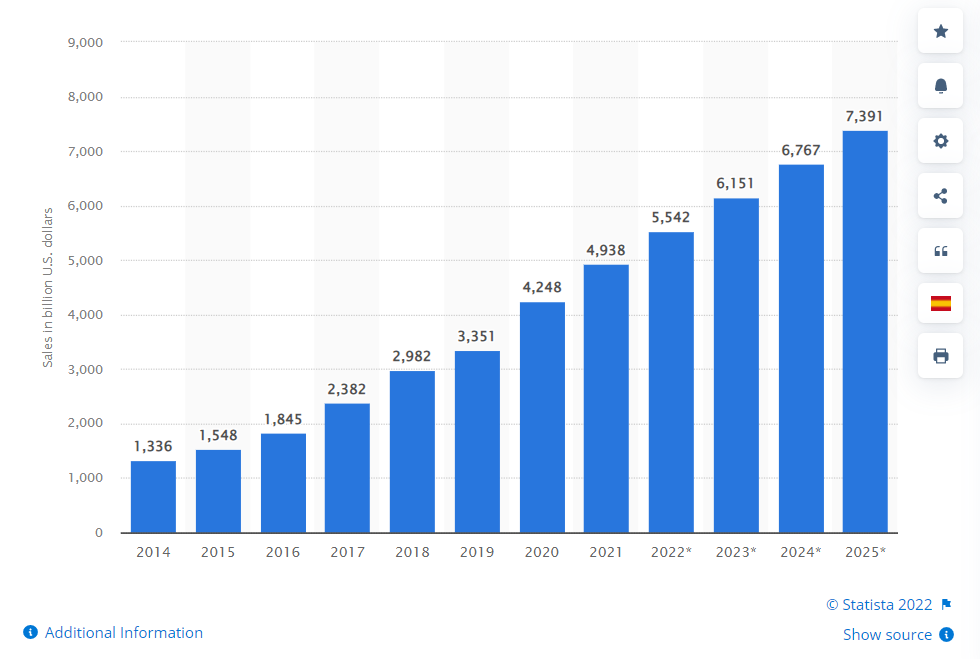 If you are satisfied with getting the answers from your insight, you are just a step away from your success! Get ready to start!
Go ahead with creating a unique e-commerce marketplace of your own. Hundreds and thousands of people are waiting to be your partners-vendors to open a shop on your marketplace. And you know- today success depends on ideas and differentiation rather than money or something else.
Single Store vs Multivendor Marketplace: Which One Is Better to Start with?
Single-seller stores are owned and managed by one merchant only. The owner sells limited products and caters to a limited set of customers, which results in a limited scope of earning."
Investing in single-vendor e-commerce is suitable for businesses that already sell offline. Bringing an offline brand online helps increase brand awareness as well as revenue sources.
Another instance of the suitability of a non-multi-vendor store is when manufacturers selling their own goods want to make them available for online buyers too. Offering discounts and cheap prices are also not feasible, so attracting more shoppers becomes difficult at times.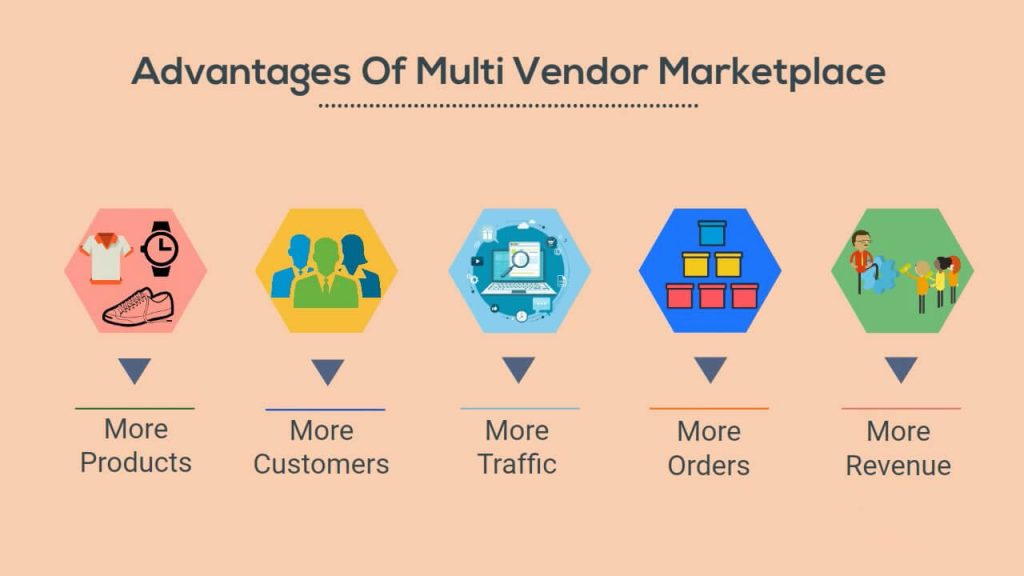 If you want to target a larger audience than regular eCommerce stores and want a website that attracts millions of visitors, sells more products, and earns voluminous profits; a multi-vendor marketplace is a simple solution for you.
If you want to start a profitable online business but do not like the idea of buying products, or updating products catalogs on regular basis; let the vendors do it for you and earn a commission.
All you need to do is bring them together to sell through a common platform.
Making money with the multi-vendor marketplace is really easy as you can see.
Why a Multi-vendor Marketplace is better?
One platform, many vendors
Sell more products
Target many locations
More Popularity
Greater scope
Cost-effective
More profits, less bother
Check the easy way to build and customize your marketplace with Dokan's free solutions.
Essential Features of a Multi-vendor Marketplace Solution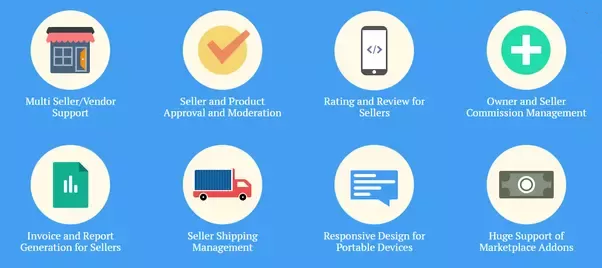 A multi-vendor marketplace needs a lot of features to perform day-to-day business activities. When you are going to select the platform for your e-commerce, try to ensure these features are at a minimum.
1. Easy Vendor Registration
Third-party vendors need to be able to get easily registered and create their own product dashboards. You could consider another option for your customers to start selling their products by adding themselves as vendors only with a few clicks.
2. Quality Search Feature
The search option is always essential for eCommerce. For multi-vendor marketplaces, it's a must-needed feature.
3. Easy Product Reviews
People today not only come to shop, but they also love to add a comment or review about how they experienced the product. The review is also a smart medium of marketing and generating leads. So make sure that your customers are able to easily review products as well as sellers so that sellers can establish a reputation.
4. Multiple Payment Options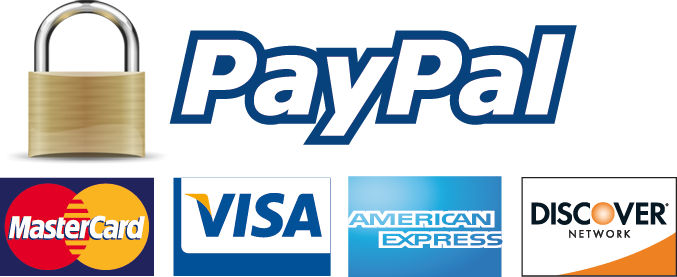 You know that the e-commerce business has no boundaries. If you select one single payment option, customers from different countries or who have not that particular payment would fail to make a transaction. So try to select a platform that allows you to set up multiple payment options from the first day.
5. Digital vs Physical Product Adding
Some marketplaces are limited to digital or physical products. You'll need to pick the option that fits your goals. Platforms that include both the option you should prefer. At a level, you may need to add other types of products too.
6. Easy Shipping and Tax Calculating
Tax and delivery are two important features you should consider on a priority basis. Getting inspired by the product features, people want to check these fields before confirming the order. Some people even check it before product details.
7. Ability to Charge Commission
You have started your marketplace to generate revenue by charging a commission. It's one of the major ways of your income as an owner. Your platform needs to not only allow this but also make it simple to handle payments easily. Charging commission with different patterns is also an important consideration.
8. Order Tracking
This is good to inform your customers when their orders have been approved, processed, shipped, and/or ready for delivery. It's a common feature for any e-commerce platform. You have the option to ensure a quantum leap over your competitor by giving your customers a tracking number for their orders.
There are also some fully customized conversion tracking plugins to help you- like Woocommerce conversion tracking in the WordPress community.
9. Invoice (Printable)
An invoice is something that helps you to create and maintain a trustworthy environment in your marketplace. People love to get quick information about what they bought and how much actually they spent to adjust their budget.
10. Product Duplicator
When you have a marketplace, vendors across the countries would join to sell their products. Sometimes your vendors may need to sell the same products that others are already selling. Here is the product duplicator to help you.

7 Considerations to Make Your Online Store or Marketplace More User-friendly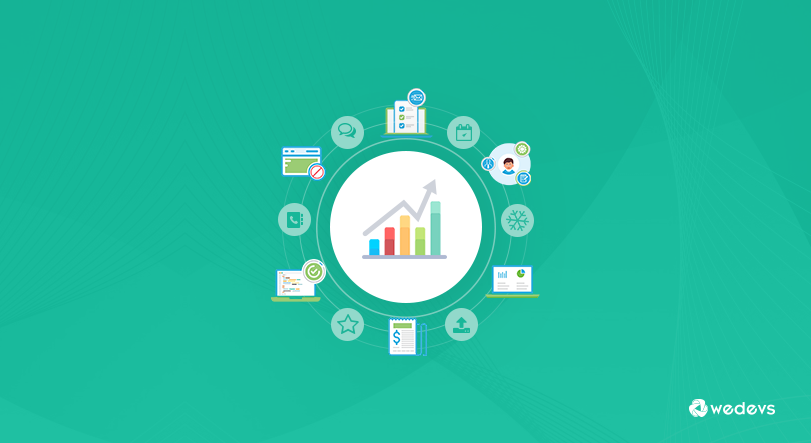 When you have selected your platform and started to design your shop, you need to consider the following things to make your shop more user-friendly.
First, you need to reconsider your perspective to dominate the market. In this competitive era, it's obvious that you have to think differently. Try to avoid the strategies that your competitors are already applying. Now check these things carefully.
Check Your Search Button That Really Works
Customers give priority to online shopping for their lack of time. You know that the search button plays a vital role in quickly finding a product or easily making a comparison. That's why you should make sure that your search button really works from the beginning of your action. And keep checking on a regular basis.
Show Your Search Results in a More Organized Way
Did you think about how do you want to show your products through the search box? First, make your search box visible, open, and easily accessible to your consumers. With Woocommerce and Dokan, you will get it as a built-in solution. So, you don't need to worry about it. You would find the solution with some SaaS-provided software too. Otherwise, you need to customize it manually.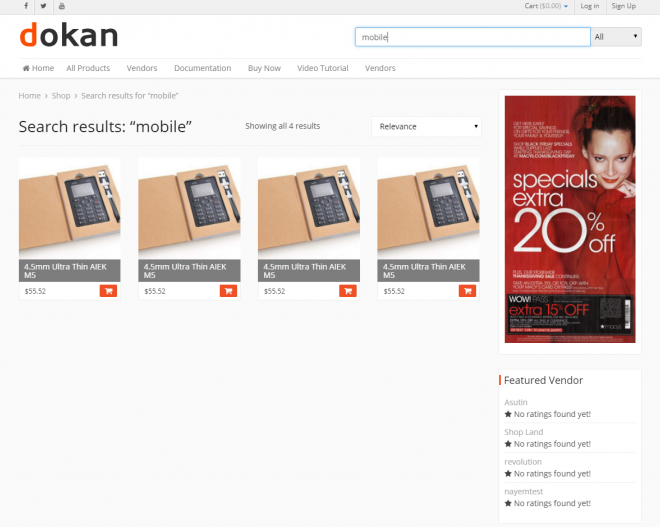 Your sales depend on how smartly you could present your products. Show your products to the customer and they will show you the money! However, consider the fact with proper importance.
Add Photos to Ensure Close View
It's another significant fact you should consider to make your shop as real as possible. Show lot's of up-close photos from different angles. Your customer could get a real view and feel to finalize a decision. Your photos work as your salesforce in the e-commerce platform. Try to present all your products in a way that easily attracts consumers.
Sometimes fancy, 3D images or videos are more productive to serve your purpose.
Give more and more focus to differentiate your product presentation.
Make Sure Your Buying and Sharing Option Is Perfect
Social media is one of the best fields to increase both your sales and leads. Make sure that you have successfully added and activated social media integration. Customers today love to buy and share products with their social media accounts if they like.
So, you should make sure and always keep an eye on your social share option. People also love to buy favorite products directly from social media getting influenced by their friends or family members.
Transparency Always Wins the Hearts
Tax and shipping are the two important facts you should focus mostly. People love to see tax policies and detailed delivery reports before starting their shopping. Many people wouldn't even buy if they don't see the related information.
So provide your details report about delivery and tax and try to keep it in front of the eye of your customers. This would help you turn more visitors into customers.
Invest More in SEO
Your sales mainly depend on your site's appearance on Google ranking. The more people find it, the more you would get sales. There are lots of alternatives within the market. People wouldn't always try to find you specifically. So try to ensure your marketplace's ranking is on the top. If necessary, invest in your store's SEO.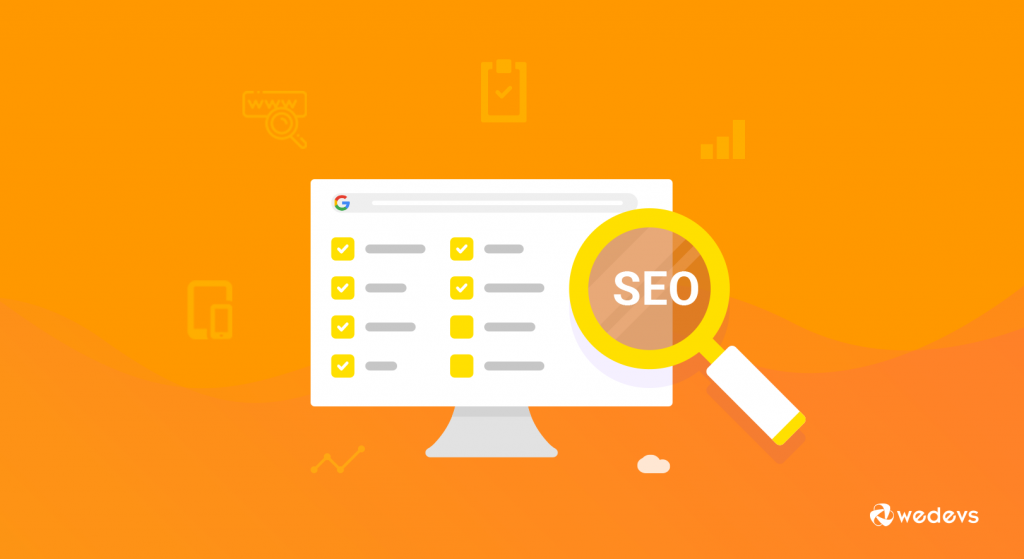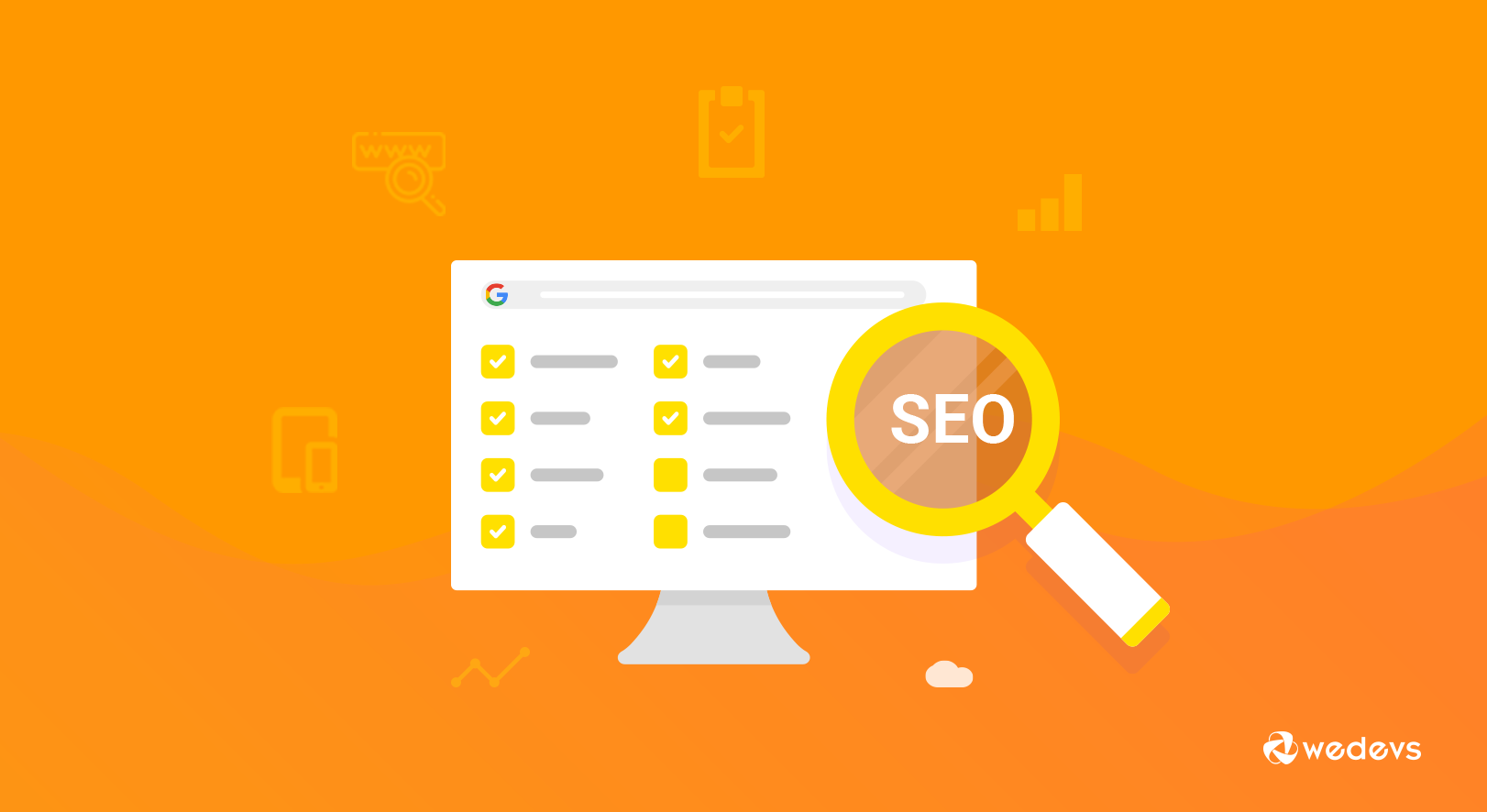 And you know better SEO means better Google ranking and of course, the best possibility to increase your sales.
Test, Grow, Evolve, and Change!
Do everything to reach new people and retain the existing ones. Business is a field you can't be satisfied with at any level of it. Your running growth doesn't make any sense about the future possibility.
So, try to focus more on your marketing plans and keep testing, evolving, or changing all the existing plans again and again. You would just wonder about seeing the result at the end of the day.
Choose the Best eCommerce Platform & Build Your Business Today
To grow and shine in e-commerce, there is no scope to make a mistake while choosing your platform. Read the article carefully, you will surely be able to pick up the best eCommerce platform with ease. We explained most of the popular and powerful platforms in this post. Now it's your turn to make a decision and get a go.
When you are done with your platform selection, this post will guide you on how to make it more engaging and user-friendly. And you know this is a never-ending process. So it's also important to choose a vendor who is really committed to providing real-time support.
Let us know- which platform is best in your opinion and why?… Wish you a very successful e-commerce journey.