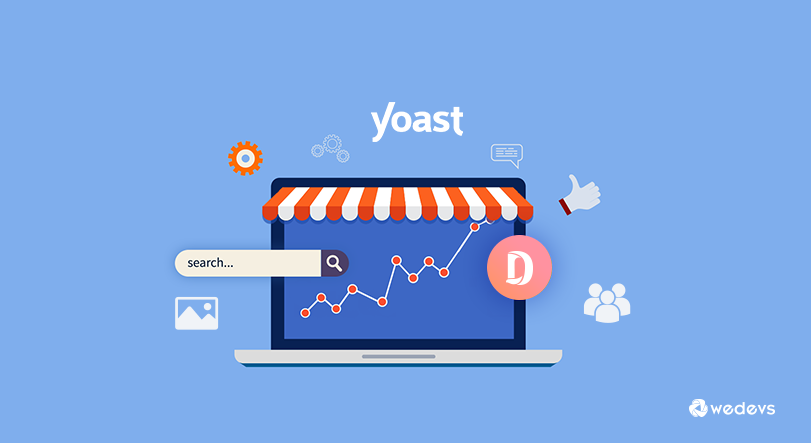 Increase Visibility & Boost Your Online Marketplace Using Dokan Store SEO
Who doesn't know that success can be achieved by proper planning, hard work, and dedication? If you are a webmaster of an online store, for being successful, you have to be determined, need to plan properly, and work hard accordingly. But that's not the end. Under the hood, there is a catch! That is, you must apply some techniques which will help you go the extra mile and become the ultimate triumphant. The technique is nothing but Search Engine Optimization AKA SEO.
Imagine you are running a multivendor marketplace and need to give your vendors the power of optimizing SEO. So, how can you do that?
The good news is that having an integrated "Store SEO" feature, Dokan multivendor will allow you to do so at ease. Throwing Yoast SEO's influence behind, the Store SEO feature of Dokan will boost the presence of your online store by providing the optimal amount of SEO. Interestingly, Store SEO and Yoast SEO are integrated with each other and they work in tandem in Dokan.
In this article, we will be talking about this cool feature of Dokan. If you are a user of Dokan this will turn out to be one of the most useful posts for you!
Benefits of Using the Feature
Another good news is that Dokan users will get the Store SEO feature embedded in the free core plugin which means no extra money is needed to avail the feature!
Whenever you paste your Dokan Store's URL on social media like Facebook or Twitter for sharing the page, you will notice that there are some fields like Title, Description, and Image. The problem is that these options are often automatically filled out. Sometimes they are not filled out properly and so your visitors might be unable to detect your content.
This communication gap will eventually reduce the CTA (Call to action) rate which is really inauspicious for your Store's visibility. This is happening due to the lack of proper visibility of your store page. Fear not! We are going to show you how to solve this problem.
By using the Store SEO feature, you will be able to do general SEO, SEO for Facebook and SEO for Twitter.
In addition to that The Store SEO helps to generate Sitemaps for your Website which makes it easier for search engines to find your Website's pages. This is very much important because search engines like Google not only indexes your website but also index your site's individual pages.
Procedure / How to Use the Store SEO Feature of Dokan
Let's assume that you are a vendor of Dokan Multivendor Marketplace and you have a website named "weStore" which deals mainly with smartphones. All you want is share your store page to social media like Facebook, don't you?
Now, let's copy the URL of your store page first.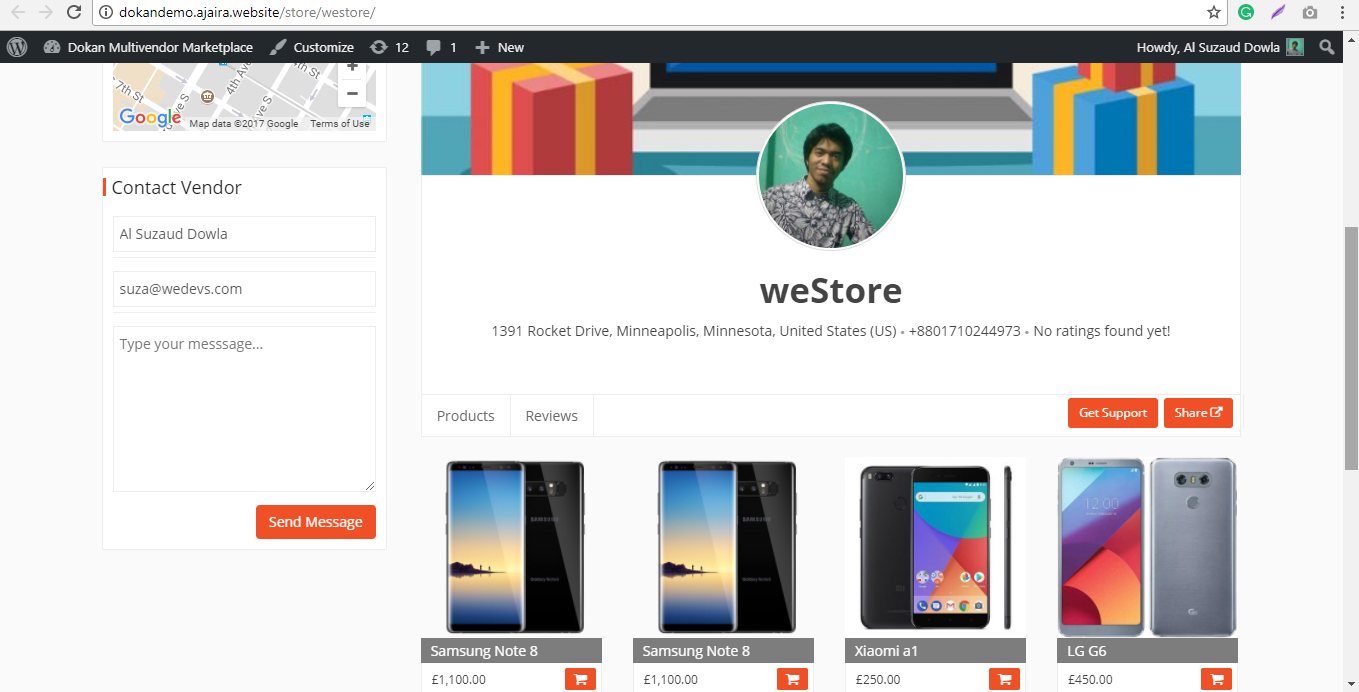 Now, paste the URL into Facebook and let's see how it looks.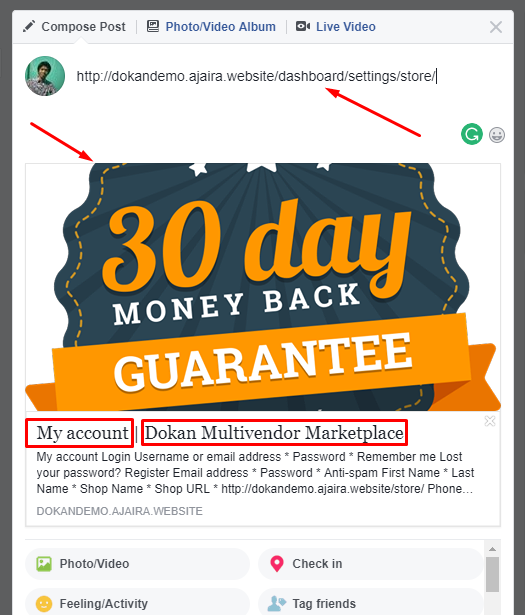 See the difference? There is no conformity of the sharing image and Facebook titles with your Store page which is the problem that hampers your site's visibility. Above all, this is not conducive to the Search Engine Optimization and consequently, you won't be able to increase your Store Page's visibility.
Store SEO of Dokan for Generic SEO
To customize the fields of Store SEO, log in to your account and navigate to your (vendor) Dashboard and select Settings from therein.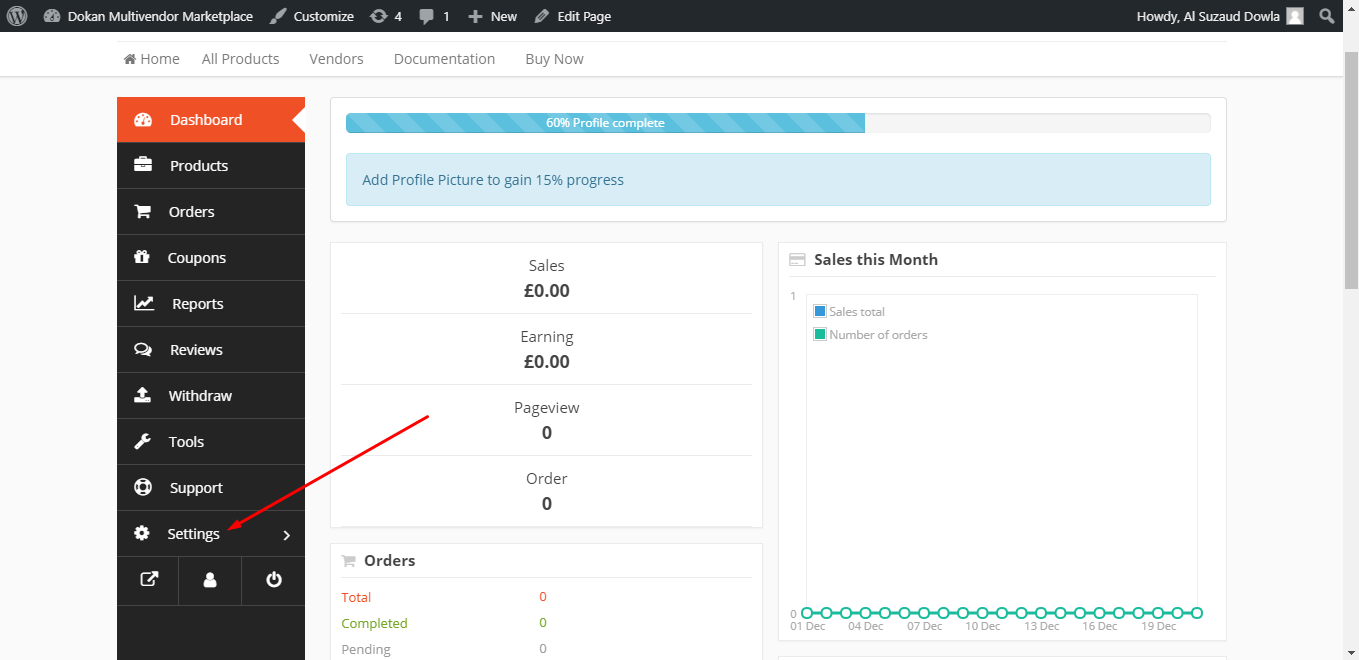 Next, when you hit the Settings option, you will find the Store SEO option for your store! Hit the Store SEO option.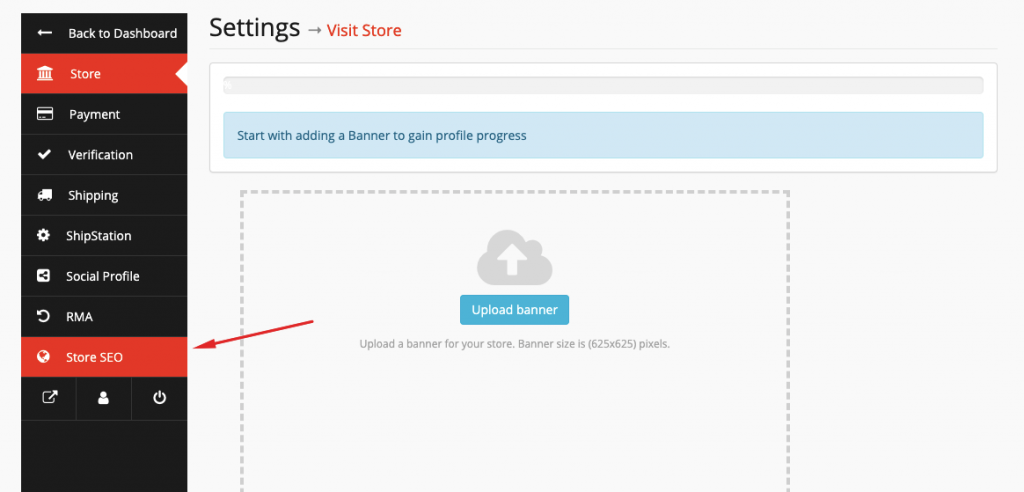 After that, you will find the following options for general Search Engine Optimization: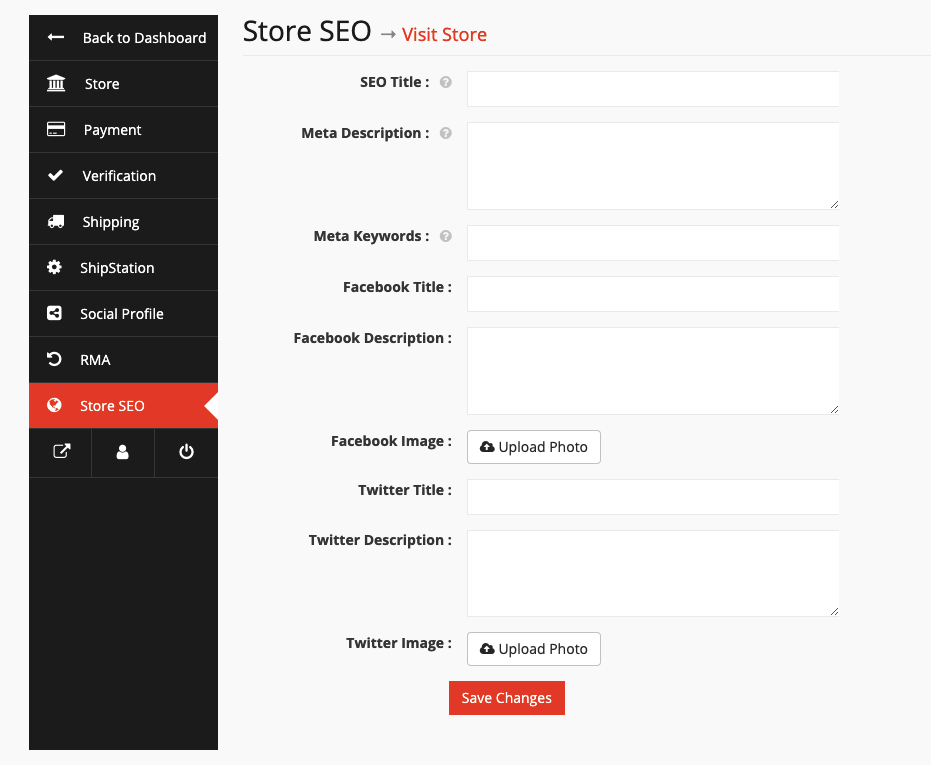 SEO Title: You can edit the SEO title of your store page using the Store SEO option. SEO Title is shown as the title of your store page when it appears to the Search Engine Results Pages.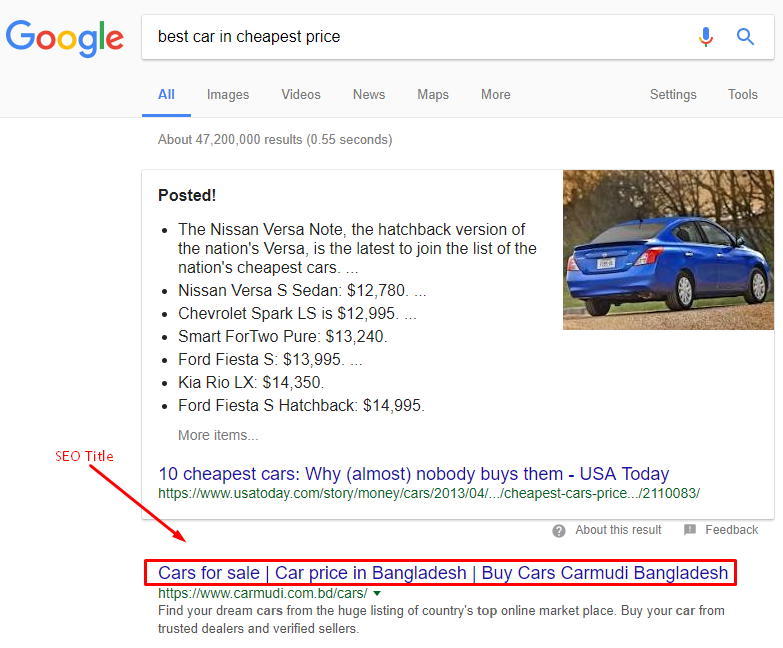 Meta Description: Edit the Meta Description of your Store page to boost your Store Page's SEO. Meta Description is often shown just underneath the SEO title in black texts. It indicates to what the page is about. The number of characters of Meta Description should be less than 156 characters.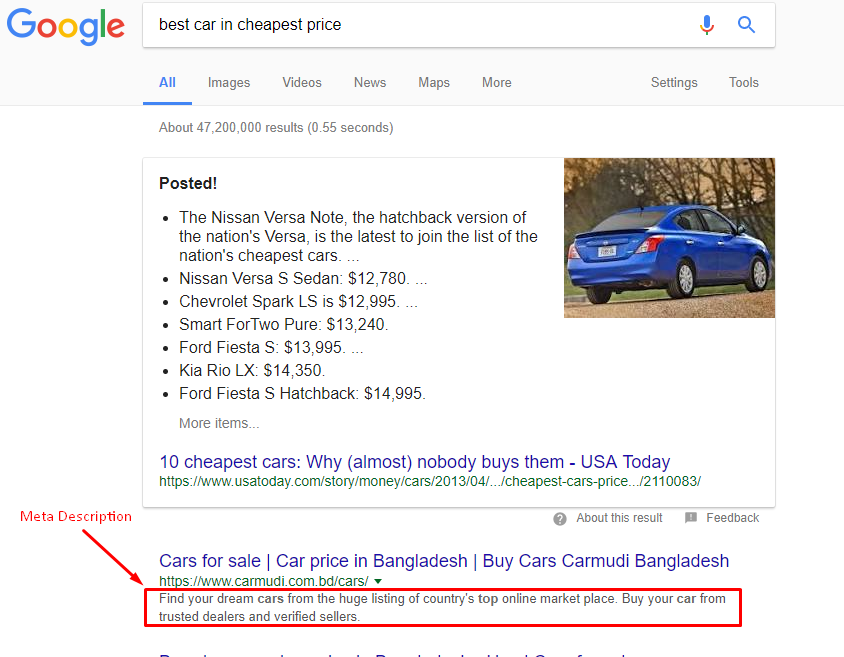 Meta Keywords: You have to insert some comma-separated keywords here in order to get the store page indexed better by the search engine.
SEO for Facebook
You will also find the following two options for performing Facebook SEO:
Facebook Title: This is the title of the page while you are sharing the store page. Take a look at the following screenshot that indicates the Facebook title. Edit the title to make your Facebook post more relevant.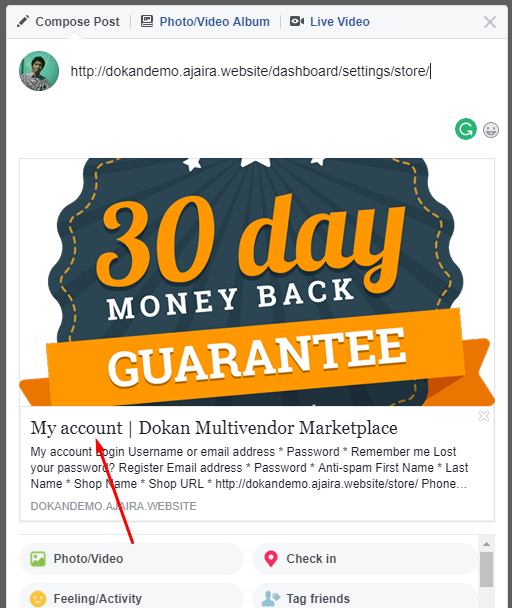 Facebook Description: Facebook description refers to the texts shown just to the right side of the Facebook title. Like the Facebook Title, you could edit this field in order to keep the relevancy of your post. For a closer look, here is a screenshot: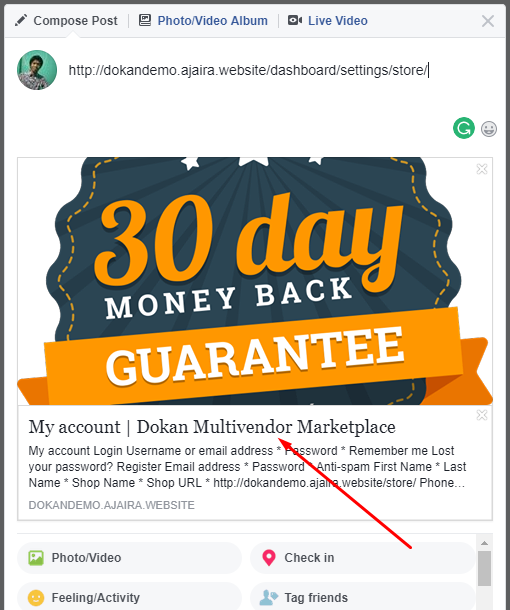 Facebook Image: Facebook requires an image while you are sharing a page. To get better visibility of your page, it is a must to set a relevant featured image. Fortunately, Store SEO of Dokan made it possible. You can set and change the following arrow indicated image to whichever image you want to.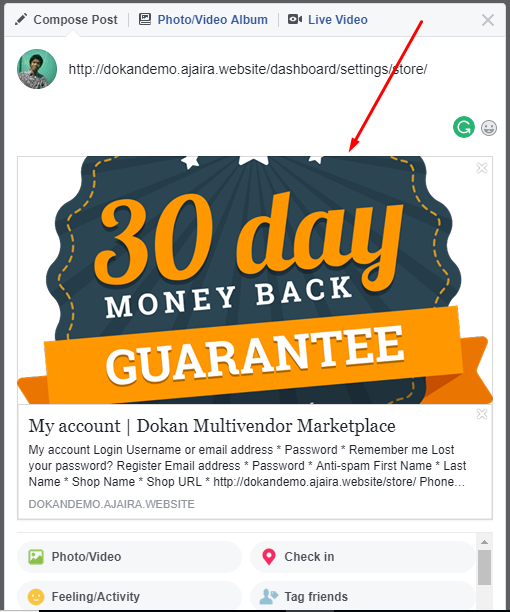 SEO for Twitter
Like Facebook, you will also find three more options for sharing on Twitter. The options are Twitter Title, Twitter Description, and Twitter Image. They work the same as those of Facebook do.
Here is an Example for You
Say, we have finished editing and saving the fields of Store SEO.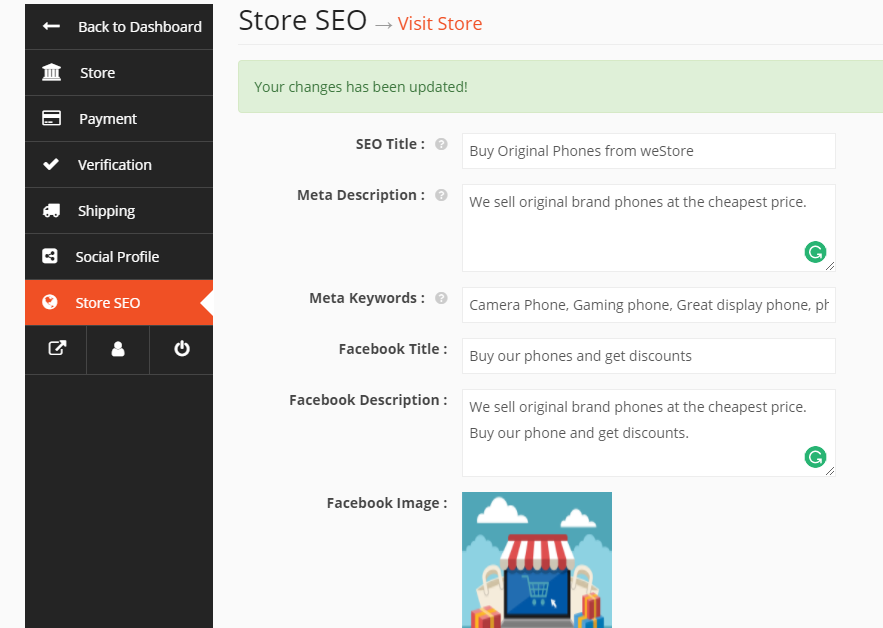 Now, if you are going to share your Store Page's URL on Facebook, all the fields will be changed or crawled to the new ones that we have edited just now. Here is the preview: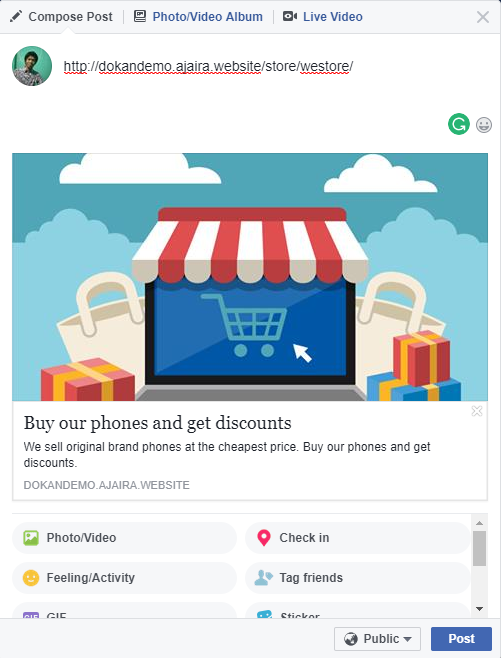 Note: Make sure that you have installed Yoast SEO properly before using the Store SEO feature of Dokan.
Over to You
First off, Store SEO feature of Dokan provides you full control over editing the fields when you are sharing on Social media like Facebook or Twitter. This nifty tool will escort you all the way to maneuver Facebook's and Twitter's crawling process.
Secondly, by providing the scope to customize the SEO Title, Meta Description, and Meta Tags it will also ameliorate the search engine visibility.
And last but not the least, using Yoast SEO, the Store SEO will also create sitemaps for your website which is really helpful for Google to find your web pages to be indexed.
So, wouldn't it be great if you avail this free yet awesome feature of Dokan to boost your online Store? In case you want to get more features then you can try out Dokan premium. You can also click here to have a look at the comparison page so that you can compare Dokan with the other multivendor marketplaces. Let us know your stance in the comment section below.