7 Expert Tips to Grow Your Email List With WordPress
Your leads are the most valuable assets to develop a better customer relationship and gain retention. Having an active email list means you are on course to do serious business. Hence, it is even easier to build and grow your email list more fruitfully when you have a WordPress site.
The main objective of building and growing an email list is to nurture those leads, create sustainable connections, sending better offers, and finally convert them. As you do all those things strategically, it will be even easier to make them come again for your service. Therefore, WordPress lets you automate the whole process. Here, you need an email automation tool that can ease your way to reach the goal.
There are many options out there. Tools that are expensive, and there are also free ones. However, in this blog, we will show you how simply you can build and grow your email list with such a powerful WordPress email plugin like weMail. Let's get started.
Getting Started to Grow Your Email List with WordPress
You can find a lot of email automation tools in the WordPress repository. Especially when you search for one to implement an opt-in form. However, your goal should be more elaborate than that. You need to find out an email marketing plugin that can help you to generate leads, send email campaigns, take care of the leads, and many more things.
Here, we will be showing you how relevant weMail is considering all the things you need. It's a free WordPress email automation plugin that can also be handy if you need a SaaS (software as a service) version. It has a library of premade templates for email campaigns, multiple sending getaways, open to other integrations, and multiple form-building options. Therefore, you can create and grow your email list, either single or many, segment and tag them at ease.
So, in the first place, you need to go to your dashboard and install weMail in WordPress. That is barely an inconvenience.

Well, after you install weMail, you can find many ways that help you to grow your email list from scratch. We are going to discuss some of the most effective ways one by one.
How to Create Your Very First Email List with weMail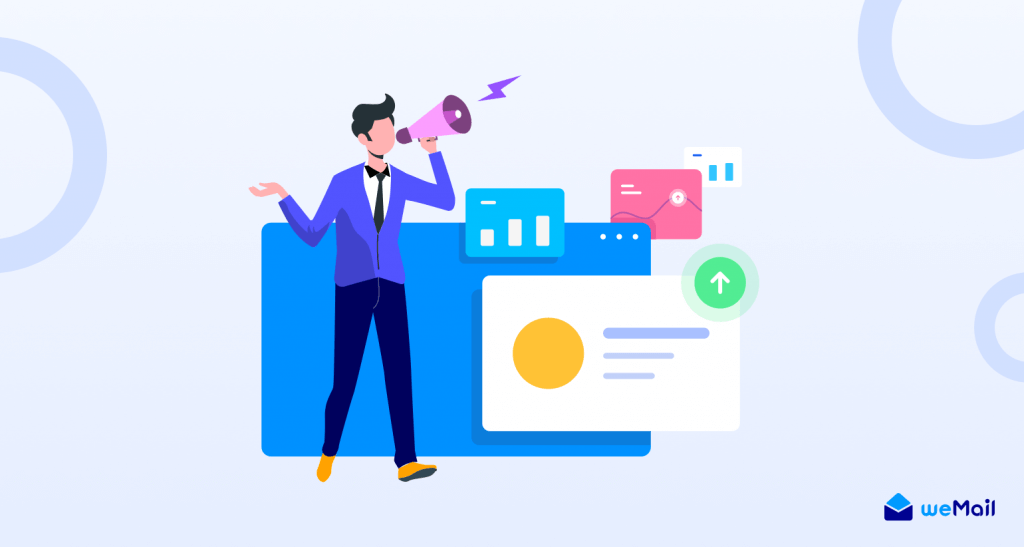 Before you proceed to learn how to grow your list in a WordPress website, it is necessary for you to learn how to create an email list with weMail. Hence, the task will take only a few minutes, that's all. Here is what you should do –
Go to your WordPress dashboard and then click on weMail. Then go to the list option.

Now, click on "add new" to create a new list. Give a name to the list, and add a description. And, you are done creating your email list. Whenever you create an option form or a way to increase subscribers, you can select any of the lists you have created, that's how you will be growing it gradually.
How to Grow Your Email List with WordPress – The Simplest Ways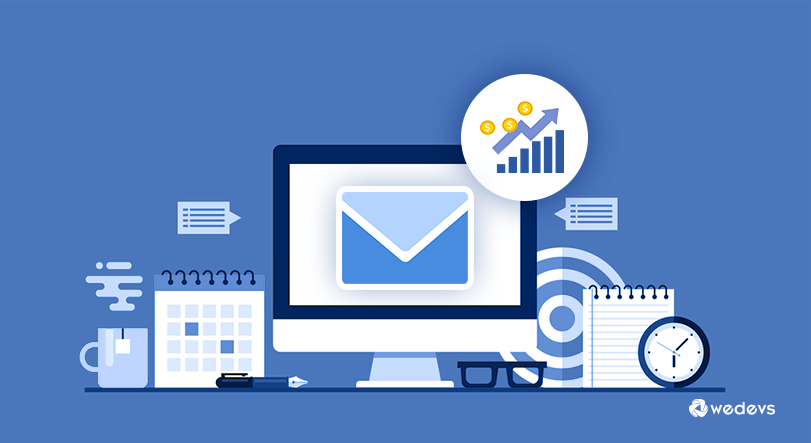 There is no better method than using various forms, pop-ups, and funnels to grow your email list. As you are already gearing up with weMail in WordPress, it's only a matter of time to fill your lists with real people and prospects. Hence, weMail also offers list management services and a welcome email sequence which helps a lot to maintain better relationships with your leads. Here, we will show you some of the most effective tips to create option forms and where to place them, and getting the highest results possible.
1. Use a Pop-Up Form in Your Landing Pages
Whenever a visitor comes to any of your landing pages, an opt-in or PopUp form can help them subscribe to your newsletters or any other services. After someone starts navigating your website, give them some time to grasp the type of your service, then showing a form that asks his/her name and email address would be a winner. You can do this directly from weMail's built-in form builder.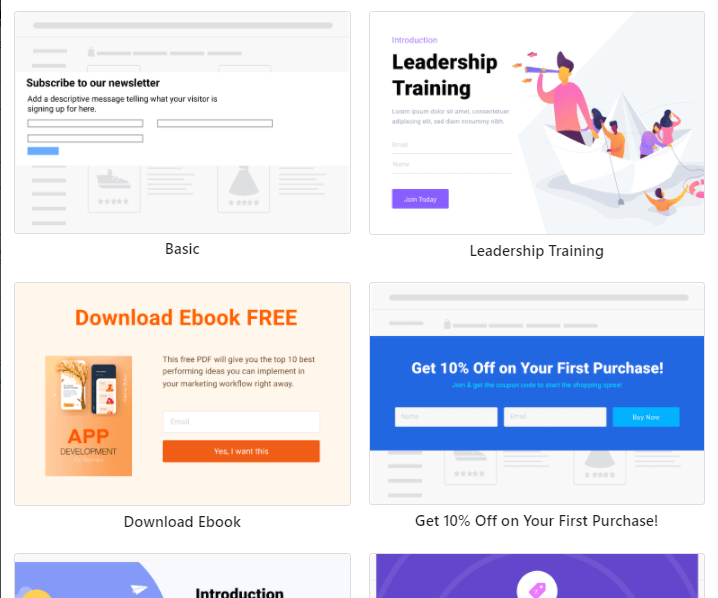 What you need is to choose a template, give a name to the form, and select the email list you want to grow with this form. That would be all. After you initiated the form it will look like the form below.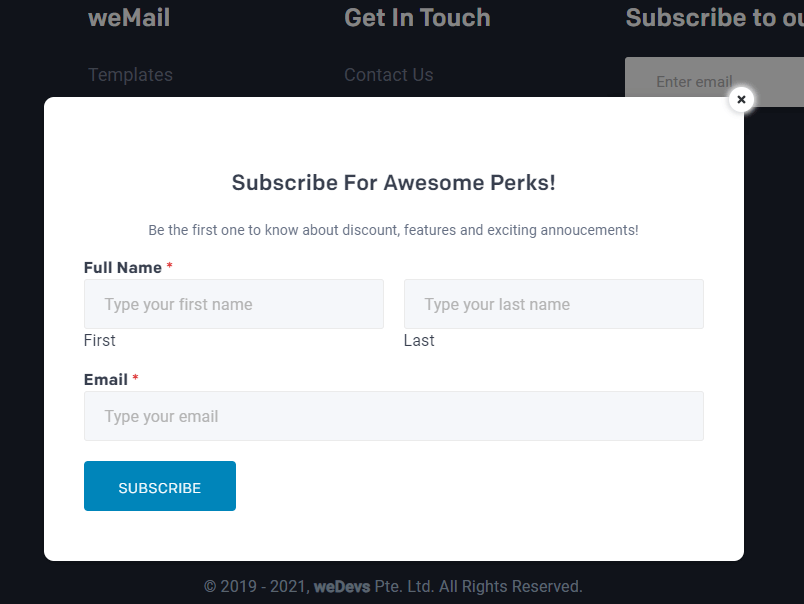 However, you can also use any of the form builders that come as weMail integration to implement such pop-ups or opt-in forms. Some of them are very popular like Popup Builder, Popup Maker, WP Forms, and Gravity Forms, etc.
2. Create an Optin Form in Sidebar
This type of form always works as a lead magnet. Optin Monster is using such forms in their blog sidebar for quite a time. It is designed mainly for readers who stumble upon a blog from Google or social media and are provoked to subscribe to newsletters or other services. To implement an opt-in form like this, you can use a premade template or shortcode in WordPress. Both can be available weMail.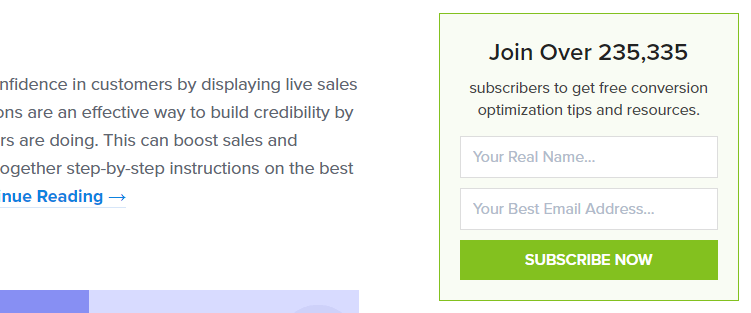 If you look at the above example, it is using a popularity effect. It is implying that you subscribe to Optin Monster where almost 235k people have already subscribed.
There are certain things you must put into work to get the highest results. One, you should create a viable bargain. Offer something that lets people give their name and email address. Two, you must write a copy for this form that converts.
3. Develop a Dedicated Homepage to Grow Your Email List with WordPress
Many websites find it very helpful to develop a homepage only for subscribers. The main goal of these types of homepages is to convert first-time audiences into subscribers. Therefore, as a WordPress site owner, you can also create dedicated homepages to grow your email list. In most cases, businesses or bloggers create a landing page that only lets a visitor proceed further when they subscribe to that website. Also, they include an option like "maybe later", or "I will subscribe later", etc.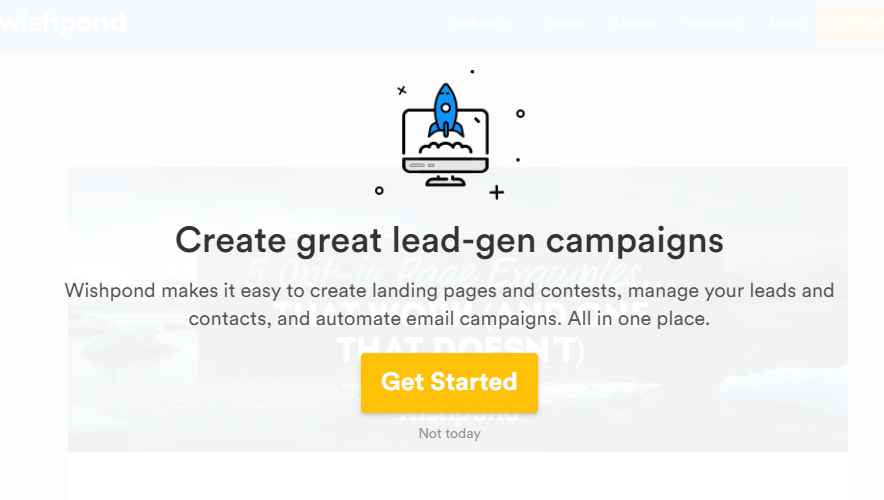 Hence, there are fully dedicated opt-in landing pages and semi-opt-in landing pages. Both of them work if you already have an established reader base. If you look at the image we've shown above, it manifests an invitation relevant to the website. So, when you are going to create such pages, you must create the right offer.
For example, you can invite users to join a lucrative referral program (If you are offering one). Also, you can offer an eBook with the latest hit topic, or something that your niche people would love to get. Now, look at the image below –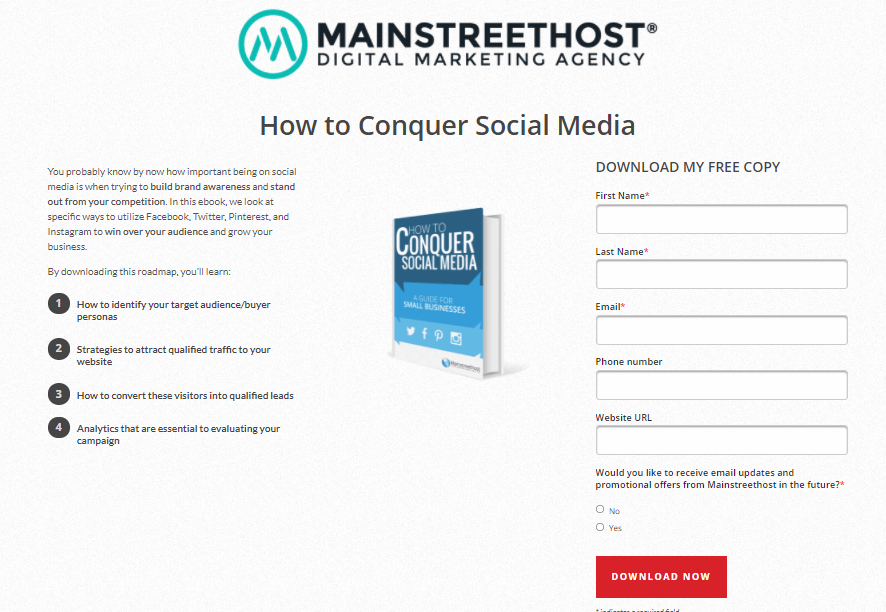 Main Street Host is a digital marketing agency. Hence, they designed this dedicated opt-in landing page and offering an attractive eBook. To create such a landing page, you can use Happy Elementor Addons which is well-tuned with WordPress. Then add this page with your email list. That's what you need to do.
4. Including a Subscription Form Over the Blog Page
This is another way to increase your email list with your growing number of blog readers. Whoever comes to read your blog or land on the blog page, a subscription form can be very engaging to get them in your email list. At weDevs, and on some of our other websites, we have implemented this technique and getting impressive results.

This form also needs a better positioning, you can put it atop the blog page. Can make it floating, or sticky, or even make it permanent like us. The next thing you need to do is write down the exact copy that can create an interest among the readers.
5. Add a Sign-Up form After Every Post

Like the subscription form above the blog page, this is also a superb technique to generate more leads. It is even more promising. If a reader finishes reading your blog and is impressed by it, an automated subscription form at the bottom would be a winner. You can set up this form as default so that for every blog you publish, a sign-up form takes place just below the conclusion.
6. Use the Different Option Built-In with weMail Form Library
You can have a wide range of built-in forms in weMail to grow your email list. So get the full power out of the tools, you must try different form options like Modal, Floating bar, Inline or Slide Up. These different styles can make your opt-in form or pop-ups even more converting and rewarding.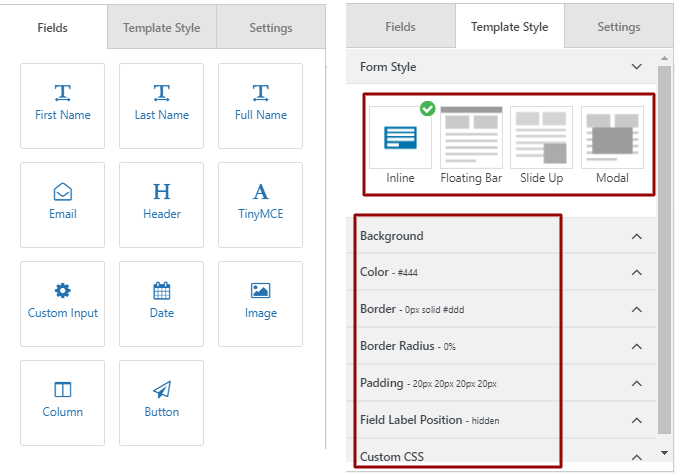 Therefore, you can change the color of the forms, add images, customize the size and borders, change the padding or field level position. To learn how to insert an option form in blog posts in WordPress, you can check out this video. It will help you to understand how you can easily customize the forms.
7. Sending Email Campaigns to Increase Your Subscribers
You can design an email campaign that only focuses to grow your email list aka subscriber numbers. With weMail, sending this kind of email campaign is a step away from you. To proceed, you need to do the following –
Click on weMail from your WordPress dashboard
Go to campaigns
Click on "Create New" campaigns and fill up the necessary fields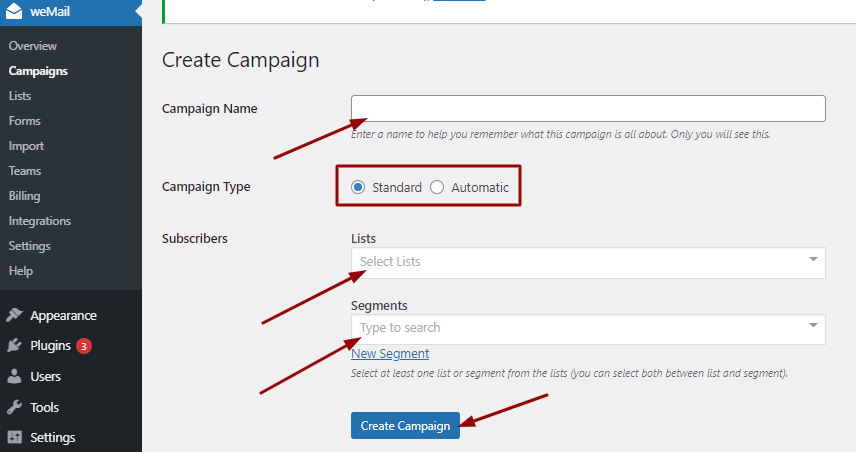 What content should you send in this campaign? You can send the latest blogs, YouTube videos, and quizzes to influence the subscribers.
As, you are sending these types of emails to people who are already on your list, so the main goal here is to tell them to share their experiences with friends and family. You can follow the direct or indirect method. Therefore, a referral program should be initiated to bring more people to your list.
Bonus: A Little Gamification Can Help You a Lot
Gamification turns out to be a valuable driving force of innovation. By engaging target audience and utilizing intelligence of the crowd, businesses are able to innovate and increase growth. Furthermore, gamification breeds a collaborative spirit within a company.

– Natalie Myhalnytska, Business Consultant
Gamification means you are going to give your possible subscribers a bit of fun time and reward. For example, you can create a Coupon Wheel or Fallpy Bird for Earning point to get the visitors more engaged with your prospects. Also, you can provide a puzzle or quiz, if someone solves it, he can get special benefits, coupons, or points that can be used for future purchases.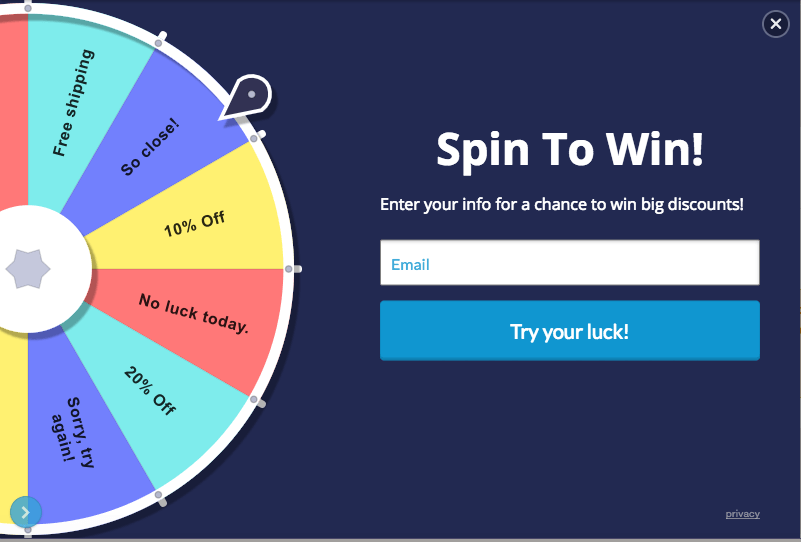 It is a mental trigger that can bring you highly positive results if put in an exact way. Gamification can bring you more leads, help grow your email list, and even higher conversions. Also, you can ask your user to share your website on social media, this can also lead to gaining more leads.
As a WordPress user, you can use a handful of plugins or simple coding to implement such gamification.
Final Thoughts
Regardless of the types of business, email marketing remains the most powerful way to build customer relationships, providing a better user experience, and retaining them for a longer period. It's been decades, this marketing channel winning the highest ROI compared to the recently popular social media or influencer marketing. And, the best way to do better email marketing, you have no other option than building and growing an impeccable email list.
Throughout this blog, you have seen the best ways to do the job successfully. WordPress makes the whole thing only easier. However, while closing up this discussion, we want to mention a few things you must follow. It will be good for you if you firstly focus on generating leads for your business, then concentrating on building your list with people who really want to be in it, have shown an interest to purchase from you once in a while. Then you must nurture, and care for each and every subscriber, sending them various offers, and content that make them engage with your WordPress site.
So what do you think? What should be the first step to grow your email list with WordPress?