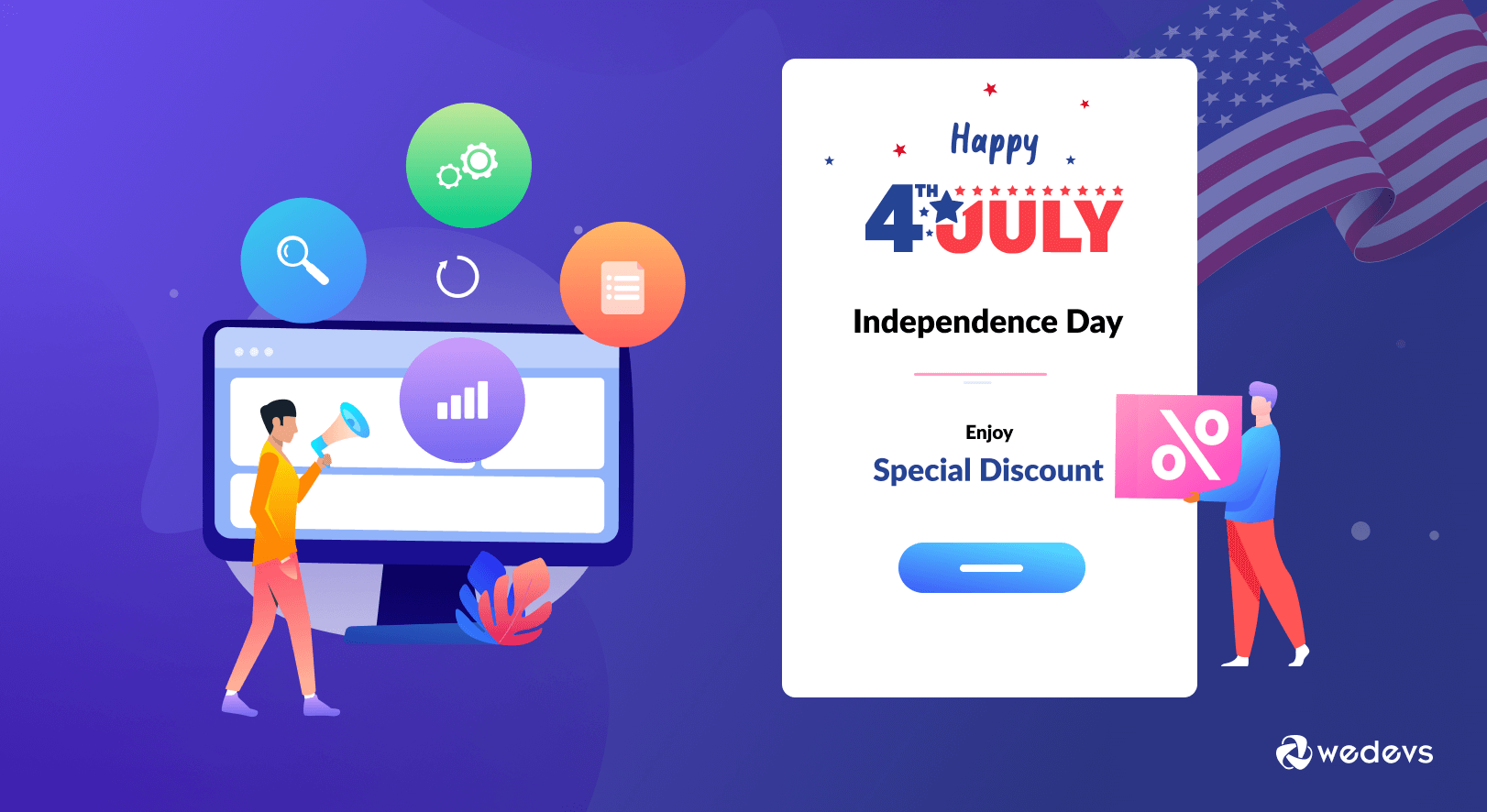 How to Run Successful Independence Day Marketing Campaign (USA, 4th of July)
The 4th of July is fast approaching. Are you all set with your independence day marketing campaign? Or are you still searching the web on how to conduct an independence day campaign?
Independence day is an annual celebration of patriotism for the people of the United States. People celebrate this day with family fun, barbecue in the backyard, and of course fireworks. It is widely considered the biggest holiday in the USA. And as this is the time for fun and family, most people are in the mood to spend.
46% of U.S. consumers aged between 25 and 44 planned to purchase additional patriotic merchandise to celebrate Independence Day this year.

Statista.
So, it is no wonder that the businesses are keen to celebrate this holiday with amazing campaigns. However, most of them fail to capitalize on this annual holiday simply because they don't have the right planning or resources. Or they fail to capture the essence of what independence day is all about.
It doesn't matter what type of products you are selling. With the right marketing campaign, your business can get involved in the 4th of July celebrations.
We have prepared a guide that will help you launch a great independence day campaign. And if you are one of those that are searching for the perfect guide, then you are in the right place. Grab your pen and paper and start taking notes.
How to Run Independence Day Marketing Campaign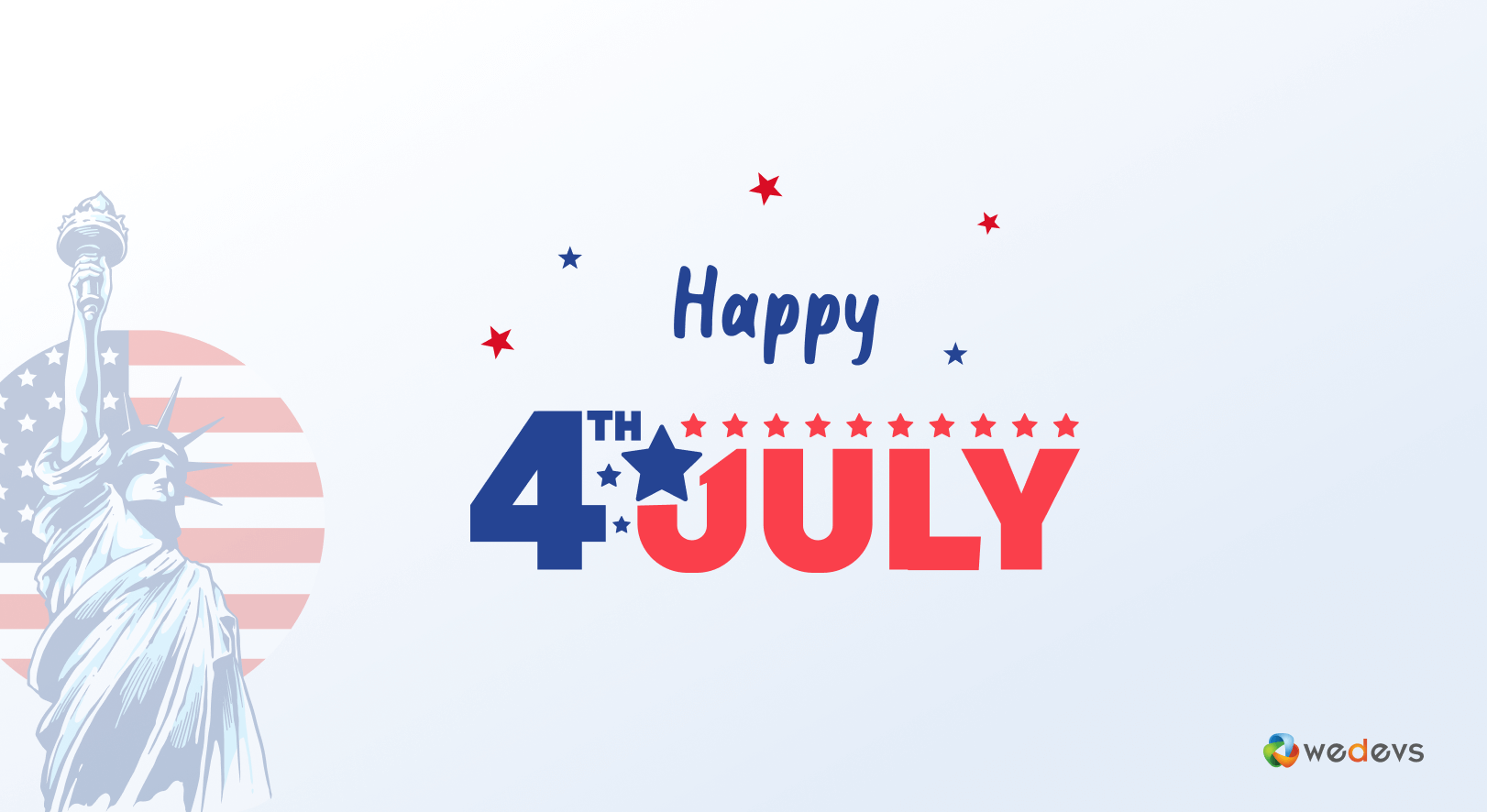 When you are launching a holiday campaign for a particular region, the most important thing is that your campaign should capture the essence of that holiday. Otherwise, people will not be able to relate to your campaign and it may not become successful.
We have prepared this list so that running an independence day marketing campaign will be easy. Here is the list:
Use Red, White & Blue as Theme Color

Create Custom Content for Social Media

Send Customized Email Newsletters

Offer Promotional Codes, Make Them Savvy

Reward Your Customers, Add Value
Get Involved With The Community
Use Hashtags That Compliment the Holiday
Show off Your Independence Day Collection
Let's get into the details, shall we?
Use Red, White & Blue as Theme Color

These three colors represent the American flag and therefore they are important for your independence day campaign. Use these colors to design your website until the campaign is over. Your social media pages, landing pages, blog banner, etc should display these color combinations.
As all of the USA will be wearing red, white, and blue, why not display it on your online store as well?
Create Custom Content for Social Media
For your 4th of July marketing campaign, it is important to create special content for your social media channels. Your regular content won't do the trick.
When there is a new holiday or marketing campaign, there is a big opportunity to try different things on your social media channels. We are not saying that every time it will work. Some will be hit and some won't. However, if you are confused and looking for inspiration then you can look at the successful independence day social media marketing campaigns for reference.
Here is a post from the popular car company Ford for the 4th of July. They used red, white, and blue colors of cars for their social content on Instagram.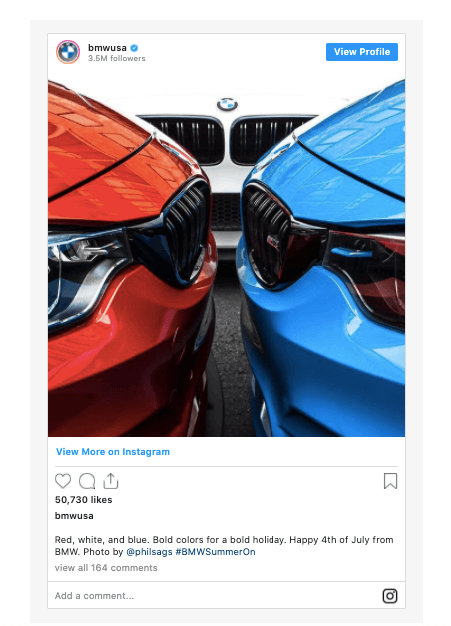 You need to be creative for your social media posts.
Send Customized Email Newsletters
Email marketing is one of the best ways to communicate with your customers and promote your campaigns. On the eve of independence day, send customized email newsletters (obviously red, blue, white themed) to your subscribers and inspire them to celebrate the holiday.
Avoid being too promotional. Instead, offer them a helpful tip and also give a subtle hint on how your product will help solve their problems. The main focus of your email newsletter should be wishing them a good holiday from your company. If it's all about the product promotions then it could end up in spam.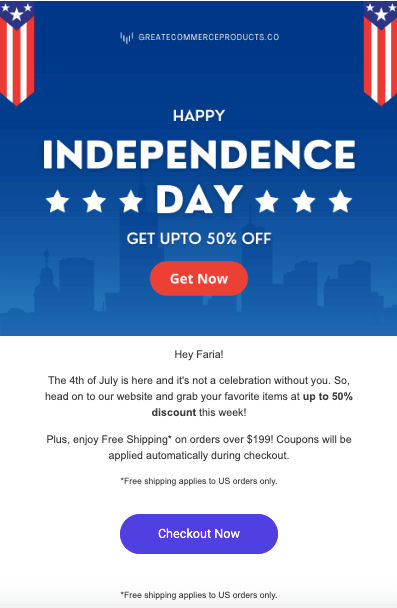 While you are at it, try to use Text/SMS marketing as well. It is a very up-and-coming marketing technique. So, why not use it to your advantage.
Open rate of text messages is 9.18% higher than any other marketing channels.

techjury
Email Subject Line Ideas
Capture the party-hardy vibe
Feel-good without the promo
Unmissable 4th of July Deal
4th of July Celebration
Evoke the holiday theme with your product
Celebrate your freedom.
Related Article: Best Email Subject Line Tips to Increase Open Rate.
Offer Promotional Codes, Make Them Savvy
This is standard for any holiday campaign. And it is a proven technique. However, for your independence day marketing campaign you need to make your promotional offers special, eye-catchy, and savvy.
As it is the 4th of July celebration, offer 40% off or a discount. Use promo codes like "freedom40", "fireworks4", "patriot45", etc. The best way to make your promotional code exciting is to read about independence day's history and find any significant words or numbers. You can use them in your promotional code and easily catch the eye of the public.
Give Reward to Your Customers, Add Value to Your Campaign
This is also a great way to attract customers. Offer your clients freebies, giveaways or you can include something special in the delivery. Any kind of gift will work. As long as it is in those patriotic colors.
Candy, little flags, mobile covers, sunglasses, etc can be used as giveaways.
Take Advantage of The Community
Don't forget that this holiday is for a specific community. So, take advantage of that. Sponsor any charitable events or organize your own. If it is too expensive, then partner up with other businesses and host an event.
Don't forget to give gifts and giveaways when you are organizing this kind of event. Give back to the community.
Use Hashtags That Compliment the Holiday
Hashtags help to create visibility for campaigns and reach relevant audiences. Because it makes it easier for users to discover posts. Also, they can engage in conversations surrounding a specific topic by filtering relevant content.
When you are running an independent day marketing campaign, make sure to use the trending hashtags so that your business can attract more followers during and after the campaign.
Here are some of the hashtags that you can use for the 4th of July campaigns,
#IndependenceDay
#FourthofJuly
#America
#July4th
#4thofJuly
#starsandstripes
#fireworks
#redwhiteandblue.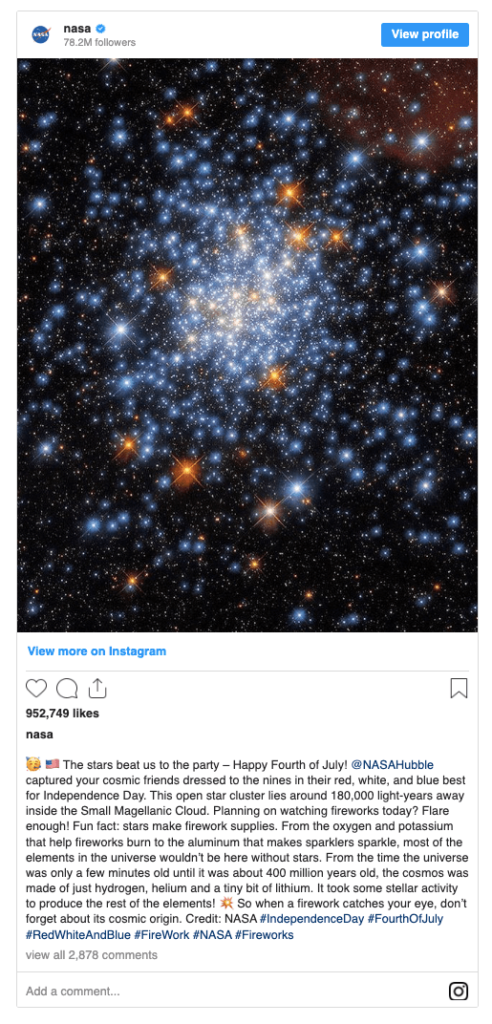 Show off Your Independence Day Collection
Create a separate section on your website for your discounted products for independence day. So, when a user visits your online store, they can easily find the products with a discount. Otherwise, they need to check one by one. If you have products made in the USA, then show off those products. Invoke the emotion of " Made in the USA" in their minds.
This will ensure a smooth page experience and will help with your bounce rate as well.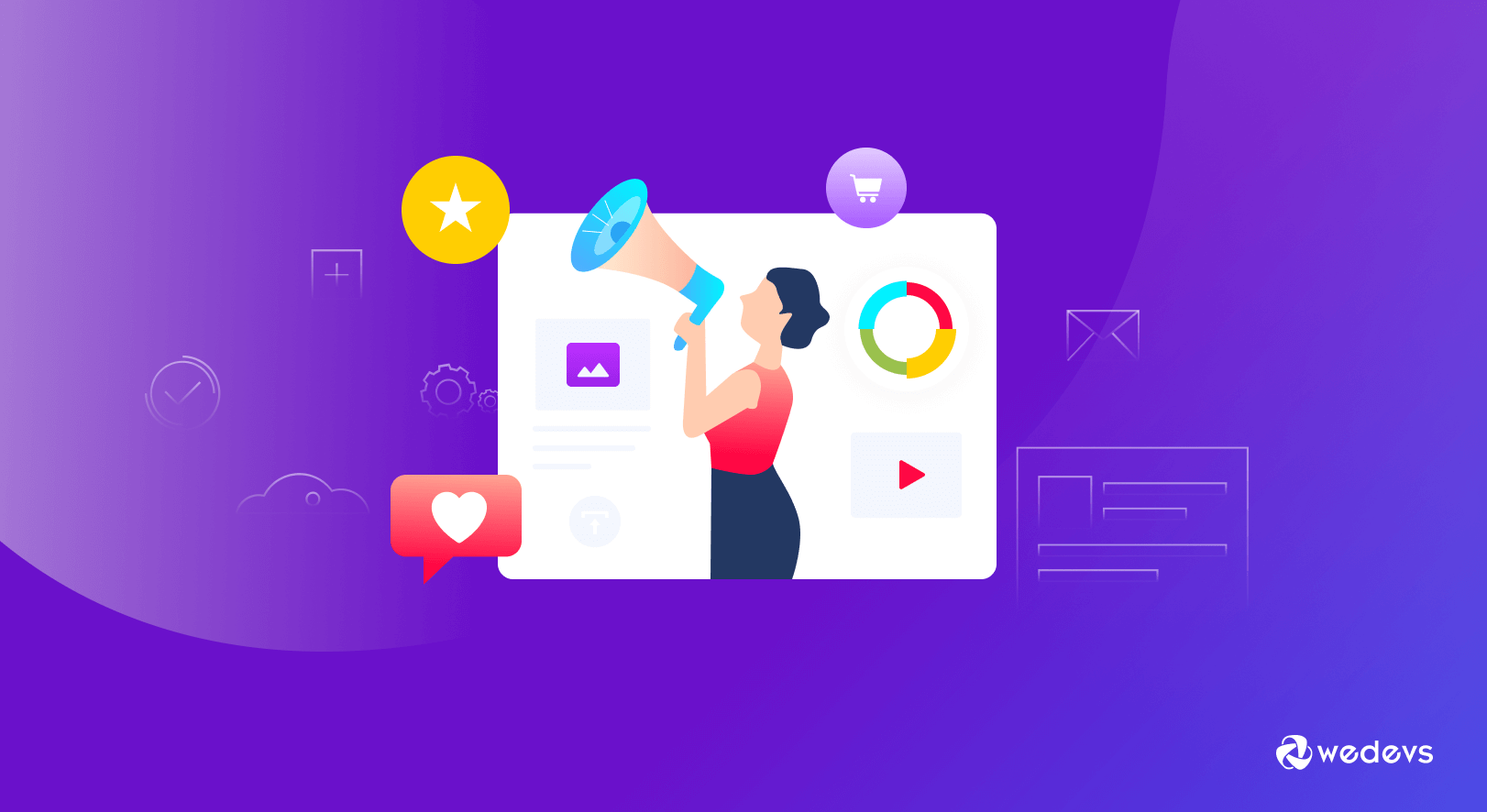 This list will help you create the right independence day marketing campaign. However, we have some more tips that will increase the chances of success in the marketing campaigns.
Some Cool Tips to Make Your Independence Day Marketing Campaign Successful
Independence Day is one of the largest retail events in the American retail calendar with total spending estimated to be around $6.7Bn.

National Retail Federation, 2019.
As you can see this holiday is a great opportunity for the business owner to promote their business and products. There is a difference between knowing how to create a campaign and making it successful. We have told you how to create a great independence day marketing campaign.
But we have prepared another list that will surely increase the chances of success for your independence day campaign.
Extend Your Campaign Length
You will find a lot of holidays to create campaigns for. But, big and significant holidays like the 4th of July come once a year. So, it is better to run the campaign for 2-3 weeks long. Starting campaigns early will create excitement among the users. Also, pre-access to VIP members, and teaser deals will surely help your cause.
72% of advertisers preferred to run a campaign for 2-3 weeks instead of only focusing on Independence Day itself.

ZypMedia 2019
Engage Vendors & Community Members
If you are the owner of a multivendor marketplace then you have a great opportunity on your hands. A multivendor marketplace has a lot of vendors and social community members.
Involve your vendors in celebrating the holiday. Offer special discounts on signing up and offer special discounts to your community members as well. Earn the trust of your vendors and boost your marketplace.
Focus on Remarketing
Don't forget your previous customers who purchased from you. Customer retention is one of the most important parts of building the brand image and creating a loyal customer base.
81% of consumers make purchasing decisions based on how much they trust the brand.

Edelman.
You need to earn the trust of your customers by offering special discounts to your loyal customers.
Utilize All Social Channels
This is a no-brainer. You need to utilize all the available social channels to promote your campaigns. We mentioned Email, Text/SMS marketing. But that's not enough.
Facebook, Twitter, Linkedin, Instagram, Pinterest, Tumblr, etc. These are the social media platforms you can use to promote your independence day marketing campaign. However, don't put the same content on every social platform. Because every platform is different and their audience is different as well.
Target the Right Audience
What's the point of communicating with customers who are not interested in your products? You will only lose your time and resource.
You need to target the right audience. For that, you need to know the demographics of your users. As independence day is for the American people, so it is futile to run the campaign for your whole customer base.
Use Google Analytics to filter the audience and run your marketing campaign.

So, if you follow these tips, your independence day marketing campaign will have a great chance of succeeding.
How weDevs is Celebrating 4th of July!
weDevs is the maker of many amazing products and a renowned name on the world stage. We have empowered almost 420000 businesses globally with our products.
Our multivendor marketplace plugin Dokan is currently powering 70000+ marketplaces worldwide. We also have products like WP User Frontend, WP Project Manager, wePOS, WooCommerce Conversion Tracking, WP ERP, Appsero, weMail, Happy Elementor Addons, weCare.
We here in weDevs are not behind in celebrating independence day. Yes, you heard it right. But we are celebrating this day differently, we are going for a summer campaign.
We are offering great discounts on all of our products this season. Here is the list of discounts on our products,
Get Your Business Ready for the 4th of July!
Timing, diversity, and focusing on an effective strategy will set your brand apart from all the 4th of July marketing campaigns.
Creating and running a marketing campaign isn't easy. Especially a big one like the independence day marketing campaign. However, if you can devise the right plan and use the right resources, then you can surely hope for a successful campaign. Don't forget to follow the campaign and analyze the data after launching.
That way you will always stay ahead of any kind of problem that may arise and solve it right away.
Also, don't forget to take a tour of all the amazing deals Offered Exclusively for this occasion by weDevs.