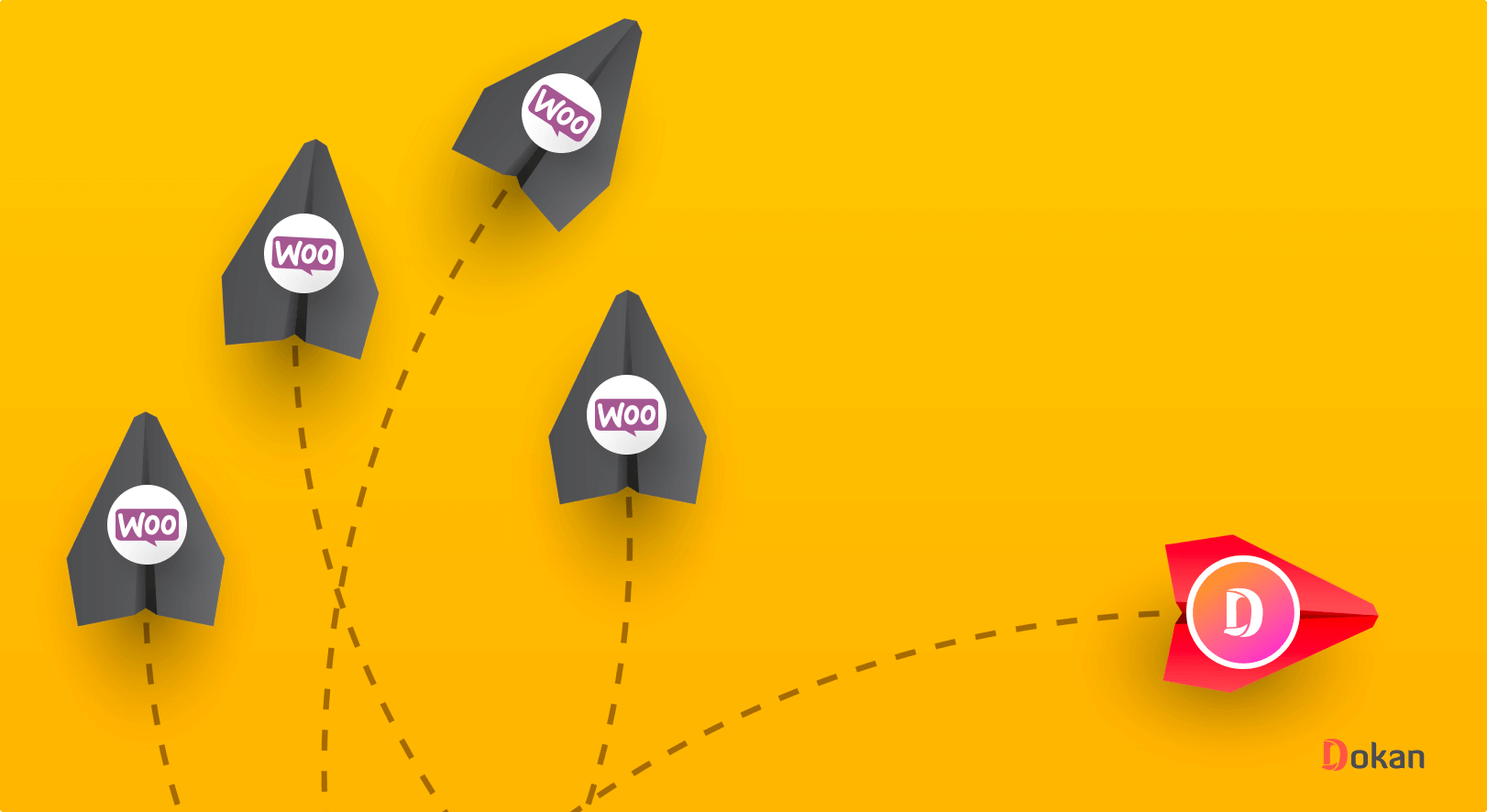 What Makes Dokan Unique from WooCommerce: An Out-of-the-Box Comparison
eCommerce is one of the most popular businesses in the world. It is easy to start as it needs low funding and space. Also, there are quite a few revenue models for eCommerce sites. Users can choose one and generate sales using their expertise.
There are about 12-24 million eCommerce websites around the world. The revenue of these eCommerce stores will hit 8 trillion USD in the year 2028. eCommerce gained traction in the year 2020 when the pandemic hit the world. People were forced to sit in their homes and had no choice but to rely on online stores to fulfill their daily needs.
Global retail ecommerce sales surged 27.6% during 2020. At the end of 2023, ecommerce will account for more than $6.5 trillion in sales, representing 22% of all global retail sales.
Creating an eCommerce store is very easy now thanks to WooCommerce. Within 30 minutes, you can have yourself an eCommerce store. and if you are thinking of taking your eCommerce store to the next level, and creating a community around your products, then you can create a marketplace using Dokan.
But today we are going to write a different type of article. We are going to discuss what Dokan has that WooCommerce doesn't provide besides the obvious. Let's dive into it.
The History of WooCommerce: How it Became a Cornerstone of the eCommerce Industry
The journey started in 2008 as WooThemes and in 2015, the parent company of WordPress "Automatic" acquired the software and rebranded it as WooCommerce. In 2017, the company decided to focus exclusively on eCommerce.
Right after its launch, this easy-to-use eCommerce solution became instantly popular among small business owners & entrepreneurs especially due to its simplicity in installation and customization ability.
Even before WooCommerce was acquired by Automattic, it hit 1M downloads within 2 years of its launch. And after that, it reached another milestone of 4M downloads in 2014. Then hit 7M in 2015 April just before the acquisition by Automattic Tool Place.
Now the plugin has more than 5 million+ active installations, and 3348 five-star reviews. It currently has a market share of 39% in the eCommerce industry.
We have already written a well-detailed blog about the colorful history of WooCommerce. Give it a read and increase your WooCommerce knowledge.
WooCommerce Overview: Amazing Features for eCommerce Site Owners
As its main focus is on eCommerce site owners, WooCommerce provides all the functionalities needed to run an eCommerce store. The plugin provides features like,
Product Management
Payment Gateways
Customization and Themes
Inventory Management
Reporting and Analytics
Extensions and Integrations
Tax Calculations
Customer Reviews and Ratings
Discounts and Coupons
Order Management
Email Notifications
Product Variations
Wishlist Functionality
SEO-Friendly Structure
Completely GDPR compliant
Extensions for cargo are available
Better CMS capabilities compared to others
The incredible support system, available guides, and easy-to-understand tutorials.
You can create stores to sell physical products, digital products, subscription packages, services, memberships, etc.
But, do you feel like you are missing something? Yes, there are many features and functionalities available for eCommerce stores. However, these functions are only for single-store owners.
What if you want to build something like Amazon? or eBay, Etsy, or Flipkart? You can't do that with only WooCommerce. For that, you need a multivendor marketplace plugin. You need Dokan, a WooCommerce-powered marketplace plugin.
The Evolution of 'Dokan': Turn Your Single WooCommerce Store Into a Multivendor Marketplace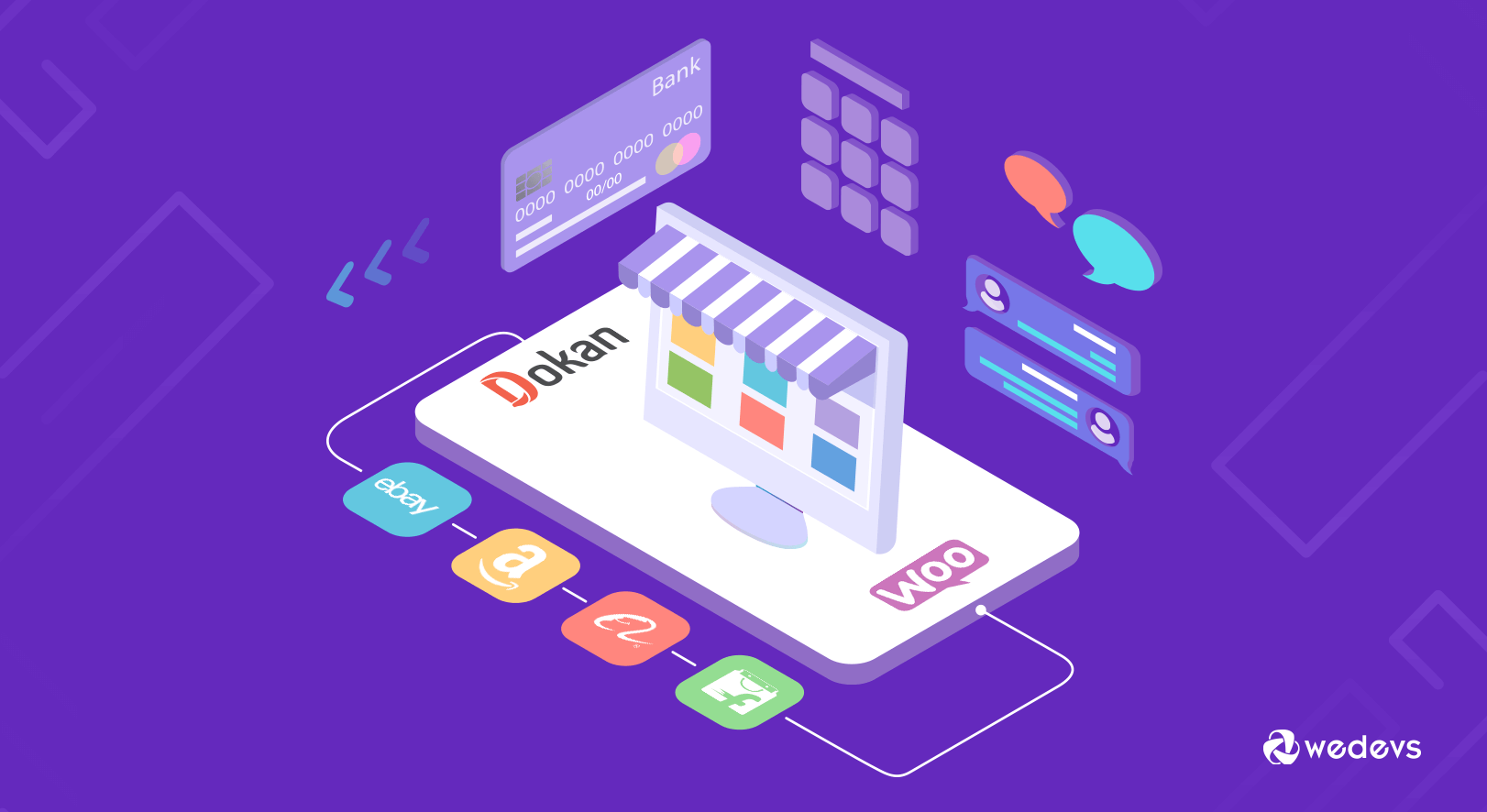 A marketplace is a large online shopping center, where products from many brands are offered and in which you can find any product, anytime and from anywhere. Marketplaces work in a simple, effective, and economical way. The goal is that both customers and sellers have it easy when it comes to selling and buying.
By starting a marketplace you can-
Increase revenue potential
Diverse product/service offerings
Reduce inventory and overhead costs
Scalability and growth opportunities
Enhanced customer experience
Network effects and user-generated content
Opportunities for partnerships and collaborations
We have already written a guide where we have shown why you should turn your WooCommerce store into a marketplace. Read that for more detailed insights.
How Dokan Started?
We first started Dokan as a theme but in 2015, we decided to launch the Dokan plugin. After launching the plugin, it created quite a storm in the WordPress industry. The plugin already has 60000+ active installations and 530 five-star reviews in the WordPress repository.
You can create and launch a marketplace like Amazon, Etsy, or Flipkart using Dokan within 30 minutes. Yes, that's right. All you need is a WordPress domain and hosting, the Dokan plugin and you are ready.
You don't even need to install WooCommerce separately. Dokan will do it for you.
Dokan Overview: Some of the Most Jaw-Dropping Features
Here's what you will get in Dokan, that you won't get in WooCommerce.
Independent Stores for Every Vendor
Just like Shopify, eBay, and Amazon – Dokan gives all the vendors a customized storefront so that the vendor in a marketplace can easily manage everything. They can set up their store as they like, and manage everything from the front end. Even customers can choose their favorite store and buy products from them.
Multiple Product Types
Dokan supports multiple product types. Products can be simple, variable, physical, electronic, grouped, bookable, downloadable, and many more.
Dedicated Dashboard for Vendors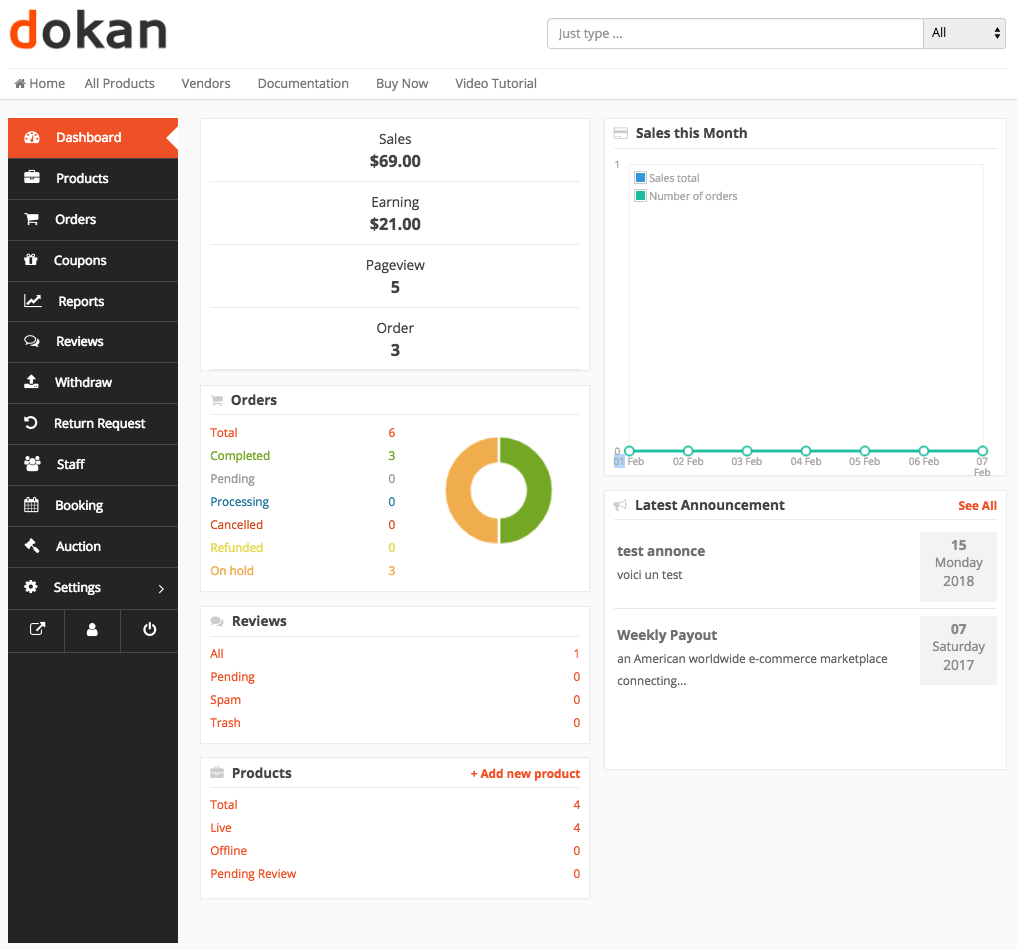 In order to manage everything from the front, vendors will get a dedicated dashboard where they will be able to handle product inventory, sales, top-selling products, highly rated vendors, orders, discounts, and more. They can see the summary of their transactions.
Not just vendors, owners will also get their own dashboard where they will be able to do the same.
Admin Can Earn from Each Sale
As an admin, you can charge a commission globally, on a vendor, or get a special commission on a single product as a part of the monthly plan or on each product.
A fair commission model allows both parties to share the success of your marketplace!
Store Insights with Reports and Statement
Vendors will get a bird's eye view of their store's performance. For example, they can get to see the sales volume according to by day, top-earning, top selling, and statement.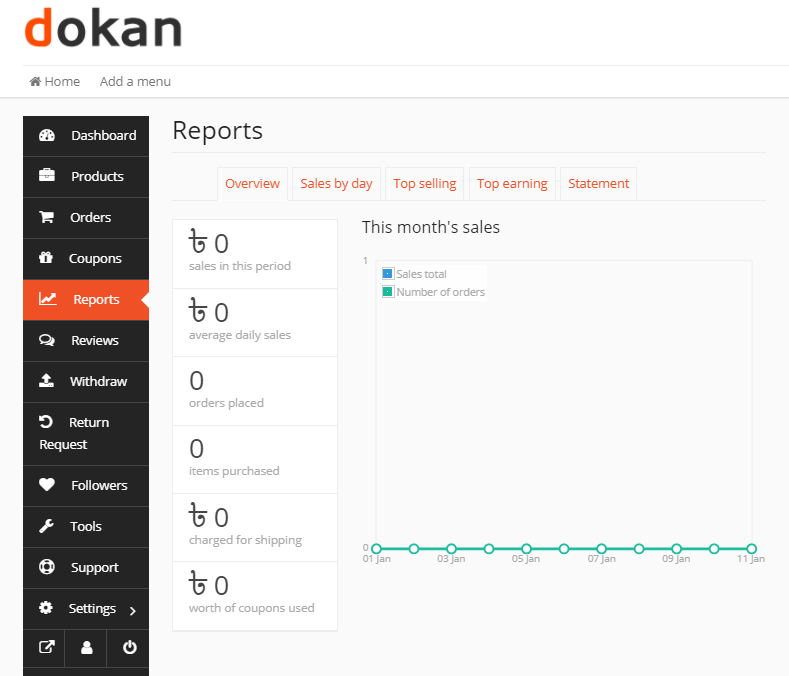 Order Management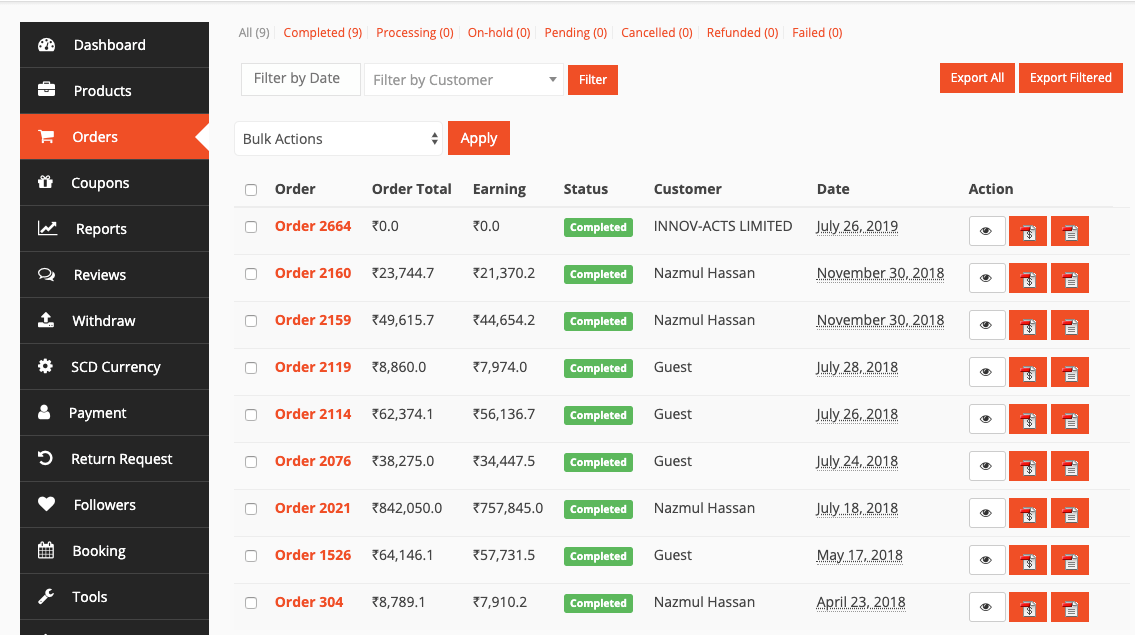 Vendors can manage their own orders from the vendor dashboard. Dokan categorizes the order status as delivered, or pending. Apart from adding general data, they can add order notes and so on.
Increase Brand Value with Product Reviews
Both vendors and products can be star rated and reviewed by the customers. Good reviews can help other customers to gain trust and increase your marketplace's brand value.
Efficient Withdraw System for Vendors
Dokan has integration with multiple payment gateways. Other than supporting all the payment gateways that support WooCommerce, Dokan has integrations with payment gateways like PayPal marketplace, Wirecard, Stripe, and more.
Vendors can request right from the frontend dashboard for payment. You can set the withdrawal limit, payment channel, minimum withdrawal limit, and more.
Easy Customer Refund Process
Customers could directly request a refund from vendors. All an admin has to do is review the request and issue a flag for refund processing.
Announce Important News Right on The dashboard
The admin can broadcast important announcements for all the vendors or specifically a number of vendors. The announcements will be displayed on the vendor's dashboard.
Control Who Can Sell on the Marketplace
The admin can activate/deactivate a vendor selling. Vendors could be also promoted to the "Trusted Vendor" based on their performance, for publishing directly on the storefront. It also helps you to empower honest and reputed vendors.
Moreover, the admin can assign seller badges to vendors who meet specific requirements.
Increase Your Sales Using the Customer App
Dokan also has a customer app so that you can sell your products to users who are using mobile devices. The app is very easy to use and can easily be integrated with the marketplace website. Customers can view and order products from the app as well.
Also, we have recently introduced the Dokan Delivery Driver app, which will help marketplace owners and vendors ship their products quite easily.
Marketplaces You Can Create with Dokan
Here are the type of marketplace you can create with Dokan-
Jewelry
Botany products
Membership
Video, Animations
Photography and more.
The list is limitless.
WooCommerce vs Dokan: What Makes Dokan Unique
Features
WooCommerce
Dokan
Store Type
Single Store
Multivendor Marketplace
Product/Service Sellers
Only one seller
Multiple independent
sellers/vendors
Inventory Management
The store manages its own inventory
Each seller manages their own inventory
Commission/Transaction Fees
No Commission or Transaction Fees
Marketplace platform
earns commission or transaction fees
Customer Support
Store responsible for support
Each seller provides their own support
Branding
The store showcases its own branding
Each store provides its own branding, so the marketplace gets multiple branding
Traffic Source
Only through the Admin
Admin and Vendors both drive traffic
Store Management
Only through backend
Through backend and frontend
Storefront
Only for admins
Admins and vendors
Store Experience
Consistent store experience
Each vendor may provide a different store experience
Scalability
Limited scalability
Highly scalable due to multiple sellers and vendors
Product Variation
One
Multiple
Support
WordPress Forum
Live Chat, Support Ticket, Documentation
When You Should Choose Dokan
So, when is the perfect time to switch over to Dokan? Well when you want to-
Expand your earning options
Reduce financial risk. You can earn money even if your own store shutdown
Add various products to your online store
Create a community around your eCommerce store
Add more advanced functionalities to your online store.
eCommerce is a very competitive world. if you want to survive, then either you have to come up with groundbreaking products or you have to find new earning ways.
WooCommerce lets you create an eCommerce store with all the functions. You can easily run a traditional marketplace with ease. However, you can break the traditional concept by turning your single store into a multivendor marketplace using Dokan.
So install Dokan and create another earning source for yourself.