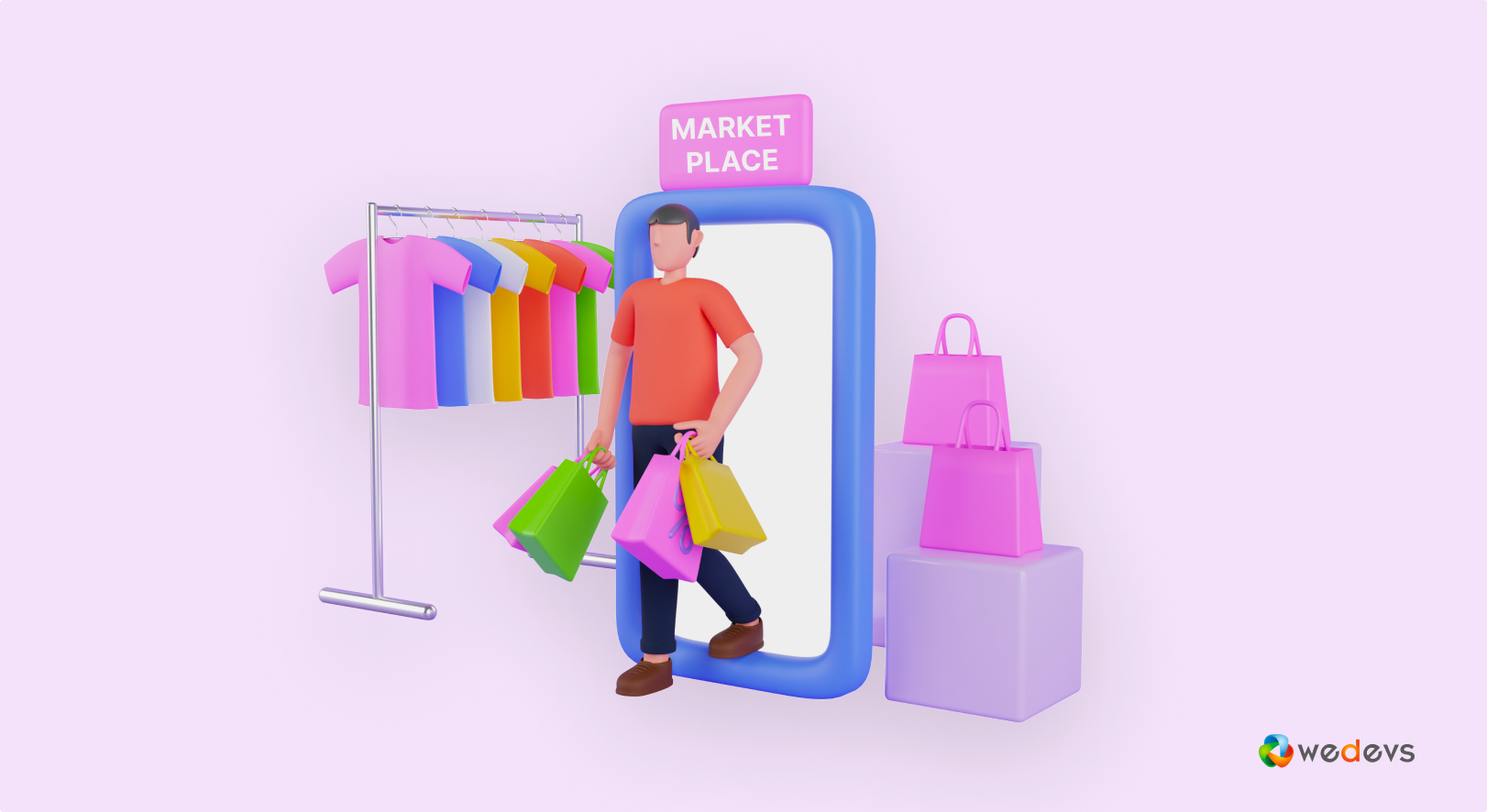 How to Create a T-shirt Marketplace with WordPress and Dokan
Looking for an easy guide on how to create a t-shirt marketplace? Below we include a step-by-step tutorial to help you out.
The global t-shirt industry is rising very fast. It is projected to expand at a CAGR of 6.0% throughout the forecast period from 2019 to 2027, starting from US$ 206.12 Bn in 2018.
If you're also planning to invest in the clothing industry, it's high time to start your own t-shirt marketplace. And more amazingly it's not mandatory to have your own inventory for doing business online. You can make a dynamic platform to bring sellers & buyers on one platform and earn commissions from sales.
Although the setup process of a t-shirt marketplace seems difficult to you. But if you are a WordPress user, it requires only a few steps to configure your marketplace using effective plugins.
Today we'll show you how to design your t-shirt marketplace from scratch using Dokan Multivendor. But before getting into the tutorial part, let's show you some inspiring facts about the t-shirt industry-
Growth & Opportunity of The T-shirt Industry Worldwide
Since the global t-shirt industry is on the rise, it could be a profitable niche to start with.
In the last few years, fashion trends are evolving around plain t-shirts, customized t-shirts, graphic t-shirts, vintage t-shirts, and long sleeve winter T-shirts. Along with big brands, many new businesses also enter this industry by predicting future advancement.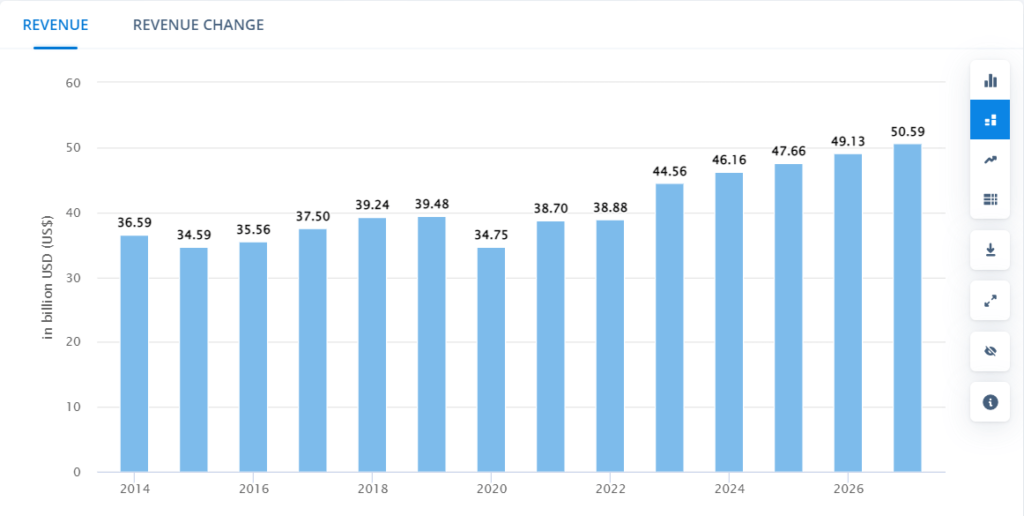 T-shirts are mainly targeted toward the young population segment. Though it's becoming popular among other age groups as well.
To be more specific, the market for custom t-shirts is expanding rapidly. Companies are using custom-designed t-shirts as a modern branding tool to promote their business, products, and special offers. It also becomes a medium for individuals to express their individuality.
The custom t-shirt printing market is estimated to reach $10 billion by 2025.
Since the global pandemic made online shopping more significant. It could be a great business idea to sell t-shirts online. Or you can broaden this idea by establishing an online t-shirt marketplace. So you can double your profit by selling your own products and getting commissions from other vendors.
Also read: How To Create A Clothing Store Marketplace Using Dokan.
Here are the steps you need to follow to create a t-shirt marketplace-
How to Create a T-shirt Marketplace Using WordPress (6 Steps)
The reason to pick WordPress as the platform to build your marketplace is its easy configuration process, flexibility, and wide range of customization options. For a better overview go through this blog – What is WordPress All About? Should You Too Choose WordPress in 2022?
Again, WooCommerce is a simple yet powerful eCommerce plugin. It instantly adds all the eCommerce features to your WordPress site. But WooCommerce gives you the benefits to run a single store. To enjoy marketplace facilities you need a plugin like Dokan.
Dokan is a WordPress multi-vendor marketplace plugin. It can turn your single store into a multivendor marketplace at minimum or no cost in less time. With over 70k active installations, Dokan helps people to create a niche-based marketplace. Such as a traditional marketplace, booking site, digital marketplace, or service-based marketplace. Dokan has personalized features for almost every business type.
Let's show you how it'll enrich your t-shirt marketplace-
Prerequisites For Launching A T-shirt Marketplace
A suitable domain name and web hosting
A WordPress website

WooCommerce

plugin
Dokan multi-vendor marketplace plugin
An appropriate WordPress Theme
We assume you've already purchased the domain and hosting for your t-shirt marketplace. Now download & install WordPress on your site. If it's your first time, check this beginner guide on How To Create a Website For Free in 5 Easy Steps.
Once you've configured the basic setup of your WordPress site, it's time to enable marketplace features on your site. We promise you it won't take more than 1 hour to set up the basic platform of your t-shirt marketplace.
Below are the steps you need to follow-
Install Dokan to Set up Your Online T-shirt Marketplace
Configure the General Setting of Dokan
Activate A Marketplace Theme that Matches Your Niche
Setup Admin Shop & Upload Products on Your Marketplace
Optimize Your Marketplace with Dokan Advanced Features
Allow Vendors to Sign Up on Your T-shirt Marketplace
Publish & Promote Your Marketplace
Step 1: Install Dokan to Configure Your Online T-shirt Marketplace
You've configured your WordPress site. Now, it's time to set up your marketplace. If you're already running a WooCommerce store, let's move to the step and install Dokan. Dokan will turn your single store into a multivendor marketplace instantly.
But when you are determined to build a marketplace from the beginning, no need to install WooCommerce individually. It will be installed automatically when you go through the Dokan setup process.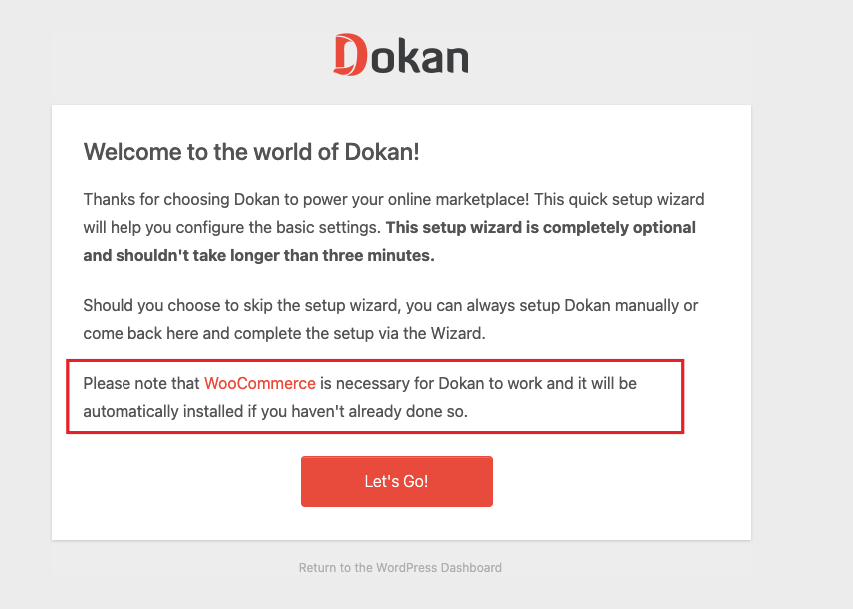 Installing Dokan is similar to any other WordPress plugin. Go to your WordPress dashboard and navigate to Plugins→ Add New from the side menu options. Next, hit the Add New button from the top.
Here, you'll find a search box on the right side of your screen. Inside the search box, type the plugin name "Dokan". Now, install and activate the plugin to get all the marketplace features on your site.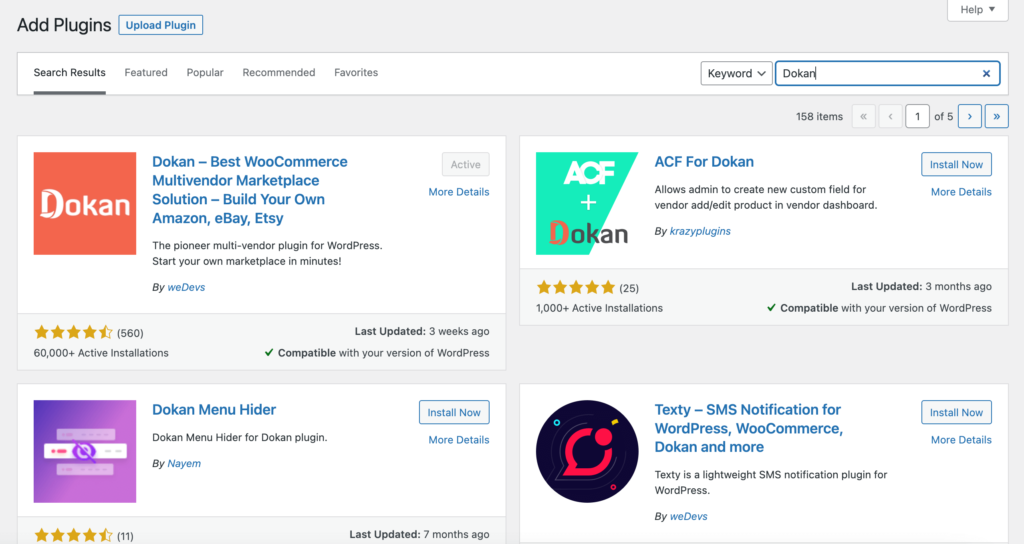 You can check our official document on Installing Dokan Multi-Vendor Marketplace.
Or go through the video tutorial below-
You've installed the free version of Dokan. It enables you to enjoy all the basic features of a marketplace. In the future, you may need advanced features for your growing business. If want to upgrade to the pro version, just download the dokan.zip from /account/downloads/ and install it. Finally, hit on the Activate button. That's all.
Step 2: Configure the General Setting of Dokan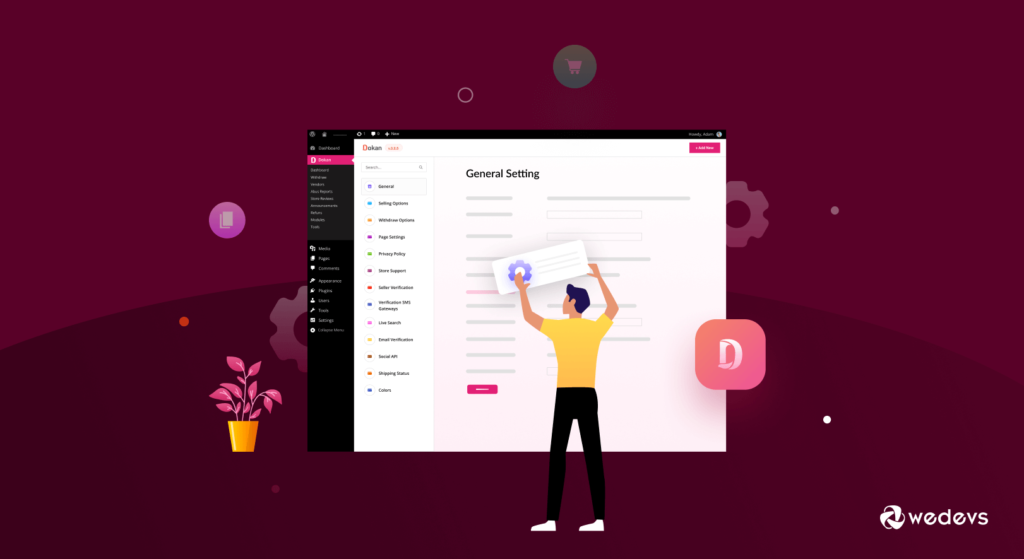 As we've said, Dokan comes with all the required features to run a successful marketplace. You just need to customize the feature as per your business needs.
Navigate to, WP Admin→ Dokan→ Settings.
Here, you'll find all the essential settings options such as-
Select store category
Enable vendors to display their products
Create essential tags
Setup the new product status
Choose withdrawal methods
Set minimum withdrawal limit
Include commission terms and rates.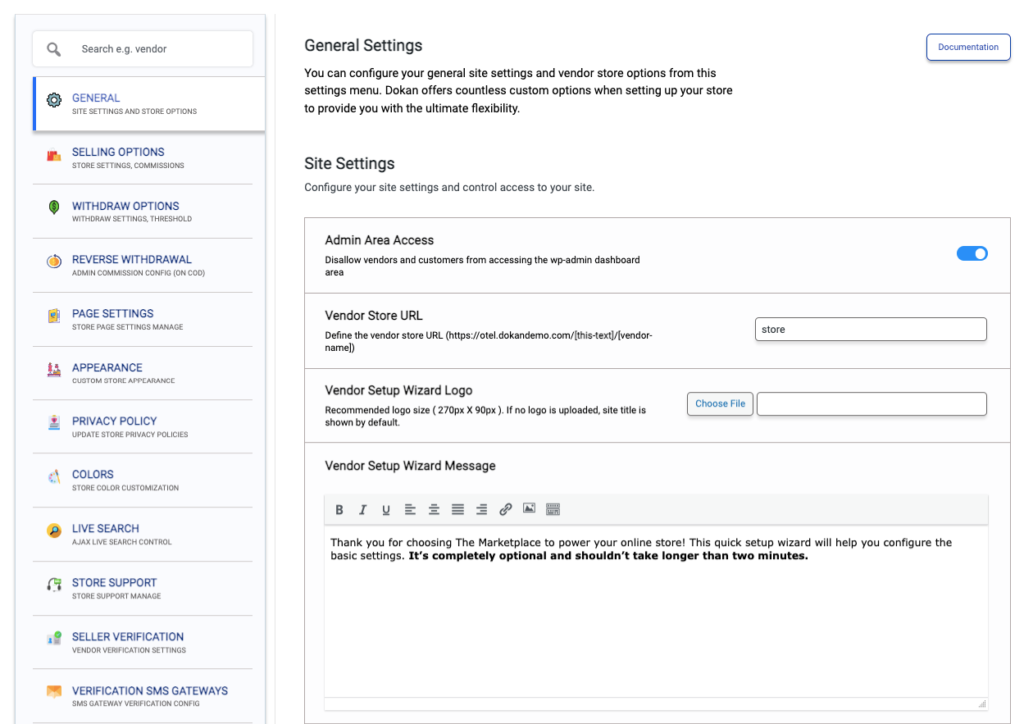 Under every tab, you'll see several setting options to personalize your shop. Get a complete overview of Dokan multivendor plugin settings here!
Note: For Dokan Lite, you will get limited setting options. To unveil more facilities you must use Dokan Pro. [Though for beginners Dokan Lite is enough to start with].
Once you've done with all the changes, hit the button "Save Changes".
Step 3: Activate the Dokani Theme to Display Your Products More Attractively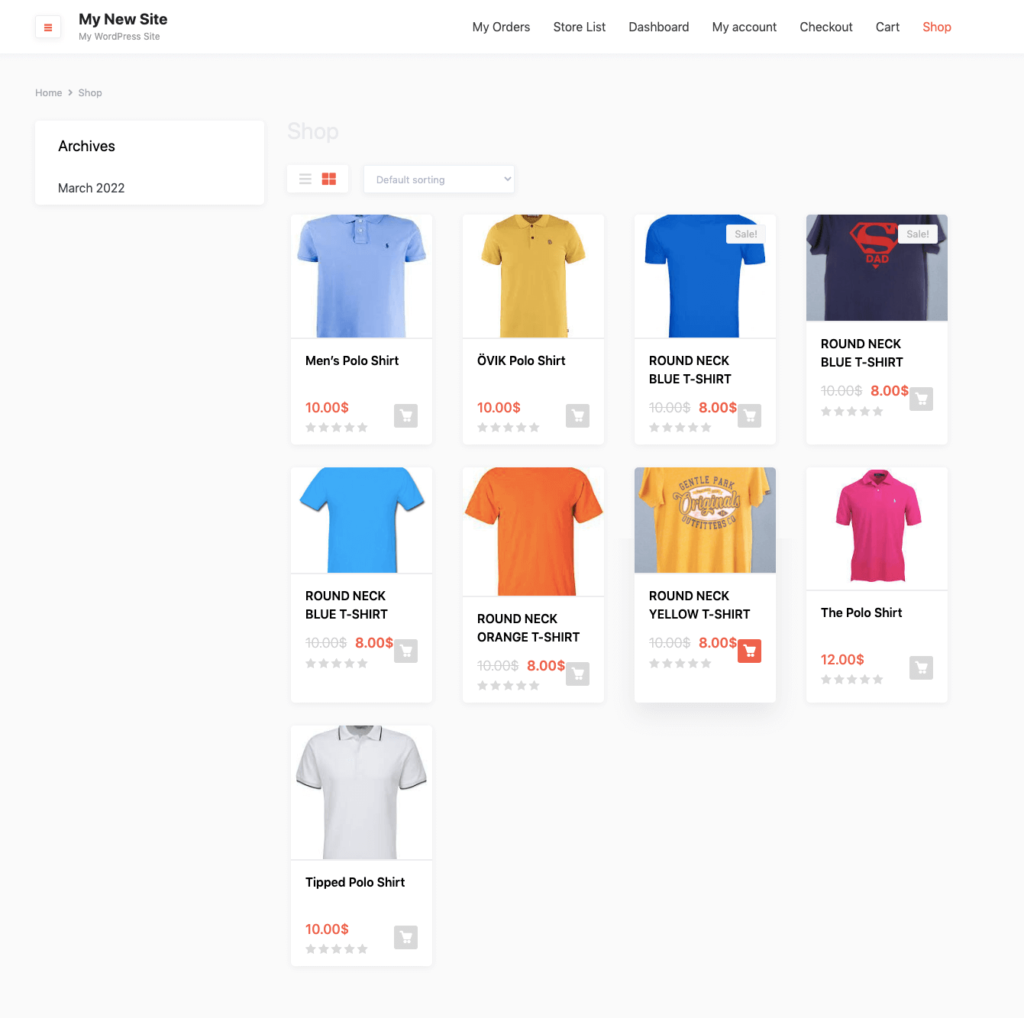 Dokan is fully compatible with almost all WooCommerce themes. So, you have the flexibility to use one of these themes that blend well with your site's design. Check all the Dokan Compatible Themes here.
We recommend you install the Dokani Theme for your t-shirt marketplace. Dokani is a sleek-looking WordPress theme with all the modern attributes. Therefore, your eCommerce site gets a smart look instantly.
Exclusive features of the Dokani theme-
Responsive, super-fast, SEO-friendly
Capable to handle all technical sides of your site's design
Makes your visual appearance more appealing
Supports a wide variation of helpful widgets
Fully compatible with other popular page builders
If in case, you need help installing your WordPress theme, check this Ultimate Guide to WordPress Themes.
Step 4: Setup Admin Shop & Upload Products on Your Marketplace
As an admin, you can earn in two ways from your t-shirt marketplace.
Manage the marketplace & earn only from the commissions
Sell your own products as well as get a commission from other vendors' sales
To sell your own products you need to set up a mini store. In order to do this, you can-
Sign-up as a vendor
Allow yourself to add products
Using the Dokan frontend dashboard you can easily upload your t-shirt details along with media files, descriptions, and other essentials.
In order to do this, go to WordPress DashBoard → Dokan → Vendor
Toggle the Status bar to enable the admin for adding products to the marketplace.
Now, it's time to decorate your mini store and upload new products.
Start uploading products from the front end by going to WordPress Dashboard → Visit Vendor Dashboard → Products.
Click on Add new product and update your product information.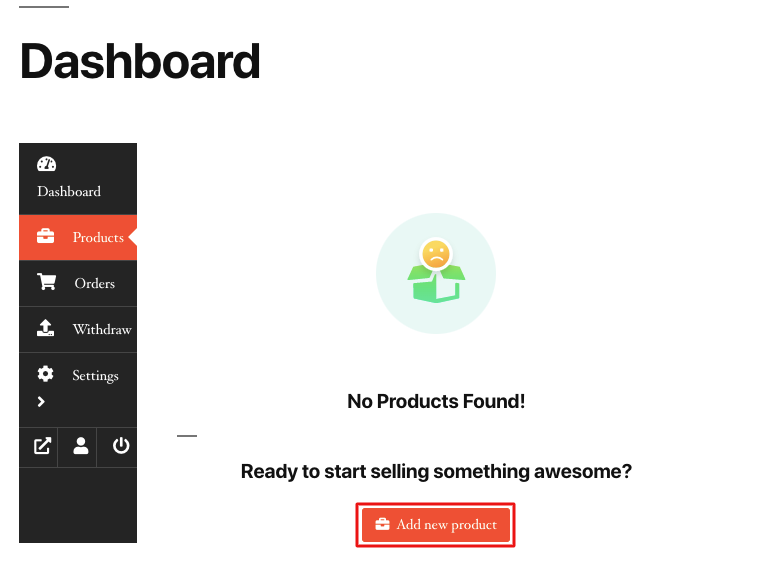 After adding products your product page will look like this-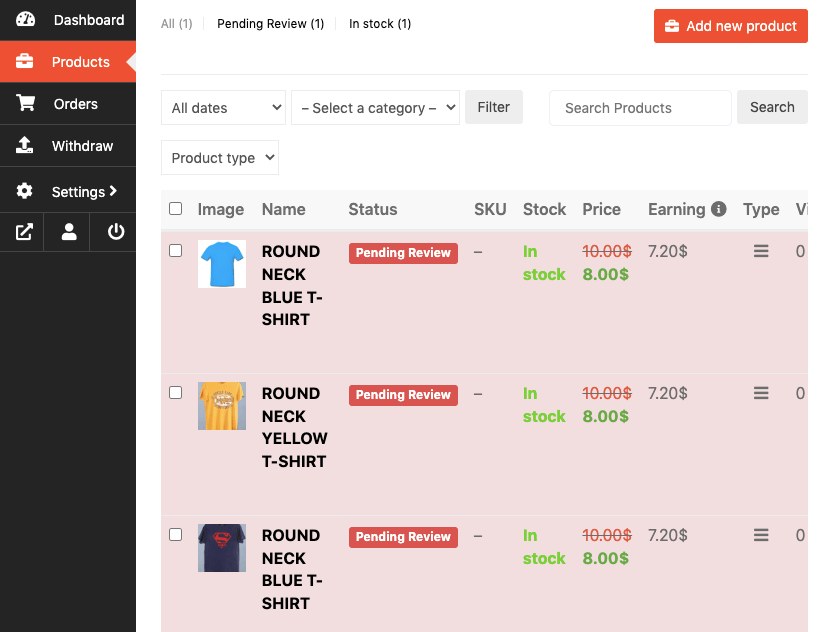 As an admin, approve the product status from the backend.
Alternatively, you can add products from WordPress Backend → Products → Add New.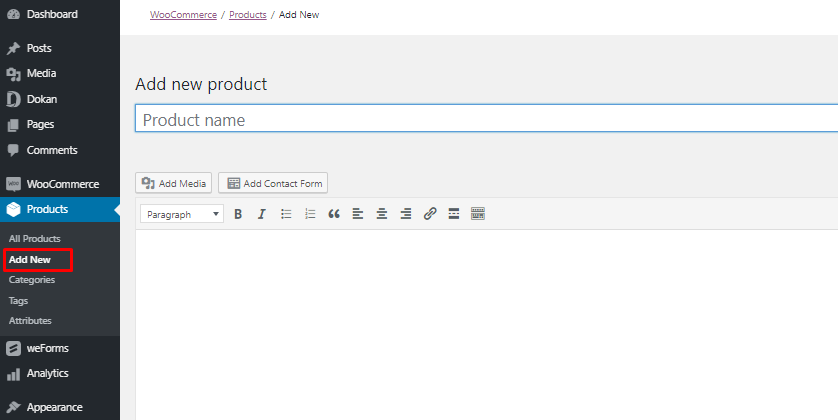 You can customize your store design by going to Vendor Dashboard → Settings. From here you can update your store name, address, opening & closing time, etc.
After doing all the customizations, your store looks like the below-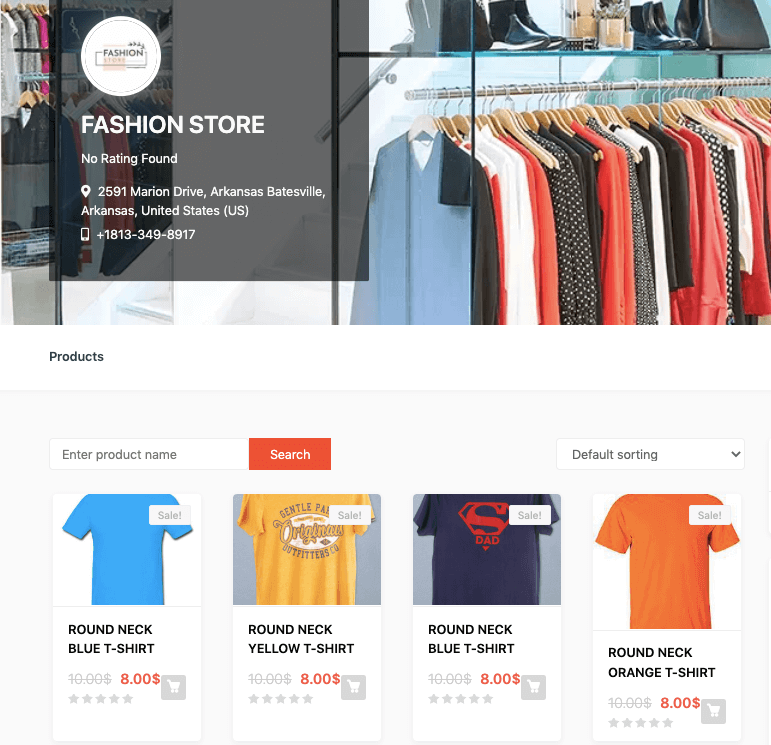 Special Note: Setting up the admin's shop is not mandatory unless you intend to sell your own products.
Step 5: Invite Vendors to Your T-shirt Multivendor Marketplace
All the basic configurations are done. Now it's time to open your marketplace for third-party vendors.
First, you need to enable the "Anyone can register" option. In order to do this, go to WordPress Dashboard → Settings → General Settings → Membership. And put the check mark on it.

Now vendors can fill up the registration form to sign up in your marketplace-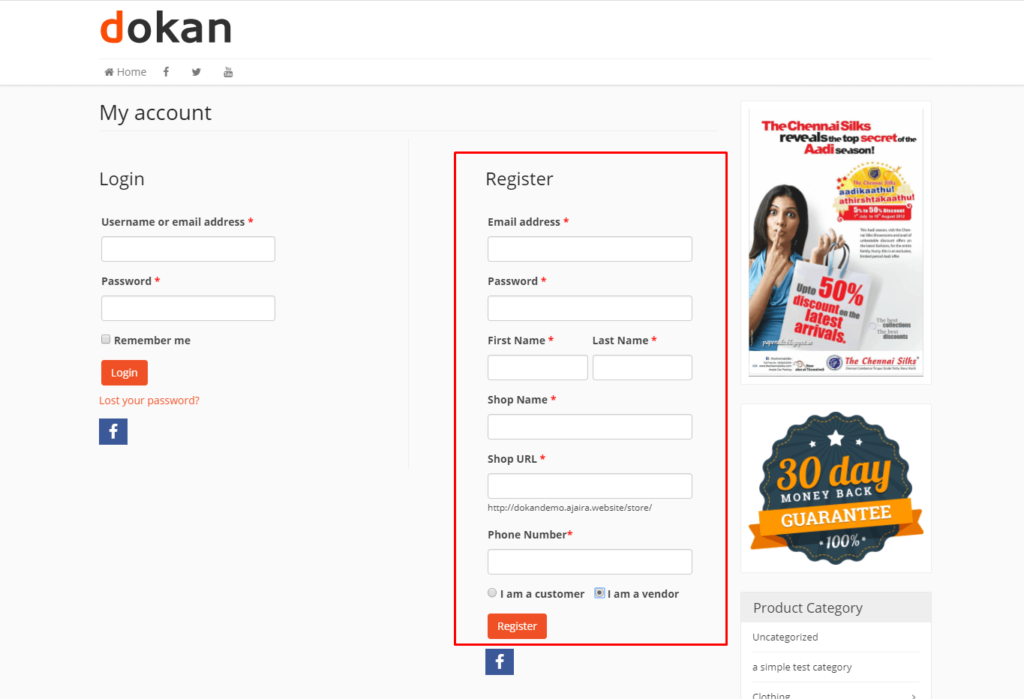 As an admin, you can check all the vendor registration requests from the backend. Review all the vendors' profiles and allow selected ones to sell products on your site.
After getting approval from the admin, vendors can design their own mini-stores with individual URLs. Dokan also provides an individual vendor dashboard to every vendor. So, they can upload, manage, and sell their products satisfactorily.
The store customization process for vendors is the same as we've shown above for a vendor. From the frontend dashboard, a vendor can easily set up his/her shop.
Outlook of a vendor store on your t-shirt marketplace-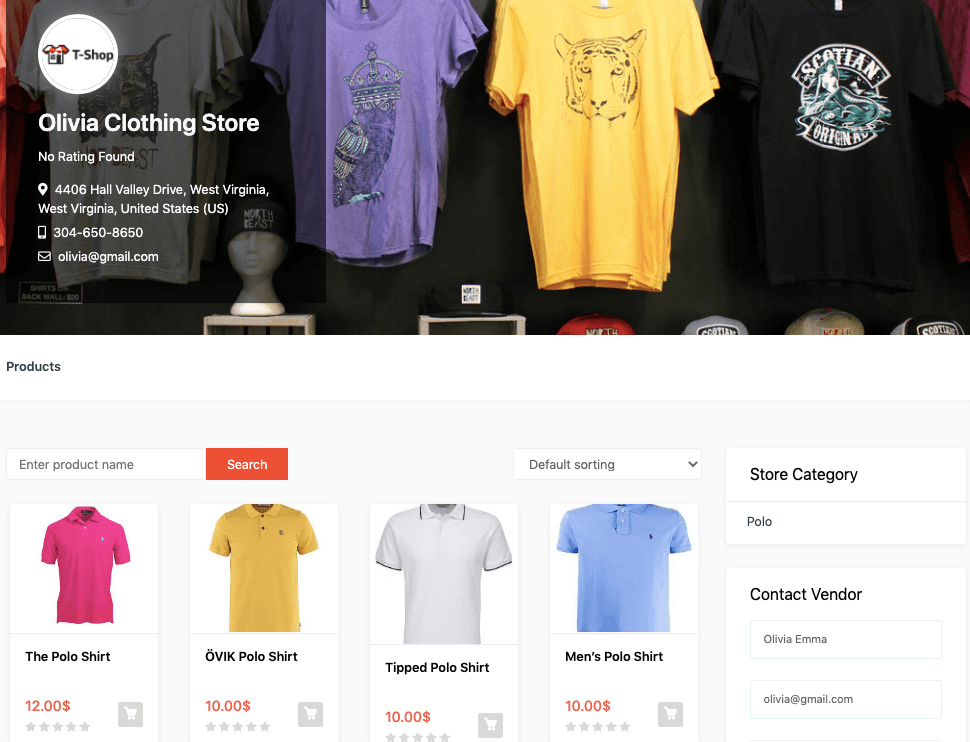 However, getting vendors on your marketplace could be a tricky job. You can send invitations to your vendor community and promote your marketplace. It's also an effective idea to offer incentives for early registered vendors.
Read more: How to Find and Convince Vendors for Your Multivendor Marketplace.
Step 6: Optimize Your Marketplace with Dokan Advanced Features
Dokan lite comes with all the essential elements to run a basic t-shirt marketplace. It enables you to –
Build an innovative t-shirt marketplace
Allow vendors to sell products on your shop
Monitor all the marketplace activities right from your dashboard
Ensure smooth customer experience like smooth communication, shipping, etc
Manage all the legal issues like tax, terms & conditions, and others
As your marketplace is growing big and a large number of vendors are enrolling, you may need to upgrade your marketplace to the next level.
Dokan Premium Modules for Further Configurations
Dokan has 35+ modules to enhance its functionalities for its users. Below we'll find the Dokan modules you'll especially need for your t-shirt marketplace.
Dokan Product Addon: This module will help you to add additional items to your t-shirts and be billed separately for those items.
Here, we've added a cap and sunglass as add-ons to the main item. This option will encourage customers to order more products which results in more revenue.
Learn how to create product add-ons.
Return and Warranty Request: Usually, eCommerce stores offer a 15 to 30-day window in which customers can return a product and ask for a refund. This system is provenly effective to make your business trustable.
Dokan refund request helps you to manage refund requests as an admin. It also allows vendors to apply for refunds. Utilize this feature on your site so if any customer gets the wrong t-shirt can easily ask for an exchange or refund.
Check the refund calculations for Dokan admin commission & vendor revenue.
Dokan Product Advertising: Letting your vendors promote their special products boosts sales on your marketplace. Using Product Advertising, enable your vendors to showcase their best seller or exclusive t-shirt items in a site-wide, customizable advertisement.
Dokan Wholesale Products: You can allow your vendors to sell products in a bulk wholesale quantity. Dokan Wholesale lets your vendors set the wholesale price and quantity individually for their wholesale customers.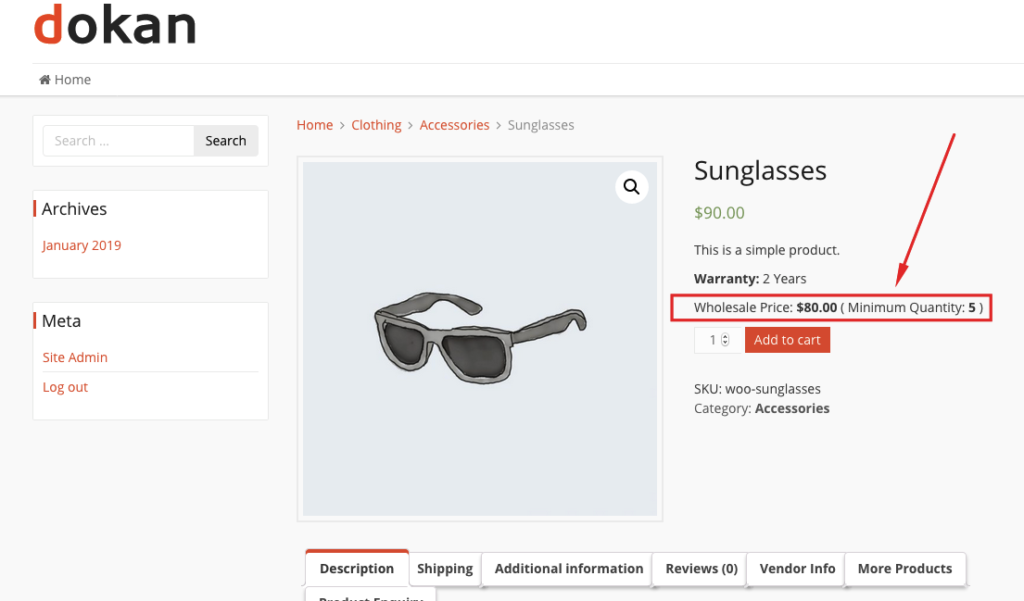 Learn how to set the wholesale price and quantity for your customers.
Multiple Payment Gateways: Typically, people shop online to experience a faster process with minimal effort. By adding multiple payment gateways you can cover a wide range of customers. And if a customer finds their preferred payment system on any eCommerce site, it accelerates their shopping process.
Dokan includes several payment options on your t-shirt marketplace such as MANGOPAY, Razorpay, PayPal, and others. It's undoubtedly a driving fact to choose Dokan to build your t-shirt marketplace.
Last but Not the Least, Promote Your Marketplace
Congratulations! You've successfully designed your t-shirt marketplace with Dokan. Though it requires several steps to complete, don't be scared. Keep this guide in front of your eyes and follow every step carefully during creating the site.
Check your all vendor stores by visiting the store listing. Customers can also see the store list to visit their desired vendors.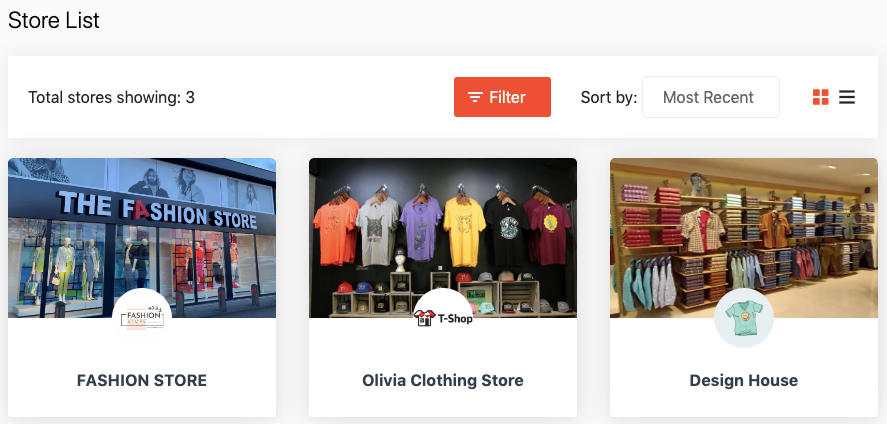 However, to ensure a smooth user experience and keep your site safe, install some essential tools like SEO plugins, security plugins, caching plugins, etc.
It's time to get more vendors and customers on your site. Let's make your marketplace popular with actionable eCommerce SEO tips. It makes your site more visible on search engines which creates a strong brand identity. In turn, your business will witness steady growth eventually.
Use the holiday season to get an exceptional hike in your profit margin.
Related link: Most Effective E-commerce Store Optimization Tips for the Holidays.
Why Choose Dokan to Build Your T-shirt Marketplace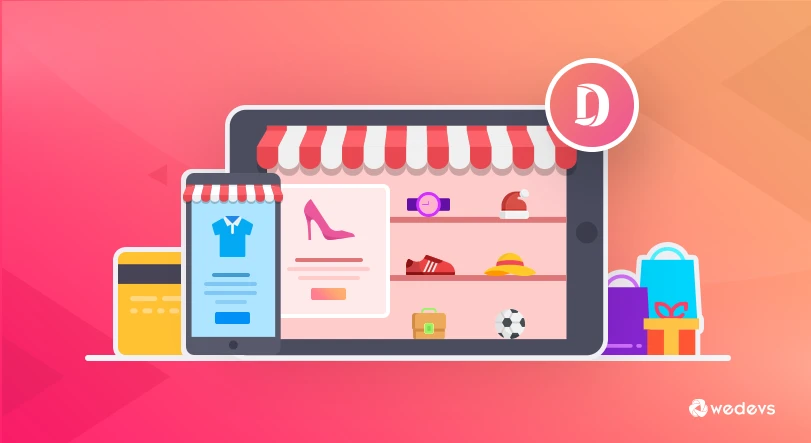 Dokan is a specially designed plugin to build a marketplace with ease. It stacks all the exclusive functionalities to simplify your marketplace development process. Using Dokan, you can create a multivendor eCommerce platform with the least effort possible. It allows unlimited fashion brands and retailers to sell their products on your marketplace. Also, setting up an organized delivery channel and review system is very simple inside Dokan.
Some other dedicated fashion marketplace features of Dokan are-
Lets you add multiple colors, sizes, and other variations for t-shirts
Allows unlimited vendors to sign up & sell their products from your marketplace
Includes several sorting & displaying options like bestsellers, newly arrived, etc.
Establishes a seamless refund & warranty system for both sellers & buyers
Supports multiple commission systems like flat, percentage, or combined
Check other marketplaces with Dokan-
Bonus: T-Shirt Marketing Strategies for Your Marketplace
Creating an amazing marketplace with advanced features is not enough to be a successful entrepreneur. You have to tell people about your platform. As a marketplace owner, your challenge will be double. You need to convince both vendors and customers to register on your site.
There are several ways to make your shop popular. Here we've listed 5 proven marketing tricks to promote your t-shirt marketplace-
Research Your Target Audience
Set your goal first and decide which type of vendors you want to enroll on your site. Also, determine your customer base mostly dictated by age, gender, income, location, and interests. If you're just about to open your shop, a deep competitor analysis may help you to find your target audience. You can use this information to execute every marketing plan and strategy. Once your business starts running, connect your shop to Google Analytics to monitor your store visitors and track their activities.
Create a Blog Site & Publish Helpful Content
A blog is an effective marketing and SEO tool for ecommerce sites. You can take it as a medium to tell people about your brand and products. Also, help your customers with related queries. For the t-shirt marketplace, you can include blogs on the latest fashion trend, how to measure t-shirt size, popular t-shirt brands, how to properly take care of polo t-shirts, etc. Also, you can use this platform to share your business activities. It would be useful to increase your brand authenticity as well as online visibility.
Struggling to select blog topics for your eCommerce site? Learn how to research blog topics for your website.
Harness the Power of Social Media
Nowadays social media works as a powerful tool to spread your brand voice. Join related fashion groups and forums to reach your target audience. But don't promote your marketplace at the beginning. First, try to create personal bonds with group members and establish your authority. Then eventually tell them about your exclusive services.
Offer Special Deals or Discounts
Special offers and discounts boost your store reach. Design individual offers for both your vendors and customers to drive their attention. For example, keep the commission rate lower for the first 10 vendors sign up on your t-shirt marketplace. Alternatively, you can offer free shipping for the first 100 customers. Another marketing strategy is to run a social media contest on special occasions.
Read more: How To Write a Discount Offer that Converts (7 Ways to Consider).
Promote Your T-shirt Marketplace Locally
If you're doing business locally, it's crucial to make your business visible on local Google searches. So, local people can easily find your site to purchase.
200%+ growth in mobile searches for "Open" + "now" + "near me" (for example, "restaurants near me open now," "stores open near me right now").
Read more about Local SEO Tips to attract more traffic to your e-commerce site.
Build Your Own T-shirt Marketplace with Proper Strategy & Generate Revenue
As the pandemic makes online shopping more significant, entrepreneurs are more likely to enter this business. The global eCommerce market is expected to reach $5.55 trillion in 2022. And this number is projected to grow in the next years.
On the other hand, the fashion industry is also booming in the last decade. Be a part of this profitable business by creating an online t-shirt marketplace.
However, running a multi-functional t-shirt marketplace can be tricky. Luckily, Dokan makes it easier with related features and front-end facilities.
There are a number of online retailers who are running their venture quite successfully using Dokan Multivendor. Read an inspiring online marketplace success story of SaunaShare.
Do you have any further queries on how to create a t-shirt marketplace? Do use the comment section below!