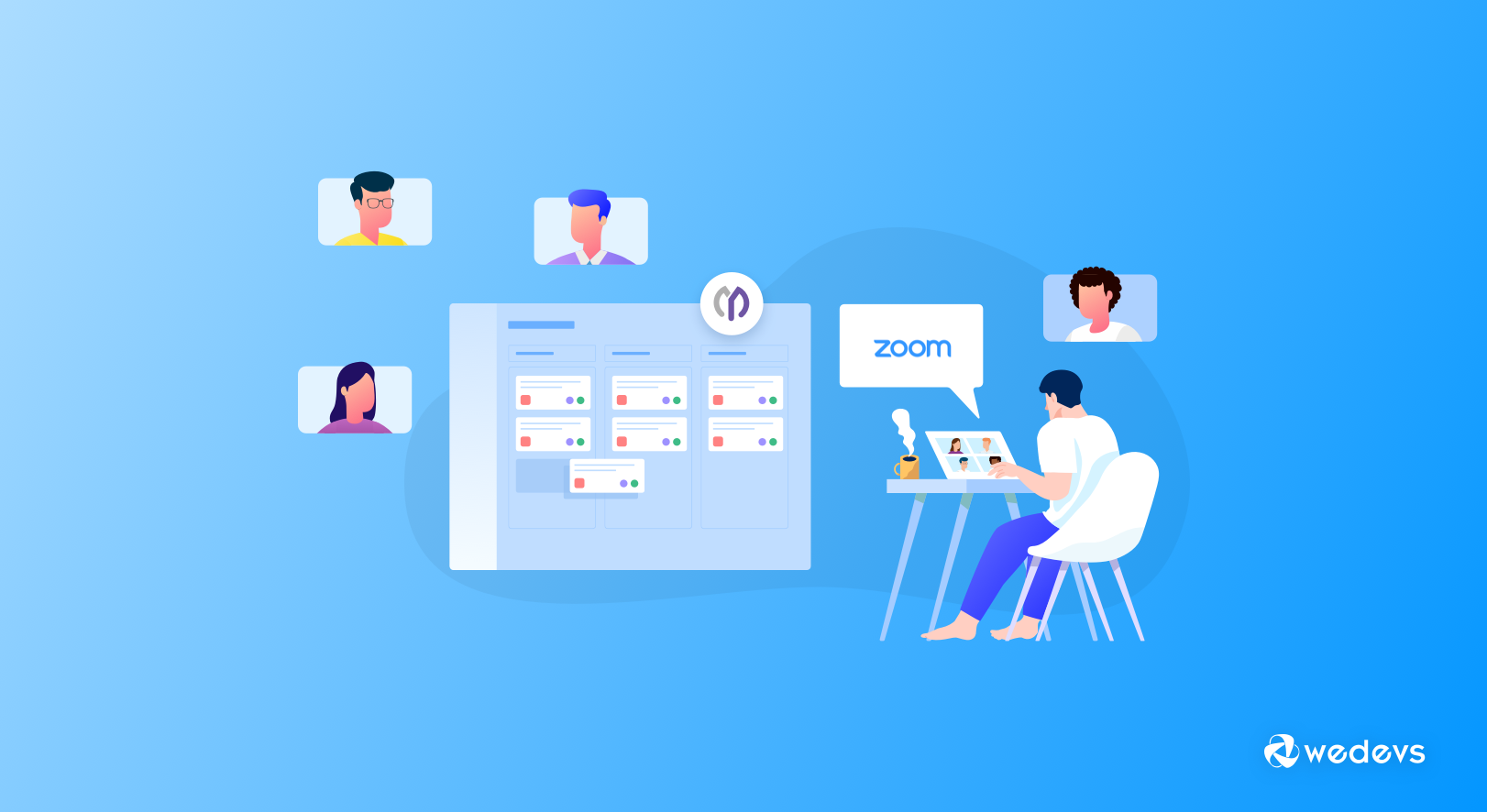 Manage Your Remote Team Smartly With WP Project Manager Pro & Zoom to Ensure Best Result
Say suddenly there is a dangerous human transmitted virus like the Covid-19 threatening mankind around the world and your gov't has immediately asked everything to remain closed until further notice.
But as a completely dedicated business person, you can't afford to shut your company just like that. So you have decided to run the full office remotely. But then you quickly realize that you have no idea how to manage a remote team at all.
In such a situation what do you do? How do you keep managing your team from home efficiently without hampering the overall business process of the company?
If this is the question that is hovering over your head then you are in luck, as today we have the perfect solution to not being able to manage a remote team.
Many businesses already have a full-time remote team to manage every day. So if you are looking for the answer to how to manage your remote team effectively then you may just want to keep reading. As of today, you will have all those answers and more right here. So let's get on with it, shall we?
Challenges To Expect While Trying To Manage A Remote Team
No doubt work from home in many businesses is now a lot more than just a trend. But the flexibility of remote work comes with a number of basic challenges that need proper addressing. Some of the common hurdles that a company might need to face and overcome while trying to manage their remote team include:
Regularly missing timely check-in to work
Communication gap among team members
Getting distracted by certain things at home
Lack of focus on the daily task-related activity
Employees expectation management
Not being able to bind the team together
Too much flexibility leads to inefficiency
Related Article: How To Improve Productivity Of A Team At Work Overcoming The Common Challenges
How to Manage A Remote Team With WP Project Manager Pro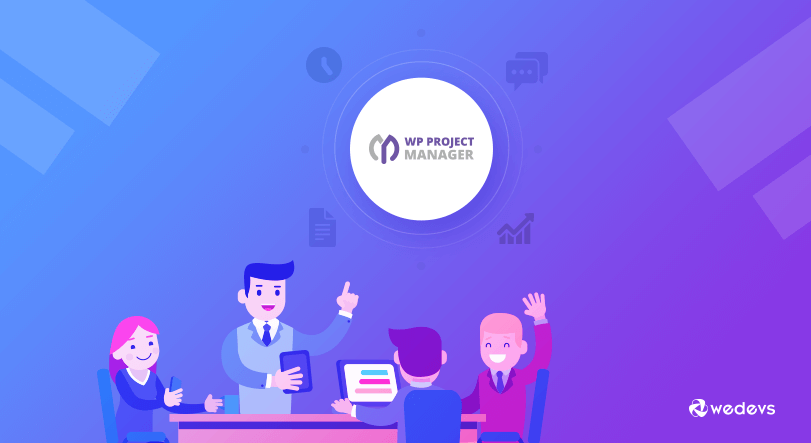 As a company owner what are the most important things that you expect from your remote team or from the employees whom you have asked to work remotely? Being efficient, punctual, maintaining deadlines, communications, etc. are just some of the elements that you would want them to be or provide. And there are other factors that would also need proper addressing while managing a remote team.
Simply failing to take care of these activities of your remote team may not just affect the overall performance of the team but in the long run, your company may suffer a substantial loss in terms of ROI or generating revenues.
So how should you operate it smartly to prevent it from hampering your business? Is there any standard project management guide that resolves this issue? What could possibly be your ultimate companion in this time of leading a remote team from outside? Well, the answer is the super-advanced all-in-one project management tool, WP Project Manager.
nd this is because the tool specifically fulfills & targets the major areas that are most vulnerable and needs proper care while managing a remote team. But how exactly can it be utilized in an efficient team working remotely? Well, it can ensure effective remote work in the following ways:
Advanced Individual Task & Project Management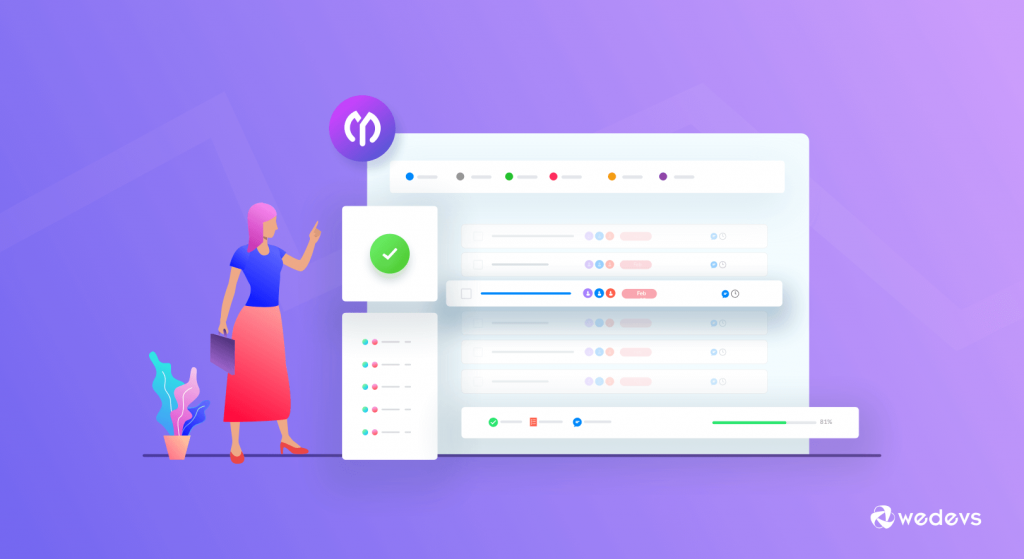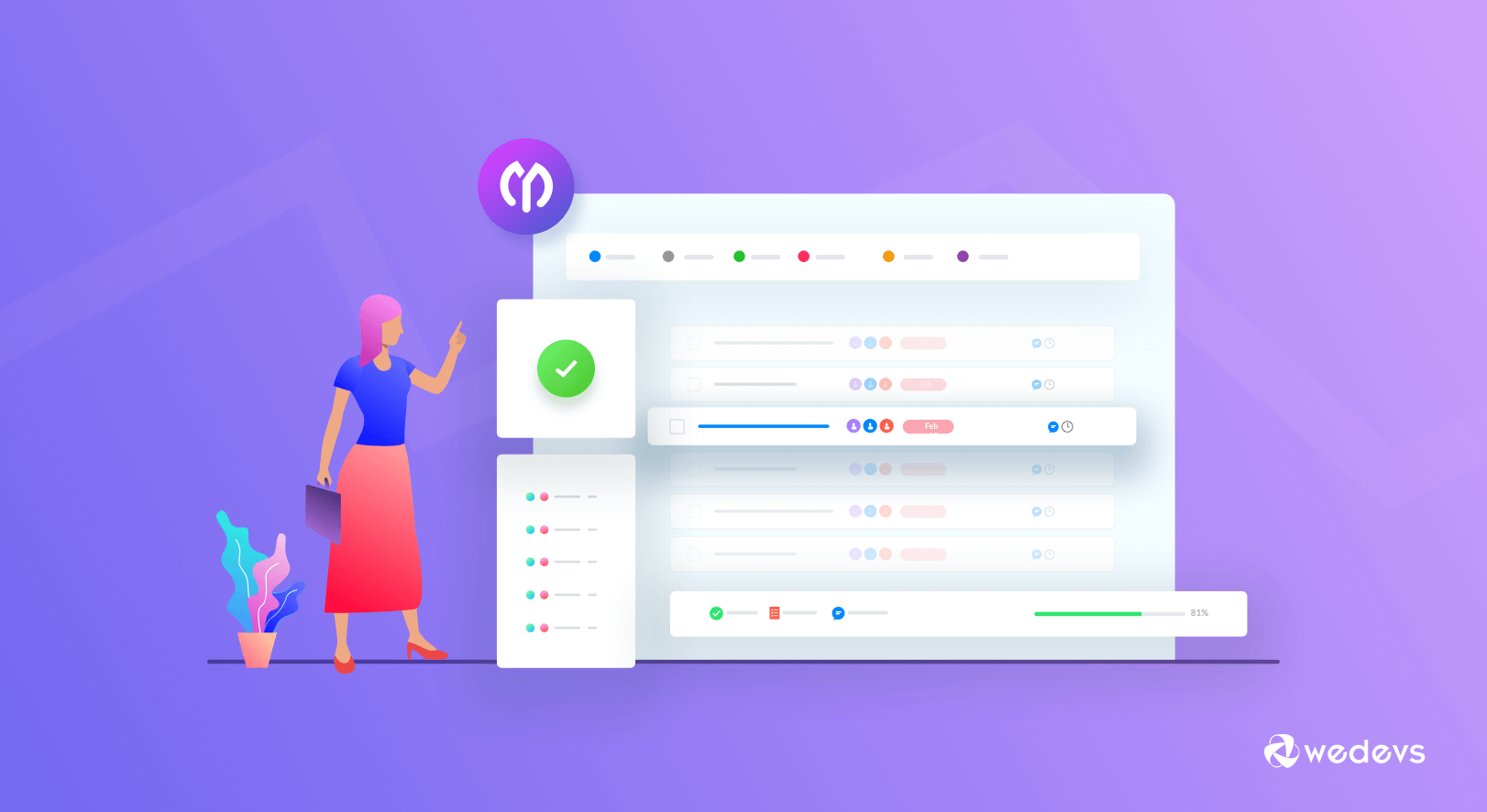 It is of great necessity and uses for any team working remotely to add and share their individual or group task that they are working on regularly with their team lead or other teammates.
And without a fitting platform to properly distribute, discuss, and document the task with other teammates may just make the whole task management and team collaboration process look disorganized and messy. For a remote team, this could eventually prove to be lethal having greater miscommunication and misjudgment of each other's task distribution.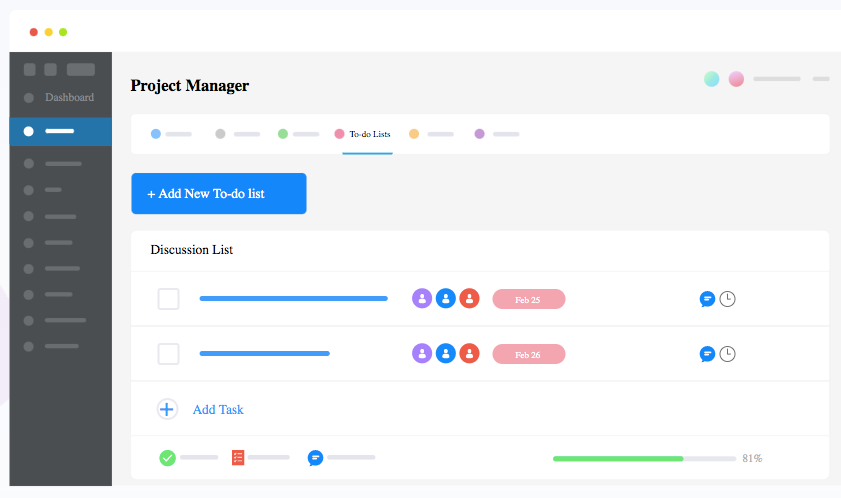 But with WP Project Manager, add & share unlimited subtask in projects or tasks with or for your remote team. Distribute and assign the task to the team or an individual co-worker tagging them in it. Since team discussion could be an essential thing in conducting a remote job, so, therefore, the assigned team will be able to discuss, post their opinion as a comment or share files through each created task sheet.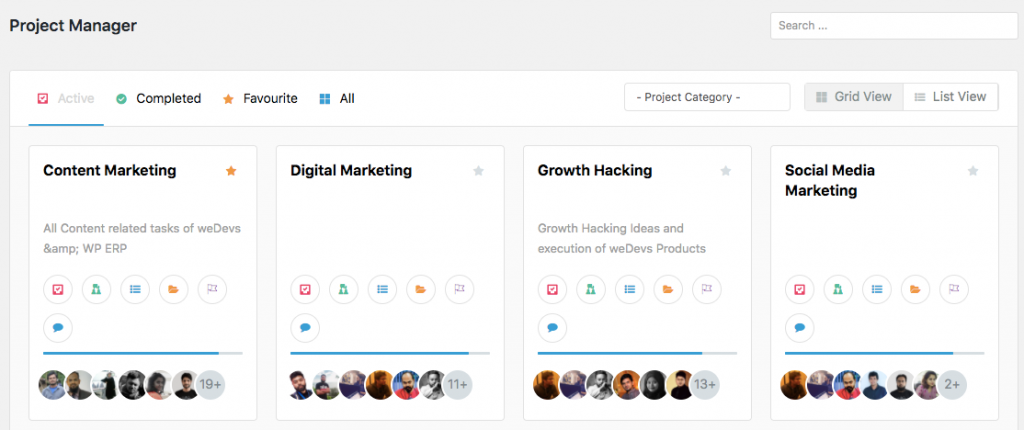 Get notified via email whenever any team member adds a new task, assigns them, or post comments in it so you never miss any updates while working remotely. Moreover, get to manage your files and documents efficiently in one place. Browse through each task list faster and navigate messages and tasks easily with just a single click. Indeed a productive way to manage your project when you have a remote team working for you.
Better Time & Deadline Management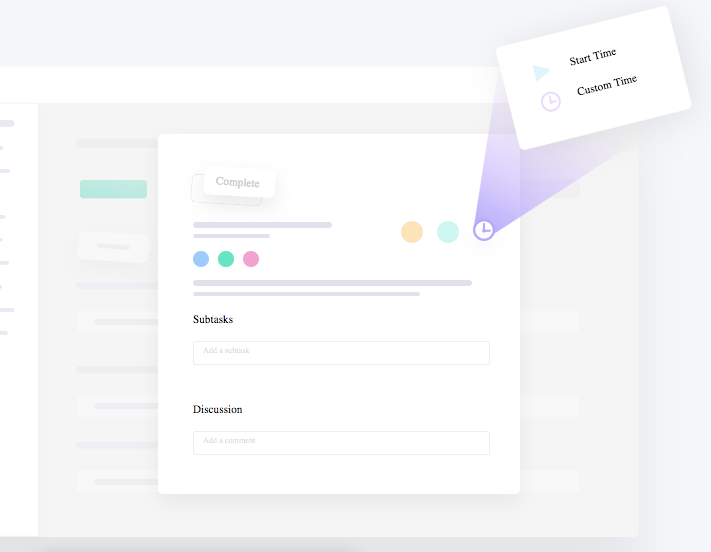 For any company, time management and meeting deadlines can be big issues while managing a remote team. Not being able to track each task time properly is one of the major reasons for many projects to fail in most companies. And it is not something anyone should take it lightly by any means if you are actually committed to meet deadlines.
Now when you use WP Project Manager Pro to manage your remote team then you get to track the time that a co-worker has taken on completing each task. The time tracker has the facility to keep each team member's log with start, stop, pause, and custom entry. Very handy when you need to pay your remote team hourly.
Also, based on the time that each remote worker is taking you will be able to judge the efficiency of all the employees. If he or she is lagging behind on time on completing every task every time then you can motivate them to do better next time. A very useful feature to turn your employee efficient and responsible by ensuring proper time management of each task.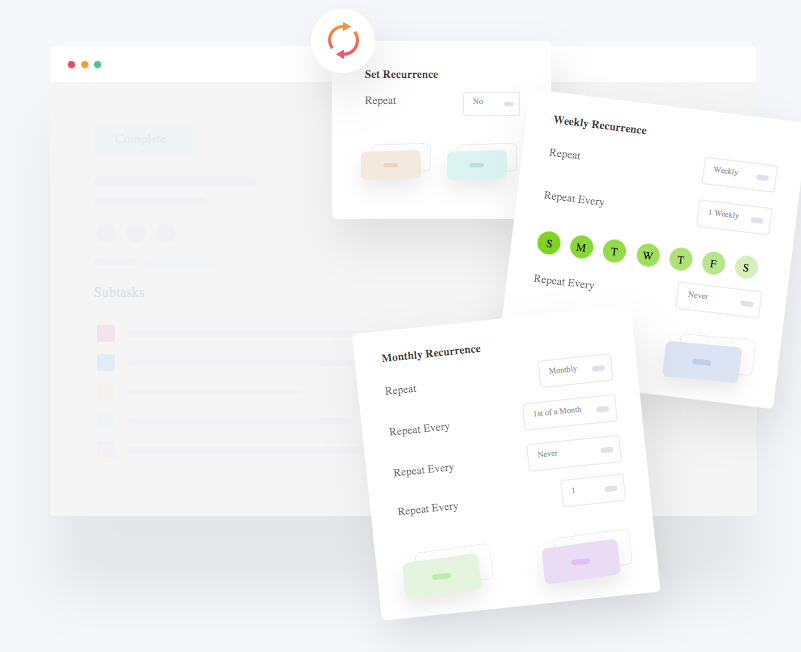 Also, time-saving elements like the task recurring feature can help create repetitive tasks automatically on your set parameters or patterns over a fixed period of time(weekly, monthly, or annually). Moreover, it even assigns the team member itself and automates the whole recurring process the way you want it.
Task Overview, Progress & Tracking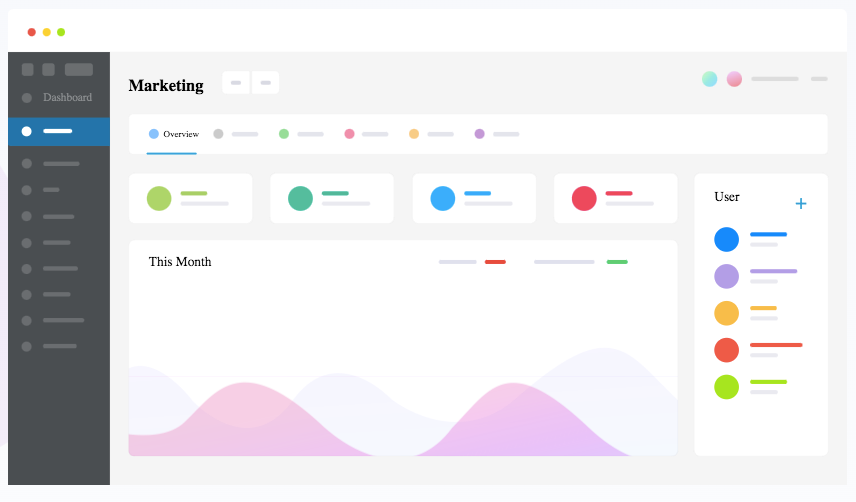 Get a complete overview of what the whole team is up to at one place or the project they are working on. This definitely helps a remote worker get a general idea of what is going on around him and within the team and how far he has gone with his project compared to others in the team.
So each employee gets a separate dashboard where they could look at all the activities at a glance the divided them into the form of active, completed, or assigned tasks. Find all your team members in a separate column working on their projects and set goals & milestones according to the progress from this personal dashboard for the team.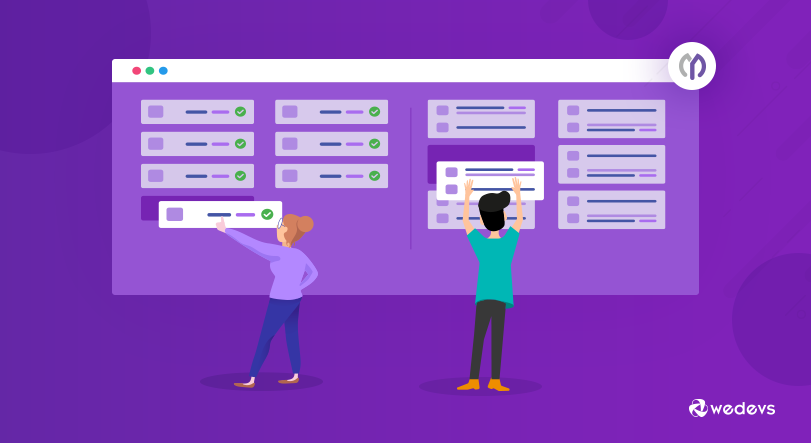 Also, when you are finding it difficult to keep track of each project of the remote team, then simply use the Kanban Board to automate the complete workflow and save time. Get to create separate boards and tasks to manage the workflow of your remote team in an organized way. Easily move around the task completed or the ones that are overdue onto the desired boards freely.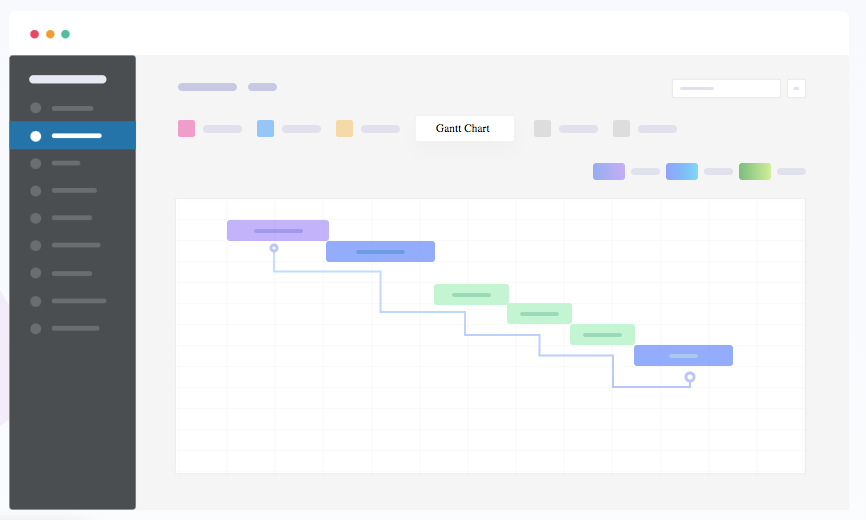 A sequential way of connecting the work process can prove to be fruitful when you have your team away from you. So there is a Gantt Chart extension in this project management tool that links up between each task of your team so that you can start them in a proper sequence.
Drag and drop each created task along with the deadline and find out the number of tasks and task lists that are contained in each project in a separate group column.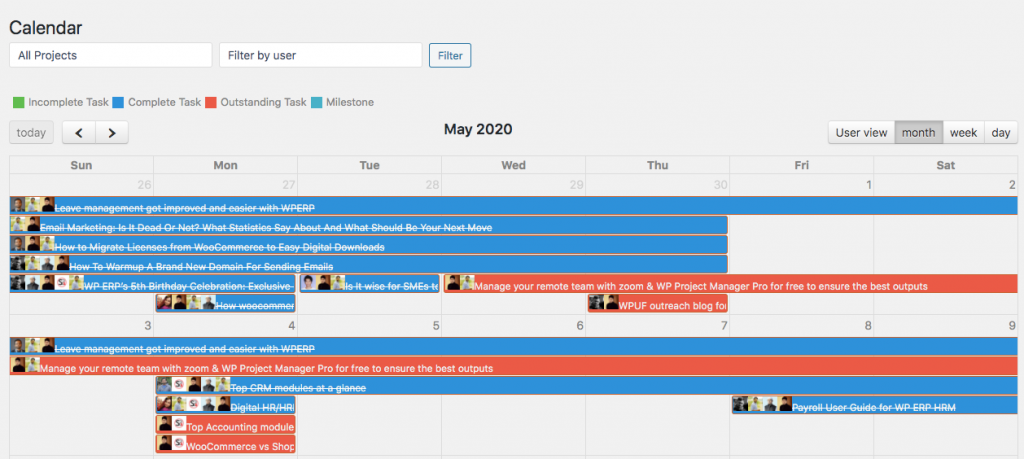 Get a complete idea of your remote team's task status from the in-built task progress indicating calendar. In the calendar, get a day/month-wise timeline view of every task of your team. Right from this calendar dashboard, you are even able to add and assign new tasks and set milestones including its deadline for the team members to achieve.
Not just that find out your desired tasks filtering them by projects or particular users for quicker access through it.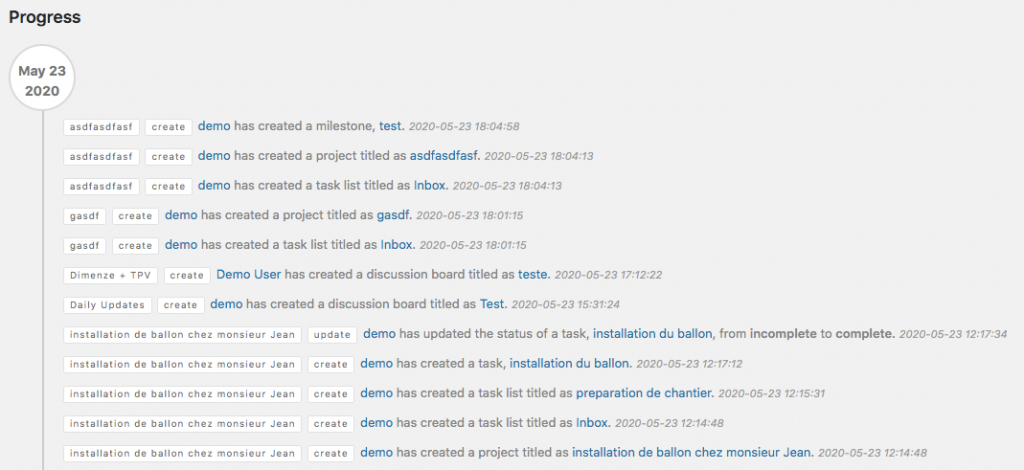 Whatever the activity of your remote team working from different places is, get a day-wise breakdown of each of their detailed activities in the progress tab of WP Project Manager. Be it any new task being added, assigned, comments, or updating the status of any project or task-list, you get every possible activity log detail at one place for your daily work progress review of the remote team.
Related Article: How To Track Project Smartly From A Project Tracking Dashboard For WordPress
Facilitating Secure Remote Team Work & Collaboration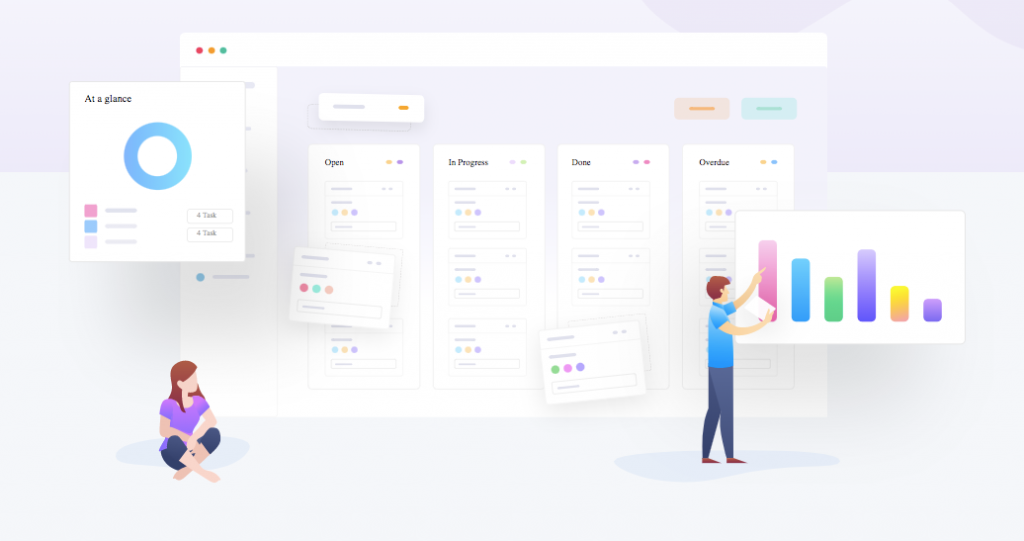 While looking after a remote team, a company needs to facilitate them with the best team control capacities and roles. You do not want to share everything with someone you hardly know. So, therefore maintaining a certain security and privacy setting based on member roles can prove to be essential in order to keep the team building & collaborative work process efficient, safe, and secured
So now with this project management tool, you will be able to customize the permission levels of each project and member roles controlling the task that they are able to see and manage. This indeed enables the user to have better and secured collaborative tasks ensuring solid privacy and security of the projects that you have assigned & permitted them to work on.
Insightful Advanced Reporting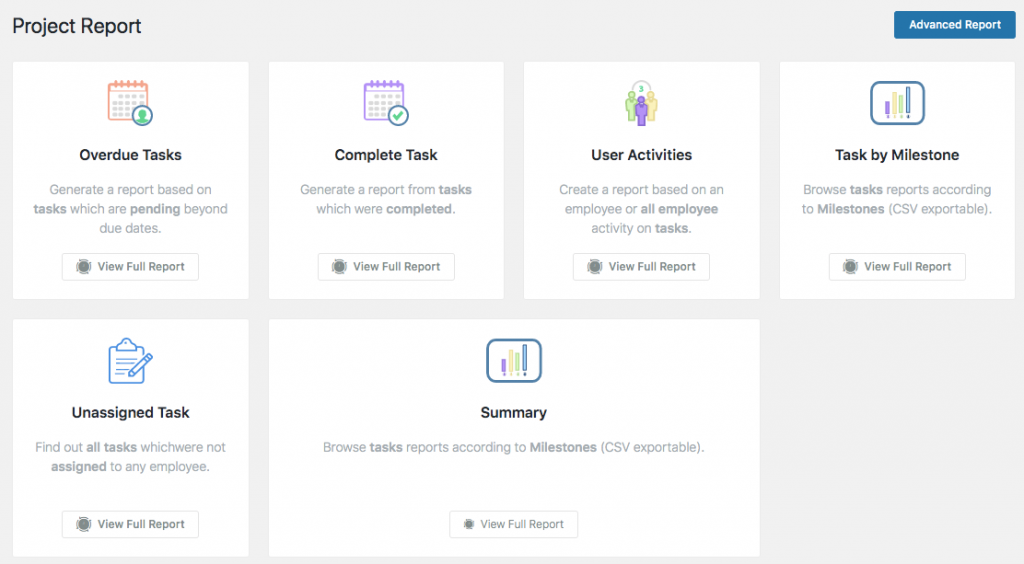 To find out how each of your remote team members is doing in their task or has done in the recent past, you require data-driven reports. This helps companies to realize the efficiency and productivity of each remote member who are working for you.
So that if you want to promote someone then you could simply analyze those reports and judge other relevant performance records to do it. Hence being able to derive useful tasks and employee-related reports is definitely something you would need while managing a remote team.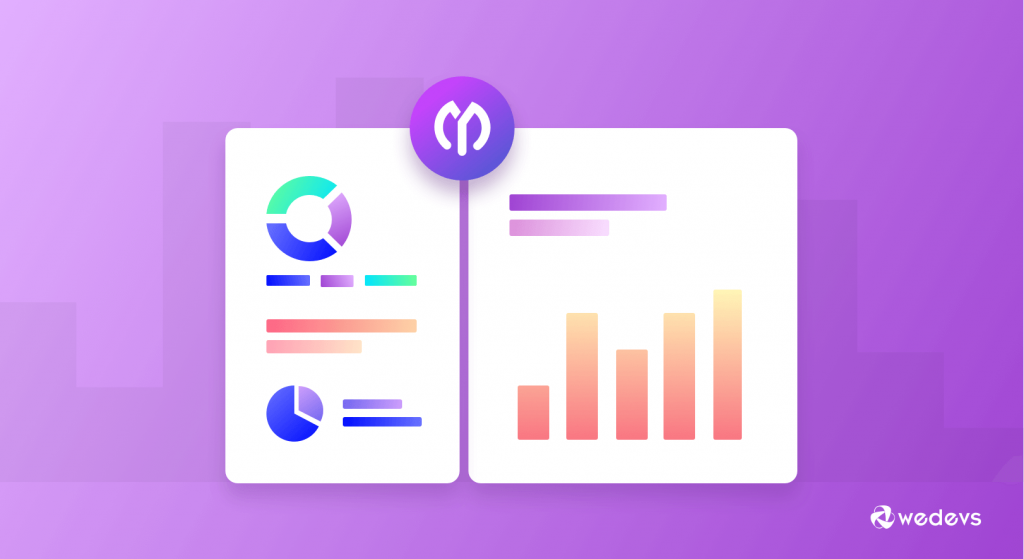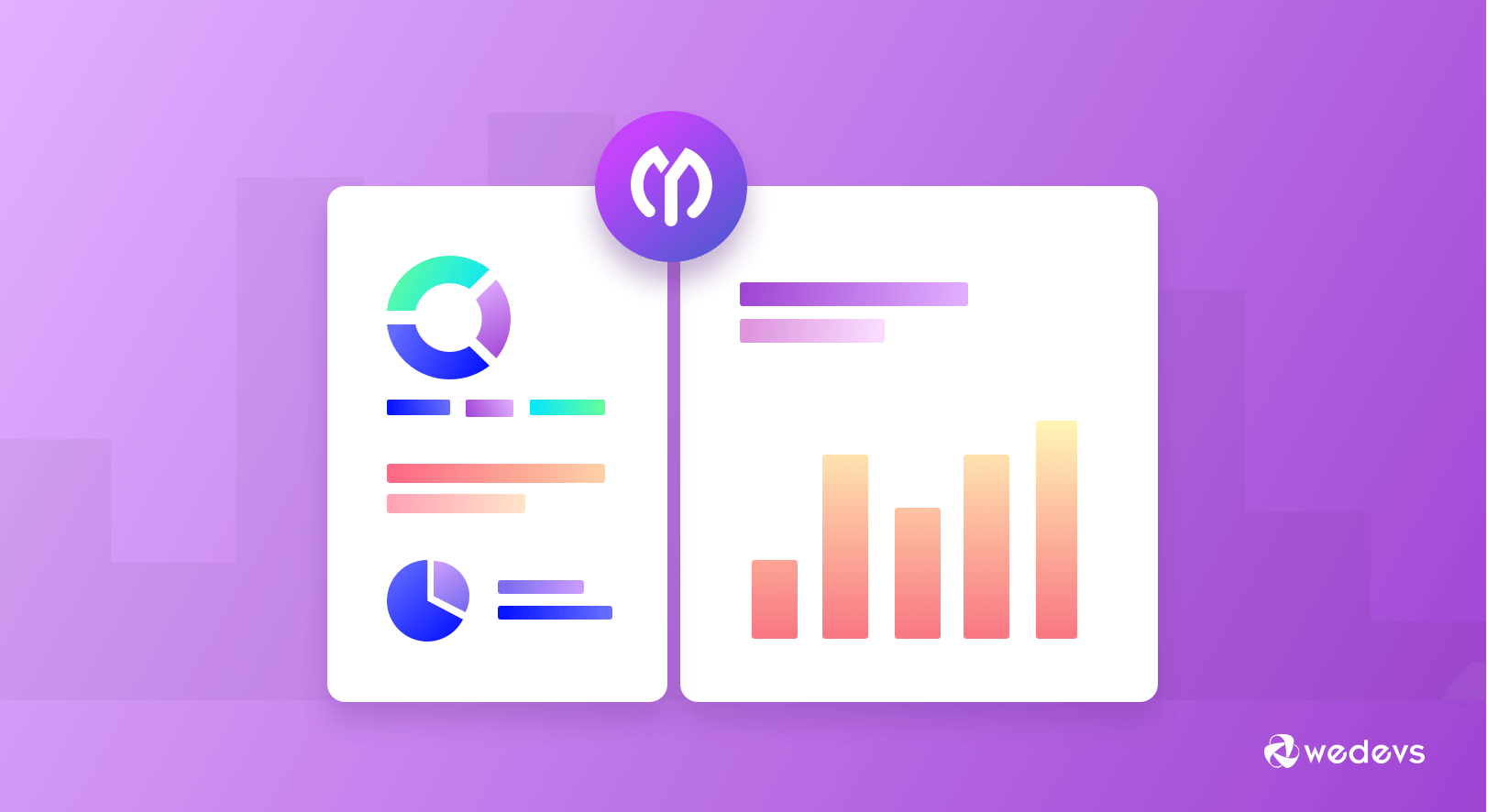 So with this plugin for efficient project management, one can easily view their full task and project-related reports with just a simple click. Get a complete report based on your pending task, tasks completed, user activities, tasks assigned with milestones, unassigned tasks, and a comprehensive summary report of the whole project.
Moreover, an advanced report can also be generated based on the project, user, task status, time range, and payable. You simply got to get to the Advanced Report section in the top right corner and pick the category for which you are looking to create an advanced report. And automatically your requested report will spread on your screen. Quite easy isn't it?
Extended Feature-rich Premium Modules
In order to enjoy some of the features discussed above, you and your remote team would need to pick the right WP Project Manager plan. These added features are placed in the plugin as extended premium modules and are only available in certain plans divided into Personal, Professional & Business packs. And then there is a free version to download as well with all the basic features.
So be sure to get a suitable plan as per your team's needs. You can learn more about what's included in each plan from its pricing details.
Now let's quickly get introduced with its premium extensions that will be responsible to boost your overall remote team management. Some of the benefits of modules are already explained above for a remote team. And now, here is the full list of the available modules:
Gantt Chart: Visualize all tasks on one page with online project management Gantt Chart.
Sub Task: This module helps you to make sub-tasks and enables you to keep track of every detail.
WooCommerce Order: Easy automation of task assigning and project creation as soon as any order is placed or booking is made.
Kanban Board: Just like Trello, view all the tasks of a project and organize them on different boards according to their status.
Invoice: Easily enable the user to create invoices and automatically collect a payment within projects.
Recurring Task: Set a fixed time to automatically generate the routine tasks that you do regularly or repeatedly to avoid the hassle of adding them manually every time.
Time Tracker: Helps you to track and monitor the exact time that you have spent on a particular project.
Stripe Gateway: Enables your client to easily pay through this popular payment gateway.
BuddyPress: Create, assign, and manage projects department-wise to unlock some powerful task organizing methods.
Remote team or not, surely the powerful features, modules, and integrations that WP Project Manager possesses, one can clearly identify it as a power-packed web-based project management solution that has all the potentiality to boosts productivity for any team. Be it your marketing team, content team, support team, developer team, or creative team, it is definitely the tool that can rise up to the occasion of every team in need. And if you haven't chosen it for your team yet then you are certainly missing out on something really special.
What Else Do You Need To Manage a Remote Team Efficiently?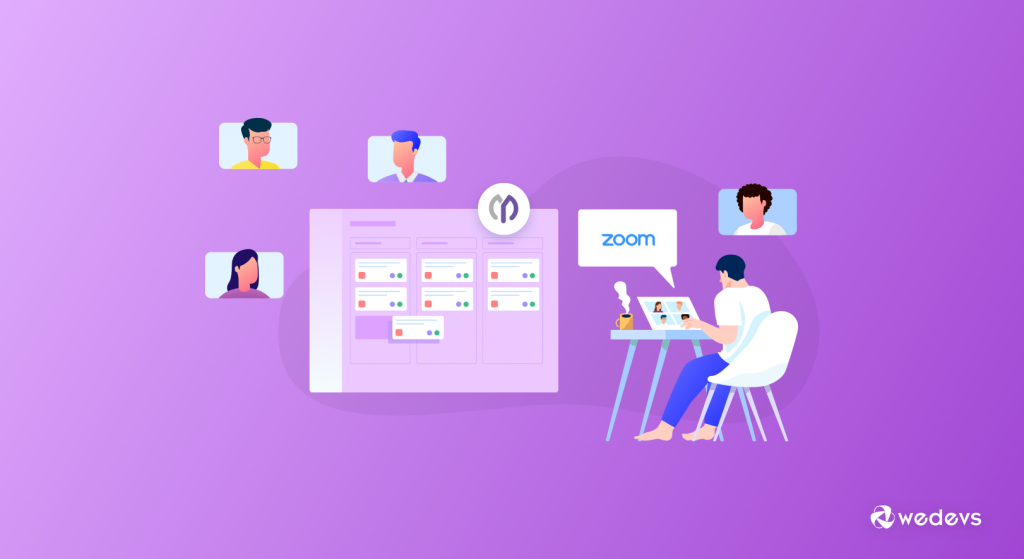 How can managing a remote team efficiently be complete without being able to attend online meetings, discussions, knowledge sharing sessions? Now, these are some of the imperative areas that may decide how productively and progressively your remote team is accomplishing the task that they are given.
So in order to conduct fruitful regular online meetings to instruct & acknowledge the progress of your team, a video meeting is a must. And the popular web conferencing tool Zoom can be your ultimate savior in this regard. But again the same question may arise that how exactly it would help you to manage a remote team efficiently?
Well, here is how Zoom's application across your company further compliments the task management practice with WP Project Manager to keep the team always connected with each other.
Video Conferencing Solution Across Various Workspaces & Devices
Undisrupted Video Meeting & Messaging
Anyone can join in video meetings with their remote team working in any workspace from anywhere across any device with the Zoom meeting facility. More essentially anyone present in the meeting can share real-time content and messages.
Some of its exclusive features that help boost the performance and engagement of a remote team's video meetings include:
Support up to 1000 remote participants in HD video & audio.
Simultaneous screen sharing option for multiple remote participants to share innovative ideas and knowledge.
Secured & password-protected for an extra layer of security for the remote team in video meetings. You can place the attendee on hold or hold them in waiting before letting them enter the video meeting.
Get to record the full meetings and download it on your hard disk or simply retrieve it from the cloud with searchable transcripts. Very handy for the remote teams to remember any important details or points discussed in the meeting.
Any remote team working anywhere in the world can join meetings via any desktop or mobile device. Zoom meetings can easily sync with several calendar systems and provide a high-quality video conferencing experience on any popular platform or device.
Enables group chats with the remote team with an integrated file and content sharing facility ensuring productive one-on-one or group calls.
Dedicated Conference Rooms
Tap on a single button to join the conference call with your remote team within a room with Zoom Rooms video meeting service. There are a number of challenges that you need to go through while trying to set up a conference room for a remote team. But this problem has been taken care of after the introduction of the Zoom Room setup drill. These personalized quick meeting starter Rooms of Zoom is beneficial for a remote team in the following ways:
One-touch booking & setting up a video meeting & sharing content wirelessly in a single click in your room.
Concurrently share multiple desktops within the room or people on the network.
Open multiple whiteboards at a time to take interactive sessions for the remote team & save it for later discussions.
The meeting room setup is optimized based on its type, dimension, and size
Provides enterprise standard room management and IT support at minimal setup cost.
Centralized Cloud Phone System
In case your remote team needs one single platform to switch between your meetings, chats, messages, call without needing the participants to hangup or dial into a different conference bridge, the Zoom Phone service allows the remote team to seamlessly make & receive calls, attend in video conferences, distribute content and send messages directly from the Zoom mobile and desktop apps. Cool features of Zoom phone that help to manage a remote more efficiently are:
Quick and efficient connectivity of calls with auto-attendants & intelligent call routing system.
Integrations with popular tools like Salesforce.com, Microsoft Office 365, and Google G-Suite essentially improve remote team productivity.
Power up the capabilities of the Zoom phone cloud PBX service by keeping the current phone carrier of the remote team.
Record any calls or enable voicemail service to listen to them later from any mobile device, desk phone, desktop PC.
High definition voice calling service with a secure communication system for the remote team.
Comprehensive quality overview dashboard of Zoom phone with a call detailed report to evaluate its performance for troubleshooting to resolve relevant issues.
Video Webinars solution
Whether you are working remotely from home or away from it, hosting, or needing to attend webinars to talk about different brands, businesses around the globe is a trend nowadays. And the Zoom on-demand live hosting solution enables anyone to host virtual webinars events for marketing, training, corporate communications etc.
Now easily share your story among thousands of business individuals or video participants joining from everywhere in the world. The registration process is as easy as a pie and it enables the presenters to host the show with confidence allowing attendees to join from their PC, Mobiles, or other portable devices with interactive capabilities.
And here are the Zoom Video Webinars features that are helpful while hosting online video events with your remote team.
On-demand live webinar hosting with auto-generated transcripts and full recording facilities.
View hosted webinar attendees and registrants report and analyze analytics of polls, Q/A sessions, engagement of participants in the event.
HD quality video and audio support for the audience to interact with panelists or guests during the whole event.
Stream the complete webinar-hosted event live across social channels like Facebook Live, YouTube Live, and custom service integrations.
Enhanced engagement options provided with high-quality audio and video facilities to promote attendees to panelists or introduce each other.
If required get assistance for completely hosting and planning large-scale Webinar events from the expert team of Zoom.
We at Zoom feel incredibly privileged to be in a position to help you stay connected. And we understand we have the immense responsibility to ensure that the safety, privacy, and security of our platform is worthy of the trust you all have put in us.

Zoom Team
Virtual Video Event Solution For All Industry Need
For any remote team working in any business or independent organization, frictionless, secure & undisrupted video communications definitely helps them improve their productivity. And the video event solution that Zoom is providing is designed to ensure all of that. Not confined to any particular industry, Zoom presents with professional high-end services for initiating & conducting video communications for the remote teams of:
Business Firms
Make the virtual interviews eventful reducing travel cost for recruiting or compliance training. Boost the productivity of your remote team utilizing the resources and hardware that the company already holds. With real-time video, communications improve customer satisfaction and ensure more engagement even with having long-distance virtual business meetings.
Educational Institutes
Set up powerful virtual classrooms for students all around the cities & world. Super useful in case of taking online classes by teachers that include disruption-free and secured platform settings for virtual classes. Be able to properly utilize the available school resources and improve the outcomes of students learning online by setting up an interactive & hybrid virtual classroom for them.
Healthcare service
Ensure the best collaboration of active healthcare units through proper video conferencing providing telehealth support and more. The solution includes reliable telehealth services with high-quality video support even in low bandwidth. It seamlessly integrates with the technology of organizations and the environment and keeps remote healthcare teams connected with their patients around the globe.
Government Offices
Expands the facility of government services with Zoom's secured and reliable video conferencing solution. Even in an environment with low bandwidth, the solution renders with top-quality video meetings with the government department and personnel working remotely. Moreover, the service essentially improves efficiency minimizing the cost while it boosts team collaboration extending the services of the government for the citizen.
Guess it is quite obvious now why Zoom is the ultimate web conferencing tool to manage any type of remote team efficiently. The solution clearly has the reputation of ensuring consistency in all use cases of the enterprise's video meetings experience. Its pricing is also very flexible yet affordable. All in all an easy-to-use, scalable virtual video event application solution highly optimized and designed to execute all types of video meetups reliably.
Ensure Efficient Remote Team Collaboration With the Right Tool
Whether you are bound by some epidemic or your company naturally needs to maintain a team working from home, you will always need to make sure that your remote team is working efficiently to ensure maximum output from the project that they are working on.
When you realize what kind of team you are dealing with, the work of managing that team becomes easier than your expectation. But if you cannot figure out what your team is expecting from the company and what they are lacking then it becomes extremely difficult to manage any team let alone a remote team working from home.
Many companies follow a checklist before getting the right project management software. But to always maintain a strong form of work process & constant communication among your remote team to ensure there aren't any lackings and that the whole team is on the same page, you will always be fascinated by a tool as essential and effective as WP Project Manager & Zoom.
As you can assume from the discussion of its features above, with the right utilization of the project management and online video conferencing tool, you will always be able to manage any remote team the way you want it.
Still, wondering what else can you do with this wonderful automated project management solution? Then you may want to experience it yourself.
Are you already managing your remote team successfully? Then share your experience of how you have managed to do so in the comments below. You never know your story might just inspire many others in a positive way while trying to manage their remote team.