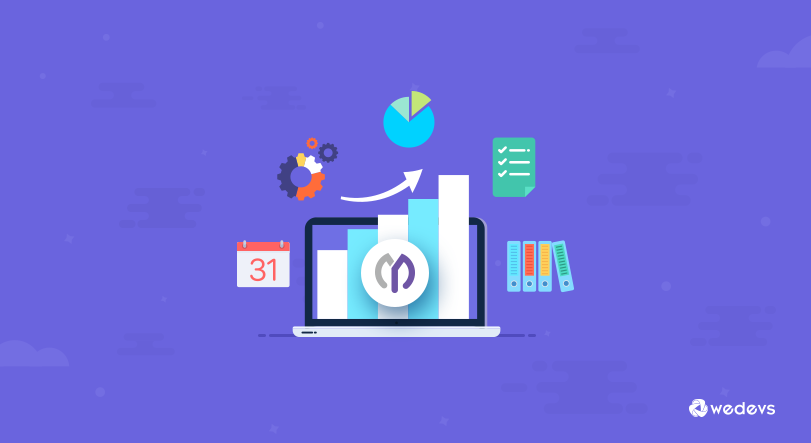 New Gantt Chart Extension Gives WP Project Manager A Transformation
Are you of the many who are intimidated by Gantt Charts because of the way they look and are usually presented? It looks complicated and difficult to comprehend. Right? Well not always. Gantt Chart for project management is a must and once you get a hand on it, you wouldn't want to leave it.
So what is a Gantt Chart?
Gantt Charts are well used and popularly known as planners and schedulers of individual and team tasks. It shows activities against time. They are essential tools of management.
A Gantt Chart typically shows what the various activities are, when each activity begins and ends, how long each activity is scheduled to last, where activities overlap with other activities, and by how much, the start and end date of the whole project.
In essence, a Gantt Chart shows you the amount of work completed in relation to the time originally planned for that project.
WP Project Manager is one of the very few WordPress plugins ideal for project management. It takes care of all your project management needs comprehensively and at the same time it's intuitive and easy to understand for anyone. It's not just a software that bombards you with a lot of features that confuses you, but it gives you exactly what you need for your company's needs. WP Project is completely customizable because it's Open Source and you can even self-host it in your server.
WP Project manager comes with a number of good extensions, like Gantt Chart, Kanban board, Time Tracker, Invoice, Subtasks and more.
Here we will be introducing this WordPress Gantt Chart Plugin to our readers and its unique features.
Ensure A Well-Scheduled Project with the Best Gantt Chart Plugin for WordPress
With WP Project Manager create projects easily. The color codes and the box-like overviews, as shown below, give a good summary of your projects. On a single page, you can see how many tasks are in the task list, the discussions, comments, milestones and the files uploaded for that project.
And if your project needs to be tightly scheduled, Gantt Chart is the perfect method to make sure everything is done right on time and you never miss another deadline again!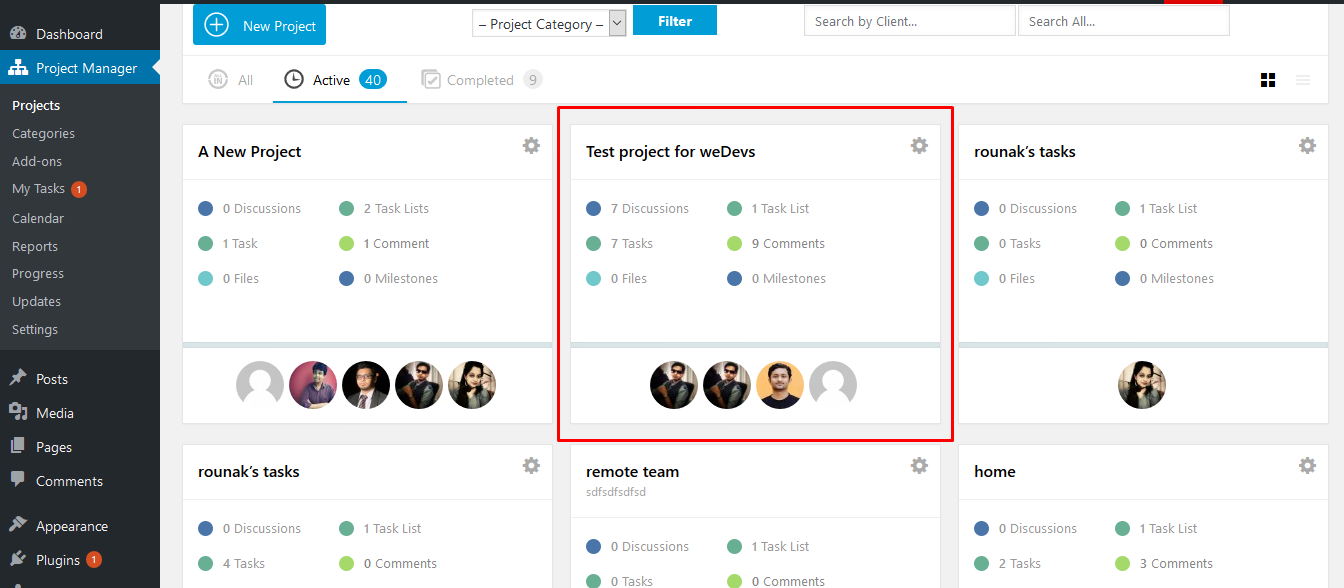 Visual Overview of Gantt Chart for WP Project Manager
Gantt Chart for WP Project Manager is a type of bar chart that illustrates a project schedule. It gives you a bird's eye view of all the tasks of your project, what's their schedule and progress.
Gantt Chart is one of the many tabs that you will come across when you open your WP Project Manager. Want something that makes handling projects easy?
As you can see, Gantt Chart for WP Project Manager has a colourful display and is visually appealing which makes it easy on the user's eye.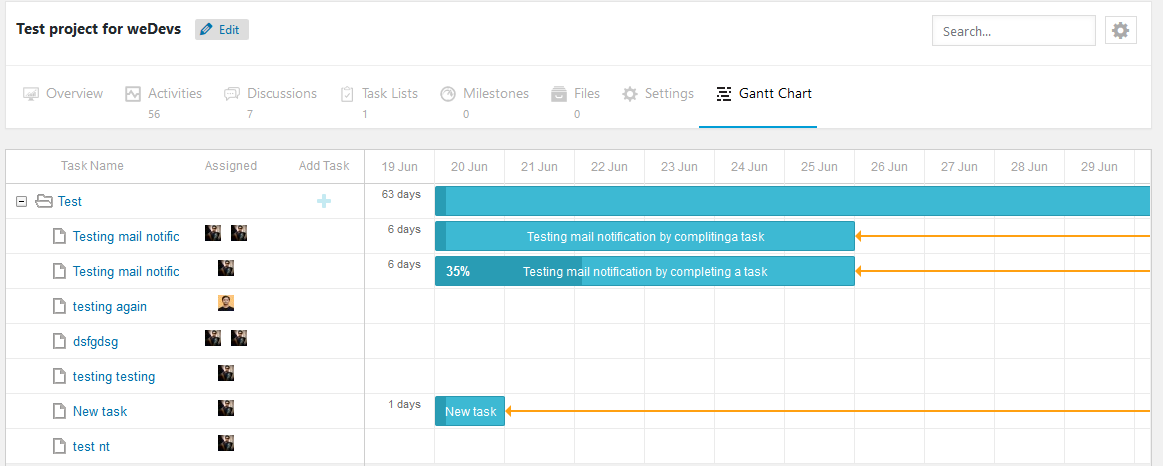 Gantt Chart will show you a visual overview of all of your current tasks, when they started, when they are due, and how much of that task has been completed. You can quickly take a look at your Gantt Chart and have an overview of your project's current standing.
Have your entire team organized
With Gantt Charts, have your teams' tasks for each project organized seamlessly. You will be able to view every member assigned to a task and to subtasks.
This means you don't have to manually check who is assigned for which task and how much the assignee has progressed. Thus, you are able to check actual progress against the planned time.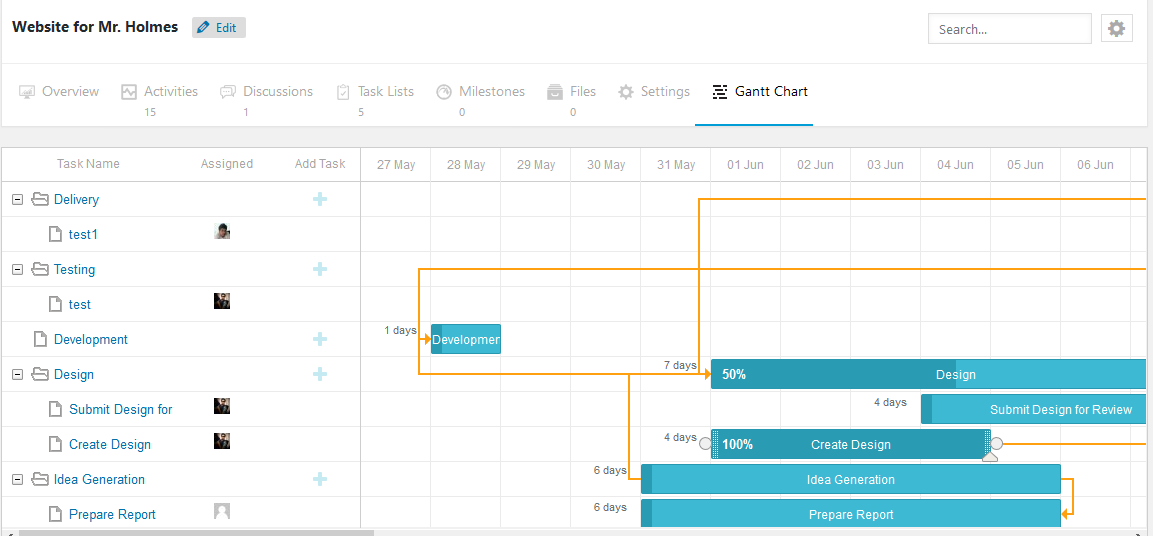 An Interactive Interface
Gantt Chart for WP Project Manager doesn't just show you task schedules and progress, it's actually interactive! That means you can move any task from one day to another, lengthen a project's schedule, and even show how much of the task is completed. This makes the user interface friendly and easy-to-use.
Co-workers can update the Gantt Chart (their assigned tasks) which will reflect on everywhere across Project Manager. You can also create new tasks right from Gantt Chart window.
Create Tasks Whenever You Like
So first you create your Project. Then you create Tasks in the Task list. If it's a big task that will require many hands and involves many operations, then obviously you will need to create Sub-tasks. But the good thing is you can easily create these right from your Gantt Chart!
These tasks would be created under the main task. The benefit is that with the help of this Gantt Chart you can easily visualize the completed tasks and the upcoming deadlines and create your new sub-tasks accordingly. You do not have to navigate to another page. And these new tasks are editable too!
This is simple and effective when you feel you need to create more new tasks for your project to get certain things done.
Keep Your Tasks Categorized
Simply clicking on the + icon under the relevant Task list category would let you create a new task.
So you see, it keeps your sub-tasks categorized and organized under the relevant main task.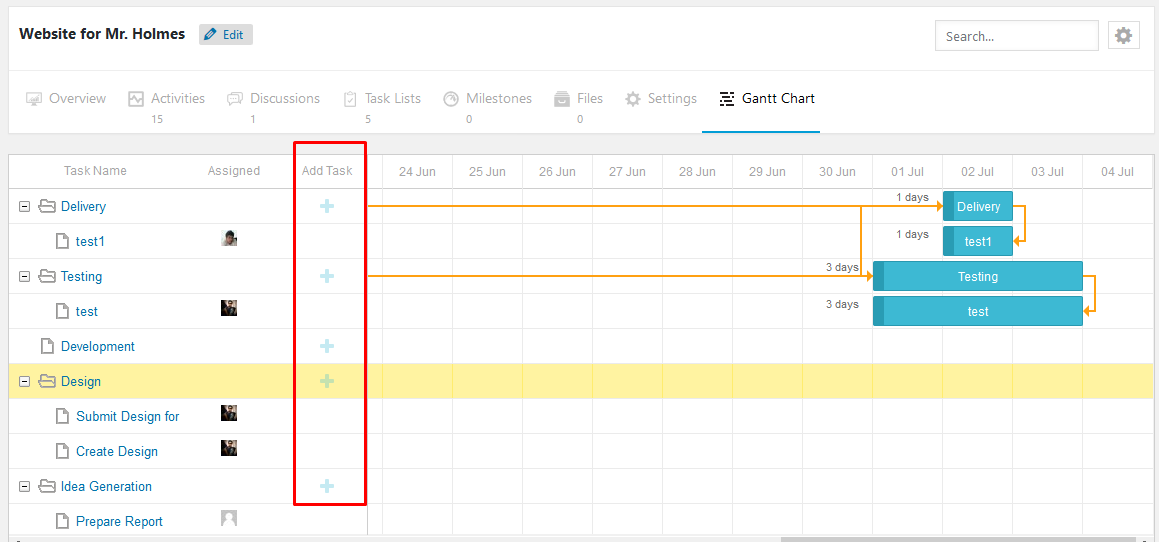 Move Tasks To Change Due Dates
Often times you will need to alter the due dates for your tasks. You may have to bring it earlier or push it to a later date.
Gantt ChartWordPress allows you to move tasks to left or right. On the top, you will see the date and month. On the left side of each of the blue bars, you can see how long the tasks are is, e.g., 4 days and 6 days.
Now you can smoothly move your tasks by dragging and dropping to the left or right.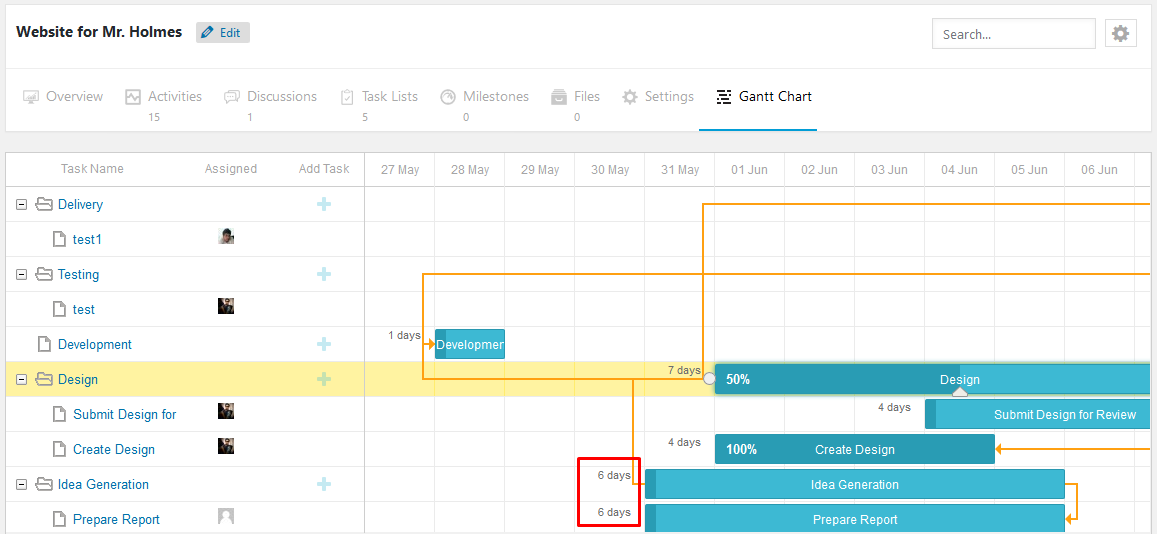 The features of Gantt Chart for WP Project Manager – the circles on both sides of each blue bar allow you to drag and drop painlessly.
In this example, as you can see below, we moved the dates for Idea Generation and Prepare Report from 29 May to 31 May and increased the length of time attributed to the task from 4days to 6days.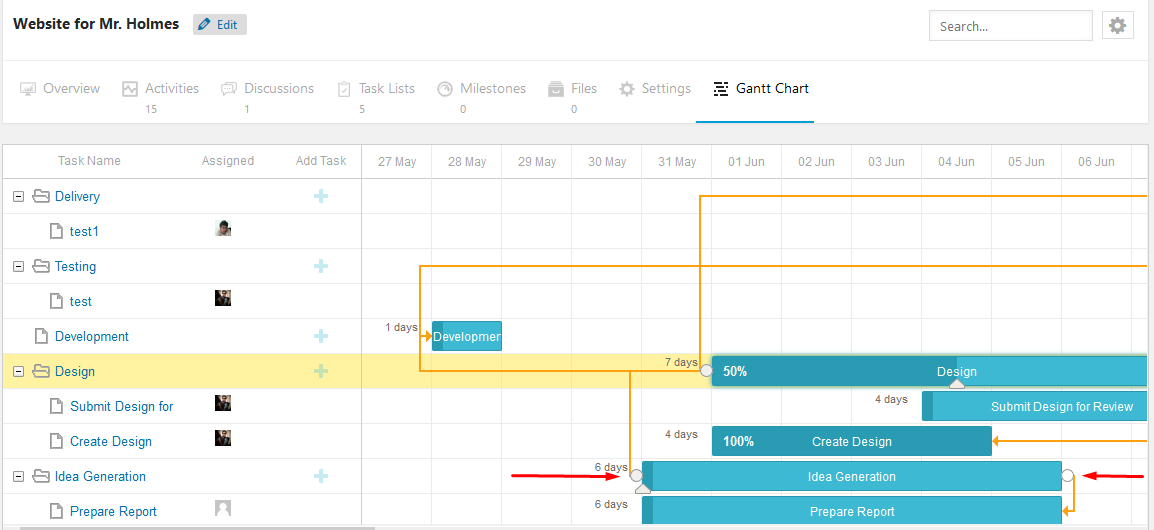 Progress Bar
Gantt Chart allows you to mark how much of a task has progressed. The triangular icon can be dragged and dropped to indicate the progress of task.
You and your assignees can do this for your own tasks and for others in the project.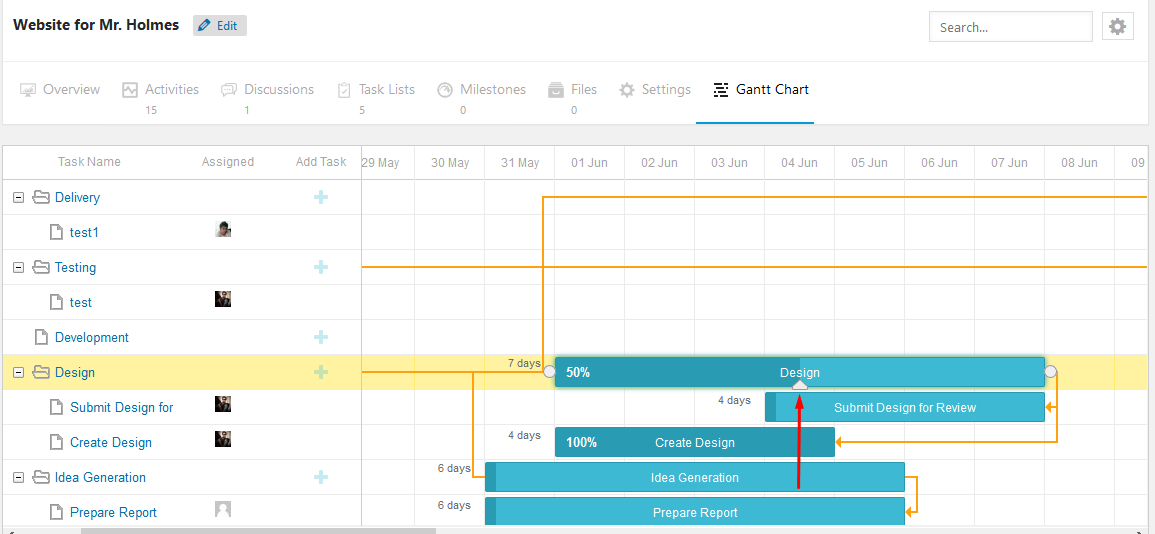 Why Choose WP Project Manager for Gantt Chart
This super intuitive Gantt Chart Plugin for WordPress is one of the necessary tools that let you plan, schedule, and track the progress of your projects through several tasks and sub-tasks in a visually interactive way. And it works with both the free and pro versions of WP Project Manager. Not only is Gantt Chart reasonably priced but it also takes care of all the difficult parts of project management for you, leaving the easy ones for you.
Learn More About Gantt Chart for WP Project Manager
We claim the same for WP Project Manager!
WP Project Manager comes with many other features and extensions. It is a comprehensive and all-in-one solution for all your project management and team collaboration needs. It is also one of a handful of WordPress Project Management plugins that provide a wholesome solution.
Check Out How Well WP Project Manager Fares From Other WordPress Plugins