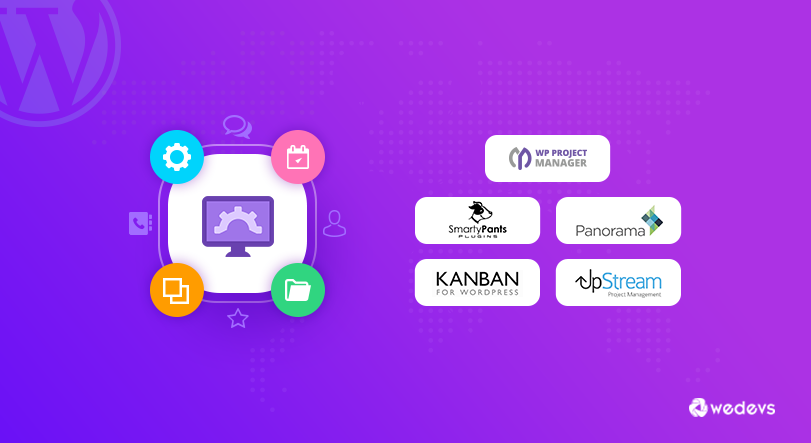 Comparisons Between Best WordPress Project Management Plugins
WordPress Project Management Plugins have not been many in comparison to its cloud-based counterparts. Not until fairly recently, it has started growing both in numbers and strength. And there are good reasons for it. The WordPress platform is now the number 1 CMS (content management system) and has a significant growth rate. Besides that, it is powering almost half of the world's websites. While being fully customizable, WordPress has strong security because your data remains on your own hosting.
Cloud-based solutions are generally more expensive and do not afford much privacy to users because they cannot be self-hosted. We have already compared some of the best cloud-based project management solutions in one of our previous blogs:-
Best Project Management Software On The Web In 2017
Here we have come up with a comparison of 5 WordPress-based project management plugins.
Top Project Management Plugins for WordPress
WordPress solutions have recently emerged as competitive alternatives to cloud-based project management applications. These plugins are all Open Source. In other words, they are customizable and extensible.
These 5 top solutions have been selected based on:
Ratings & Reviews
Number of Active Installs
Essential Project Management functions
Ease of Use and Interactiveness
Relative "wow" level to the rest of competitors
WP Project Manager has over 4 milllion+ downloads and 10000+ active installs. It comes in both free and pro versions.
It has 81+ positive reviews on WordPress.org. It also has the highest number of active users and is also the leading project management plugin among its competitors.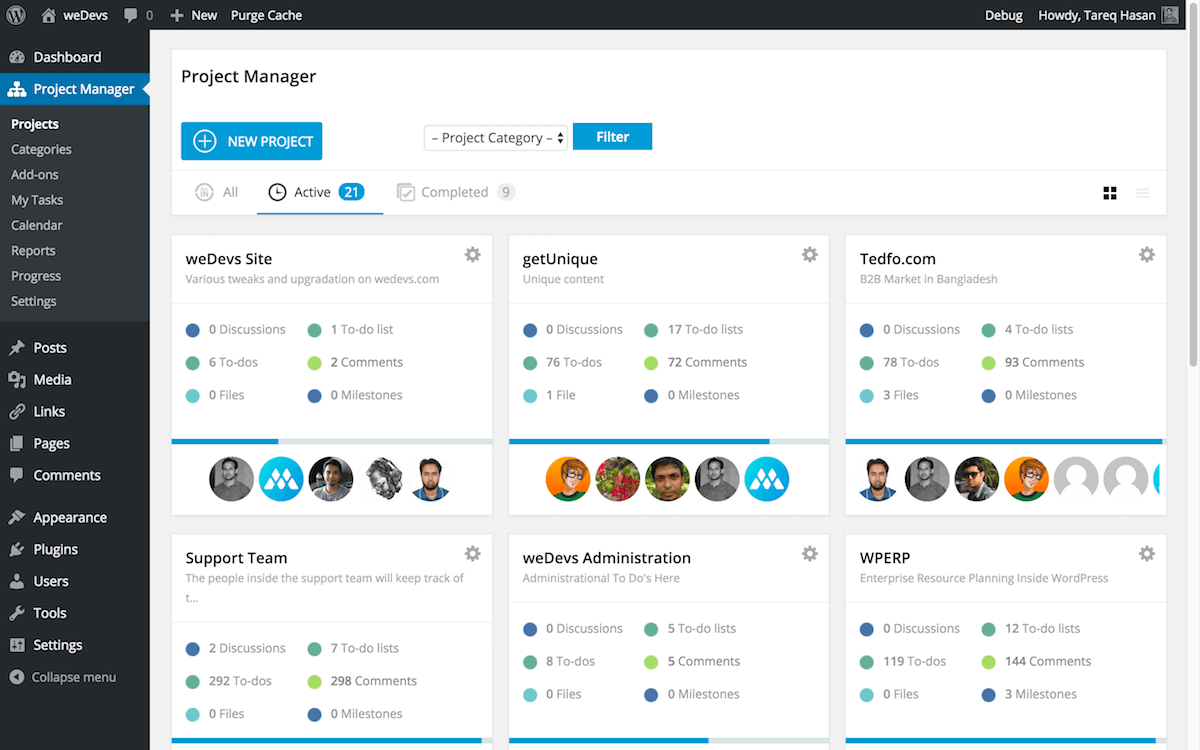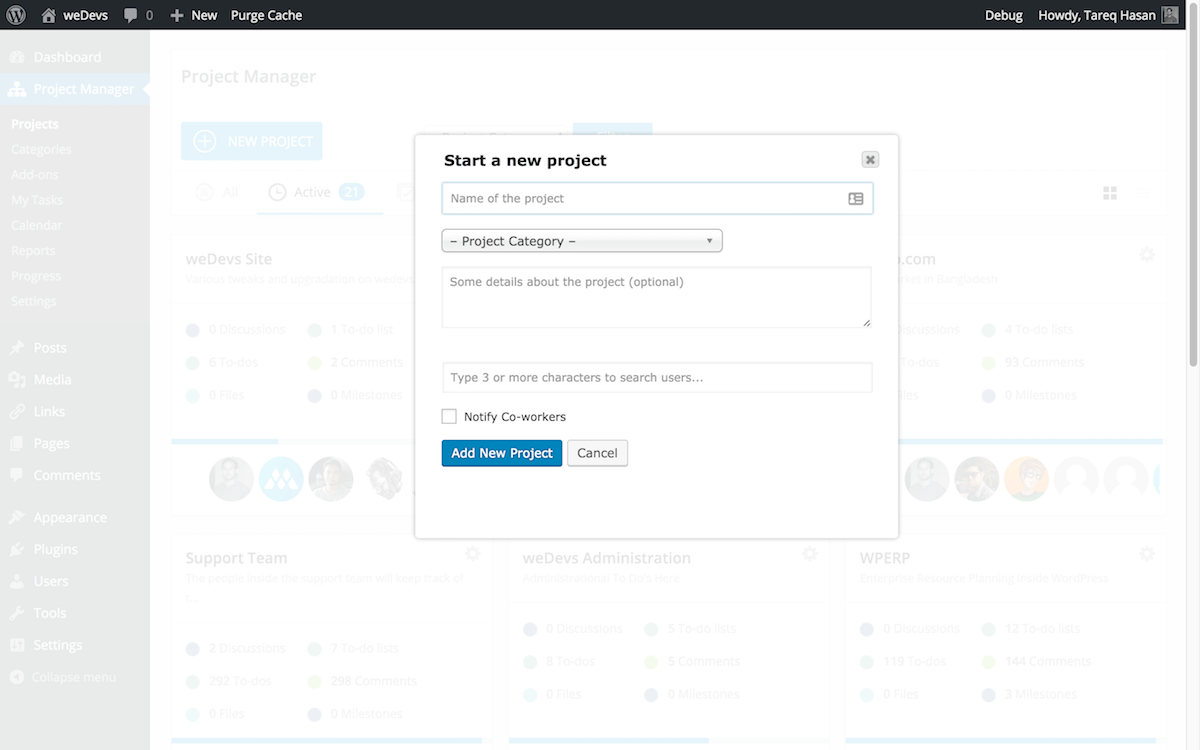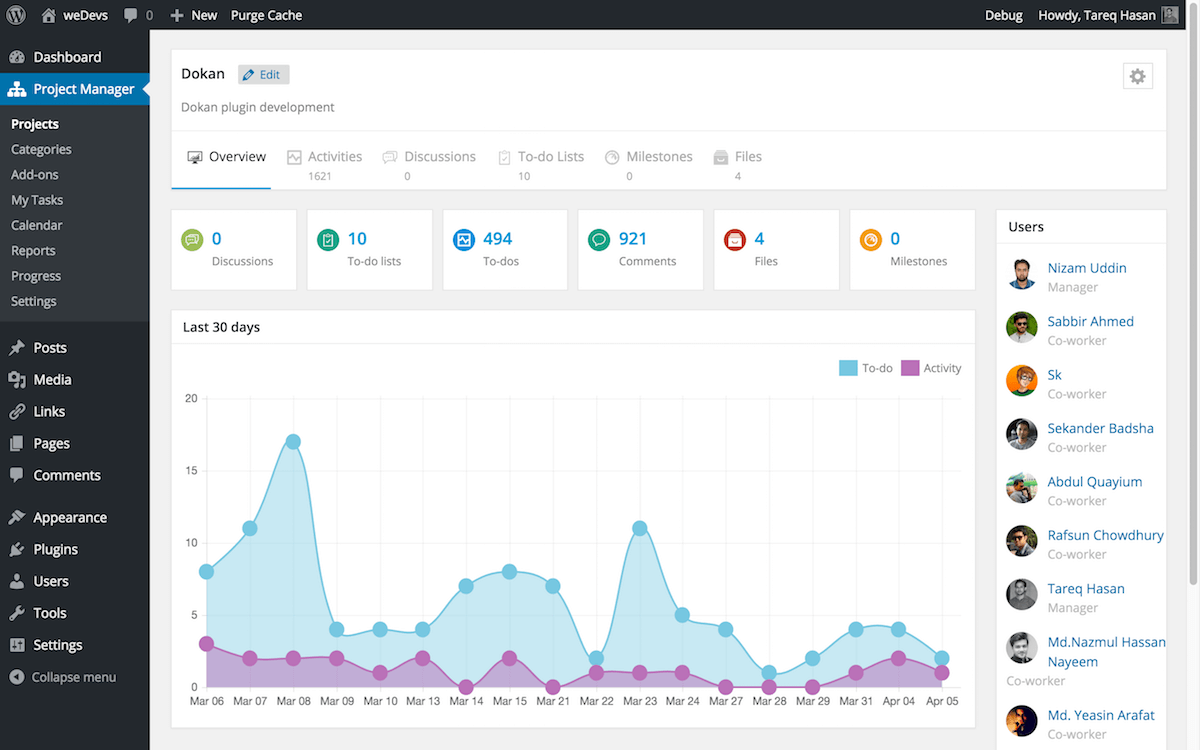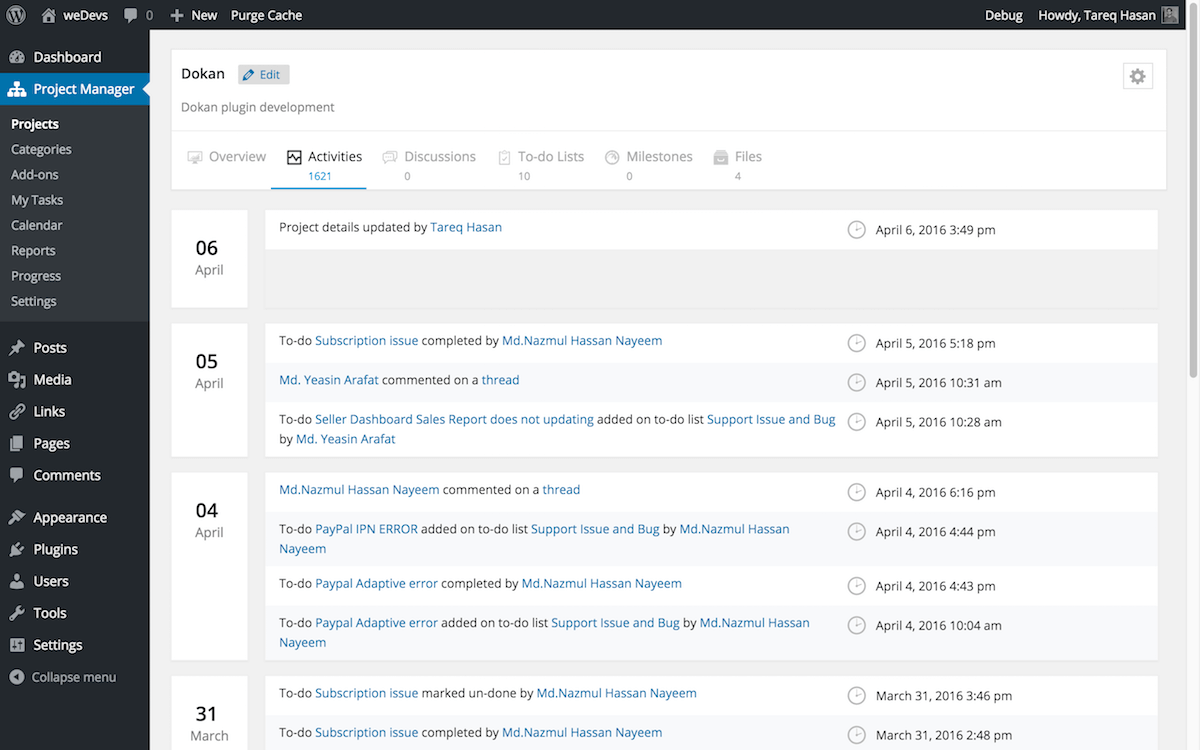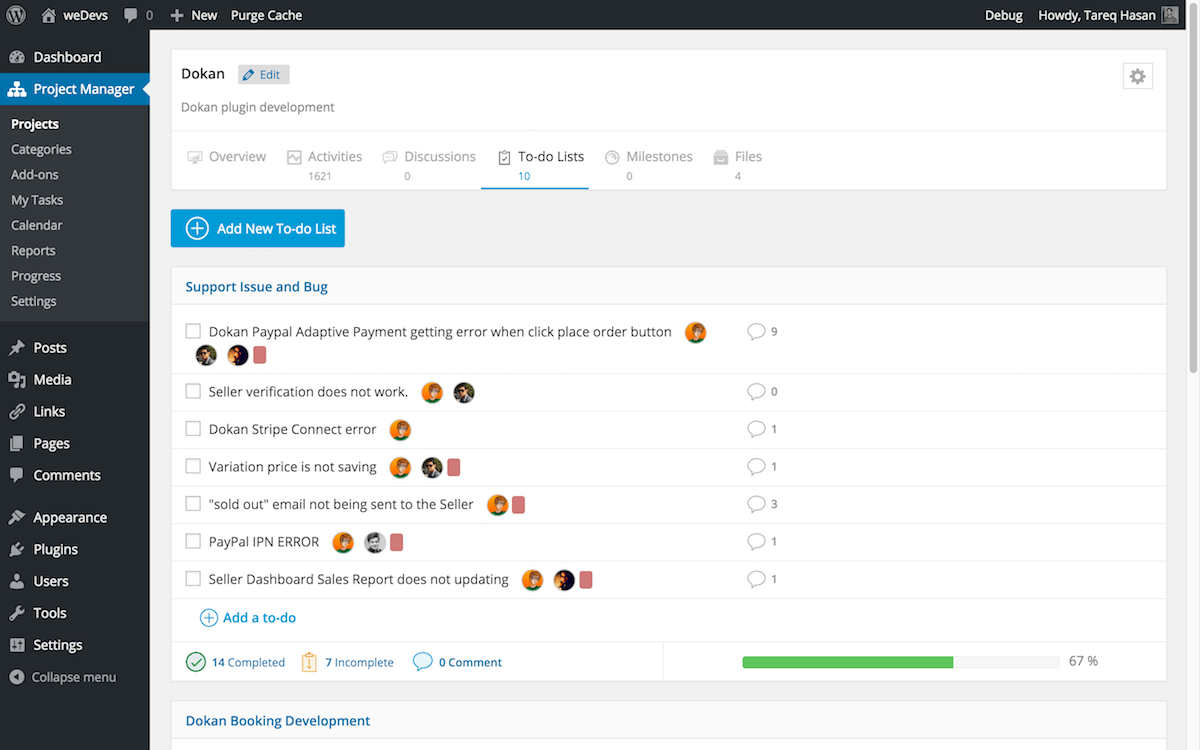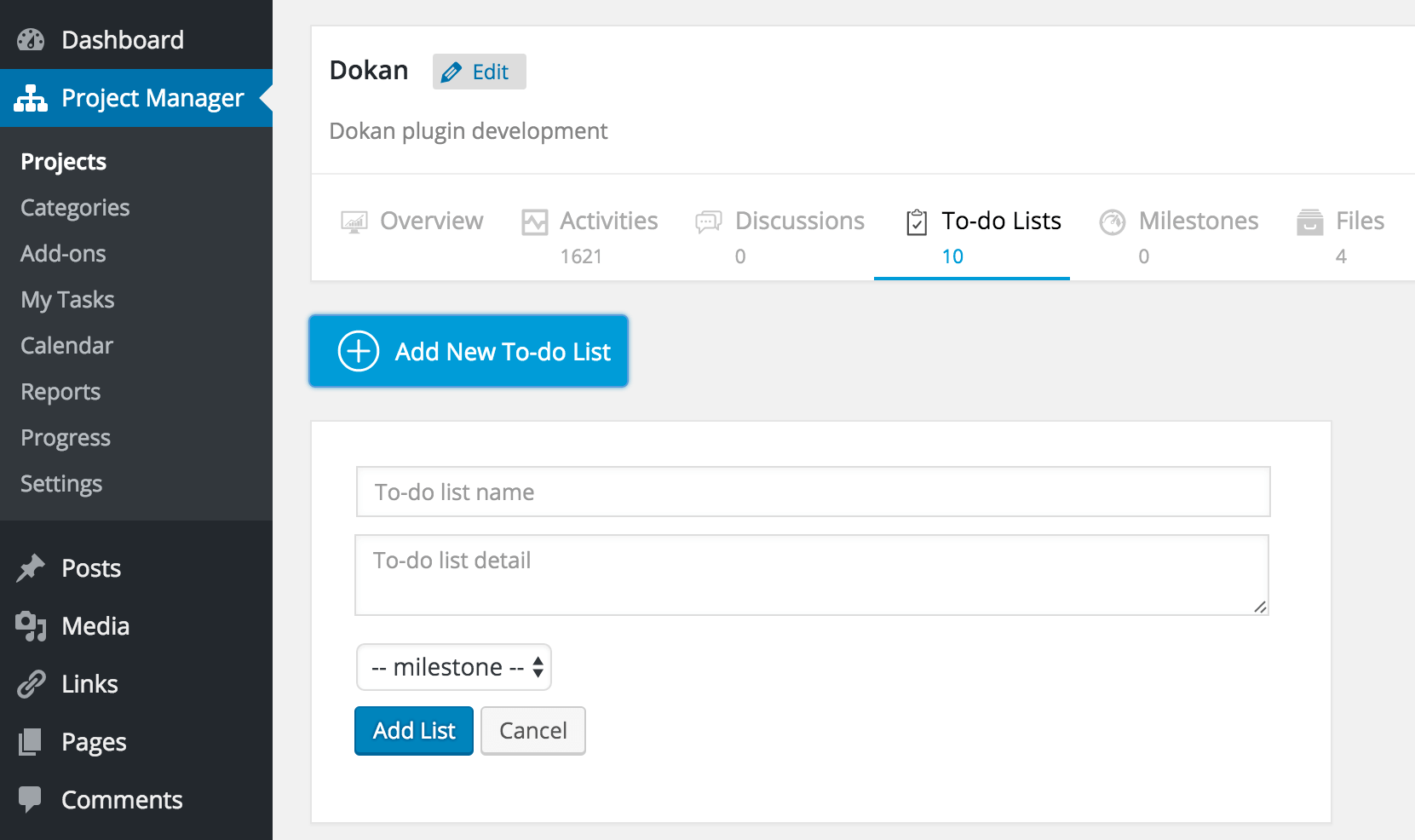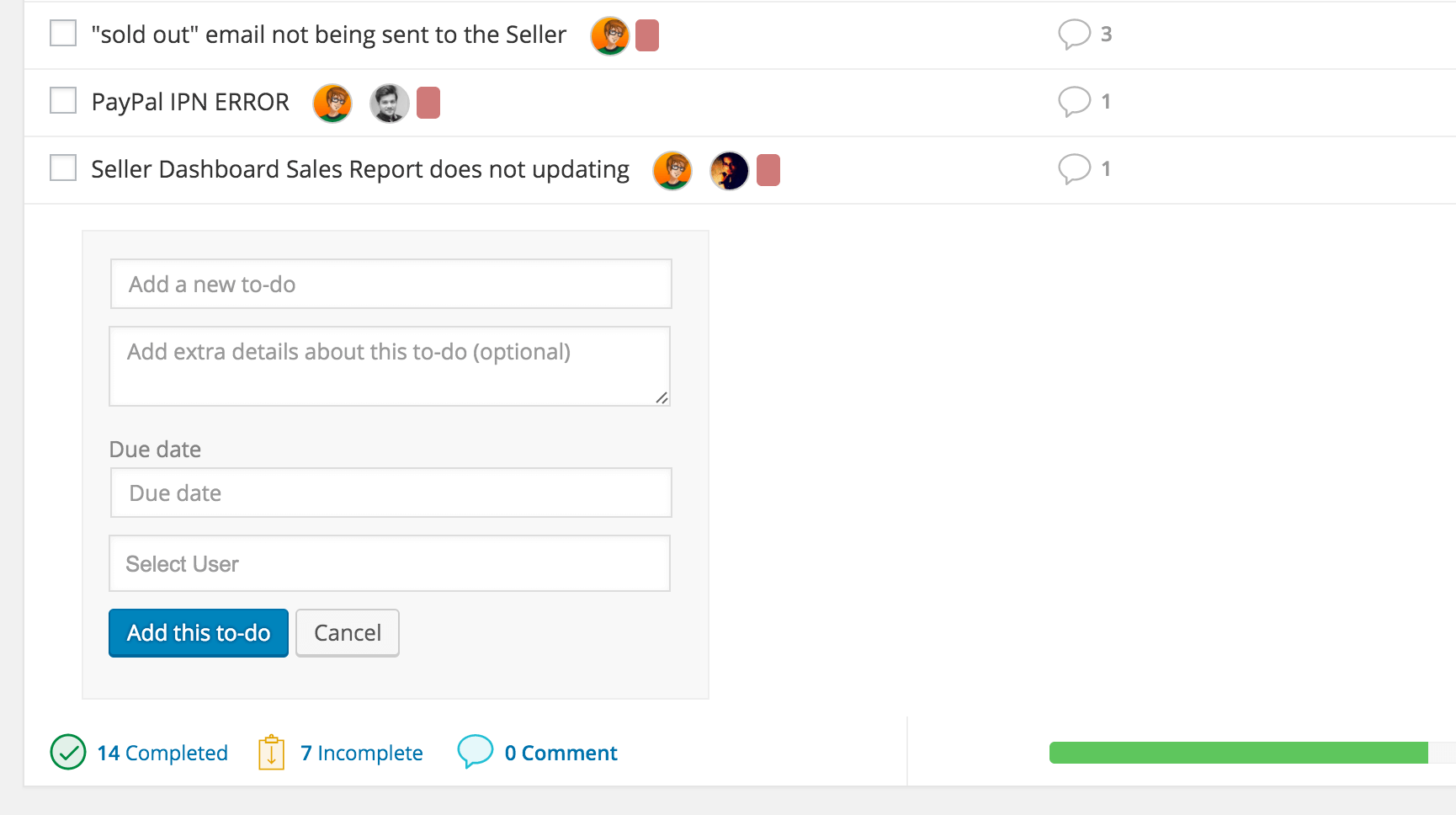 WP Project manager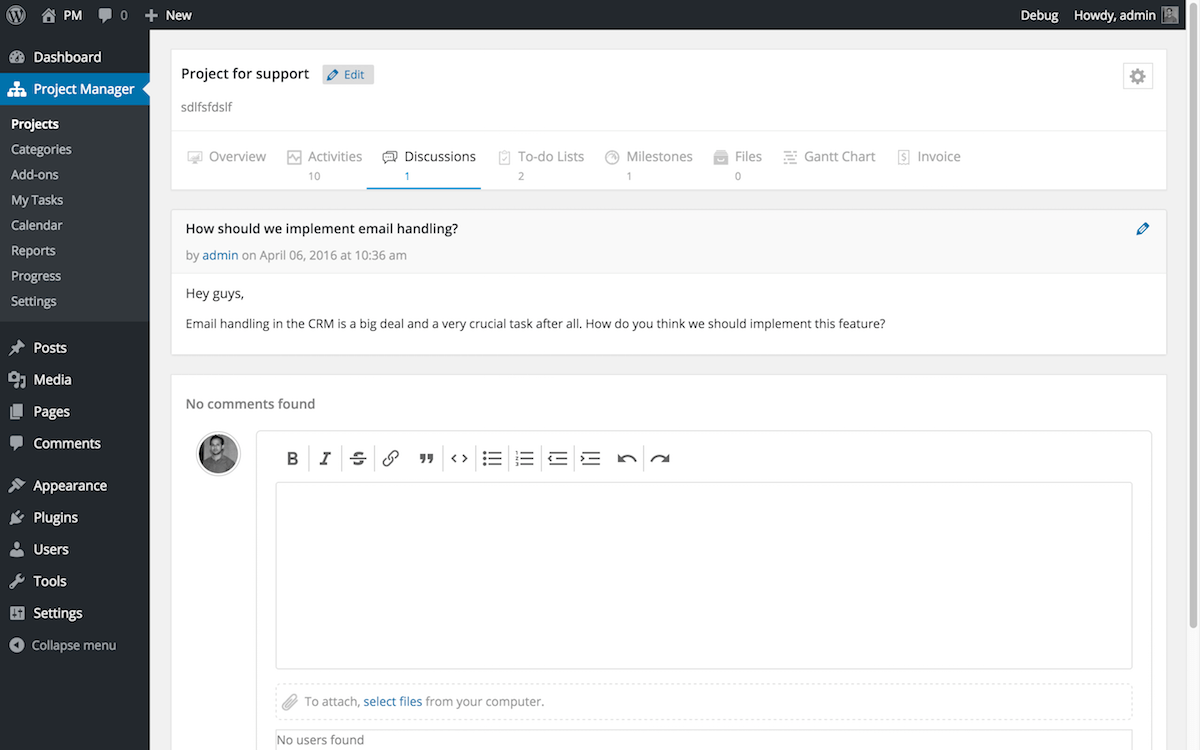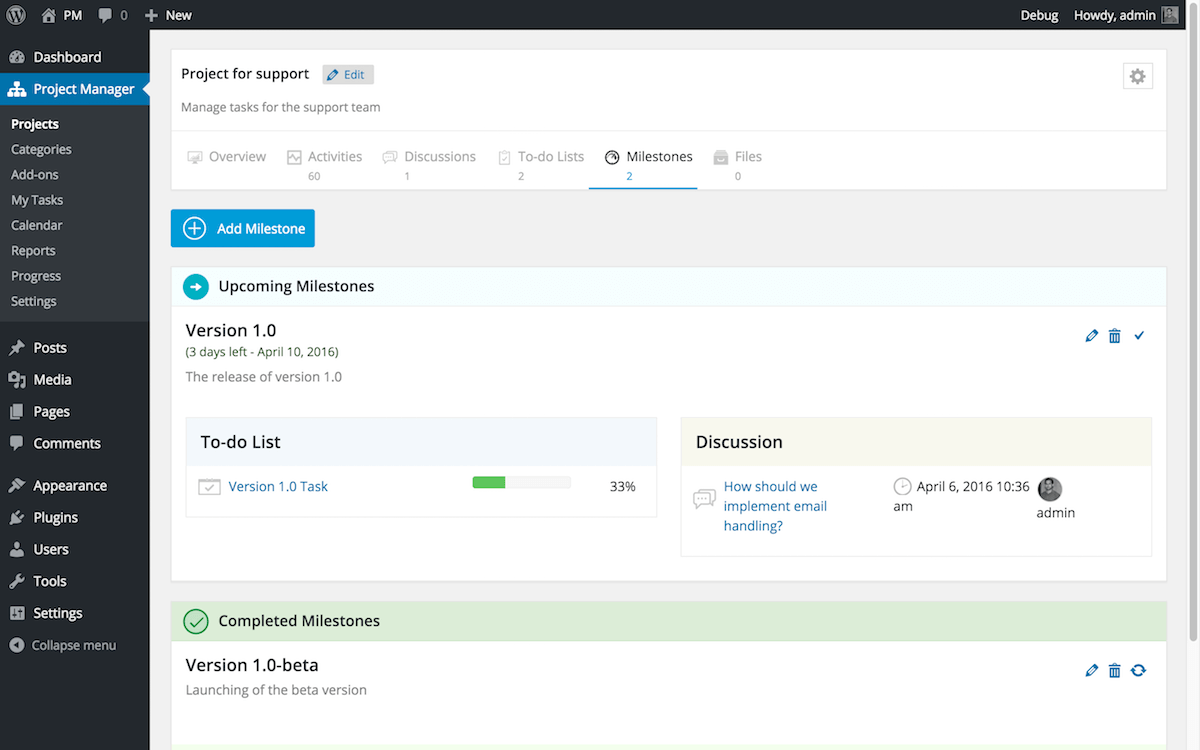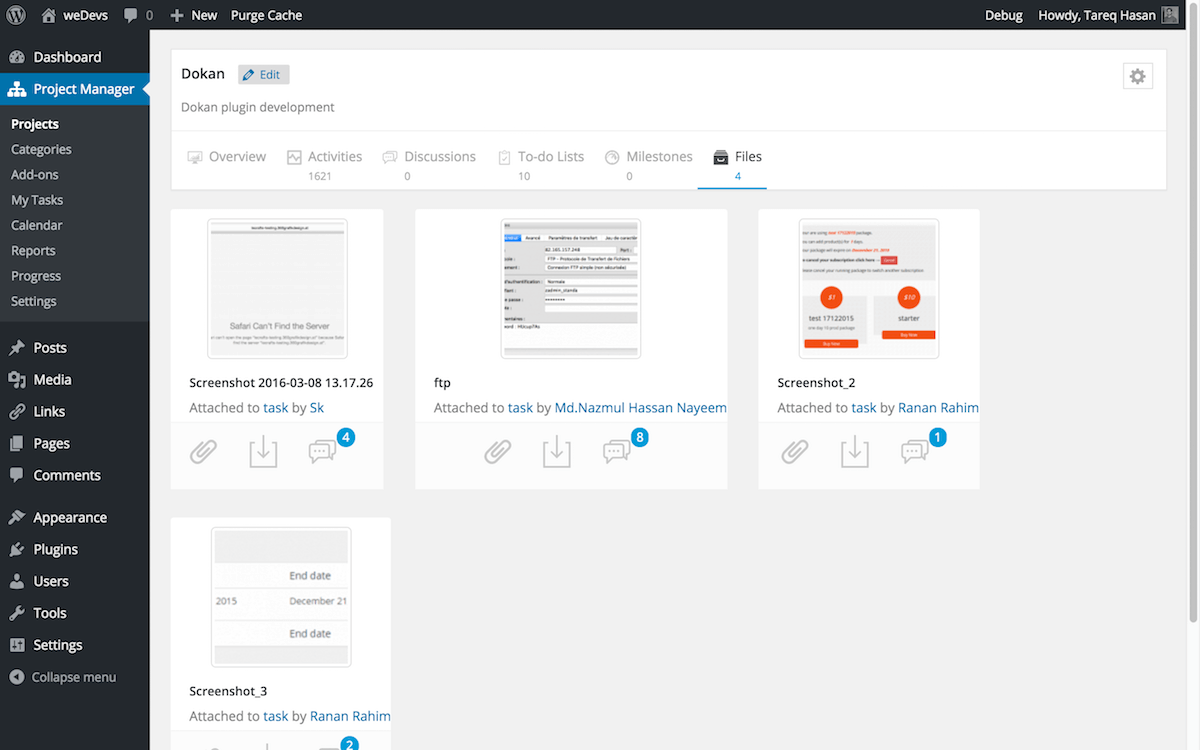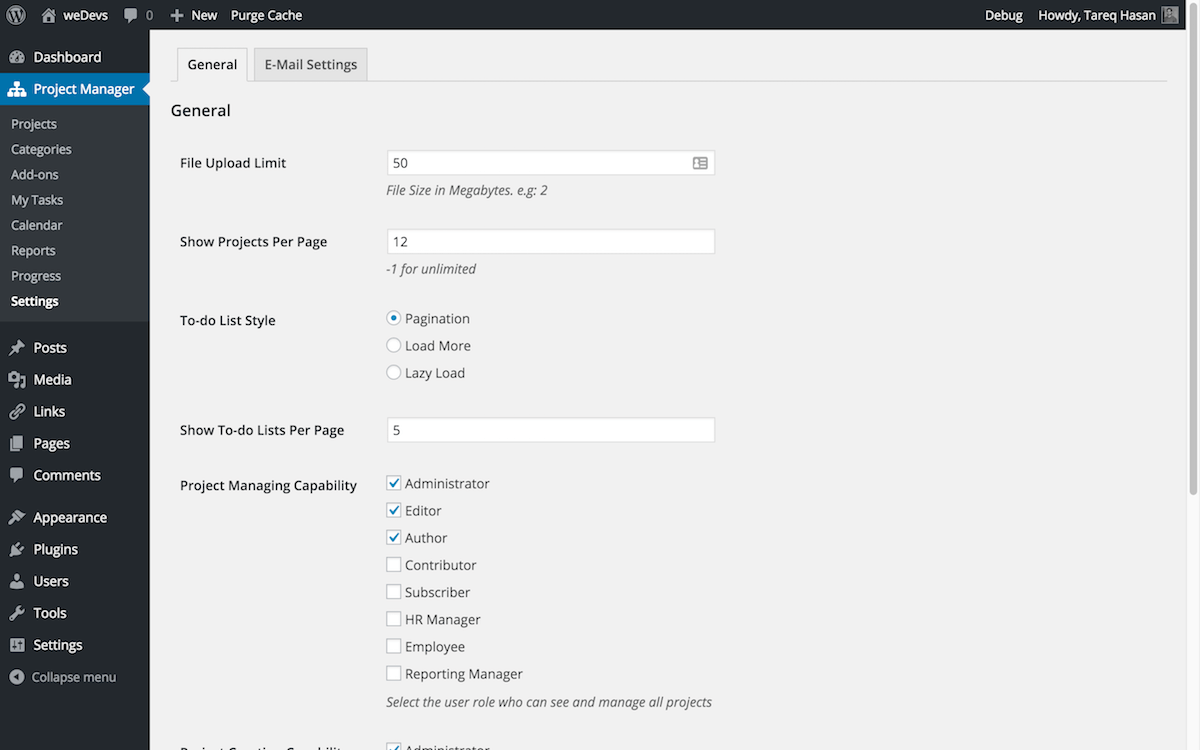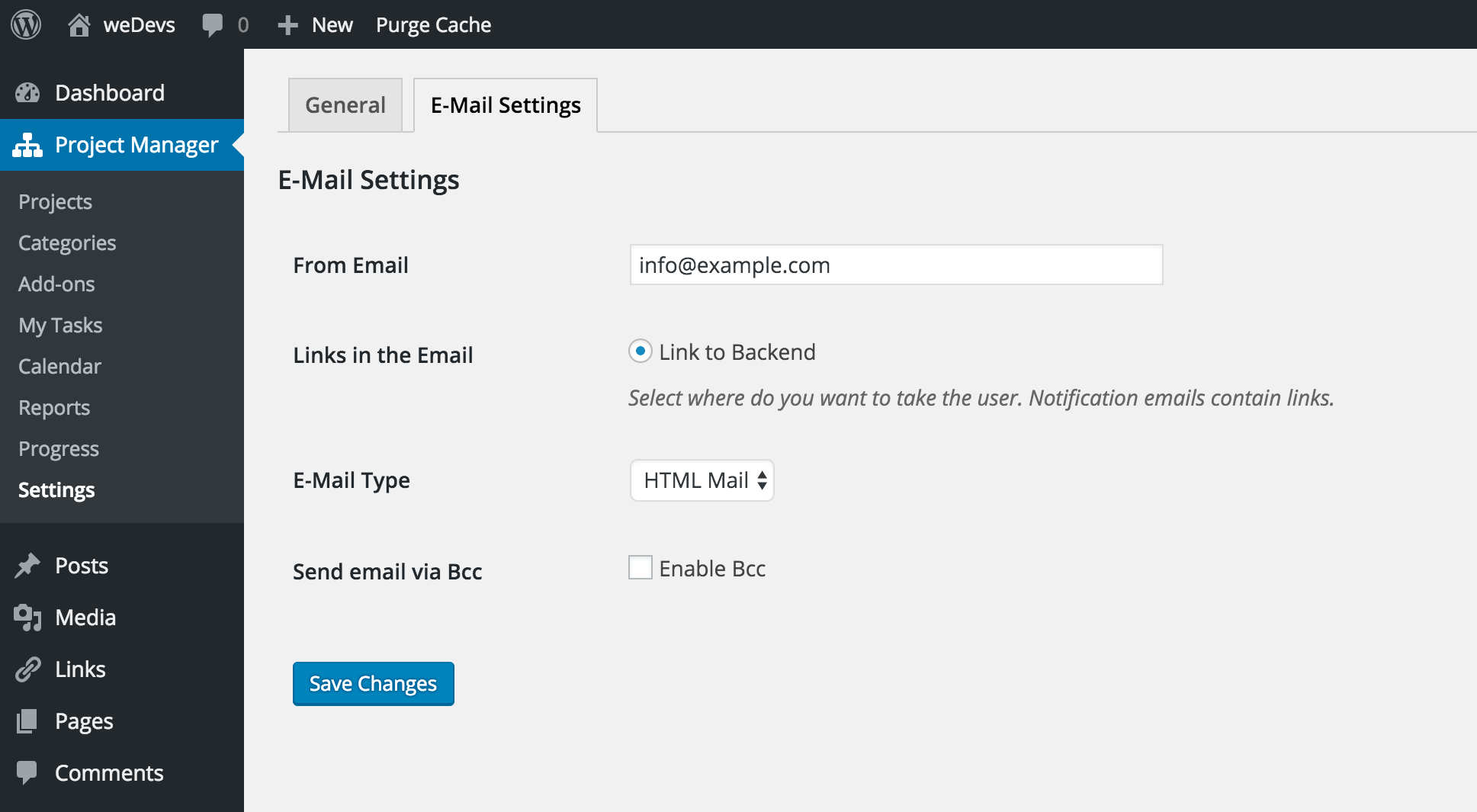 Pros
Overview dashboard gives a bird's eye view of all the project and its associated team members. Users can manage assigned tasks, sub tasks and personal progress from a single screen.
Quick task assign and break down tasks into smaller details.
Deadlines and milestone management to calculate and progress with blazing accuracy.
Calendar to check day to day, weekly or monthly progress of projects

Drag and drop tasks to change due dates.
User roles and customize the access for each user associated with a project.
Built-in private messenger.
Files manager to achieve client outputs with much more clarity and reduce the confusion.
Privatize your tasks, to-do lists and milestones.
Advanced reports that include filters to narrow down time, tasks and co-workers too.
Daily digest feature to send auto-emails to all users notifying about pending and upcoming tasks for the next day and also a summary of the day.
Progress report of all the teams across the company,
Time tracking for easy track time spent on each client or task,
Frontend compatibility, and
Integration with WooCommerce. Your support team can easily track time spent on each client.
Extensions like Gantt Chart and Kanban Board advance the features of WP Project Manager even more.
It's also the fastest solution in comparison to other WordPress project management plugins.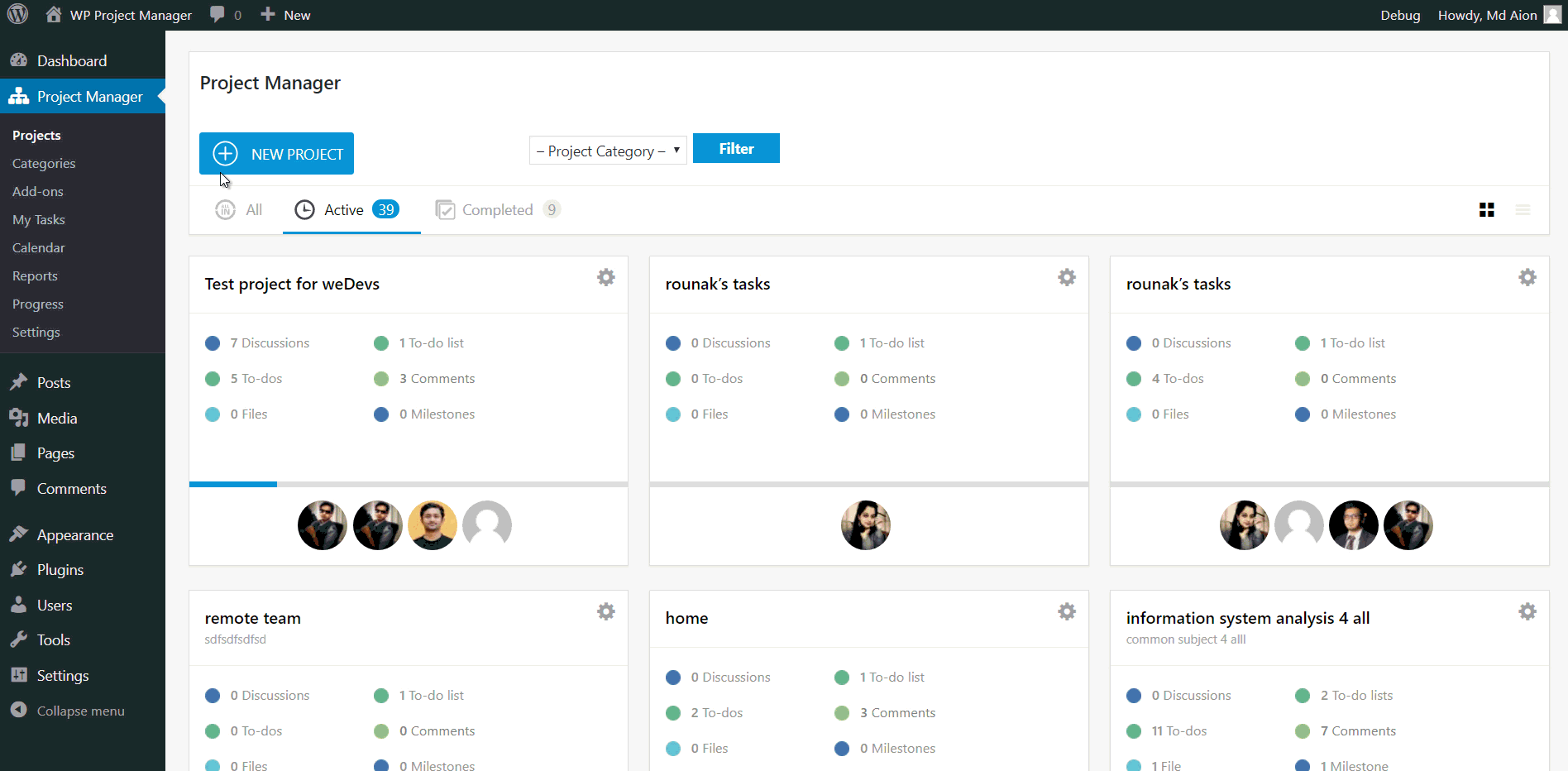 For single site, WP Project Manager Pro costs $59 per year (unlimited users).
Cons
WP Project Manager is dependent on your own hosting server. Therefore, slow hosting can interrupt the flow of work. Though the features are intuitive, the user interface is still developing.
SP Project & Document Manager is another WordPress plugin that is catered more towards filing storing and sharing. Its exclusive features for file storing and sharing make it an application that is specifically meant for document management. Users can upload files to each client and project page and get an overview of the last 50 client uploads. Admins can also add staff, suppliers, vendors, subcontractors, and partners, and set the user access. Clients can also upload multiple files, delete files, rename and search for files by name.
Pros
The Pro version has:
Unlimited folders and folder nesting
Tag search and File tagging
Category management
Custom forms and notifications
File auto delete
Build additional form fields
Advanced shortcodes
Group management with user-roles
Thumbnail views for several formats
It also comes with a number of separate add-ons that let users add files from DropBox, Google Drive, export form data to csv, add tasks to files, and more.
Cons
Lacks all the other features to be a complete project management solution, such as team collaboration and discussions. Very high price relative to WP Project Manager for a single site. Whereas WP Project Manager costs $59, SP costs $75. The user interface is also not a very appealing one or interactive. To the average user, the system can seem complicated.
Prices range from $75 to $575 for lifetime support with a 30-day free trial. The cost for a single site is $75.

Project Panorama has a very well-designed and interactive dashboard. It is designed to communicate project progress to clients and team members. Panorama allows you to detail important project details including overall project status, project phases, documents and document status, key milestones, and timing.
Pros
The overall visualization and displays with charts and colors make it very user-friendly. Panorama automatically calculates the time elapsed against the total project progress allowing users to know whether they are ahead or behind their tasks. It also has milestones and progress bars like WP Project Manager that can be shown to clients.
Pro features for single-site comes with advanced security features and also include:
Project Dashboards
Task & Team Management
Document Management
Email Notifications
Automatic Updates
Project Templates
Discussions
Deadlines & Calendar
Communication
Time Management
Add-on Support
Customer Support
Cons
Compared to WP Project Manager, the pro version comes with lesser essential features and less, though the cost is similar. Some add-ons are also higher priced, such as, Gantt Charts is $39 in Panorama but $29 in WP Project Manager with the same set of features.
Project Panorama is $60 for single site installment.
Upstream's plugin also comes in both Free and Pro versions. Like WP Project Manager and Panorama, it also has a colorful and intuitive display.
Pros
Free features include:
Milestones and tasks (which can be linked)
Upload files and documents
Bug tracking
Automatic progress tracking
Discussion threads
Client users with contact details and custom fields
Built-in roles for managers and users (no need for additional plugin)
Customizable front-end templates
Developer friendly
Cons
The extensions are limited to 4. Though the Pro version comes with good extensions like Frontend Edit, Project Timeline, and Email Notification, the support is standard and updates are limited to 12 months only. It is also far more expensive than WP Project Manager and Panorama.
The cost of Upstream's Project Management for a single site is $79/year.

Kanban Boards for WordPress has 800+ active installs and is a plugin that is frequently updated. This plugin has a Trello-like feeling. It is best for agile project management, customer relationship management (CRM), tracking sales, editorial calendar, scheduling content publishing, hiring new employees, and more.
Pros
The best thing is – it is even mobile-friendly so users can work from anywhere!
Kanban Pro's features include:
Customize the board
Assign tasks to team members and group tasks
Estimate how long you think tasks will take, then track your hours to see the progress of tasks as they get done
Manage the users who have access to the board, for privacy and integrated project management
Data is stored separately from WordPress data
Collaborate in real-time, and see updates live.
Lots of extra features available through paid add-ons – multiple boards, task comments, to-do lists, task flagging, notifications, and more
Task Colors
Multi-site support
Multi-language support
"Edit in place," just like Trello
Custom views for bookmarking
The Pro version also comes with some essential free add-ons, like Ninja Forms and Gravity Forms.
Cons
The Pro version is expensive. The plugin is still not as widely used as WP Project Manager and SP Client Project & Document Manager. Therefore, it's hard to be conclusive about how the board performs in managing very large and corporate teams. Also, complex projects that require several divisions of tasks and sub-tasks may not be possible to be done through Kanban because of its simplicity and lack of flexible features that apply for all types of teams.
The cost of Kanban for WordPress is $149.
So which one should you choose?
It depends on the industry type and the work you and your teams do. It may be that one project management plugin does all the work for all your teams. Or it may be that you require different plugins to smoothly manage the projects of different teams. The free version of these add-ons is also good enough if you are an individual user or entrepreneur.
Apart from this, pricing is another consideration. As you see, WP Project Manager is the most popularly used among businesses and individuals and comes with advanced features that cater to all types of teams. But it is also reasonably priced than the other solutions. And even with very similar features like Project Panorama which is $60, it is more the pro version and the extensions are much more affordable. The best project management plugins with high active installs are easily integrated into any theme or environment. You can complete all your work from your WordPress dashboard.
Do you have any experience using any of these WordPress Project Management Plugins? Share with us in the comments below!