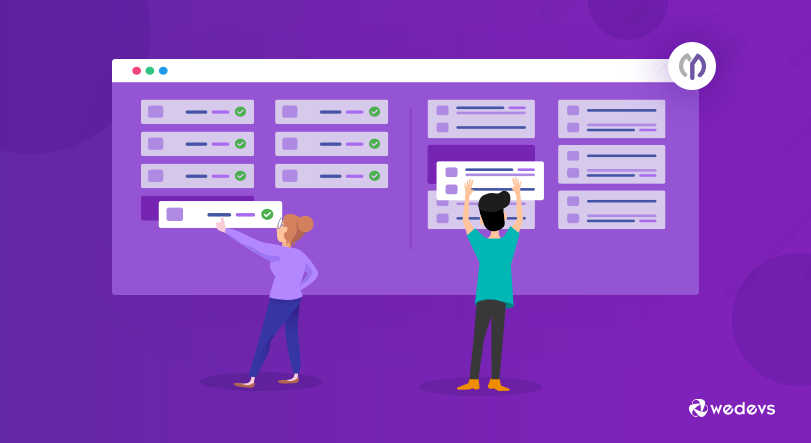 A Guide To WordPress Project Management for Non Project Managers
Project management is often thought to be a huge hurdle for companies facing limited budgets and time. It's seen as an unnecessary overhead cost that eats up a significant portion of the project budget. Some are even insecure that a project manager may get in the way of what the team actually wants. For this reason, often clients imagine doing the work themselves with a good briefing or training from the team, instead of hiring a professional.
But it's often the case that the sayers don't fully grasp the importance of project management.
Without it, there's nothing to hold the team and client together on the same page through all the good and bad phases of a project.
Great project management means much more than keeping project management's iron triangle in check, delivering on time, budget, and scope; it unites clients and teams, creates a vision for success and gets everyone on the same page of what's needed to stay on track for success. – The Digital Project Manager
But it's not even necessary to get a professional to do all that. One could even do it with the help of a software solution.
This brings us to get into the topic of WordPress project management for non-project managers.
With a platform like WordPress, it has become even easier, safer, and more fruitful to run a project management solution that serves all needs of a small to medium-sized business.
Why is Project Management Important?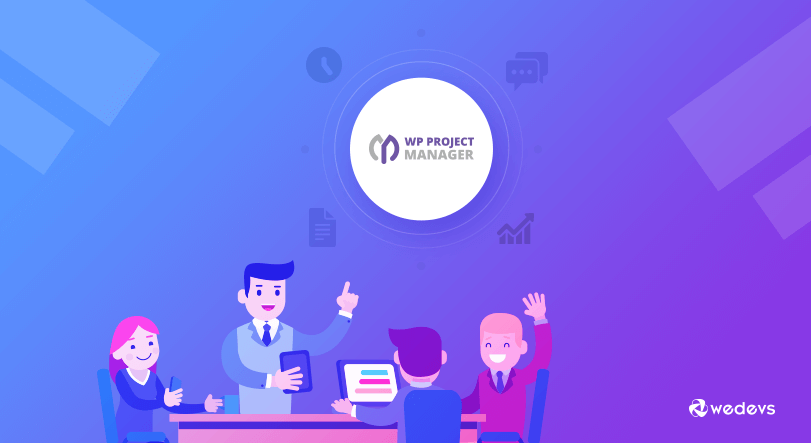 When projects are managed properly, profits increase, and businesses can grow in size and revenue.
Here are some of the ways it does the job:
Increases efficiency & timely completion
Proper project management unifies team members to confirm which activities must occur in the project and in what order so projects are completed faster and more efficiently.
Manage costs & time
Delivering on time and on the budget are two constraints of any project. Project management keeps track of monetary costs, resources, costs, time spent on each task, and a lot more by scheduling everything.
Schedules the work
Project management sets reminders or notifications and ensures team members work on their assigned tasks in the relevant order and appropriately.
Ensures projects are practically achievable
Good project management creates a clear process around tasks with achievable deadlines so that everyone is able to work with precision and reasonable bounds.
Creates value & manages risks
Project management is important because it ensures the right people do the right things, at the right time, and that it delivers real value to the business. It ensures proper project process is followed throughout the project life-cycle.
Provides continuous oversight
Project management is important because it ensures a project's progress is tracked properly in the form of reports and insights. These reports track the hours utilized or wasted, what worked according to plans or against them, how many milestones were completed, and the issues, contingencies, and obstacles faced. And if the final output of the project fared well.
What You Need to Look for in a Good Project Manager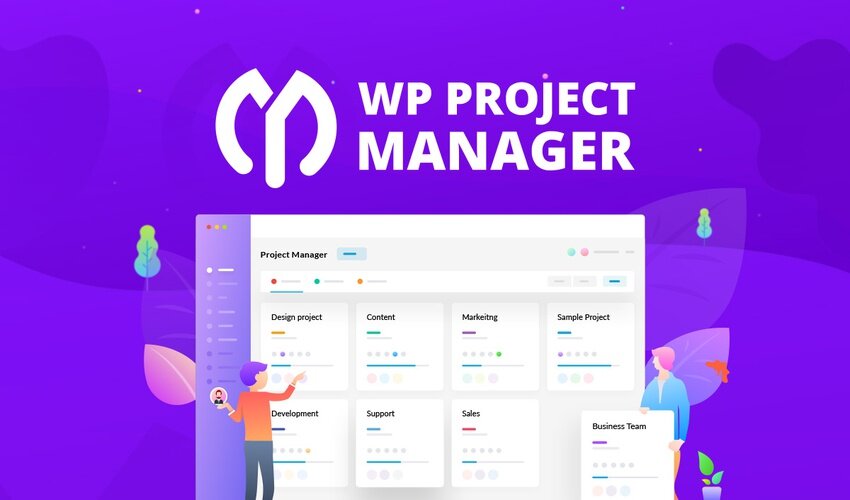 In order to qualify as a competitive project manager for small and medium-sized businesses, the solution needs to have the following minimal features:
Basic features
allow creating projects
allow adding team members and clients
team communication
add attachments to messages
allow creating task lists
set up different types of goals or milestones
see the progress of tasks
add comments to tasks
send emails to team members
Other important features
In terms of advanced features for better management, the project manager should have the following:
Add members in different roles
Built-in private messenger
Set start and end dates of the project
Calendar to check daily, weekly, and monthly progress
Upload files, create folders, make files private, link with messages and to-do lists
Modify user permissions and roles for each project
Bring discussions, projects, and tasks to the frontend
Control team-wise permission levels
Show updates of team members across the site
Send automatic emails to team members on the status of tasks for the day
Automatic reports with filters to narrow down
Live updates of everything happening in all projects
If this list convinces you about the need for a project management solution, then continue reading!
That brings us to a comprehensive, all-in-one plugin solution that has all the above features but is specially designed for starters in project management.
The WP Project Manager is an easy and interactive feature-rich project management solution for WordPress.
WP Project Manager Plugin for WordPress
The features of WP Project Manager can be broadly divided into 14 types:
Project & task management
Team discussions
To-do list
Milestones
Calendar
Files Manager
Customized user roles
Control team capacities
Frontend compatible
Integration with WooCommerce
Progress Report
Daily Digest
Reports with Insights
Activity Tab
WP Project Manager FREE
If you have newly started your business endeavor, or even a few years ahead, the free version of this plugin is enough to get you going with your business project needs.
The free version allows you to do the following:
Project: Create unlimited projects, create unlimited tasks, add unlimited users, and set titles and details.
Team Discussions: Send mail to all team members, edit and stylize messages, add comments, add attachments.
Task list: Add as many to-do lists as you want with title and description, see a progress bar on the list, add comments, task description, title on to-do lists and to-dos, and mark them as complete/incomplete.
Milestones: Create milestones, assign messages and to-do lists, and use 3 types of milestones: a) upcoming b) completed c) late milestone.
Files Manager: upload files on messages and comments.
How to install WP Project Manager FREE
Simply, download the file from WordPress.org or directly from the Plugins directory of your WordPress dashboard. After installing, click on Activate to get started.
What If You Need a Complete Project Manager?
The plugin also comes in premium versions in 3 plans: Personal, Business, and Developer.
The PRO version will supercharge your team
WP Project Manager PRO lets you self-manage your team, tasks, and clients so well that you don't have to rely on anything else.
Project & Task Management
Create unlimited projects, tasks, and sub-tasks.
Customize Team Member Roles
Decide each user role and privacy for everything with no sweat.
Personal Dashboard
View all completed, outstanding, and current tasks in the dashboard.
View Activities
Know every bit of the update in the project from one single page as they occur.
Daily Digest
Send automatic emails to all users notifying them about a summary of the day.
Frontend Compatible
Bring projects to your frontend site so you won't have to give everyone dashboard access.
Interactive Calendar
Check progress & drag & drop your assigned tasks.
Private Messaging
Chat & discuss with clients & teams within the convenience of complete privacy.
Documents Manager
Store & view all files in one place. Navigate to linked comments, to-do lists & tasks.
Advance Reports with Insights
Automatic reports + filters for tasks, user activities, milestones & projects.
Progress Reports
Get a whole scenario of your company at a glance as they occur.
Milestone Tracking
Create timed project goals so that teams have small breakthrough points to achieve.
How to install WP Project Manager PRO
After successful purchase, download the file from your My Account dashboard. Upload the plugin from the Plugins directory of your WordPress dashboard. After installing, click on Activate to get started.
How to configure & use WP Project Manager
First install and activate the PRO Version.
Navigate to WP Dashboard>Project Manager>Settings. Select General Settings where you can set up the file upload limit, projects per page, task lists style, task lists per page, project managing and creation capability, upload logo, and a lot more.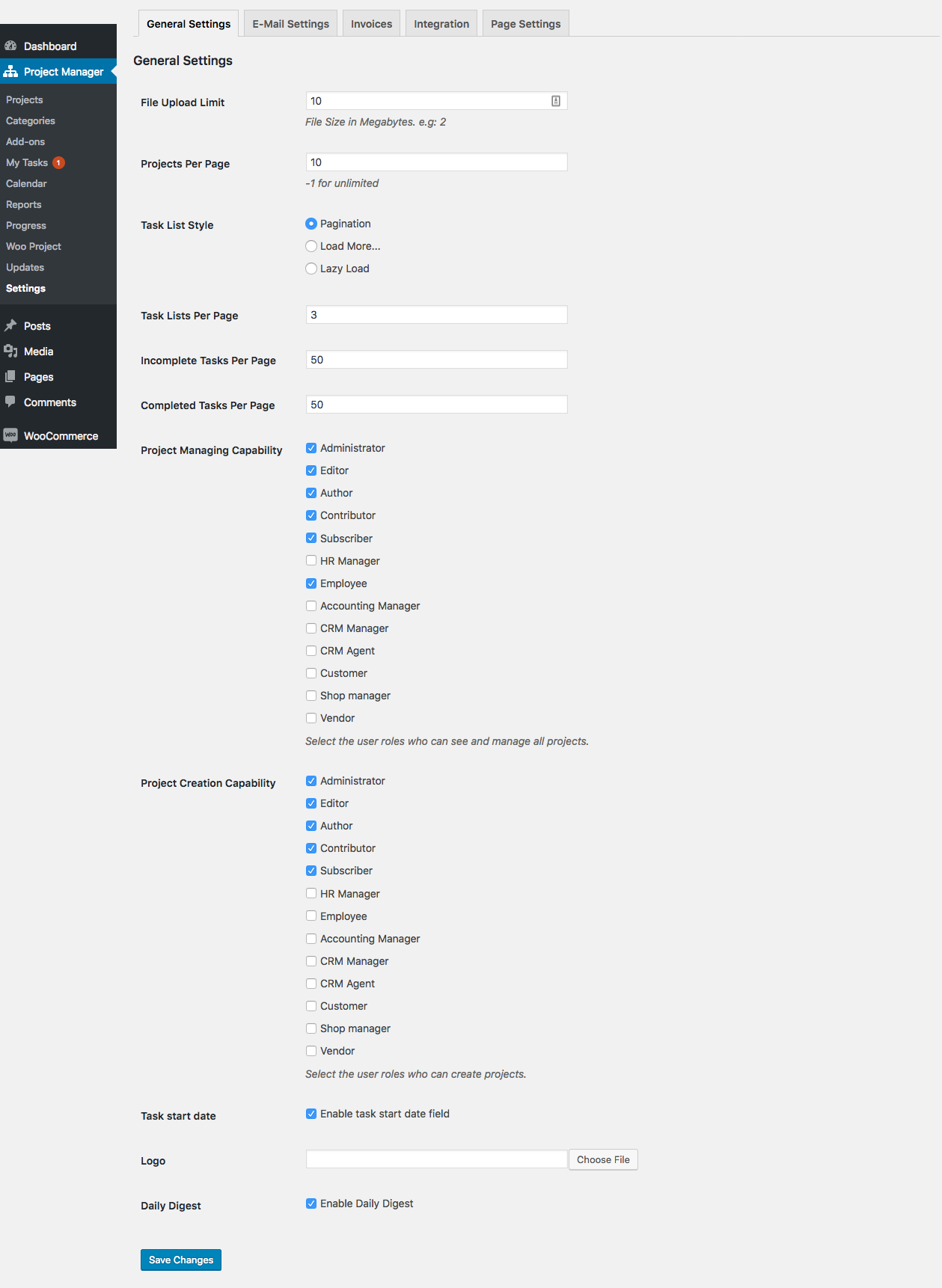 Create categories so that you can organize your projects under different classes.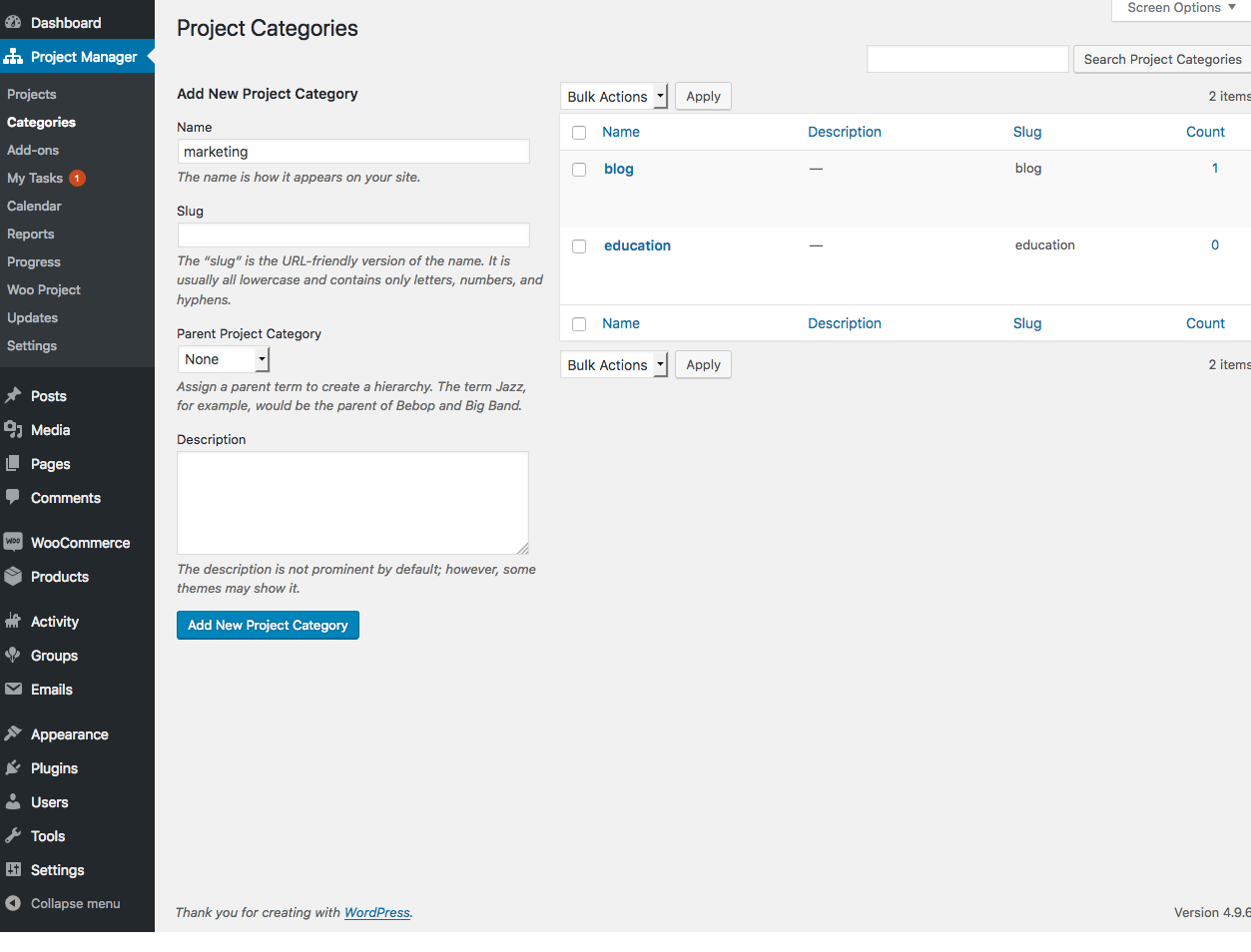 Create a New Project from the main dashboard.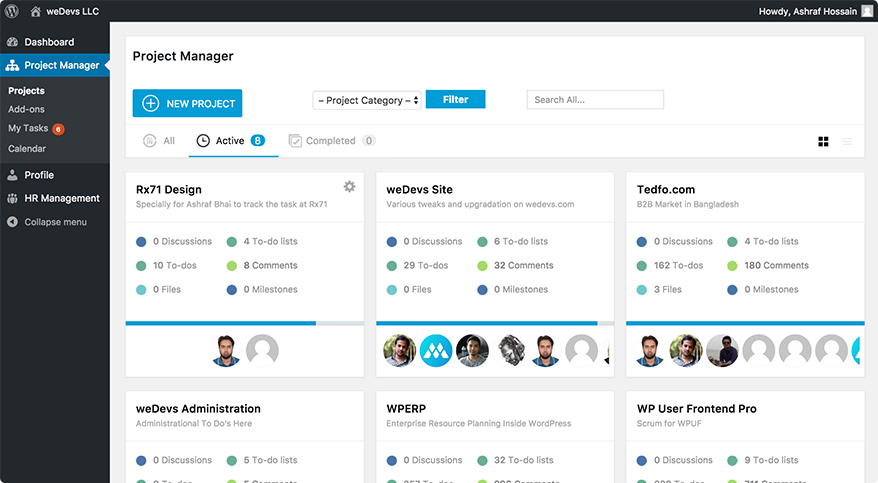 Type the name of the project, select a category, and add as many users as you need to!
Now add a new Task List with a name and description.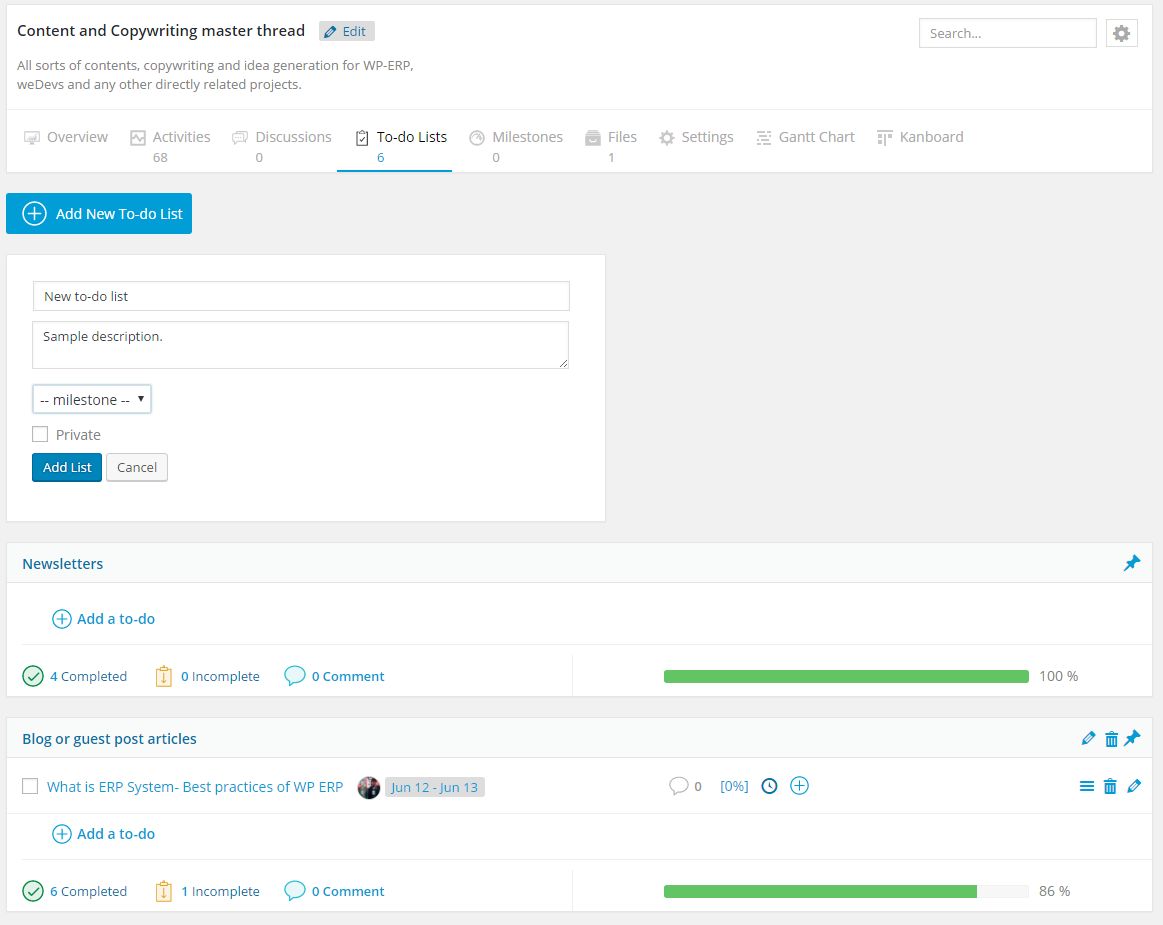 Create to-dos and subtasks inside the task lists as many as you like. This allows you to breakdown your broad tasks and easily assign each to-do to different coworkers.


Add a starting and end date to your tasks to track time for efficient completion of projects. This feature tells you how much time has been spent on a particular task. It's also helpful when you need to bill your clients and report the amount of time you spent on an activity.


You can choose to add tasks in the list format.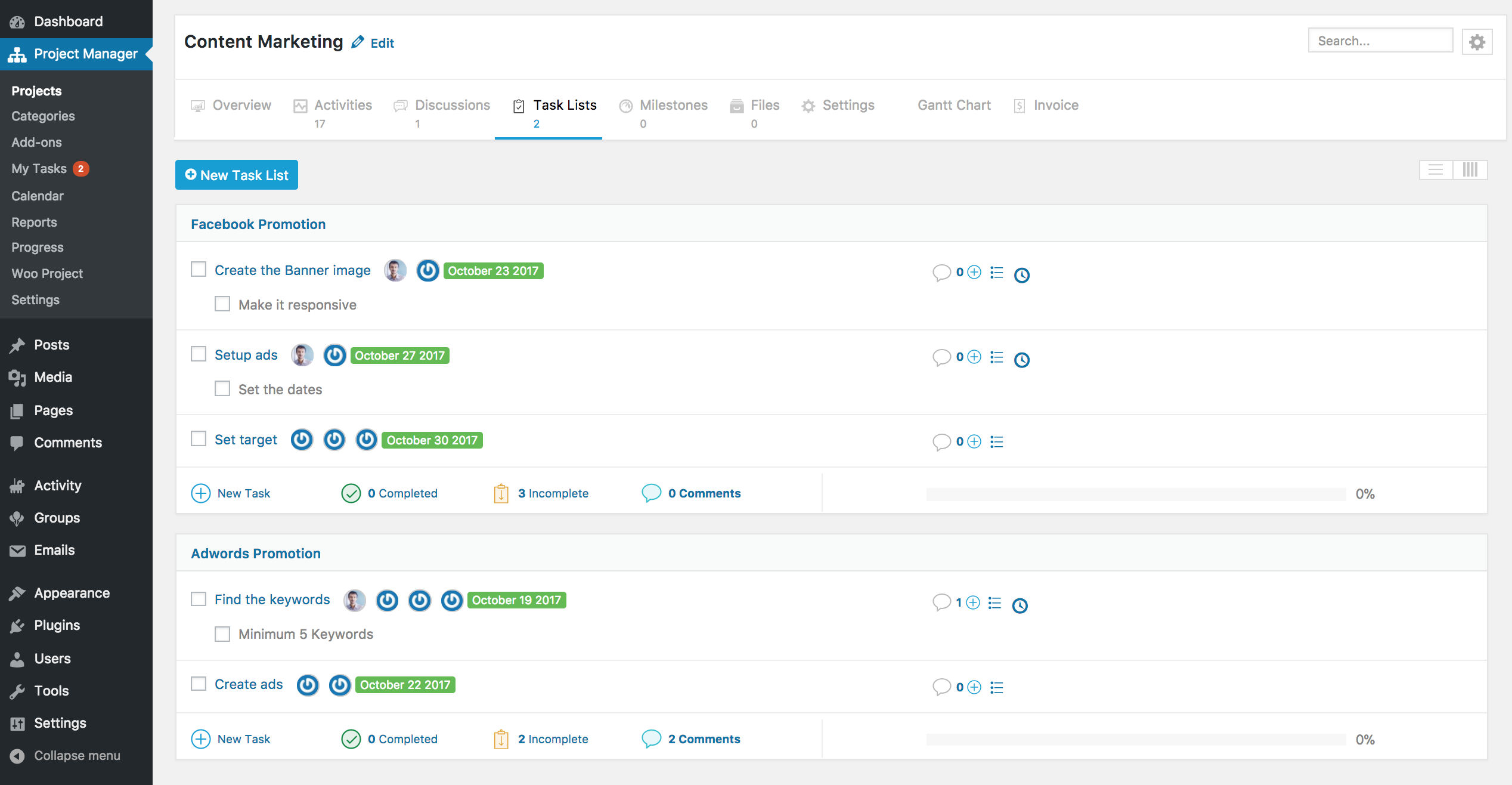 Or create tasks more interactively in board-style with the Kanban view. Drag and drop tasks from one board to another, categorize tasks as Open, In-Progree, Done, Overdue or more, see assignee, view deadlines, comments, and add new tasks.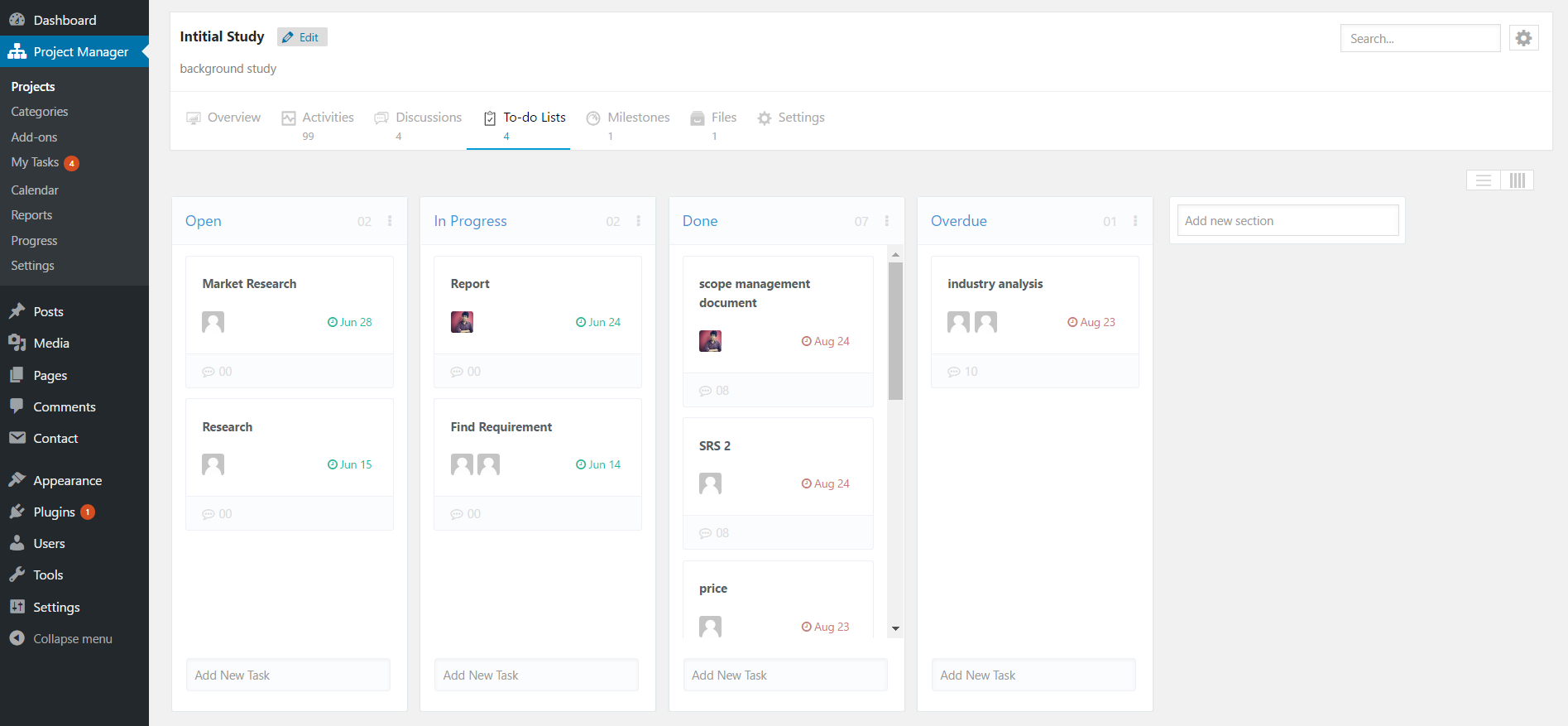 Add Milestones to set an overall target. Milestones can also be used to divide a project into different achievable development phases, and to coordinate projects and assigned persons timely.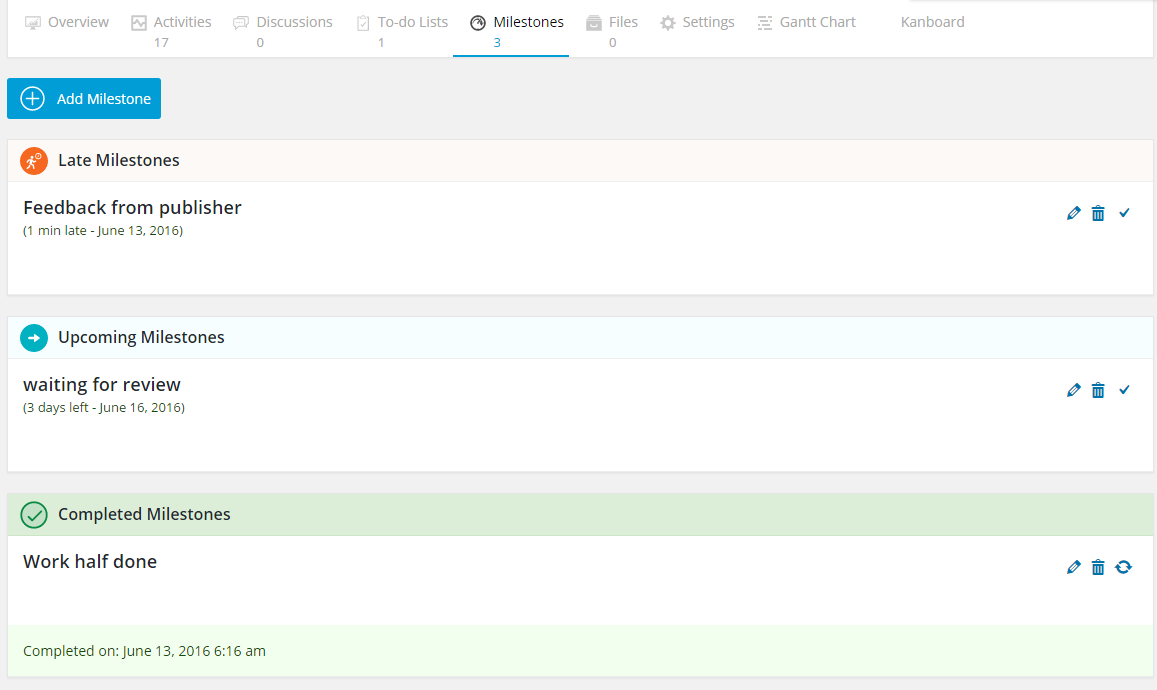 Now upload files, images, and folders of any format for your project. Create folders or create a doc directly from the Files Manager dashboard. Want to attach your PDFs, images, Word, or spreadsheets with a certain task list, message or even save web links? That's all allowed!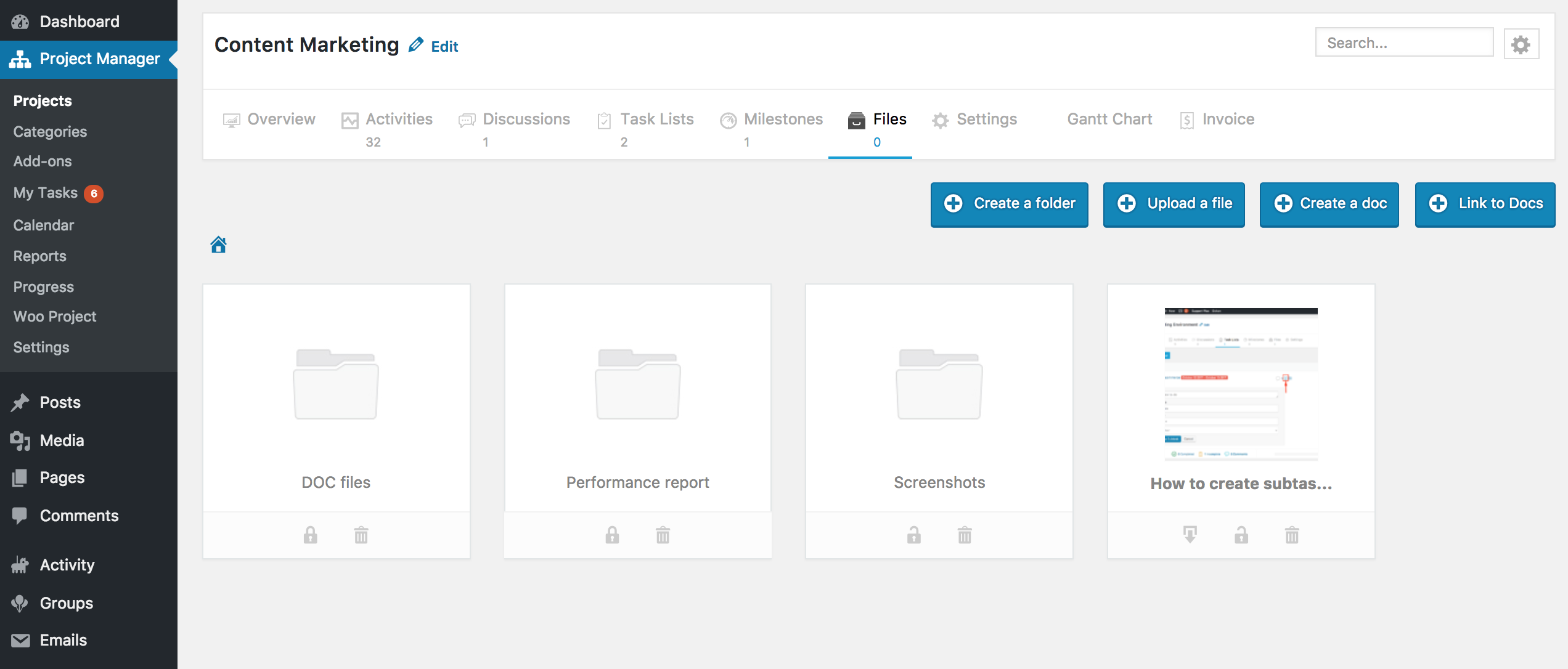 Set the kind of privacy and access you want your team members and clients to have for messages, to-do lists, to-dos, milestones, and files. Allow full management or choose to make private.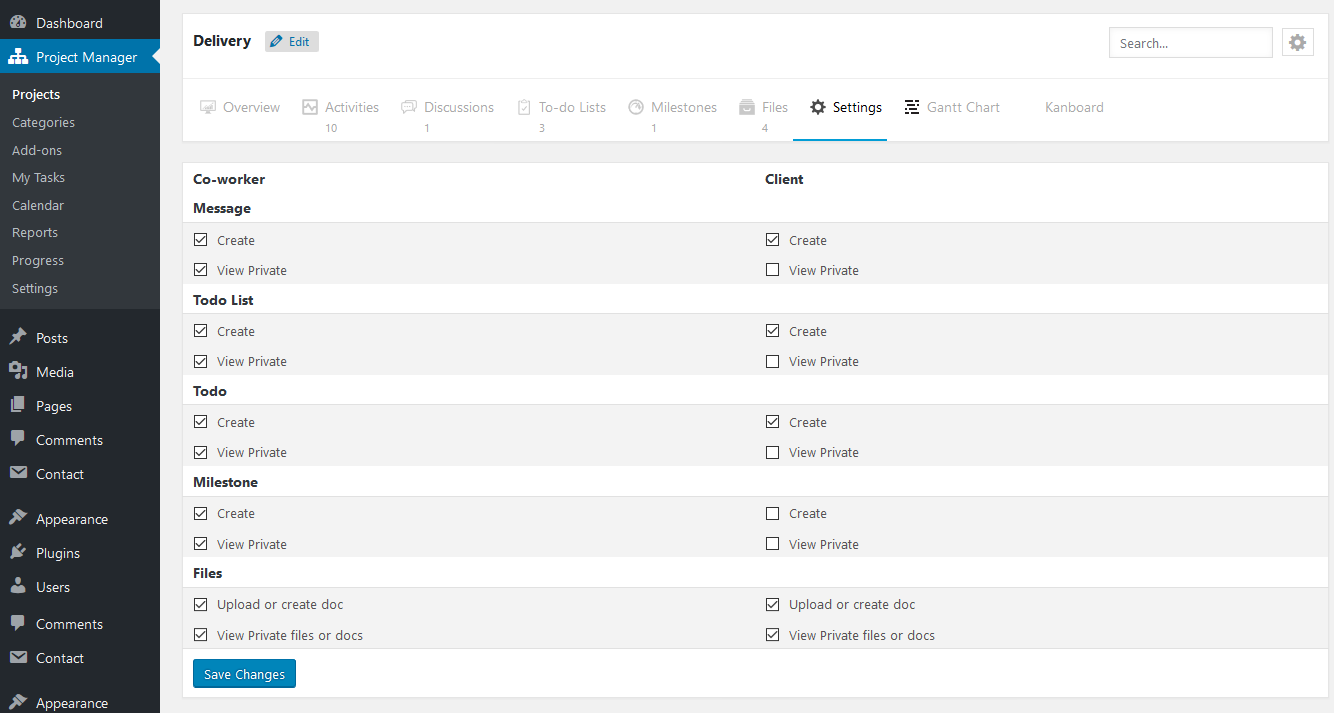 How to check progress with WP Project Manager PRO
One of the first things you can do is to communicate with team members and clients about progress, obstacles, difficulties, plans, updates, and a lot more from the Discussions platform.
Discussion Platform
Talk privately or exchange files privately with a single team member or client only. You can also consult in a group or create an open conversation for all.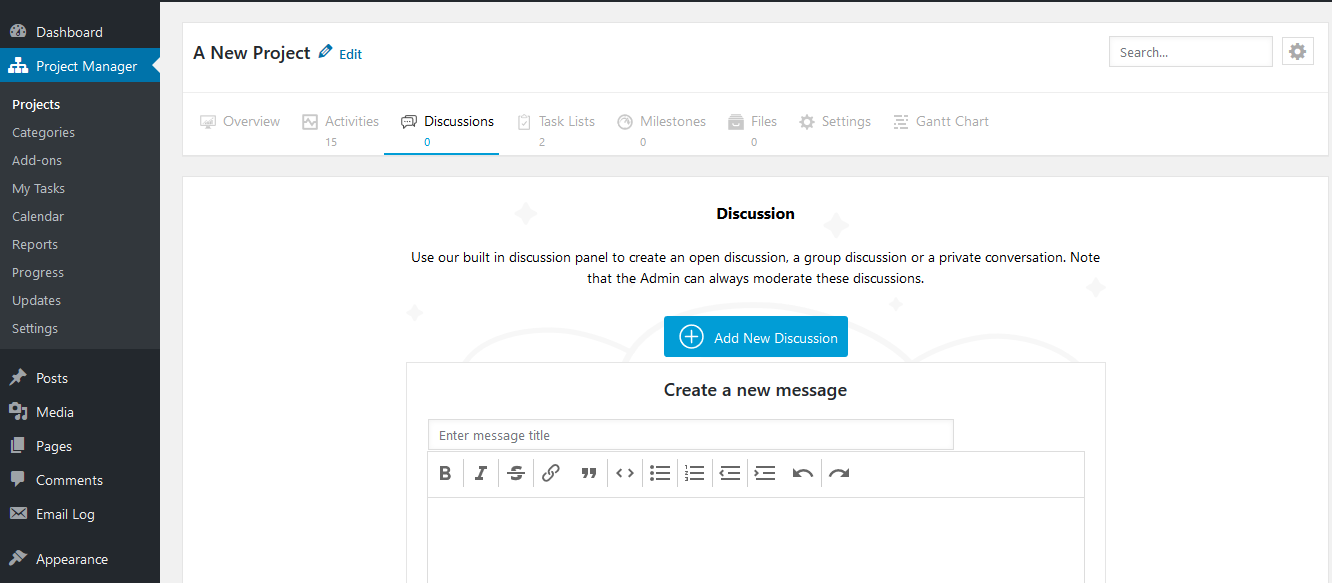 Check upcoming tasks, deadlines, and time limits project-wise, and more on the in-built interactive calendar for the coming week and future months.
Calendar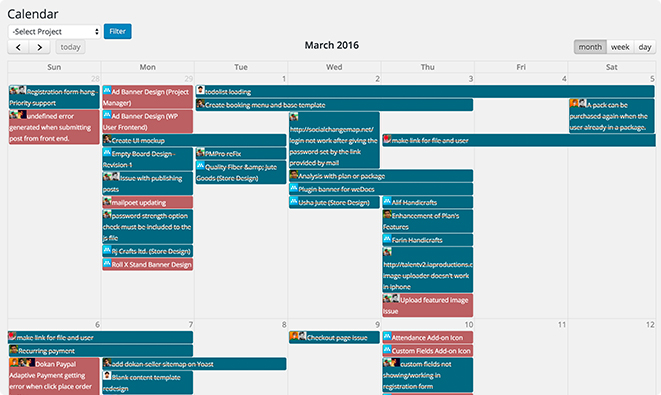 My Task
The My Tasks tab is where you get individual reports for everyone including your own. You can see a summary of completed, incomplete, and ongoing tasks. Moreover, you can view an Activity chart and a calendar. And you can filter these month-wise.
Gantt Chart
A better and more creative way to check up on everyone on the team is to use the Gantt Chart. This feature will let you visualize all the tasks that you have created in your project in a bar charts system, and that too in one simple view! Here you can understand in an illustrative form all the to-do lists and assignees of your projects against time for each day.
The Gantt Chart is also a useful way of seeing the start and end dates of every task, and the amount of progress that has been made.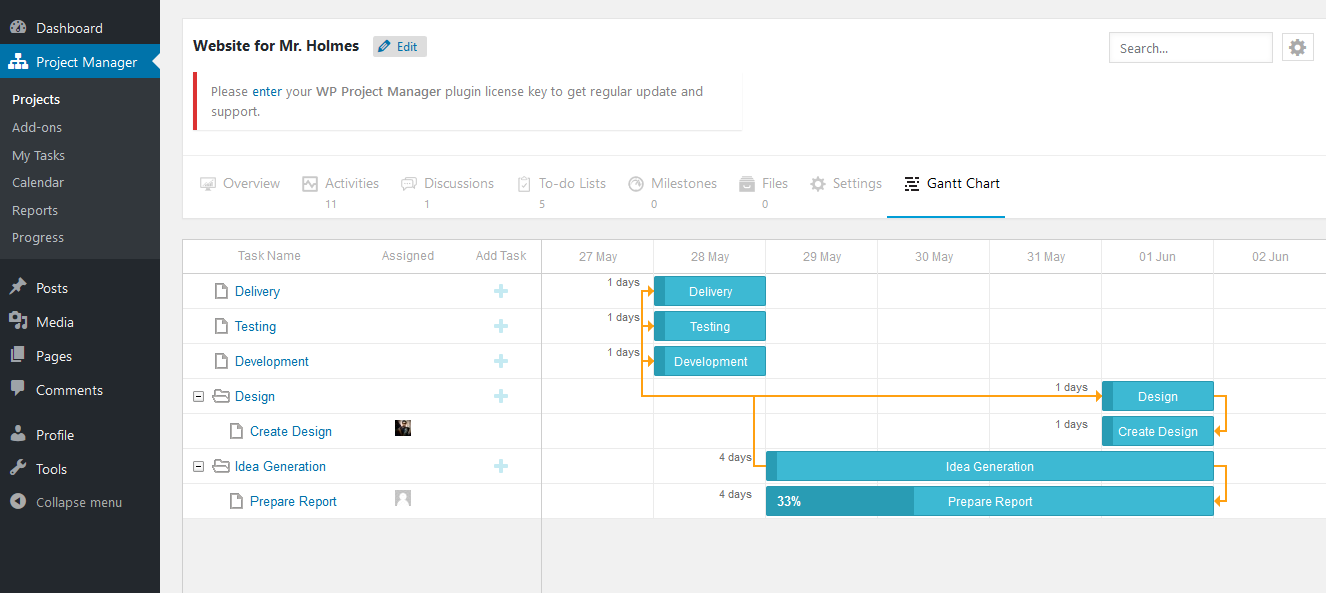 Reports
When your project has progressed significantly, you can view automatically generated reports that show your overdue, incomplete, completed, milestones, tasks, and unassigned tasks with several details. These reports allow you to easily share useful data with peers and clients who may need some briefing about what you are up to.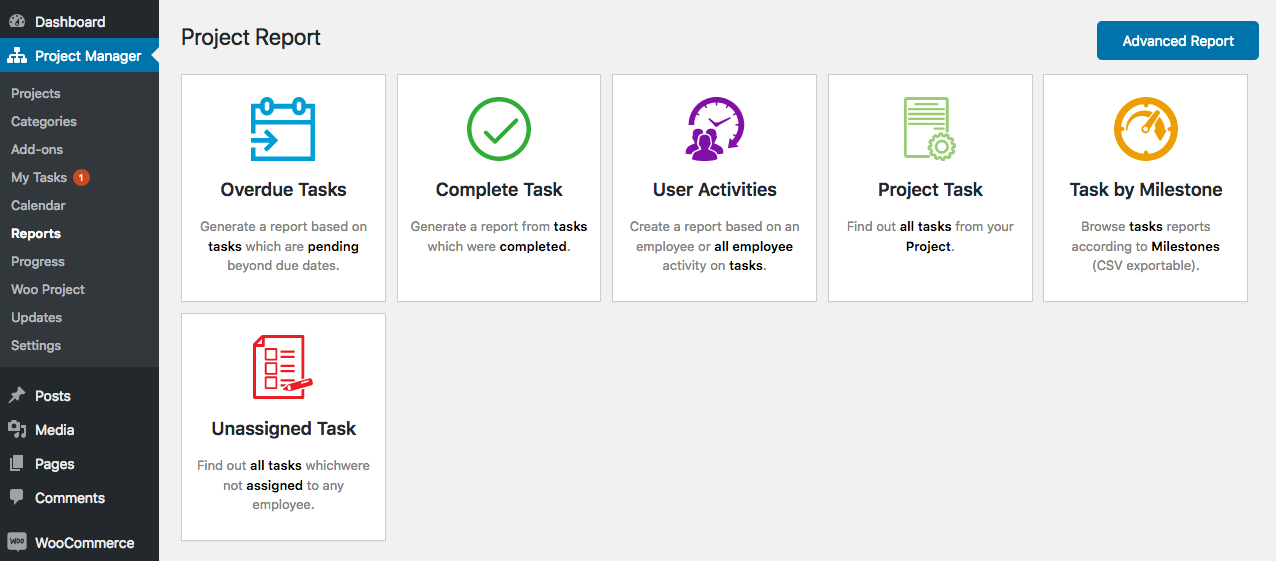 Filter reports and export as CSV. Using the advanced report option, you can also view reports for all projects, coworkers, status and time range.
Activity Tab
The Activity tab is an interesting feature inside each project that informs you of all the changes, updates, and activities of team members within that project in chronological format.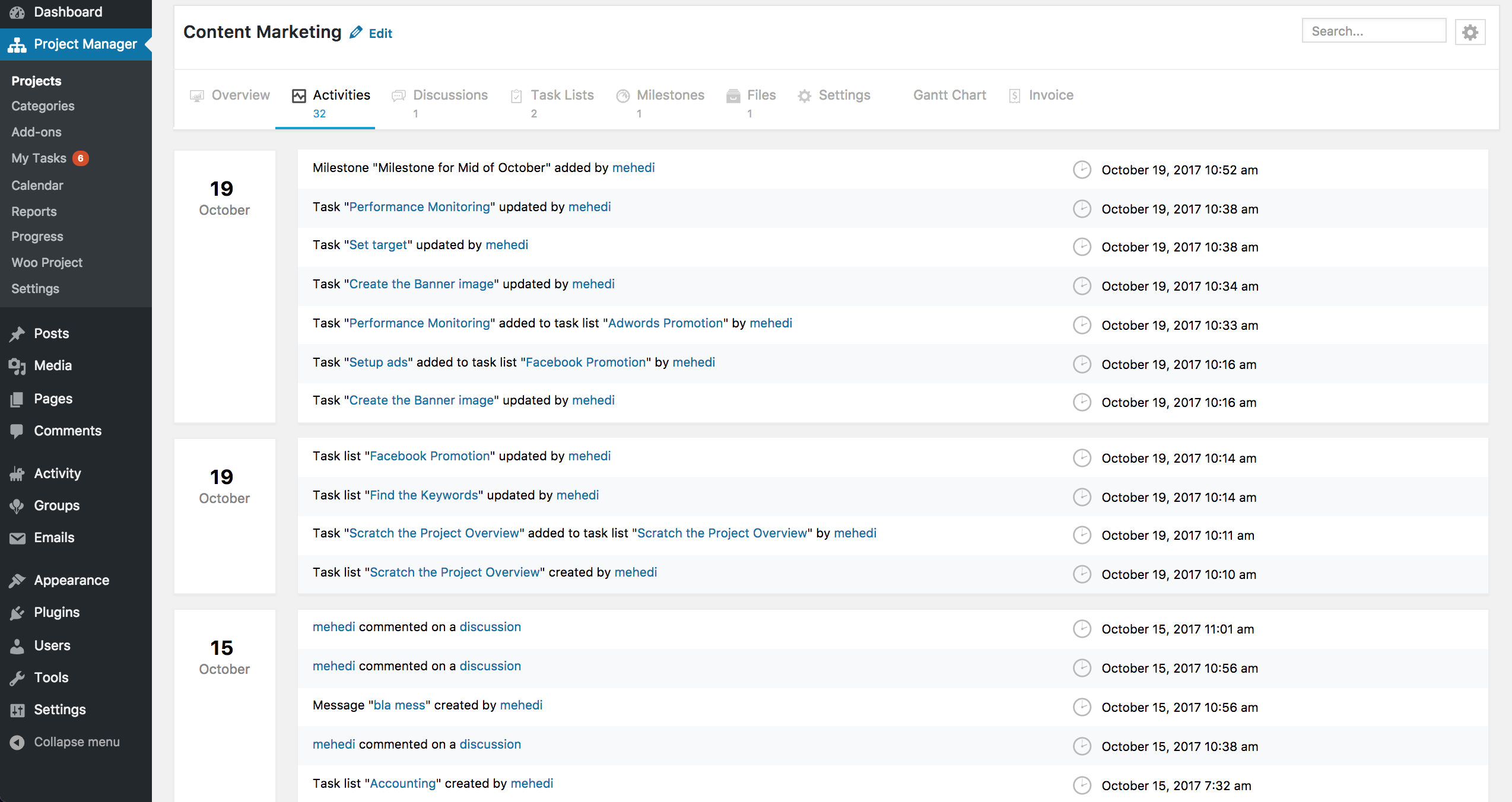 The same can be viewed but across all projects in the Progress tab.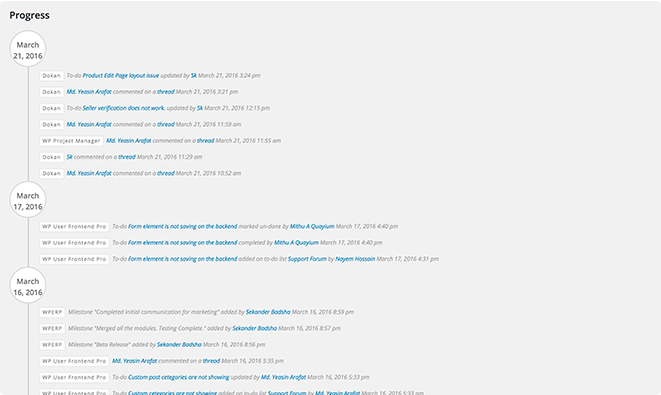 These steps are enough to get done with setting up, keeping track, and optimizing your project activities.
Project management doesn't have to be as complex as usually thought of. WP Project Manager was specially designed for small to medium-sized businesses so beginners and starters on WordPress and project management have an easy way to strategize and complete projects.
The WP Project Manager has additional features too like the Invoice payments, WooCommerce Order and Frontend Compatibility.
Summary on WordPress Project Management for Non Project Manager
Project management is as important for large enterprises as it is for entrepreneurs and small businesses. The key is to lay bare the complexities of your campaigns in an organized way and then plan out each activity separately but as if it's part of the whole project planning. Without this scrutinization & scheming, teams and clients are exposed to disorganization, imprecise objectives, unachievable targets, improper use of resources, risks, poor or late deliverables, and projects going over budget.
WP Project Manager has just the most essential features that are required for any project so that you don't have to deal with unwanted functionality. But it also lets you tailor the plugin according to your needs with the help of extensions.
It is said, "Great project management matters because it delivers success". When teams feel motivated and happier, they deliver the right stuff and the returns are also greater.