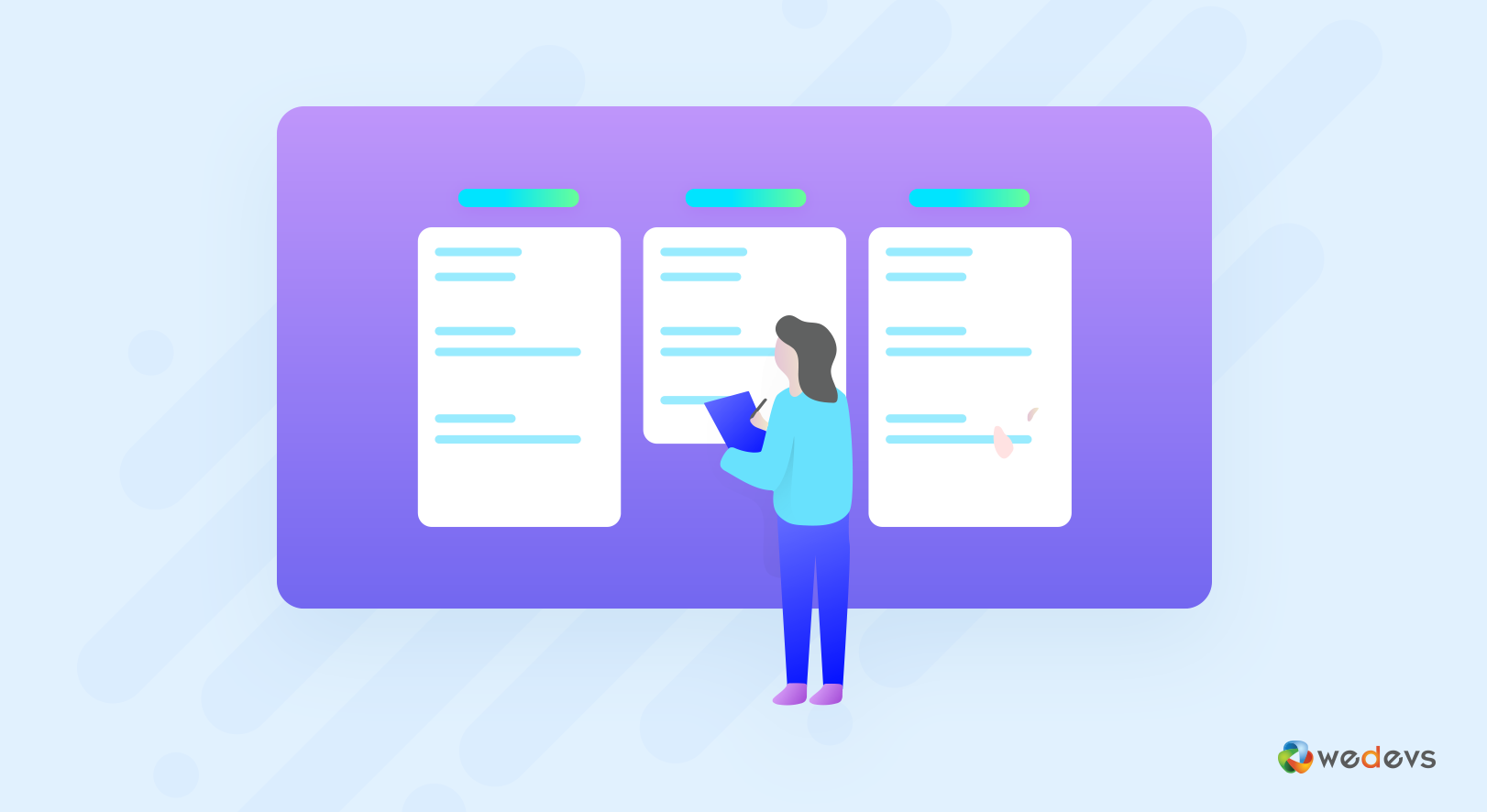 Powerful Project Management Tools for WordPress Users (5+ Free Plugins)
Since Project management is an integral part of any business endeavor it is, therefore, a must for every organization to get it done right.
As WordPress now powers more than thirty-three percent of all the websites in the world and continues to grow by the day. It is only natural for business, brands and development company to leverage on this to build sophisticated WordPress Project management tools and website applications.
It doesn't matter whether you are a website designer, engineer, programmer, oil and gas expert you can easily integrate a WordPress Project Management tools as your project management software to help manage, monitor, track and evaluate your project life cycle.
We all need to successfully streamline our process, have it defined from start to finish and, moreover, have a reliable tool to help us track it. So, whether you are an accountant, have an online shop, a project manager, a business owner or doing freelance projects, WordPress offers many project management tools to make your project run effectively and efficiently.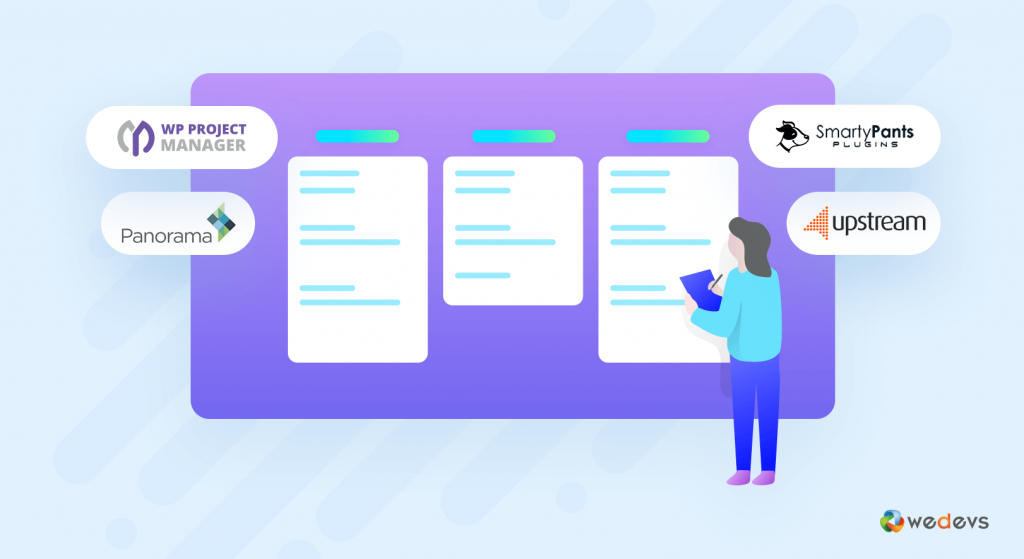 Project management involves a lot of planning, organization, and hard work to follow procedures and ensure tasks meet their deadlines and stay within budget. Just as you chose WordPress as a core platform to build your business on, you can easily integrate the right project management tools on your WordPress Site.
Factors to Lookout for When Choosing A Project Management Tools
Project management is all about planning, organizing and prioritizing, therefore you need to watch out for some basic features when choosing a project management tools.
Communication
A good project management software should have a communication channel for easy communication between parties.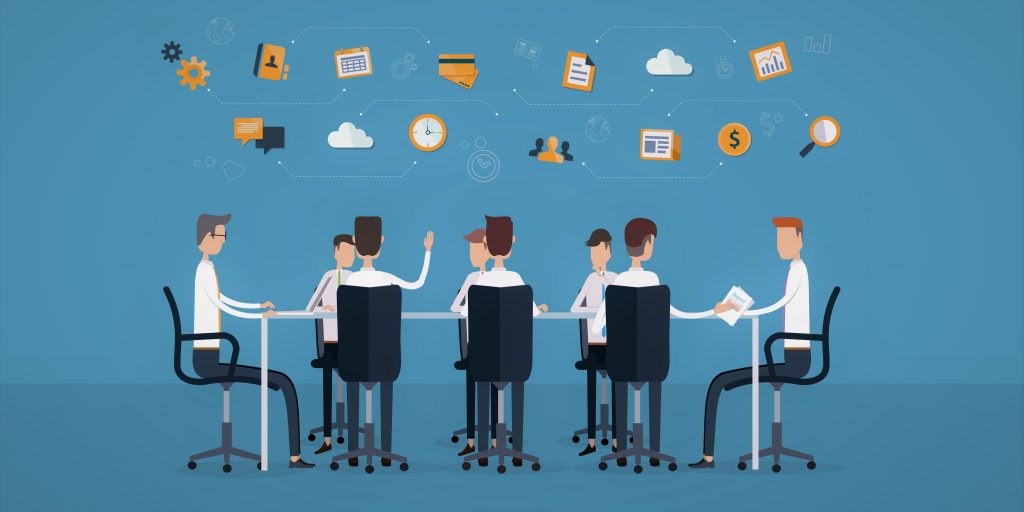 Since project management requires lots of communication between clients, staff, and members of the department, it is, therefore, advisable to have a centralized communication channel where each member of the team can have access to all information at any given time.
The right communication network is essential for the success of a project.
Goals Setting
A good project management software should allow you to set SMART goals and also be able to track them. The project objective should be precisely defined, clear and consistent, realistic, achievable, measurable and time-bound.
Setting clear goals makes it easy to track achievements, success or failure of a project
Therefore make sure any project management tool you are using has an easy to use goal setting template.
Planning
Planning is an essential part of project management. in order for your project to work. It is the very basis of any successful project management, and it requires extensive, detailed preparation.
Project scope, time planning, budget, risk, human resources, communication – all that and more needs to come in consideration even before you start your project.
Multitasking? Yes, all this requires you juggle with so many different things, but then again, who said project management would be easy.
Analytics
After successfully setting out goals and creating strategic plans for your project, your project management tool should be able to collect data and provide a chance for you to analyze them based on certain parameters.
Monitoring and tracking a project is not just enough but also able to analyze and use the information provided.
Once your project is in progress, you need to monitor and track it and compare the results.
So you can measure the outcome, adjust the plan if required. Also, knowing how to collect and translate all the various data and transform it into a usable format is an important part of project management.
Best WordPress Project Management Software
Now, in order to select the best project management tools, firstly, we need to define what you measure. What would be the KPI's – Key Performance Indicators, both quantitive and qualitative metrics?
We have gathered a list of the top six WordPress project management tools to help you manage and improve the efficiency of your projects.
WP Project Manager
WP Project Manager is a sophisticated all in one WordPress project management tools, it was developed by weDevs and have been in existence since 2008.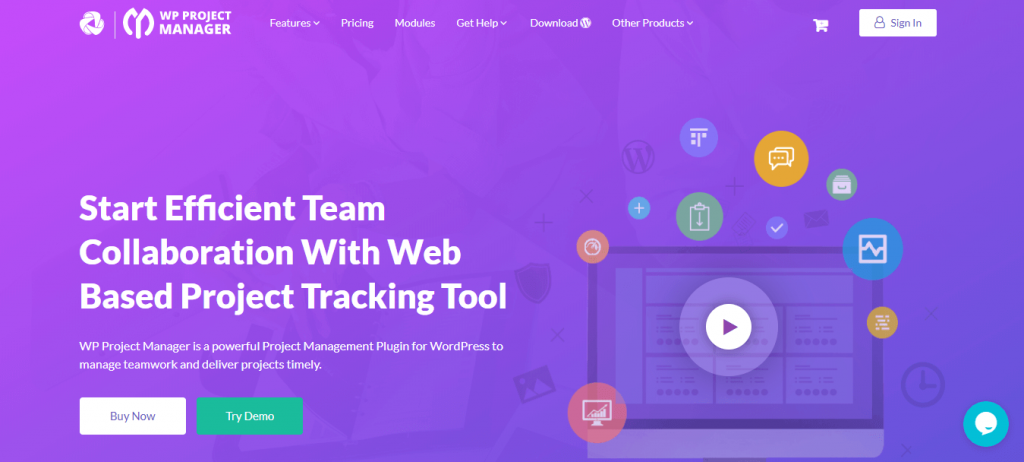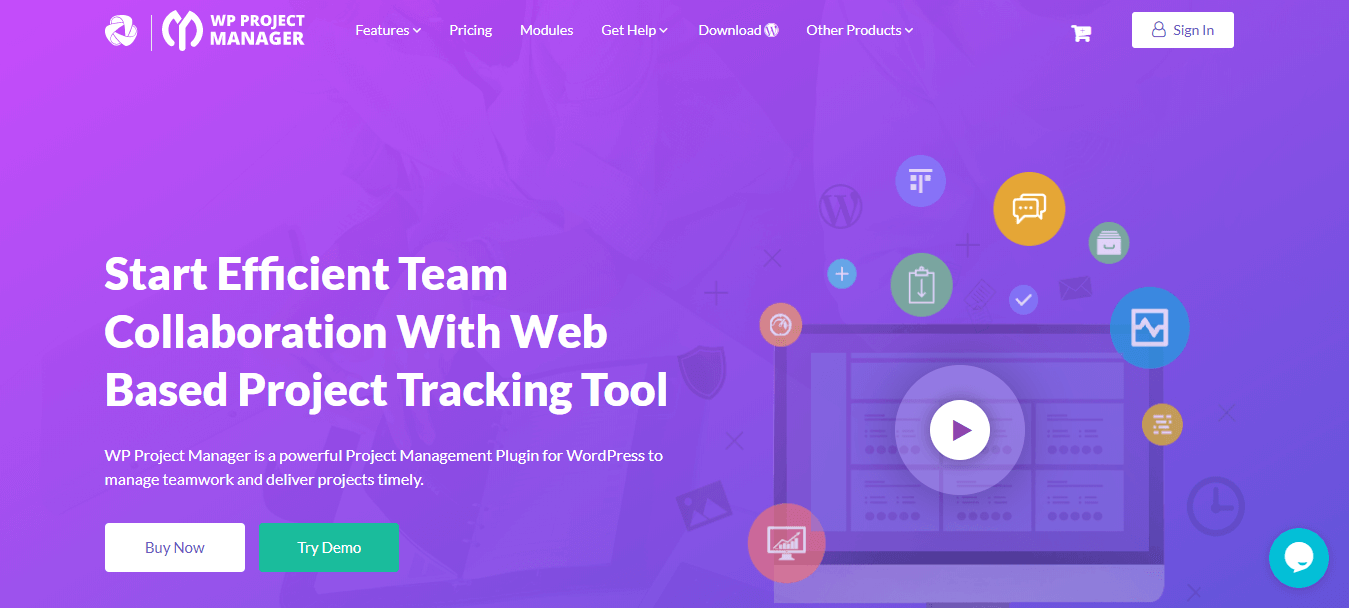 It is not just another WordPress project management software but it is a game changer in the Project Management tools industry. it is a task manager and a team collaboration software that can readily integrate with your existing website as opposed to having to create an external site for your project management projects.
Here are some of the features of WP Project Manager:
It allows you to easily add projects using the WordPress interface
Collaborate with team members based on their user level
It provides an overview of all your project list with a calendar functionality
You control user roles, assigning managers, co-workers, and clients
Assign creators and limit project visibility
See current project status
Archive completed projects
See all files associated with a single project in one place


The WP Project Manager is an all in one Project management system that allows you to efficiently manage all your WordPress project management life cycle from start to finish.
SP Project Manager
The SP Project & Document Manager is another WordPress Project management solution that can store unlimited project files, documents and folders all in one place. SP Project & Document Manager is a free tool that helps you track and store multiple files categorized by the number of your clients or tasks.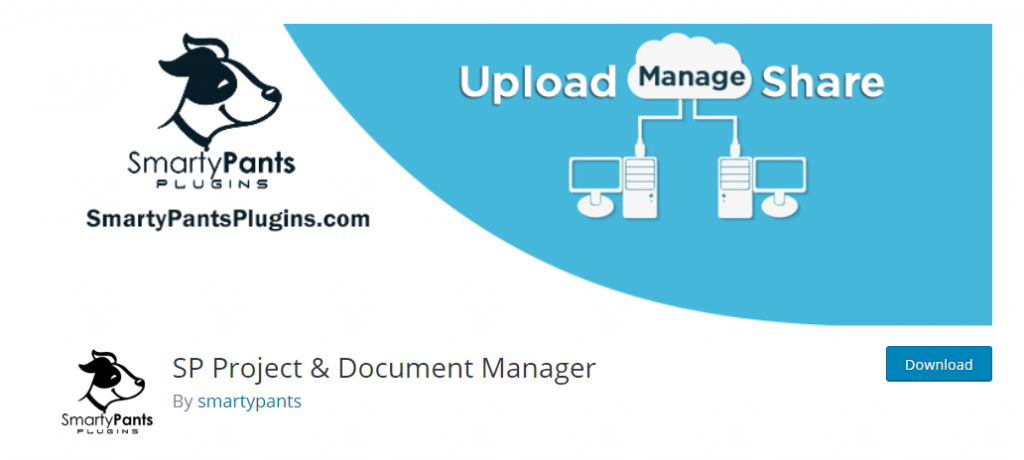 It offers unlimited storage the only limitation to the amount of storage is the size of your server. You can also create access for your clients which also give them the ability to upload their documents, files and manage them with your supervision.
With SP Project & Document manager you can share, upload, manage, sync and secure your files
Some of the features include:
Zip files in an archive
No limit to file upload
Add links to a file
Each user gets their own file repository
WordPress user roles integration
WooCommerce integration
Amazon s3 integration as an addon
Custom file list templates, and more!
Kanban Boards for WordPress
Kanban boards for WordPress is one of the most popular projects management tools, it is also known as a great Customer Relationship manager. You can use it to track sales, editorial calendars, and more. It can easily integrate with popular most WordPress development plugins such as weForms, Gravity Forms, and Ninja Forms.
Some of Kanban's features include:
It offers Multi-site support and easy installations
Tasks can be assigned to team members
Ability to group tasks by projects
Optimized for mobile
User permission management
Multi-language support
'Edit in place', just like TrelloCustom views for bookmarking
They also have premium add-ons available which allow you to extend its functionality by enabling multiple boards, advanced user management, task comments, task colors, task attachments, and even notifications.
Panorama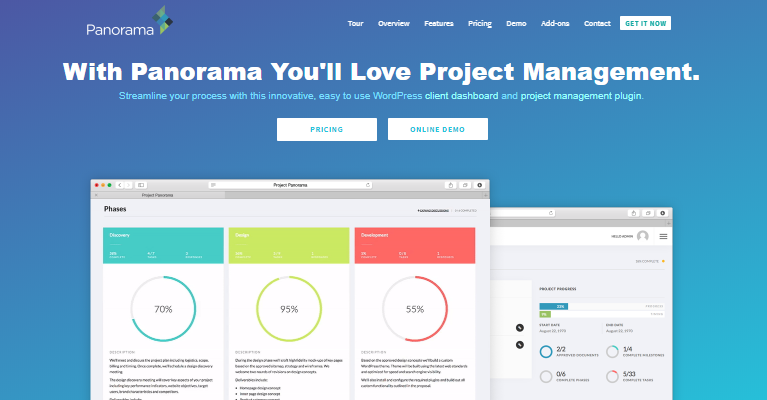 Panorama is another innovative WordPress project management/client dashboard tool that helps you streamline and effectively manage your project processes. With Panorama you can delegate and automate both simple and complex task.
Project Panorama is a visual-based customizable project management tool that makes your project tasks and workload easily trackable.
Some of the main features are-
Assign start and finish dates
Embed projects into your WordPress theme
You can add milestones to all of your projects
Discuss your projects with pertinent parties
Progress bar option
It has an embed option that includes project into the WordPress theme
Cloning tool (if you have multiple projects)
Multiple-site use
Email support etc.
Project Manager by UpStream
UpStream is another effective WordPress Project Management tool that offers a robust and dynamic platform to manage any type of project, from your WordPress website dashboard. Project Manager by UpStream makes project management so easy and also helps you track the progress of the project.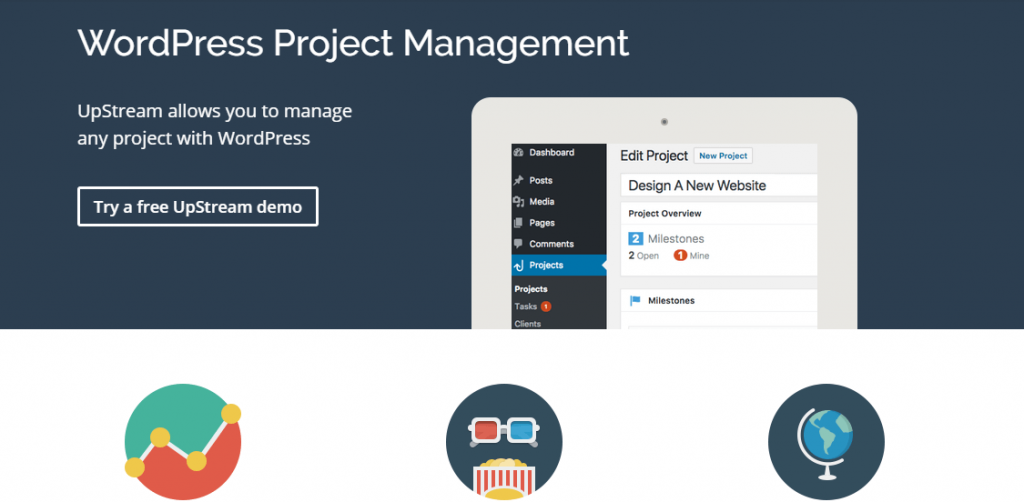 Some UpStream's features include:
Provides tracking for Milestones and tasks
Easy Upload of files and documents
Bug tracking
Automated progress tracking
Built-in roles for managers and users
Customizable front-end templates
User-friendly
Projectopia WP Project Management Formerly CQPIM
Projectopia WP Project Management is a premium full-featured project management tool for WordPress. It was originally designed for an in-house web agency to fulfill their client's needs before they eventually decided to make it public and launch it as a full-time WordPress project management tools. It was formerly known as CQPIM.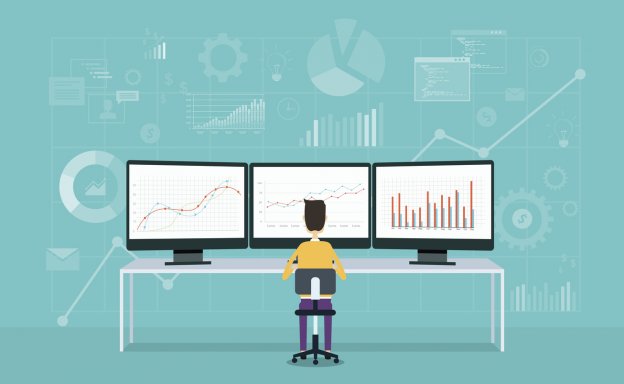 This tool was designed for everyone from small freelancers to big agencies, to help organize their work and tasks without having to leave WordPress.
It has an extensive and advanced feature that allows you to create, organize, assign, set and assign projects. Projectopia WP Project Management comes built in with some powerful features which include:
Powerful settings, control panel, and workflow control
It has a separate dashboard for clients which allows them to create their team members
Projectopia comes with a Dashboard notification alerts for quotes, timelines, projects, milestones, invoices, support tickets, etc.
It comes with a simple Project templates with task management feature and task progress bars
This tool offers a comprehensive and robust WordPress Project management tool, It comes pre-installed with lots of functionalities and It has a 4.5 out of 5-star rating.
Ultimate Project Manager Pro
Ultimate Project Manager CRM Pro is a two in one WordPress project management plugin which offers project management customer and human resource management.
It allows you to create, assign, manage leads and opportunities, billing, proposal, and invoice system.
It also allows you to easily generate report and ticketing systems.
Project Management in WordPress: Points You Should Remember
There are other project management tools available in the market. However, based on some criteria, functionality, popularity, user experience and effectiveness, these are our top pick for the best WordPress project management tools.
Feel free to test any of these plugins for your next project. Whether you choose to start with the free or paid version, these plugins will help you achieve your business goals.
For SMEs, WP Project Manager could be the best suit.