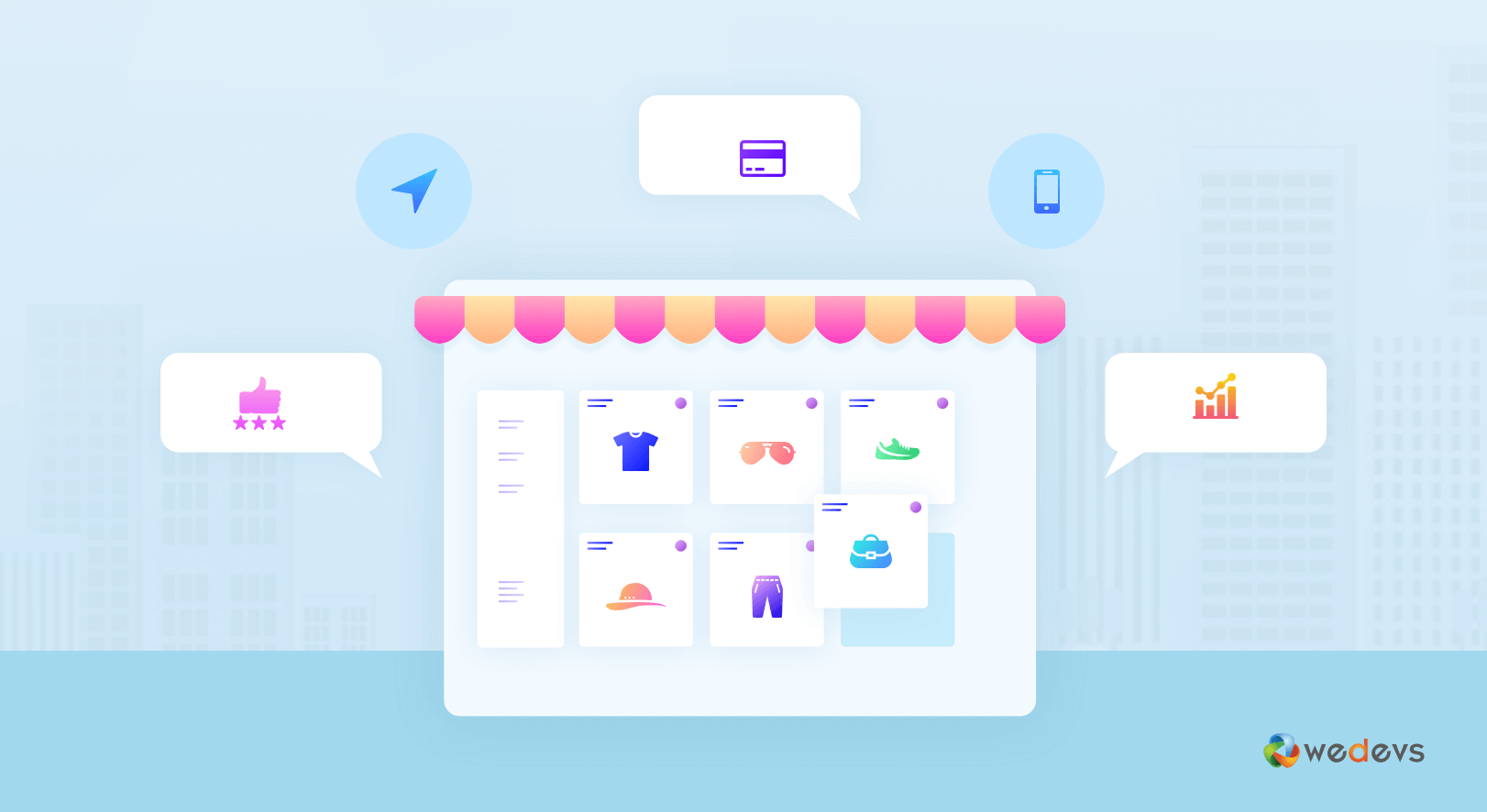 Top 10 Features You Should Have on Your Online Marketplace Platform
Ever wondered what makes an online marketplace stand out? It's not just about having awesome products or services to sell – it's also about having the right tools to make shopping a breeze.
The number of digital buyers is increasing day by day. Retailers are also trying their best to make the user journey remarkable. One of the best ideas is getting multiple vendors in one place and starting an Online Marketplace.
An online marketplace provides access to a much larger customer base compared to a single eCommerce store. Digital buyers also prefer shopping from marketplaces as they get more choices to pick from.
83% of U.S. power shoppers said online marketplaces are the most convenient way to shop.

digitalcommerce360
If you are an owner of a multi-vendor market or planning to start one then you should consider some important points first. You must keep your site simple and smart. So that both vendors and customers can browse the site effortlessly.
In this article, we enlighten the major marketplace features you should consider while developing an online marketplace.
10 Major Marketplace Features You Should Consider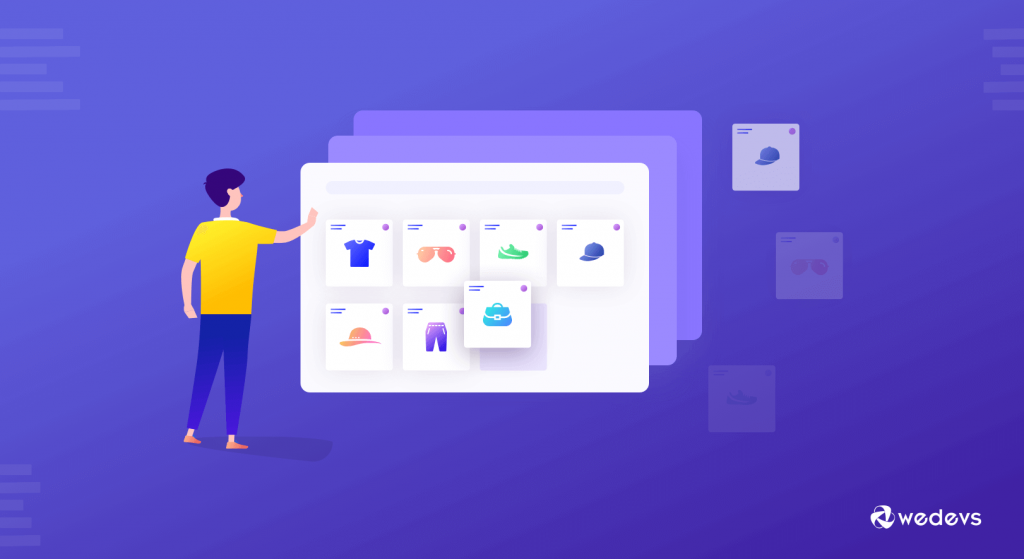 On an online marketplace platform, more vendors mean more earnings for everyone. The more products you can promote on your site, the possibility of getting customers also increases. So, you have to take good care of your site design, product display, site loading speed, security, and others to ensure a better user journey.
To build a successful two-sided marketplace you must fulfill all the necessities of your sellers and buyers both. However, depending on your business size, niche, and customer-base may the factors will slightly change. But the basic features are the same for all the online marketplace platforms.
Here are the top 10 marketplace features you should consider integrating:
Simple Signup Process
Advanced Vendor Dashboard
Easy Custom Search & Navigation
Responsive Website Design
Integrating Popular Payment Gateways
An Interactive Analytics Dashboard
Smooth Transactions for Digital Products
Easy Options for Ratings & Reviews
Enabling Easy Social media sharing
User Protection with Robust Safety Measures
1. Simple Signup Process
Keep the signup process easy for both vendors and customers. So that they can complete the process in a minimal period. Now-a-day people are too busy and have so many options on their hands. If it requires multiple steps or too much information to complete then users may get discouraged to enroll on your site. And switch the tab immediately.
Therefore, keep the signup and onboarding process transparent, short, and straightforward. Ask only for relevant information and let users sign-up via social channels like Facebook, Google, Twitter, etc. Also, allow users to retrieve their name/password.
If you use Dokan to build your dream marketplace then you will experience an easy and intuitive login process for all users.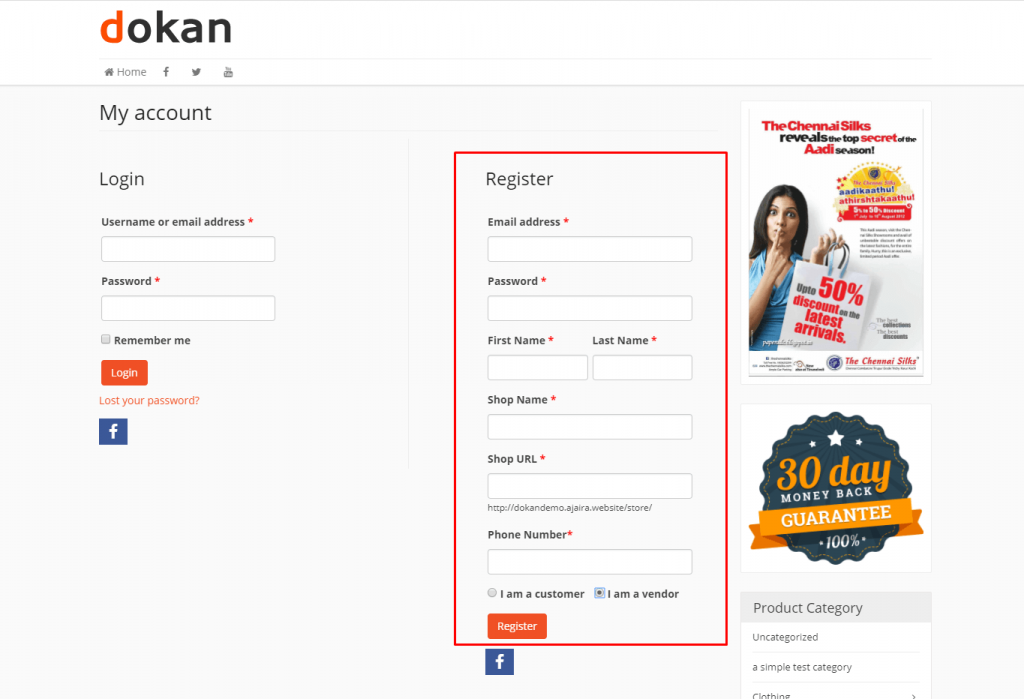 2. Advanced Vendor Dashboard
Vendors are the core contributors to your multi-seller marketplace. The more sellers you can get for your site, the more you can grow fast. A good number of sellers mean a lot of product variety on your site. So, you should provide enough facilities for them to sell their products on your site.
Below you can see the Dokan Vendor Dashboard Overview-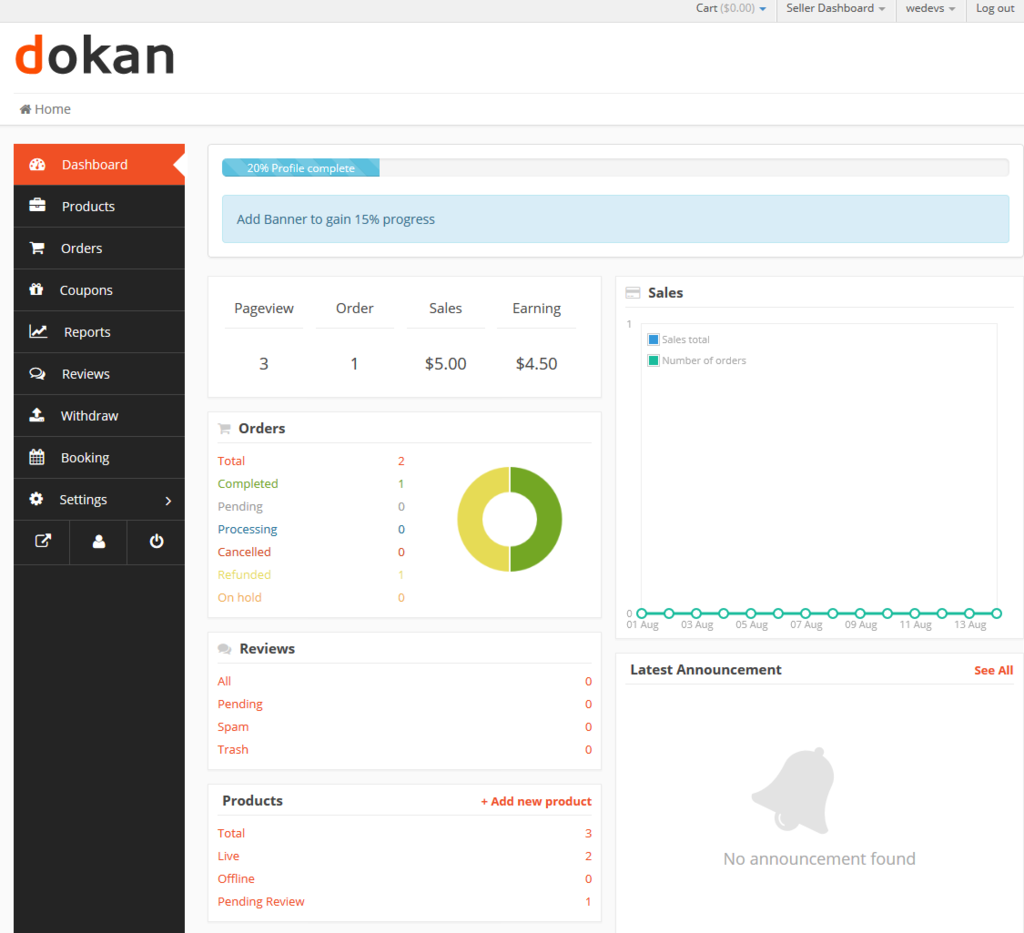 You should provide a detailed and individual dashboard for each vendor of your site. From where they can manage their shop including uploading and editing products, shipping process, customer communication, and others. Keep all the processes simple and effective. That they can easily understand and handle everything seamlessly.
Also, they should get all the updates and report right on their dashboard. So that they can overview everything at a glance.

3. Easy Custom Search & Navigation
In an online marketplace, a lot of products are available for users. You should keep the products organized under different categories. So that buyers can access their required section quickly and get the right product easily.
Streamlined marketplace navigation, clean and modern interfaces, good-looking and informative product pages – we're seeing that all of this is important as ever for a modern online marketplace in 2019.

Dmitry Sokolov, Project Manager at Roobykon Software
As an owner, you can include a smart search option on your site. Therefore, visitors can search for their products directly from there. Don't make the process complicated, lengthy, or difficult to understand.
Also Read: How to Create a Used Car Marketplace- Follow 5 Simple Steps!
4. Mobile Friendliness of Your Online Marketplace Platform
Your site must be compatible with all screen sizes. Buyers must get the exact view and navigate the site easily from all types of portable devices. Otherwise, they will go elsewhere.
According to current reports, nearly half of the consumers shop more on mobile than in-store.
This stat clearly shows the importance to shift into a mobile-friendly eCommerce marketplace. Moreover, a mobile-friendly website will enhance your customers' experience. It portrays you as a trustworthy resource for information, services, and products.
As a result, vendors also will be more likely to add their products to your site as well. Besides giving better service to their customers, they can operate their online shop from their smartphones too.
5. Incorporating All Popular Payment Gateways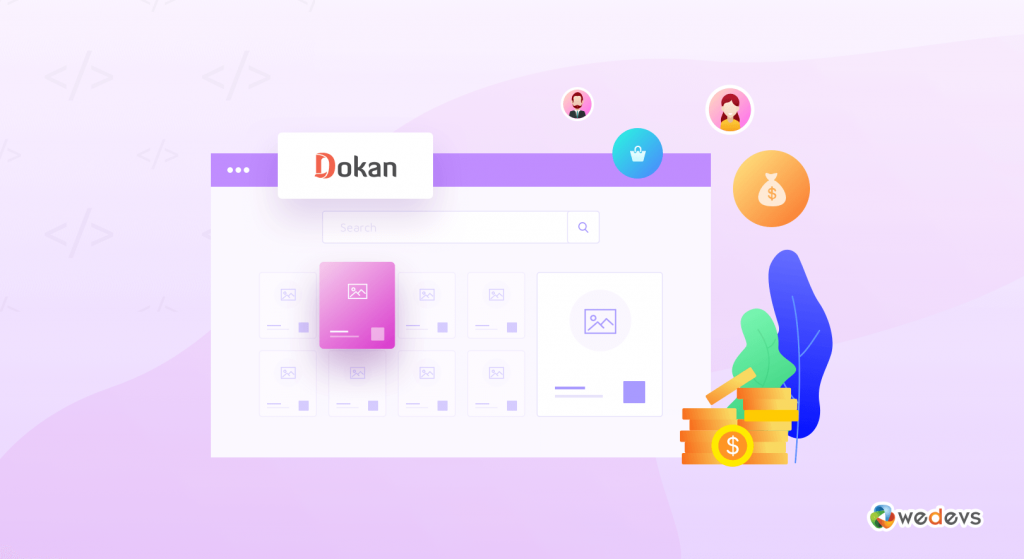 Your marketplace should offer multiple payment systems for the users. Moreover, select online payment systems that are compatible with eCommerce platforms and have worldwide coverage.
Perhaps, you can include Paypal, Stripe, and Bank Transfer into your eCommerce site. Or other local transaction methods based on your customer's accessibility. So that visitors can pick their desired products and make the payment directly from the site.
It makes the customer's life easier. And they can shop or do transactions smoothly on your site. It is both time-consuming and user-friendly. Furthermore, you should consider the vendor's preference before setting up the payment gateways.
6. Detailed Analytics Dashboard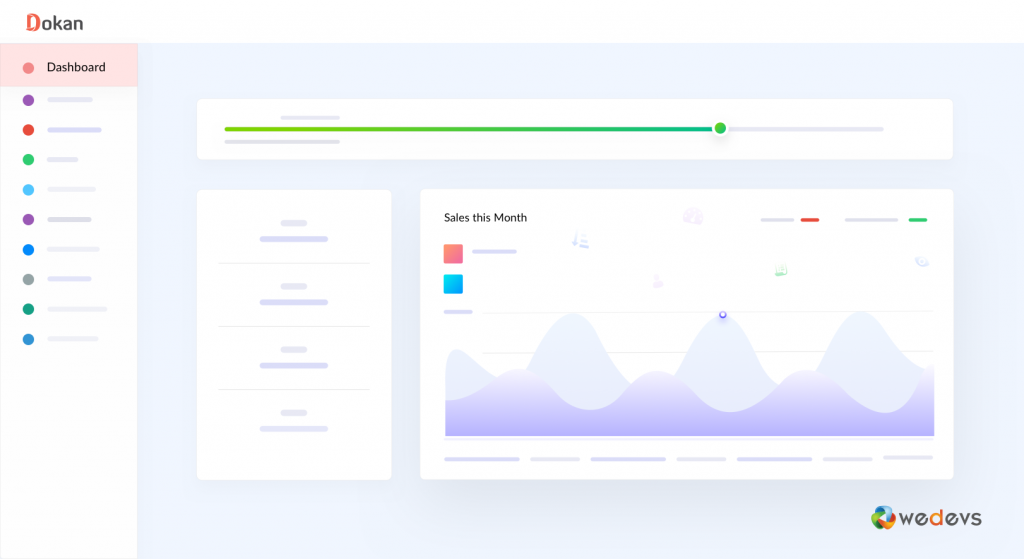 Advanced analytics and reports are beneficial for both admin and vendors. It gives you a clear idea about customers' behavior, session time, cart abandonment reasons, and so on. Based on these data you can improve your marketing strategy and site performance as well.
Luckily, Dokan provides all the required data right on your dashboard. And this information is completely secured for further usage. Vendors will get segmented reports on their selling products, and earnings along with other detailed statements.
On the other hand, Dokan Admin Dashboard gives access to view the overall activities of your marketplace in one place.
7. Easy Download/Booking Process
If your marketplace sells digital products then people should be able to download them after completing the purchase. Or if you are launching a site like Airbnb you must include a booking method in your eCommerce site.
It means depending on your site nature you may offer some extraordinary facilities for your users. Otherwise, it may not grab the desired attention of your target audience indeed.
Want to sell your downloadable products effectively on a marketplace? Here are some top tips you can check- Best Ways to Sell Downloadable Products on A Marketplace.
8. Ratings & Reviews for Your Online Marketplace Platform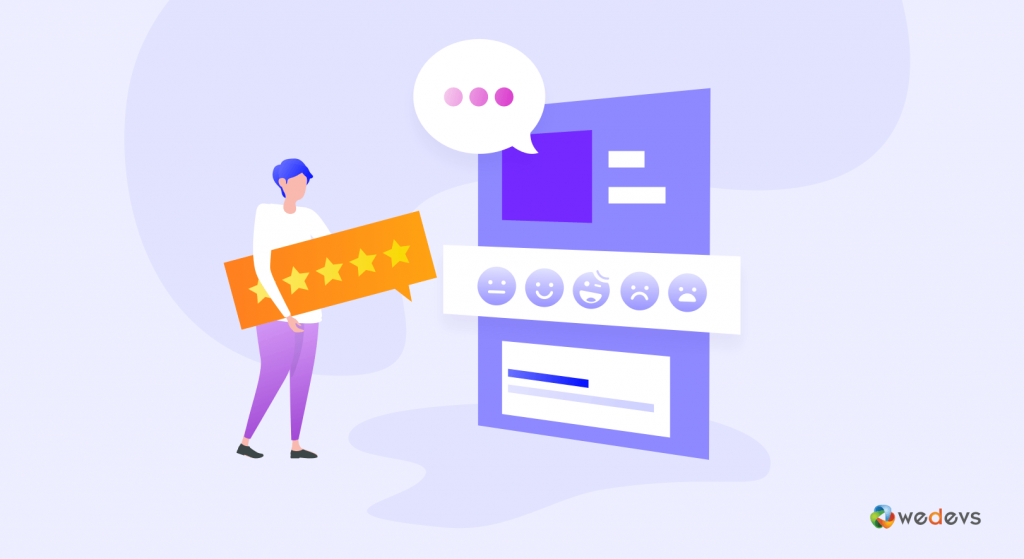 The review section is one of the most powerful features of an online marketplace platform. User testimonial plays an important role in decision-making and has a proven impact on sales.
Almost all of us check the reviews and ratings before ordering something online. It may be food from a restaurant, products from an online store, or any services that we need. You should also enable your visitors to add their ratings or feedback for any vendor or product.
It helps your multi-seller eCommerce site to gain trust and response from its visitors. Also, reviews from real users provoke new customers to complete their purchases on your site. It's a strong way to build your relationship with the customers.
🌟Discover the secret to skyrocketing sales and popularity!🌟
Check this guide on 6 tips to use product reviews to increase popularity and sales.
9. Adding Options for Easy Social Media Sharing
With the rising popularity of social media, it becomes an effective way to promote your business globally. Perhaps, you can add social buttons to your multi-vendor marketplace. So, visitors can share your site and their opinions on different social platforms easily. It will increase your brand value. The more people talk about your brand, the faster you can grow widely.
You can add popular social platforms such as Facebook, Twitter, LinkedIn, Reddit, Instagram, or others- based on your target audience.
Want to boost engagement on Instagram? Check out these 6 easy and effective tips to increase engagement on Instagram! From killer captions to stunning visuals, you'll be racking up likes and comments in no time.
10. Ensuring Secured Transaction
You have to ensure proper security for your online marketplace. It is crucial for both vendors and customers. Firstly, manage an SSL certificate for your eCommerce site. It ensures a secure connection between the browser and the server. Then take care of the other factors. Also, keep all the data on your customers secret. During purchase, they exchange many confidential data on your site.
If you are using WordPress for your online marketplace platform then you can use Dokan. It will keep all the transactions safe, secure, and private.
These are the top 10 marketplace features you need to consider in terms of standing out from the crowd.
Also Read: 9 Online Marketplace Ideas for You to Succeed in 2023
Build Your Online Marketplace Platform with WordPress for Free!
An online marketplace empowers customers to pick the best products at the right price as they can check a wide range of products in the same category from different sellers.
On the other hand, admins can run an online marketplace without having any physical products indeed. All they need is to build a medium where the vendors and buyers can meet together and crack the best deal for them. Vendors also get more customers in the marketplace than single stores. So, it's a win-win situation for all.
As an owner, it's your responsibility to keep your Online Marketplace Platform simple yet highly functional. It helps you to maximize your revenue as well.
Still, have any confusion? Share your queries with us in the comments below.