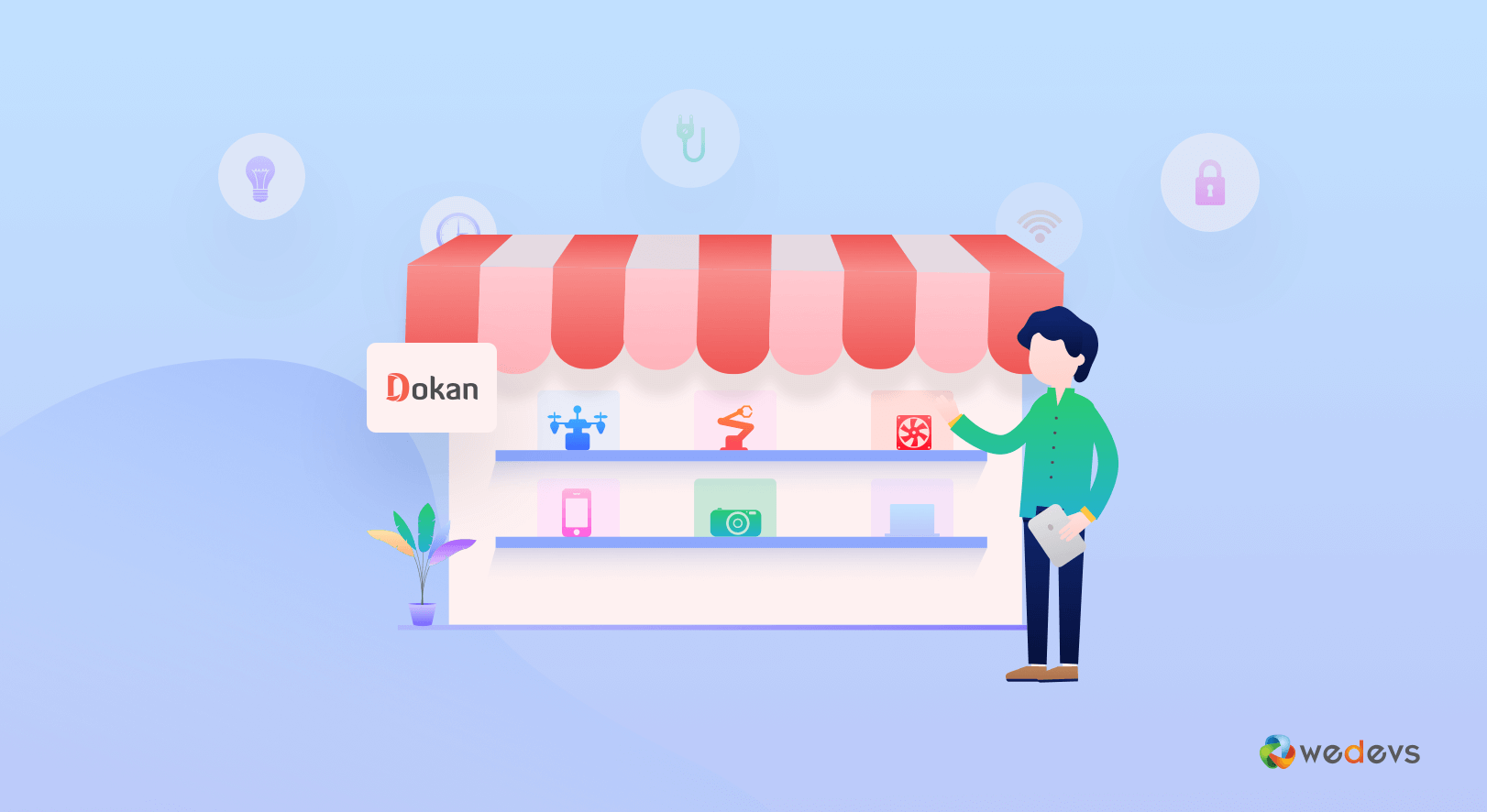 How to Create a WooCommerce Marketplace for Used Electronics with Dokan
The rapid growth of internet users and the immense development of social media diminishes all geographical borders. Now everyone is connected together regardless of their social status, age, profession, or geography. This concept of globalization made Online Business popular over the last few years.
Moreover, it's remarkably inexpensive and easy to start an online business if you have dedicated internet service. Sometimes it needs even less than $100 (the cost of purchasing a domain name and hosting service) to establish an online business site.
Today we will show you how to build a WooCommerce marketplace for used electronics with Dokan. Most amazingly it requires no prior knowledge and less than 30 minutes.
Why Build Your Own WooCommerce Marketplace Business
An online marketplace allows you to reach millions of customers around the globe. The increasing popularity of e-commerce businesses and online sales provoke more and more people to create a Marketplace in different niches. Moreover, customers also love to purchase on the marketplace as they get plenty of options to choose from.

According to a recent study, in 2018, 1.8 billion people spent $2.86 trillion on online shopping. There are more than 3 million online stores available at this time, but around 63% of them also sell in various marketplaces. Global e-commerce sales are expected to reach $4.8 trillion by 2021.
Besides that, 501 billion USD was the retail eCommerce sales in the United States and it is forecasted that the sale will increase to 740 billion in 2023.
The survey of 6,000 consumers was conducted by Salesforce and Publicis. Sapient stated that repeat customers prefer to shop from the online marketplace over the brands. It shows buyers feel safer spending their money in a broad marketplace like Amazon.
Plus, nowadays if you own a multi-vendor marketplace then even you can earn money from your own eShop without having any products of your own in it. Hence, it can be a great idea to establish an eCommerce platform where many different sellers will upload their products. And you can earn a certain percentage of commission from each sale.
With WordPress, it's no anymore a professional's job only to create a site like Amazon. So, you can also build an Amazon-like platform on your own. However, it must be easy to use for brands and retailers well. Also, you should focus on ensuring a better customer experience so that they come back to your shop again and again.
Turn your WooCommerce Site into a Multi-vendor Marketplace in Minutes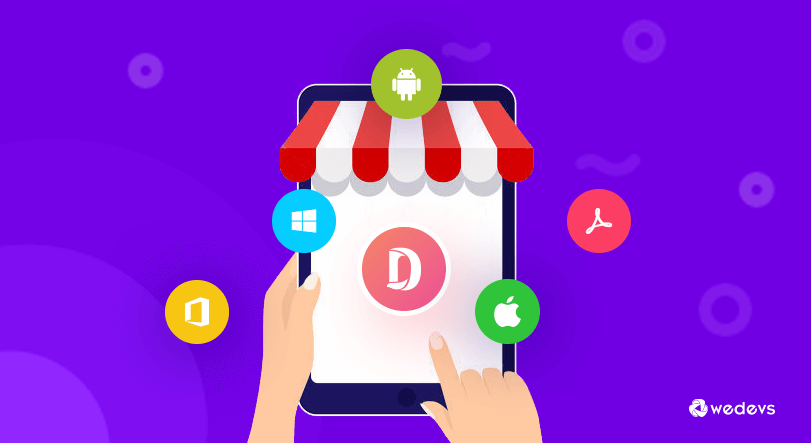 A journey towards the biggest revenue starts from here!
Here, we will show you a step-by-step guide to creating a multi-vendor eCommerce platform where vendors can sell second-hand electronics products. In addition, today we will introduce an exciting module of Dokan known as Dokan Single Product Multivendor.
This unique feature allows vendors to sell other vendors' products. They can add a product from another vendor's store to their own store with a single click. Furthermore, they have the flexibility to customize the product details to their liking.
At the same time, customers can go through all the same products that the vendors are selling and compare each price from the product page. This will let consumers buy a product at the best price.
Now let us describe how to configure and build a used electronics marketplace using Dokan's Single Product Multivendor Module.
Prerequisites for Launching a Used Electronics Site
Initial Configuration for Your WooCommerce Marketplace
WordPress: At first, you should buy your own domain and host from a trusted provider. Then, install WordPress on your server.
WooCommerce: After logging into the site with your personal credentials install and activate the WooCommerce plugin like any other WordPress plugin. That's it your single eCommerce store is ready for launch.
After installing WooCommerce, you have to configure some basic settings. Firstly, check the "Anyone can register" option from the WP Admin → General → Settings → Turn anyone can register on.
Save changes.
Now, create some product categories like laptops, PCs, adaptors, etc. from the WP Admin Dashboard → Products → Categories. Finally, save your newly created categories.
Dokan Free and Pro: Now you have to install Dokan to turn your single store into a multi-vendor marketplace. To unlock all the advanced features you can simply get the Dokan Pro with a 100% money-back guarantee & customer satisfaction.
Read our full official documentation or go through the following video tutorial to set up Dokan successfully on your website.
Active Dokan Single Product Multiple Vendor Module: Now, navigate to WordPress Admin Dashboard → Dokan → Modules.
Click on the toggle button beside Single Product Multiple Vendor to activate the module as shown below.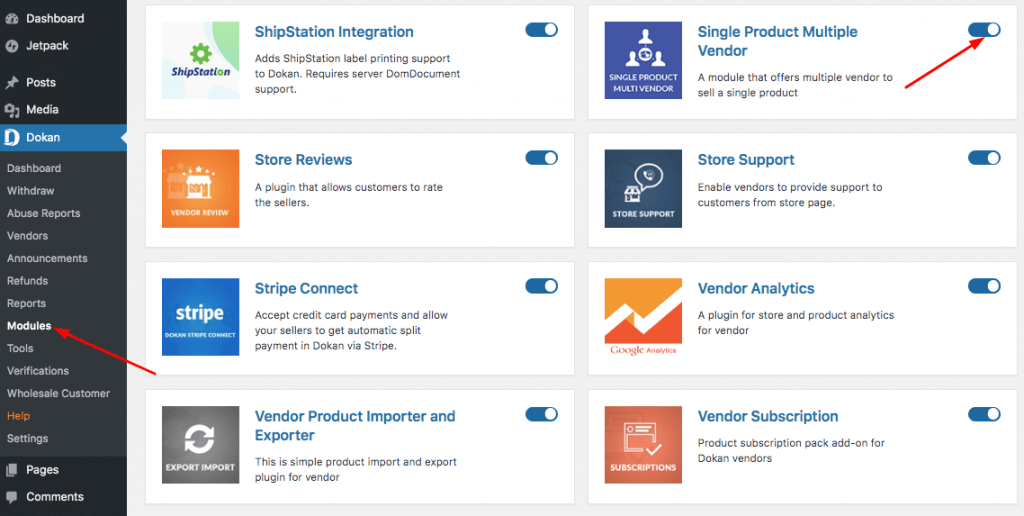 An Appropriate Theme for Dokan: You can use the Dokan theme to represent your marketplace in an attractive way. Here, you'll get plenty of options based on different industries and niche categories.
Most amazingly, Dokan works well with almost all the popular WooCommerce themes available in the market. So, you have the flexibility to choose a theme that fits your business. You can check all the Dokan Compatible Themes.
However, the theme must be easy for both vendors and buyers to surf and conduct other transactions.
You can check the cost that you need to launch your desired WordPress site.
General Setting of Dokan
Now, you have all the components in your hands to build your first multi-vendor marketplace for used electronics. Before proceeding, configure your Dokan plugin with all the essential settings as below: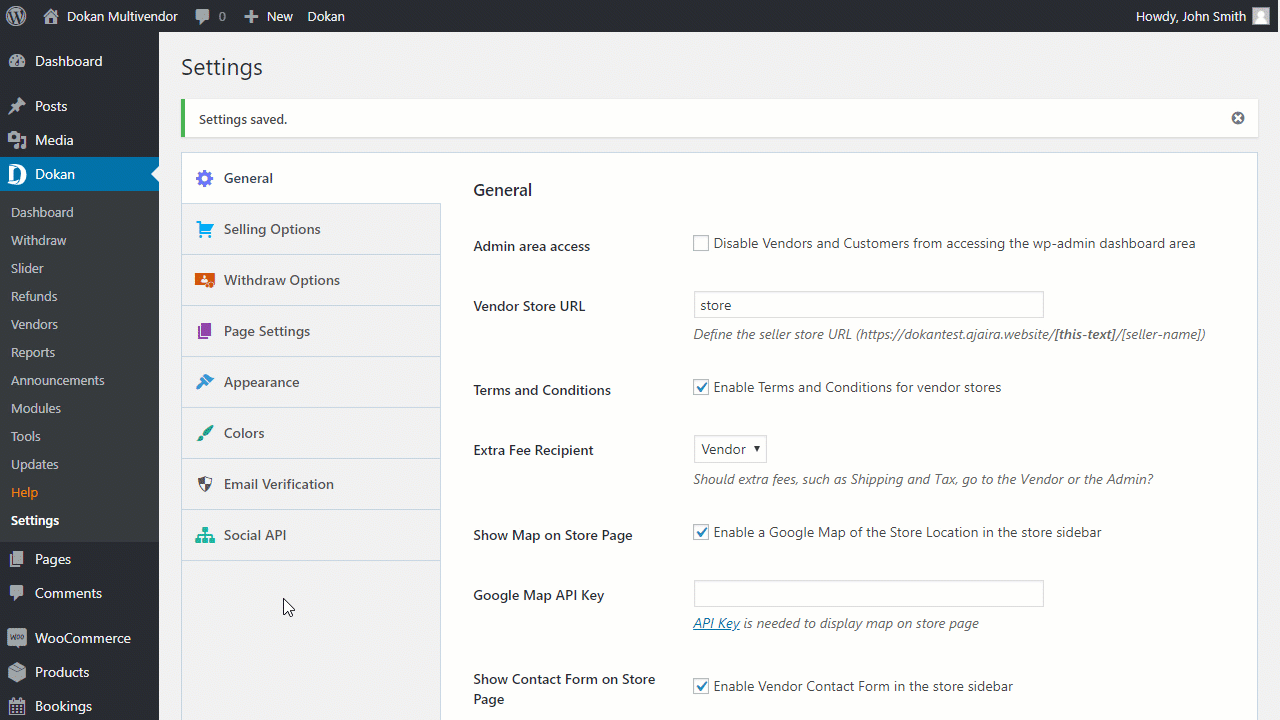 Here you can optimize your marketplace as per your brand requirements. It helps you to operate your business seamlessly. After that, you are free to design your own Marketplace Website using Dokan.
How to Create a Used Electronics Online Platform Using Dokan
Let's see how to customize your Used Electronics marketplace using the new feature of Dokan- "Single Product Multiple Vendor".
Go through this step-by-step guide:
General Settings for Single Product Multiple Vendor
Step 1
Navigate to your WordPress Admin Dashboard → Dokan → Settings → Single Product MultiVendor.
Then, Click on the checkbox beside to Enable Single Product Multiple-Vendor.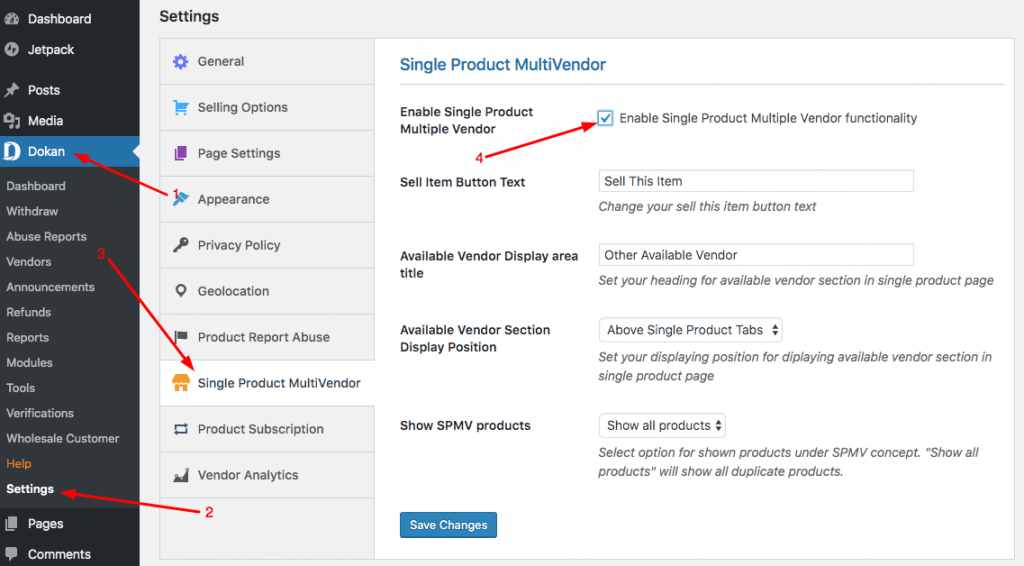 Step 2
Now, you can change the default content of the "Sell Item Button Text" and "Available Vendor Display Area" titles.
To change the 'Sell Item Button Text', type over the given field. It has the default text "Sell This Item". You can change it as per your preference.
Here we have set the text as "Sell This Product Now!".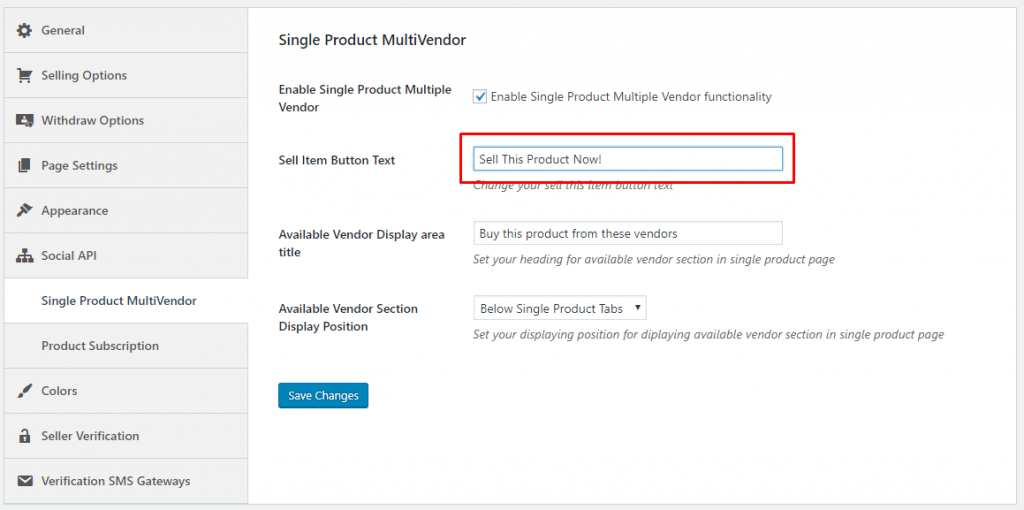 This is how vendors will view the button for a product from the store.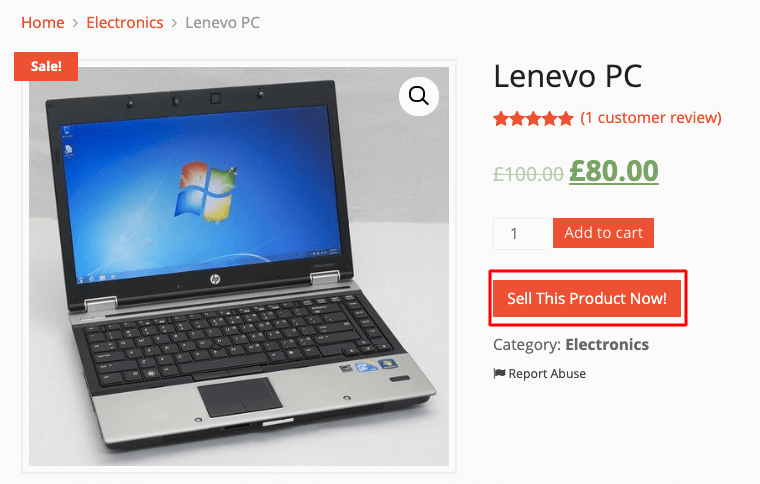 Step 3
You can also change the text for the Available Vendor Display Area Title as you desire. To do this, simply write your desired text over the given field. It has the default text "Other Available Vendors".
Here we have set the text as "Buy this product from these vendors".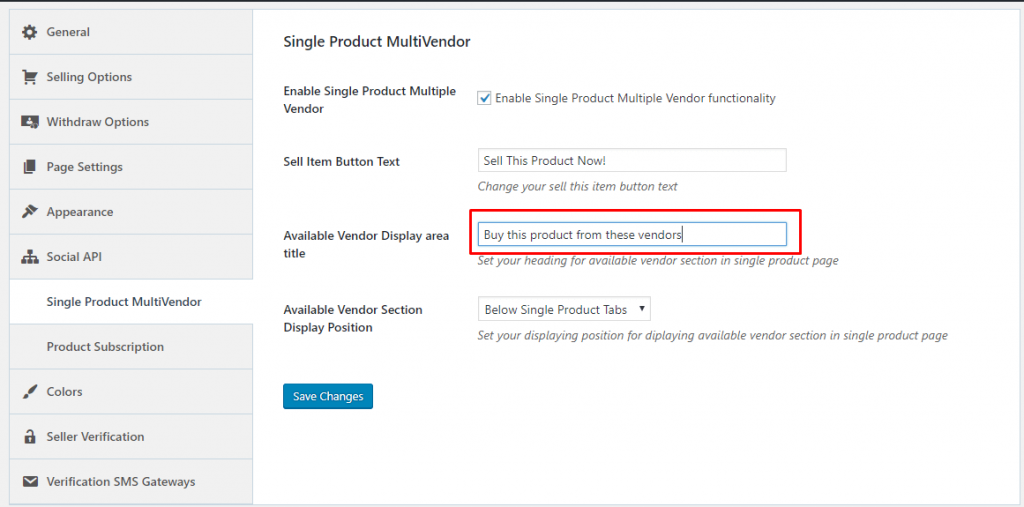 So, above you can see how the button will appear in the store. Vendors can see the list of all other vendors selling the same product: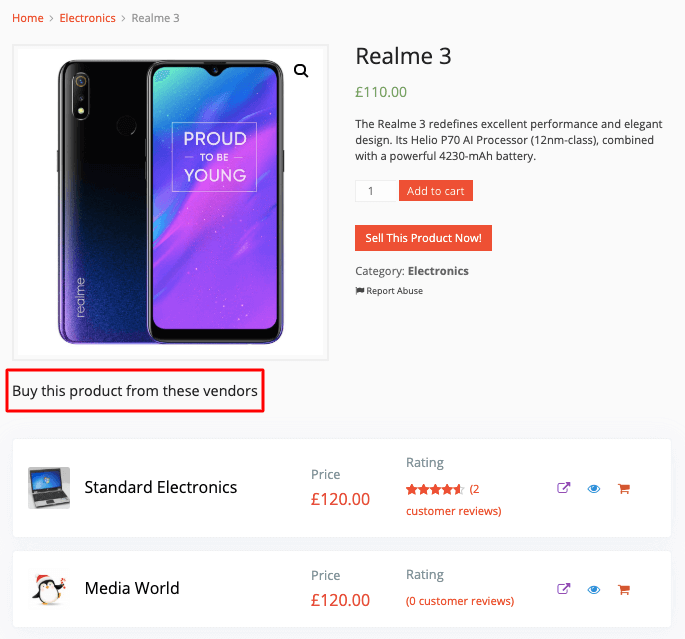 Step 4
You can also choose where you want to display the available vendor list.
For this you have to select the desired option from the drop-down menu given for the Available Vendor Section Display Position: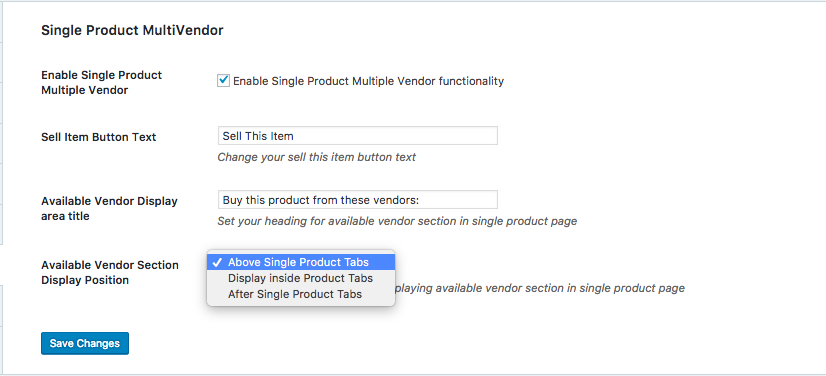 Store-end View for Vendors
All the configuration has been done from the admin. Now, when a visitor will visit any product from another vendor, s/he will see a new button "Sell This Product Now!".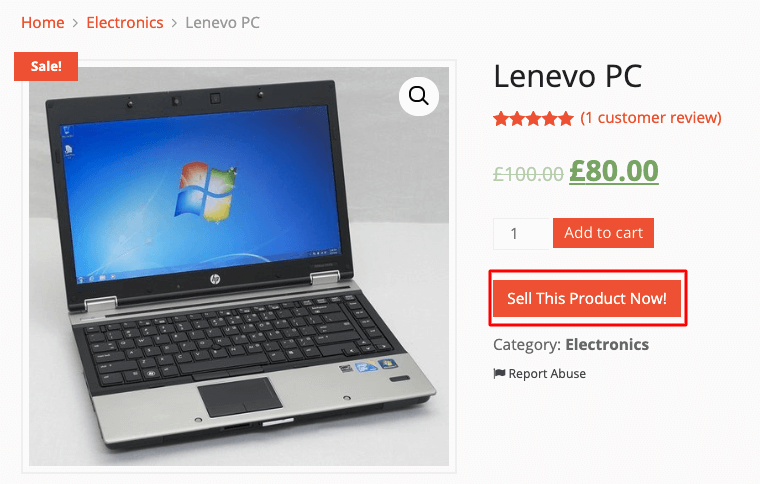 When you click on this button, a new product will be created for your store and you can edit its details as per its specifications.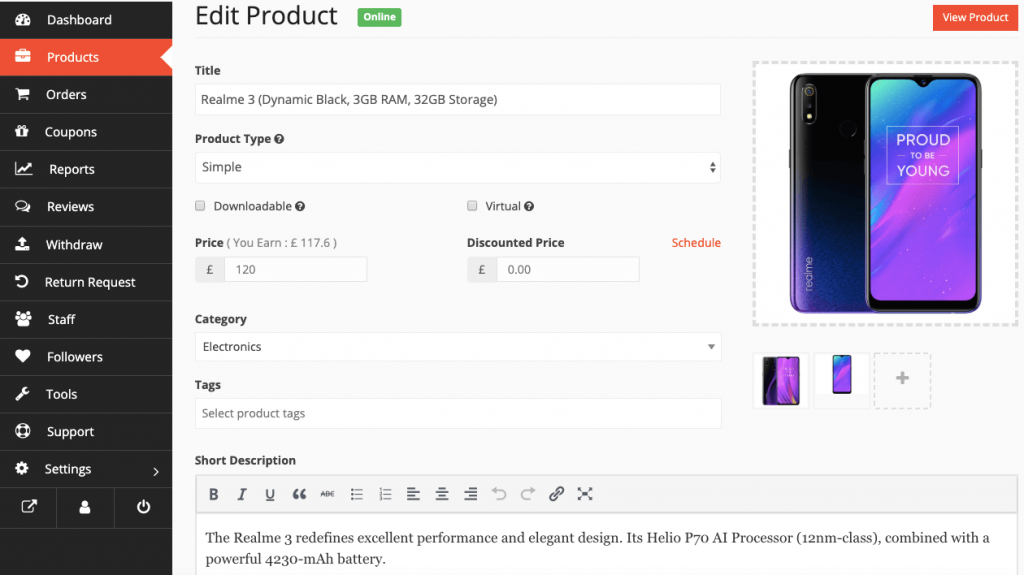 Store-end View for Customers
Now when a customer visits your marketplace and clicks on a product a pop-up window will appear. And then they can see the product's details along with the other vendor's names who sell the same product.
As a result, the customer will get a fair chance to compare among all the vendor's offers. It will help them to acquire the best deal at the cheapest price.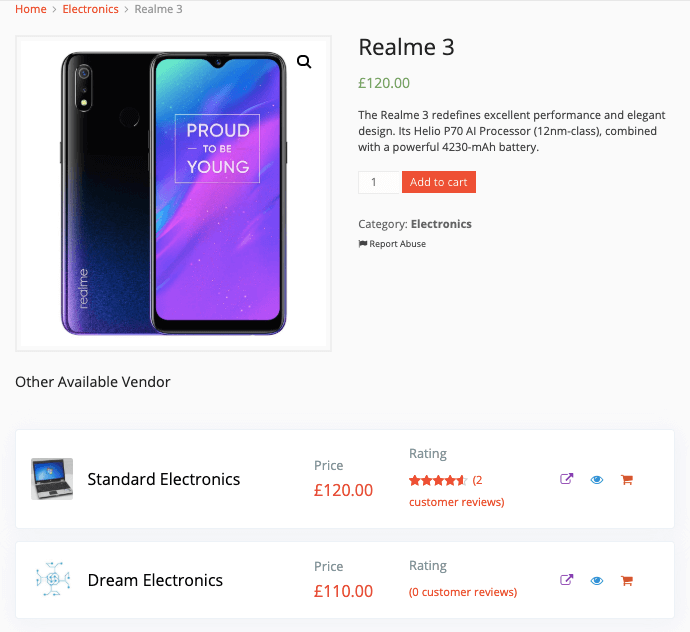 Furthermore, with this advanced feature of Dokan, you can gain your customer's trust very quickly. It will uplift the customer acquisition and retention rate at a rapid pace.
With the latest update of Dokan, now the admin can assign a single product to multiple vendors very easily from his/her dashboard. Also, you can employ a set of conditions before allowing the vendors to sell other vendors' products.
Check this documentation to get all the available features of the Dokan Single Product Multiple Vendor. However, for better visibility of your site on the search engine, you should implement proper SEO tactics. It will help you to grow your Marketplace Website faster.
Moreover, you can also create a marketplace for downloadable products using Dokan. Nevertheless, you can create an Airbnb Alternative Site with Dokan WooCommerce Booking.
Note: Admin can set up his/her own store and sell products if s/he has any products and services to sell.
Why Design Your WooCommerce Marketplace with Dokan?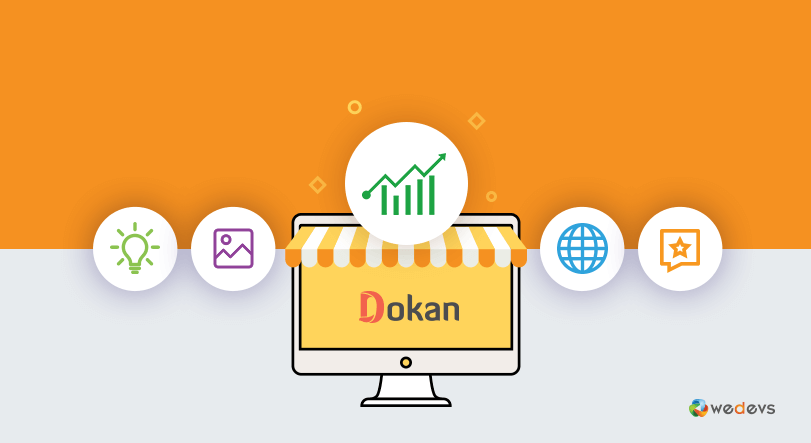 People always love to enjoy an easy solution with maximum output and less hassle. This is the reason WordPress has grown so much in popularity and powers more than 33% of all websites globally. Moreover, you can add almost any functionality to your site, without no coding or technical knowledge.
There are tons of free plugins, that you can use without shelling out any cash, or you can opt for a premium subscription.
If you have a WordPress site, then you can easily own an Online Marketplace like eBay or Amazon within a day only. With Dokan you get to turn your WooCommerce site into a full-fledged multi-vendor marketplace in less than 30 minutes.
Furthermore, you will get all the functionalities at your fingertips to run your business smoothly. With Dokan you can save hundreds of work hours while creating an online WooCommerce marketplace.
Dokan is the no. 1 open-source Multi-Vendor Solution with 50000+ active installations around the world.
Dokan has unique features like:
Best frontend experience
Easiest configuration option
Supports 20+ modules
24/7 Customer support
Compatible with any WooCommerce themes
By following some easy steps you can start earning from your online marketplace right away.

So, it clearly shows that you require only a few resources and effort to create a used electronics online store with Dokan in WordPress.
Dokan Empowers Your WooCommerce Marketplace with Ease
WordPress makes it easy as pie to build an effective eCommerce Marketplace with interactive plugins. Dokan has all the components to make your journey smooth and efficient. However, you need a strong marketing strategy to reach your target audience. It will improve your brand value. Also, you will get more commission as the sales increase.
Even without being a professional, with Dokan you can develop a highly functional WooCommerce marketplace in a single day. It allows you to bring plenty of related service providers on the same platform. And earn money with a commission from each sale.
Nevertheless, WordPress page builder-Elementor makes the web development process easy than ever. Therefore, you can build a Professional Marketplace With Elementor & Dokan without any prior knowledge and coding. Thus, it makes the journey more effortless from developing a marketplace site to earning money.