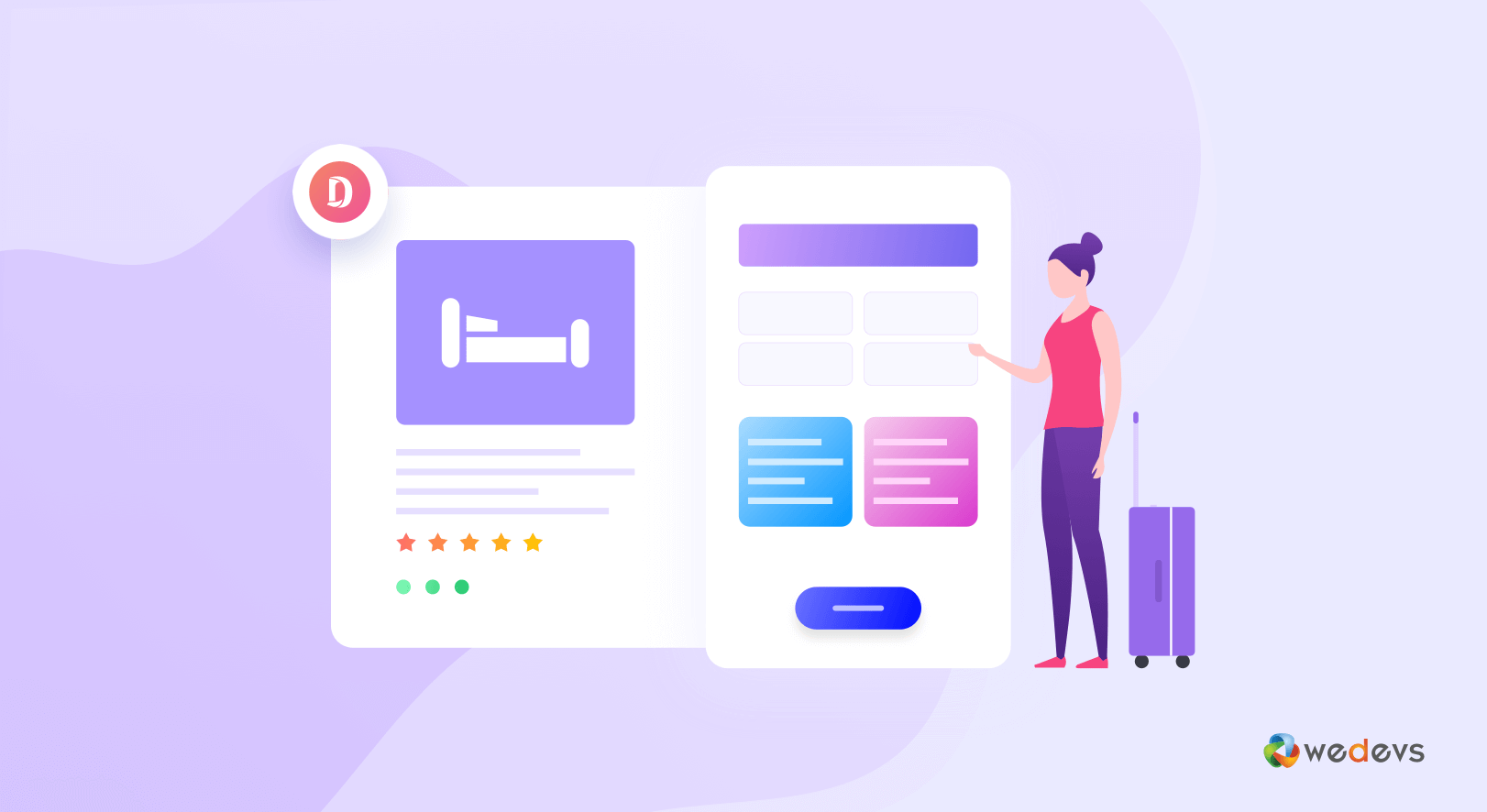 Create An Airbnb Alternative Site In WordPress (Updated with New Dokan Version)
Do you wonder how to make a site like Airbnb? If you're planning to build an Airbnb alternative site, you've arrived at the right place.
Developing a reservation platform like Airbnb or HomeStays is not difficult anymore. Inside WordPress, it would be easy to build a WooCoomerce single-store site and then turn it into a multivendor marketplace. So, you can allow property owners to rent out their spaces to travelers looking for a place to stay.
Typically, online rental marketplaces consist of many complex functionalities. Such as filter searching, geolocation, multiple payment gateways, booking process, live chat, and others.
But luckily, there are many advanced tools and third-party plugins available to make the process easier.
In this article, we'll show you an easy and affordable way to build a rental marketplace with Dokan. All you need to follow the guide step by step and you'll be ready to launch the next Airbnb.
Let dive deep to create an Airbnb alternative site instantly:
Building An Airbnb Alternative: What You Should Consider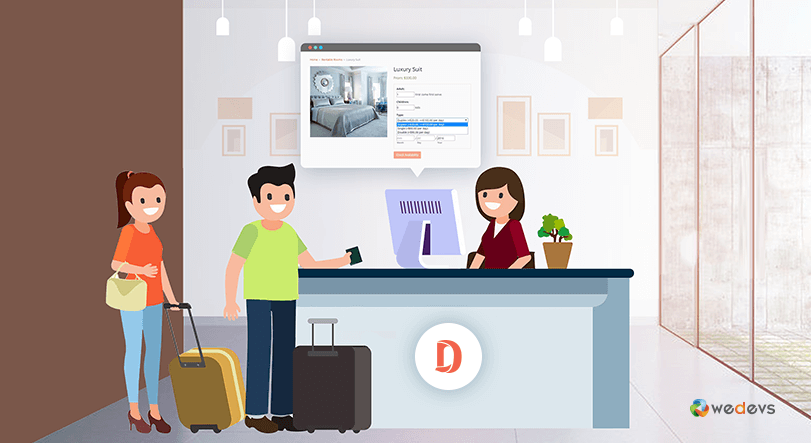 A peer-to-peer marketplace connects travelers and local property owners on a single platform. In recent days, travelers prefer to rent an apartment instead of staying in hotels. This trend makes the rental marketplace popular over the last few years.
Airbnb lets people rent or lease accommodations, apartments, hotels, resorts, etc. for a limited time period. Starting the journey in 2011, they got immense popularity within a short time period.
From a one-page website it makes it's journey to an internationally known company valued at $31 bln by 2019.
People also love this concept as it gives a home alike hospitality at a lower price. On the other hand, the local proprietors can also earn money by giving their places for rent. It's a win-win situation for both parties. And a reliable and profitable income source for marketplace owners also.
Hence, you can easily turn your WordPress site into a marketplace with any third-party plugin. Dokan has already proved itself as a reliable tool for empowering the multi-vendor marketplace with ease. It helps you to build your own marketplace seamlessly. And you can start earning money from your vendors immediately.
Prerequisites For Launching An Airbnb Alternative Site
You need the following attributes to start a virtual renting marketplace on your WordPress site.
Initial Configuration for Your Airbnb Alternative Site
Make sure you've done with all the basic configuration before getting into the main customization of your rental marketplace. Such as-
WordPress
At first, you have to buy your own domain and hosting from your respected provider. Then, install WordPress on your server. It is quite simple to configure your very first WordPress site. You can easily do it by yourself. For any further guidance, you can go through this guide on How to install WordPress.
WooCommerce
After that, log in to your personal WordPress Dashboard with your personal credentials. Now, it's time to activate essential plugins for your sites. First, you have to install and activate the WooCommerce plugin. It will help you to establish an online eCommerce store. Now, you are ready to sell products or services from your eShop.
Dokan Free and Pro
You have to install Dokan to turn your single store into a multi-vendor marketplace. Dokan light will satisfy all basic needs to run your marketplace smoothly. But the subscription to Dokan Pro will let you explore all the advanced features. It will take your marketplace to the next level. Besides, all the upgraded features you will get 24/7 live support with Dokan Pro.
Note: You have to activate the Dokan light first to enable Dokan Pro.
WooCommecre Booking Plugin (Pro)
Platforms like Airbnb should have facilities like reservations, appointments, or rentals. WooCommerce Booking Plugin lets you convert your products or services into a bookable resource. Therefore your customers can easily rent or reserve their desired service from your eShop.
Dokan Bookings Module (Pro)
Now you have to enable the booking features for your marketplace as well. Dokan WooCommerce Bookings allows vendors to create bookable products. Also, it helps customers to customize their booking orders appropriately.
To make this feature activate firstly navigate to your WP dashboard→ Dokan→ Modules. Then turn on the toggle bar of WooCommerce Booking Integration.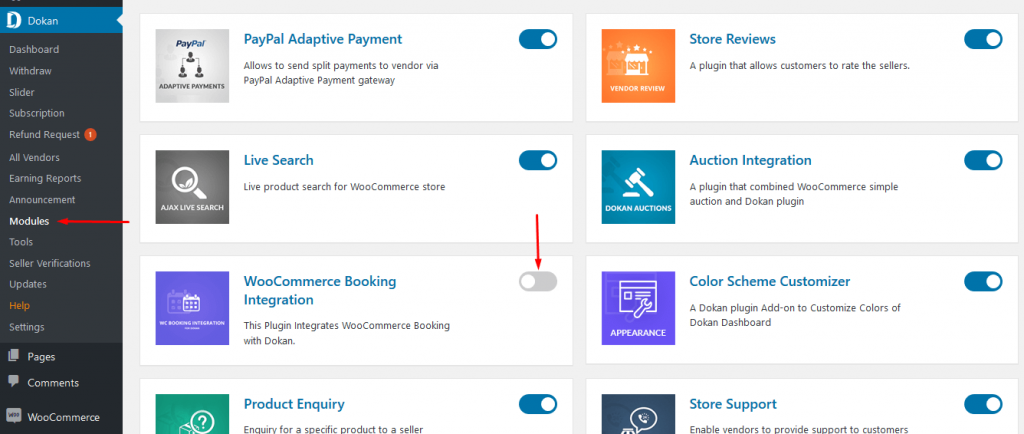 Important fact: Dokan Bookings is developed to enhance the WooCommerce Bookings for a multivendor marketplace. So, we suggest you overview the WooCommerce Bookings documentation and definitions first before starting. We have just made the features compatible with a front-end interface. Its interactive usability makes the user experience easier.
An Appropriate Theme for Dokan
Dokan is compatible with almost all the popular themes available in the market. So, you have the opportunity to pick the right theme that fits your brand. You can check over here for Dokan Compatible Themes.
As you are planning for an Airbnb alternative site, then you should prefer a simple design with easy navigation. It should allow your customers to perform their transactions smoothly. An attractive theme design will encourage people to take effective action. It will help to build their trust in your brand as well.
Moreover, it should be easily manageable for you and your vendors also. In short, your theme should match your business requirements completely.
How to Create an Online Platform Like Airbnb Using Dokan
Now, you have all the elements in your hands to build your multi-vendor marketplace. Now, follow the below steps-
Configure General Setting of Dokan
Allow Property Owners to Register on Your Marketplace
Upload Bookable Products (Rooms) as An Admin or Vendor
Step 1: Configure General Setting of Dokan
Before starting, configure your Dokan plugin with all the essential settings.
Go to, WP Admin→ Dokan→ Settings.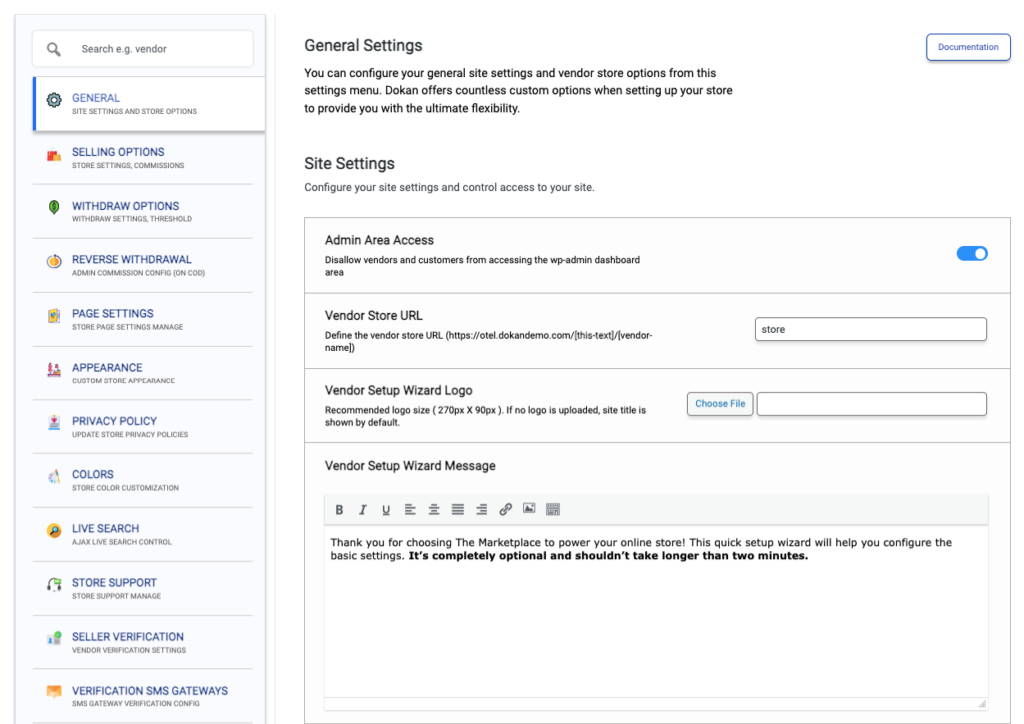 Here you'll get options to set up some crucial terms and conditions. Such as-
Select business category
Allow property owners to display their products
Create necessary tags
Choose the new product/room status
Select withdrawal methods
Set minimum withdrawal limit
Set commission terms and rates.
This optimization will help you to run the rental marketplace smoothly. You should change the settings according to your store requirements.
Now, you are completely ready to open your marketplace for vendors. You should promote your site accordingly to reach the target sellers largely.
Moreover, you should always try to keep the procedure easy and simple to attract more vendors to your site. Dokan is a perfect solution to help you in this manner. With Dokan it requires only a few clicks to add and edit bookable products indeed.
Check our step-by-step guide to building a free eCommerce marketplace using WordPress.
Or you can check the video tutorial below–
Step 2: Allow Property Owners to Register on Your Marketplace
You've successfully added all the functionalities to your rental marketplace. It's time to invite hotel and house owners to signup for your marketplace.
Enable the "Anyone can register" option from WP Admin→ General→ Settings. So, vendors can signup to your marketplace seamlessly.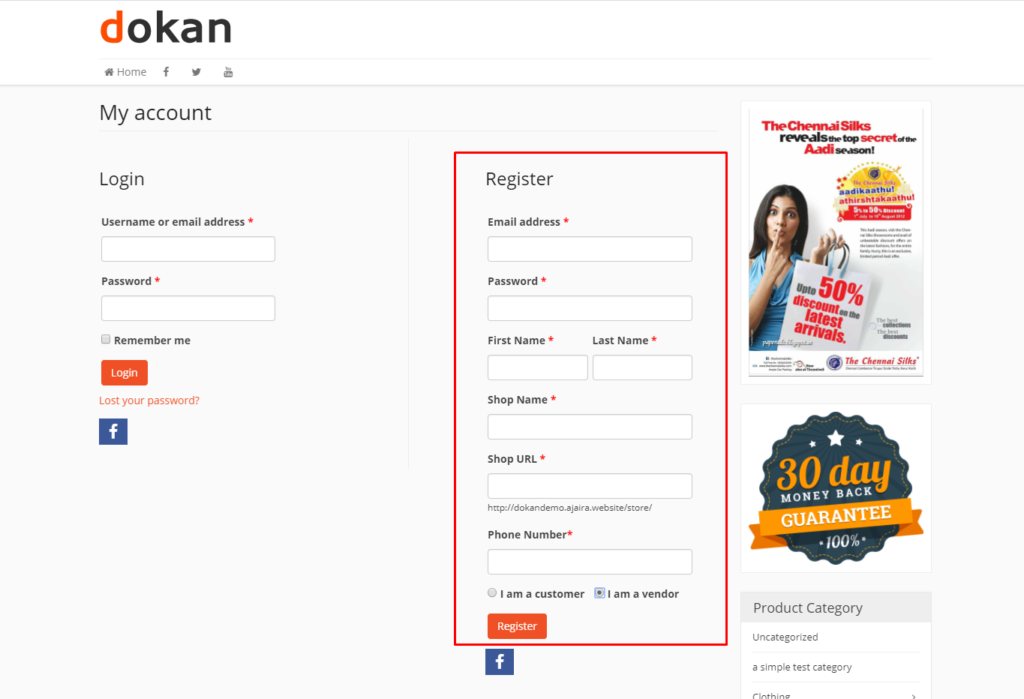 Alternatively, you can create a customized registration form with particular fields that especially meet your site's requirements.
Step 3: Upload Bookable Products (Rooms) as An Admin or Vendor
After registering on your site each vendor will get an individual store with a unique URL. They can add, edit and manage their products from their own dashboard. Vendors have to log in to their store with personal credentials.
Then, go to Vendor dashboard → Bookings to get available options.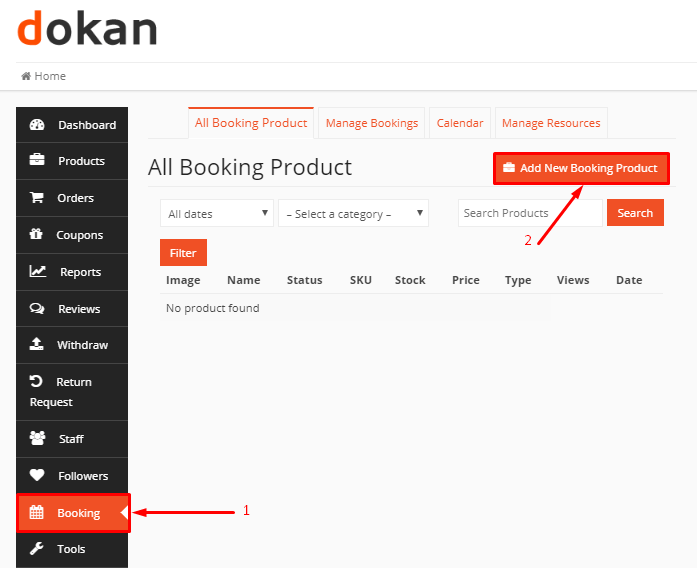 Create a New Booking Product
Click on Add New Booking Product at the top right corner. A form will appear immediately with different options. Here, you can update all the information related to your service or product.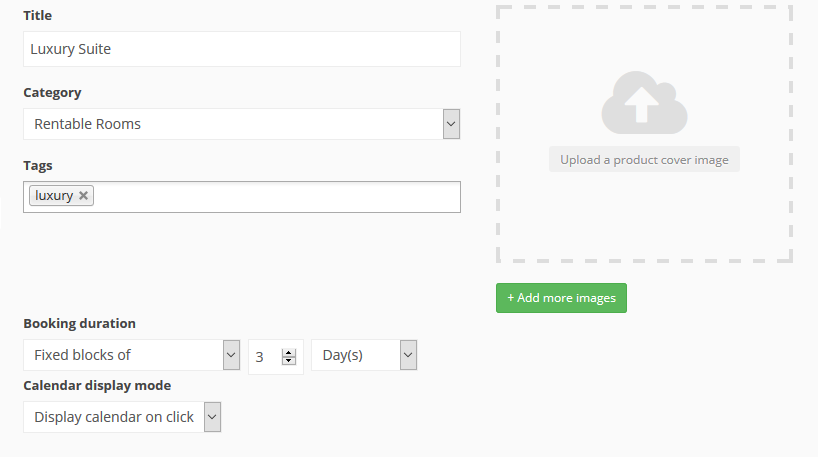 Title: Add your service or product name here.
Category & Tags: You can select a particular category from a drop-down menu. Admins should define the categories and tags from the backend. The vendors can only select them from the front-end dashboard.
We prefer not to allow your vendors to create categories and tags. It may arise duplicates and other confusion.
Booking Duration: This field allows you and your vendor to define the duration of the service or product. It indicates the time period of each product your customers are eligible to buy.
Suppose you own a 5-star motel. Now you don't want to rent your best room unless someone rents it for more than three days. So you can keep three days as your block duration. For regular rooms, you can put it one day.
Calendar Display Mode: Vendors can select the calendar option displayed by default for their customers. Also, traders can make the calendar a date picker to make the user experience better.

Check the Cancellation Button: Vendors can allow their clients to cancel their bookings before a certain time period.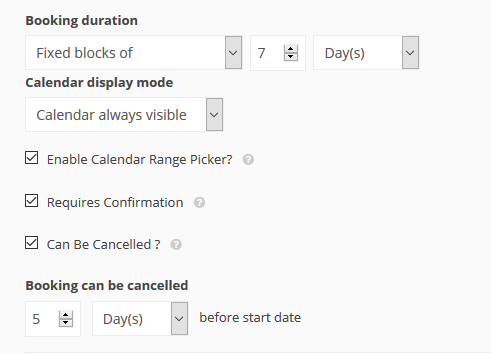 Availability Options: Here, agents(vendors) can set their data regarding their product's availability. They can mention a fixed date from which they are ready for taking bookings. Also, they can fix the ending time for its availability.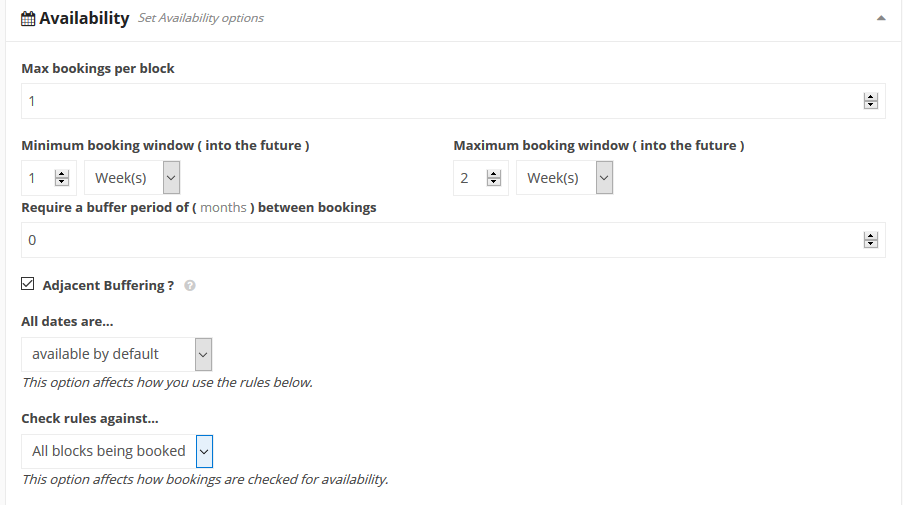 However, you will get many options to configure your marketplace with Dokan Bookings Extensions. Now, you have to decide and design the site according to your business needs.
Furthermore, you can adjust the buffer period, costs of each room for individual personnel, resource management, and apply other conditions as per your brand policy.
Final Overview of Your Mini Store on Online Rental Marketplace
After all the customization your store will look like the below: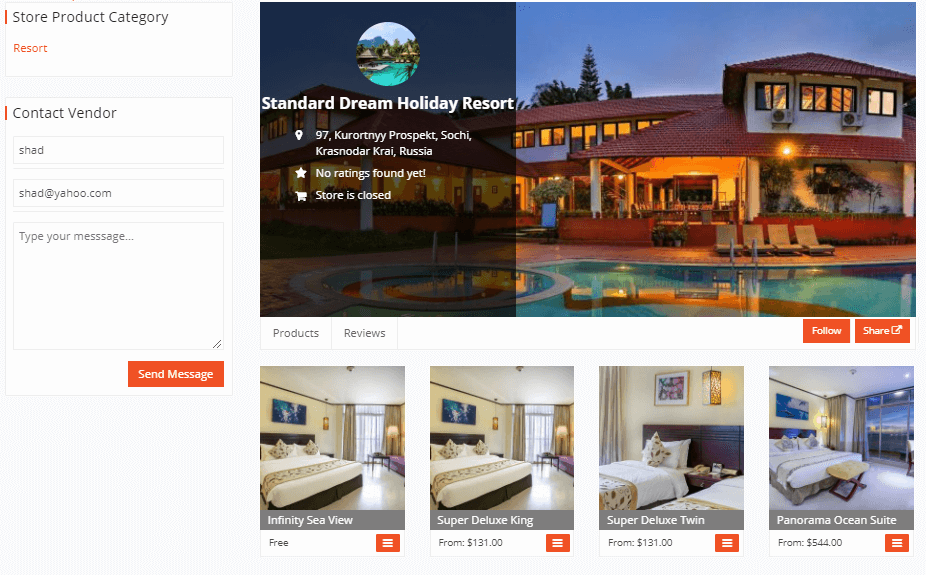 For a better understanding, you can check the full documentation for Dokan WooCommerce Bookings.
Shipping, Tax, and Other Required Things to Build an Airbnb Alternative Site
Dokan Pro supports a lot of advanced features like product inventory, customize shipping rates, a built-in tax system, easy refund calculation, and so on.
Tax System
Dokan has built-in support for WooCommerce taxes. Therefore, the admin can configure taxes from the backend. After that, vendors can select those tax classes while creating or editing the products.
Refund Request
In Dokan you can easily calculate the refund amount excluding the shipping and tax rates. With this feature, you can process multiple refund requests for a single order. But only one refund request will be processed each time.
Coupon Management
Offering coupons is an effective way to draw your audience's attention. It can be a great way to retain old customers as well. Dokan lets the vendors manage coupons with ease.
Zone Wise Shipping
With Dokan PRO, vendors can add multiple shipping zones, shipping methods, and shipping classes straight from the Vendors Dashboard. So they can set up shipping rates for their stores independently. Also, Vendors can perform Zone Wise Shipping and Product Wise Shipping. And most amazingly, they can set up everything on their own.
Easy Withdraw System
Dokan supports several payment options and a transparent withdrawal system. Vendors can request a withdrawal based on the admin's backend setup.
Hence, with Dokan you will get thousands of advanced yet simple customization options to run your marketplace seamlessly.
How Your Customers Will Book the Property
Now you have many vendors for your marketplace. And they have arranged their individual shop with their products. However, now it's time to drive traffic for your site. More traffic will generate more sales. And you will get more chances to earn a commission from each sale.
Here, we will show you how the customers will see the products and buy them from your marketplace.
Select Products with Options
Place Orders after Checking Availability
Cancellation Process (if required)
Select Products With Options
Customers will get the options that were created while updating the product. They have to choose the criteria and fill up all the related information to get a product indeed.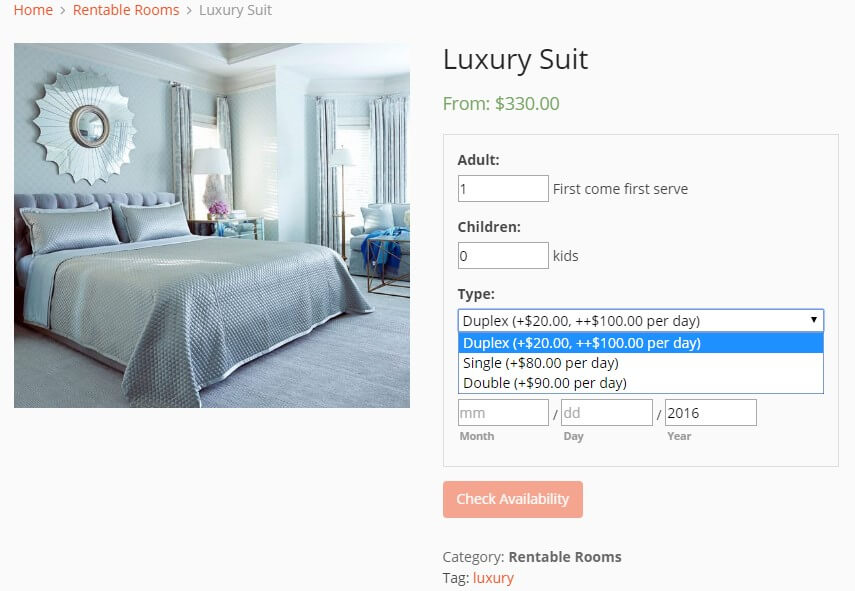 From here, they can select a room type, and the number of people and insert the date they want to book.
Place Orders
If the date is available then the Check Availability button will become active. Then they have to click on the button and it will redirect them to the order page.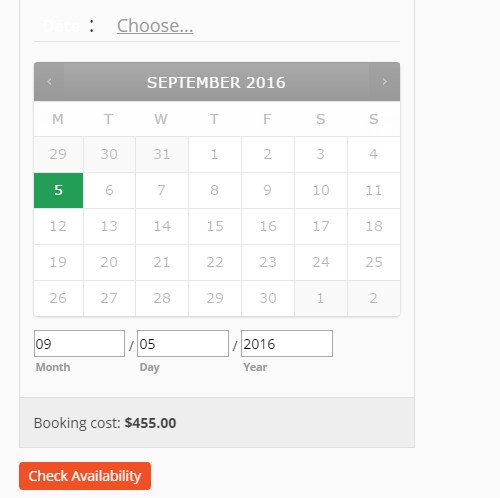 Now, the customer should update the necessary information for ordering the product or service. They should click on the Request Confirmation button after filling out the order form. It will create a new order.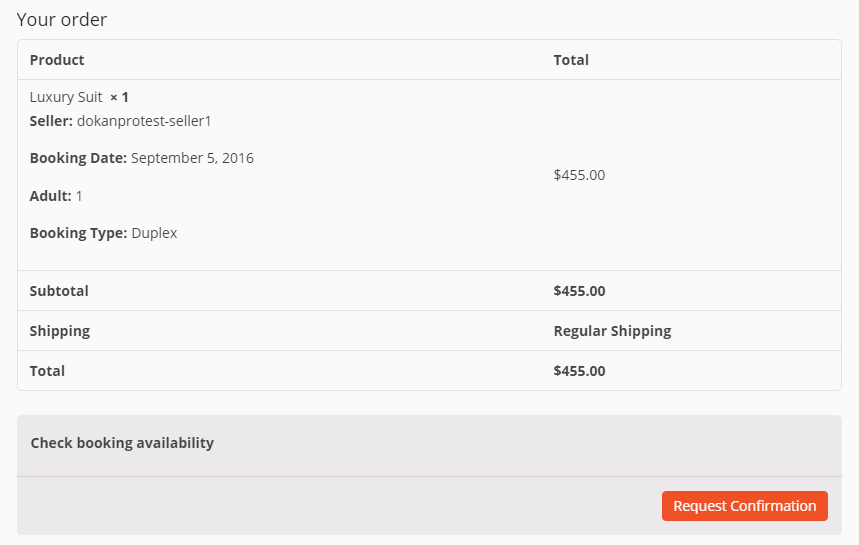 Cancellation
A customer can cancel the order for any issue. They should navigate to My Accounts → Orders and click on the cancel button.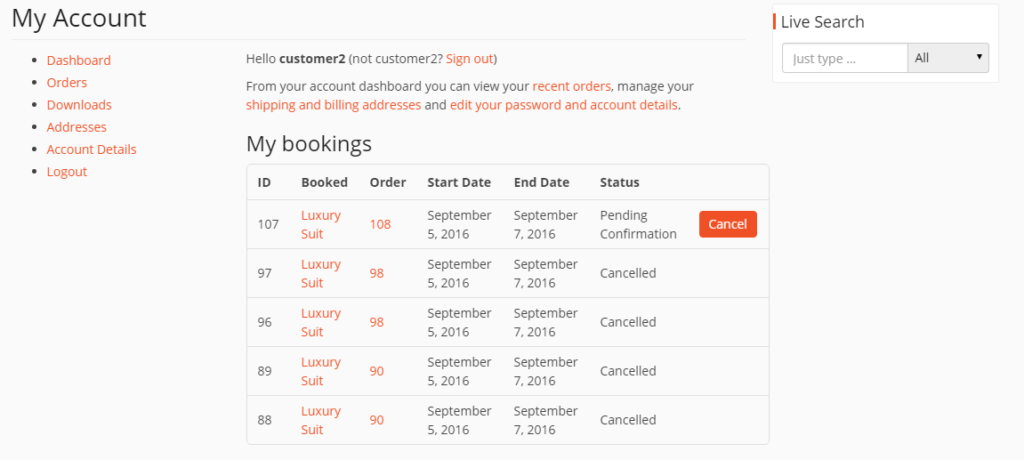 Although it's a short and smooth journey to insert a complex mechanism into your WordPress site. Dokan is your one-stop easy solution to build an Airbnb alternative site with a few clicks only. Also, it lets you manage everything at your fingertips. As a site owner, you can start earning money immediately without owning any property.
However, you can also minimize your design hassle using a professional WordPress Page Builder-Elementor.
Note: Admin can set up his/her own store and sell products if s/he has any products and services to sell.
A quick preview of the Dokan WooCommerce Booking Module:
This is how you can build a multi-vendor renting platform. Similarly, you can also create a marketplace for Clothing, Beauty Products, Software, Electronics, Music store, Hotel bookings, Handmade products, and so on.
Start Earning With Your Airbnb Alternative Site Today!
Dokan expands the usability of WooCommerce. Now you can create a marketplace instead of a single store. And you need only a few elements to do this along with the Dokan plugin. You can resolve all the complexity easily while creating an Airbnb alternative site.
In this modern era, you can be the owner of a wide marketplace like Airbnb without owning any personal property. Also, it lets you earn money online by spending a few dimes. However, WordPress makes site development easy for everyone. And the highly functional plugins make it possible to create anything with WordPress.
Despite being a professional you can also develop your marketplace in a single day. You can create a platform to bring related service providers under the same roof. And earn money with a commission from each sale. Dokan will help you in all aspects from developing a marketplace site to earning money.