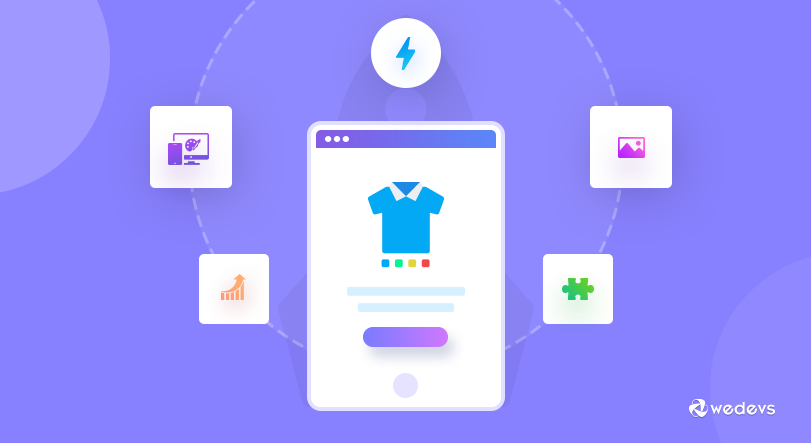 Make Your WooCommerce Site Load Faster With These Useful Tips
2 seconds is the average time a user will wait for your site to load. That's how important page load time for your website is. Google even ranks your website according to speed.
So how do you exactly make your site faster? That's what we will discuss today.
Why Speed Matters Anyway?
In this fast-paced world speed is an essential element in our day to day lives. The attention span of the netizens is shortening as we speak.
For the business who can take advantage of this, it is a blessing in disguise. If we need to give an example, according to the research 47% of your users expect your site to load under 2 seconds. That should tell something about itself.
While that might sound like a daunting task, it is not that hard to achieve if you follow an optimization checklist.
The Most Important Things You Need, To Optimize
Proper optimization is not that hard as it sounds. If you keep a checklist and maintain everything according to that, it is extremely easy to keep up with the current standards for website speed. Below we have made a checklist that we think are some of the best options when you are thinking of taking the loading speed of your site seriously.
Please note, this list is made with keeping the optimization process of WordPress websites in mind. Though most of the processes can also be implemented even if the site platform is non-WordPress.
Run Your Site Through A Complete Performance Analysis Test
The beauty of the internet lies in the vast free tools that it offers. Just like free performance analysis tools. If you submit your website URL in the free tools and ask them to perform a complete analysis test, you will be able to see the flaws of your site in a matter of minutes.
The report will contain all the necessary information that you will need to know what to optimize. In our findings, we listed out Google PageSpeed Insights, Pingdom, GTmetrix to be extremely useful. Though there are multiple tools out there. We would recommend getting your results from more than one tool and compare them to each other.
Use Compressed Images For Your Site
There are two very important reasons to used compressed images for your WordPress website. One is that your hosting plan is limited. You have a limited amount of space that you can use for all the things on your website. Two, your users will need to load smaller images with the same details when they will be browsing your site. This makes their whole browsing experience that much smoother.
In WordPress, there are many plugins that help you do that. Plugins like Smush Image Compression and Optimization, Imagify Image Optimizer, etc this process that much easier.
For the non-WordPress websites, tinypng can be a great choice for someone looking to use compressed images for their website for free.
Note: here we are listing all the free tools we found useful.
Implement AMP For Your Site
AMP stands for Accelerated Mobile Page. It is an open source solution that helps billions of website load faster when the user is loading it from a mobile device. You can learn more about AMP from here.
You should take advantage of AMP as soon as you can. Case studies have shown that sites like Gizmodo have shown 3x times in loading speed from a users mobile device.
Taking advantage of this awesome free technology is even easier in WordPress. Plugins like AMP for WordPress, AMP for WP – Accelerated Mobile Pages are extremely useful for this.
Additionally, here's a detailed guide on implementing AMP for WordPress sites.
Use Responsive, Fast Themes For Your WordPress Site
Fast, responsive will make your WordPress site load faster. As it is less bandwidth demanding your website visitors will feel much more of a fluent experience when they are browsing through your site.
Using a well-optimized theme is one of the best ways you can make your WordPress website feel faster.
Make The Most Of Dedicated Caching Plugin
Plugins are what makes WordPress unique. You have an army of caching plugin that is at your disposal. There are multiple caching plugins for your WordPress site completely free to use. Plugins like WP-Optimize, Autoptimize, W3 Cache removes all the unnecessary data from your site, cache scripts & styles, minifies HTML and much more for a better browsing experience.
All Else Fails When Your Hosting Is Not Right
The title speaks for itself. Everything else will fail when you don't have a fast hosting provider. Try to look at a dedicated hosting service that you can rely on for speed. Though it will cost you a bit more it is worth it if you want your users to have the best experience when browsing your site.
There are even dedicated WordPress hosting solutions that are optimized for the CMS specifically.
Bonus
For a WordPress website, there are many other ways you can speed everything up. Like keeping your WordPress version always up to date according to the latest version, use the proper WordPress configurations, maintain each page size, avoiding the bad non-updated plugins.
Now It's Your Turn
No matter what kind of website you have if you want to retain as much visitors as possible from the get-go start focusing on the speed of your website.