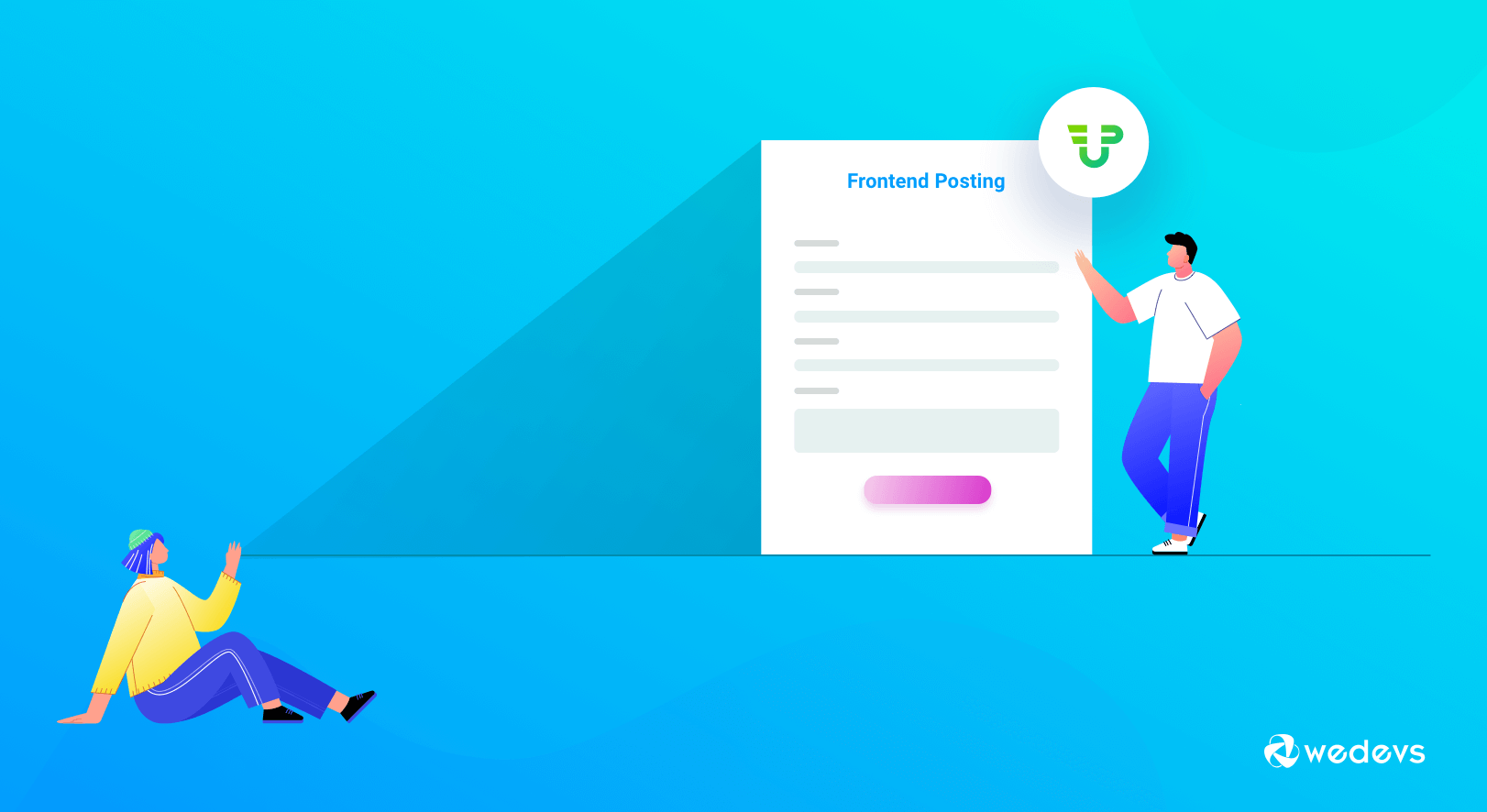 Make Your WordPress Frontend Post Submission Easier with WP User Frontend Pro
Do you want to let your visitors submit quality content on your WordPress site? Or you are planning to open a job listing site where different companies can post their jobs of their own. However, you can do all these things, even much more without providing users the backend access to your dashboard.
WP User Frontend lets you create unlimited post-type forms. It includes a frontend dashboard, frontend editor, and frontend uploader for WordPress user profiles, post submissions, and memberships.
Sounds amazing!
Nevertheless, Admins who have backend access can track users from the front as well as manage from the backend.
Today, we will show you how WP User Frontend makes WordPress frontend post submission a piece of cake along with other facilities.
Submitting Posts from WordPress Frontend Got Easier with WP User Frontend: Is It Really True?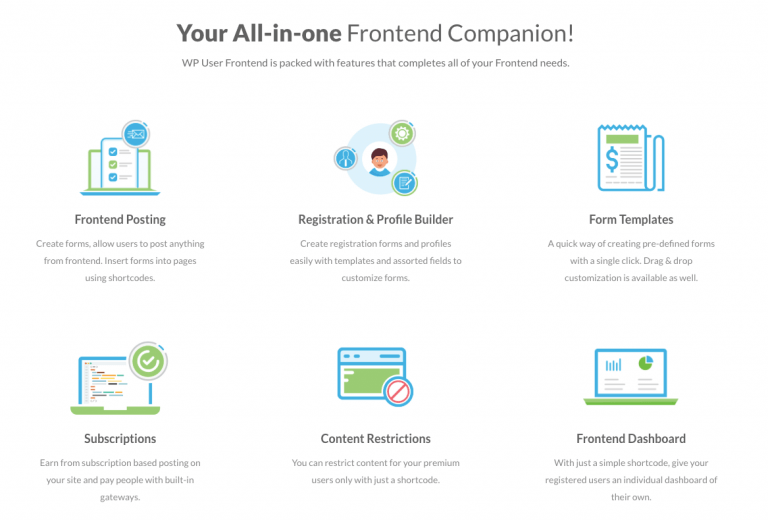 WP User Frontend plugin is popular for form creation and managing custom post types in WordPress. Plus it works effortlessly with WooCommerce!
You can build all types of forms in a simple way with WP User Frontend. It provides a live drag-and-drop interface to create your desired design instantly.
Moreover, you can add custom fields from 17 predefined field types. It gives you the full flexibility to optimize your forms along with the specified user roles.
Most importantly, you can facilitate your users with a frontend dashboard. So, they can manage, edit, or delete their posts of their own.
As a result, you can configure a directory, alumni, news portal, or membership site with a great scope of earning.
However, it supports different payment gateways to make the transaction smooth. So, you can change your registered or guest users by setting up the charging procedure from the admin panel.
You can extend the features of this interactive plugin by getting WP User Frontend Pro. It supports 20+ premium modules with some extraordinary elements. Such as content restriction, advanced custom fields, exclusive content, coupons, payment invoices, and so forth.
Let's see all the special features of WPUF- a front end post submission WordPress plugin:
Frontend Dashboard
Content Restriction
Comment Management
Guest Post Submission
Building Alumni/Membership Website
Easiest User Registration Plugin
WooCommrece Product Upload
front end post submission wordpress plugin
1. Frontend Dashboard
WP User Frontend is a simple yet powerful plugin for your users to post and edit content from the WordPress frontend. You can assign customizable individual frontend dashboards for your users using simple shortcodes.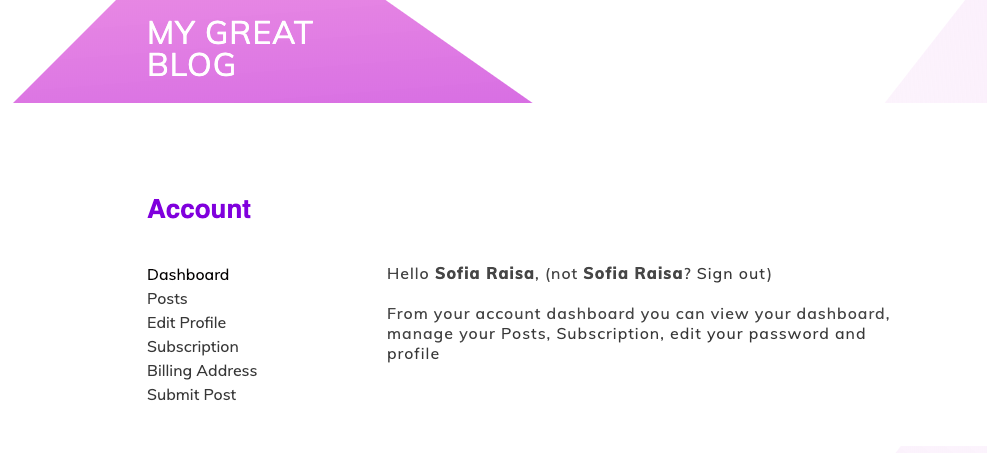 So, they can manage their post directly from the front end through this feature-rich dashboard.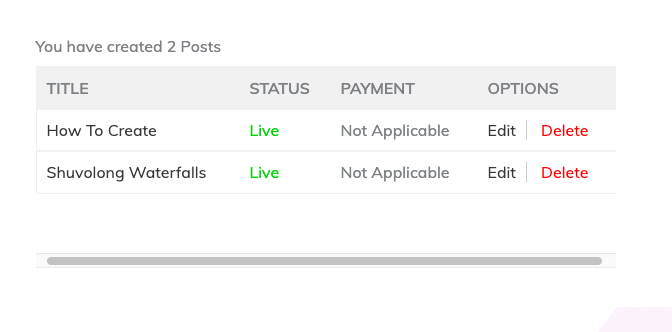 Also, there will be a "My Account page". Here the users can enlist their personal information with the editing capability. Moreover, they can overview the detailed information of their subscribed packages. It allows them to see all the invoices on a single page. They can download the statement if required.
Alternatively, admins also can track all the user's activities from the frontend as well. Having all the managerial power and full control over backend access.
2. Content Restriction & Comment Management Right from the Frontend
Using WPUF, you can restrict content, menu & taxonomies for your premium users only with just a shortcode. While you are running a multi-user accessible site it is extremely important to manage the user accessibility depending on specific criteria.
WP User frontend comes to save your back with these exclusive features: content restriction and comment management.
By activating this plugin on your WordPress site, you can start restricting access to your posts and pages, making them available based on your selected category.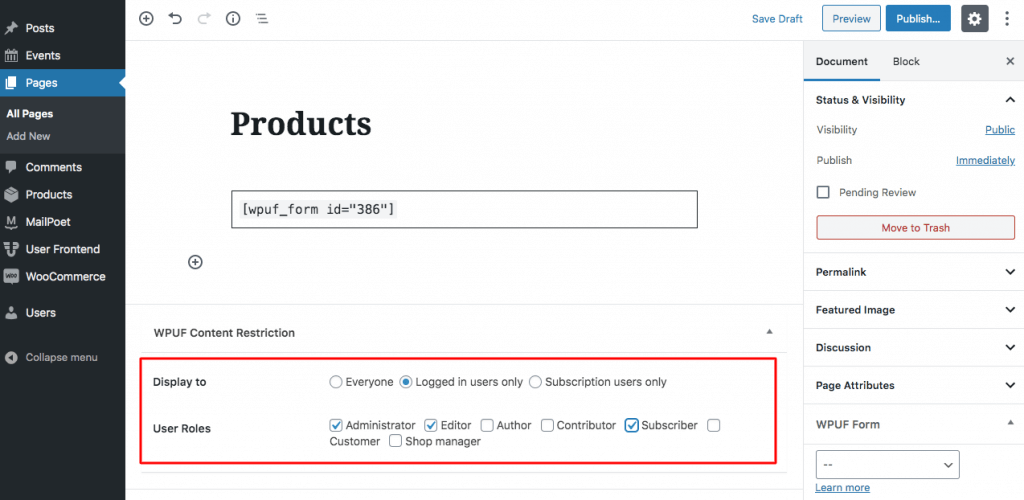 Suppose you have a digital marketplace where different software companies upload their system for selling. What will happen if the software is accessible to all users?
Instead of buying the product, the users will download it easily without paying. In order, to avoid such kind of unwanted events you can restrict the content of your WordPress website using the WP User Frontend Pro plugin. This way you can keep the page content visible for only paid subscribers.
In fact, you can segment your users based on their subscription packs. And impose content restrictions according to what they have signed up for.
Likewise, you can manage comments on your site in order to prevent spamming. Consequently, you can customize other settings related to commenting or displaying them accordingly.
3. Guest Post Submission
You can allow guest visitors to post on your site from the frontend. WP User Frontend makes this procedure super easy for both admins and users as well. You can build a registration form for the users using shortcodes. So, they can create their profiles and start writing on your site.
You will get an email notification when someone posts anything on your site. The content will be live only after getting your approval. Therefore you have the full power to maintain the quality of your site content.
Not to mention, fresh and unique content helps to get more visibility on search engines. So, it will be definitely helpful for your site ranking. Also, bloggers have the possibility to acquire powerful backlinks from your site. It's a win-win situation for both parties.
WPUF enables you to make money with guest posts by activating the Paid Membership. Besides, you can create a form to let the guest author pay a certain amount and post on your site without registering. WordPress submitting the post from the front end gets easier with WPUF than ever.
Take a quick visit and Make Money With Guest Posts From Your WordPress Site.
4. Building Alumni Website with Ease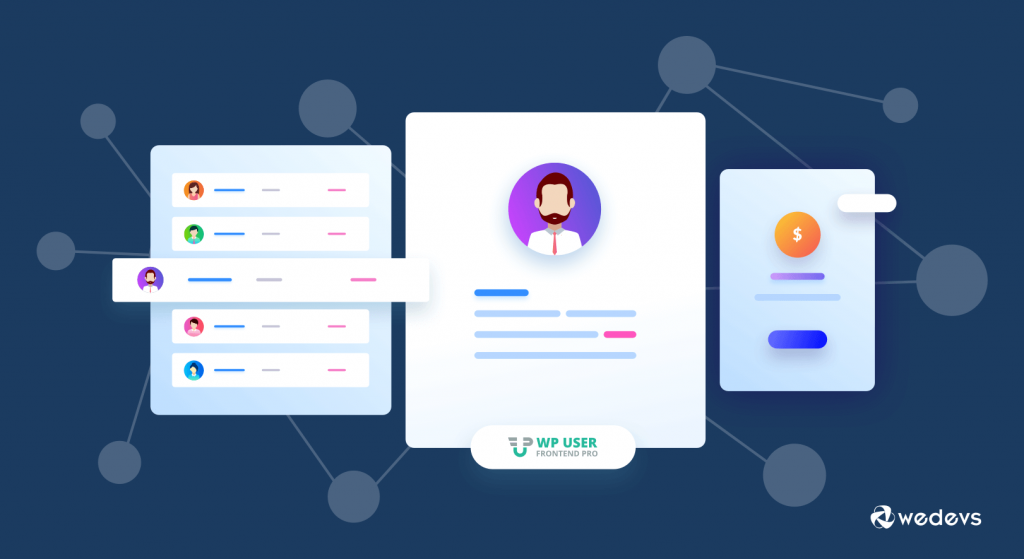 You can build a paid alumni site using WP User Frontend in less than 30 minutes. It provides a great opportunity to turn your visitors into paid customers. You can build a strong network among like-minded people. Such as old-school friends, colleagues, pet lovers, tech enthusiasts, or others.
Aside from building an alumni site, you can create subscription fees for every member of the site. With WPUF it requires only a few steps to proceed.
Go through this doc to learn how to create a subscription pack.
WP User Frontend Pro supports several popular payment gateways like PayPal, Stripe, and others. You can also use the bank payment system to charge your users.
5. Simple Way to Build Membership Websites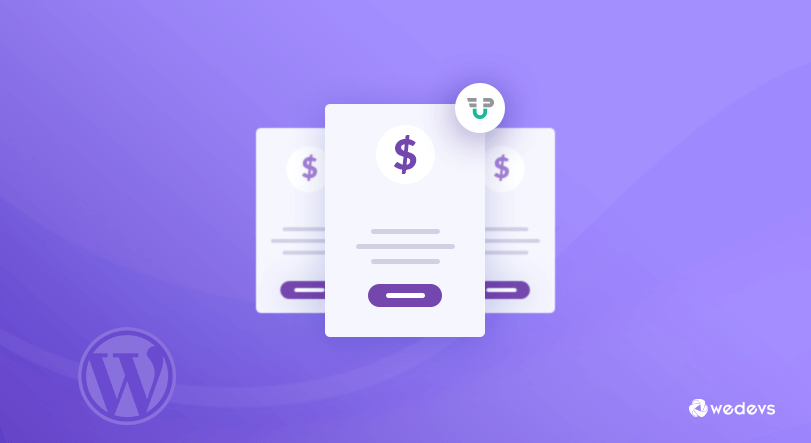 Using this frontend builder plugin, you can turn your WordPress blog site into a membership site. If you have a website with thousands of regular visitors, then you can easily create a secure source of income from there.
Thinking how? By turning your visitors into members through subscription.
Therefore, you can create special content targeting a specific group of people. People will be also interested to read your content if they find it interesting and beneficial for them. Moreover, they will not hesitate to pay for it.
Developing a subscription-based website requires zero coding knowledge since you have WordPress and Elementor to design. In addition, WPUF will give you the full support to set up your membership site with ease.
6. Easiest User Registration Plugin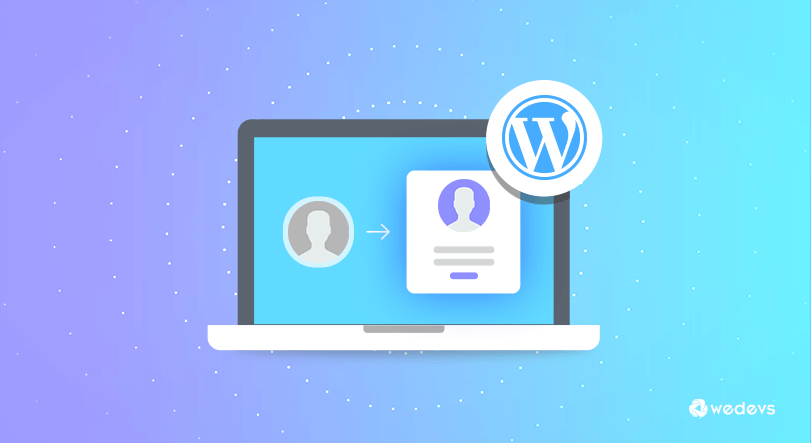 WPUF allows admins to make their user registration hassle-free. This WordPress plugin comes with powerful form-building capabilities with custom post types.
Suppose a user comes and registers on your website by filling out a form built with WP User Frontend. Then, it will collect all the necessary information from the registration form. And create a profile for that user using those data. Users have the flexibility to edit their profile from my account page.
Admin can create the registration form through a drag-and-drop interface. Simply select a field, drag it to the builder, and drop where you want it to be.
Yes! It is that easy. However, it has the facility to keep the email field as required.
7. WooCommrece Product Upload
Along with its custom taxonomy and meta key feature, you can use it as a frontend interface to post and manage products of your WooCommerce-powered site.
Firstly, you have to install WPUF and WooCommerce on your site and activate them. Then WPUF will automatically capture the taxonomy, metas, and post types from WC. Now you can easily create forms to upload products from the front end if you do not like the default backend posting of WC.
Below you'll find a video tutorial on how to upload WooCommerce products from frontend.
You can also add an image gallery or downloadable products with the WooCommerce Product Template.
Moreover, configuring a multi-vendor marketplace becomes easy and simple with WPUF. You don't need to share your backend information with the vendors. As they can upload and manage all their data from the front end. It is the best way to keep your store data securely.
Create Pages and Forms with WP User Frontend in Minutes
You can install WP User Frontend on your site within a few clicks. And start creating registration forms, membership sites, WooCommerce products, subscriptions & contact forms in minutes. Most importantly you don't need to write a single line code.
With WPUF, you can create post from frontend WordPress and lets other users submit content to your site.
After installing and activating WP User Frontend, it requires only a few steps to create and live the form in your browser.
Step 1: Create a Form
Step 2: Create a Page
Step 3: View Your Form in Page
Step 1: Create a Form
First, go to your WordPress dashboard > User Frontend > Post Forms > Add Forms. You can choose from a lot of different form fields on the right side. And design the form according to your preference. Then save the form and copy the shortcode.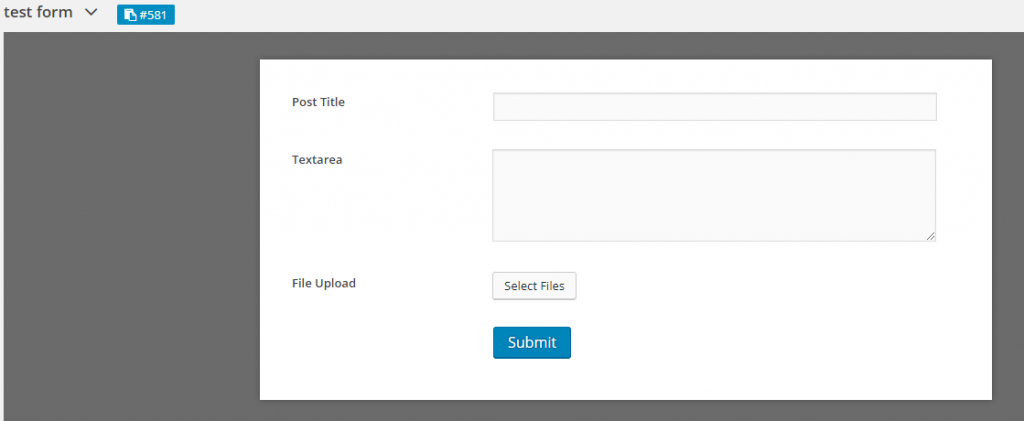 Step 2: Create a Page
Now create a page and paste the shortcode. Publish the page.

Step 3: View Your Form in Page
Then view your page in the browser. Now, you can see the page with the form you created.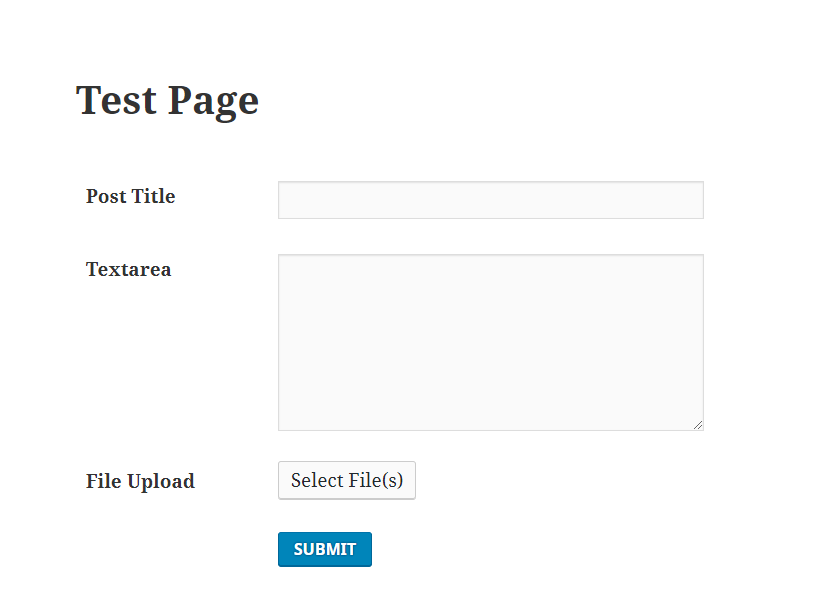 It becomes easy as pie to create a post, registration, or WooCommerce product form with this amazing drag-and-drop builder.
Wrapping the Things Up
The most powerful and unique feature of WP User Frontend is to let its users work and manage everything from the front end. This WordPress plugin makes the user registration process much easier than ever.
Now you can build a highly functional directory & membership site using this frontend solution. It makes WordPress frontend post submission smoother than you can imagine. And you don't need to be a technical person at all.
WP User Frontend comes in multiple pricing packages with extended features. Check them out and pick the right one for you! If you are using an alternate solution this time then share your experience with us.
Or if you have any further queries or suggestions related to our blogs, products, or services, you may let us know via the comment section below.