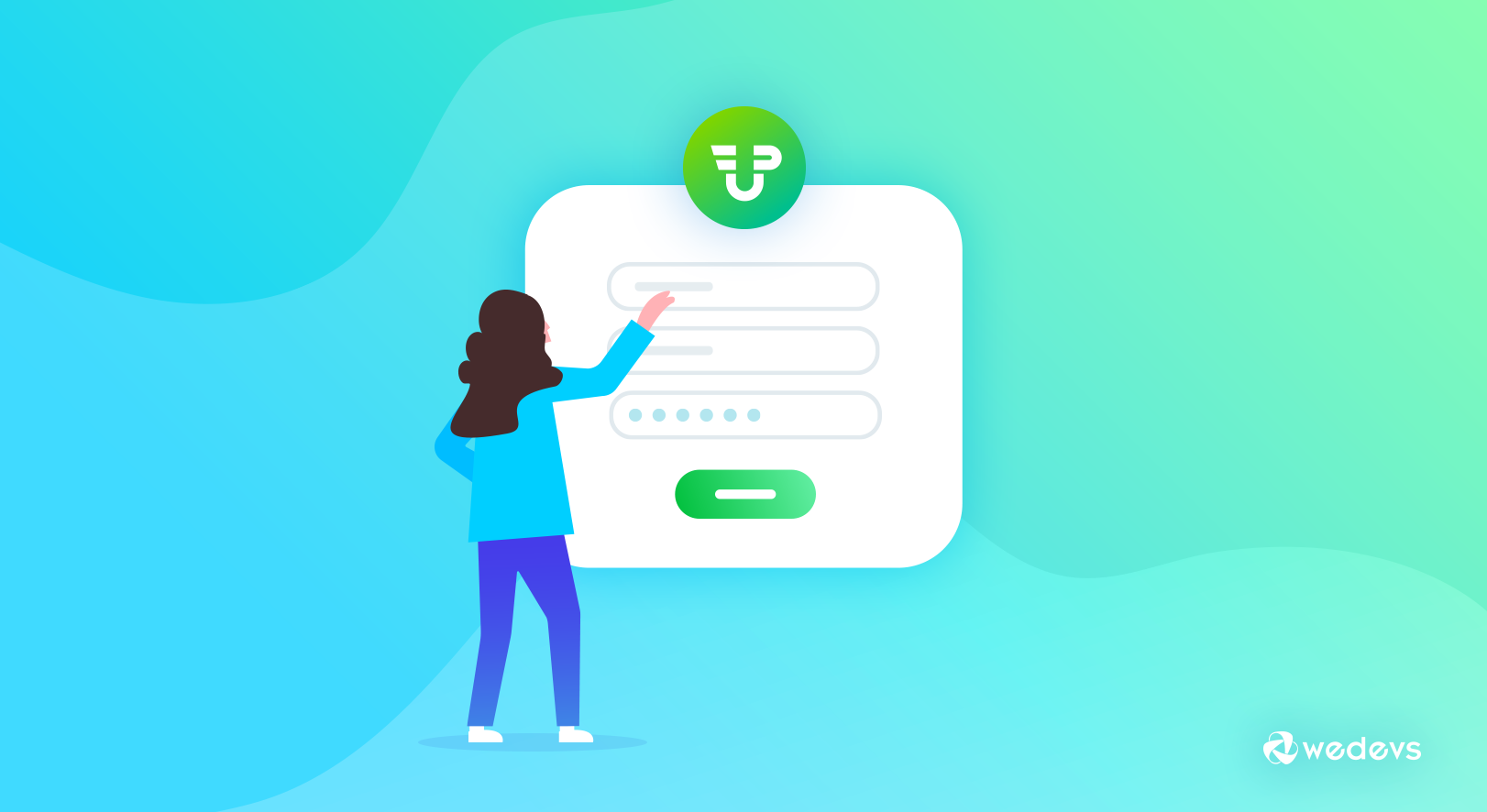 Unlocking WordPress User Registration: Explore a Better Way to Register Users
Suppose you own a business that highly depends on the people online, then what would be your ultimate aim as a WordPress site owner? Acquiring as many faithful users as you can to register on your site right? So, this makes the needfulness of WordPress user registration much more inevitable for your site.
And now there is a WordPress plugin, WP User Frontend that can effectively help you with user registration much easier than ever. WP User Frontend will help you gain new users by optimizing the WordPress user registration process providing a much easier way of logging into the site. You can also get this done with the comfort of using it with the fastest contact form builder for WordPress, weForms.
Want to take a full toll on the benefits you can get out of your WordPress user registration? Here in this post today you will know how you can make the best out of your user registration hassle-free.
But before that let's find out some of the common benefits of WordPress user registration.
Common Benefits of Online User Registration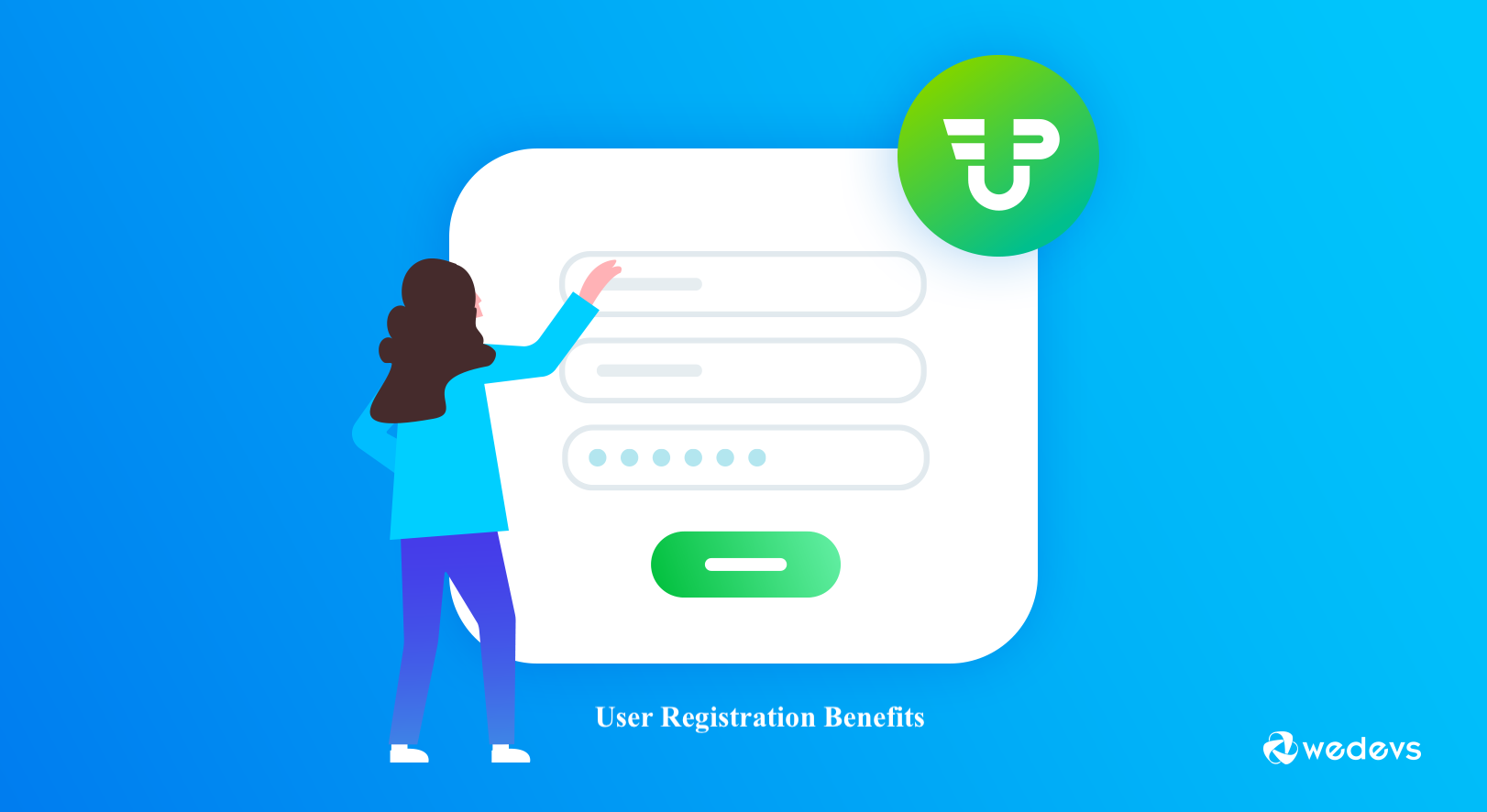 Having the user registration option comes with a number of benefits for both users and the owner of the site. Some of the most common benefits are listed below:
Time-Saving: An user can simply sign up or register online from wherever they want without having to print out the form and then manually filling it for submission. Sorting out the manual user registration forms submitted can be quite a time-consuming task. But when it is done with online forms, it saves a lot of time by eliminating the hassle of manual sorting.
Better Marketing Efforts: Due to user registration online, collecting from the email database, it triggers the ability to email the registered users notifying them about upcoming deals, offers, future events etc. You can also track user responses to it to plan a better marketing strategy for them.
Sales Process Streamlined: Unlike the registered users, the unregistered users will have to go through the hassle of inputting their details like name, address, shipping/billing, and payment info over and over again. But when a user registers once, then these restrictions are lifted. They then get to purchase online without any barriers making the process of sale streamlined.
Get Informed via Emails or Notifications: Now the registered users will not require to look for the latest, offers, deals, events, etc. as they will get automatically informed through emails about the things they are most interested in without even needing for them to search for it.
Improved Customer Support: With the registered users in your database, you get to take regular feedback and suggestions from them to improve the services or products that they are using. So registered users can act as an effective customer support improvement tool for any business. And also for the users registered can get answers to any question they might have. This turns the customer support service into a fruitful and continuous conversation to make better interaction in the future among the registered users and customer support team.
Getting Started with WordPress User Registration
With the right tools in hand, setting up the WordPress user registration for your website is as easy as a pie. To get yourself started with the WordPress user registration for your website, you will be needing the WP User Frontend plugin. With the free version though you will get to create forms with limited fields and form building options. But to create and enable advanced user registration form features in your WordPress, you will need to upgrade to WP User Frontend Pro.
Building the Form to Register a User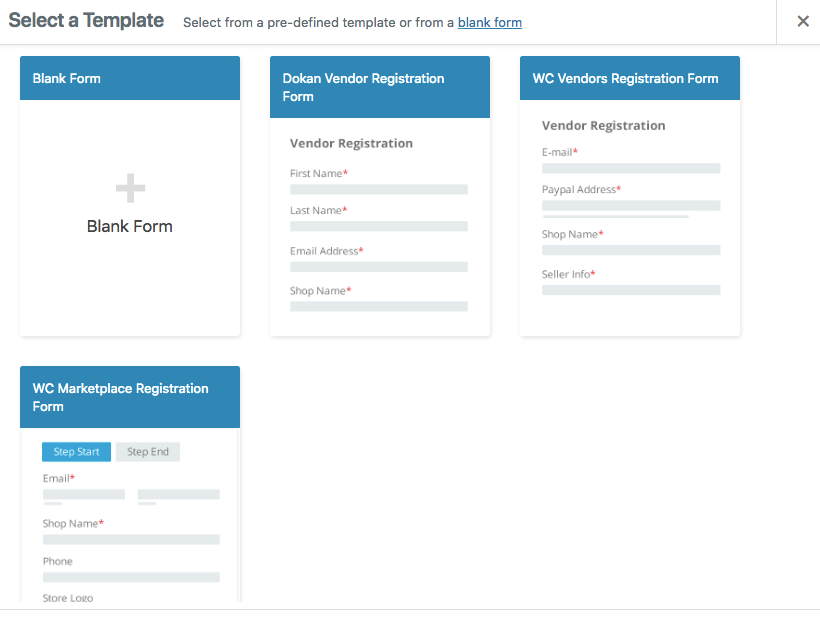 You can select a form from the pre-defined template or click on Blank Form to create a user registration form of your choice.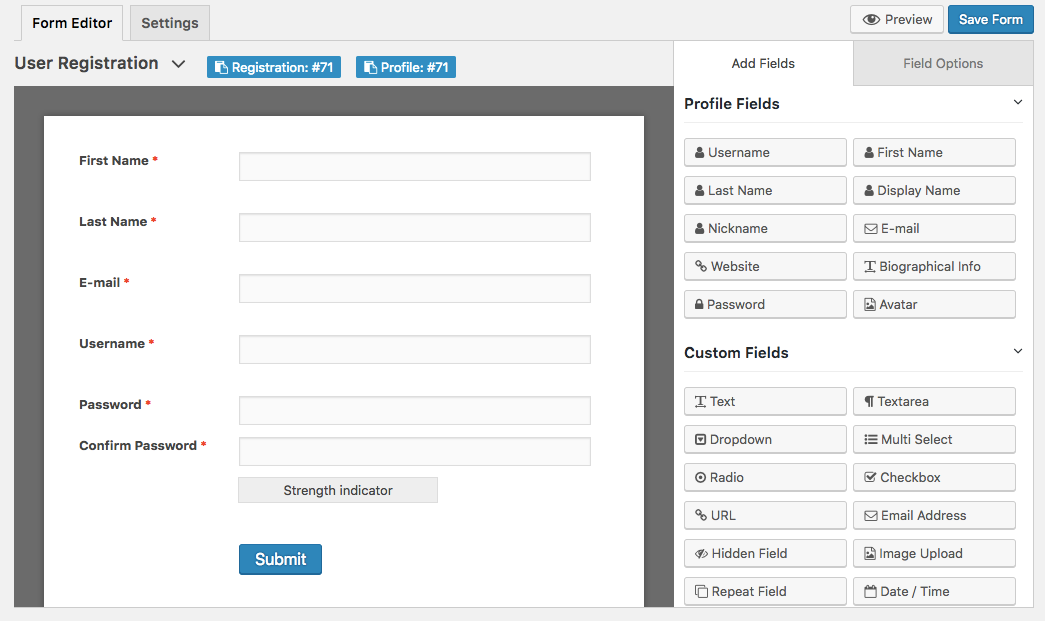 Add the necessary fields in the form editor to generate your required user registration form.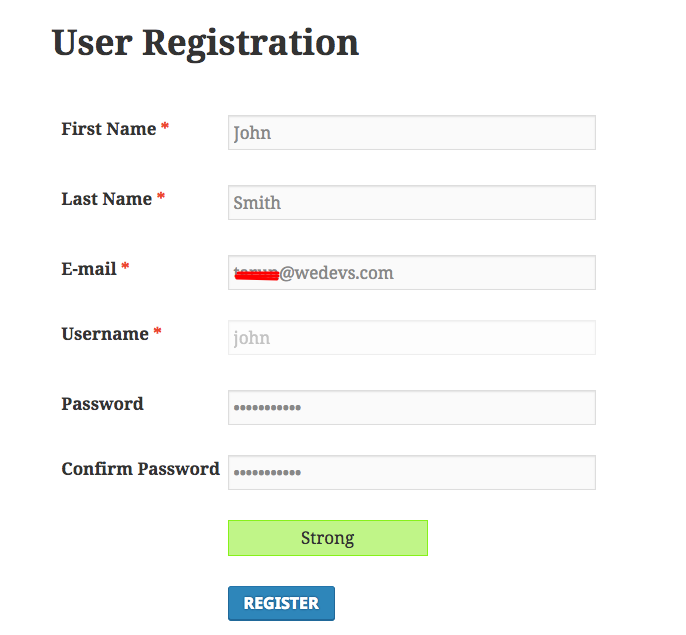 Now any visitor can register through the form you have created. The users will now have to fill out all the required fields in order to successfully register to the WordPress site.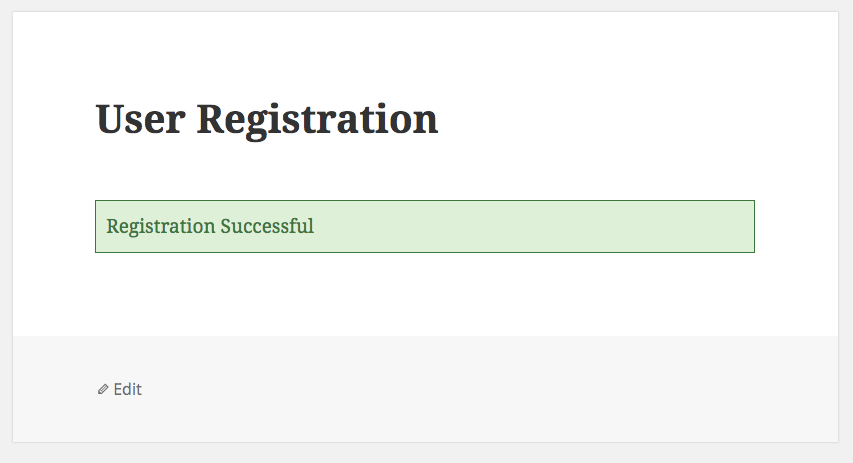 After a user registers filling out all the required fields, it displays a success message of user registration.
Create the Account Log in Option for Registered Users
Now creating the user login form for the registered user is even easier.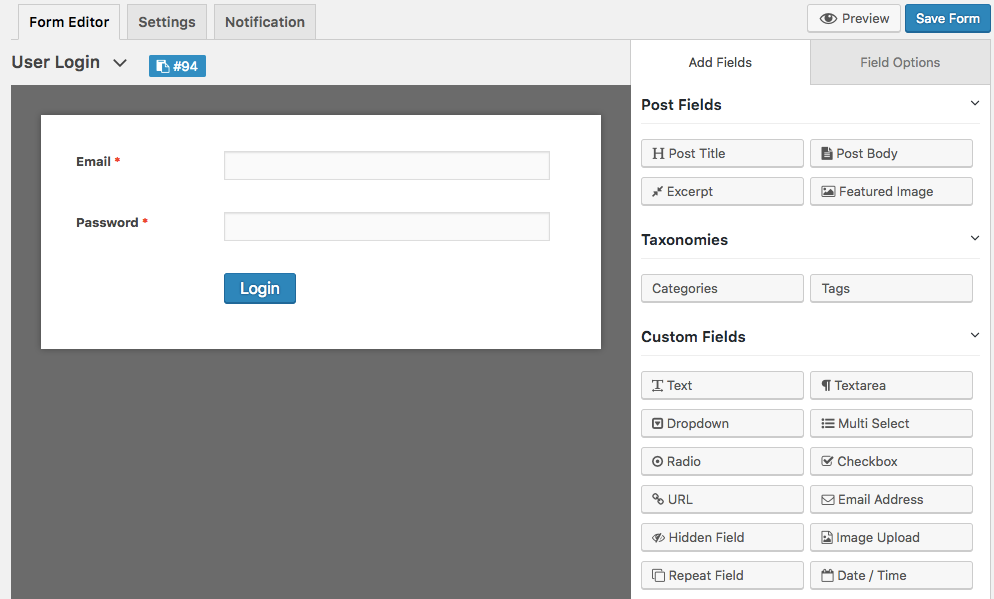 Similarly, as the user registration form, add the Email/Username and Password field from the custom fields on the right column to create the login form for the registered users.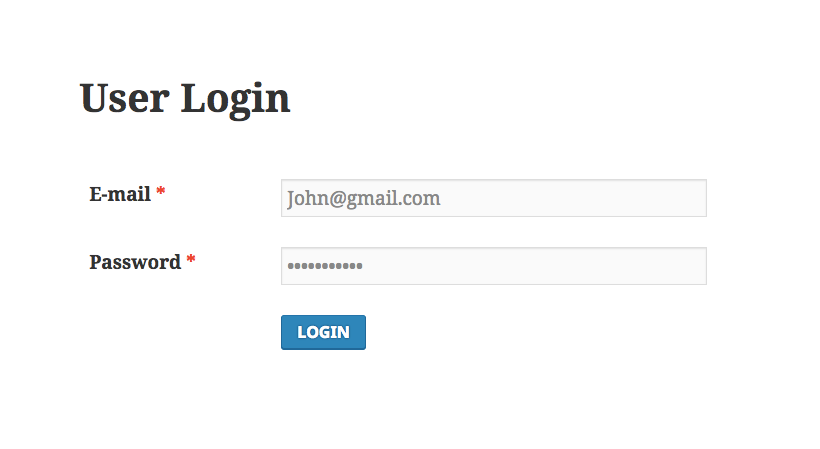 And it's done, now any registered users can log in with this form in the front end of the WordPress site.
What's More?
As an admin, you can let the registered users update their profiles right from the front end. This is a setting that can be modified from the field option of the register user forms. The admin can choose what information they would like to provide to the users simply by getting to the advanced settings of the field option settings.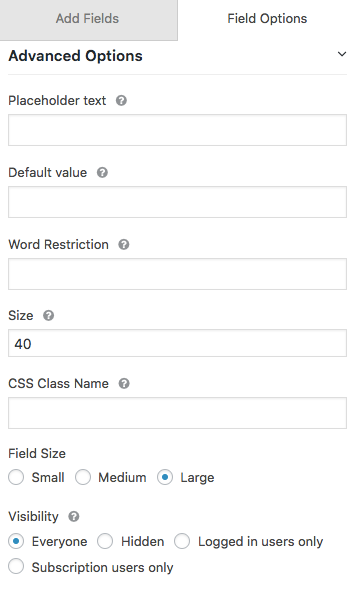 Also if you don't want certain users to view any form, then you can simply use the visibility option in the advanced settings of each form to restrict them. You can make the user registration form visible, keep it hidden from everyone, let only the logged or subscribed users view the form. The setting is as simple as adding a new form.
Make the Most out of Your WordPress User Registration !!
The usefulness of user registration is increasing every day, so is its form usage. A form can easily look dull and uninspiring so it is essential to create a form that looks good on the eyes and are visually interesting. Keeping the user registration form precise and simple is also important. So use dedicated templates wherever you can.
Building a good registration form takes time. So do not hesitate to test out new templates so that you can get proper feedback from its user to make improvements for the future. Over time you will be able to lock in the registration process that the users are liking. And WP User Frontend Pro is the plugin that can make this user registration process for your user a lot simpler than you can ever imagine. So if you aren't aware of all the cutting-edge features and functionalities then, it is a good idea to…
And if you need to create some beautiful contact form and want to make the most out of it then you may want to give weForms a try. It is the easiest and the fastest contact form builder plugin for WordPress. With a few clicks, you can just create any type of form within a minute.
As an admin, you would always want to let your user know that their details submitted will be used for the better and make sure your forms highlight that wherever possible.
If you have any queries or suggestions related to our blogs, products, or services, you may let us know via the comment section below.