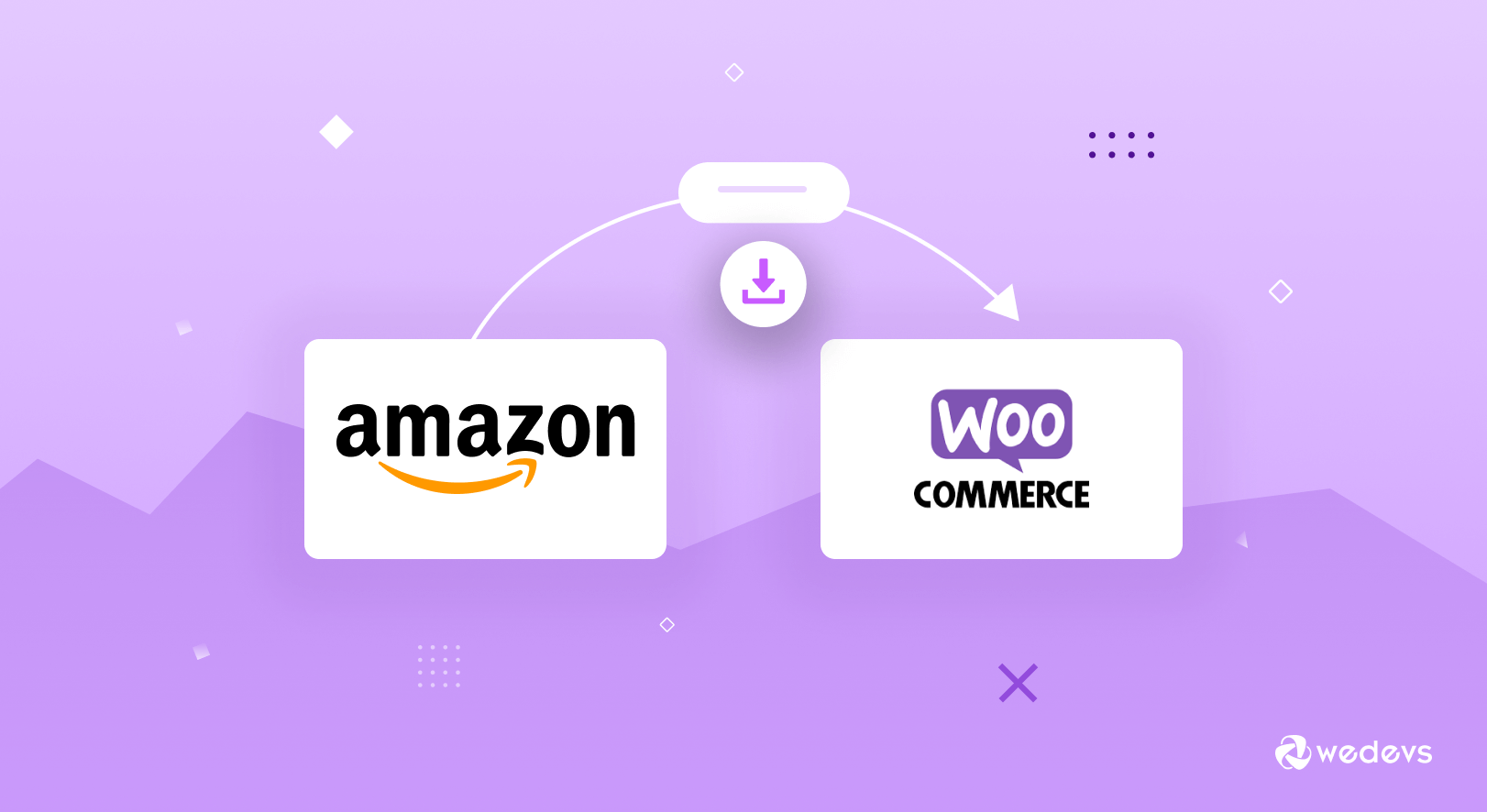 2 Simple Methods To Import Amazon Products To Your WooCommerce Store
Do you wonder how to import Amazon products to WooCommerce? Check this step-by-step guide to learn the process. It's easy!
Occupying a 29% market share of the top 1 million sites, WooCommerce has become the most popular CMS platform for beginners to advanced-level users. WooCommerce Stores are scalable and can manage an unlimited amount of products. It offers many exclusive features to make your online business profitable and robust.
With this continuity, you can extend your WooCommerce shop by importing products directly from the Amazon website at ease.
In this blog, we'll show you how to import Amazon products to WooCommerce without a plugin and using an extension.
Why Consider Importing Amazon Products To Your WooCommerce Store
Amazon sells a wide range of products in different categories from clothing to electronics. You can sell similar products like Amazon on your WooCommerce site or sell items as an affiliate. In both cases, it would be a profitable idea to import product details from the Amazon site.
Amazon's product description is elaborated, organized, and optimized for search engines. A very big research and marketing team works to collect and represent these products in an appealing way. So customers can easily extract useful information and make fruitful decisions.
As a proprietor, it might be tough for you and your team to collect all the product data individually. Rather you can easily reap the advantage of importing data from Amazon.
Below are the benefits of importing Amazon products to the WooCommerce store-
Attractive & unique product title
Effective product descriptions
Clear and concise instructions
Multiple images for a 360-degree view
Detailed discussion on features & pros/cons
Attachment of manufacturer's description
Importing product data also saves you time and effort in choosing search-engine-friendly keywords and other product analyses. Instead of wasting time on writing effective product descriptions, it gives you time to invest in increasing the store's performance.
2 Easy Methods to Import Amazon Products into WooCommerce
You can import Amazon products into your WooCommerce store in two different ways:
Method1: Import Amazon Products to Your WooCommerce without a Plugin
Method2: Import Amazon Products to Your WooCommerce with a Plugin
Method 1: Import Amazon Products to Your WooCommerce Store Manually
Unfortunately, WooCommerce doesn't support any feature to import Amazon products automatically (without a plugin) till now. So, you have to use the bulk upload feature and then manually add related images for each item.
Follow these steps to bulk upload-
Create a CSV file of your required product list with this GitHub template
Go to WooCommerce store dashboard → Products
Select the Import tab
Click Choose File and upload the CSV file you just created
In the Column mapping, map the fields by aligning the field titles with column titles
Click on "Run the importer"
Once all the products are imported it shows a Success message
Now you have to manually add images for each product.
Read the magical journey of Amazon from a garage bookstore to a trillion-dollar empire and get some inspiration.
Method 2: Import Products with Amazon Product Importer & Affiliate Extension
Using this plugin, you can import all products with the required details from any Amazon website. It may include name, description, categories, manufacturer, picture, price, variations, attributes, customer reviews, etc. Once you are done, sell the imported product as yours or as an affiliate.
This extension seamlessly works for all Amazon websites. Such as Amazon.com, Amazon.com.au, Amazon.com.br, Amazon.ca, Amazon.cn, Amazon.fr, Amazon.de, Amazon.in, Amazon.it, Amazon.co.jp, Amazon.com.mx, Amazon.nl, Amazon.es, Amazon.co.uk, Amazon.ae
Today, we'll walk you through all the steps to import any product details in your WooCommerce store from any Amazon website with this extension-
Step 1: Download and install Advanced Importer Chrome Extension
First, you need to add the "Advanced Importer" extension to your Chrome browser. It helps you activate the plugin for your WooCommerce store.
Download the supporting Chrome extension from this link: https://chrome.google.com/webstore/detail/advanced-importer/fnckhcfokjndphlmkpoihcjmcpghcofh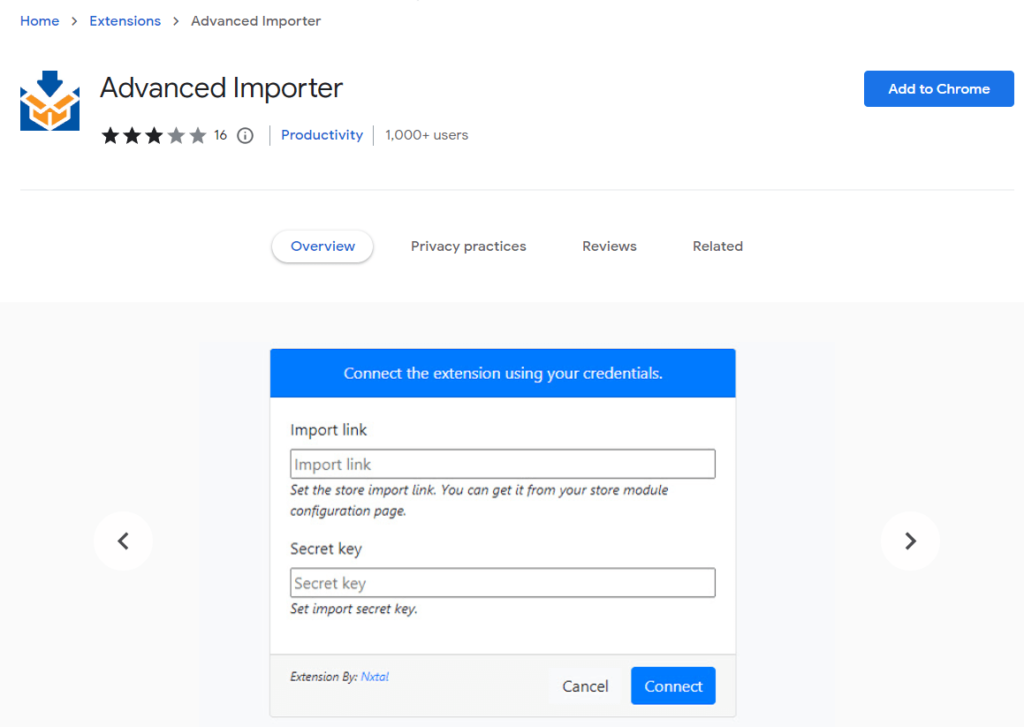 By clicking on the button "Add to Chrome", you can instantly include it to your extension list.
Step 2: Install and activate the Plugin "Amazon Product Importer & Affiliate"
Now, you can install and activate the plugin like any other WordPress plugin.
Firstly, download the plugin from Amazon Product Importer & Affiliate.
Go to their official site link and click on the "Buy Now" button to download its .zip file: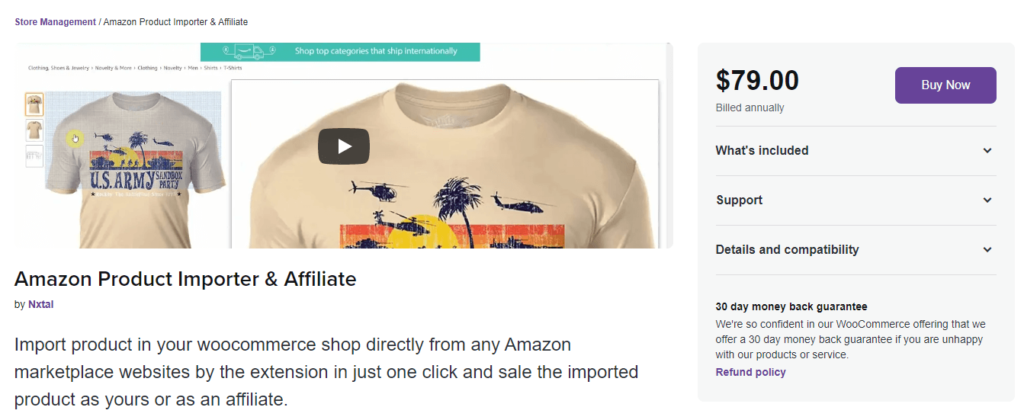 Next, log in to your WooCommerce store's dashboard and go to Plugins → Add New. Upload the file by selecting "Choose File". Once you uploaded the zip file click the button "Install Now":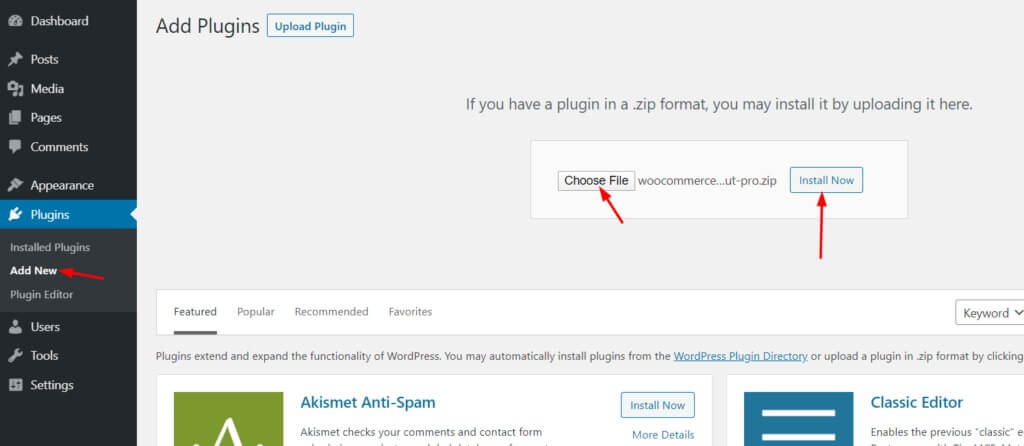 Step 3: Configure Your WooCommerce Store
After completing the installation phase, navigate to the Products → Importer Configuration from the left-hand side admin bar of your dashboard. Here you'll find both your Import link and Secret key: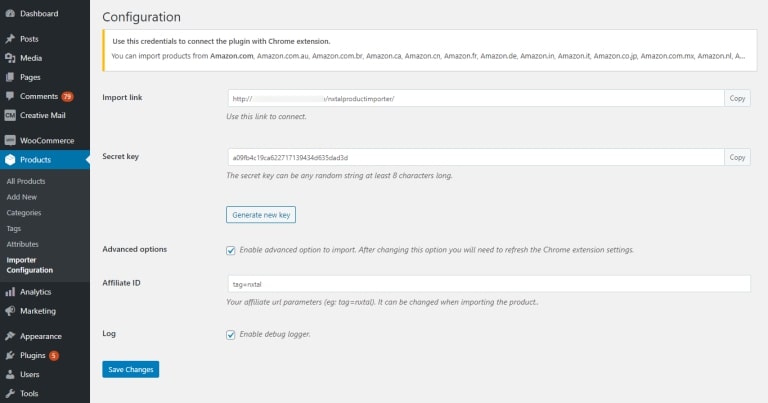 These two fields are very crucial for connecting the Amazon Product Importer plugin with the Chrome extension.
N.B: You have the flexibility to change the Secret key (any random string) at any time if you want.
Step 4: Import Amazon products using The Extension Form
Now go to the Amazon website and open the products page you want to import into your WooCommerce store. Stay on the same Chrome browser in which you've previously installed the supporting Chrome extension.
After landing on the required product page open the Chrome extension popup. Here, you'll find an import Amazon products form asking for the "Import link" and "Secret key".
Now copy the data from your Amazon Product Importer WooCommerce extension configuration page and paste it here.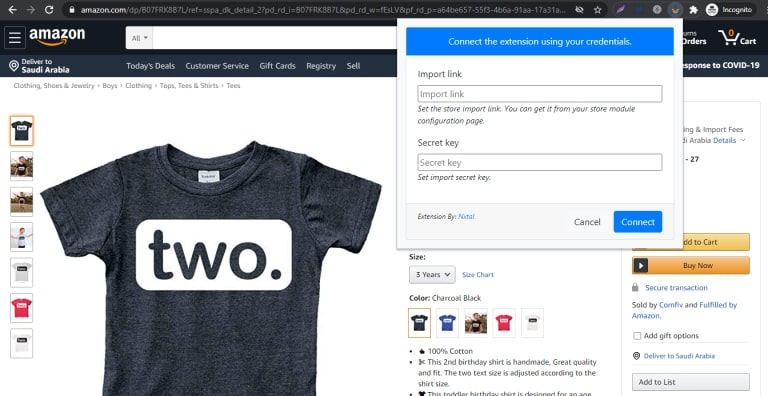 Then, click on the "Connect" button.
If you give all the data correctly, a success message will appear on the screen and you'll see the import form in the Chrome extension popup.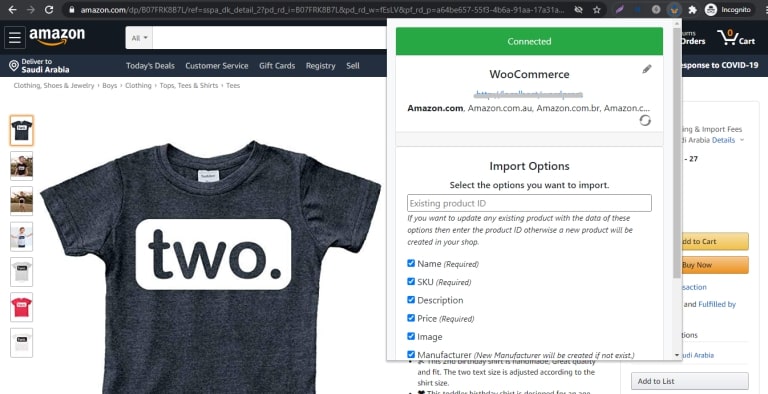 There are several options to import. In order to update product information with Amazon Products, use your existing WooCommerce product ID.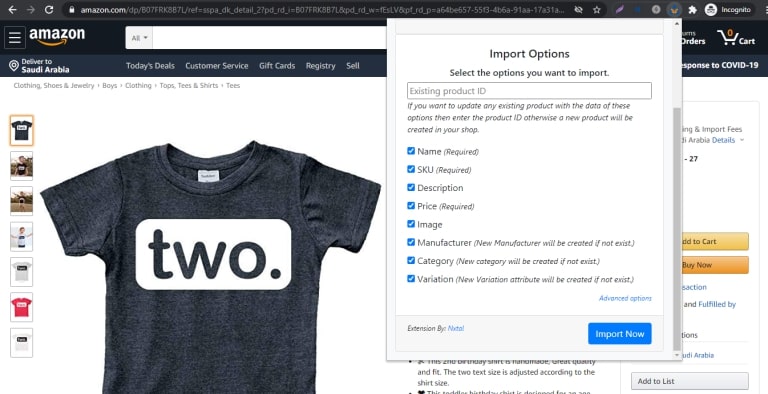 In the Advanced options, you'll find some extra functions to assign the imported products if they're previously configured.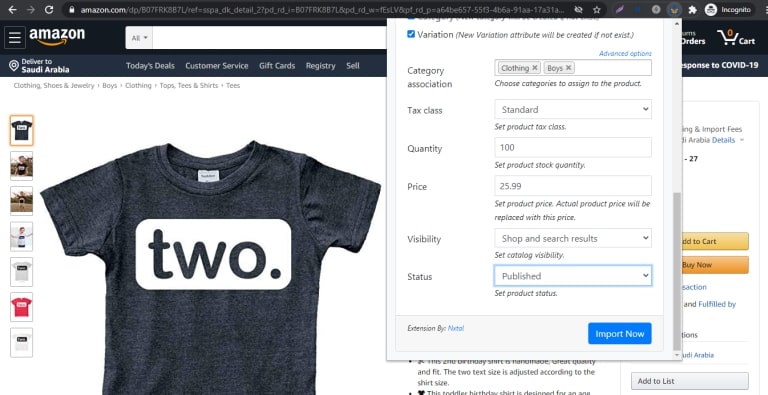 Step 5: Check The Final Output
Include all the necessary information as per your requirements. Then, click on the "Import Now" button.
After that, you'll see a process loader on the Chrome extension popup.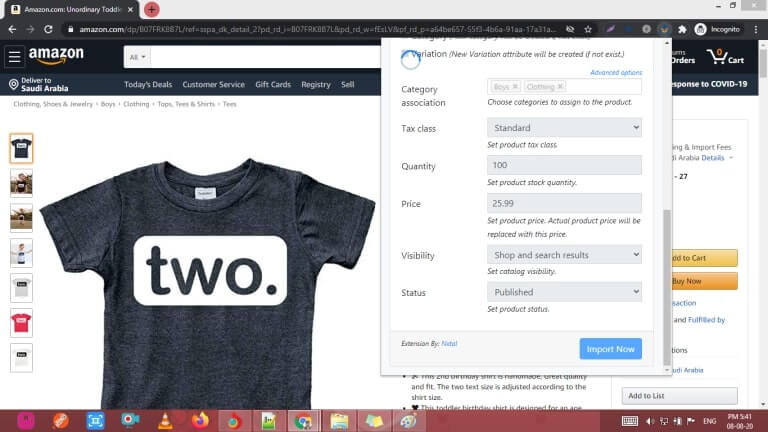 After completing the process, you will get a success message. This means you imported the product into your WooCommerce store successfully. You can check it from your WooCommerce admin product page.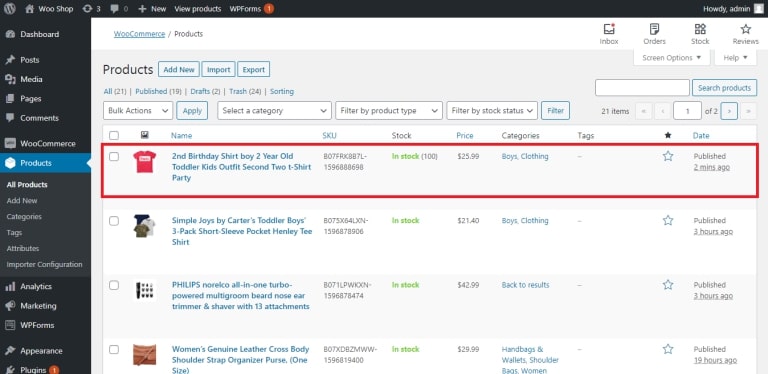 Below is the front view of the Amazon product, we've imported right now-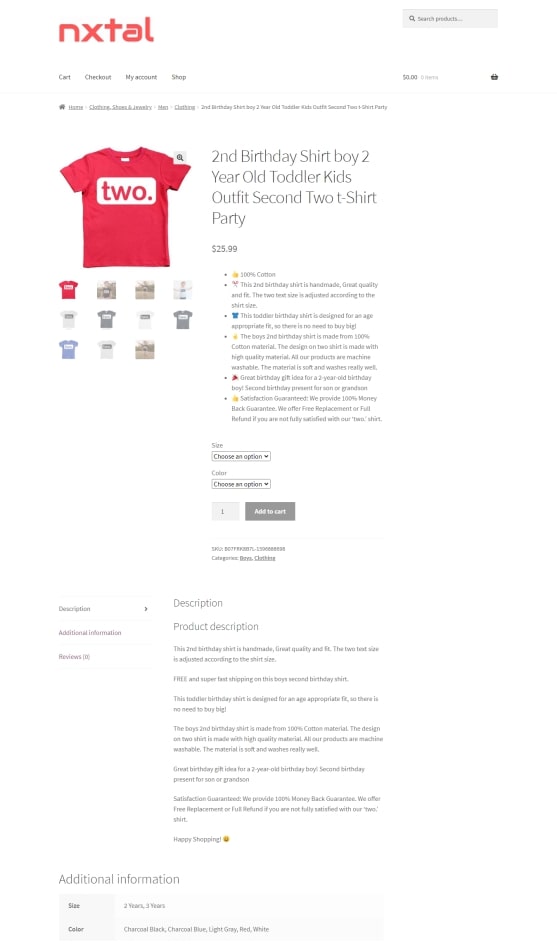 You need to follow steps 1 to 3 only for the first interactions. After that, follow only the final steps for further Amazon product import.
Related Resource: How To Start Affiliate Marketing In WordPress With A Perfect Niche!
Challenges You May Face During Import Amazon Products To WooCommerce
Importing Amazon products to WooCommerce can be a great strategy to expand your online business and potentially increase sales. However, this process is not without its challenges.
Here, we'll discuss some of the challenges you might face when importing Amazon products to WooCommerce and how to overcome them.
Data Accuracy and Consistency
One of the most significant challenges is ensuring that the product data imported from Amazon is accurate and consistent. Amazon product listings may have various formats and you need to standardize them to fit your WooCommerce store. This includes product titles, descriptions, prices, and images.
Solution: Consider using a product import tool or plugin that can automatically map and format data from Amazon to WooCommerce. It'll reduce the chance of errors. Manual review and editing may still be necessary to ensure consistency.
API Restrictions
Amazon has strict API (Application Programming Interface) access limits and may require you to meet certain criteria to access their product data.
Solution: Ensure you meet Amazon's requirements and apply for access if necessary. Some plugins or tools may have limitations due to Amazon's API restrictions, so choose one that suits your needs.
Data Volume and Performance
Importing a large number of products from Amazon can strain your server and slow down your WooCommerce store's performance. This can lead to a poor user experience.
Solution: Optimize your hosting environment for performance. Consider using a dedicated server or a managed WooCommerce hosting solution. Additionally, schedule imports during off-peak hours to minimize disruption.
Compliance and Terms of Use
You should follow Amazon's terms of use and compliance regulations before importing products. Violating these terms can result in account suspension or other penalties.
Solution: Familiarize yourself with Amazon's terms of use and comply with them. Ensure your product listings and store operations are in line with their policies.
Common FAQs on Amazon & WooCommerce Integration
Here are some most popular queries people ask during connecting their WooCommerce store and Amazon products:
How to sell affiliate products with WooCommerce?
From your WordPress dashboard, go to Products → Add New and add a new product. Include required details such as product name, product description, product image, and others.
In the Product data section, select the product type External/Affiliate product from the drop-down menu. Then, paste the affiliate URL or the product you want to sell in the Product URL field. Also, add the button text, regular price, and sale price (if necessary).
Publish the product once you are done adding all the information.

How to import products into your WooCommerce shop from different marketplace websites?
You can use the extended version of "Amazon Product Importer & Affiliate". Advanced Product Importer & Affiliate allows you to import products directly from 100+ marketplace websites in just one click. Such as Amazon, Aliexpress, eBay, Walmart, and so on. You can sell the imported products as yours or as an affiliate.
Can I sell affiliate products on WooCommerce?
Yes, you can sell affiliate products from your WooCommerce store at ease. During updating the product, set the product type to External/Affiliate product. Once you've done start selling your products and earning from the commission.
Are you looking for a smart solution to build a fully functional online marketplace? Dokan multivendor can be your one-step solution. It offers a bunch of useful features and functions to build any type of marketplace effortlessly.
Final Thoughts on Importing Amazon Products into WooCommerce
Amazon brings a vast revolution in the digital scape by providing products to customers' doorsteps. It opens a door of wide opportunity for entrepreneurs as well to earn money by promoting Amazon products.
If you're planning to sell similar products like Amazon or sell them as an affiliate, importing product information from the Amazon website would be a great idea. It saves your time as well as helps you concentrate more on your store promotion.
You can do this manually or use a plugin for your WooCommerce store. But we personally recommend you use a high-functioning WordPress plugin. WooCommerce does not support the feature to import data from Amazon in bulk including images.
Do you have further queries about how to import Amazon products into WooCommerce? Do use the comment section below!