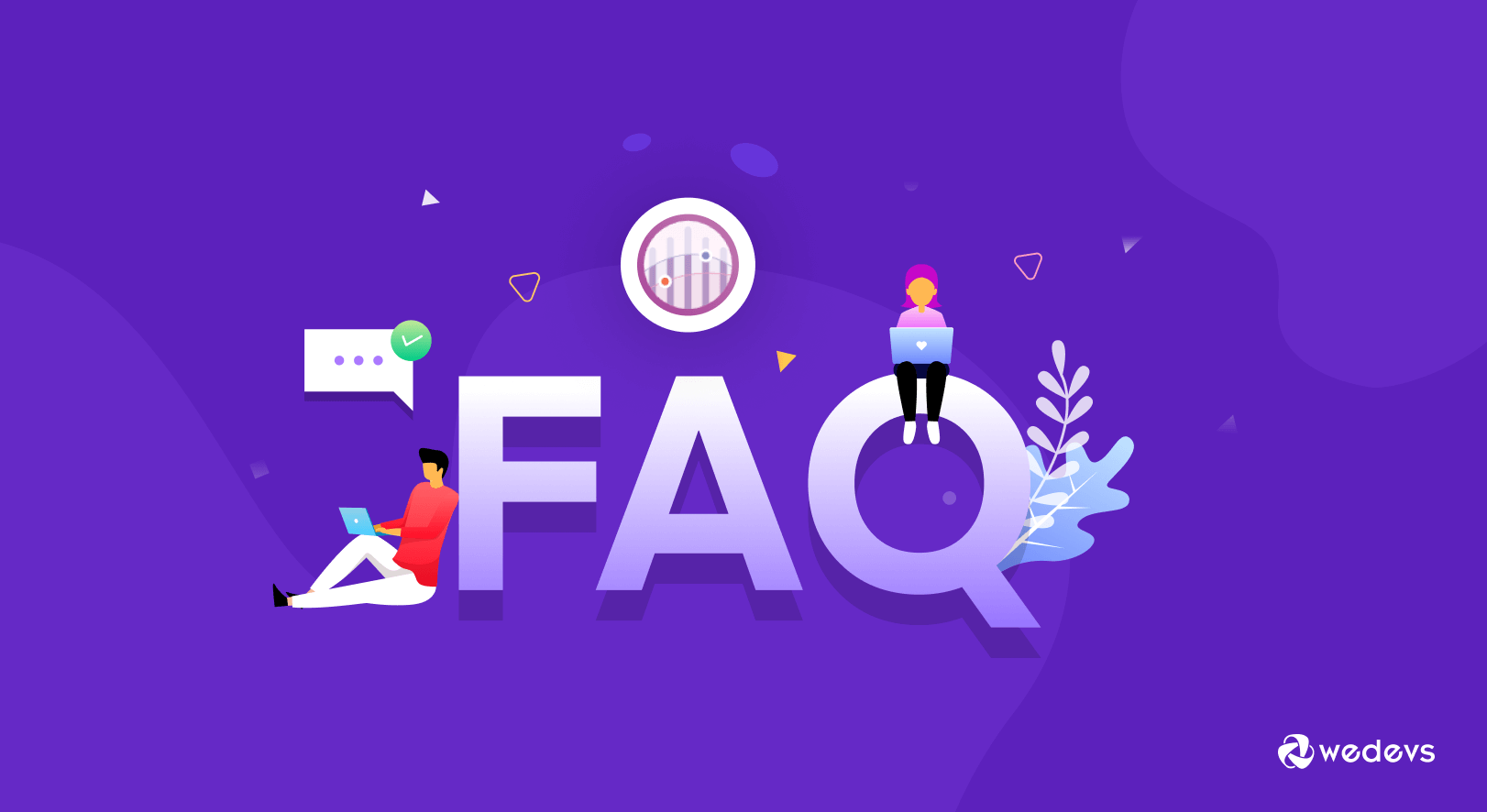 20+ FAQs Answered on WooCommerce Conversion Tracking Plugin
Having an eCommerce site becomes much easier because of technological advancements. But surviving in this industry with a powerful identity is still quite challenging. Study shows that 80% of eCommerce businesses fail due to the lack of proper understanding of the market and the requirements of the target audience.
This is the reason 70% of enterprises have increased expenditures on real-time customer analytics solutions over the years.
Online retailers usually spend a good amount of money to advertise and get customers. But without tracking people's activities after interacting with your marketing strategy, you can't understand whether your effort goes on the right track or not. An optimized WooCommerce conversion tracking plugin lets you add tracking codes to your online store. So, you can easily find out exactly how people act in your store.
In this article, we will answer common queries related to WooCommerce Conversion Tracking Plugin, how it performs, and how it helps you boom your business. Let's start with-
Why Conversion Tracking is Important for Your Online Business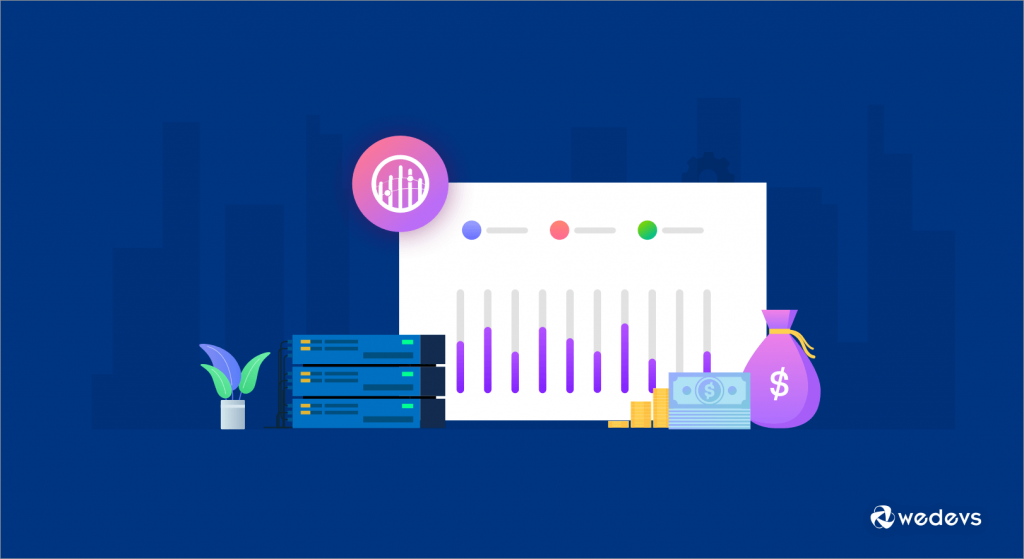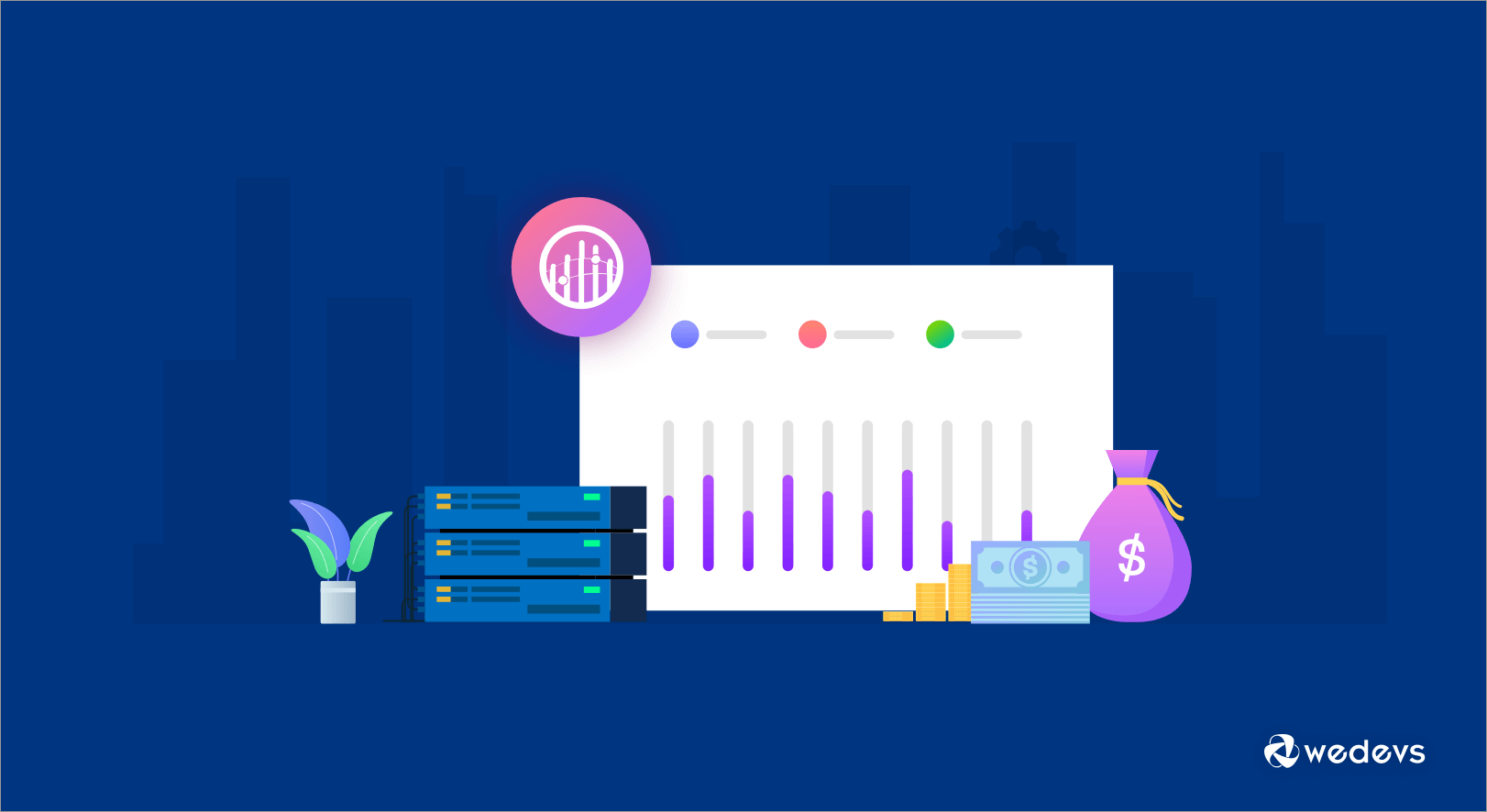 Do you want to target your online store customers from Google, Facebook, or Twitter ads? Then you must focus on conversion tracking. Before that figure out why it is essential for eCommerce owners.
1. Enable Understanding the Best Source of Traffic
If an online store owner can understand the exact traffic source then he or she can earn the desired profit from the business. Through conversion tracking, you can discover the right Ad platform where you should invest more.
2. Assist to Organize Effective Marketing
What does effective marketing mean to you? Just running paid campaign and getting huge conversions is not successful marketing. Tracking conversions assist you to manage fruitful marketing where the conversion will be your targetted customers and they will sustain in your store.
3. Increase Website User Experience
When you will know the age, preference, choice, and type of your users, you will definitely change the appearance of your website. So after coming through the Ad platform the potential customers will experience an environment according to their desire. Thus, conversion tracking is useful for improving audience insights.
4. Gain Data That will Assist You Later On
You can store some data like- conversion number, regular site visitors, particular product page viewers, bounce rate, session duration, and more. Among all the information you may not need everything currently but later on it will help you with market research and making crucial decisions.
6. Notify the Campaign Performance
Knowing the campaign performance can boost you in the next advertisement management. Plus, you can understand your campaign's drawbacks. By using the conversion tracking plugin you will get this assistance smoothly.
23 FAQs Answered about WooCommerce Conversion Tracking Plugin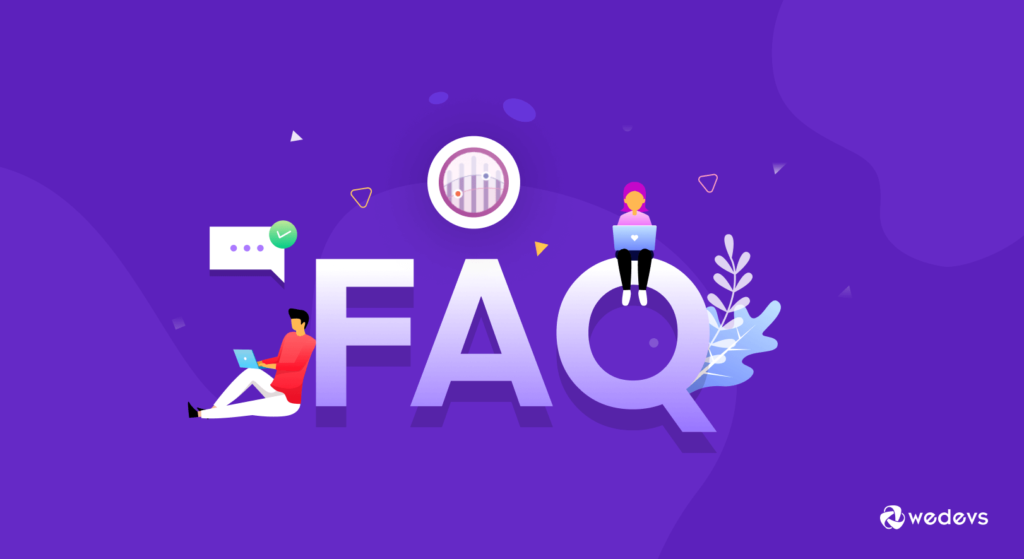 In this section, we will cover all the most asked questions about WCT over the internet.
Q1: What is WooCommerce conversion tracking?
Answer: WooCommerce Conversion Tracking is a WordPress Plugin that assists to track paid ads. To integrate any advertising campaigns with your online store you have to insert multiple tracking codes but with WCT plugin will do it automatically.
Q2: How does WooCommerce conversion tracking work?
Answer: To convert more of your website visitors into paying customers you should have a WCT plugin. The use case is-
A visitor interacts with a WooCommerce Store> Triggers a specific event> Sends conversion data to selected Ad platform> Retarget from selected platforms.
Q3: What are the requirements for using WooCommerce Conversion Tracking?
Answer: Minimum Requirements for applying the WCT plugin-
WooCommerce 3.0.
PHP version 5.2.4 or greater.
MySQL version 5.0 or greater.
Q4: How do I track conversions in WooCommerce?
Answer: The simplest way to trace your WooCommerce conversions is by inspecting Google Analytics. It will display where your audience is coming from and what they do on your website. The main obstacle here is setting up Google Analytics with WooCommerce because you will need to set a lot of custom coding for tracking.
Q5: What are the most important things to track with WooCommerce conversion tracking?
Answer: You can track a lot of things with WooCommerce Conversion Tracking but the below are the most essential-
People who are visiting the website regularly
Particular product page viewer
The people who searched for something in your store
The bounce rate of your website
Session duration
Q6: What are the most common problems with WooCommerce Conversion Tracking?
Answer: Your WCT may not work properly due to the problems like-
Entering the wrong code
Entering remarketing code as opposed to the analytics code
Placing code on the incorrect pages
Adding code during the implementation
Multiple analytics code on the same pages
Q7: How can I improve my WooCommerce conversion?
Answer: To increase the conversion rate in the WooCommerce website you should-
Make your eCommerce website mobile friendly
Improve your UI/UX
Optimize your SEO (One of the essential parts)
Show your product reviews from customers
Q8: What are some other conversion tracking tools that work with WooCommerce?
Answer: The most popular conversion tracking tools on the web are-
Sales Analysis for WooCommerce
WooCommerce Google Analytics Pro
WooCommerce Conversion Tracking
Actionable Google Analytics for WooCommerce
Monsterinsights
Q9: Is there a WooCommerce conversion tracking tutorial?
Answer: A proper WooCommerce conversion tracking tutorial will contain the essential custom settings and show them to the customers. We have a tutorial to set up the WooCommerce Conversion Tracking to make your journey a lot easier. It will take barely 15 minutes to understand the whole process.
Q10: Where can I find more information about WooCommerce conversion tracking?
Answer: Before running any plugin for your website, especially for the online store you must be careful and know the nitty-gritty details. For details and easy understanding, you can visit this WooCommerce Conversion Tracking page. It will show you every possible path to track your eCommerce site's conversions.
Q11: What is the best WooCommerce conversion tracking solution for WordPress?
Answer: You will find lots of WooCommerce conversion tracking plugins in the WordPress repository. Among them, you can give a try to WooCommerce Conversion Tracking by weDevs. It is one of the best solutions for tracking your WooCommerce conversion.
Q12: How do I track sales in WooCommerce?
Answer: If you have downloaded WooCommerce Conversion Tracking by weDevs then follow this navigation. To track the sales in WooCommerce navigate to WooCommerce, and click on Reports. You will get details about your customers and sales.
Q13: How do I add Google conversion tracking to WooCommerce?
Answer: Adding Google conversion tracking to WooCommerce is smooth work if you know the right process.
Firstly login to your Google Ads Account ID. Then navigate to Tools & Settings. Click it and go to Measurement > Conversions. Now, build a conversion action for your website. Choose a category, conversion name, and value, as you need.
You will have three options to add a tag to your website, select one and scroll down to the Global site tag option. You will see the Google conversion tracking ID. Copy the ID and go to your WordPress admin panel.
From WooCommerce click on Conversion Tracking. Paste the code into the Google Ads Tab. Don't forget to click Save Changes. Done, you have configured the Google Ads account ID perfectly.
Q14: What is Google Ads for WooCommerce?
Answer: Google Ads for WooCommerce enable you to increase your online store traffic and boost your sales. For the first ninety days, you can manage the Google Ad campaigns for free. Generate traffic by using Google Shopping and Surfaces across Google.
Q15: How do I connect my Facebook shop to WooCommerce?
Answer: Ensure you have opened a new tab and signed in to your WooCommerce account. Now follow the steps below-
Download the Facebook for WooCommerce plugin from WordPress.org
Click on Plugins from your WordPress dashboard and choose Add New.
Select Upload Plugin and click Choose File.
Select the Facebook-for-woocommerce.zip file that you have downloaded.
Now install it and then click Activate Plugin.
Select Marketing and choose Facebook from the dropdown menu.
Click Get Started.
Q16: How do I advertise on WooCommerce?
Answer: You can advertise your WooCommerce store using the following ways-
Sending email & newsletter
Discounts on special days
Running campaigns & contests
Doing regular social media outreach
Promoting through engaging product videos
Offer complimentary upgrades.
Q17: Can you track conversions in Google Analytics?
Answer: Yes, you can track conversions in Google Analytics on your website. Any type of engagement on your site is trackable.
Q18: How do I track revenue in Google Analytics?
Answer: Log in to your Google Analytics dashboard and navigate to Monetization. Now, click on Overview. If you want to watch the data of sales and revenue go to Acquisition > Traffic acquisition.
Q19: What's a good conversion rate?
Answer: If your conversion rate is more than 10% then it's good and you can earn a good amount of revenue.
Q20: What is a bad conversion rate?
Answer: When the total conversion is below 3%, you should do something to improve it.
Q21: Why are my conversion rates so low?
Answer: Let's see the 5 most common reasons for having a low conversion rate-
Poor product filtering and navigation
Not SEO optimized
Mobile unfriendly
Bad customer support
Poor UI/UX
Q22: What are some of the top tactics to keep the conversion?
Answer: The top tactics to improve the sustainability of your conversion are-
Build a better home page
Make your site mobile friendly
Implement reward programs
Provide outstanding 24/7 customer service
Be clear with the product policies
Q23: What is a conversion API?
Answer: It creates a bridge between the advertiser's marketing data and Meta systems. It measures results, optimizes ad targeting, and deducts cost per action.
Introducing The Best Conversion Tracking Plugin for Your WooCommerce Store
WooCommerce Conversion Tracking helps you measure your website's performance more effectively. You can easily identify the scope of improvement, optimize the campaign and site structure, and retarget your lost visitors. In short, it leads you to make data-driven decisions so you can get more traffic and sales as well.
Are you wondering how the WooCommerce Conversion Tracking plugin works? Just have a look at the flow below-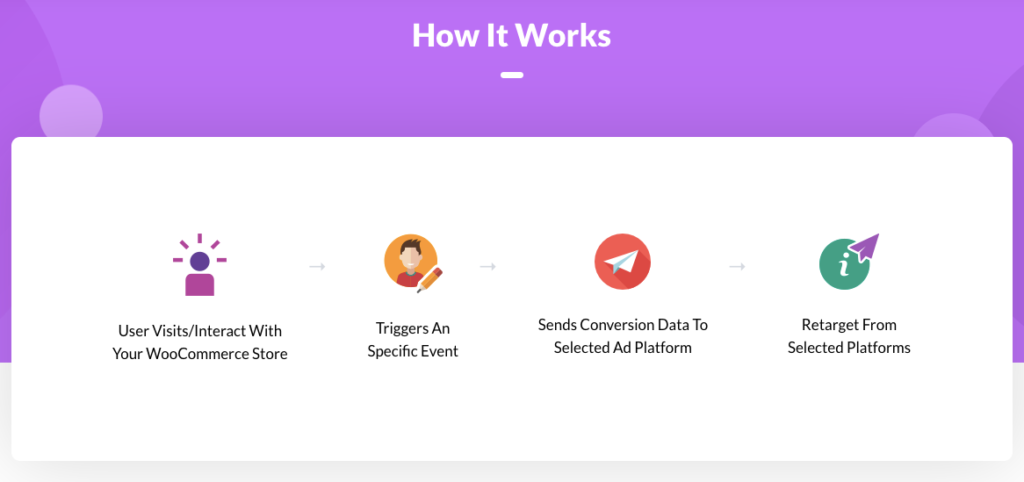 Available Integration for Getting More Advanced Conversion Data
This plugin has 60000+ Active Installations with advanced integration to make your mind blown away-
Facebook
Provide users data who have viewed, searched, and purchased products from your Facebook Ads. Moreover, it shows you the registration data, even what has been added to the cart.
Twitter
The same goes for Twitter Ads, this integration will tell you how many products you have, successful purchases, or registration.
Google AdWords
To enjoy the Google AdWords feature you have to just add your Google Adwords Account ID and send your purchase events along with purchase labels, to Google's own platform. From now on you will be able to have better ideas on making the most out of your Paid Ads by targeting the appropriate people.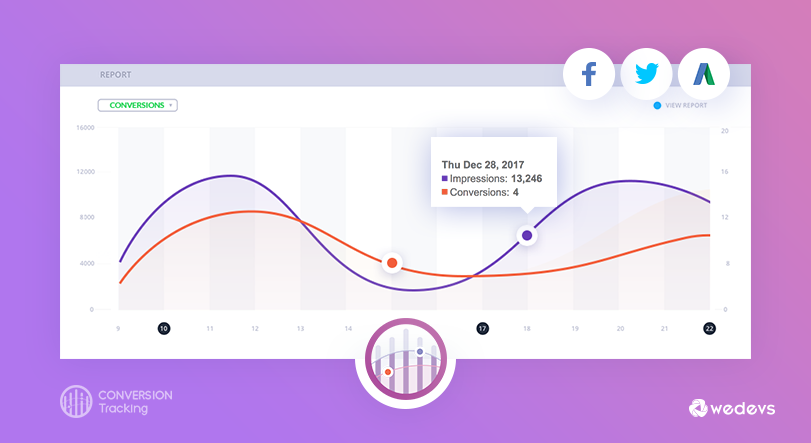 Perfect Audience
Perfect Audience integration ensures to target customers who hold more potential to skyrocket your eCommerce business.
Microsoft Advertising
Why you will spare the traffic from the Bing search engine? Let's connect your WooCommerce store with Bing Ads. The Microsoft Advertising integration will assist you to build an advanced audience.
Custom Platforms
There could be some other platforms that WCT hasn't added. You can connect those platforms of your choice with the JavaScript tracking scripts feature. Isn't it amazing?
Check the detailed process of- How to Setup Woocommerce Conversion Tracking for Your Online Business.
Bonus: How to Double Your Conversion Rate with WooCommerce Conversion Tracking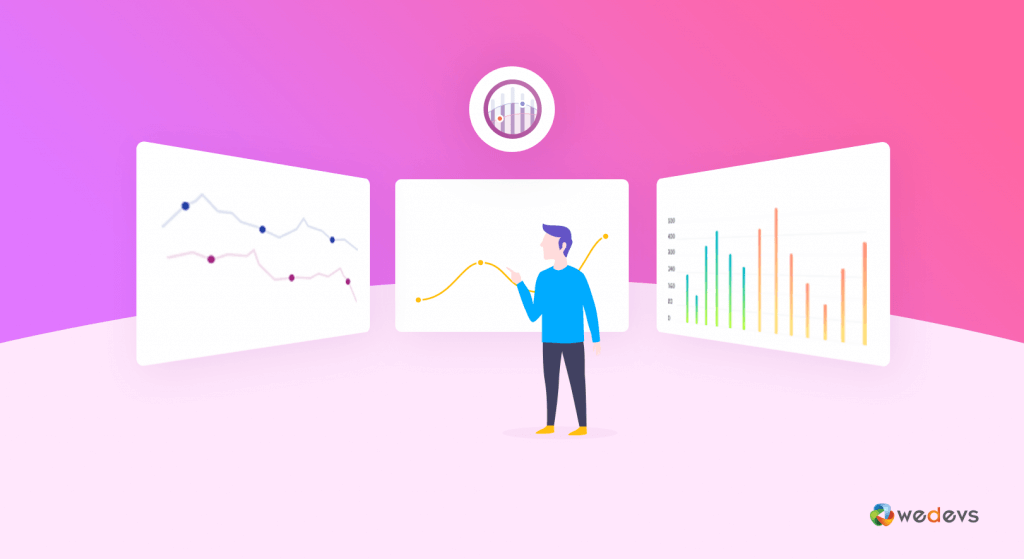 Sending user-triggered events from your eCommerce store can be effective. Retargeting can be simple if you use WCT in your online store. Let's know the other benefits of this plugin-
Connect Multiple Ad Platforms: You can add the most popular advertisement platforms with your WooCommerce store and run campaigns.
Making Data-driven Decisions: After measuring the campaign's performance you can be in the right direction to analyze your store data properly.
Identifying Best Performing Keywords: You can find out and keep focusing on the specific keywords which have more actionable value on your website for your business.
Saves Valuable Time from All the Custom Coding: For tracking advertisements, you will not need to do coding, use that time on other areas of your store.
Allocating Marketing Budget Effectively: Every penny matters and with WooCommerce Conversion Tracking you can invest your money in the right place.
Read More: How to Double Your E-commerce Conversion Rate in 2022 (6 Proven Hacks).
Final Verdict on WooCommerce Conversion Tracking Plugin
As an eCommerce business owner, you must have the practice to track your conversions from the beginning. If you haven't done it yet, don't worry, it's never too late. Download the WooCommerce Conversion Tracking plugin in your WooCommerce store.
These data can show you the right direction and save your money by investing in the right ad platforms. Let us know if this FAQ session goes fruitful for you or not.
Have a wonderful day!