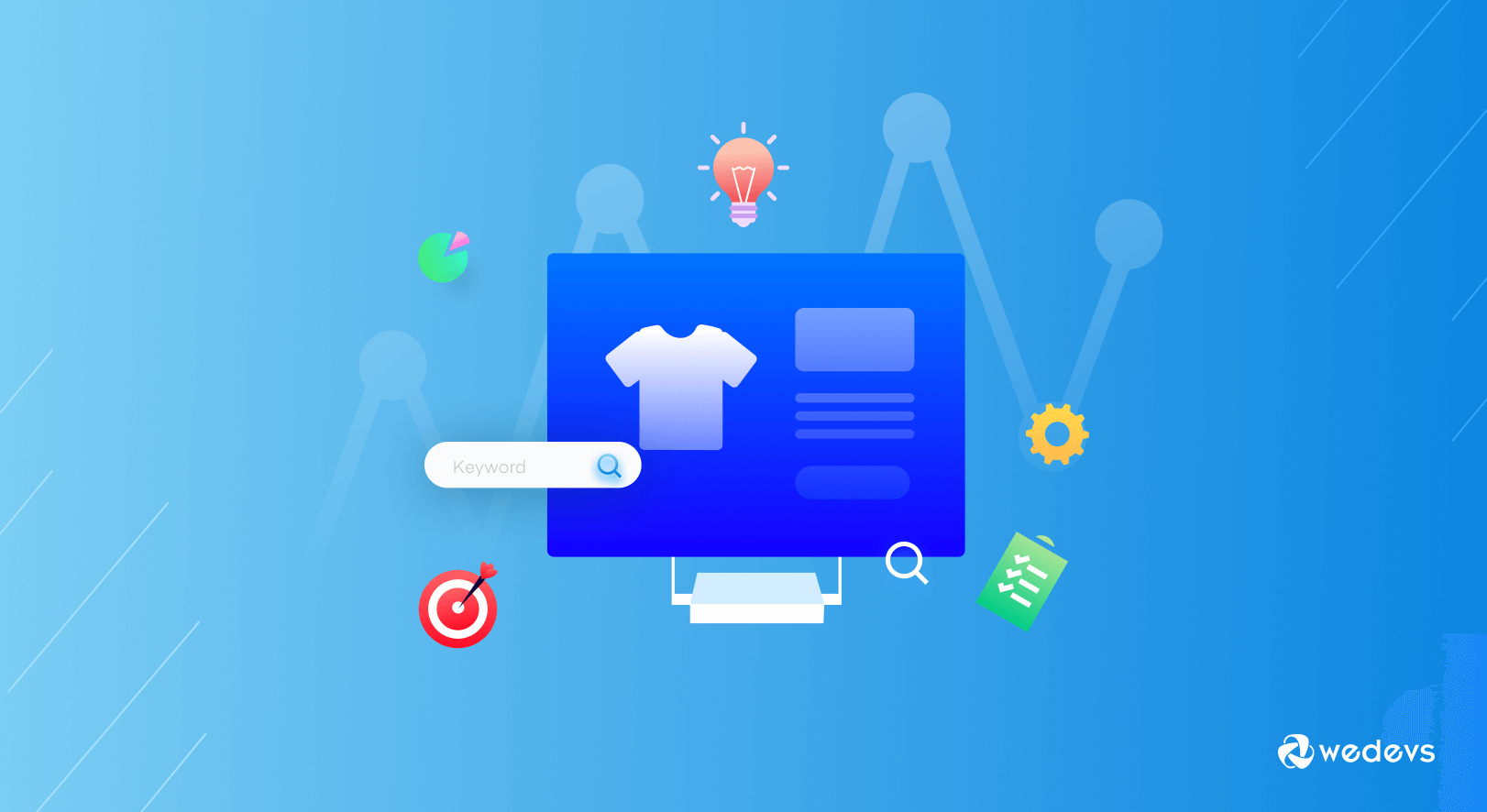 A Guide to SEO for Ecommerce Product Pages in 2023
You should take extra care of your eCommerce product pages SEO. Not just because they convey information about your products but also encourage people to buy from you. Product pages are the cornerstone of your online store.
There are around 12-24 million eCommerce stores around the world, with more and more being created every single day. You should apply strategies that help you make your shop stand out from the crowd, from your first day.
Initially, the content and visual elements of your product page should be optimized well with ensuring clear messages. Depending on your content and design, a customer decides whether continue to buy from you or not. Check what more you should do to ensure your desired conversion.
This blog helps you learn and implement best practices of eCommerce product pages SEO and what you must avoid at all costs.
10 eCommerce Product Pages SEO Tips To Improve Your Conversion Rates
eCommerce business has transformed the traditional retail system and it is not going away anytime soon. Although the immense popularity of online shopping makes this field more competitive. To reach your target audience and convince them to buy is not an easy task anymore. But with proper strategy and good practices you can make it easier for you.
Here are the 10 actionable tips to optimize your product pages for SEO-
Follow a Powerful Keyword Strategy
Create Short, Focused, and Unique Product URLs
Write Click-Worthy Product Title
Make Your Product & Meta Descriptions Unique
Mark Up Product Pages with Structured Data
Include A FAQ Section
Share Real Customer Reviews & Testimonials
Optimize Your Media Files (Image, Video, Gif, etc.)
Configure the Breadcrumbs for Product Pages
Audit Your Product Pages for Technical Issues
Now, let's dive into details.
1. Follow a Powerful Keyword Strategy
Keyword research is the first crucial stage to optimize your eCommerce product page. This helps you understand the search terms people usually use while shopping for products you're selling. Google Ads is a reliable place to start.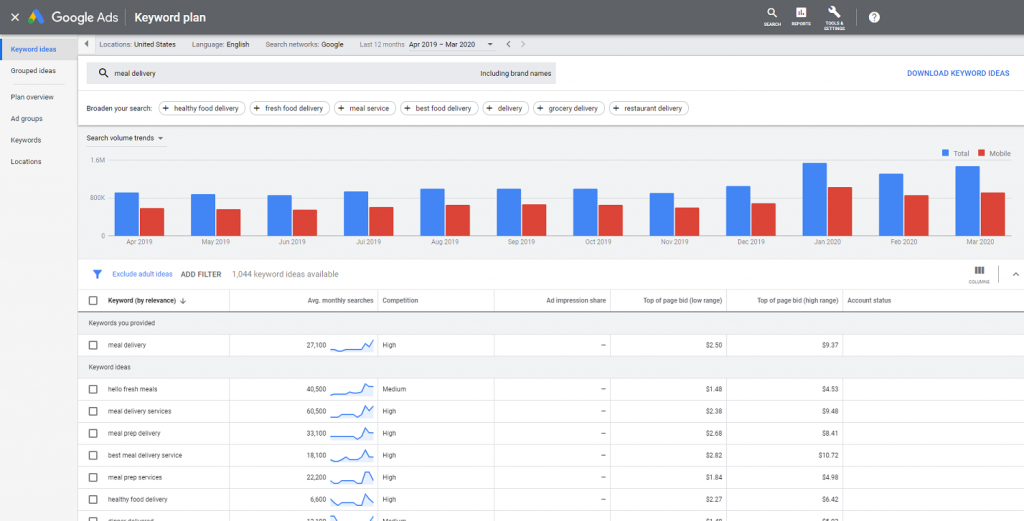 You can use other helpful SEO tools like Ahref, Semrush for competitor analysis and make a strong roadmap for your product pages. These tools will show you words and phrases related to your products, volume, difficulty, and search trends over the period of time.
Using these data, you'll be able to optimize your eCommerce product pages SEO more accurately. So your individual product page gets a higher ranking on search engines.
Pro Tip: For higher conversion, it's better to use longer, more specific keywords. Rather than using high-volume generic keywords find out long-tail keywords that are directly relevant to your product with lower search volumes.
For example, people searching a product writing "Samsung Galaxy F42 5G" on search engines strongly indicate that they are ready to buy it. Getting this traffic on your page will surely increase your conversion rate.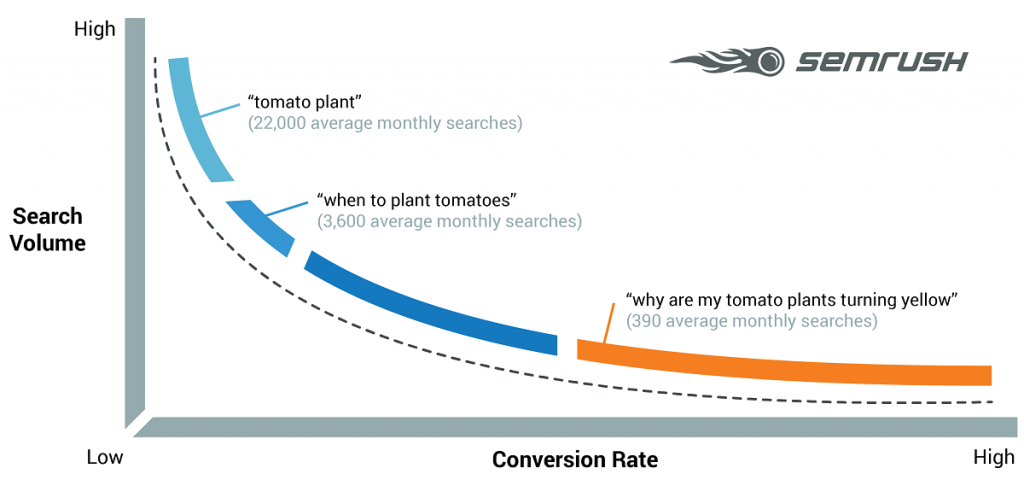 Related Resource: Top Keyword Research Tools To Increase Your Organic Traffic.
2. Create Short, Focused, and Unique Product URLs
A good URL structure helps both Google and users to understand your site structure. Try to keep the URL simple and as relevant as possible. Since your URL will get more clicks on snippets if visitors find it reflects their query.
It's the best practice to include the name of the product in the URL of the product page. This practice will make the URL self-explanatory. So both the user and Google can easily understand exactly what this page is about. Sometimes, you may need to tweak the product name to make the handler user-friendly.
Also, you can include attributes and product characteristics like the brand name or color in your product URL to make it descriptive and unique. If in case you need to include extra characters for your CMS, try to keep them at the end.
This is an example of an SEO optimized product URL: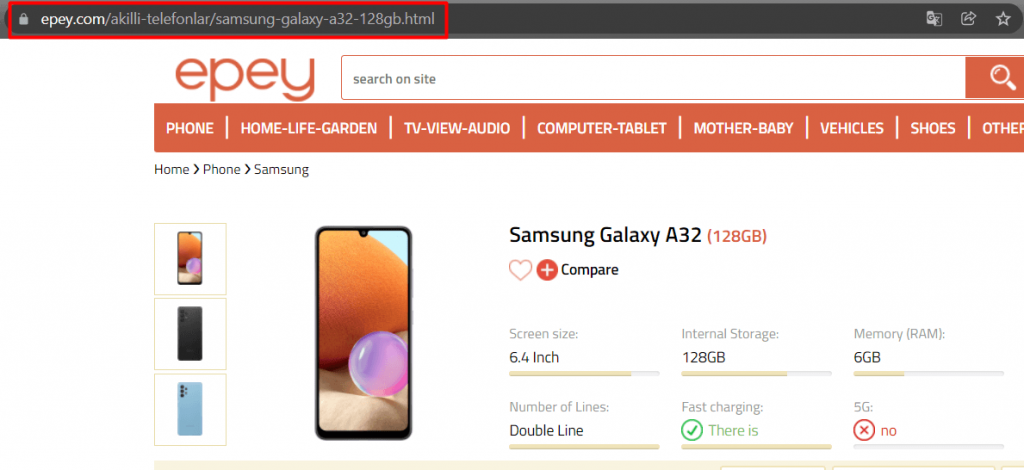 If a URL contains relevant keywords, Google is more likely to crawl that page and rank such pages higher.
Avoid product numbers, auto-generated gibberish, unnecessary long URLs, and URLs that don't match your product. Here is an example of a non-optimized URL-

If you wonder why Amazon doesn't optimize their product page URL because SEO is not their first priority. Moreover, they have millions of products on their website so it would be technically difficult to optimize all the URLs for them.
Related Resource: The Ultimate Guide to WooCommerce SEO for Beginners and Advanced Users.
3. Write Click-Worthy Product Title
Next, your duty is to optimize your product title. You should write your product title in a combination with product details and target keywords. So, people can easily find the pages. Try to keep the title within 60 characters or less so it will appear unbroken in the search snippets.
In the below image you can see Google shows the first title as it is. But the second one is more than 60 characters so Google breaks it which looks odd.

Besides, keeping both your product names and keywords in the product title, you can secure a better position on SERP. It increases the click-through rate of your eCommerce product page. A descriptive title also gives a clear idea of the products to your target audience. This will better your user experience as well.
Below is another great example of an optimized eCommerce product title from Best Buy:

If you're selling a product where the brand name is not so important, you can rearrange the words in the title. Keep the focused keyword at the beginning of the title. Here "Boyfriend Gift" is the main keyword followed by brand name and other attributes.

Related Resource: An SEO Checklist For A New WordPress Website.
4. Make Your Product & Meta Descriptions Unique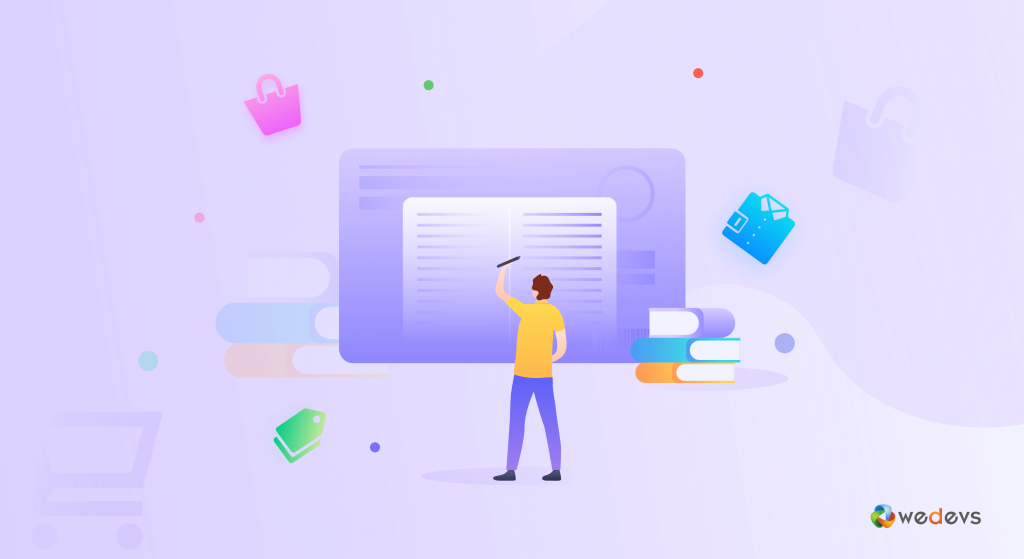 According to an e-commerce study, 20% of purchase failures are potentially a result of poor presentation or unclear product descriptions. A well-written product description will educate your readers about the usage of the products. Your description should be that much attractive so people can easily visualize things.
Remember, don't only focus on the advantages, elaborate on all the ins and outs. So, readers can determine the right products for them. This could be a great way to build your brand authenticity. Also, this is the place where you can stick a reader on your site and then convince him to buy the product.
On the other hand, a purchase intent meta description makes customers ready to click the link on search pages. It is the main attraction point where you have to win the battle against the other 9 top-ranking competitors and snatch your potential customers. Keep your meta concise, keyword-optimized, and straightforward.
You may sell similar types of products but still, keep your product description and meta unique. So, your products can rank both for branded and non-branded keywords.
Related Resource: How to Write eCommerce Product Description that Sell.
5. Mark Up Product Pages with Structured Data
After getting ranked on the first page, the next challenge is to convince your audience to click your site. Apply product and review schema markup. It provides extra context to search engines that make your product page stands out.
Structured data markup will help you in two ways. First, it helps search engines understand the content and purpose of your product page. Suppose the page is selling Women's running shoes. Structured data will help search engines know that it's a product for sale versus, for example, a blog post about running shoes.
Second, structured data makes your product page appearance much more prominent on the organic search listing. These enhancements are called "rich results". It includes rating stars and product images, prices, availability, and others. Rich results represent your product more descriptively on the search result page. It increases the click rate thus you get more potential customers landing on your page.
In the below image, you can see Google search results for "Ryka Women's Devotion Plus 3". The first two listings, from Runpeat.com and Dickssportinggoods.com, include rich results. But Kohls.com has no rich results. Visitors will naturally be more attracted to the results with extended information.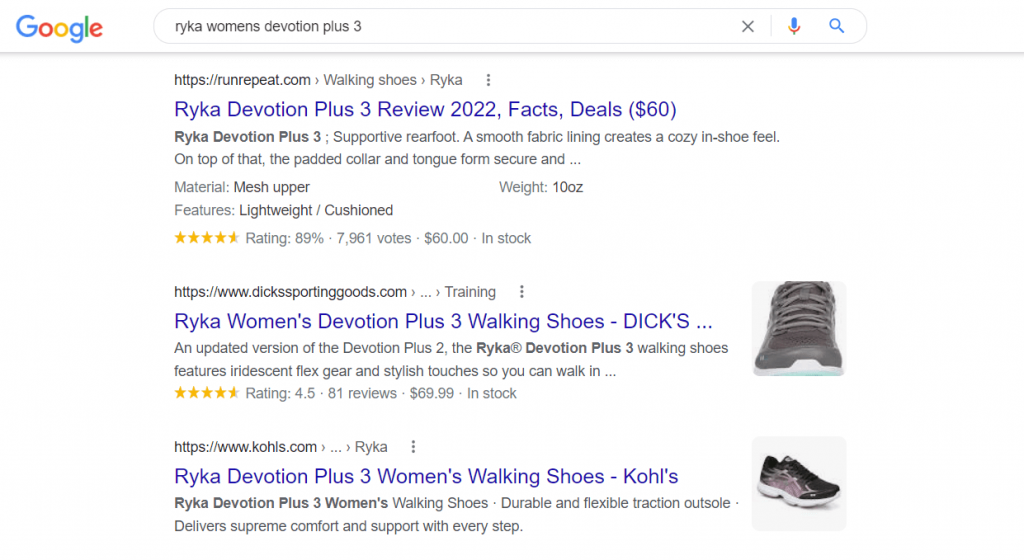 Learn more about how to add structured data so Google can provide detailed product information as a rich result.
6. Include A FAQ Section
To make your user journey more precious, add a FAQ section on your product pages. You know about your target customers so it would be easier to list down their common queries around your products. It helps them take quick decisions about a purchase. Also, reduce support queries on your site.
A person who reads FAQ in an eCommerce has a 105% chance to buy from there. Most importantly, a well-researched FAQ section gives you a chance to feature your product page in "People also ask" on SERP.
On top of that, many people do hesitate to communicate through chat or email. Sometimes they find it time-consuming. In that case, if they don't get anything to satisfy their queries, they might bounce back from your online store. Alternatively, you can add a moderated Q&A section if you have an active community. As a result, you'll get fresh and informative content regularly that ranks your pages higher.
For example, Amazon.com has included both FAQ and Q&A sections on their product page to guide their audience further:

However, don't forget to mark everything up with Schema. If you want to use FAQs, use the FAQPage property. Alternatively, you can go for Q&As using the Q&APage property. These will help you boost your product pages!
7. Share Real Customer Reviews & Testimonials
A real customer review or testimonial for a product on your website is a blessing. People prefer to know the real user experience. If a real user expresses their gratitude for a product, this will definitely boost your sales.
Customer review acts as social proof for a product which creates an aesthetic value among the customers. Statistic show first five review increases 9.5% conversion, first, thirty review increases 25% while the first hundred increases 37.5%.
Assume there are two products, where the first one has 5 ratings for 2 reviews while the other has 4.7 ratings for 250 reviews. As a customer, I will prefer the second one and I guess some you will choose.
STORMY KROMER shares its product review just below the product description. It boosts customer confidence during making their purchase decisions.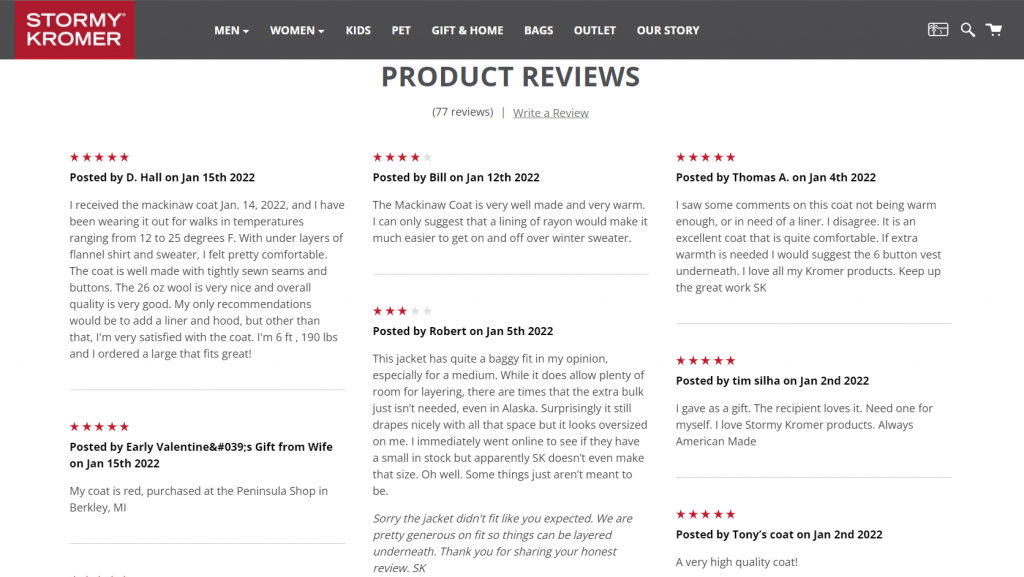 8. Optimize Your Media Files (Image, Video, Gif, etc.)
Visual content makes information more engaging than plain text. Common forms of visual content include images, infographics, diagrams, charts, videos, screenshots, memes, and GIFs. Search engines also prefer to rank content that contains the most relevant visual elements. So, if you do not optimize the media files on your website, you are already running back.
Add multiple images and videos to demonstrate the features and benefits of your products. It helps users understand your products' details and they can make useful decisions. It's better to include images from different angles to give a 3D view of the product. You can also use videos for educating your readers from unpacking the product to using it in real life.
If you search for any product on Google, you'll find a large number of related images and videos on the top position. Most of the buying decisions are made from there. Ideally, it's highly important to optimize your media files for improving the visibility of your product on search engines.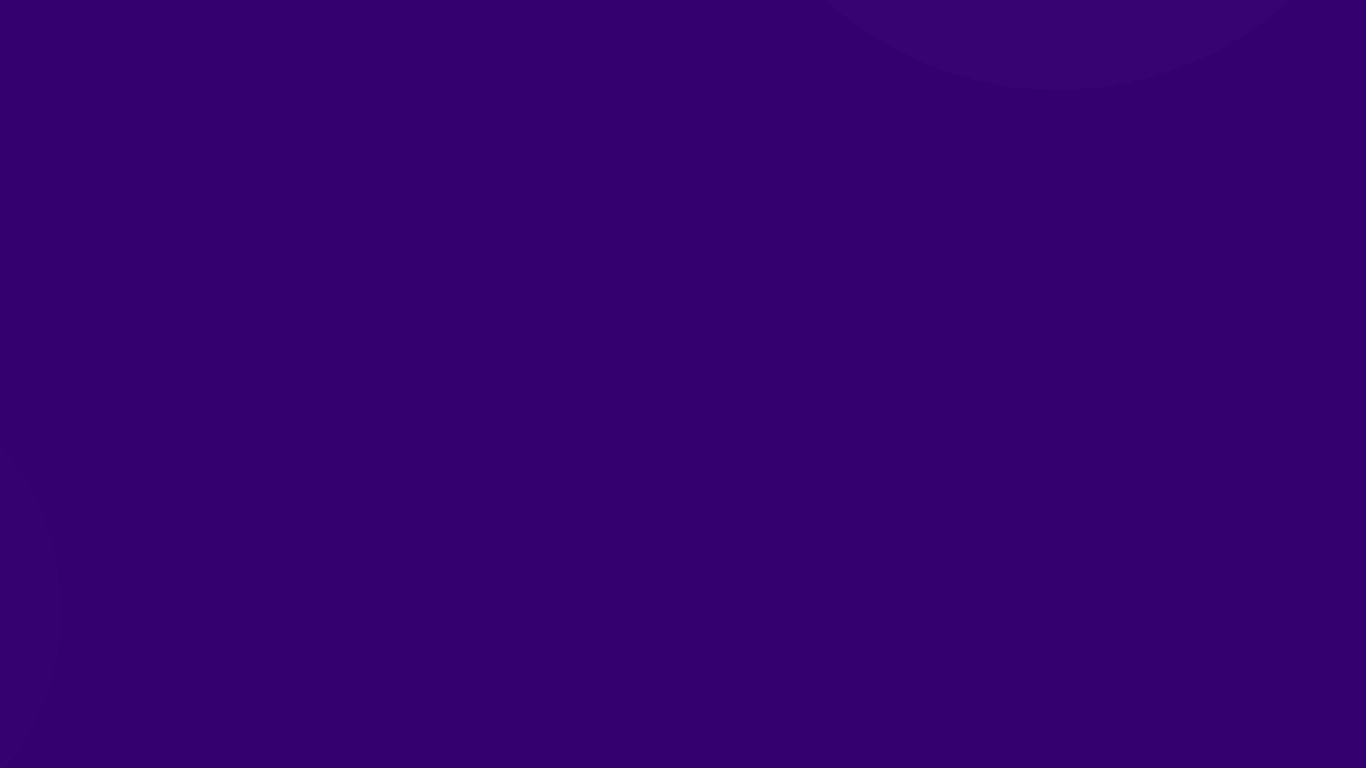 9. Configure the Breadcrumbs for Your Ecommerce Product Pages SEO
Breadcrumbs are the navigational links that usually appear on the top of the page. It's a secondary navigation bar that mostly comes in horizontal text links.
Breadcrumb navigation is helpful for customers to figure out where they are in your store. And they get the chance to return to any place they've passed in the path. Also, it creates internal links among pages inside your store. So you get extra benefits in terms of on-page SEO.
Here is an example of how a typical breadcrumbs menu looks like-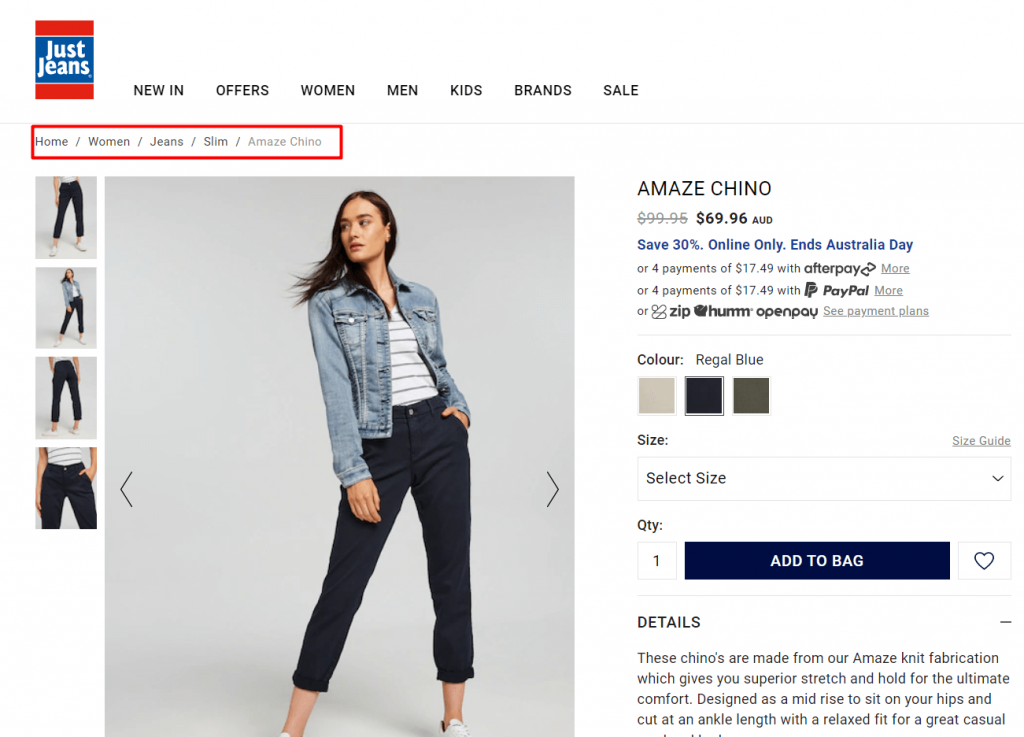 You can highlight the breadcrumb navigation with a different colored text or a box around it. For a multi-layered website, it's better to implement breadcrumb navigation to make your site easier to navigate. But remember, use breadcrumbs if it makes sense with your website's hierarchy. It would be suitable when your website has multiple categories and people have the accessibility to go to different pages from one point.
10. Audit Your Product Pages for Technical Issues
If you have a big eCommerce website, you may face some problems due to faceted URLs. It's also alarming for SEO. If there are so many different URLs, it may result in –
Duplicate content
Split link equity
And wasted crawl budget.
Perhaps, you can avoid these issues or optimize your product pages to get better rankings on search engines. Audit your product pages SEO to find exciting technical and content elements that need to be optimized. There are many SEO tools are available to help you in this manner.
Check these attributes for eCommerce product page optimization-
Broken links

Thin content
404 pages
302 redirects
Missing structured data
Duplicate title tags and meta descriptions.
Related Resource: A Comprehensive Guide to Running a WordPress SEO Audit.
Bonus: Choose Right Color Scheme For Ecommerce Product Pages
Today it's all about a better user experience. The more you make your user journey remarkable on your website, the more revenue you'll generate. Since the color scheme of the website doesn't have any direct impact on ranking. But it has a strong psychological influence on the human brain. Therefore, it can affect your conversion rate significantly.
There is a strong connection between the color a person sees and the acts they do afterward. According to a recent study, adjusting color, among other elements, can increase conversion by as much as 24%.
An eye-soothing, well-distributed product page will enhance the customer experience in your shop. Too many glitters or overlapping backgrounds can disrupt customer focus that resulting in a high bounce rate. On the other hand, the right color distribution helps you convert more people into permanent customers. And when people start visiting and buying from your page, it automatically will be loved by Google.
Related Resource: 7 Effective Tips To Choose Best Color For Website That Increase Sales.
10 Ecommerce Product Pages Seo Mistakes You Should Avoid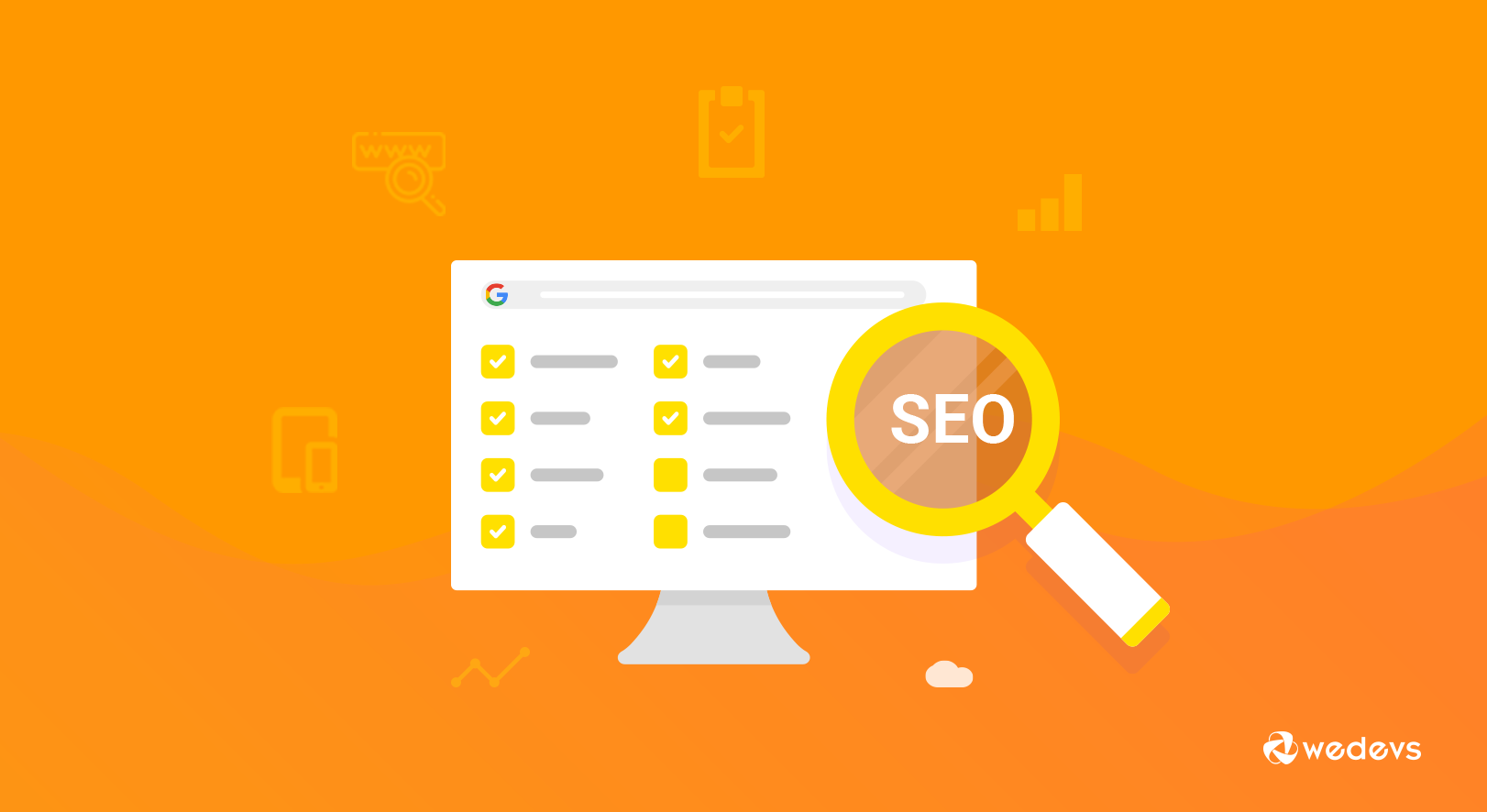 Now you know about the best practices for your eCommerce product pages SEO. Let's talk about the common SEO mistakes that you should avoid right away.
Don't Duplicate Content for Similar Product Pages
People often try to take shortcuts while writing similar types of product descriptions. It creates duplicate content on different pages of the same website. For example, your site has specification content for two models of Samsung mobile. Specifications are similar for both phones. So, people copy-paste the description after editing the names only. Thus, it becomes confusing for the search engine to identify original content. You can lose your SEO effort.
Don't Copy Description from Manufacturer or Popular Sites
A common mistake people do while writing product descriptions. They directly copy the content from the manufacturer's page. This becomes duplicate content which can harm a lot to your SEO effort. When there is duplicate content, it confuses the Search Engine. But Search Engine makes a solution for it. You have to allow the crawler to crawl your site for ranking. Now if there is duplicate content, the crawler considers the first content as the original. So, you will lose in the race after putting so much effort into SEO.
Don't Use Automated Optimization
Mostly the eCommerce sites are overcrowded with product information. So people try Automated Optimization, which is effortless. But, it creates unprofessional titles and descriptions which not unique. It could harmfully affect the conversion and CTR. Tactfully, people can add useful product information in the title to avoid the problem.
Don't Use Poor Quality Product Image/Videos
The image or video quality can make or break your reputation in eCommerce. Media files capture the most space in a web page than any other which is particularly true for eCommerce. In 2018, a statistic of HTTP archive shows media file (mostly images) is 50% of a website. Poor quality media files affect customer retention on your website. So, it negatively impacts the ranking in SERPs.
In the below example, you can see Stormy Kromer used high-quality images on their product pages. You can find images from different angles there with the ability to zoom on them. They mentioned it as one of the major reasons behind their popularity.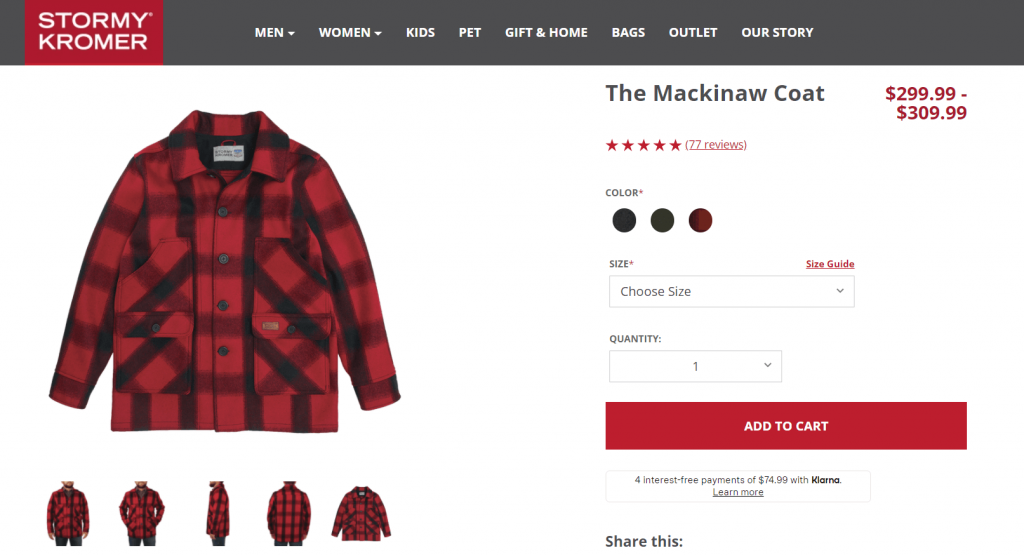 Relate Resource: Image Creation Tools to Create SEO Friendly Images for WordPress Blog.
Don't Use Wrong Type of Structured Data
Structured data helps your site to rank higher in Google SERP by snippets and rich results. So, you will get more visitors in your page and finally get more sales. However, some eCommerce owners unknowingly ignore this important event or do it wrong. With wrong structured data, your eCommerce page can be removed from rich snippets. Also, Google can penalize you for this mistake. Thus you get a poor search results.
Don't Forget to Include Calls-to-Action
If you don't tell the customer what to do next, he will leave the page although he has the intention to buy. Poor or no Calls-to-Action ends the deal. Using good CTA to guide the customer at this place can improve your sale. CTA works as a bridge between marketing effort and sales. According to HubSpot 2021, it increases 121 percent conversion and sales than ads.
Don't Miss Opportunities for Internal Linking & Backlinks
Link building still impacts eCommerce SEO. People often create internal links with home page content and category pages. Unfortunately, they forget the product pages. But the product pages rank faster for their long-tail keywords which are full of buying intent. So, you should not miss an opportunity to build an internal link. Again, backlinks are equally important for product ranking as they improve visibility.

Don't Remove Out of Stock Pages
In this COVID-19 situation, often product goes out of stock. Unless in an emergency, it is not wise to remove the URL as they have some credibility. The pages might have visitors and ranking. The wise thing is to continue sending the link of other relevant products from this page until they are back in stock.
Don't Provide Wrong Information
For eCommerce, you may not only face trouble in SERP ranking but also have legal issues. Wrong information can increase product return and negative reviews. It is harmful to your business reputation as well. It will definitely create problems for your eCommerce business. You may lose the entire business as well.
Don't Forget Mobile Optimization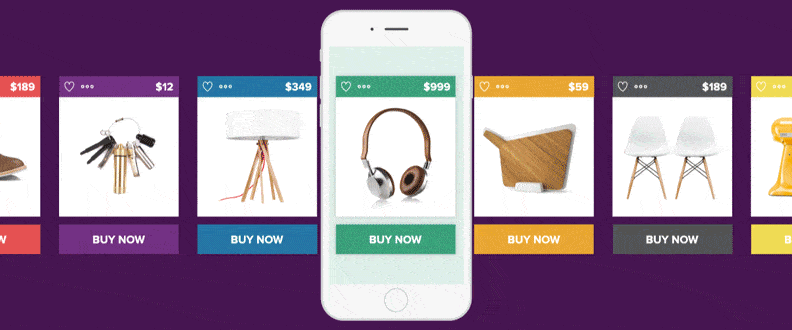 These days, you cannot live a happy day without a mobile. About 82% of American uses their mobile to purchase online. And 35% of them use mobile to buy. This number is growing very fast. So make your whole website including product pages mobile friendly that it can be well-fitted into any kind of screen.
Improve Your Ecommerce Product Pages SEO Today and Start Earning more
You have great products to sell, an amazing designed website, and a cooperative support team also. But all your efforts will not bring the expected outcome if it's not visible on search result pages. As product pages are the most important part of your online store so first optimize them for search engines. And ensure a smooth user journey throughout the process from landing to completing the purchase. As a result, you will see a direct impact on your bottom line.
To be more specific, build your product page considering 3 key elements-
Keep your product page focused and consistent with the brand
Boost your customers' loyalty and confidence
Encourage visitors to become loyal advisors
Besides, always keep yourself updated with the constant flow of technological updates, evolving customer demands, and changing industry trends.
However, as you know global shopping trend is shifting to the eCommerce marketplace. If you're planning to turn your single store into a multivendor marketplace, Dokan could be your one-stop solution. Moreover, the new Rank Math SEO integration with Dokan will help you to optimize your product pages easily.
Do you have any further tips or queries regarding eCommerce product pages SEO? Do use the comment section below to share your views with us!