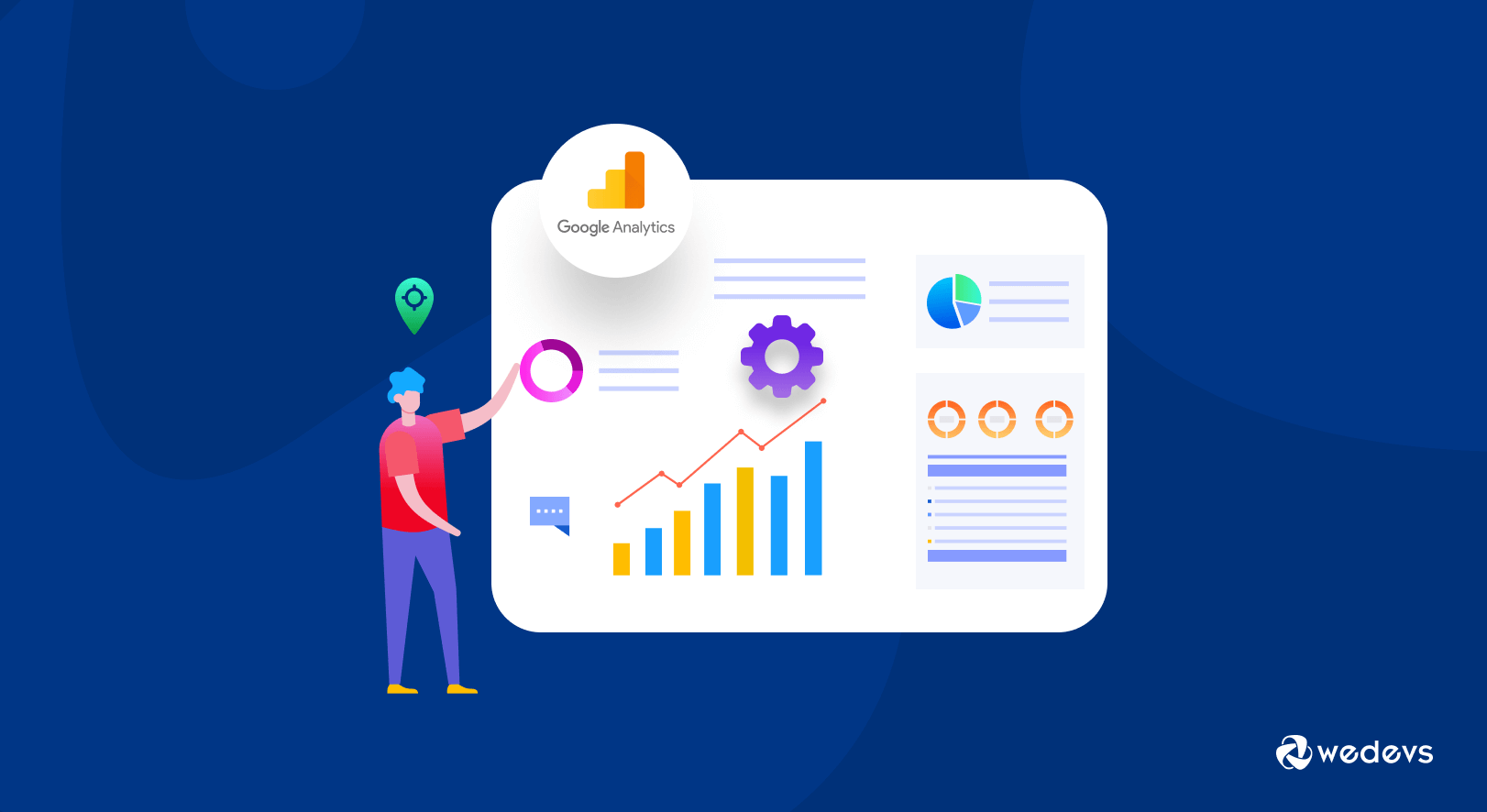 An Easy Guide to Google Conversion Tracking (Both Analytics & Ads)
What can be the reasons your eCommerce website is not getting the expected sales? Are you aware of whether your marketing efforts are going into the right trend? You may spend thousands of dollars on Google ads, brand promotion, managing SEO, and others. But without measuring the performance of these activities you can't tune the fickleness.
Fortunately, Google provides useful tools to track users' behavior and tweak them with required updates. Google Analytics Conversion Tracking lets you capture visitors' reactions after landing on your website. Such as sign up for the newsletter, complete purchases, give reviews, etc. Considering these activities you can bring necessary changes to your marketing approach.
Today we'll show you how to monitor all these activities by configuring conversion tracking in Google Analytics. Also, you'll get actionable tips on conversion tracking with a real-life case study. Let's start with the basic query-
Why You Need to Track Each Type of Conversion Carefully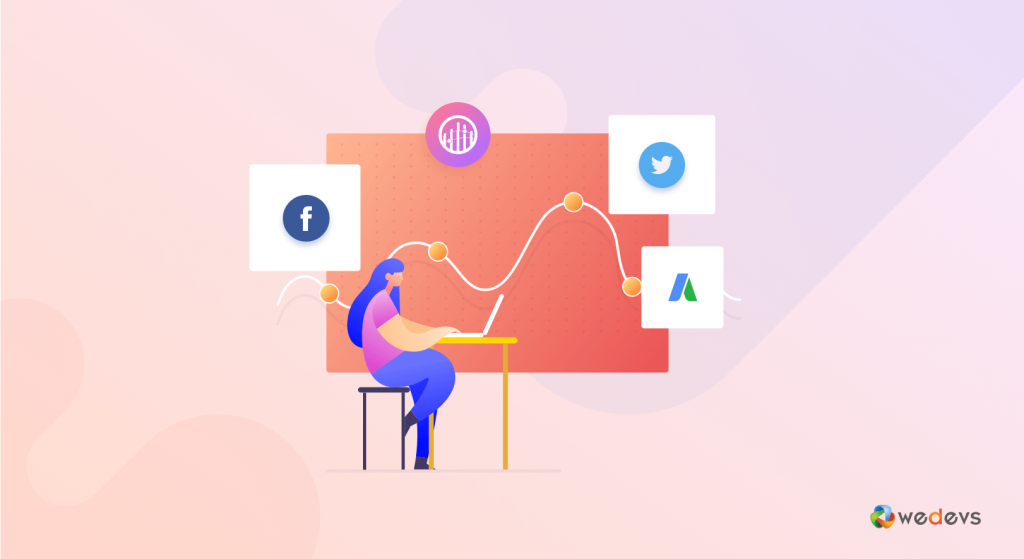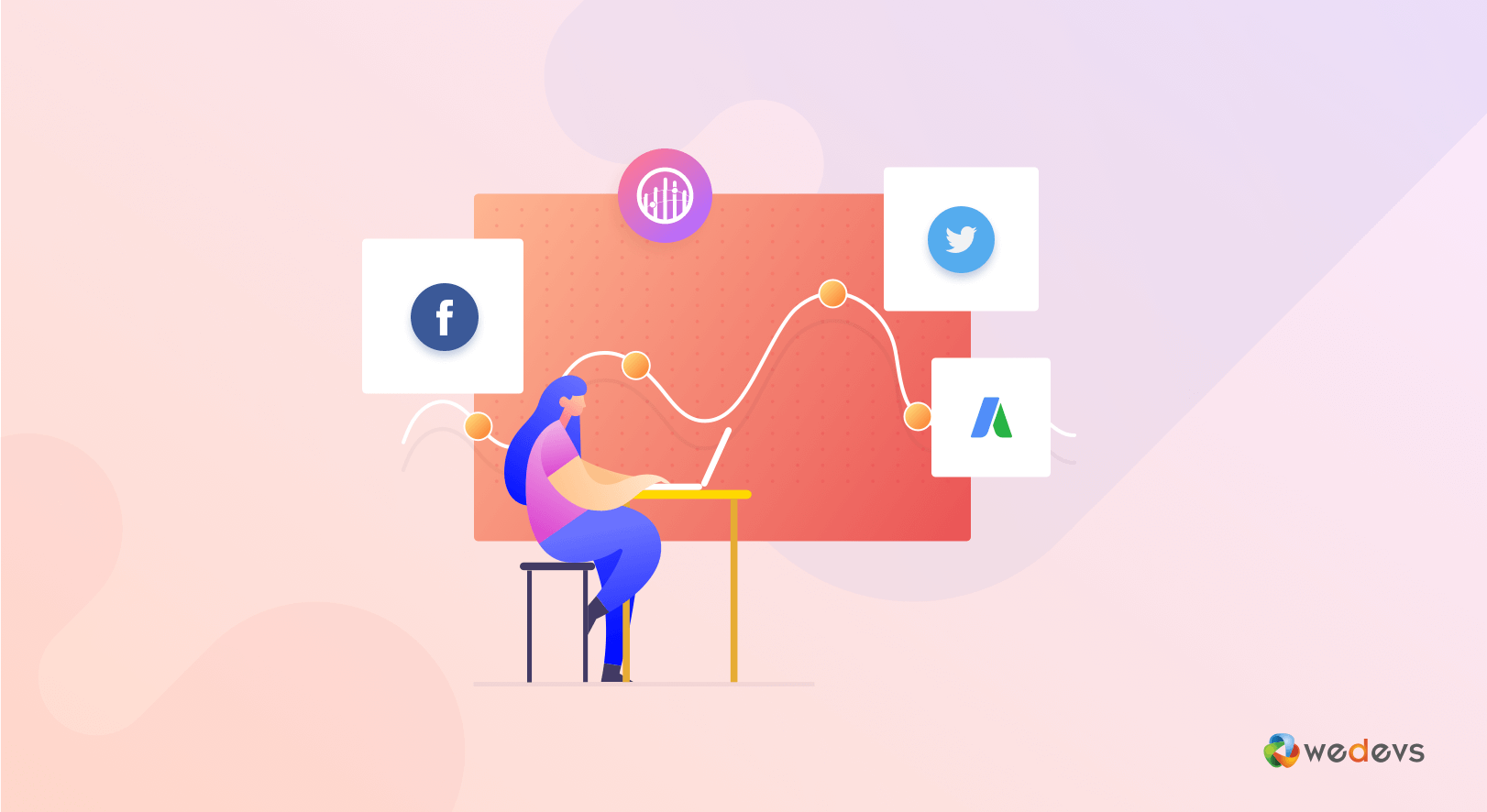 You're getting high traffic on your website, but the conversion rate is still low. To fix this issue you must find out the reason that is stopping your visitors from becoming paying customers. From customizing a landing page URL to compelling CTA buttons or the website navigation- everywhere there is a chance to improve.
But what you exactly need to modify that leads more visitors toward your desired actions. For that, you require detailed insights to pinpoint the issues and useful attributes to solve them.
Conversion Tracking allows users to better understand the value of their website and online campaigns. It enables marketers to effectively identify the way customers are coming from, their post activities, and final actions. Having important data in hand it becomes easier to improve the sales funnel.
Tracking conversions on your website will help you to:
Monitor how visitors engage with your site
Bring effective changes on your website
Update your digital marketing strategy
Lower customer acquisition costs

Calculate ROI to optimize your PPC ad campaign budget

Identify the popular marketing channels drive user engagement
Traffic can come to your website organically or through campaigns. You have to monitor each type of conversion to set your marketing goal and budget effectively.
Types of Google Conversion Tracking Explained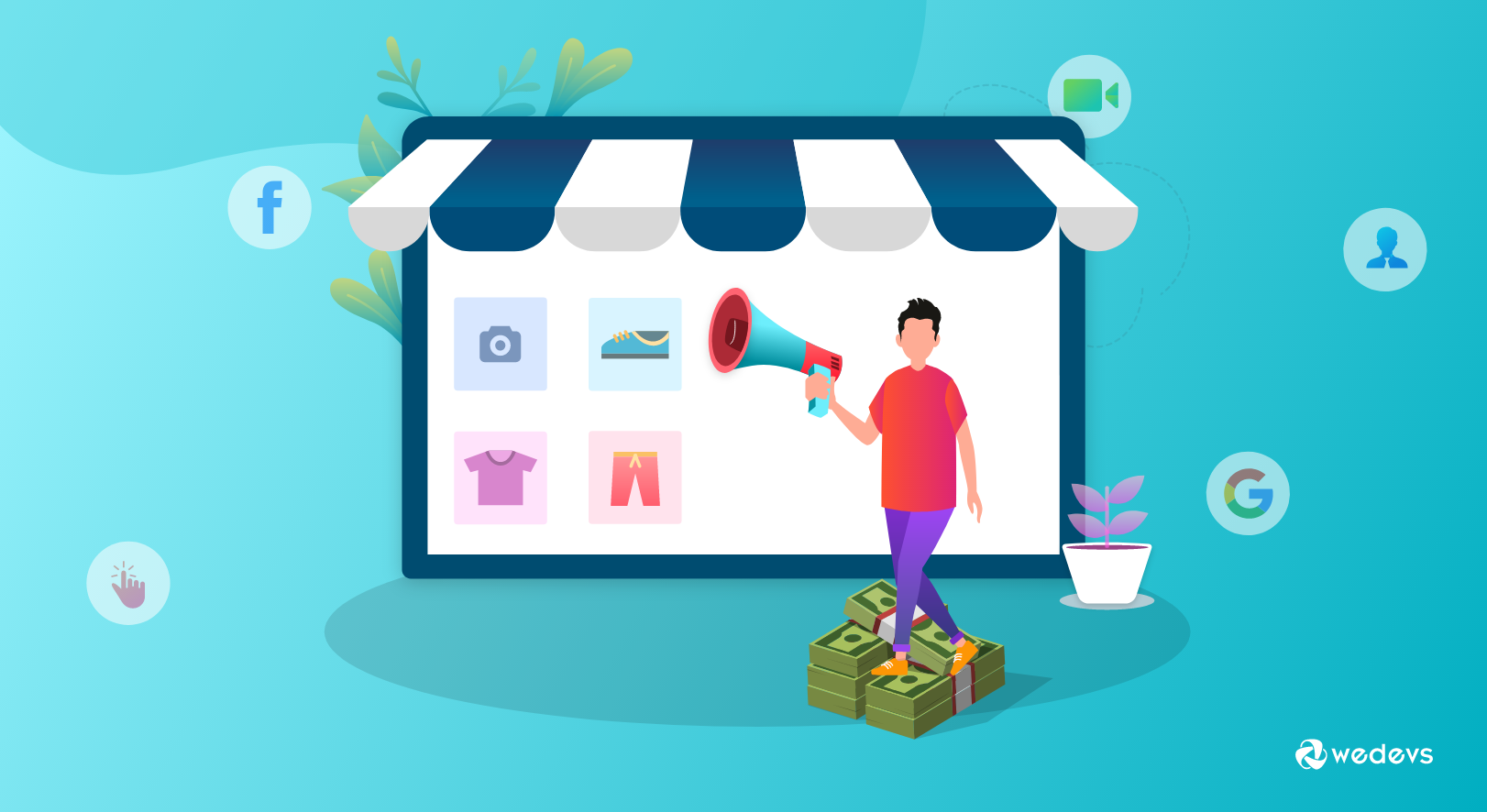 Traffic can come to your website organically or through campaigns. And after landing on your website people act in different ways. Google Conversion Tracking shows you how effective your ads or SEO efforts contribute to making these happen.
Suppose you're running an eCommerce website. Below are the possible conversion types for your shop-
Type #1: Website Actions
Using a conversion tracking tool, you can record specific actions performed on your online shops like total online purchase, visited number of pages, scrolling depth of the landing page, newsletter subscription rate, or downloading a number of an eBook or whitepaper.
Type #2: Online Sales
Comparing your revenue against Google conversion data, you can calculate the attribute like profit per ad or per keyword. All you need to assign a conversion value to online sales transactions.
Type #3: Phone Calls
Google Ads offers tracking call conversions for websites in a simple way. It gives you the flexibility to filter out the calls depending on different matrics. For example, you can identify calls that are shorter than a minimum length. This helps you to track truly relevant and valuable data.
Type #4: App Downloads
This type of conversion is tracked if a customer downloads or installs your app. You'll get the insights as well when someone completes an in-app action such as a purchase or upgrade. Also, track the data while someone comes from your ad and opens the app the first time after installing it.
Type #5: Offline Imports
Google Ads provides you an option to track conversions that take part outside of the website. It's called Offline Sales Import conversion tracking. If customers purchase from your physical shop or over email or phone still you should track the action in Google Ads. This helps you manage and measure your overall advertising ROI.
By getting offline conversion data you can shortlist keywords and targeting criteria to drive the most cost-effective conversions. Define the categories depending on geography, time, age, gender, etc. This helps you target and optimize your campaigns for better ROI.
More Popular Types Google Conversion Tracking for Specific Niches
Conversion types may vary depending on the type of website you have. Here are some popular types for individual industries:
Business Niche
Possible Conversions
Publishers/Content Creators/Bloggers
Pageviews to articles with adverts
Clicks on adverts
Clicks on affiliate links
Ebooks downloaded
Clicks on videos
Contact forms completed
Newsletter subscriber confirmed
Software/App Company
Free trial/demo request completed
Full software purchased
Software downloaded
Contact forms completed
Service Providers
Contact forms completed
Service order completed
Phone call leads
Buying guide download
Online course order completed
Charities
Donations completed
Purchases completed
Volunteer form completed
Phone call inquiries
Types of Google Analytics Conversion Tracking
How to Set Up Google Analytics Conversion Tracking
Using Google Analytics Conversion Tracking you can monitor user activities coming organically to your website. There are individual processes to configure the elements and set goals in your Google account.
If you haven't connected google analytics to your website, you can learn to configure it here. Suppose you've got your Google analytics done, these 2 steps help you to track conversions for your website:
Build your custom URLs using Google's Campaign URL Builder
Define your goal on Google Analytics
Let's get into the details-
Step 1:
Build Your Custom URLs
Go to Google Analytics URL Builder to create custom URLs. This enables you to identify the source of a click from Google Analytics.
Here you'll find a simple form to fill out. Insert your website URL along with the other required information.
Suppose you're trying to track conversions from a new Facebook Ads campaign, your form would look like below: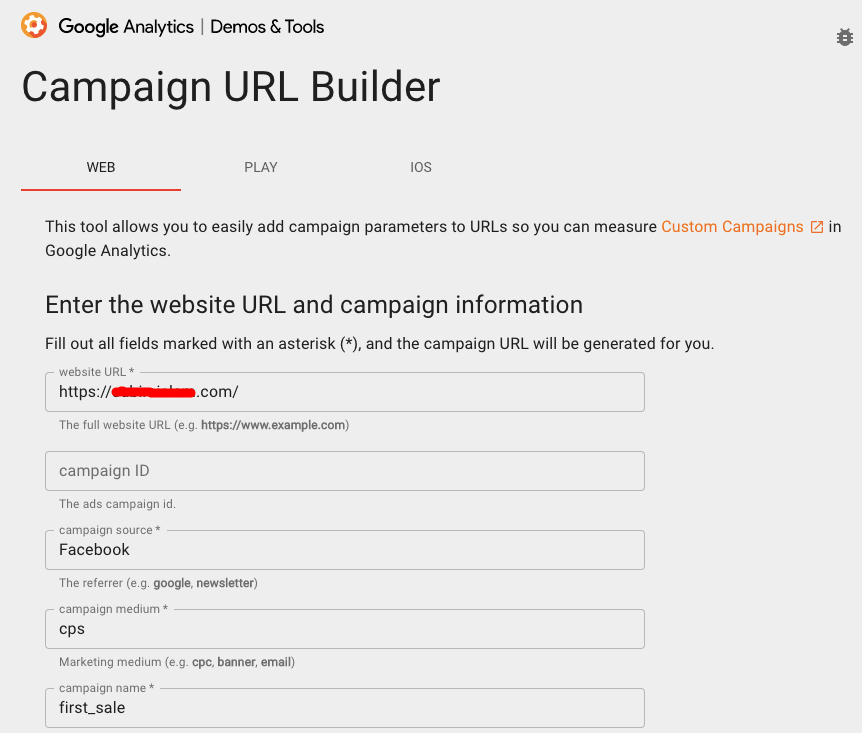 The URL Builder makes a custom URL using these tracking parameters-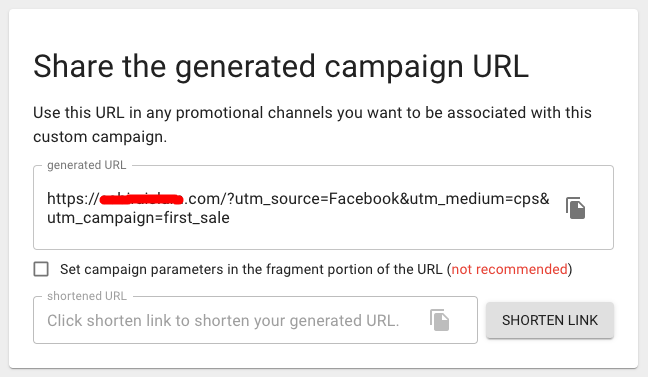 Now use this new URL instead of the standard URL in your campaign. Google Analytics count that anyone who clicks the customized URL comes from this campaign. As a result, you can easily monitor the actions customers take to this campaign.
Step 2:
Define Your Goal on Google Analytics
1. Log in to your Google Analytics, click on the "Admin" tab from the left sidebar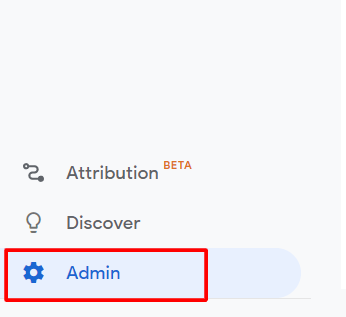 2. Click on "Goals" under View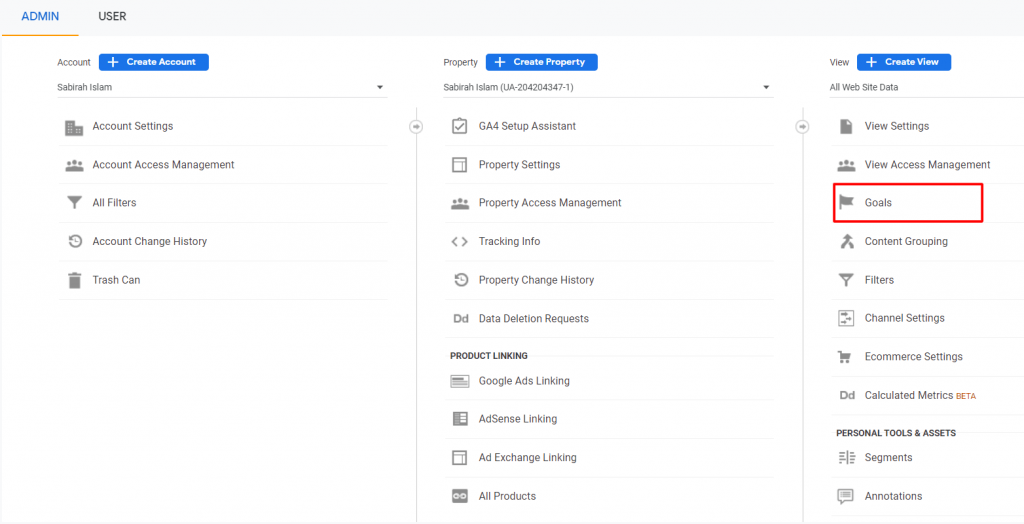 3. Click on the "+New Goal" button

4. There comes a wizard with the following options. Here you can set a new goal for your website by using a template or custom goal.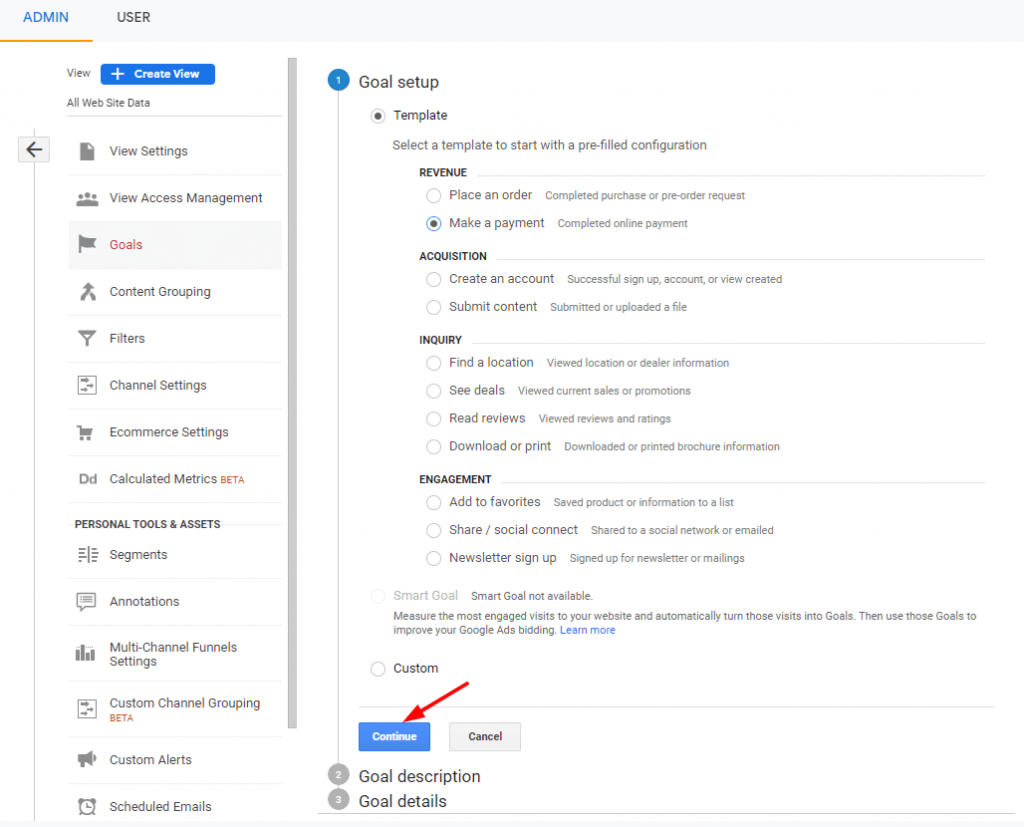 5. Include a name for your new goal. Try to make itself explanatory so you can recall the purpose when analyzing the reports later. You'll find a field called Goal Slot ID. This defines the goal number from the total of 20 that will be assigned to.
Choose "Destination" as the goal type.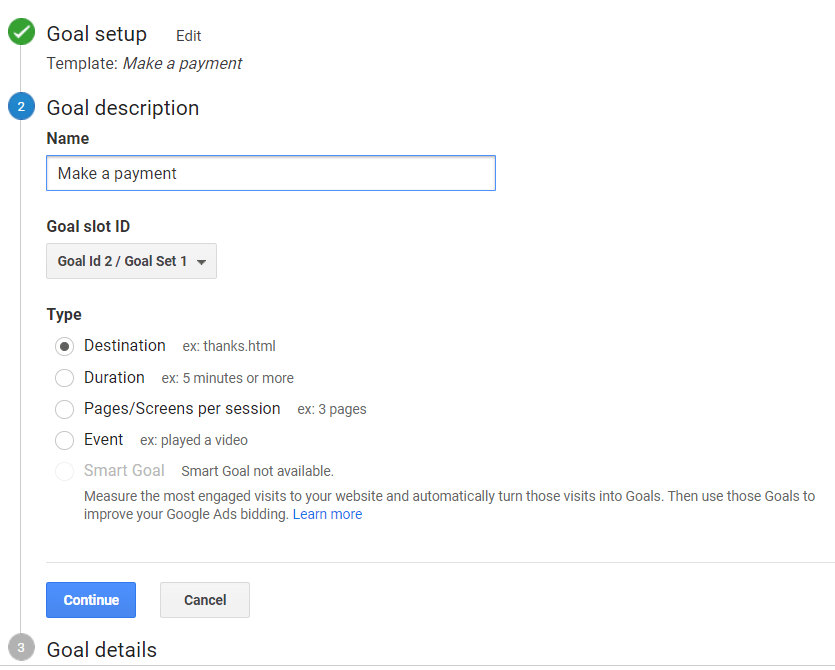 Now, we're ready to move on to the next step: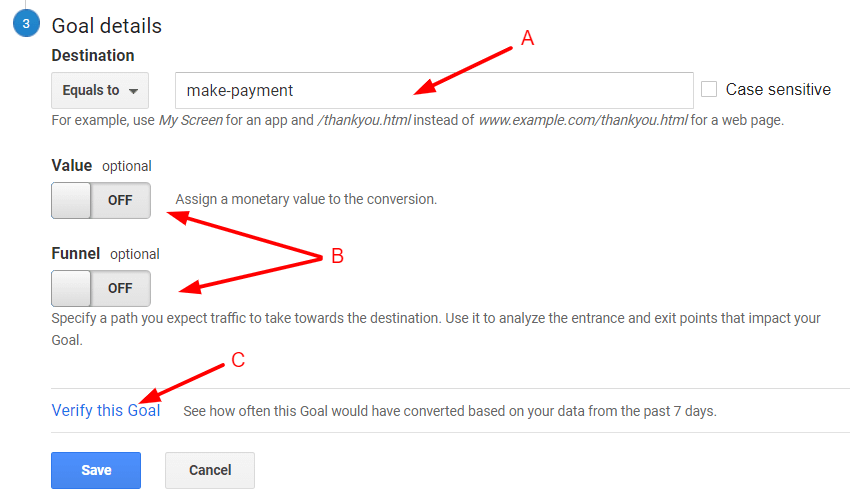 Enter the page URL you want a new lead to land on. You have to include the part that follows your domain name. You can set the Value or Funnel to "OFF" as you don't require these options here.
Finally, click on the "Verify this Goal" to test the goal of your conversion tracking. Remember, it will only work if the goal that you've configured earlier got at least one conversion in the last 7 days.
Must notify your users with clear and comprehensive information about the data you collect on your websites and have consent regarding that collection where legally required.
How to Define Conversion Type with Google Ads
Now you want to capture users' activities on your website or app coming through ads. Depending on the conversion type you should configure your Google Ads account to track.
At first, sign in to your Google Ads account. In the upper right corner, you'll find the wrench icon. Click on it and select Conversion under "Measurement".
Next, click the big blue Plus button. On the next page, you'll find plenty of options to create a conversion action.

Select the category based on the conversion type you wish to measure for further enhancement.
Once you've created a conversion action successfully, go to your Google Tag Manager. It enables you to add and update your own tags for conversion tracking. So you can easily track activity across your sites and apps.
Below we show the ways to track conversion for a particular type-
Conversion Type
How to track
Website actions such as purchases, newsletter signups, CTA responses, button clicks, page visits, etc.
Define conversion tracking for your website
Phone calls
Track calls- from ads/ to a phone number on your website/ phone number click on a mobile website
Customer installs your app or purchases from your app
Track- mobile app conversions with Firebase/ Android app conversions/ iOS app conversions/ app conversions using third-party app analytics or third-party click-tracking
App or web conversions from Google Analytics App + Web
Measure web conversions from Google Analytics App + Web properties
Measure app conversions from Google Analytics App + Web properties (via the Firebase SDK)
Offline conversions, such as store visits or phone calls after your ad ran
Track offline conversions
Check the full documentation on different ways to track conversions here!
However, you can connect Google Analytics with your WordPress website. Followed by linking your Analytics account with Google Ads. This enables you to check your ad performance report along with other site data. Where Google Ads gives you the result for paid conversions, Google Analytics brings all the reports including paid and organic traffic on a common platform. In turn, it becomes easier to compare the revenue against the expenditure.
Unify Multiple Ad Platforms Right on Your WordPress Dashboard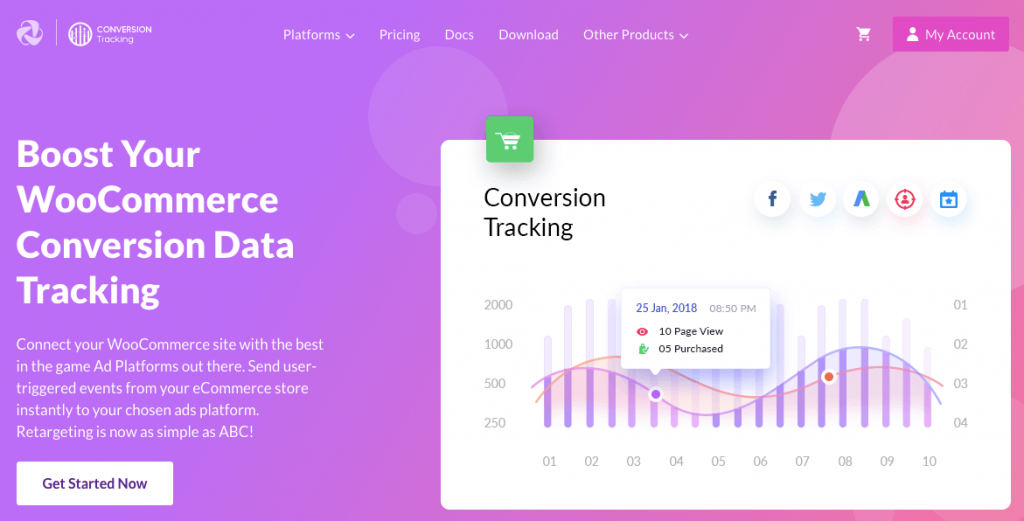 WooCommerce Conversion Tracking is a powerful WordPress plugin to identify visitors' actions coming from different ad platforms. This tool bridges your WooCommerce site with your preferred Ad Platforms like Facebook, Twitter, and Google AdWords. It requires only a few clicks to insert pixels of these accounts and enable them for your online shop. So you can measure the value of expenditure for social campaigns.
Besides, you get the right tracking set up to determine exactly which keywords and ads are driving profitable sales. In turn, cost optimization for paid marketing becomes super easy. And most importantly you can control everything right from your WordPress dashboard.
WooCommerce Conversion Tracking allows you to:
Measure your shop performance
Connect with multiple Ad platforms
Optimize the campaign and site structure
Retarget your lost visitors
Track your campaigns ROI
Monitor trigger based events
WooCommerce Conversion Tracking has a simple user interface that includes various conversion tracking options. All you need to copy your pixel ID from the platform and start tracking your conversions.
Supported Integration with WooCommerce Conversion Tracking:
Measure the performance of your online shop with WooCommerce conversion tracking you can easily find out whether or not you are spending your campaign budget in the right way. The below video gives you a quick glimpse of the WooCommerce Conversion Tracking configuration process-
Check this guide and learn how to set up WooCommerce Google Ads Conversion Tracking to your website.
How Conversion Tracking Can Contribute to Your Business Success (Case Study)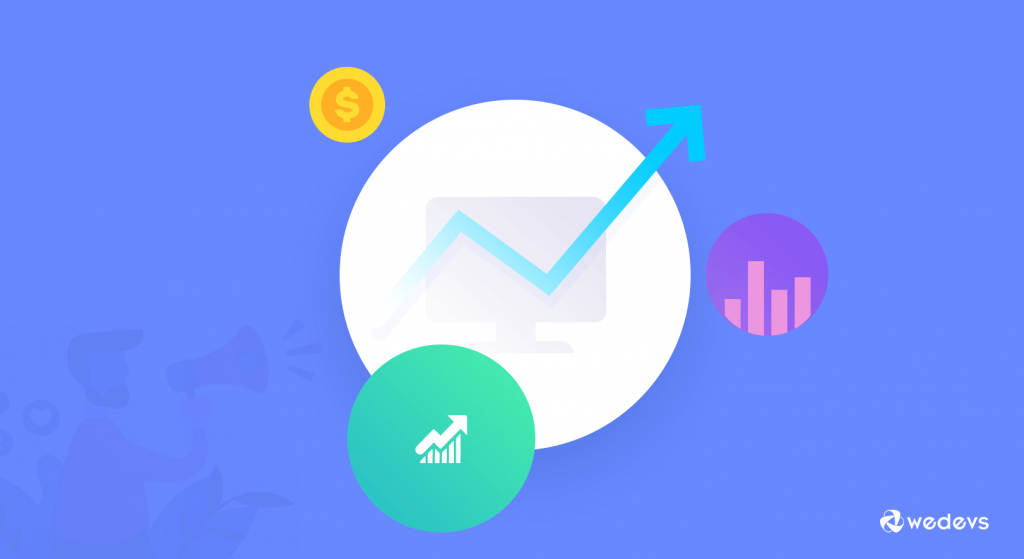 Let's see how Dominos improves its bottom line using Google Analytics Conversion Tracking.
When browsing your Facebook Feed you see Dominos has a BOGO offer for Wednesday. You decided not to order today. Then you watch a video on YouTube and there Dominos shows you an ad of its mouth-watering cheese burst pizza. You get tempted but stick to your decision indeed. Finally, you meet your best friend in the evening and plan to have dinner outside. The place first pops in your mind is Dominos and you arrive at their nearest outlet with your friend. Great, Dominos got you!
A customer goes through multiple influencing stages when they are considering a purchase. Dominos uses this fact by analyzing and connecting users' cross-channel & cross-device behavior. They also connect online and offline behavior.
For doing this, they utilized Google analytics 360 products and did the partnership with DBI (Digital Business Intelligence) company. Dominos measure their all marketing efforts with analytics so they can spend the money in the right place at the right time. They knew it would not easy to evaluate all the data and merge them appropriately. Using Google Big Query and DBI they developed a custom solution to monitor massive data of Dominos. This collaborates between analytics and CRM accordingly in order to connect online & offline data.
The final output definitely amaze you-
Boost monthly revenue by 6%
Lessen ad spending cost by 80% year on year

Common FAQs on Google Analytics Conversion Tracking
Why You Should Use Google Analytics to Capture Conversion?
People can respond in different ways after coming to your website. If a visitor completes a predefined action that you've marked as valuable, it's called a conversion. Possible customer actions could be-
signup for your newsletter
make a purchase
download your app/special content
click on links/CTA button
call your business, etc.
Google Analytics Conversion Tracking collects all the data and provides reports hence you can understand what happens after a customer interacts with your ads.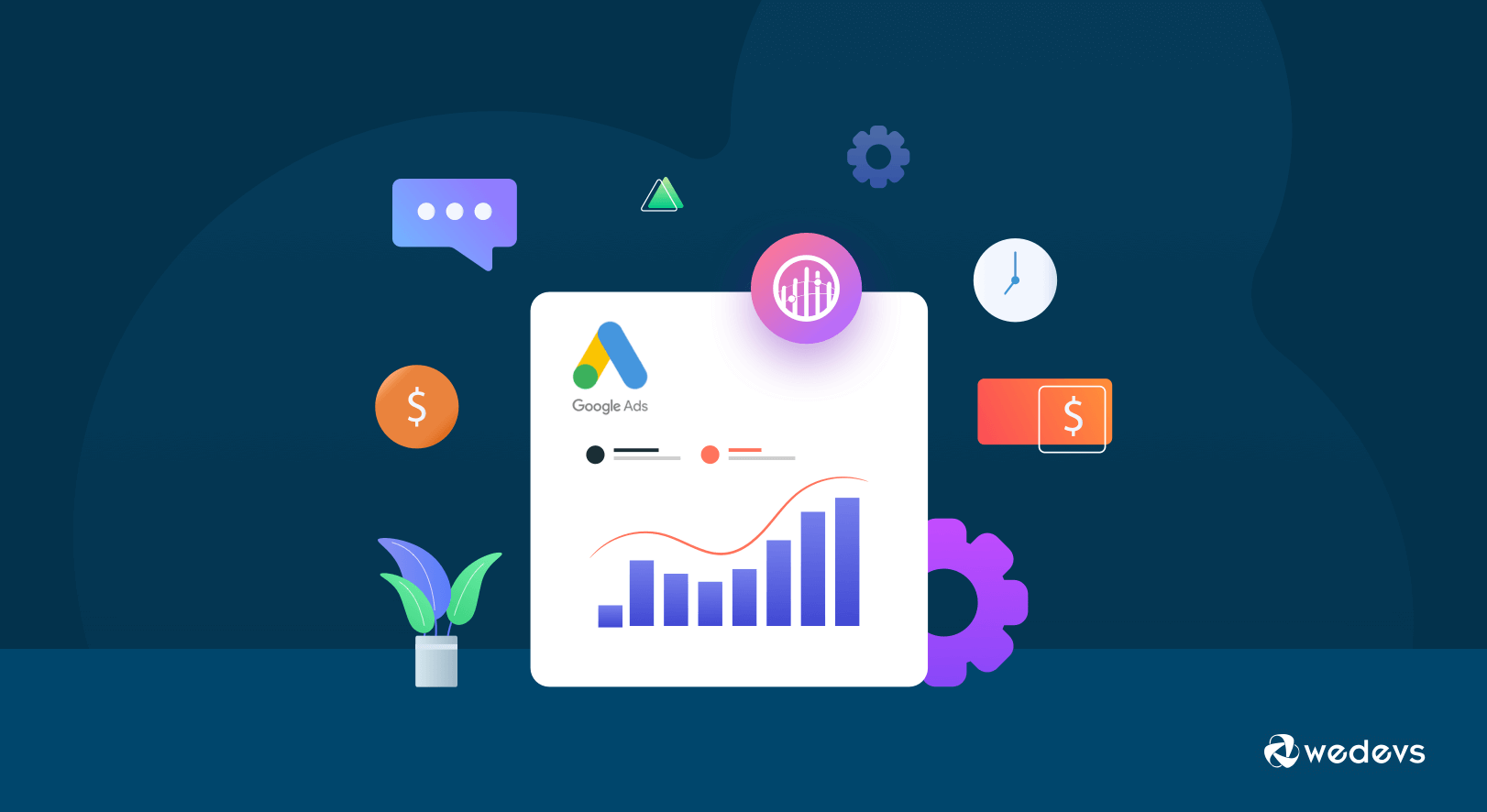 How to Set up Google Ads Conversion Tracking for Your Website?
At first, you need to create a conversion action so you can track customer actions on your website. Start with configuring the conversion action in your Google Ads account. It gives you a tracking code which is called "tag". Next, you have to add that conversion tracking tag to your website.
To perform these actions you need a website where you can include the conversion tracking tag. Plus, you must have edit access to add the tag to your website.
Check the detailed guide to set up conversion tracking for your website.
What is a Conversion Category?
To track conversion you must create a conversion action in your Google Ads account. A conversion action refers to a specific customer activity that is valuable to your business.
During creating a conversion action, select a conversion category based on your action type. It would be helpful to arrange useful data by category on your conversion report.
You can select the categories when you set up or update conversion tracking to your Google Ads account: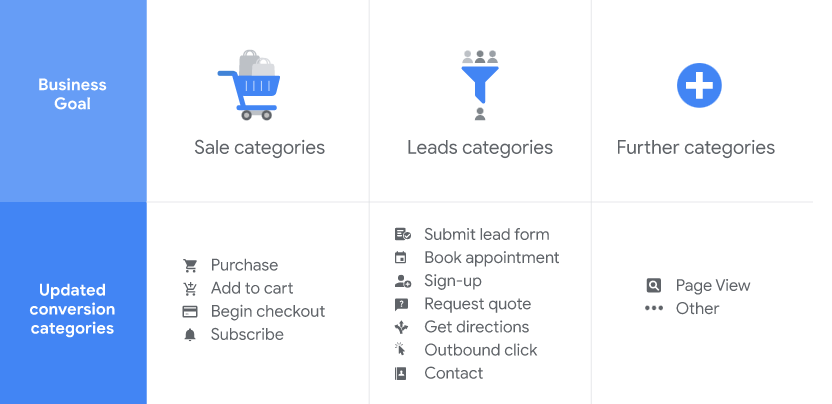 What Are the WooCommerce Metrics You Should Care About?
There are multiple KPIs to measure the conversion of your WooCommerce site. Some significant KPIs could be:
Number of visitors use the cart
People make purchases
People who are initiating checkout
Visitors perform registrations on your site
Products that are being searched by visitors
Visitors who view certain products
Specific product categories that are viewed for several times
Products that are added to the wishlist by the visitors
By measuring all these actions you can better understand your audience and identify your website value.
Conclusion
There can be many reasons why your prospective customers are not ready to spend on your website. Once you get the things that your customers are actually looking for, it becomes easy to optimize your business according to their demands.
By tracking your ads you also get the idea of whether your ad campaigns are paying off or you're just wasting your money and time. Google Analytics conversion tracking provides you all the essential data to define your advertising budget in the right way.
If you get stuck at any point in the configuration, we're here to help you out. Do comment below!