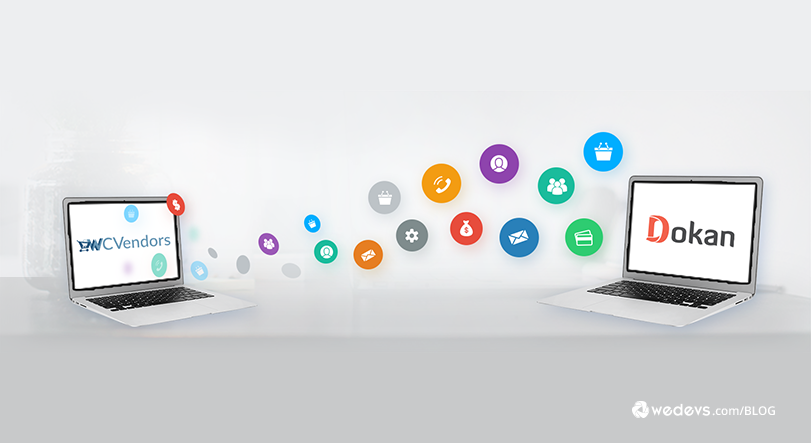 How to Upgrade Your Marketplace: WC Vendors to Dokan Migrator Plugin
Are you using WC Vendors to manage your multivendor marketplace but want to add more advanced features to elevate the customer shopping experience? Then it is high time for you to migrate from WC Vendors to Dokan.
WC Vendors is a multivendor marketplace close to Dokan powered by WooCommerce. It has all the basic features you need to start your own eCommerce store. However, if you want to add advanced features like smart payment gateways (PayPal), customized storefront, shipping management, different commission types, coupon management, etc, then you should migrate to Dokan.
Many people often ask us about the differences or similarities between Dokan and WC Vendors, so we had made this features comparison.
You are probably thinking that migrating so much data from one plugin to another might be a complicated process and there is a high chance for some data to go missing or it might break your site.
Nothing of that sort will happen. Because keeping in mind all these scenarios we have created an importer plugin "WC Vendors to Dokan".  This free plugin is a complete game-changer and will make the onboarding process easy. You can easily move your existing marketplace sellers, vendors, orders quite easily.
And since Dokan and WC Vendors are both based on WooCommerce, most of the data they manage is the same. The only thing that is different is the way they manage it.
So, today we are going to show you how to use this WC vendors to Dokan plugin works and how you can use it to migrate from one multivendor marketplace to another.
How WC Vendors to Dokan Migrator Works
We created the WC Vendors to Dokan importer plugin so that marketplace owners can easily migrate. With this plugin, the migration process is easy, simple, and quick.
All you need to do is just simply install this free plugin and then use it to import the data. And the installation process is the same as any other WordPress plugin.
This is as simple and easy as it gets. You will only need to import Vendors and Orders to get everything from your WC Vendors powered marketplace into Dokan. The timing of the migration will be depending on the number of orders or vendors you are migrating. Then you will be ready to go!
So, let's see the process shall we?
Here is a complete documentation of the process.
Pre-Requirements
Dokan Free (or pro) plugin
WC Vendors to Dokan plugin
Step 1: Install the Required Plugins ( Dokan & WC Vendors to Dokan )
You can download the plugin from the WordPress repository or go to WP-Admin → Plugins → Add New and then search for the plugin with the name "Dokan" and "WC Vendors to Dokan" respectively.
Install and Activate both plugins.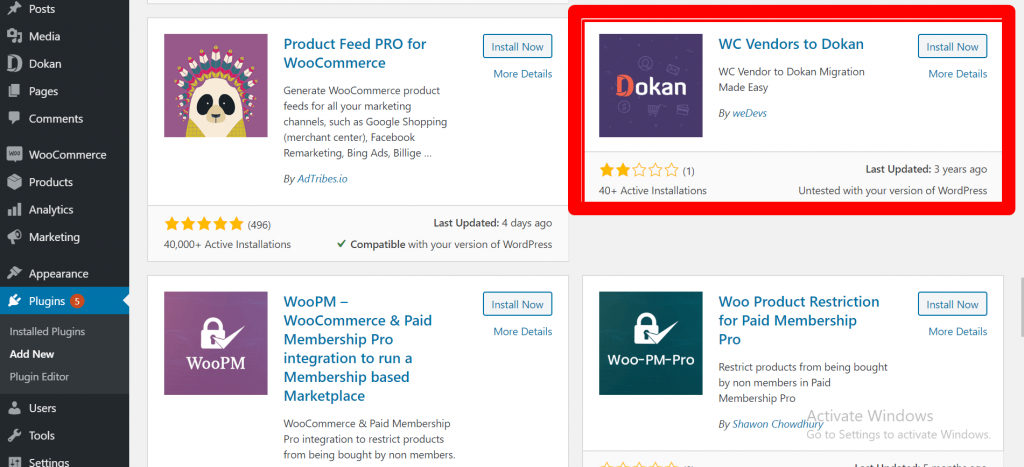 Step 2: Disable WC Vendors Plugin from Your WordPress Dashboard
To disable this multi-vendor marketplace plugin go to WP-Admin → Plugins → Installed plugins again and now disable the WC Vendors plugin.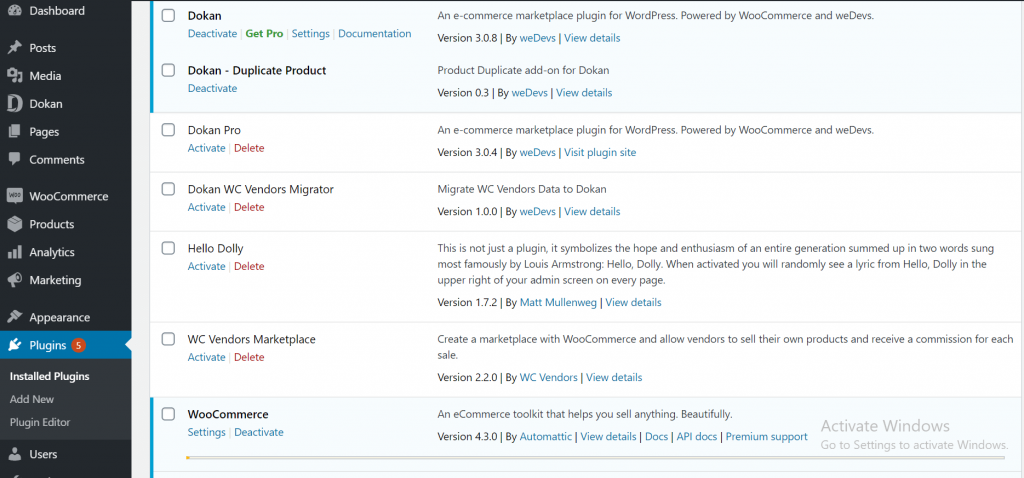 Step 3: Configure WC Vendors to Dokan Migrator
You will find all the options for migration WC Vendors to Dokan in the WordPress Tool section.
Navigate to WP-Admin → Tools → WC Vendors 2 Dokan Migrator. Click on the menu.
You can import both Vendors and Orders from the WC Vendors plugin with full order details. Select any type.
Choose a limit. This limit is actually the chunk of orders or vendors the tool will fetch every time. We added this filter because when you have too many vendors and orders in WC Vendors, trying to import them all at once breaks the WordPress system by causing too much pressure. So, as a solution, the tool will only fetch, say 50 orders or vendors at a time to reduce the load.
Click Migrate. When importing is complete, you will see a Finished notification.
Step 4: Remove WC Vendors Plugin
So, the migration is complete. Now you can safely remove the WC Vendors plugin. Because keeping a heavy plugin may cause your site to slow down. Optionally, you can keep the plugin disabled if you wish.
All your previous data has been merged with Dokan.
Note:
If you happen to click on a vendor name created with WC Vendors but which has not been imported into Dokan yet, you will end up with a 404 error. Just run the migration tool with vendor type selection and try clicking on the vendor again. This time you will be taken to the vendor's profile.
Pending Vendors on your WC Vendors plugin will not be imported.
Dokan: The Best Multivendor MarketPlace in WordPress
Now that you have migrated your marketplace to Dokan, you might as well know the top features of this hugely popular plugin.
Dokan has active installations in the region of 60000+, which explains the trust of users. The plugin is easy to install, not a complicated learning process, 24/7 support, Documentation, all in all, it is one of its kind. Here is a glimpse of its top features,
Multiple product types
Independent storefront for every vendor
Every WooCommerce theme is compatible
Frontend dashboard for vendors
3 types of commission. Flat, Percentage, Combined
Coupon management system
Order management system. Vendors can manage their orders from their own account
Product review system
Vendor profile with detailed information
Live chat with 4 different integration
Subscription system is available.

Here is a review from a WordPress Forum User regarding Dokan,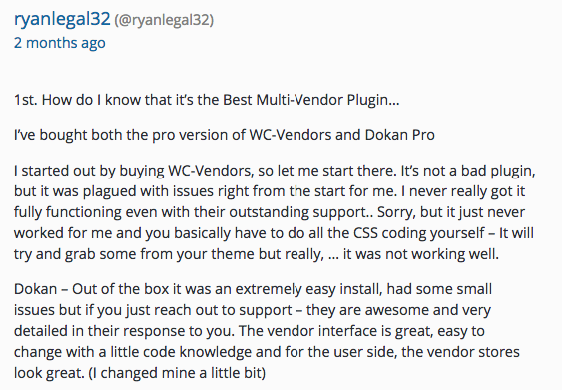 This guy bought WC Vendors and it didn't work out for him. Ryanlegal32 faced the exact same problems we mentioned above. He had issues with the interface, pricing, and support. Now he wants to switch to Dokan. With the migrator plugin, he can do this in seconds. He has already invested a lot of effort in setting up and trying to make it work, he should not need to spend more energy on migration anymore.
Get Wc Vendors to Dokan Migrator Now for Free →
Conclusion
Migration always looks complicated. Whether you are migrating to another country or migrating your eCommerce store. You need to make preparations for before moving.
With the WC Vendors to Dokan migration plugin, we have reduced the steps and made the process less complicated. You can easily use this plugin and transfer all your important data to Dokan from WC Vendors.