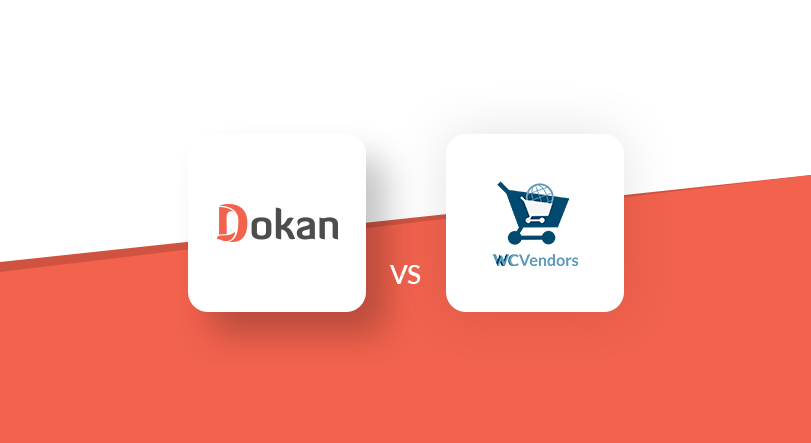 Dokan vs WC Vendors Pro: Which is the Best WordPress Multivendor Plugin?
Recently some of our clients and guests have been seeking answers for questions relating to WC Vendors like –
What is WC Vendors?

Is it any better than Dokan Multivendor?

What are the differences?

Is the price difference really worth it? Etc.
So, we thought why not take a look at it? Today we are going to put the two plugins head to head and point out the differences from a neutral standpoint.
WC Vendors Pro has a similar purpose of Dokan Multivendor, to create marketplaces with WooCommerce on your WordPress-powered site. WC Vendors has been around as a freemium for some time now and in 2019, they released the Pro version for a $149 price and now they have increased their price to $199.
Dokan Multivendor has a bigger track record and grew greatly through time. Dokan comes with a bundled theme optimized for a marketplace (so you don't need to run for one) and gets started immediately.
Dokan for a single site costs 50$ less than WC Vendors Pro. The pricing might seem lucrative where Dokan Starter costs 149$ only. But with Dokan here is what you will get.
Now let's focus on the Dokan vs WC Vendors review to get a clear idea of which one could be the best solution for you.
Note: The following review is a comparison between the PRO versions of both plugins, not free.
WC Vendors VS Dokan Multivendor: 17 Key Comparisons for You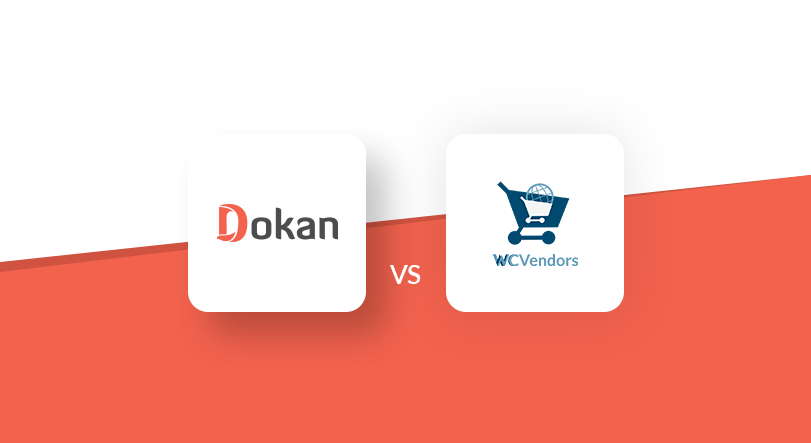 1. Basics
From a bird's eye perspective, Dokan has more features and a better interface. It is a more professional, practical, and polished approach to the marketplace.
They both have similar core features and also work similarly with the WooCommerce plugin. But there are features and designs which make both of them different.
Dokan is cheaper, rich in features, and easier to install, get support and find resources.
2. Multistep Wizard for a Quick Start
In Dokan, signing up as a seller or customer is pretty easy and fast because of the WooCommerce like a multistep wizard. WC Vendors do not have that.
If you are trying to become a vendor, you can choose your store name, store URL and terms and conditions text from the signup page. Following into the wizard, all of the basic settings which you can't miss are covered there, saving a lot of your time.
But in WC Vendors Pro, You have to create an account in the usual way, then request to become a vendor and then wait for admin approval. After your store is approved, you have to go through WooCommerce backend back and forth to get things settled. It takes time and effort, which an entrepreneur like you should invest elsewhere.
In Dokan, the admin does have an approval system, but it doesn't halt a vendor from moving forward in settings.
Even if you are an Admin and setting up your marketplace for the first time, Dokan also guides you with a wizard and takes you through the necessary steps to get your market started. Dokan has a reputation for launching a complete marketplace in just under 30 minutes.
So, it seems Dokan is much quicker and better handling at onboarding than WC Vendors.
3. Store SEO for Better Search Visibility
There is no built-in SEO feature for the individual vendors or the stores created with WC Vendors, but Dokan has it. Not only for the stores but also for the marketplace as well. So, vendors who are on Dokan have a better chance of attracting potential customers' search results.
Without SEO, stores will not have a good online presence. Search engines detect keywords and the site with more keywords are usually placed higher in the search results. Say you have a store named World Music and you sell guitars.
So, if there had been SEO associated with your store, you would have extra keywords like the "music" from your store name and other keywords that might appear in your store description for Google to pick up. This feature is quite handy to direct customers to your site looking for a specific product on Google.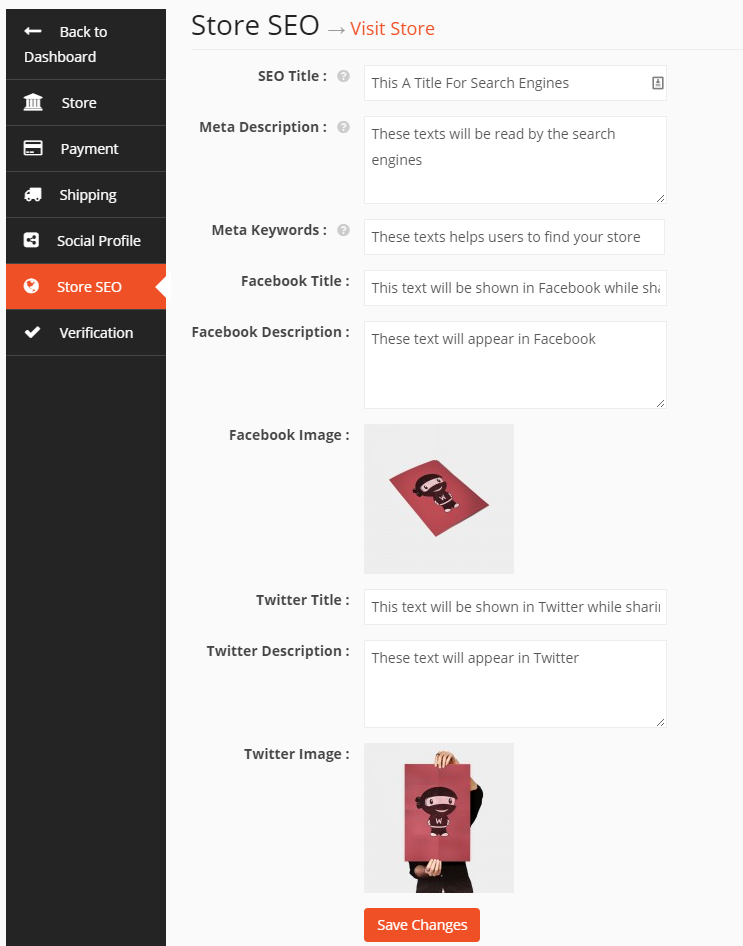 Dokan has store SEO built-in for each vendor. Dokan uses a form similar to Yoast and automatically merges the details from the market, users, categories, tags, and uses that data for SEO. Dokan sticks to their philosophy of making everything simpler and easier for the users through the frontend.
However, there is a workaround to getting SEO working on WC Vendors. If you have the courage to mess around with codes or if you have some programming knowledge, you can add the feature by entering some codes which can be found on their docs site.
4. Professional Storefront
The default storefront in WC Vendors is to be exact, looks like the top of a Facebook profile picture with a background photo, but doesn't tell you much about the vendor, store's location, etc. It looks kind of unorganized and too simple for a professional market.
Your WC Vendor storefront can be however customized to be better, but you would need an expert and a lot of design to go through. A lot of trouble, isn't it?
But the storefront in Dokan is way better, feature-rich, and re-designable with just one click from 4 templates. You feel freer just by looking at it.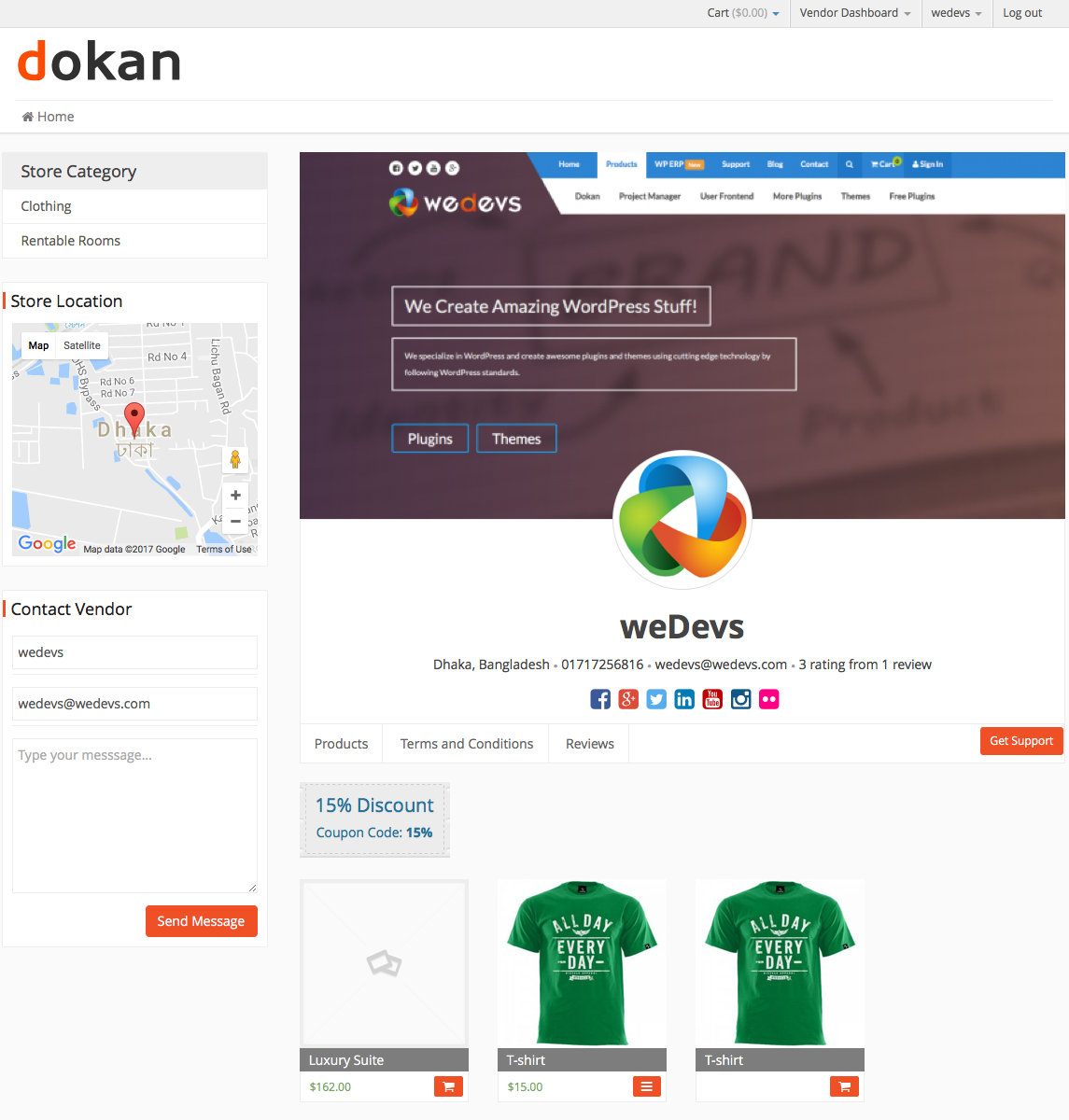 Vendors on Dokan can also provide support from the storefront, get reviews, tag addresses and social networks, put them on Google Map, display coupons, and do much much more!
5. Market-wide Announcements
Announcements can be a very simple yet efficient way for an admin to notify vendors about any upcoming changes that apply to all. Say, you want to give a 10% discount on everything for Christmas, or you want to add a new payment gateway or want to bring a new feature or theme to the market.
In Dokan, you can easily add such a message text or weblink to display on vendors' dashboards, which they will immediately see when they log in. You can not announce something like that in WC Vendors Pro.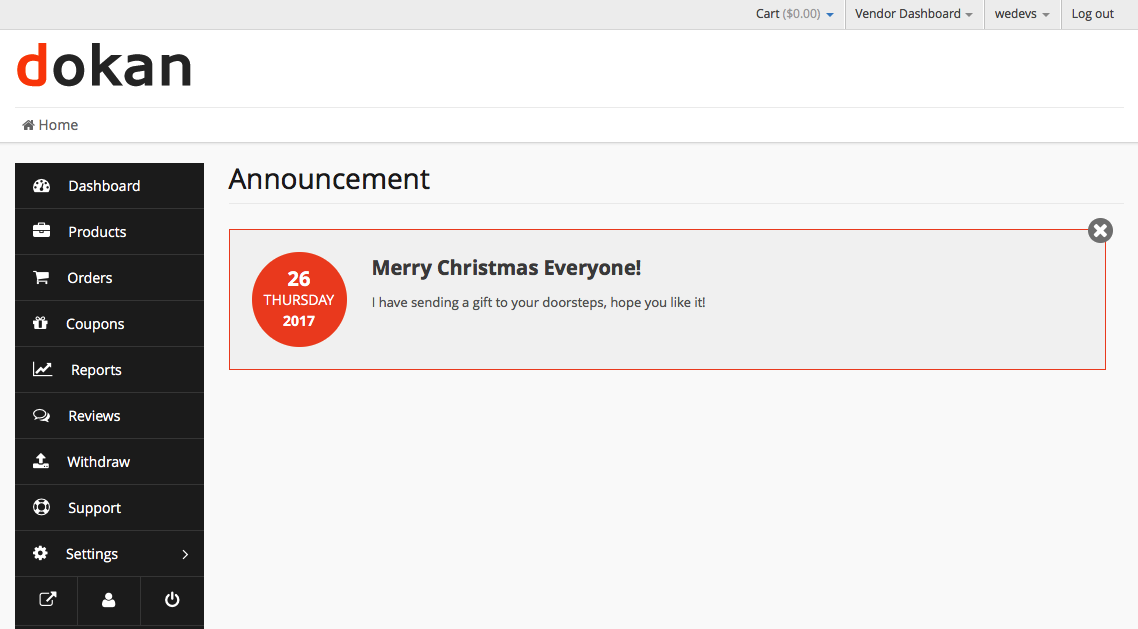 6. Earning, Sales Reports, and Vendor Statements
Doesn't matter if you are the admin or the vendor, at the end of the day when all your business is done you would like to review how your day went, right? You can expect these reports in a daily, weekly or even monthly basis to assess the rate at which you are earning and which products are selling more than others.
In WC Vendors Pro, sadly, there is no such reporting system for vendors. However, an admin can use the WooCommerce backend to check records.
In Dokan, the vendor reports are simply awesome. You are getting a very detailed graphical report and also filter the report for narrowing down specific details. You can check active and pending products, best selling products, earnings from a specific product or order and shipping statuses and more. So, Dokan here is definitely a better choice.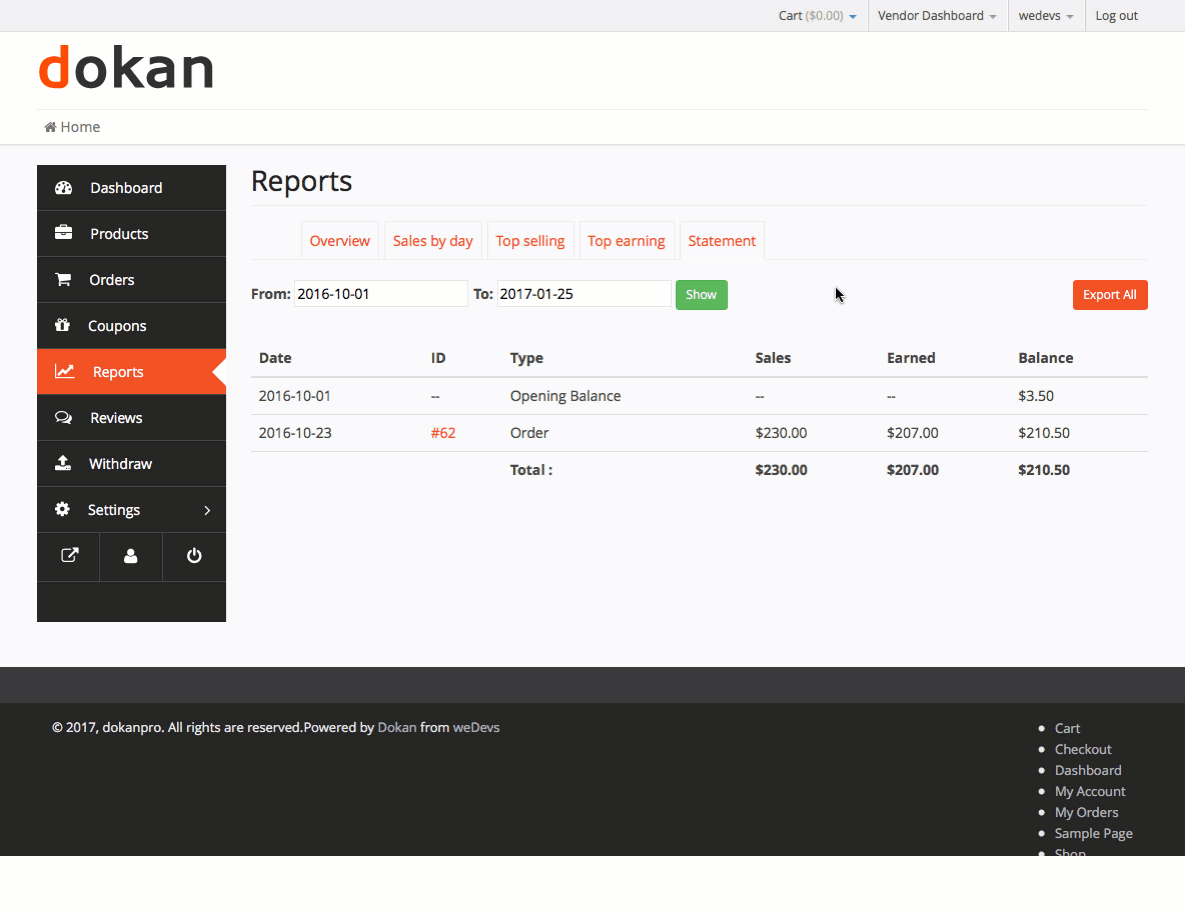 Dokan also gives you an exportable statement so that you can sync it with your accounting software if you are using any or keep records on paper.
7. Add-ons/Modules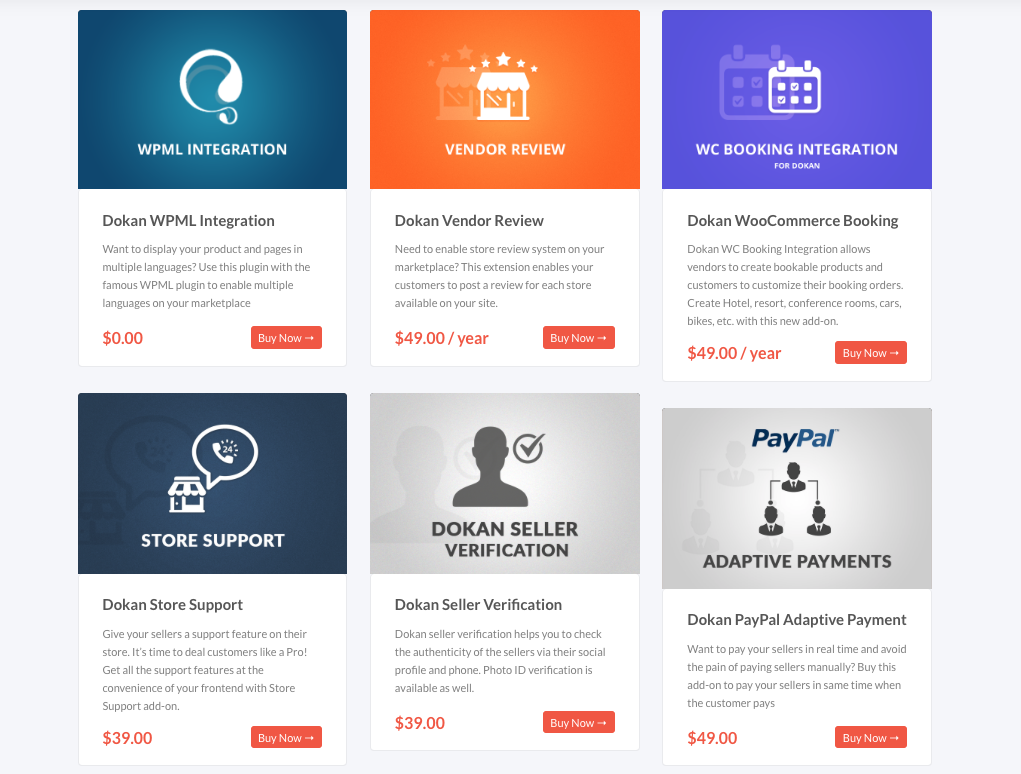 WC Vendors Pro depends totally on third-party plugins to extend features, especially which are created by WooCommerce. They have developed only 5 extensions that are completely compatible with their solution.
Dokan, on the other hand, has 35+ professional extensions! They create their own add-ons and integrate them seamlessly with the Frontend UI. Using add-ons from the same developer ensures they work together perfectly as intended. This increases the entire system stability.
8. Live Search Feature
Quick and powerful searching is the most demanded feature in a marketplace for customers. Searching makes a big difference in marketplaces. Customers usually search first and if it fails then go to category and tag-based browsing. Vendor-based searching is the last row before he or she might get impatient and leave your site.
With a little extension called Dokan Live Search, you can get an Ajax-based searching feature on Dokan. So, customers do not have to leave the page they are on and can get to the product or vendor almost instantly.
In WC Vendor, you will be still stuck in a classic searching style. You will have to type the full name of your product and then wait for a result page to load. So in the speed searching and navigation segment, Dokan is ahead.
9. Frontend Order Management
In WC Vendors Pro, as a vendor, you can only see all the orders as a list, and the contents of the orders are displayed only inside the list. But there is no way to individualize the orders and check the order will full details of the items. Things look quite ordinary on the dashboard and as far as we have seen, vendors rely on the WooCommerce order listing, which has very limited capacities.
Check it out: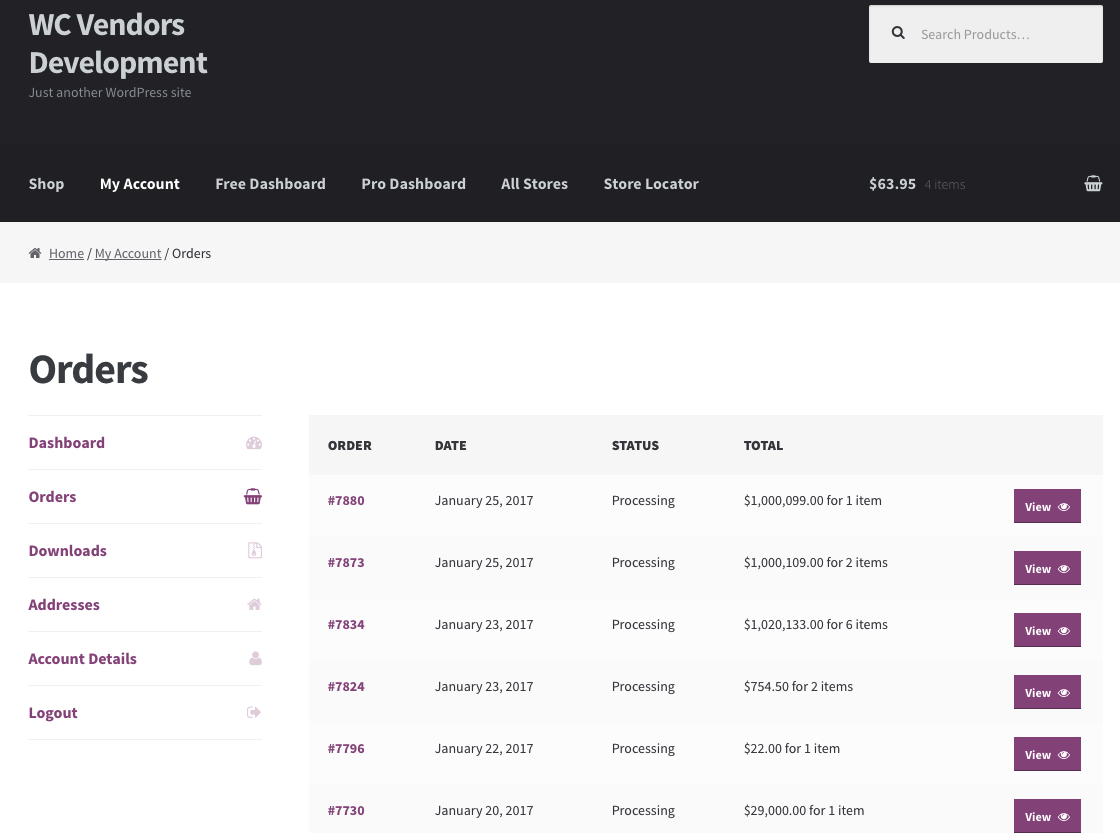 Here is the screenshot of the WC Vendors Pro order section-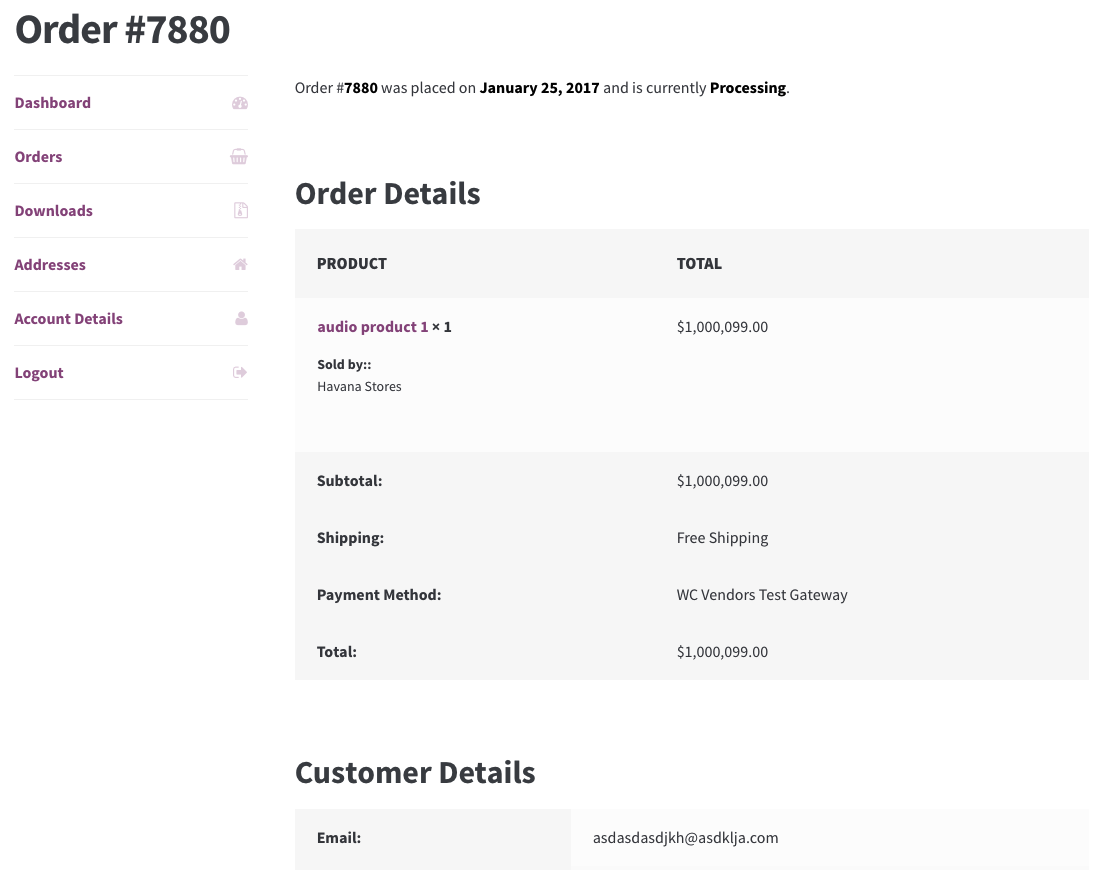 But in Dokan, vendors can see and modify every detail of a selected order both in brief or elaborated in a separate window. The interface is very much interactive and professional offering more than basic features.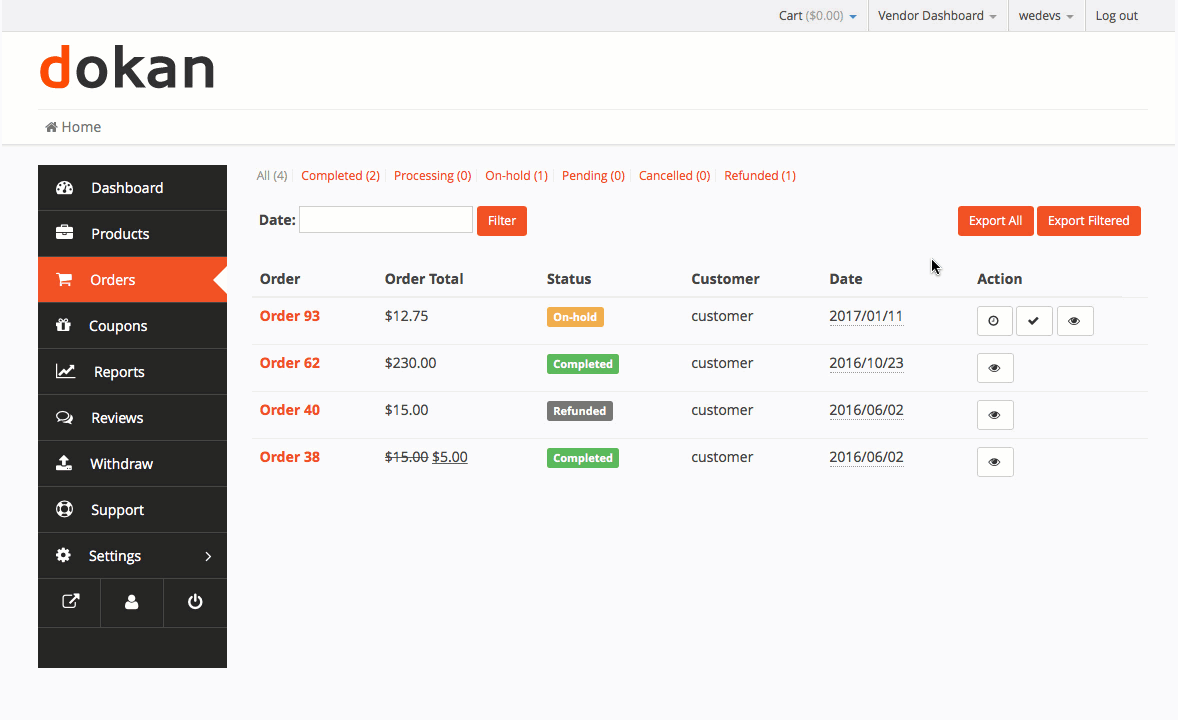 Here is a screenshot of the Dokan multivendor order dashboard-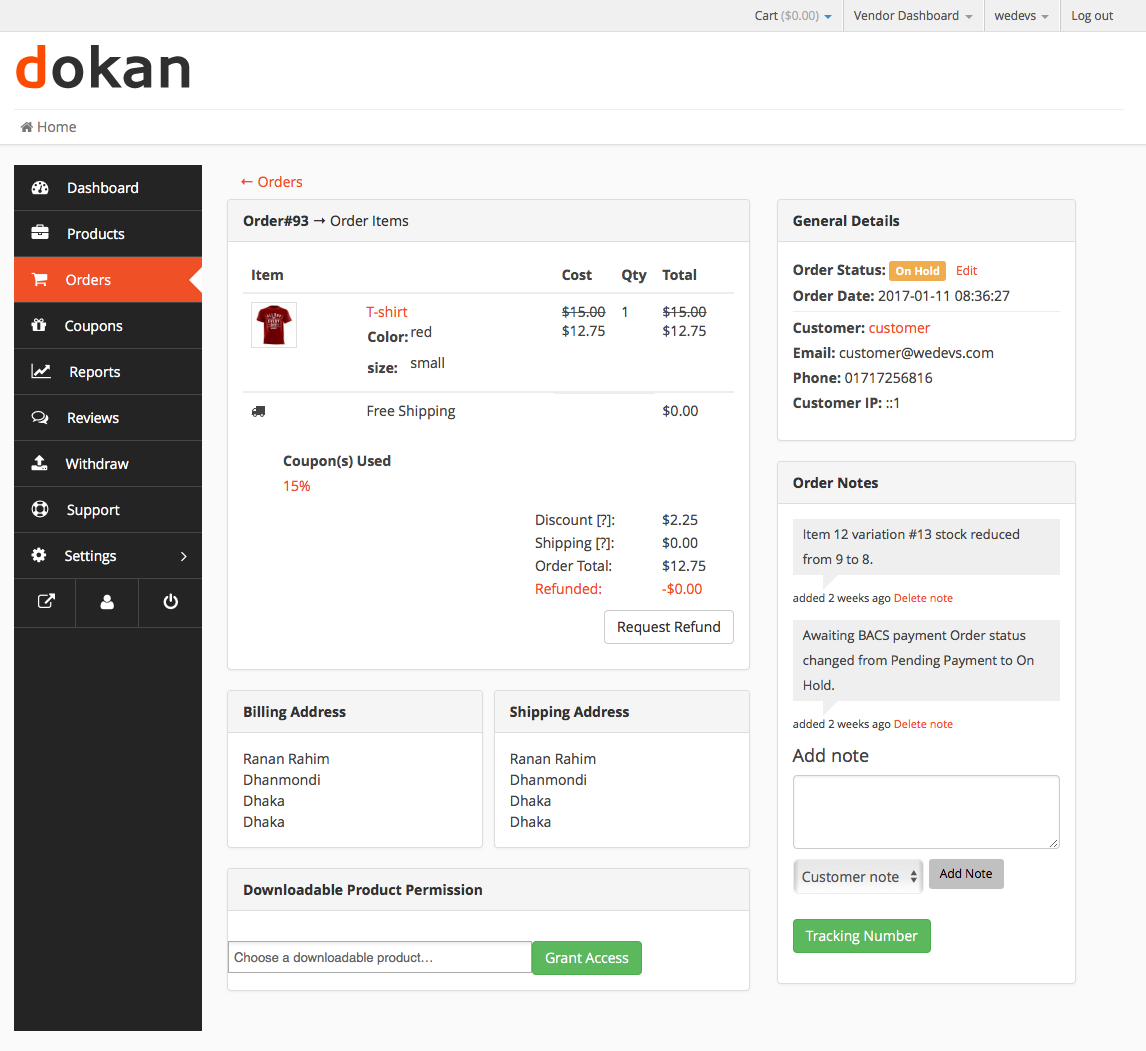 10. Frontend Widgets
Increasing the trust factor is pretty important for vendors in any marketplace. Market giants like Amazon and eBay have a very detailed rating, ranking, and reviewing section that works as the best guide for customers before they buy the product or know how the vendor treats customer problems.
In fact, reviews are the sole driving factor for a deal or no-deal game and help stores become giants.
On Dokan, there are several storefront widgets to ensure the deal and increase trust.
You can verify a vendor and put that in this storefront, connect social profiles, a vendor can add Google Map location of his physical store (if any) and the vendor review extension adds the most expected feature of rating and reviewing a vendor to the storefront.
11. Contact Forms
Customers might want to get in touch with a vendor for various reasons. In Fact, every website on Earth has a contact form on the sidebar or at the bottom of their website. But in a marketplace, you need to individualize these forms.
Responding to the need, all vendors in Dokan come with a contact form on their storefront, which is personalized. WC Vendor lacks this simple yet effective feature.
12. Bookable Products
Bookable products are a hot buzz in the marketplace universe right now. Dokan released their bookable product support extension in November 2016. They have brought the WooCommerce bookings feature from the backend and simplified the interface.
Damn, the backend builder for bookable products is really hard to crack in WooCommerce, Dokan saved the deal.
However, WC Vendor is yet to release any support for this kind of product.
13. Product Customized Shipping
Won't it be great if your vendors could provide special shipping rates to a customer on special situation? When running an international customer base, there will be times when you will need to take this kind of extra measures to ensure customer satisfaction and set the right price.
On Dokan, this feature is natively available from the frontend without any third party plugin or extension. This feature is core to WooCommerce. But in WC Vendors, this functionality is not available on frontend or backend.
14. Refunds on Subscription
When you buy WC Vendors, even if you did it mistakenly or the product doesn't meet up to your expectations as advertised – you will not get any refund for your purchase.
They have a refund policy if you don't download the plugins within 7 days after purchase! And they wouldn't listen to anything else whatever that could be.
But Dokan developer weDevs offer a 14-day refund for any of their plugins, including extensions. Before giving a refund, their support team will give their utmost dedication to find and solve your issue. If it is unsolvable, no questions will be asked.
15. Store Support
For answering pre-sales questions and achieving after-sales satisfaction, having a secure communication channel is important for both customers and vendors.
On Dokan, you will also be able to provide support right from the store-front with a little add-on they have made. This eliminates the use of any third-party solution and email.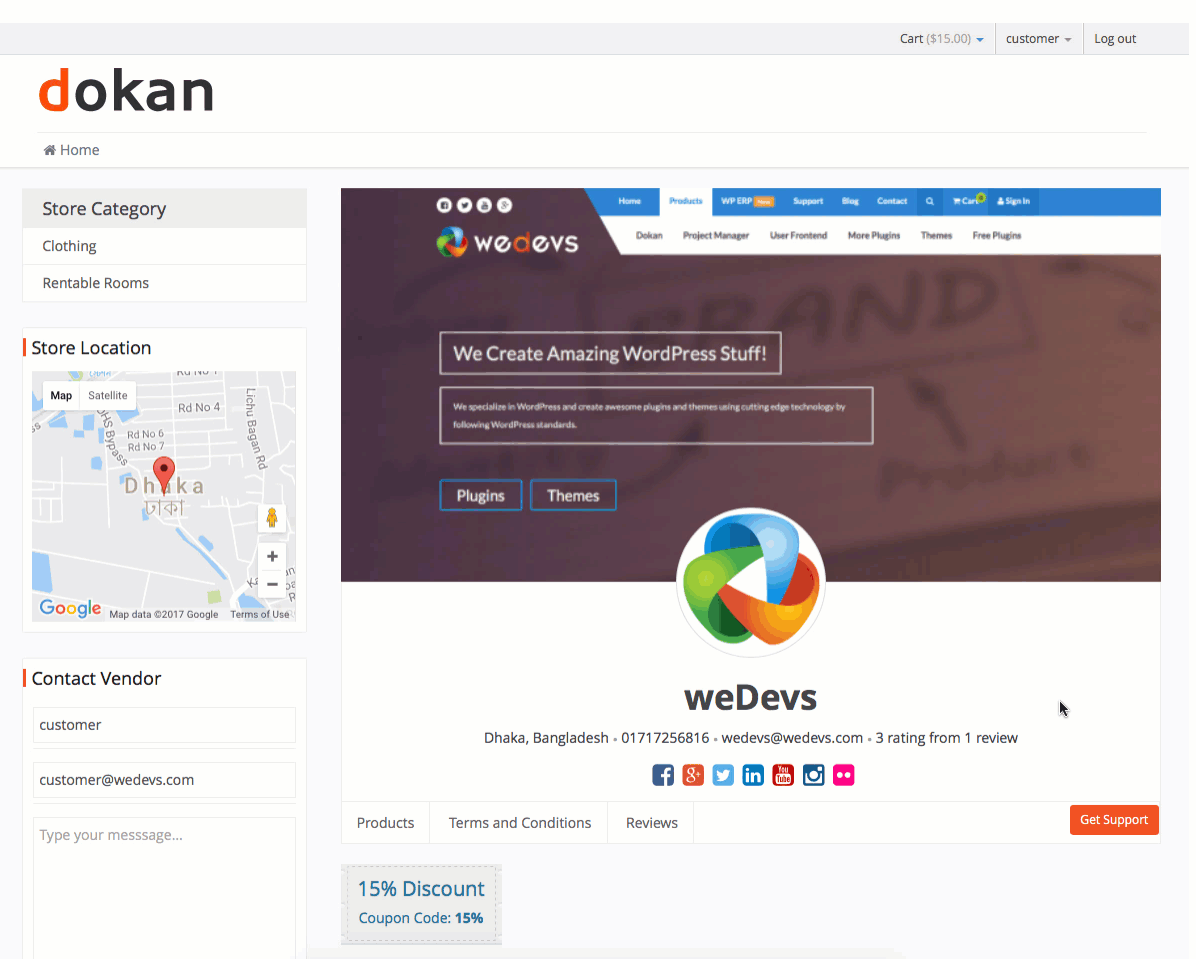 On WC Vendors, there is no secure channel between vendors or customers where customers can be helped without getting spammed. They will have to use an email, and you know what that means. Vendors can do anything with the customer email putting your marketplace reputation at stake.
16. Free Versions
Even if you compare the free versions of both the plugins named Dokan Lite and WC Vendors, you will see that Dokan Lite is still better, heavy with features and most importantly has frontend.
You can get a clear idea of how Dokan Lite is smaller than Dokan from this review and realize yourself that it is better than WC Vendor's counterpart.
17. Miscellaneous
Apart from this, WC Vendors Pro has fewer gateways than Dokan, no product publish scheduling, requires a plugin to enable per-product shipping, no interface for vendor withdrawals, etc. All of these features are loud and clear on Dokan.
Why You Should Choose Dokan Over WC Vendors
So after going over all the features of both the plugins, here are the reasons on why you should choose Dokan multivendor over WC Vendors-
We have add-ons for extending features and we ourselves develop them
Dokan is the only complete Frontend marketplace
Open source and Customizable
Free responsive Theme and WooCommerce theme compatibility
Escrow payments
Automatic Tax calculation and state-based shipping.
Awesome support! Check our reviews from WordPress.org→
….and many more
If you are in the mood, you can also check out our review of a similar plugin called WooCommerce Product Vendor and see how it stacks up against Dokan.
Looks like Dokan wins hands down against WC Vendors PRO. I can't see a better reason to go for WC Vendors over Dokan for your upcoming eCommerce site!
Dokan VS WC Vendors- Choose The Best Multivendor Solution for You
We have shown you the detailed comparison between Dokan and WC Vendors multivendor plugins. Now you can easily guess which one could be the best solution to create and launch your online marketplace.
That being said if you still have any confusion regarding WC Vendors vs Dokan, feel free to let us know using the comment box below. We are allowed to ask any type of questions that you need to know about.
Also, if you want to get regular updates from weDevs, you can opt-in to our email newsletter. Here is the subscription form for you: