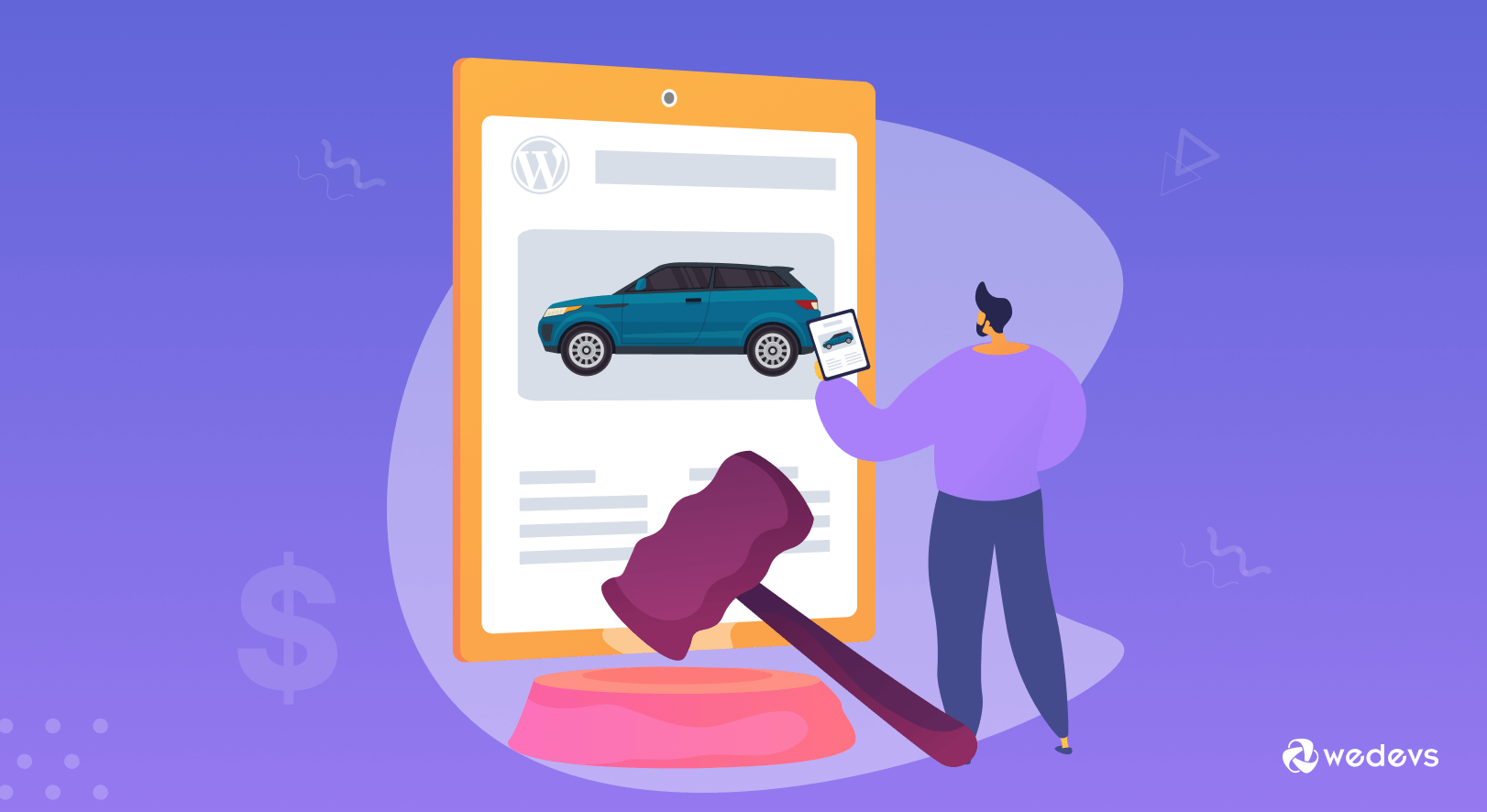 How to Create a Car Auction Marketplace in WordPress From Scratch: A Beginner's Guide
Creating a car auction marketplace may seem complicated to you. Luckily, WordPress along with its helpful plugins makes it super easy to create and run any type of marketplace from scratch.
Plus, the automotive industry is evolving significantly in recent years. People are actively seeking reliable sources to purchase their dream cars at affordable prices. In fact, recent data shared by IBIS World reveals that-
The Global Car & Automobile Sales industry is projected to reach a staggering $3.8 trillion in revenue by 2023.
Given this immense market potential, there couldn't be a better time to embark on your car auction marketplace journey.
So, without any further ado, let's get started with this 7 steps tutorial to create your very first car auction marketplace in a few hours:
Install Dokan Lite Multivendor Plugin for WordPress
Purchase and Upload Dokan Premium Version
Configure the General Settings of the Dokan Plugin
Enable and Configure Dokan Auction Module
Choose a WordPress Theme for Your Car Auction Marketplace
Setup Admin Shop & Upload Auction Products on Your Store
Allow Vendors to Sign Up on Your Marketplace
Note: Before jumping into the main tutorial, make sure you have a ready WordPress website. If you don't have a site already, check our blog on creating a WordPress website in 5 steps to build your site. Then follow this tutorial to turn your website into a full-fledged online car auction marketplace.
Step 01: Install Dokan Multivendor Plugin for WordPress
Installing the Dokan plugin is simple. If you have ever installed a WordPress plugin on your site, you can install the Dokan plugin easily. Because installing the Dokan plugin is as same as other WordPress plugins.
Navigating to Admin Dashboard -> Plugin -> Add New -> Click the search
Type Dokan -> Install -> Activate.
Dokan also provides a setup wizard to help you easily set up your marketplace. Configuring Dokan is very easy by using its own Wizard. You can check this video on the Dokan installation to complete the process in an even easier way.
Step 02: Purchase and Upload Dokan Premium Version
To create an auction marketplace, you'll require a premium module called the Dokan Simple Auction module. This module is included in Dokan Business and Dokan Enterprise packages. So, you have to buy either Dokan Business or Dokan Enterprise packages to access this module. Let's check how to purchase the Dokan premium version and install it on your site.
Visit the Dokan pricing page and choose a package to buy.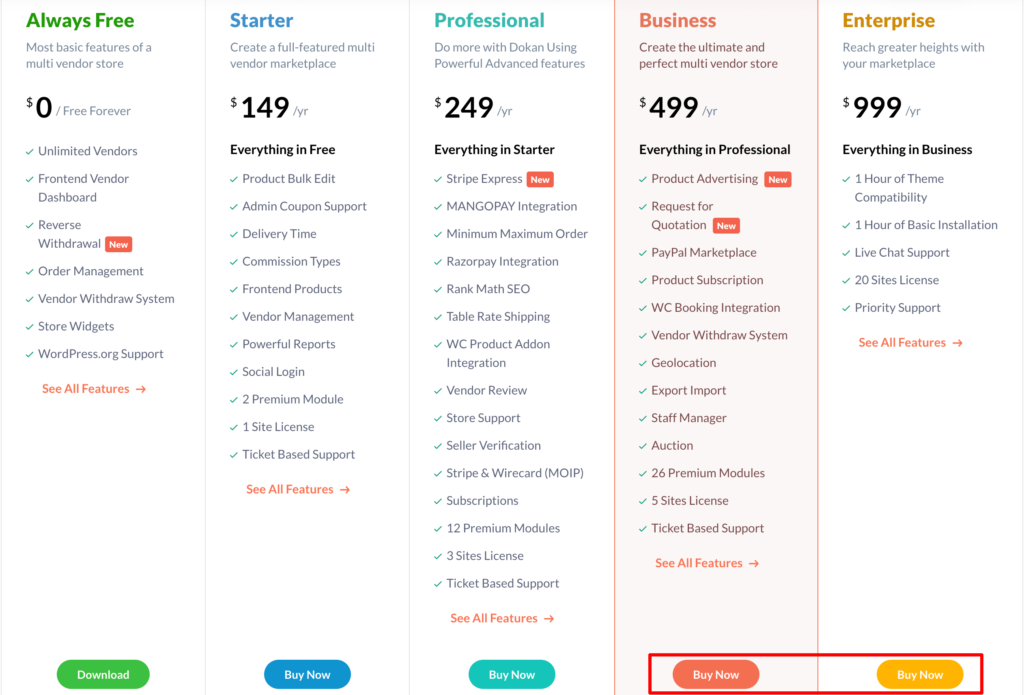 After completing the checkout process, go to your weDevs account. Then click on the Downloads option. There you'll find the zip file of your purchased items. Download that zip file.

Now navigate to your WordPress Admin Dashboard -> Plugins -> Add New, then click on the Upload Plugin option.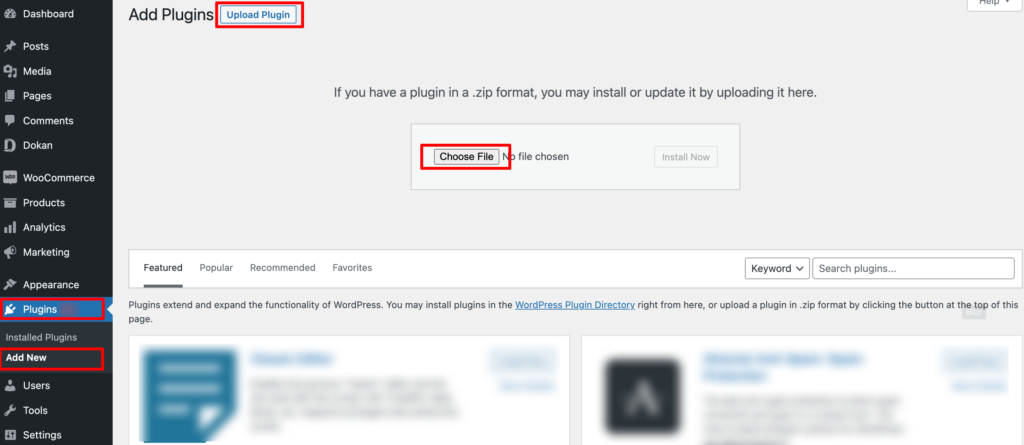 After uploading the plugin, you'll get the install and activate option to make it usable on your site. Once the plugin is activated, head to the next step to configure the basic settings of the plugin.
For further assistance follow this documentation on the installation of the pro version of the Dokan plugin.
Step 03: Configure the General Settings of the Dokan Plugin
Dokan is a perfect WordPress plugin for creating online car auction marketplaces. It comes with all the necessary and advanced features to get your marketplace done. In this step, we will configure the basic settings for the Dokan plugin.
To access the general settings of the Dokan multivendor plugin, navigate to, WP Admin -> Dokan -> Settings.
There you'll find all the general settings like-
Select store category
Enable vendors to display their products
Create essential tags
Setup the new product status
Choose withdrawal methods
Set minimum withdrawal limit, and
Include commission terms and rates.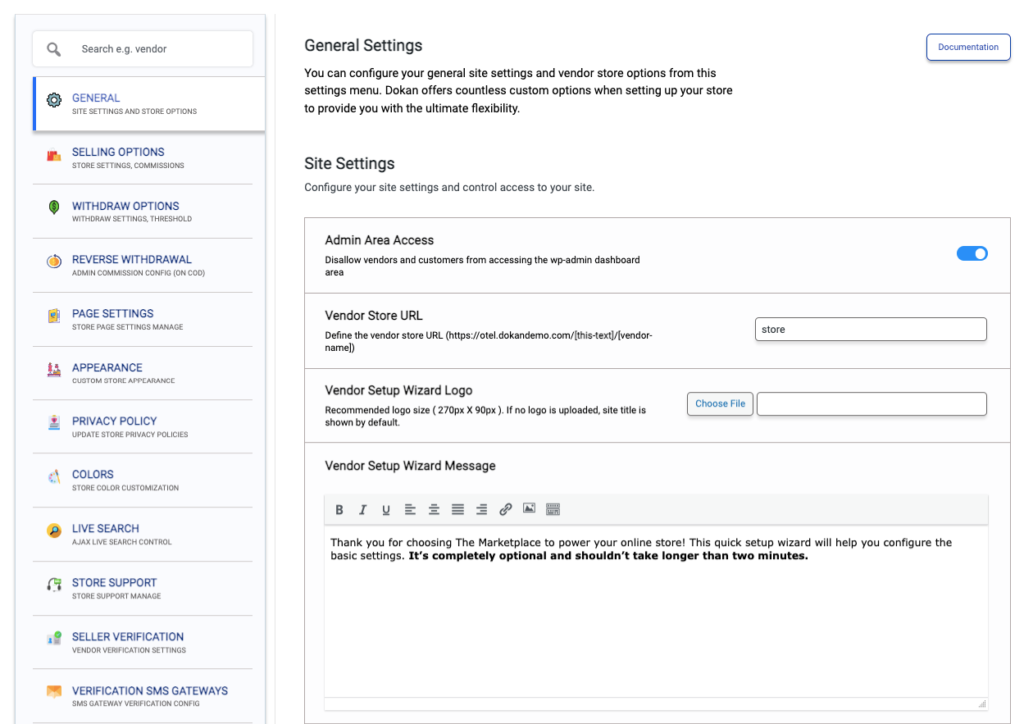 Under every tab, you'll see several setting options to personalize your car auction marketplace. Get a complete overview of Dokan multivendor plugin settings here!
Once you've done with all the changes, hit the button "Save Changes".
Step 04: Enable and Configure Dokan Auction Module
As mentioned previously, the Dokan auction module is required for creating a car auction marketplace. Since you have the Dokan premium package, simply enabling the Dokan auction module is all that is needed.
Note: Apart from the Dokan Auction module, you'll need another WooCommerce extension called WordPress Simple Auctions to build an auction marketplace. Purchase the extension and upload it to your site just like you have uploaded the Dokan plugin.
After uploading the WooCommerce auction extension, go to Dokan modules by navigating to your WordPress dashboard > Dokan > Modules. There you'll find the Auction Integration module, enable it by clicking on the toggle button.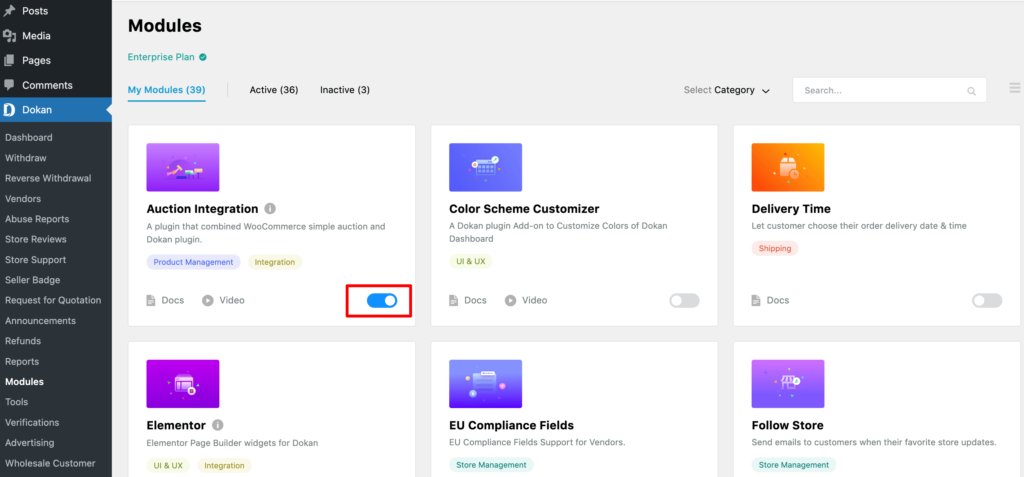 Now go to WooCommerce -> Settings, and click on the Auction tab to get the basic settings of the Auction module.

Step 05: Choose a WordPress Theme for Your Car Auction Marketplace
Dokan comes with a default theme called Dokani created by the same team behind the Dokan plugin. You can simply use this theme if you don't want to buy a third-party theme for your marketplace. On top of that, Dokani is a completely free theme to use.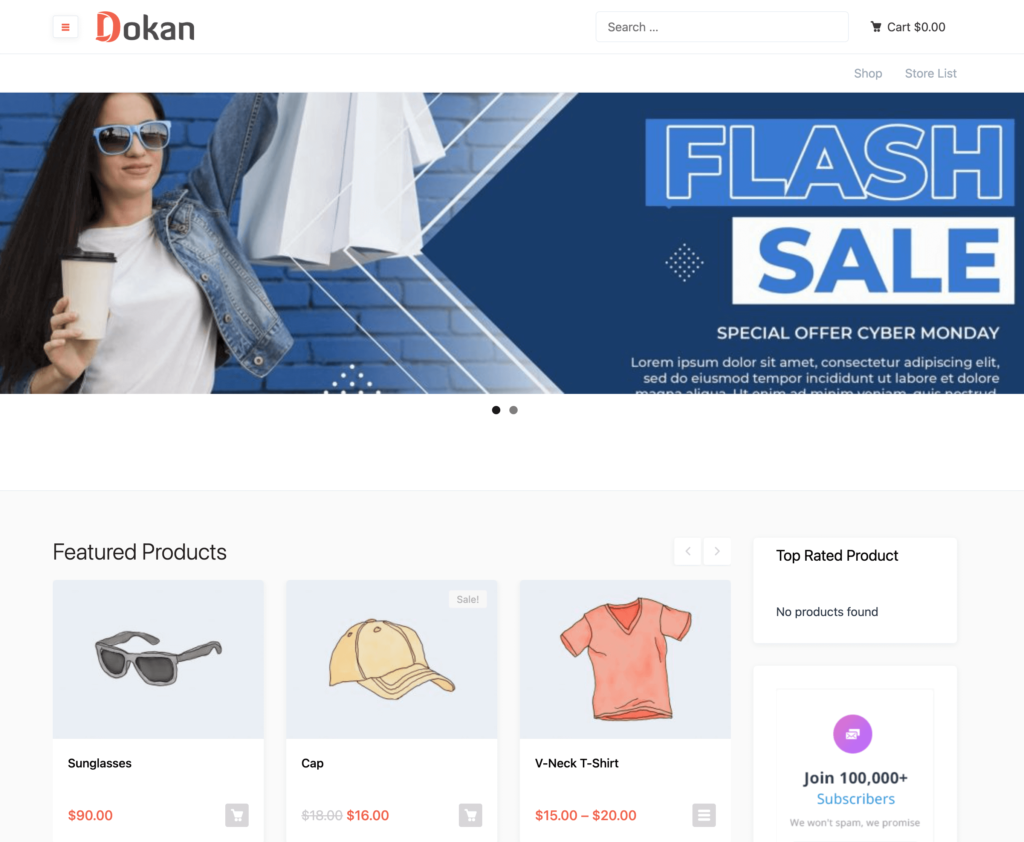 Key Features of the Dokani Theme:
Responsive, lightning-fast, and SEO-friendly
Handles all technical aspects of your site's design effortlessly
Enhances your visual appeal and captivates visitors
Supports a wide range of useful widgets
Fully compatible with popular page builders
That being said, you are fully allowed to use any Dokan-compatible theme for your marketplace. So, choose the best-suited theme for your marketplace according to your requirements and install it to give your site a professional look.
If in case, you need help installing your WordPress theme, check this blog on Ultimate Guide to WordPress Themes.
Step 06: Setup Admin Shop & Upload Auction Products on Your Store
When any of your registered vendors sell anything you will get a commission as an admin of the marketplace. Apart from this earning, there is another way for an admin to make money from a marketplace. That is selling as a vendor on your own marketplace.
If you don't want to sell as a vendor on your marketplace, you can skip this step and continue from the next step. But if you want to set up your own store to sell products as a vendor, follow this step carefully.
To sell your own products, first, enable yourself to add products to the marketplace. In order to make yourself a vendor, go to WordPress Dashboard -> Dokan -> Vendor. Then turn on the toggle bar to enable the admin for adding products to the marketplace.

Now let us show you how to add products to your store.
Start by accessing your Vendor Dashboard within your WordPress Dashboard. Once there, scroll down until you find the 'Auction' option. By selecting the Auction option, a new menu titled 'Add New Auction Product' will appear. Simply click on this option to begin adding your auction products.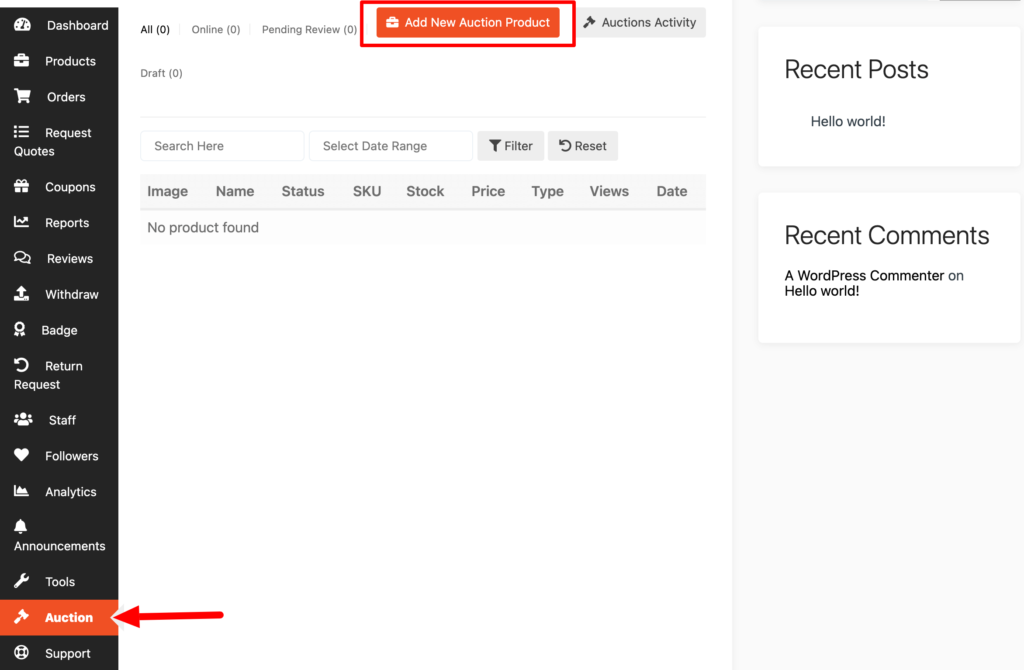 There you will find options for uploading product photos, inserting product name, description, and so on. Then confugure the bidding options by following the below-mentioned instructions.
Configure Bidding Options for Your Auction Products
There are four crucial options to configure:
Start Price: This is the minimum price. So the bidding will start from here. Like you have set $30,000 as a starting price. So bidding will start from $30,000 and will increase each time when customers place a bid.
Bid increment: The amount that each customer will be able to increase each time while bidding. Like if you have set a starting price of $30,000 and increment to $500. So each time the customers increase the bid, it will increase like $30,500, $31,000, $31,500, and so on.
Reserved price: A reserve price is the lowest price at which you are willing to sell your item. If you don't want to sell your item below a certain price, you can set a reserve price. The amount of your reserve price is not disclosed to your bidders, but they will see that your auction has a reserve price and whether or not the reserve has been met. If a bidder does not meet that price, you are not obligated to sell your item.
Buy it now price: Buy it now disappears when the bid exceeds the Buy now price for a normal auction or is lower than a reverse auction.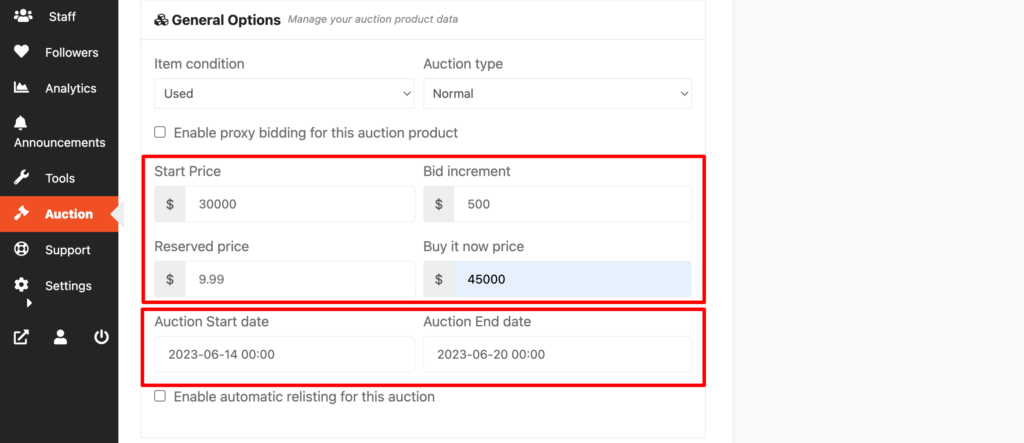 Once you are done with the product configuration, don't forget to click the "Add Auction Product" button to complete the procedure.
Approve Products As an Admin
After adding a few products if you visit your product list you'll see all your added products are still showing pending review labels. That means someone needs to approve your products. In this case, that someone is you. Because it's your marketplace and you are the admin.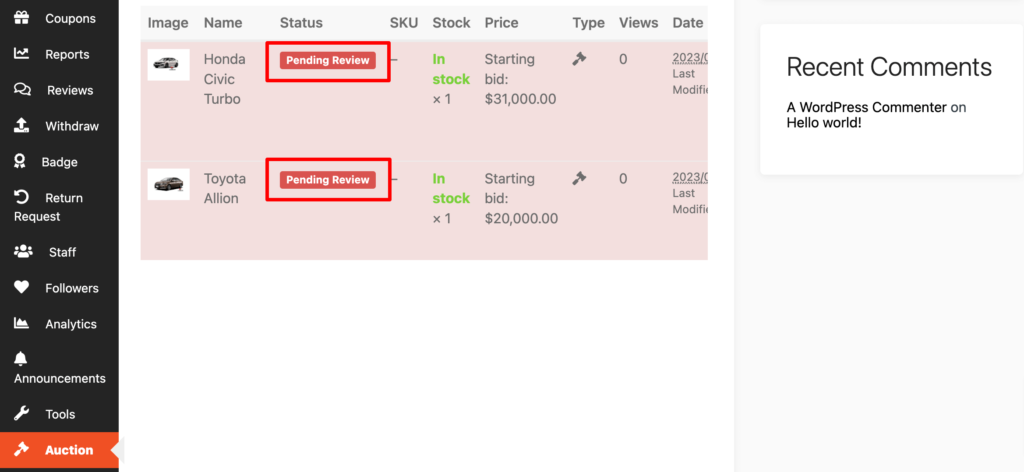 Now as an admin, visit your backend and approve these products to make them public. Click on the Products option, then click on the Quick Edit. There you will find the Status option. Choose the Published option and click the Update button to approve and publish the pending products.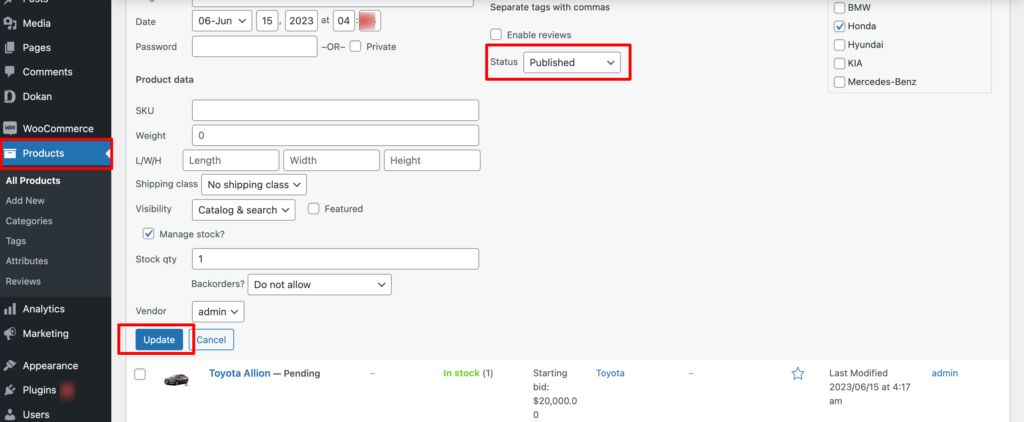 Congratulations! Now your auction products are live to the world. Anyone can bid for your products. Let's see how you can check the auction activity on your store.
Auction Activity
Now you can check out the activity of each auction product. You will get data on who is bidding, the amount, user email, etc.
Just click on the Auction Activity button from Vendor -> Dashboard -> Auctions.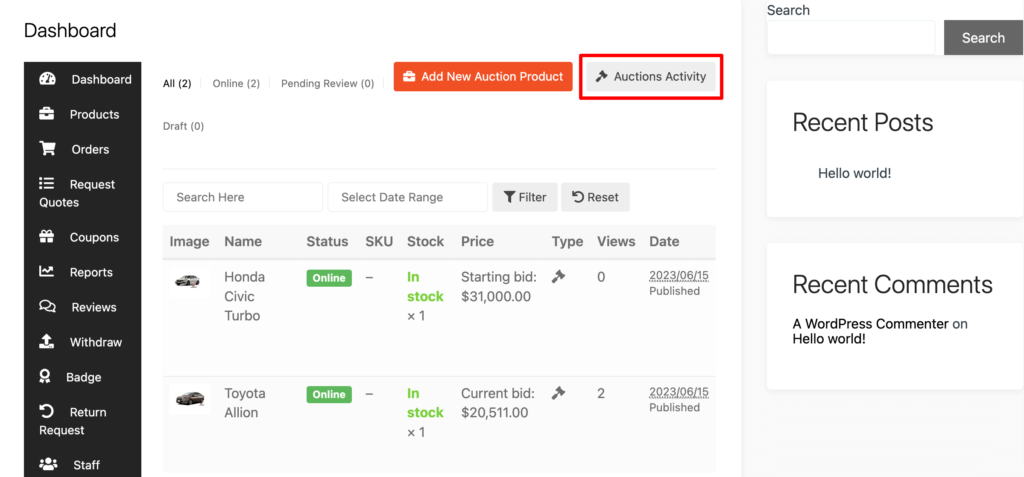 On the next page, you will see all the activities of the auction product. You can filter the activity date-wise and also search for auction products if the list is too big.

That's it!
There is a step-by-step video tutorial on how Dokan auction module works, you can check it here –
If you want to customize your store design, you can do it by going to Vendor Dashboard -> Settings. From here you can update your store name, address, opening & closing time, etc.
After doing all the customizations, your store looks like the below-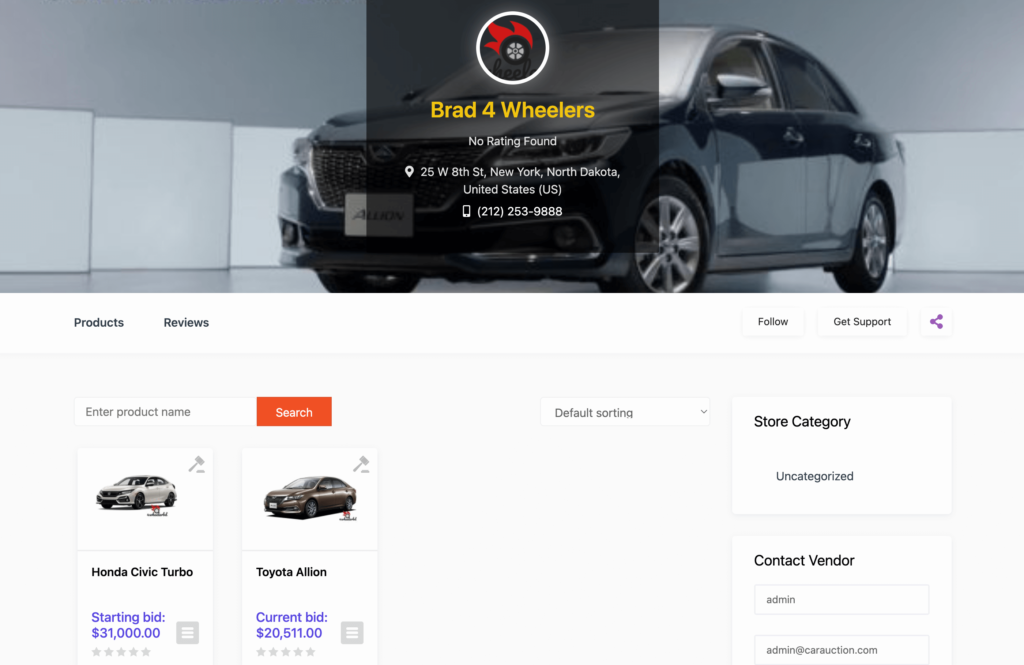 Step 07: Allow Vendors to Sign Up on Your Marketplace
All the basic configurations are done. Now it's time to open your marketplace for third-party vendors.
First, you need to enable the "Anyone can register" option. In order to do this, go to WordPress Dashboard -> Settings -> General -> Membership. And put the check mark on it.
Also, don't forget to save the changes that you have made now by clicking on the "Save Changes" button.

Now vendors can fill up the registration form to sign up in your marketplace-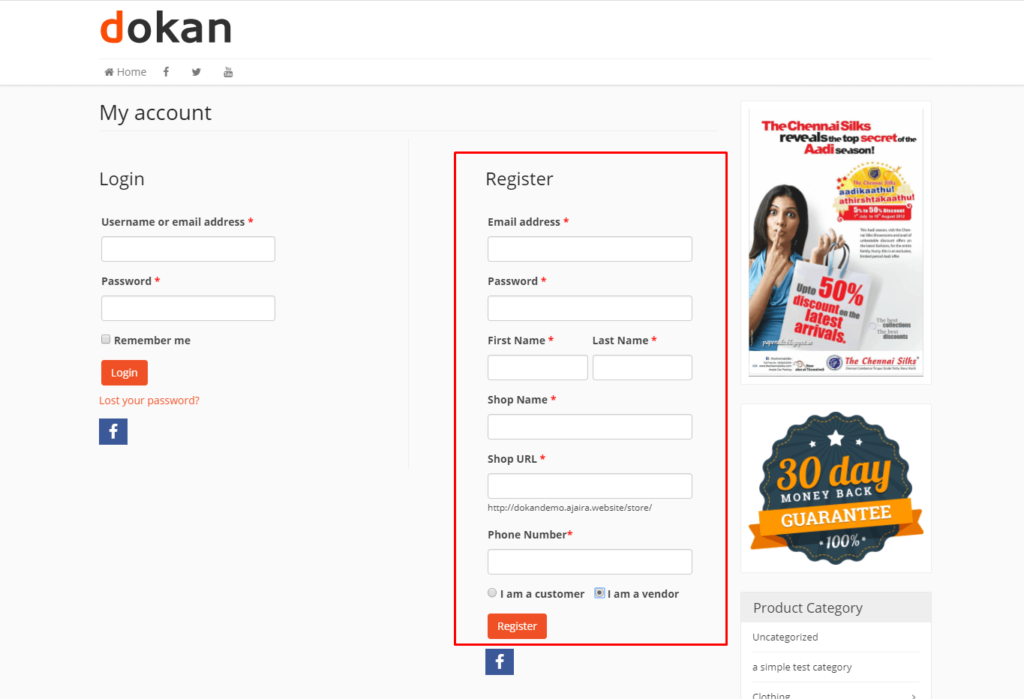 As an admin, you have the ability to review and manage all vendor registration requests from the backend. Take a look at the profiles of potential vendors and selectively approve those who meet your criteria to sell their products on your site.
Navigate to your WordPress dashboard then click on the Visit Stores to check all the registered stores on your car auction marketplace.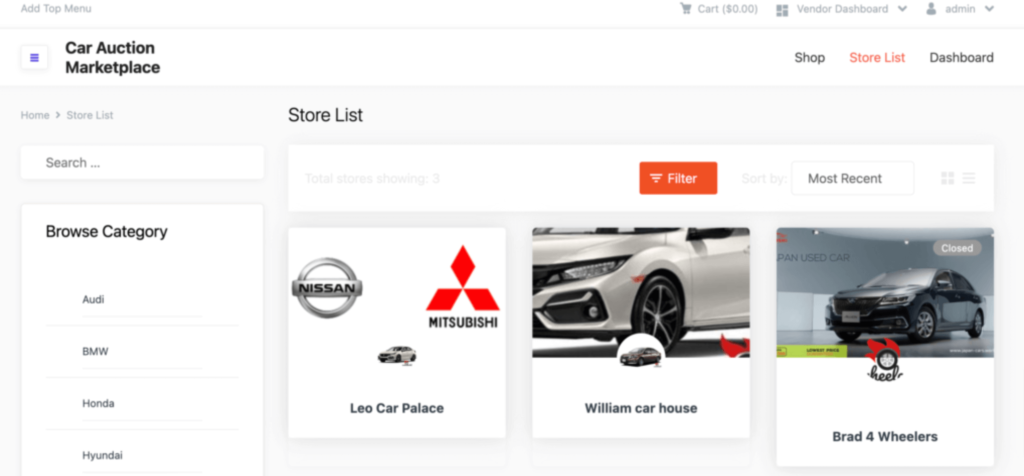 However, getting vendors for your online marketplace can be challenging in the early days. You need an optimized process to find and convince vendors for your multivendor marketplace. Start by researching and understanding your target market, and identifying the specific niche or industry your marketplace caters to. This knowledge will help you tailor your marketing strategy.

Bonus: Optimize Your Marketplace with Dokan Advanced Features
Once your marketplace starts gaining the attention of car-loving people, you'll require more advanced features to manage their expectations. Here is a list of the advanced features with solutions that you should implement to ensure a smooth user experience in your marketplace:
i) Live Chat
Looking to provide top-notch customer service and boost your sales? Say hello to the incredible Dokan Live Chat module! This powerful tool allows you to offer real-time support and enhance customer satisfaction.
So, why do you need it? Well, imagine being able to resolve your customers' issues quickly and efficiently. With Dokan Live Chat, vendors can provide instant support through popular platforms like Facebook Messenger, WhatsApp, Talk.Js, or Tawk.to.
It's all about meeting your customers where they are and providing swift assistance. By implementing this module, you'll create a seamless and interactive experience that leads to happier customers and increased sales. Give it a try and take your customer service to the next level!
ii) Product Advertisement
Boost your earnings by offering vendors the chance to showcase their top-selling or exclusive products through a site-wide, customizable advertisement. You have the flexibility to handpick specific vendors or items to feature, ensuring maximum exposure.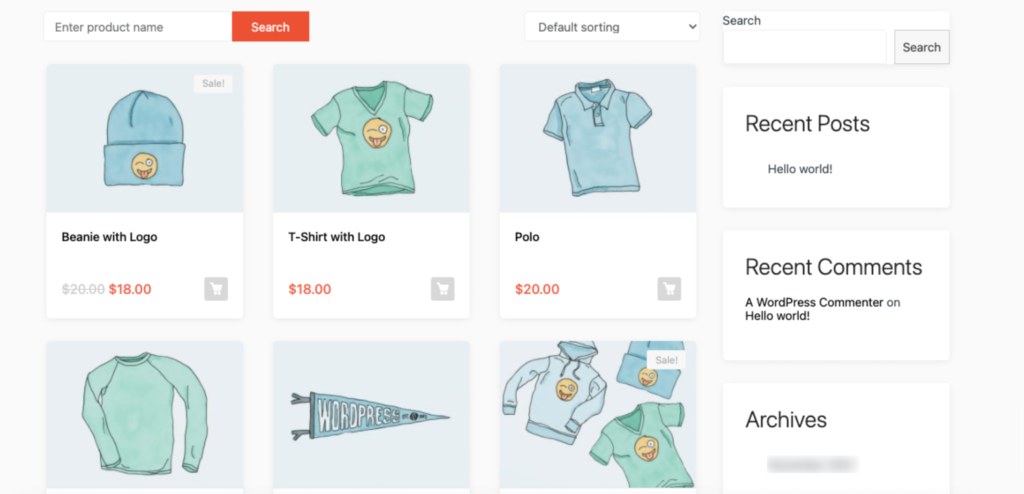 It's a win-win situation: vendors get increased visibility, and you earn more from their promotions. Customize the ad to seamlessly blend with your site's design, creating a cohesive and eye-catching display. So, why wait? Empower your vendors and enhance your profits with our Product Advertisement Module. Start showcasing their best offerings today!
Also Read: Dokan Product Advertising- Easy Way to Highlight Your Best Seller Products on Your Marketplace
iii) Vendor Analytics
Empower your vendors with detailed store analytics right on the frontend. Our user-friendly interface allows vendors to effortlessly access and analyze key metrics for their stores. With valuable insights at their fingertips, vendors can make informed decisions to enhance their performance.
From tracking sales trends to monitoring customer behavior, our Vendor Analytics Module provides the data-driven tools necessary for vendors to thrive. Say goodbye to guesswork and hello to data-driven success for your vendors. Help them unlock their full potential with our comprehensive analytics solution today.
iv) Seller Badge
Recognize and celebrate the accomplishments of your marketplace vendors effortlessly with Seller Badges. As a marketplace owner, it can be challenging to distinguish and manually grant vendors the credibility they deserve.

However, our innovative Seller Badge feature simplifies this task. Admins can easily create conditions and automate the process of highlighting vendors based on their marketplace activity. Whether it's for exceptional sales, positive customer feedback, or other noteworthy achievements, Seller Badges provide a seamless way to make vendors stand out.
v) Stripe Connect
Take advantage of Stripe's renowned low fees and streamline your payment process. With our Stripe Connect Module, you can effortlessly handle all your payments in real-time, ensuring quick and efficient transactions.
Say goodbye to manual processing and embrace the automation provided by Stripe. Plus, with Stripe's competitive fees, you can keep more of your hard-earned money. Make the most of Stripe's powerful capabilities and enjoy hassle-free payments for your business.
How to Create a Car Auction Marketplace – Key Takeaways
Congratulations! You've now reached the end of our guide on creating a car auction marketplace using WordPress. Let's recap the key takeaways from our journey:
Then, configure the general settings of the plugin to align with your specific requirements. Next, enable and fine-tune the Dokan Auction Module, which adds a dynamic and engaging auction feature to your marketplace.
To create a visually appealing and user-friendly experience, carefully select a WordPress theme tailored to car auctions. Customize it to reflect your brand and attract potential buyers.
Now, it's time to set up your admin shop and start uploading the auction products. Make sure to curate a diverse and enticing collection that appeals to a wide range of car enthusiasts.
Lastly, open the doors to vendors by allowing them to sign up on your marketplace. This will foster a community of sellers and contribute to the growth and success of your platform.
Remember, building a successful car auction marketplace requires ongoing dedication, staying up-to-date with industry trends, and providing excellent customer support. With determination and the steps outlined here, you are well on your way to creating an exciting and profitable car auction marketplace using WordPress.
Do you have an interest in selling Used Cars? Check this blog & learn how to create a used car marketplace in 5 simple steps.
That being said, if you have any questions related to this blog, feel free to let us know in the comment section below. We would appreciate your effort. Thank you!