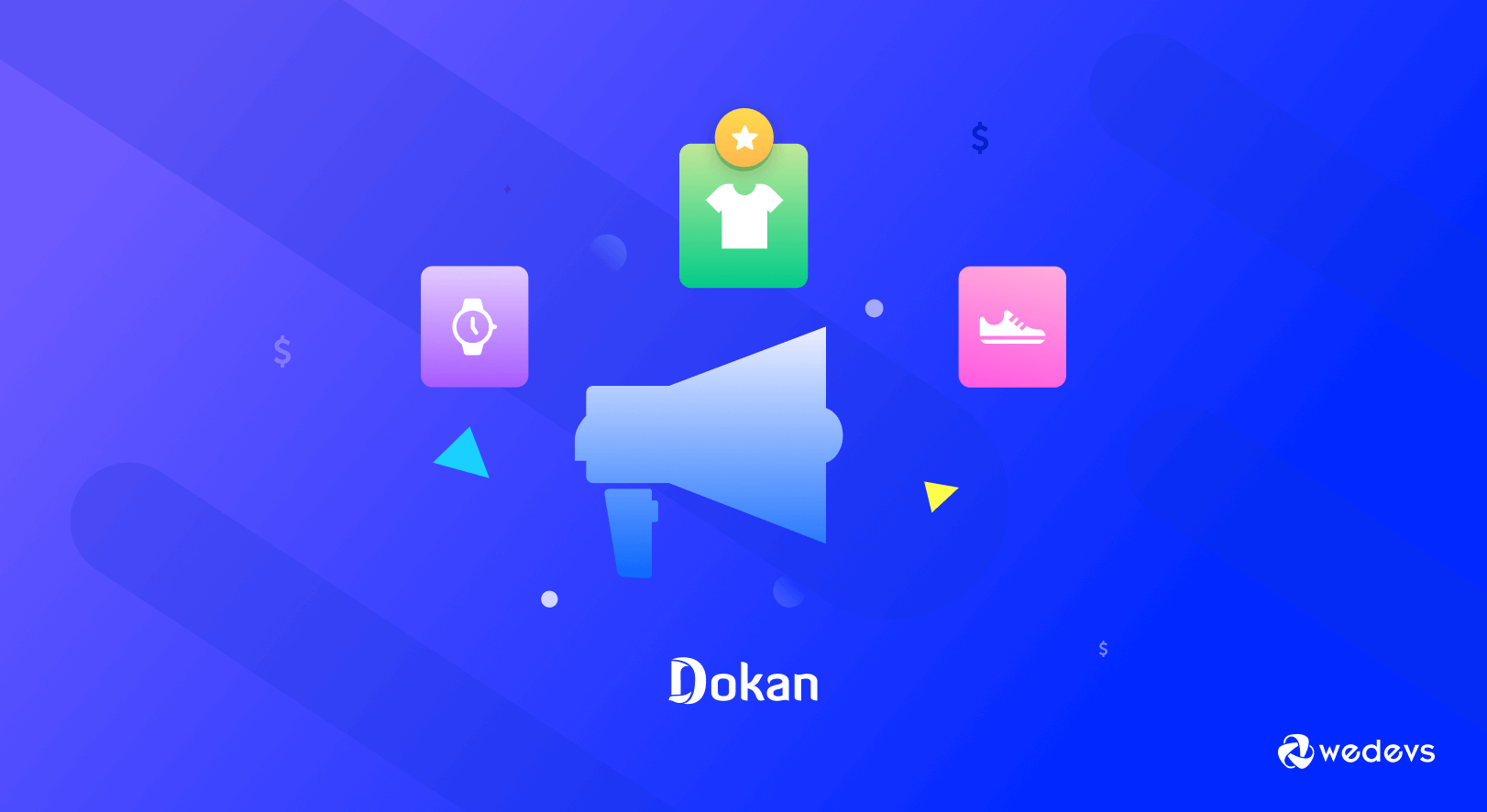 Dokan Product Advertising- Easy Way to Highlight Your Best Seller Products on Your Marketplace
Dokan is back with yet another new feature that you guys have been asking for. The all-new Dokan Product Advertising module is an innovative update to your favorite product.
As you can guess, the product advertising module lets your vendors promote their products. Where you might ask? Well, inside your website itself. Because, if your site is already getting a steady traffic flow, why not use that to your advantage?
In the following parts of this blog, we will introduce you to the Dokan Product Advertisement Module. We'll also show you how to advertise in the marketplace using this latest addition from Dokan Multivendor Plugin. Let's get started.
Dokan Product Module – A Great Way to Promote Vendors Product within Marketplace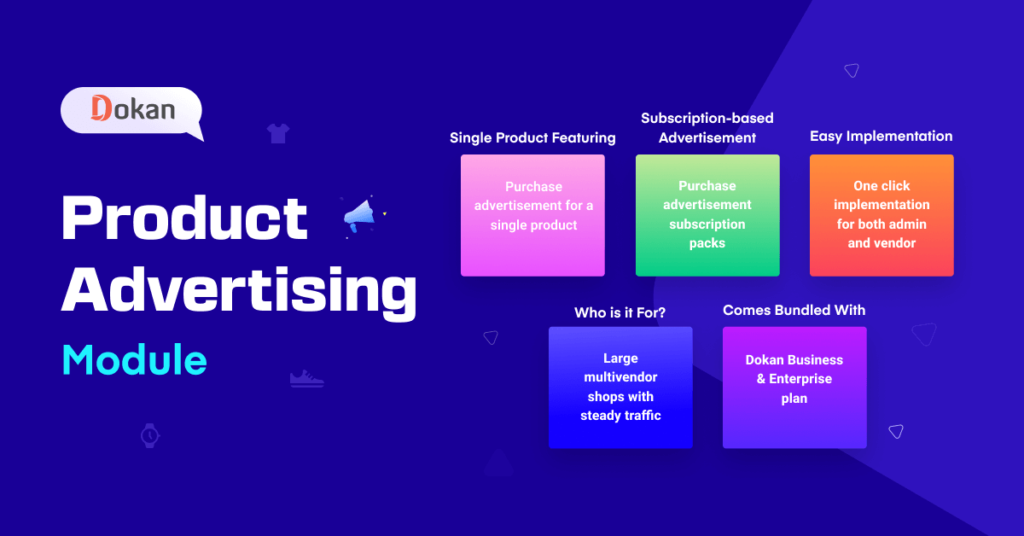 As an online marketplace seller, you can't rely on word-of-mouth to generate sales, unlike your offline counterparts. You have to proactively promote your products, making consumers aware that they exist.
Advertisements influence 90% of consumers in their purchasing decisions, and 44 percent f consumers said they had purchased a product after seeing an ad.
Dokan Product Advertising module brings unique opportunities for promoting products, in a way that both multivendor admins and vendors benefit. With the new feature, the vendors can advertise products in the marketplace and reach more people. At the same time, the admin can also earn some money by charging the vendor by letting them do so. This module comes packed with the Business and Enterprise plan of Dokan.
Dokan product module is part of our continuous effort to help the admins and vendors to increase their product visibility and profit.
This highly anticipated module brings useful features such as –
Offering special vendor subscriptions that allows vendor to feature product.
Allow featuring single product without subscription.
Easy to enable or disable the advertisement.
Now it is time for us to show you how to use this module.

How to Use Dokan Product Module In Your Marketplace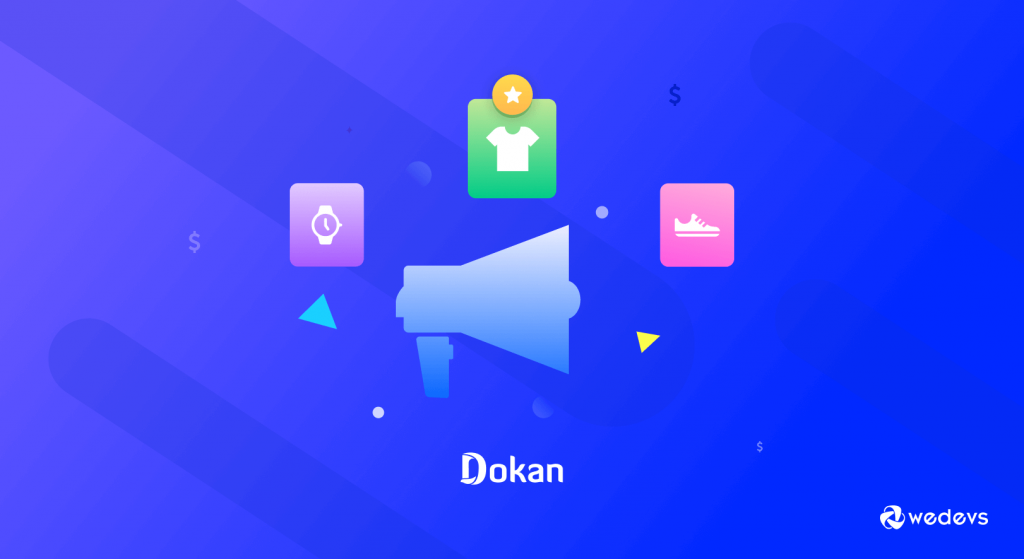 Using the Dokan Product Module is very easy, to say the least. Vendors can either purchase advertising with one-time fee or buy advertising through subscription. We will show you both the ways-
Method1: Purchasing Advertising with One Time Fee
Method2: Purchasing Advertising with Subscription
At first, you need to set up the product advertising module of Dokan-
Step1: Enabling Product Advertising Module
The first step is to enable the product advertising module. In order to do that, go to WP Admin Dashboard > Dokan > Modules. After that activate the module Product Advertising.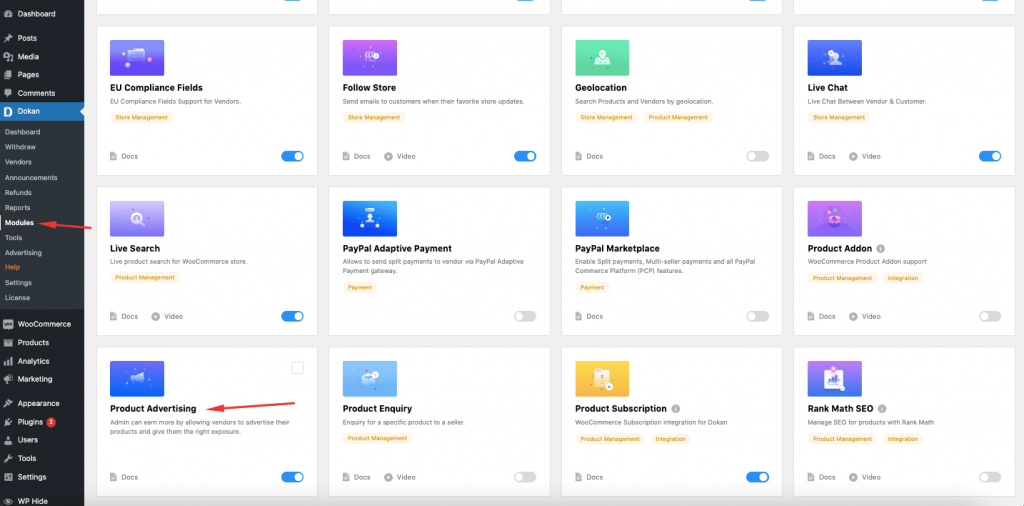 Step2: Setting up the Configuration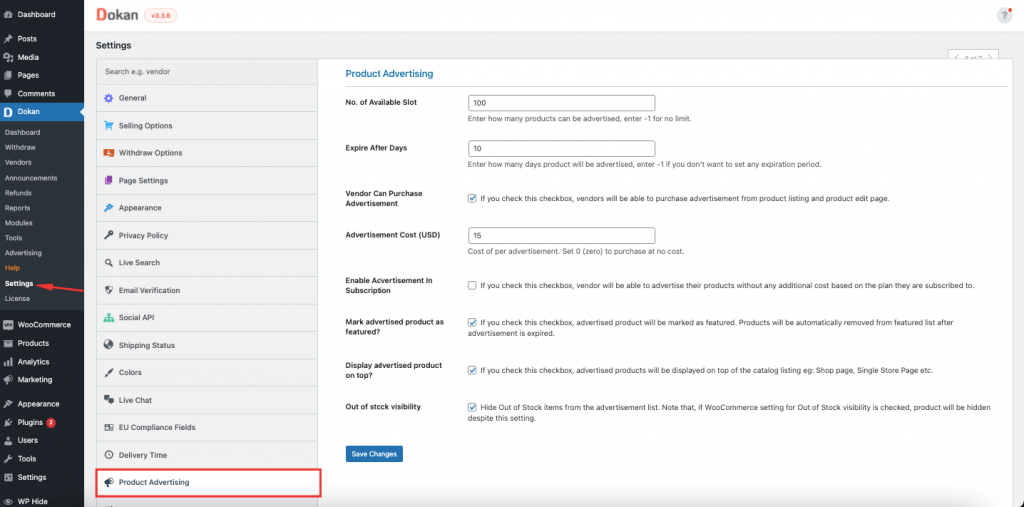 Now a new option will be created in the Dokan settings called Product Advertising. To configure this setting, navigate to Dokan > Settings > Product Advertising.
Below are the options you will find in the Product Advertising settings.
No. of available slot option will help the admin determine how many products can be advertised.
Expire After Days option to determine how many days the product can be advertised. -1 will let you set unlimited validity.
Vendor Can Purchase Advertisement option to allow vendors to purchase advertisements from product listing and product edit page.
Advertisement Cost option to set the cost per advertisement.
Enable Advertisement In Subscription option to enable or disable subscription-based advertisement and no additional charge per product.
Mark advertised product as featured option to add a featured icon on the advertised product.
Display advertised product on top option to display advertised product on top of the catalogue listing pages.
Out of stock visibility option to set if Out of Stock items will still be displayed or not on the advertisement list.
Method1: Purchasing Advertising with One Time Fee
The next step is to purchase the advertisement. Both admin and vendors can purchase the advertisement. Below we will share how to purchase advertisements as an admin and as a vendor. We will also share how to delete, expire or filter advertisements.
1. Purchasing Advertisement as an Admin
To add an advertisement as an admin, navigate to WP Admin Dashboard > Dokan > Advertising. Now click on Add New Advertising.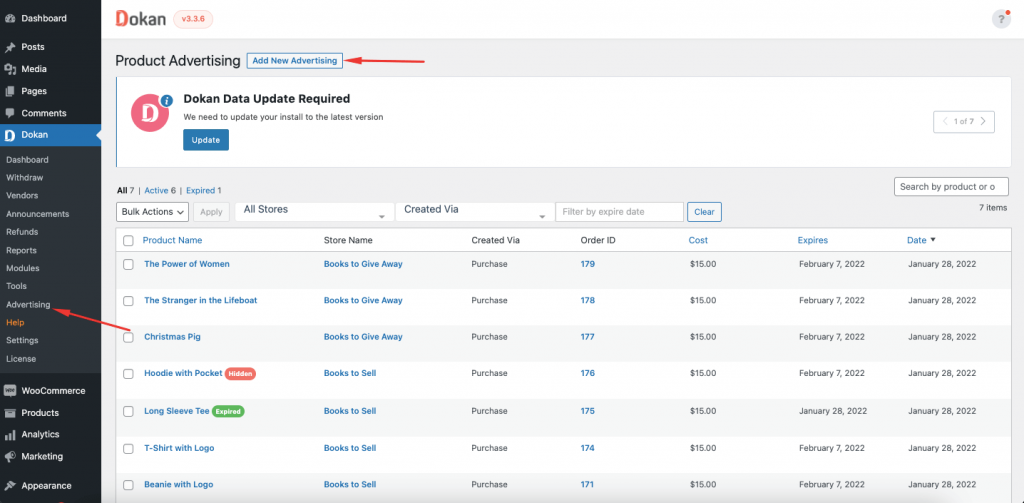 A pop up will appear, which should let you select the store and the specific product of that store that you want to advertise and click on Add New.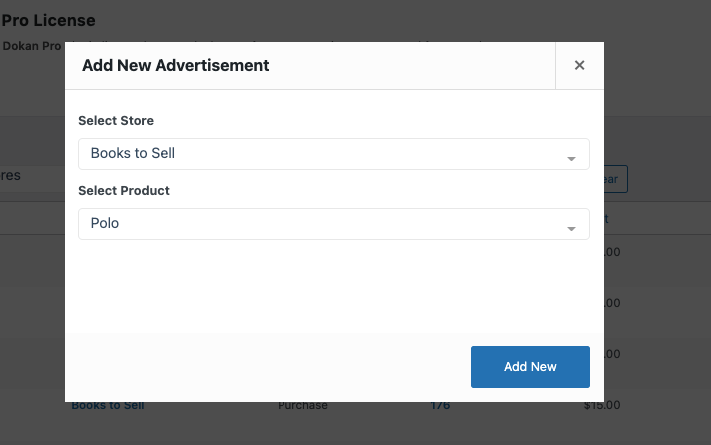 If that store has an available slot for advertisement, then the advertisement will be active immediately. And you will see the successful advertisement popup.
However, if the store already has its slot full, an error message like the below will appear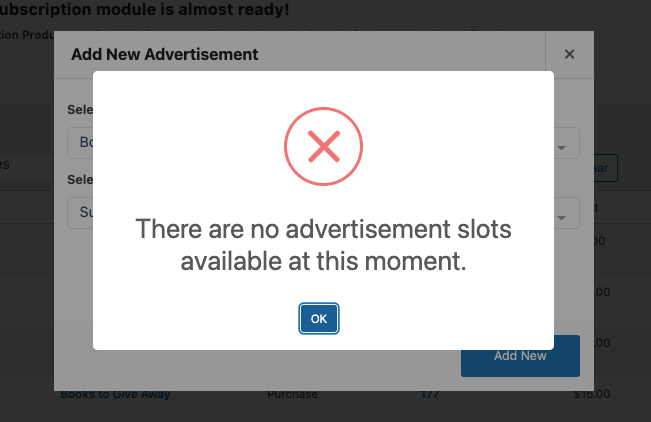 One more thing about purchasing advertisements as an admin is that, there will be no Advertisement Cost option. Thus, the admin can set an advertisement for free.
2. Purchasing Advertisement as a Vendor
In order for the vendors to purchase advertisements for their store, the admin needs to enable the "Vendor can purchase advertisement" option.

Now, the vendor has to find and choose the product that he wants to advertise from Vendor Dashboard > Products, an icon like the below image will appear alongside all the products.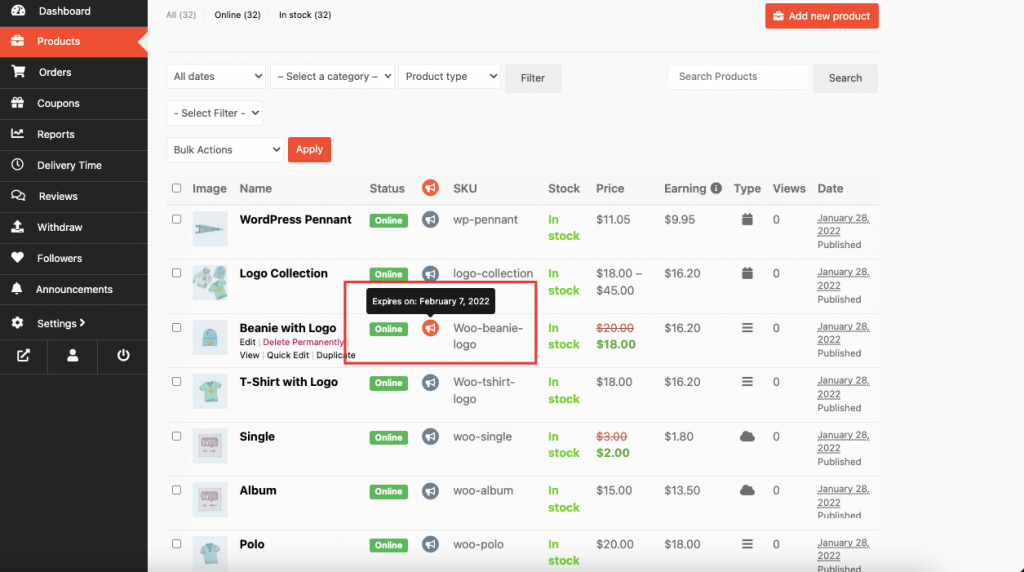 If the vendor clicks on the advertising icon, a pop-up window will be generated which will where show all the necessary details including purchase fee, number of available slots for advertising and the validity of the advertisement. If the vendor is okay with the pricing and validity, they can click on OK to add the advertisement to the cart.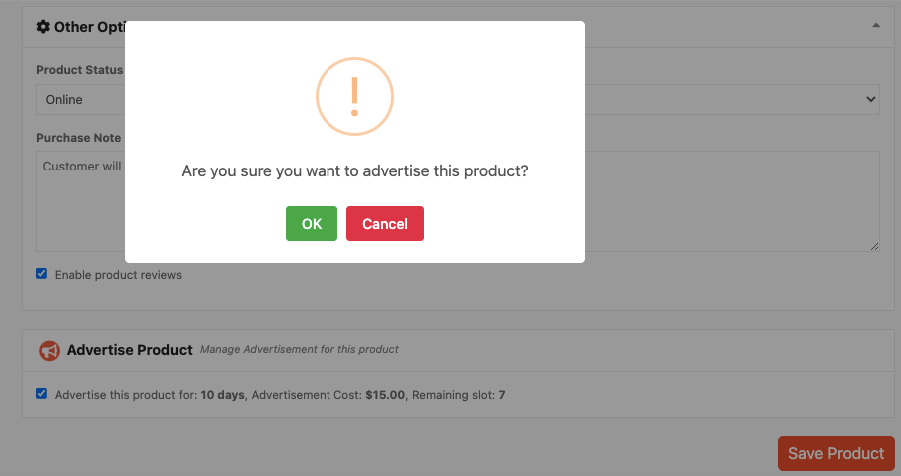 Once the advertisement is on the shopping cart, the vendor will be redirected to the checkout page to confirm the purchase of the advertisement.
3. Deleting & Expiring Advertisement
Admin can expire any advertisement at any time. Or else they can also simply delete the advertisement even before the expiry date.
To do both, the admin needs to navigate to Dokan > Advertising.

You can check more details of the process of purchasing advertisements from the product page and product edit page from our product advertising module documentation.
Method2: Purchasing Advertising with Subscription
Vendors can also purchase advertisements with subscription payment. In that way, they don't have to select any product individually and pay for advertising that specific product. Instead, they can purchase a subscription with multiple advertising slots.
For that, first, the admin needs to enable the option Enable Advertisement In Subscription option.

After that, the admin will have to set the price per product advertisement, number of product to be advertised, number of advertisement slots and expiry time, and other settings in the Subscription Pack that is created.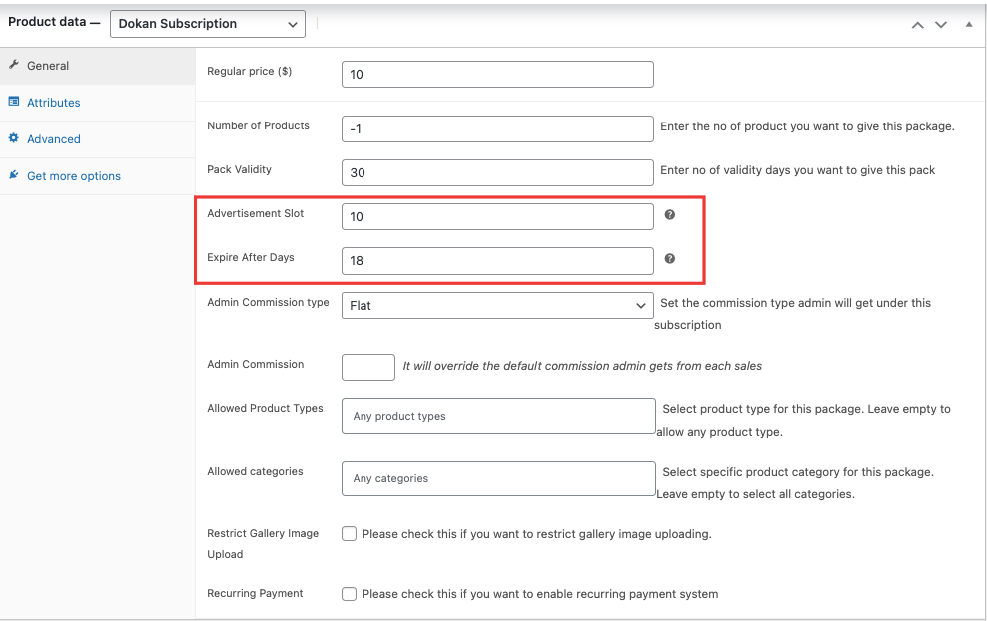 The vendors can purchase advertisements with a subscription soon after the admin allows the option. To do that, vendors should navigate to the Vendor Dashboard > Products again, and click on the advertisement icon which can be found alongside the product.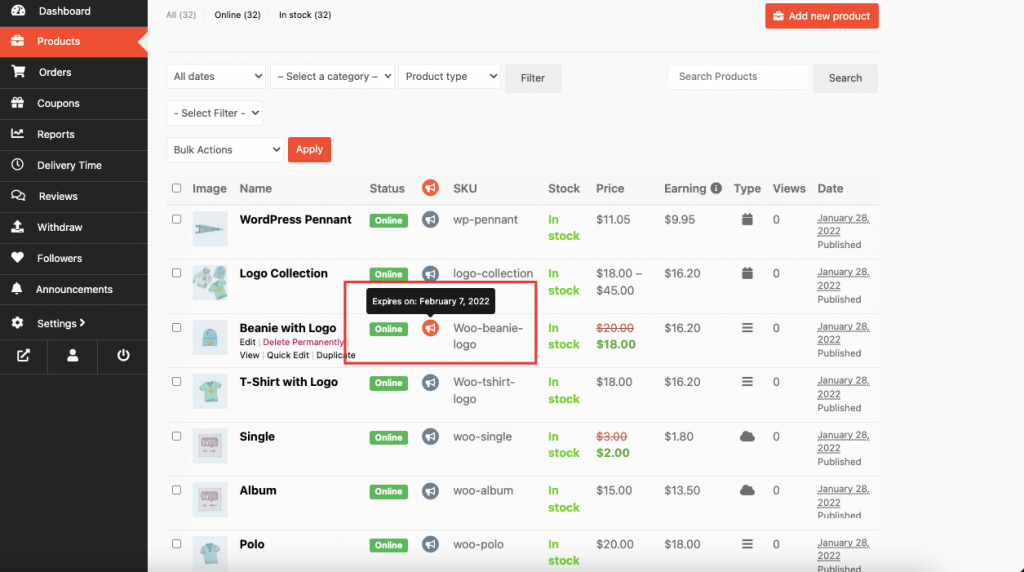 However, unlike before, now the vendor will see something like the below image showing the remaining slot and expiry date. Clicking on the OK button will activate the ad.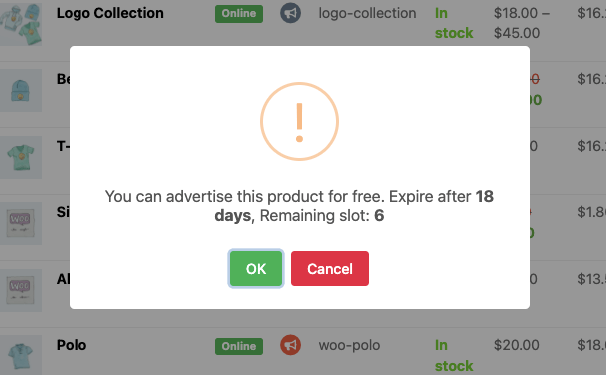 How the Advertised Products Will Be Displayed on the Frontend
Now, you may be wondering how the advertised products are displayed. Well, As advertised products will actually be displayed on top of the catalog listing pages – 1. Shop page, 2. Single Store Page.
Here's how the advertised product looks from the shop page.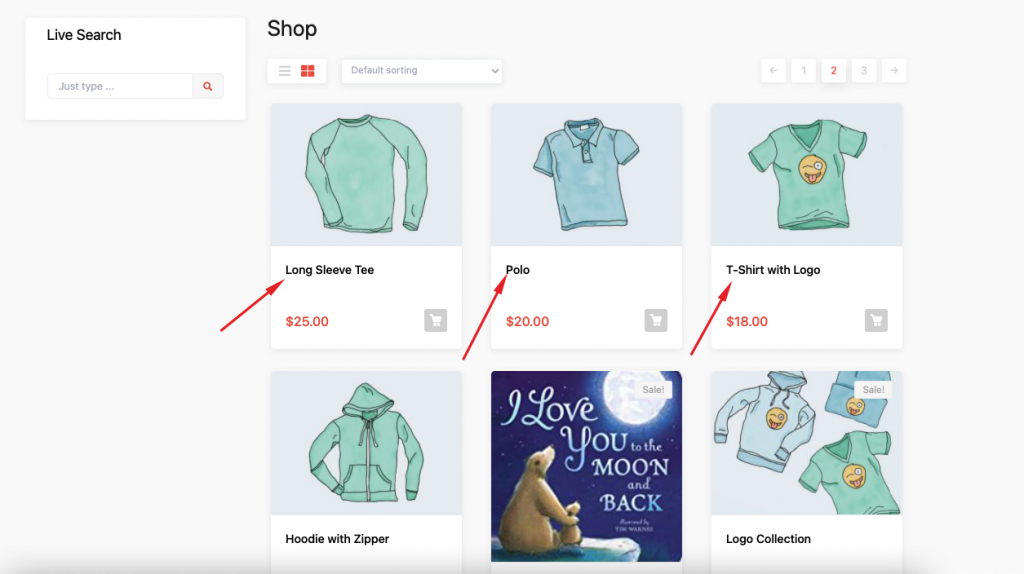 And here's how it looks from the single store page.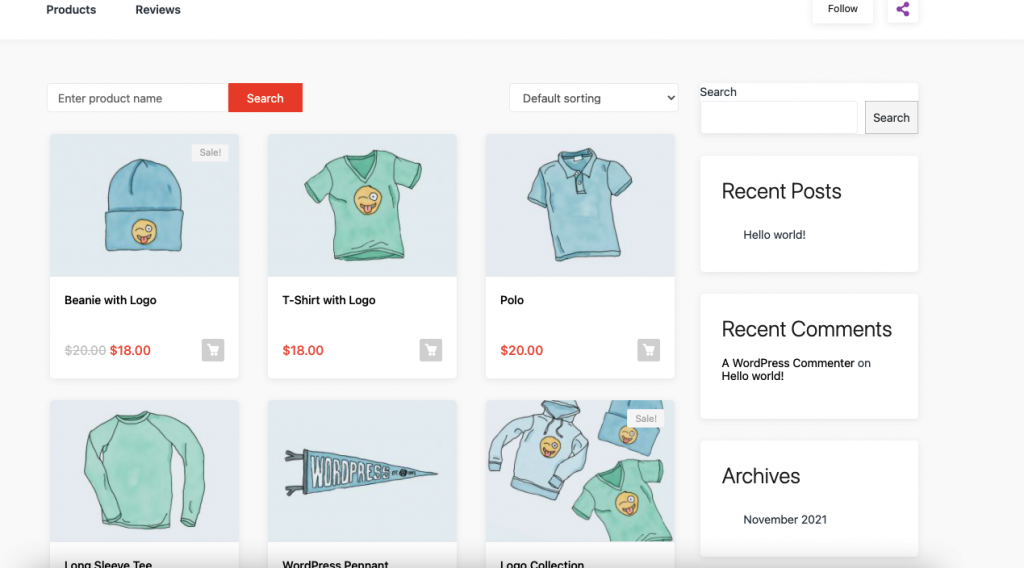 Advertise Your Product & Increase Your Profit Margins
No matter how great a product is, you can not sell it without any kind of promotion. One of the best ways to promote your products is to advertise them. In fact, advertising is a crucial step for any business in today's competitive world. Advertising plays a significant role in eCommerce marketing.
If you're thinking about how to advertise in marketplace and give your vendors a more effective way of advertising within the marketplace, we hope the Product Advertising module from your favorite marketplace plugin Dokan is an excellent solution.
With this great feature, you can give your vendors the option to highlight their hot selling products or unique products within the site as a customizable ad. This will help the vendors to increase their sales, while also giving you, as an admin, a chance to earn some extra bucks.