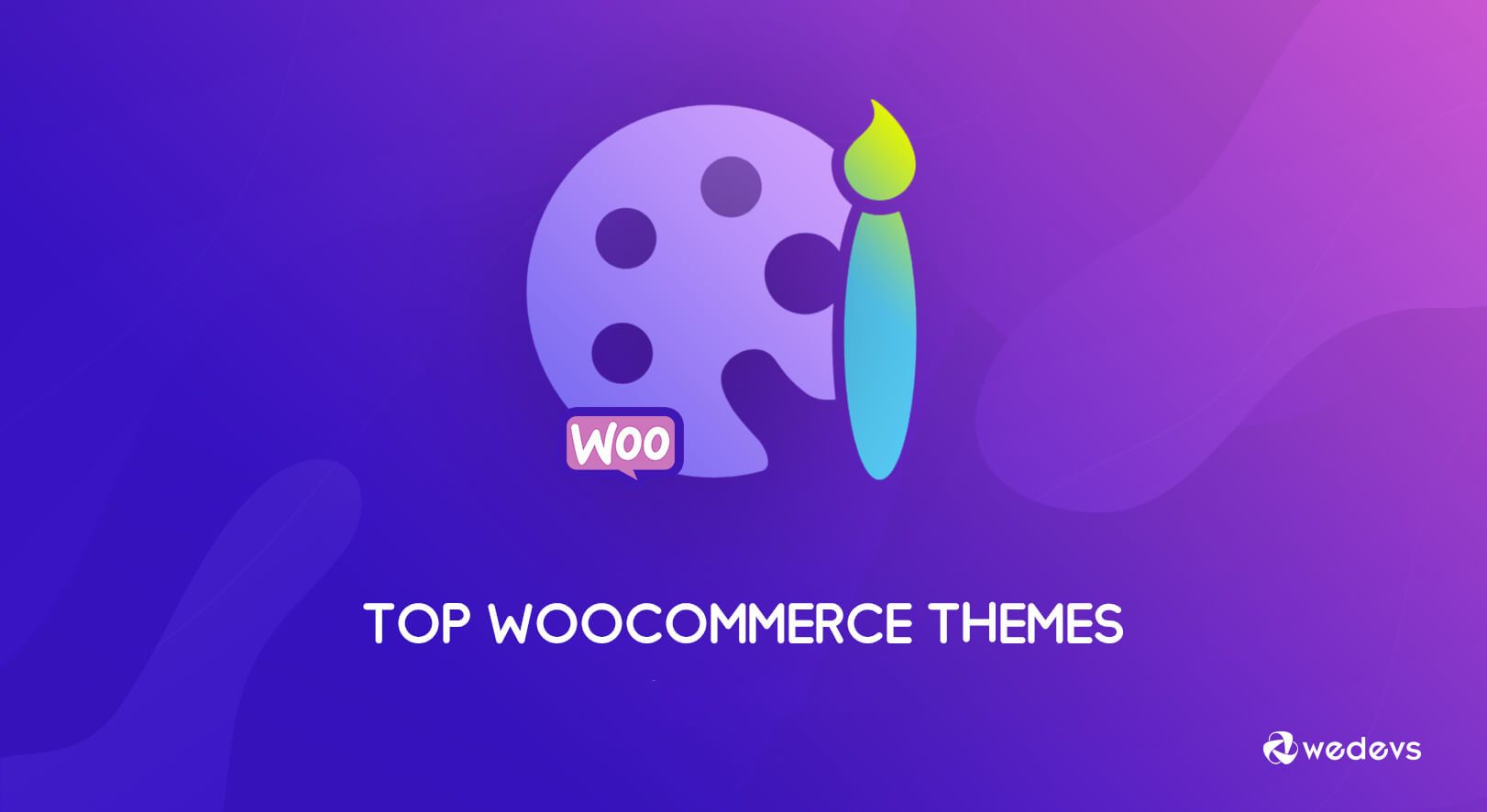 20 Top Responsive WooCommerce Themes to Use in 2023
WooCommerce and WordPress is the most effective pair when you are planning to run your e-commerce business smoothly. According to the most recent stats of barn2 media, 5.3% of the top million websites are on WooCommerce.
Considering its immense popularity, today we decided to heap up the best responsive WooCommerce themes in 2023 before you.
Best Responsive WooCommerce Themes in 2023
How long my visitors will stay on my site is something that depends largely on themes. So be it a clothing store or online magazine, themes play a crucial roll in here. As a user you have to choose the theme really carefully.
You have to consider its responsiveness, flexibility, pricing, and compatibility with other features. Keeping all these in mind we are presenting themes before you that can be taken as Best WooCommerce Themes 2023.
1. StoreFront
First of all, StoreFront is easy to set up as WooCommerce developers themselves have built this theme up. Consequently, StoreFront works along with other WooCommerce integration and extensions.
There is this facility that it can work as a parent theme to other smaller themes. And it has multiple layouts and customizing systems that you can use.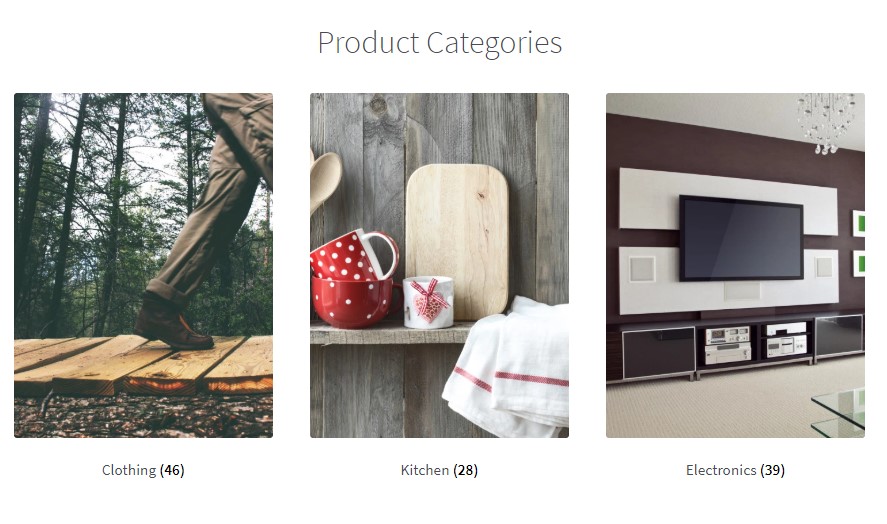 2. Neto
Neto is popular for its transforming power of turning a website into a superstore. Its responsive design makes it more acceptable to users.
Customizing options are endless and you can edit each and every corner of your store. Its drag and drop facility make these customizations easy.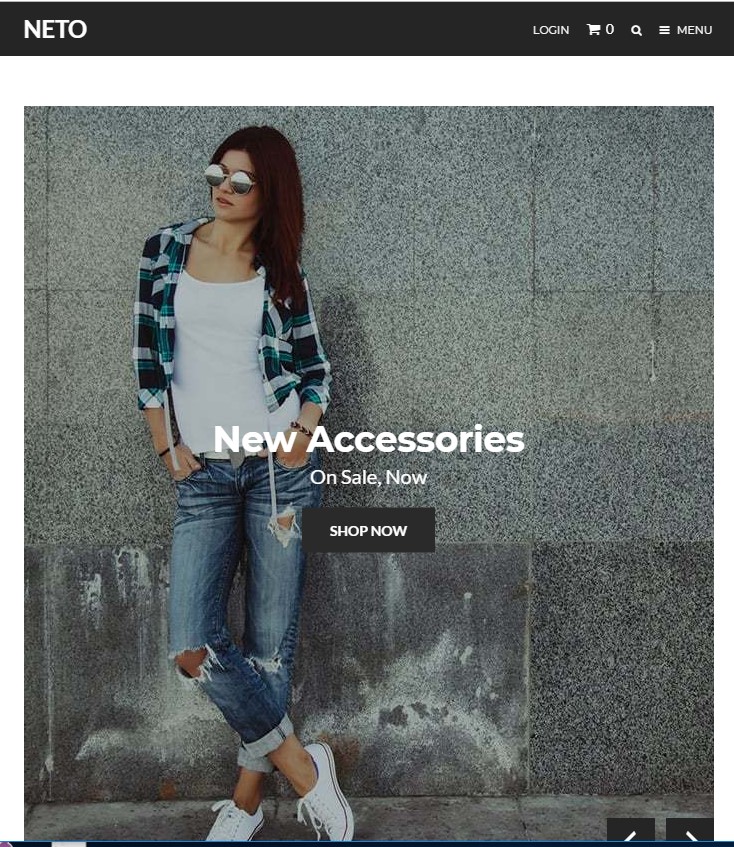 3. Leto
If you want to make your WooCommerce site lucrative with a Banner Image or with a Banner Video then you should try this Leto WooCommerce Theme. It comes with so many useful widgets that help you to decorate your Home Page.
Moreover, you can choose your favorite fonts from the Google Fonts integration with Leto Theme. It has a full localization facility which means you can translate your site in your native language. It has both free & pro features along with live customer support.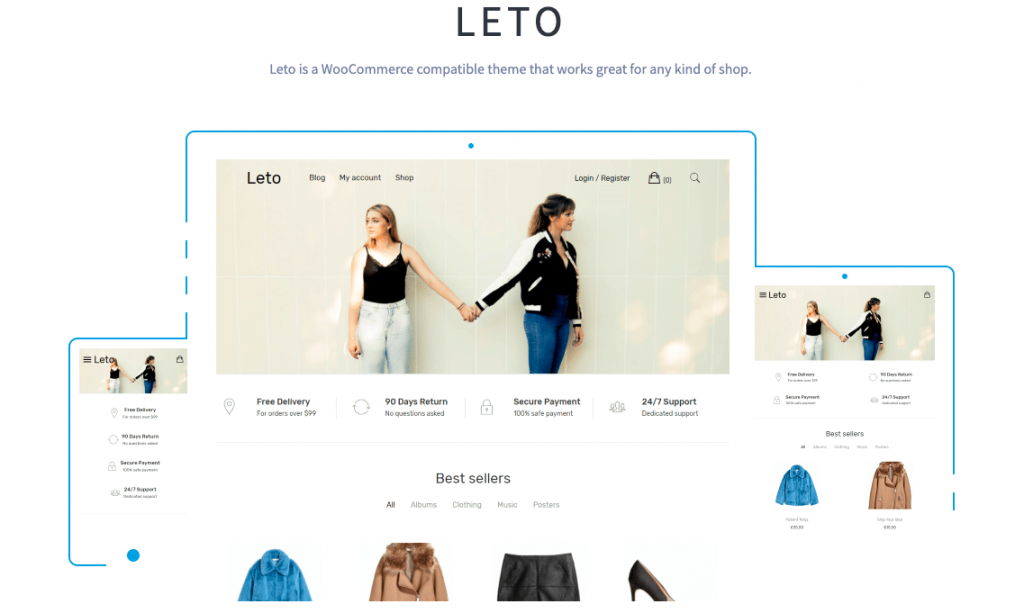 4. Shoptimizer
Are you in trouble with your eCommerce site speed? Then you can try the Shoptimizer theme. It's the fastest eCommerce theme out there. In GTmetrix, it's scored 96% Speed Grade. You will be benefited by its SEO optimization facility.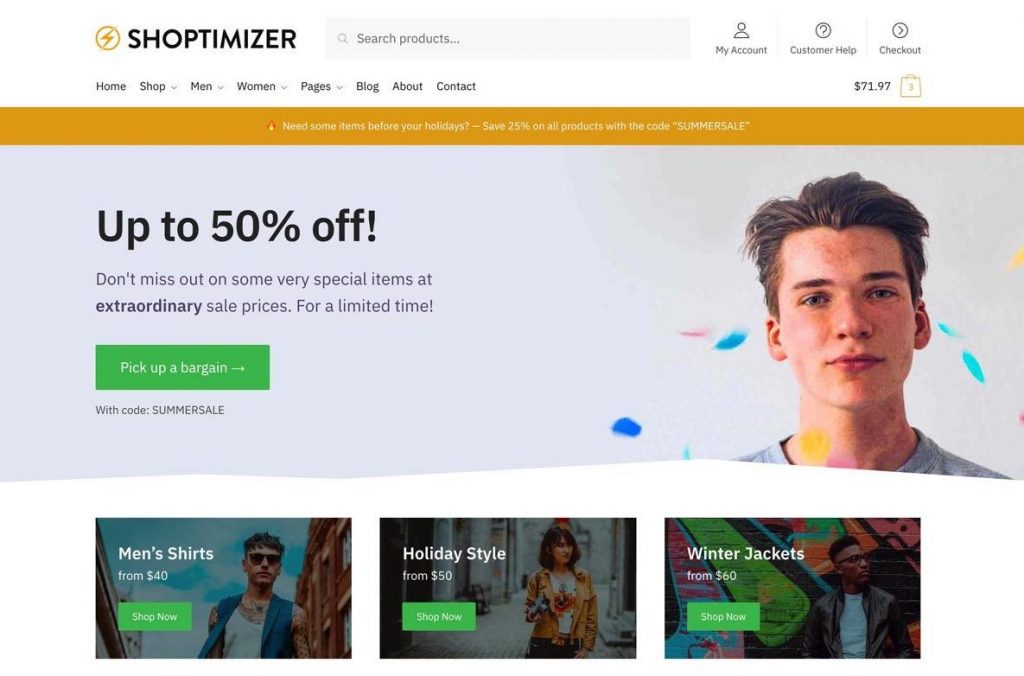 Your Users will enjoy Distraction-free Checkout. Although Shoptimizer's demo data utilizes Elementor, it also works with other major page builders! But they have no free version. You can try the demo from here.
5. Tonda
Tonda is a flawlessly designed, sophisticated WooCommerce theme, perfect for selling precious items and crafts. With a great selection of elegant, clean layouts and beautifully designed inner pages, Tonda is sure to make your products shine in all their glory.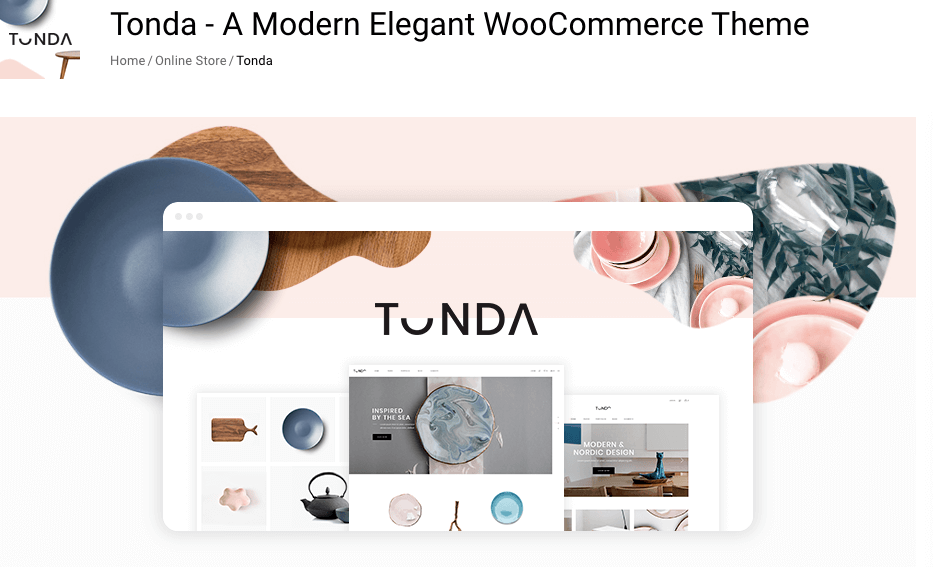 But this eCommerce theme is more than just a gorgeous piece of design: it also packs some truly powerful and unique features to help users set up a functional shop and provide a smooth, streamlined shopping experience.
6. Tyche
Tyche is a popular free WooCommerce theme created by team Colorlib. More than 4,000 e-commerce sites running their business with it. They are updating the theme on a regular basis and also provide support for any issue.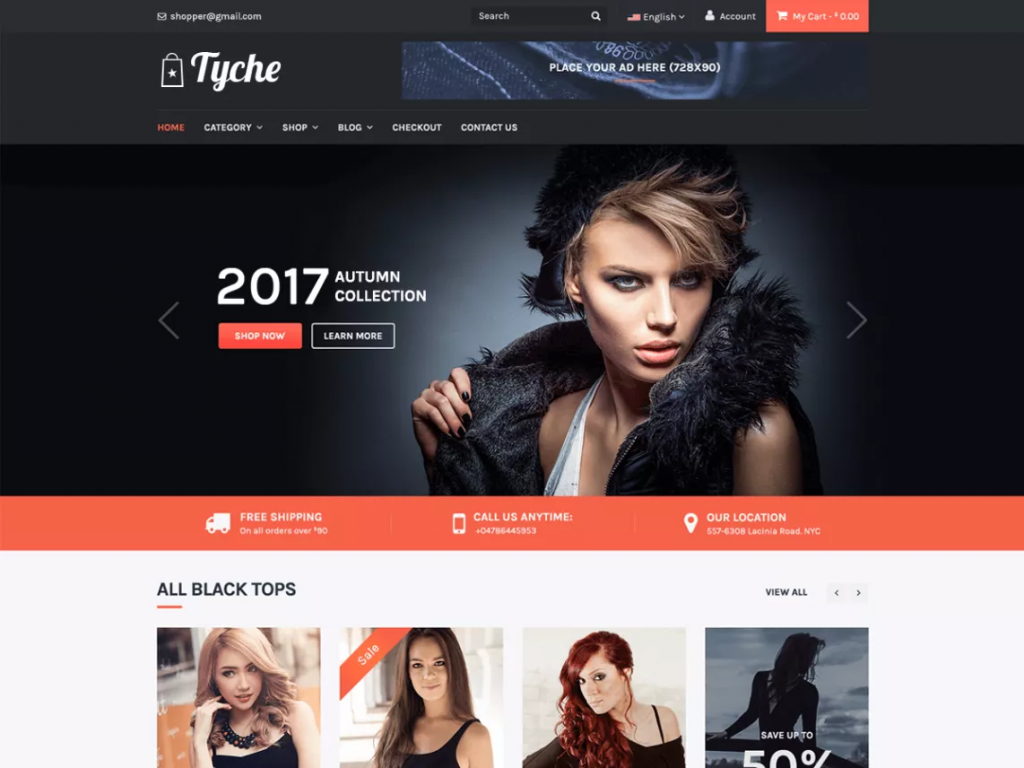 If you have any doubts about their work you can then check their 5-star reviews on the WordPress Theme Directory. They earned a 4.5 rating which definitely proves how they are popular in the community. You will get the detail documentation and demo for this theme from here.
7. Hestia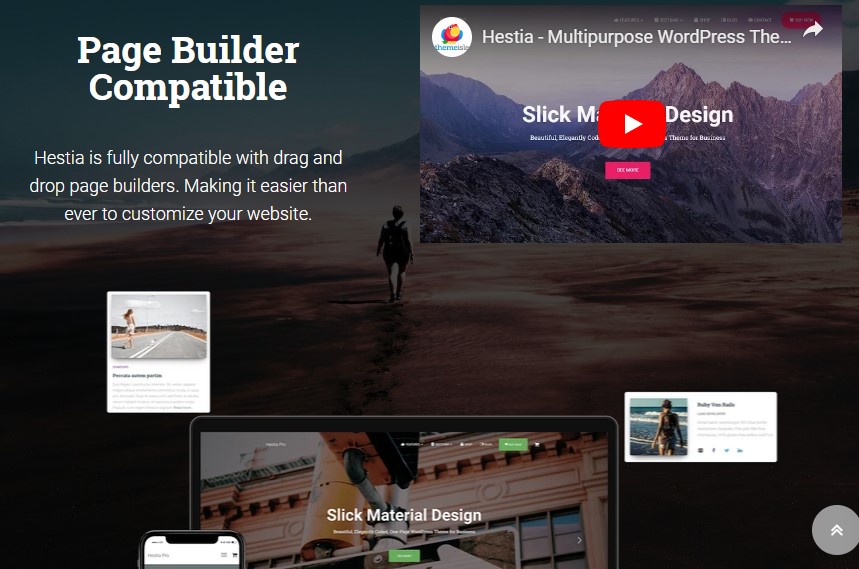 Hestia is a free WordPress theme with premium features in it. This WooCommerce compatible theme help users ornate their online shop with multiple layouts. This theme has unlimited colors and one important feature of modern time, "social media icon" is also in this theme.
8. eStore
WooCommerce has many free themes for users. eStore is one of the most famous among the free themes. And it can work in collaboration with WooCommerce extensions.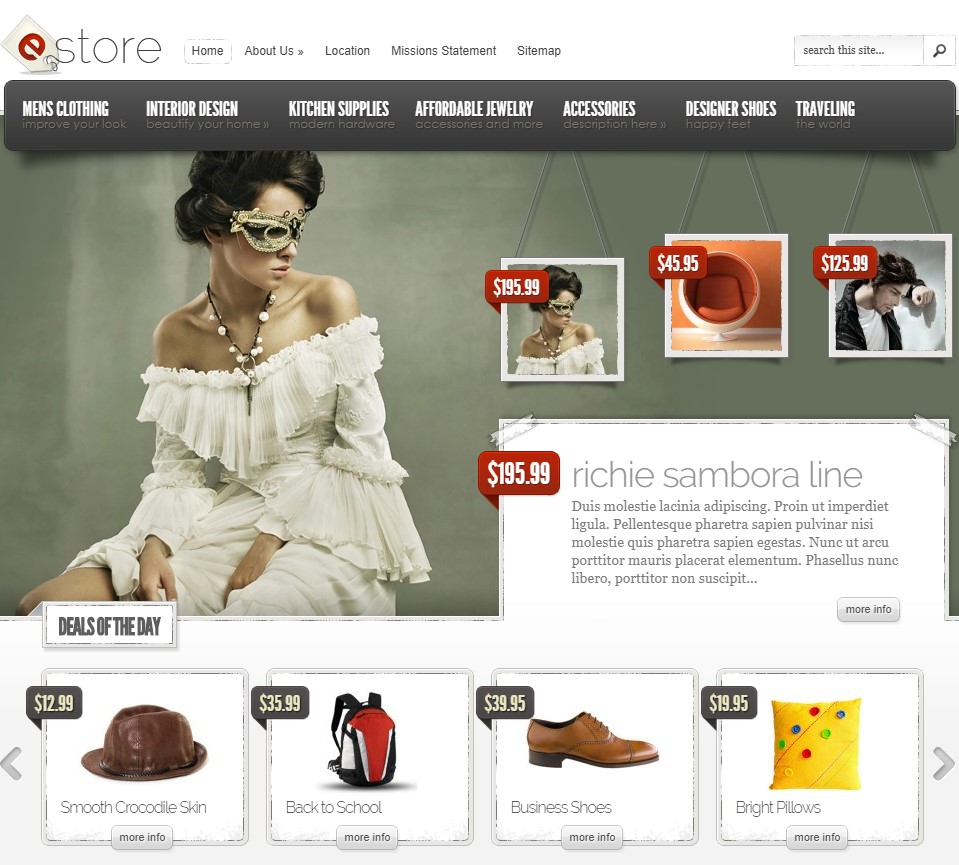 Building an online store using the eStore theme is really easy as it has enriched features and customizable widgets to design your store.
9. ShopIsle
Shop Isle is most attractive for its parallax effect. This is a free WooCommerce compatible WordPress theme.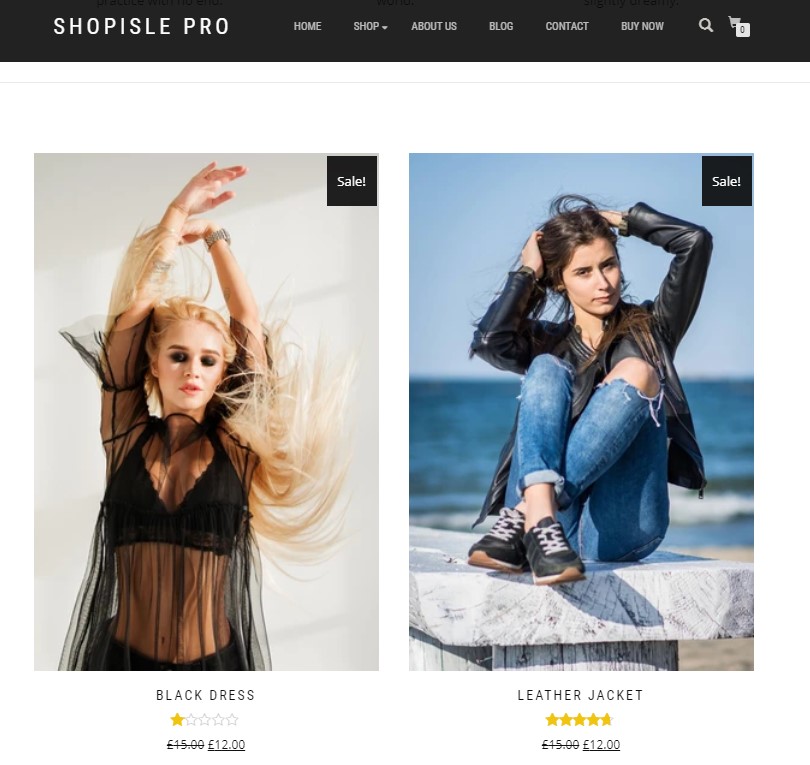 Its large product image pattern attracts visitors in the first place.
10. ShopKeeper
ShopKeeper is a theme for professionals. So, it is the right choice for you if you are to set a shop of your own. Its functionality is varied. WooCommerce integration, responsiveness, organized blogging layout are its specialty.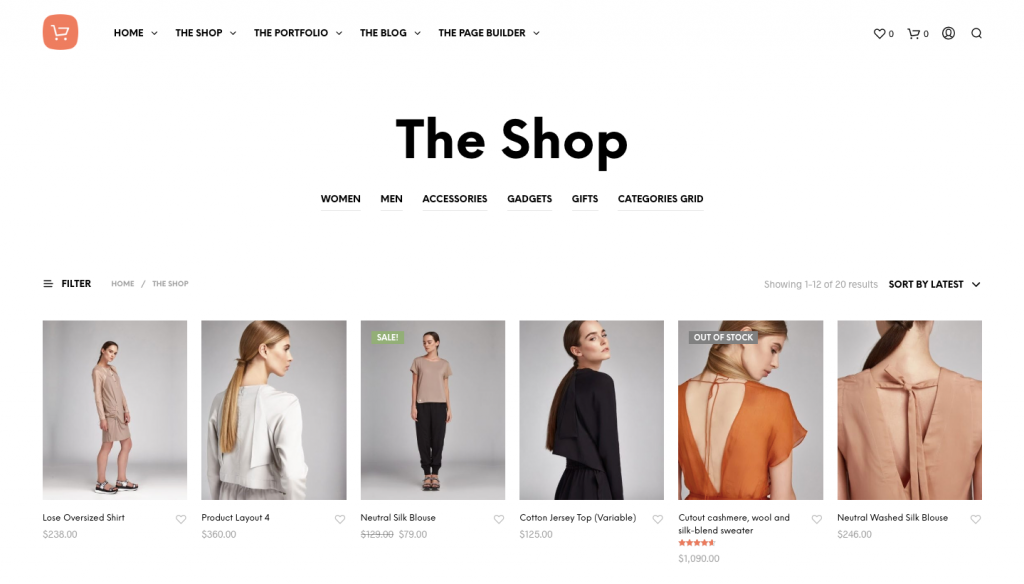 11. Hugo
Hugo is a WordPress based WooCommerce theme. Its especially lies in three optional page builder facility. As a user, you can use any one of them to design your layout and format.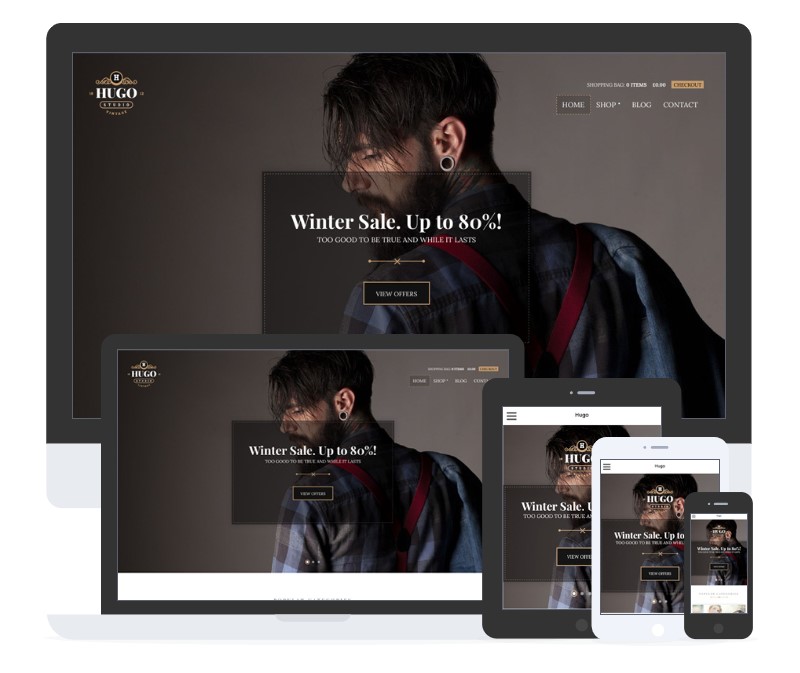 This theme targets the bigger high profile business. This includes separate widgets for social media and contact info.
12. Beauty Salon
Beauty Salon is a high quality, simple, and clean template that is built with Warp Framework. It is also built with a number of CSS3 effects which are supported on all modern browsers. It's also possible to use one template for different websites.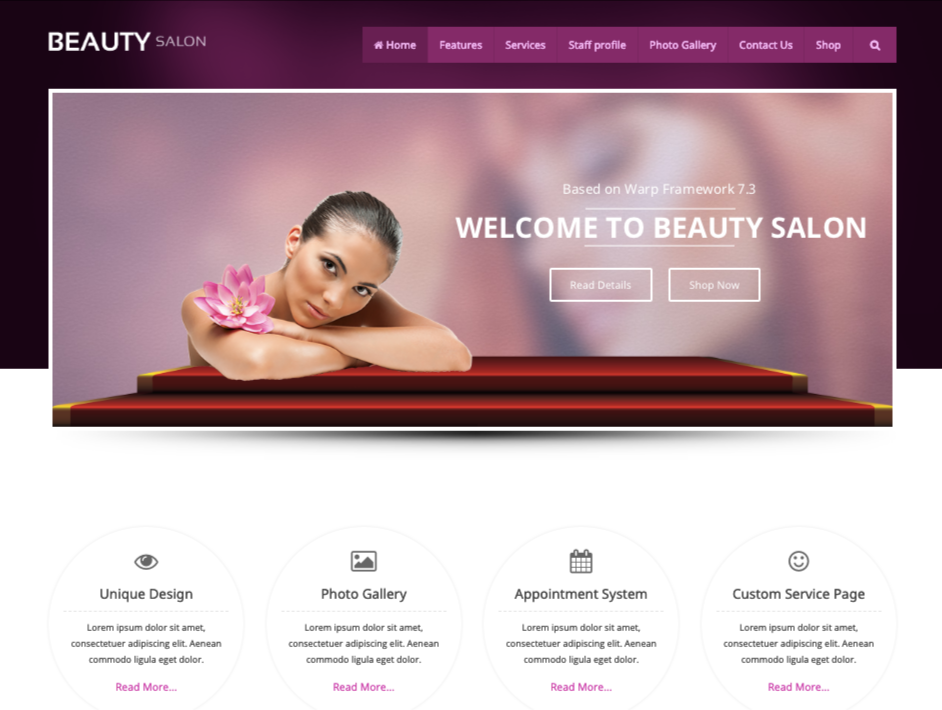 This theme also provides a good number of customizability features for the admin so as to make the design unique. This template is a good fit for the message and therapy website and spa salon.
13. Woovina
Woovina is an amazing responsive WooCommerce theme aimed at building a WooCommerce store. This theme can not only be easily customized but is also search engine optimized.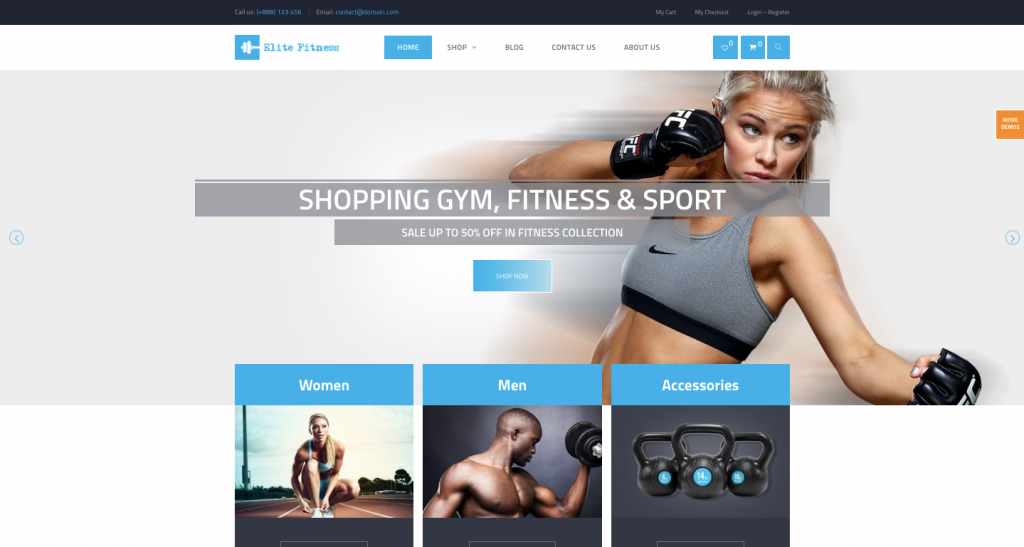 The theme creator provides great customer support and they have also detailed documentation.
14. YourStore
If you are looking for a flexible and fast-loading WooCommerce theme then YourStore is the right choice for you. You can easily create your eCommerce store effortlessly with its pixel-perfect design and user-friendly functionalities.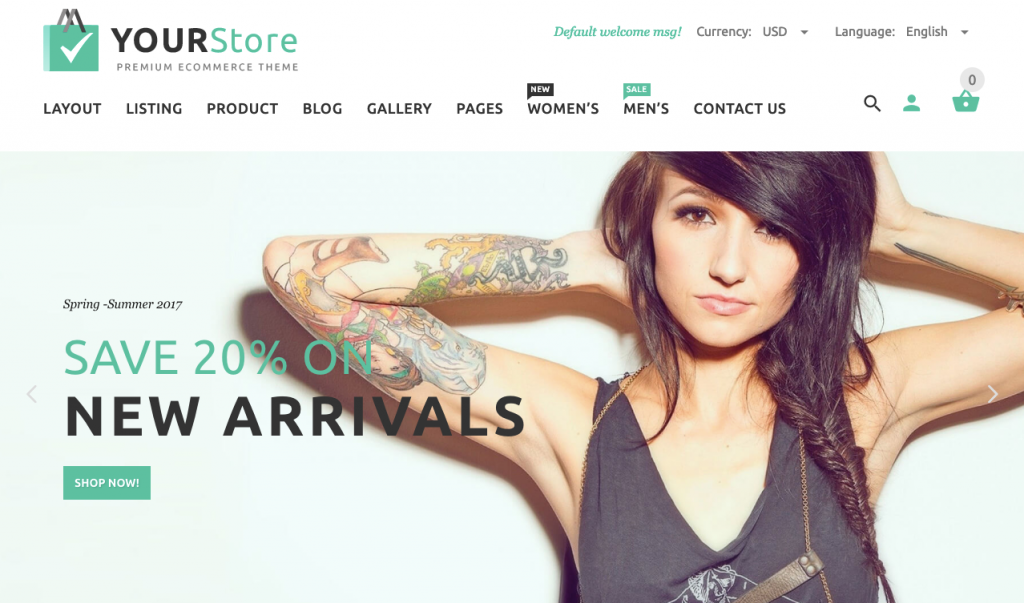 This theme is neatly coded and is scalable. So, you can extend its functionalities at ease.
15. Arcade
Arcade is a WooCommerce theme dedicated to gamers and geeks out there. People who want to set up an online store of electronics, gaming accessories can use this theme.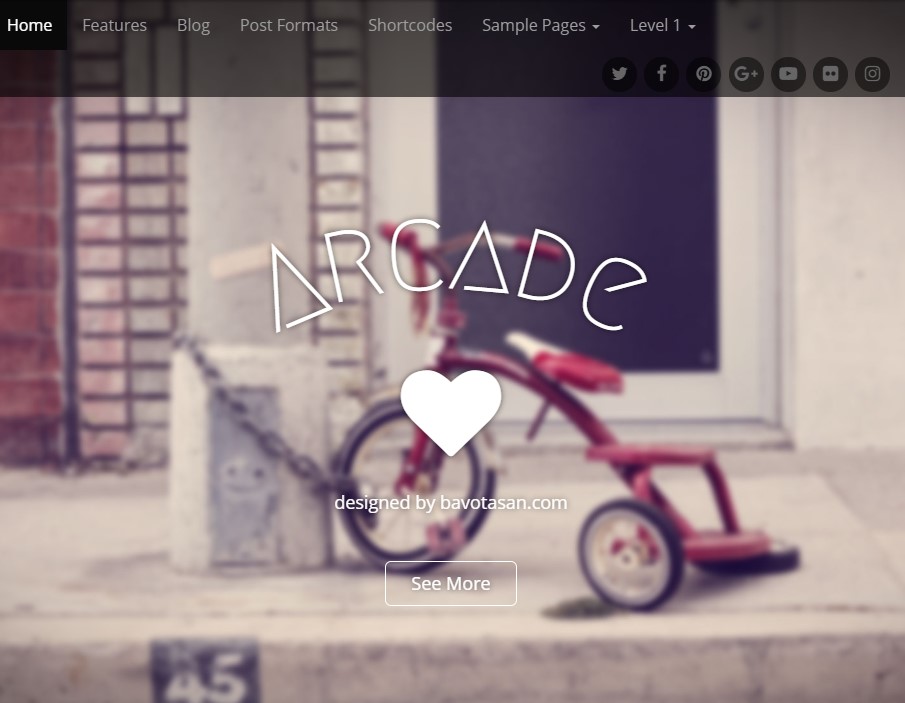 16. CupCake
Different sites should have different looks based on their purpose. Online dress shops and shoe stores won't have the same look. Again traveling sites and food blogs won't have the same layouts. CupCake is a famous theme for a dessert shop.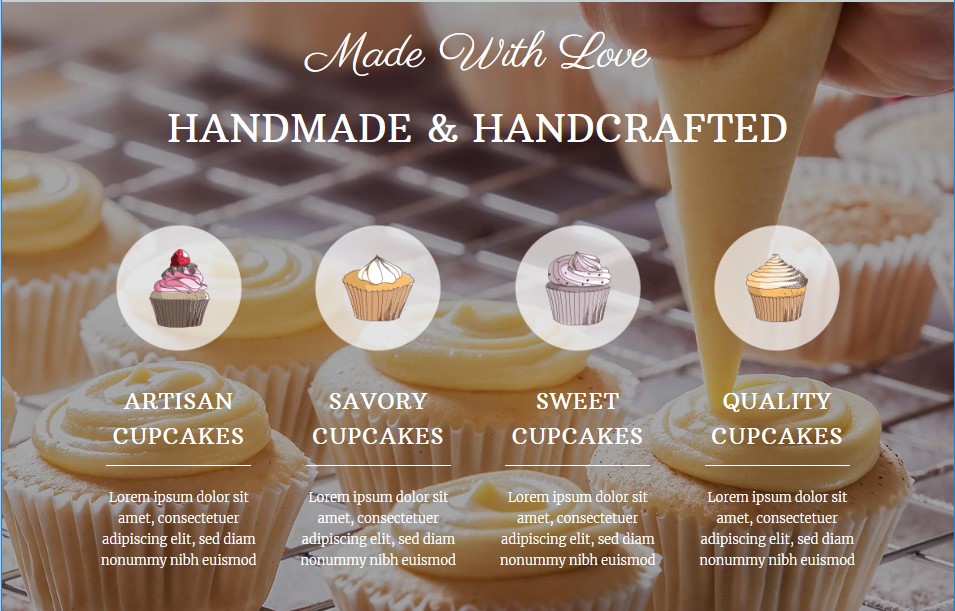 This theme is intuitive and organizes products according to demand automatically.
17. StyleShop
StyleShop has an inbuilt drag and drops feature. This makes its layout design is exclusively flexible to edit. You can create pages within a short time.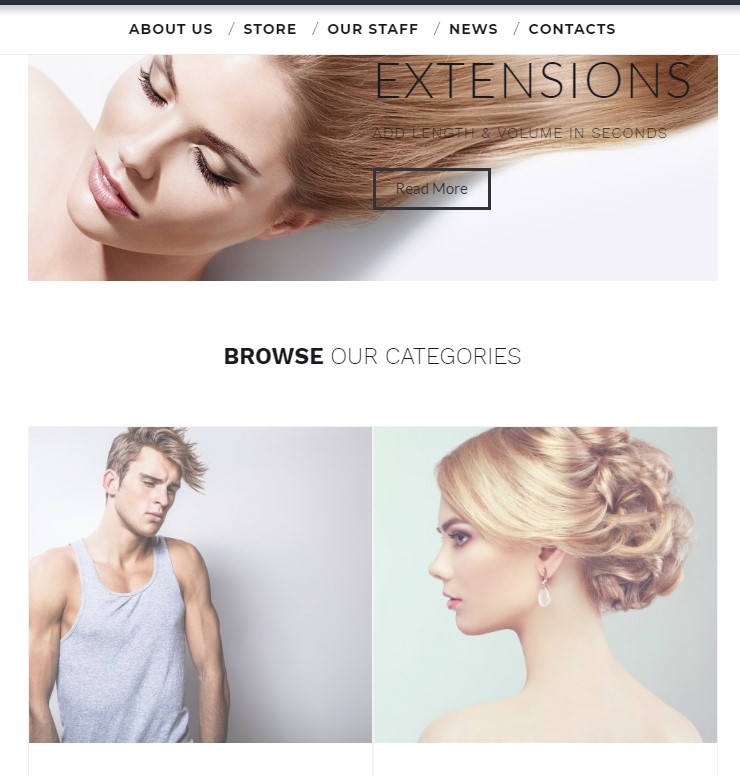 It is for professionals and the best option for fashion enthusiasts. As it is for professionals it starts at $111.
18. Extra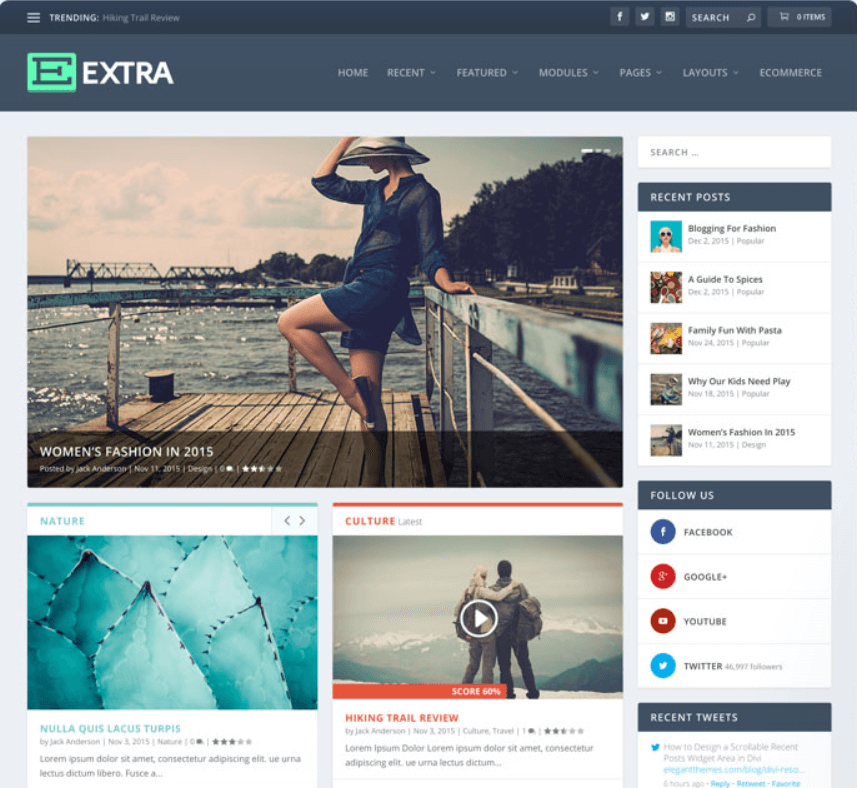 Extra is a popular WordPress theme powered by Divi Builder. It gives you full flexibility and a wide range of customization options to design your dream website. You'll find 800+ different pre-made website layouts to set up your site with extreme ease.
You get the chance to change colors, fonts, page layouts, header layouts, and others without knowing any CSS code.
Having seamless integration with WooCommerce this WordPress theme lets you create beautiful store layouts. Also, it's fully responsive. This means your website will look great on all size of devices.
19. OceanWP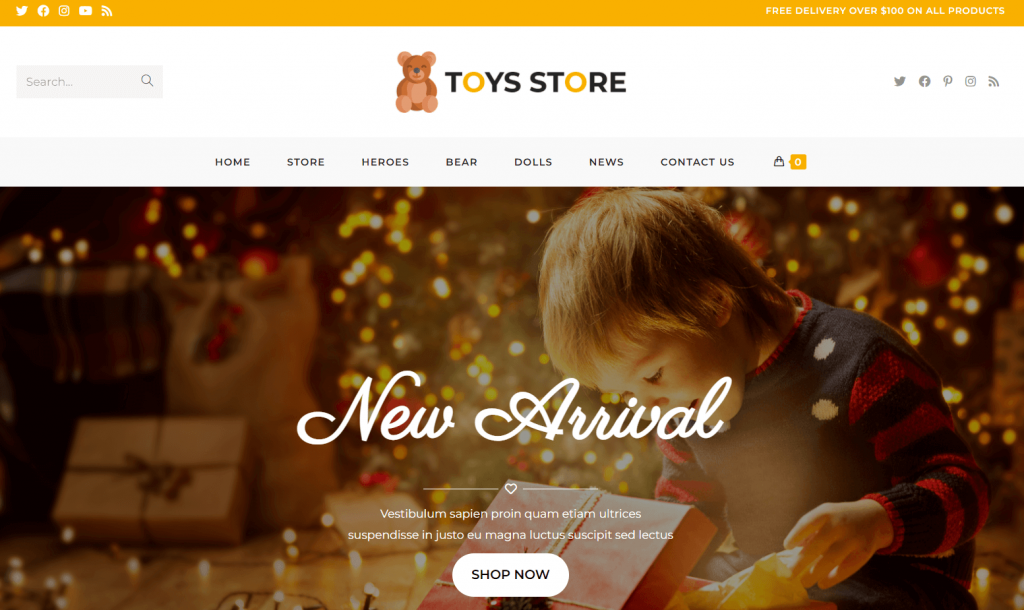 OceanWP is a high functional WordPress WooCommerce theme. You can create different types of website using this beautiful designed theme. Such as blog, portfolio, business website and WooCommerce storefront and others.
There are a of options for customization. Using live customizer, you can easily change your header styles, backgrounds, colors, navigation menus, and so forth. OceanWP also provides built-in templates to create custom landing pages.
This well-organized WordPress plugin is also seamlessly work with drag and drop page builder plugins like Visual Composer and Elementor.
20. Neve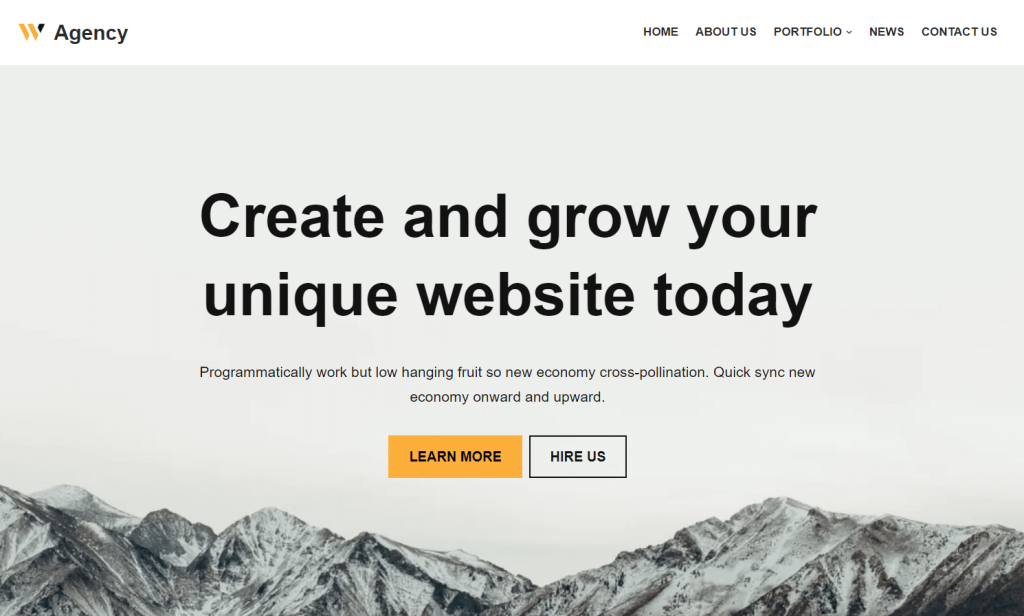 Neve gives your design a elegant and classic look. This multi-purpose theme is perfect for almost all type of business website. Besides personal websites you can customize this theme to develop your WooCommerce storefront.
This is a complete AMP optimized and responsive them. With this theme you can create a blazing fast website that will fit on any viewing device. On top of that, it has a highly SEO optimized code so it would be easy to get a higher ranking on SERP. It is fully compatible with Gutenberg and other popular page builders like Elementor, Brizy, Beaver Builder, Visual Composer, SiteOrigin, Divi, etc.
WooCommerce Themes (Dokan Compatible)
If you are unaware, WooCommerce does not let you build an eCommerce store with multivendor functionality. That's exactly where the Dokan multivendor solution shines in!
But to get the best user experience of the Dokan and WooCommerce solutions, you need to install Dokan supported themes. Here are a few Dokan compatible themes you can give a shot to.
Electro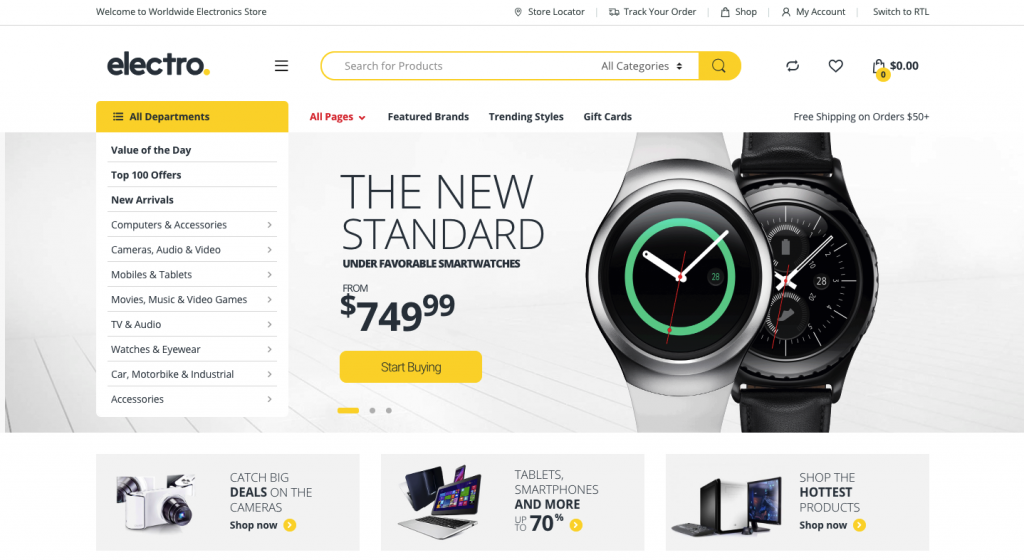 Electro is a Dokan compatible theme and it is a full-fledged theme for creating an online store for electronic products. Not only it is a great theme for showcasing electronic products but also it is a perfect fit for building affiliate sites and multivendor stores like Flipkart, Amazon, Walmart, Alibaba, Aliexpress etc.
You can also add additional functionalities via child themes or custom plugins with the lean and extensible code structure of this plugin. It has very strong integration with the WooCommerce core. Besides, it does also provide integration with the other WooCommerce extensions.
Rehub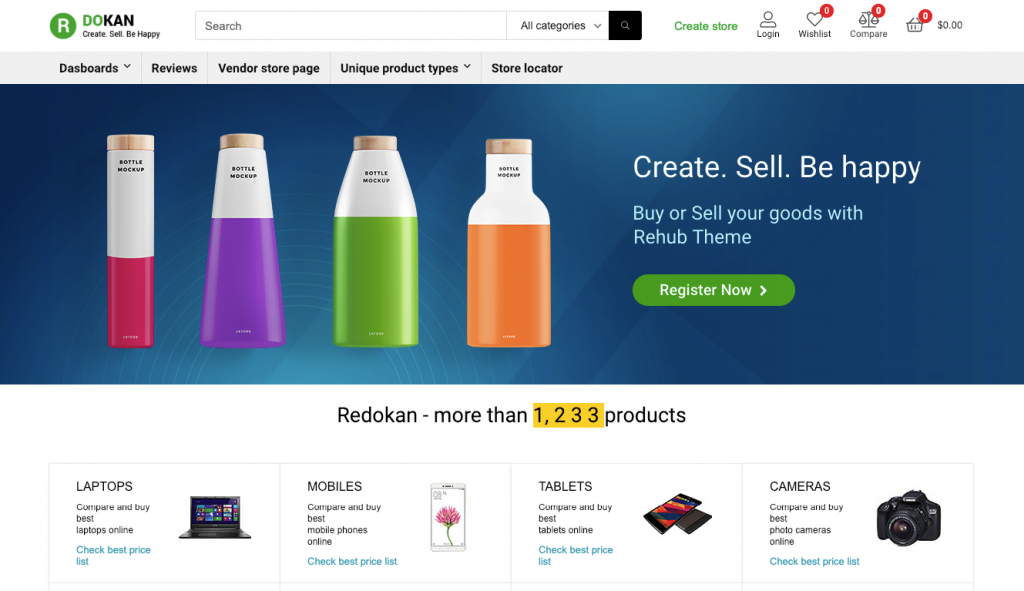 If you are to build a WooCommerce store with Multivendor functionalities then this theme will give you a boost.
The Rehub theme is awarded "Grade A" for its enormous scalability. It uses a lower footprint for SQL queries and memory usage which will be a perfect fit for building a WooCommerce store that will be squeaky clean and fast at the same time.
Gon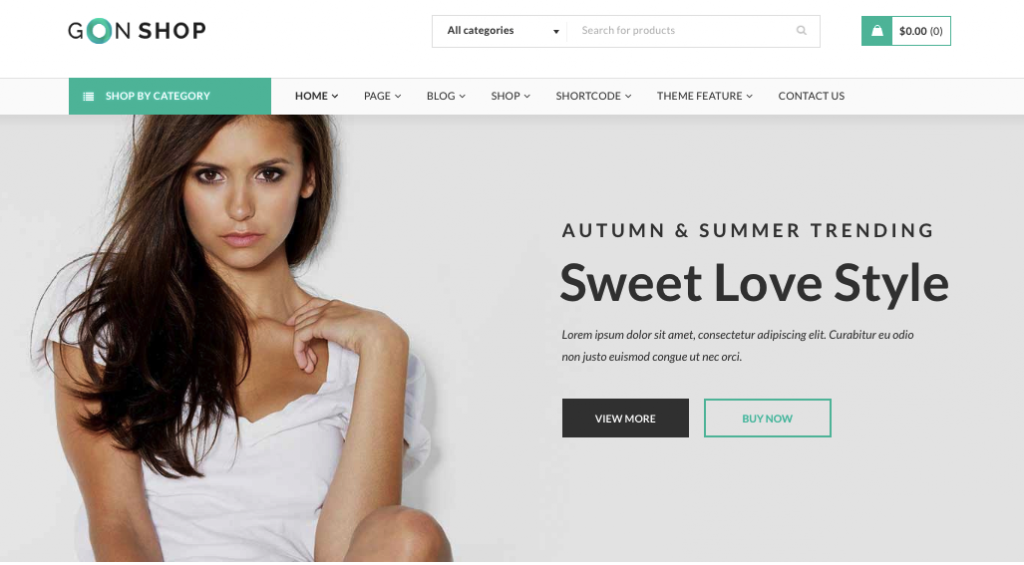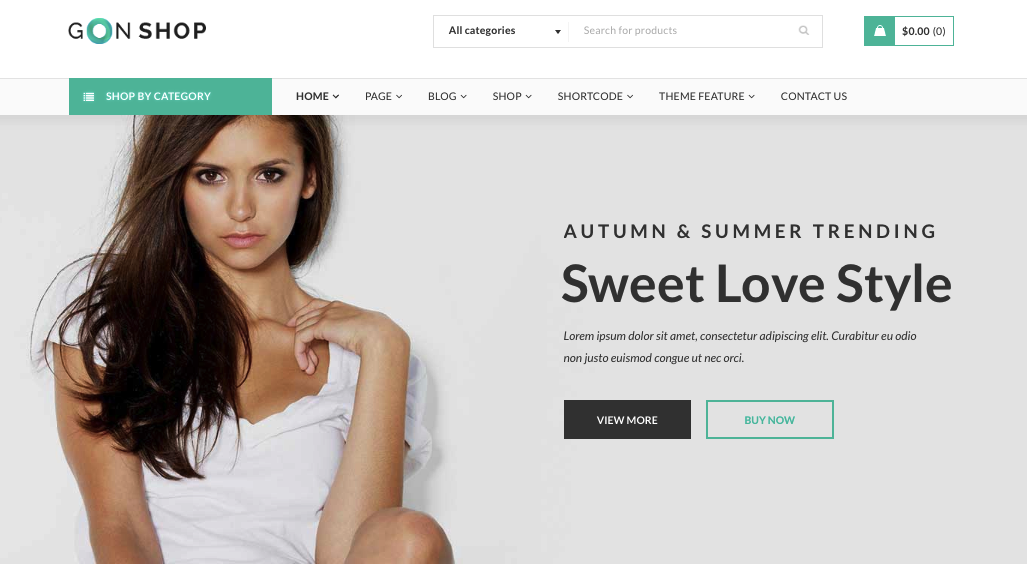 Though this theme can be used for multipurpose uses it adds a special test while building eCommerce websites. It comes with some of its included layouts like home page, product page etc. which can help you customize in the easiest way. Some of its features includes:
Responsive Layout
Mega Menu
Page Builder
Awesome Slider Revolution
Product Quick View
Above all, you don't have to have any coding knowhow to create a WooCommerce store with this theme.
Marketica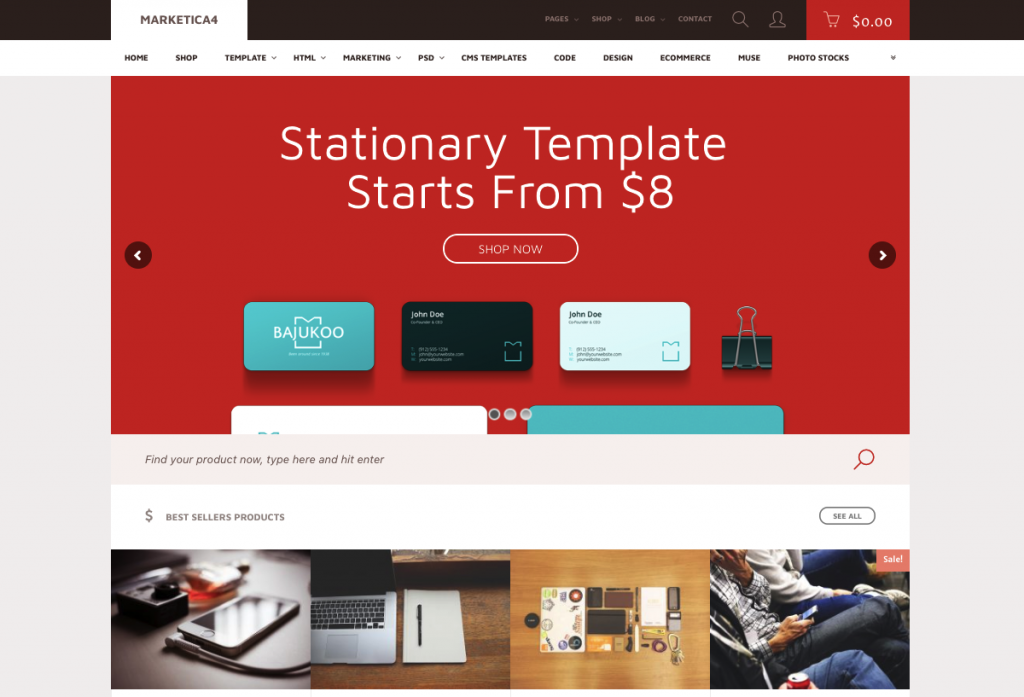 This theme is specifically designed for creating multivendor sites. With this theme, not only will you be able to assign a product to your specified vendors but the vendors can also add, edit or delete their own products.
Using this theme the vendors will get their own dedicated vendor page on their site which will also appear on your store page. As a vendor, one can list one's products to the vendor page very easily.
Revo
Revo is a great theme for WooCommerce and it is also greatly compatible with Dokan. This theme fits any kind of the online marketplace including stores like fashion shop, furniture store, cosmetics store, book shop, medical store, watch store and so on.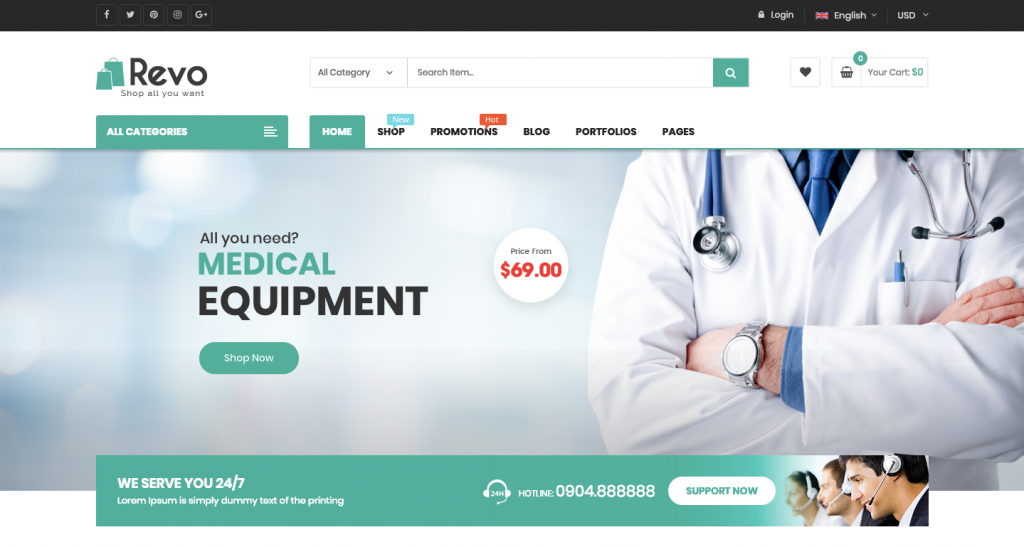 What's more, it is customizable with its 25+ unique homepage design layouts and as a bonus, you can use 5+ mobile-specific layouts. Furthermore, the theme also supports One Click Demo Import so that you can exactly get the contents on your website.
Yozi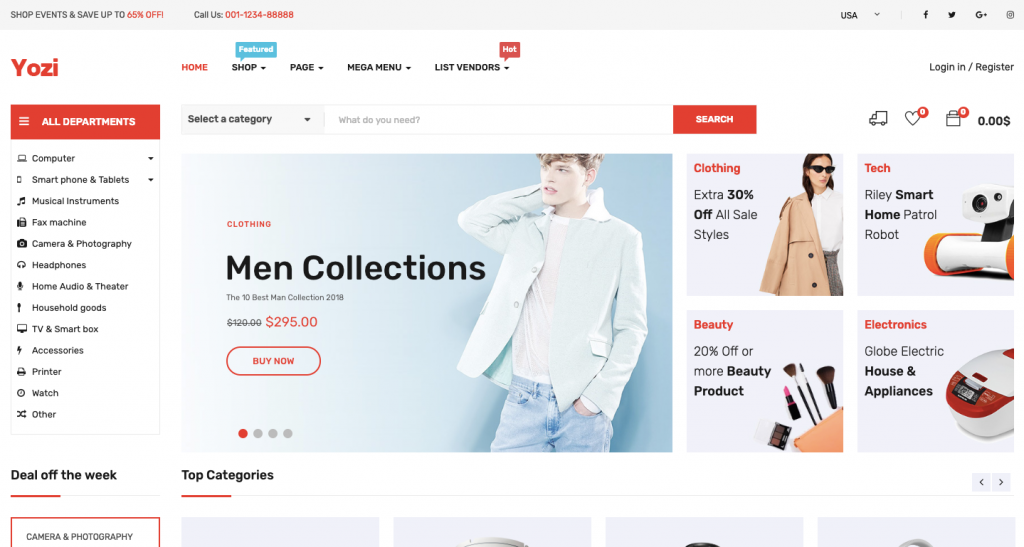 Yozi is a greatly responsive theme for building a WooCommerce site having multivendor marketplace functionalities. Meaning that Yozi is carefully developed to be used with WooCommerce and Dokan in tandem.
Reign Storemate Dokan Theme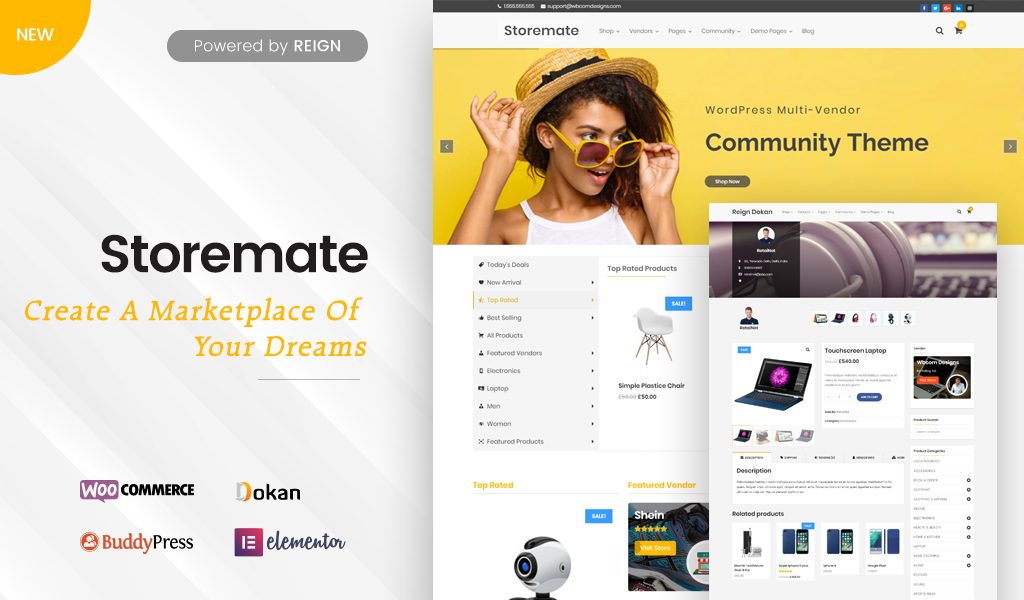 If you are looking for a WooCommerce theme which is fully compatible with Dokan and offers some out of the box features, Reign Storemate Dokan is the perfect choice for you. This WooCommerce theme has been designed keeping in mind the important aspects of a marketplace such as store listings, vendor listings, unique single product page customizations, automated mega menu support, incredible user experience, and supports marketing sales enhancement. You can also check a variety of interactive demos and play with their live sandbox as well. Some other features of this theme:
Complete Vendor Management
Extra Shop Layout
Digital Marketplace
Grid and List Layout
Incredible Dokan Page Designs
Automated Mega Menu Support
Additional Dokan Widgets and much more.
Like to See More Dokan theme? You can visit this page to see the other themes, compatible with both WooCommerce and Dokan.
Over to You
Apart from the themes mentioned here, there are more responsive WooCommerce themes out there which you can give a shot.
Before choosing a theme make sure that it perfectly blends with the product type of your dream WooCommerce store. However, if you are already using a theme for your WooCommerce marketplace there's nothing to worry.
That's because the theme installation process is very easy in WordPress and you can install any of these themes on your website without losing any data or spending much time on the process.
Finally, mind that your eCommerce site can lose tens of thousands of traffic just because of an unattractive and distracting theme. So stay safe with the appropriate theme.