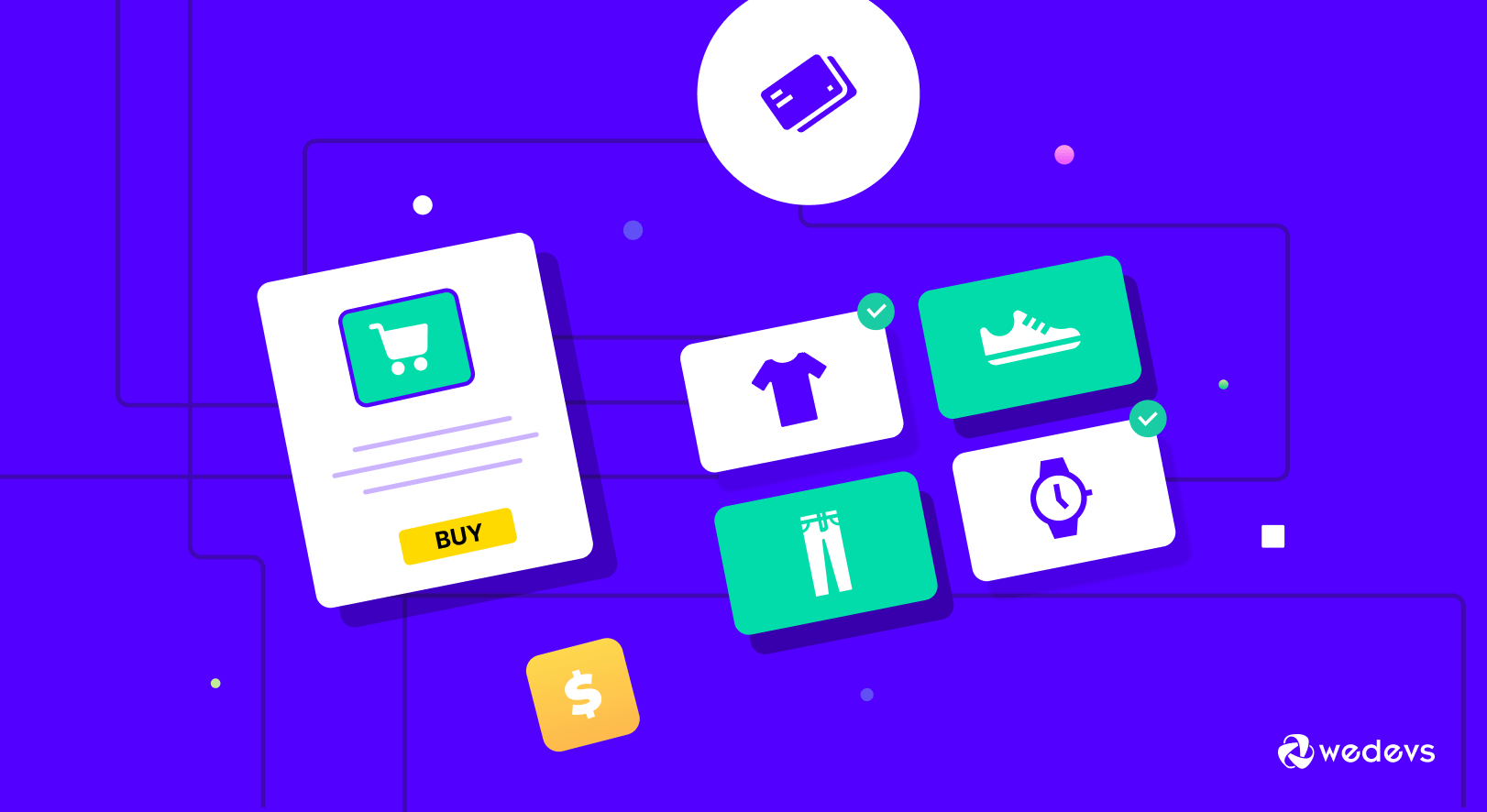 How Can You Create an Effective Checkout Flow for Your eCommerce Business
An optimized checkout flow determines the success of your eCommerce business. This blog walks you through 6 eCommerce checkout flow best practices so you can elevate your business growth with more profits.
According to Baymard Institute, 69.82 percent of shoppers abandon their carts. To put this into perspective, that's nearly seven out of ten customers whisking themselves away just before checkout.
However, if your eCommerce metrics continue to reveal that your visitors abandon their carts midway through or never complete their transactions, you have a serious problem to address.
So, how do you stop your customers from dropping off in your eCommerce sales cycle during checkout? Simple. Optimize the entire checkout flow.
Here are six checkout flow best practices for your eCommerce business-
Provide Guest Login or Registration Option
Simplify the Checkout Process
Add Trust Seals to Increase Credibility
Provide a Variety of Shipping Options
Offer Multiple Secure Payment Gateways
Retarget Abandoned Carts
Let's dive into the details.
1. Provide Guest Login or Registration Option
One way to ruin customer convenience in the checkout flow is by making it mandatory to create accounts. Give new customers a guest checkout option, after which you may nudge them to create an account with you after payment.
Bestbuy's online marketplace allows new customers to "Continue as Guest," while returning customers may proceed to checkout with email or sign in with their Google or Apple accounts.
After guest checkout, you may use email software to send new users offers like special discounts for their next purchase upon completion of registration.
2. Simplify the Checkout Process
Ecommerce businesses in the EU and US can recover up to $260 billion in lost orders through a better checkout flow and checkout design, according to the same Baymard study.
That means the user experience is crucial for eCommerce success. A significant indicator of a successful shopper experience is easy navigation from one purchase stage to the next — without distractions.
The purchase sequence leading to checkout should be specific and straightforward. You may include a visual indicator like FORSTEP STYLE does below, so customers know what's next in the checkout flow and how close they are to completing the purchase.

Make your purchase sequence simple by reducing the number of form fields in the checkout process. Too many form fields create a complicated checkout process and might dissuade customers from completing a purchase, leading to cart abandonment.
FORSTEP STYLE also gets it with their checkout process.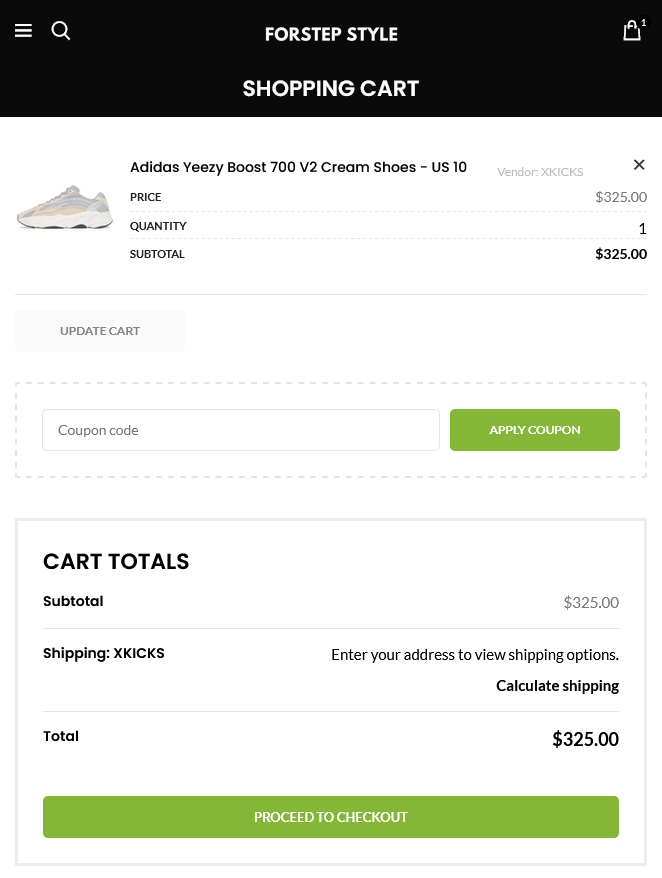 After customers add their products to the cart, they see a sum total of products in their cart and are given an option to apply a coupon. Afterward, they're taken to a secure checkout page to put in their billing details without hassle.
The simplified order form makes it easy for customers to checkout with only the necessary shipping and billing details.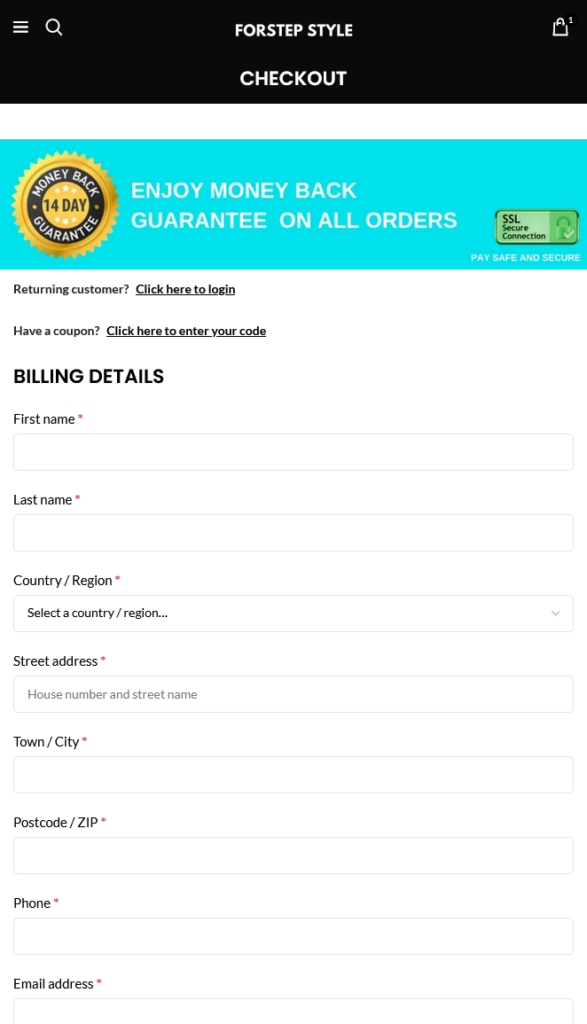 This eCommerce store also offers convenient payment options such as PayPal and credit cards, making the entire checkout experience friction-free.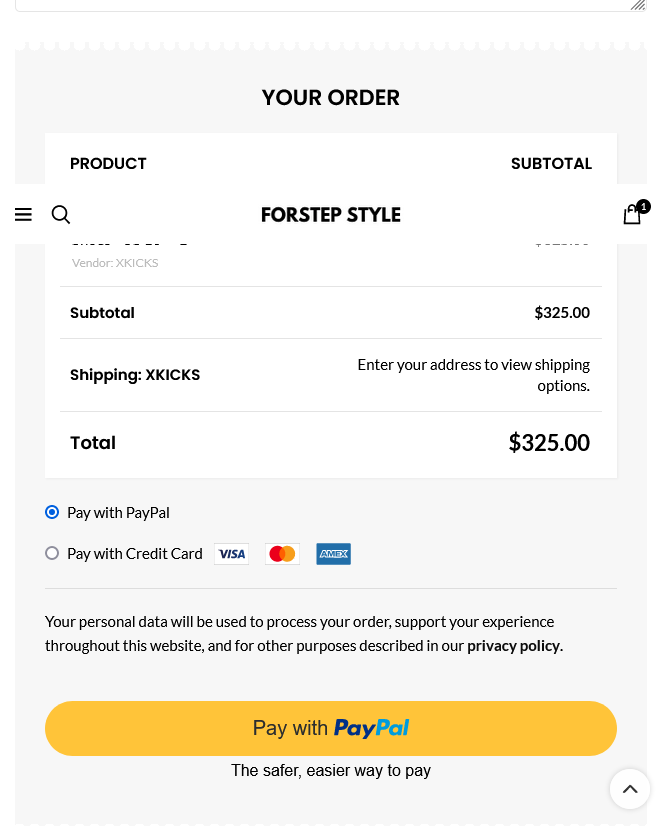 Regarding shipping, customers shouldn't have to fill in address forms twice if the customer's billing info and shipping address are the same. Provide a check-off box to eliminate that extra redundant process.
Lastly, ensure the checkout buttons are clear and accessible on the shopping page. If customers have to look for it, they might leave.
3. Add Trust Seals to Increase Credibility
Modern shopping poses new risks. Consumers are wary that for every transaction they make in an eCommerce store, they risk being the victim of data theft or fraud because they input sensitive information on the site, like their card details and shipping info.
To address these security concerns, display trust seals on your checkout pages. These trust seals can help increase customers' confidence in your site's ability to protect their data, thus reducing checkout abandonment.
Here's how Little Kids Business leverages trust seals on its website: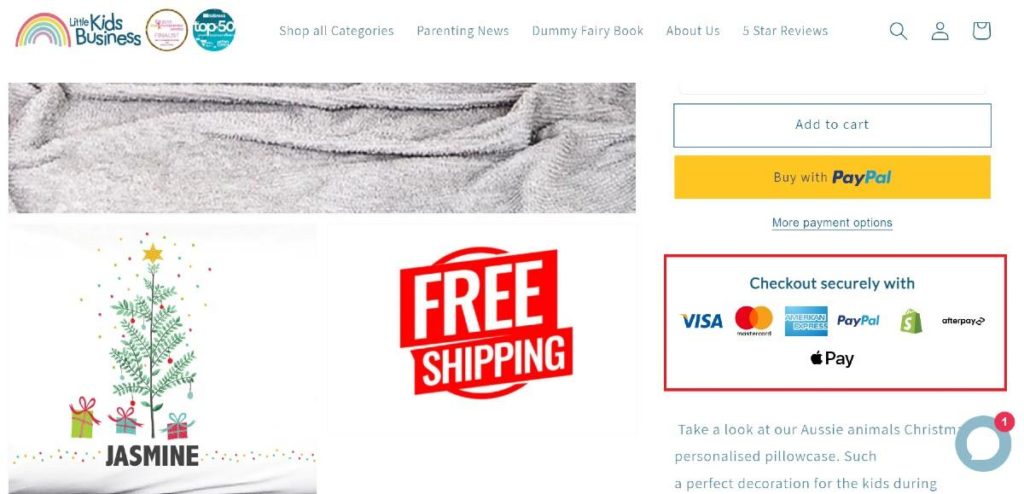 Here are some of the trust seals you should add to your eCommerce marketplace
Payment Trust Seals: Customers are more likely to trust your site if you accept and display the most recognized forms of payment. Visa, MasterCard, and PayPal have trusted payment methods because they have measures in place to protect customers' data.
Security Trust Seals: Norton and VeriSign have safe checkout seals that tell customers your entire checkout process is secure. Customers will want to shop on your site when they know their delicate financial data is secure.
Money-back Guarantee Seals: Shoppers are likely to complete their purchase on your online store when there's reduced perceived risk. Guarantee seals communicate ultimate belief in your product and affirm that money refunds — following the return of an item — are hassle-free.
Third-Party Endorsement Seals: These seals show your business is well established and endorsed by a group or coalition of experts. The Fairtrade seal certifies a product organic. You'll need to apply for these third-party seals. Once the institutions approve your application, you get an endorsement seal.
Other recognized trust seals include Google Customer Review, Better Business Bureau, and Amazon Best Seller. These seals signal to potential customers that others have had a great buying experience, so they can trust you with their business as well.
TrustedSite (formerly McAfee), meanwhile, puts customers at ease throughout the entire online purchasing process. This badge on your site means your site protects shopper identity and is secure enough to process and store credit card information.
TrustedSite, after all, verifies business information and validates SSL certificates. It also scans for malware and viruses and offers PCI compliance (Payment Card Industry) tests.
4. Provide a Variety of Shipping Options
About 48 percent of online shoppers dump their carts due to issues with shipping fulfillment and exorbitant shipping fees.
You build customer loyalty by offering customers fast and convenient shipping options. Because each shopper's behavior is different, your eCommerce store must provide suitable delivery options to cater to every possible situation.
Here are shipping fee options you might want to consider:
Table Rate Shipping
Flat Rate Shipping
Order Value Free Shipping
Seasonal Free Shipping Coupons
Local Pickup
Table Rate Shipping
It's unfair to charge the same amount on shipping to customers near and far from your store. With this shipping option, you fix shipping rates based on the customer's location, weight, and item size. That makes shipping cheaper to customers closer to your store.
Joco fixes shipping fees based on distance and delivery speed, for example.

As you see, consumers living in Australia can pay a standard fee but with an option to pay higher for express delivery. International shipping fees also apply.
If your business caters to different niche markets, you may offer flexible shipping rates for a customer based on factors like product weight or item count. That gives customers an idea of shipping fees to expect at checkout.
Flat Rate Shipping
Here, your shipping rate is not connected to the item's size and weight. Since the products you sell are the same size and weight, it wouldn't make sense for shipping costs to vary.
Bittermilk is one eCommerce store with a flat shipping rate on all orders.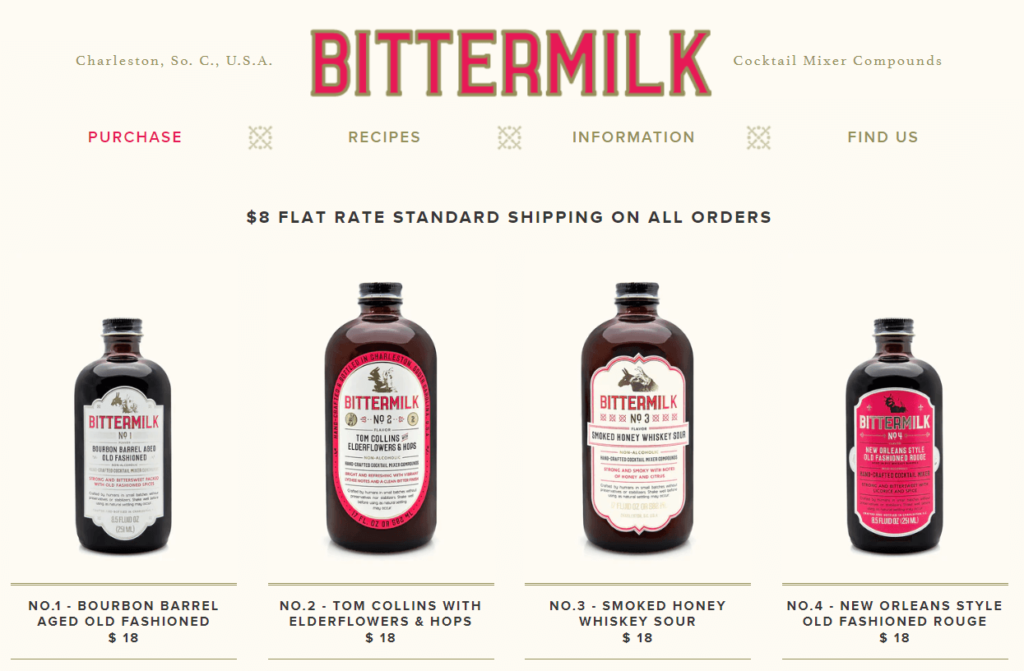 To do something similar, you may set the same shipping rates for all items under a certain weight — like fixing the rate at $20 for items under 15kg.
You can also offer an option to ship your item to multiple addresses. Allow interested customers to place one large order and split it at checkout. Once these pieces are at checkout, customers provide addresses they can ship to in one order.
Ecommerce building platforms like WooCommerce come with multiship functionality. Users can ship to many locations via one checkout; send identical carts to multiple locations, and save more than one address to customer accounts.
With this functionality integrated into your online store, your customers will know that you can accommodate their multiple destination shipping requirements, giving you an advantage over competitors who only offer single shipping options.
Order Value Free Shipping
This shipping method offers free shipping to customers but only when they buy goods worth a specified amount. This encourages users to spend more and minimizes cart abandonment.
Seasonal Free Shipping Coupons
For this shipping option, you provide free shipping coupons to select customers during festive seasons like Christmas and Eid. The seasonal coupons help you establish a relationship with them and choose your platform continuously over time.
Local Pickup
The local pickup shipping option is perfect for customers within your store's vicinity. The method allows customers to choose the closest hub or store to their location so they can pick up their orders at their convenience.
While it's not unusual to charge a token for this delivery option, the only limitation is that you can only offer this option to customers in close proximity.
Nonetheless, the local pickup option is convenient for both parties and a solid alternative to traditional shipping.
On Dokan, you can apply different shipping methods for different shipping zones and adjust available shipping options in real time. This accounts for accurate shipping rates and ensures you aren't overcharging or undercharging your customers.
For seamless shipping options, liaise with reliable, affordable shipping partners such as DHL, FedEx, or small business courier services to ensure a swift and safe delivery to customers.
5. Offer Multiple Secure Payment Gateways
A payment gateway is a payment processing service through which customers transfer funds to you online.
If your payment gateway is down, the purchase journey will frustrate customers, and you could lose revenue. Many secure payment gateways give customers options to make payments through alternate gateways.
They're helpful when one gateway can't handle a large volume of transactions. That gives your business flexibility and contributes to a better checkout experience.
Consider these different payment gateways for your eCommerce business:
Hosted Payment Gateway
Self-Hosted Payment Gateways
Local Bank Integration Gateway
Hosted Payment Gateway
This payment gateway directs customers away from your checkout page to another website. It's suitable for businesses with low online traffic. PayPal is a prime example of this kind of integration.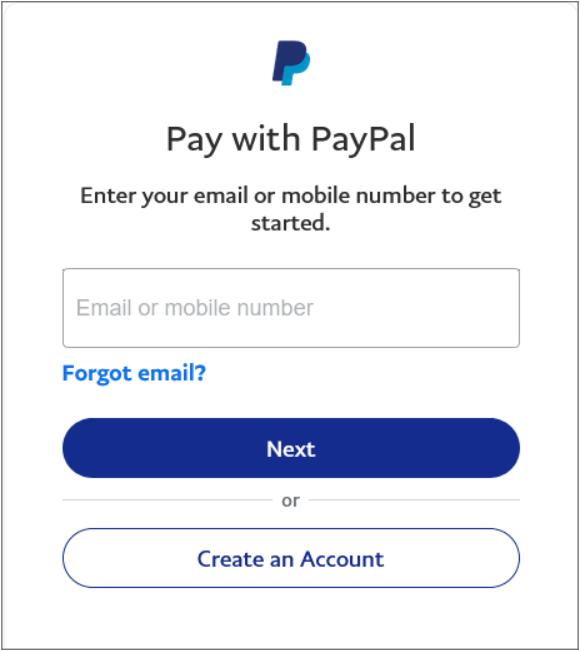 The major drawback of this gateway type is that you leave the payment user experience entirely to a third-party website.
Self-Hosted Payment Gateways
Unlike the previous category, self-hosted gateways integrate with your website, allowing customers to complete their transactions within it. That lets your business control the user checkout experience and ensures a faster process.
WooCommerce, Authorize.net, Stripe, and Amazon Pay are all examples of self-hosted payment gateways.
Local Bank Integration Gateway
This gateway category redirects customers to your bank's payment gateway portal to make payments and fill in their contact details. After that, the customer is redirected to your website, and notification data is sent to them.
If you're just starting, it is recommended that you adopt multiple payment gateway solutions for immediate transactions. That offers convenience for shoppers who prefer an alternative payment method. Multi-vendor marketplaces like Dokan make it easy to integrate various payment gateway solutions for your online store.
6. Retarget Abandoned Carts
Nearly seven out of ten shoppers abandon carts. To remedy this, offer incentives like discounts on items customers want to buy so they'll complete their purchase. Send cart abandonment emails to remind them of products they want to buy and offer discounts on those products.
Here's how ThredUP does it:
You can retarget abandoned carts by sending coupons to the email address of that potential customer. Ensure your emails create a sense of urgency and establish an emotional connection with the potential customer. For example, you could say the coupon code attached is valid for a few days only.
Key Takeaway for Ecommerce Checkout Flow Best Practices
No one likes a complicated process of many checkout steps, least of all online shoppers with a plethora of options.
Make your eCommerce checkout process simple to reduce the checkout abandonment rate. Stick to collecting only the necessary information at checkout. Eliminate duplicate processes like having customers fill their shipping details twice; when they can just tick a box to show it's the same information.
Integrate several payment gateways to allow checkout flexibility, a faster process, and a better overall shopping experience. While at it, leverage trust seals to showcase business credibility and social proof.
Remember, you're not just selling products but creating experiences to increase conversion. These tips will boost checkout functionality and make your entire checkout flow seamless.
---
Author Bio: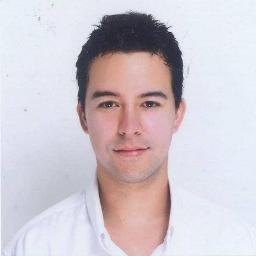 Matt Diggity is a search engine optimization expert and the founder and CEO of Diggity Marketing, The Search Initiative, Authority Builders, and LeadSpring LLC. He is also the host of the Chiang Mai SEO Conference.