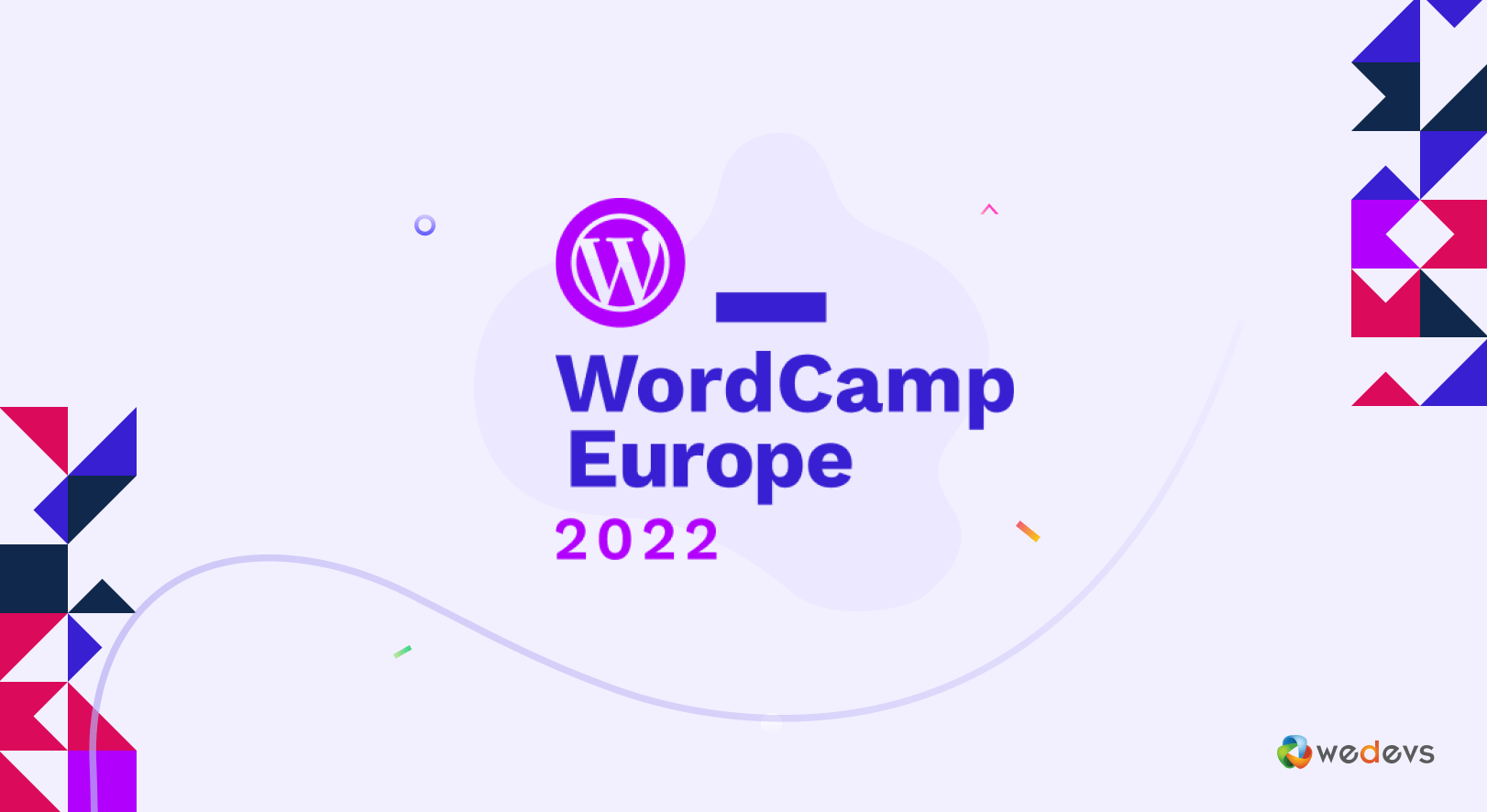 WordCamp Europe 2022: weDevs' Proud Presence on This Biggest Reunion of WordPress Community
WordCamp Europe 2022 has ended successfully with great remarks. After 2 years of online events, finally, we were able to go offline with Wordcamp Europe 2022. WordPress people come again face to face to share knowledge and revive both personal and professional connections.
This year WordCamp Europe took place at the Super Bock Arena- Pavilhão Rosa Mota in Porto, Portugal. Over 2,500 WordPress enthusiasts from different parts of the world joined this 3-day event.
Like pre-pandemic WordCamp, there was a huge gathering of all WordPress-related people including core contributors, organizers, sponsors, speakers, and a wide range of attendees. Actually, this was the biggest one in the history of WordCamps.
We proudly announce that weDevs was one of the core sponsors of WordCamp Europe 2022.
Here, you'll get a quick recap of Word­Camp Europe 2022. Check what actually happened, and what are the outcomes of WCEU 2022. Let's start!
Word­Camp Europe 2022 At A Glance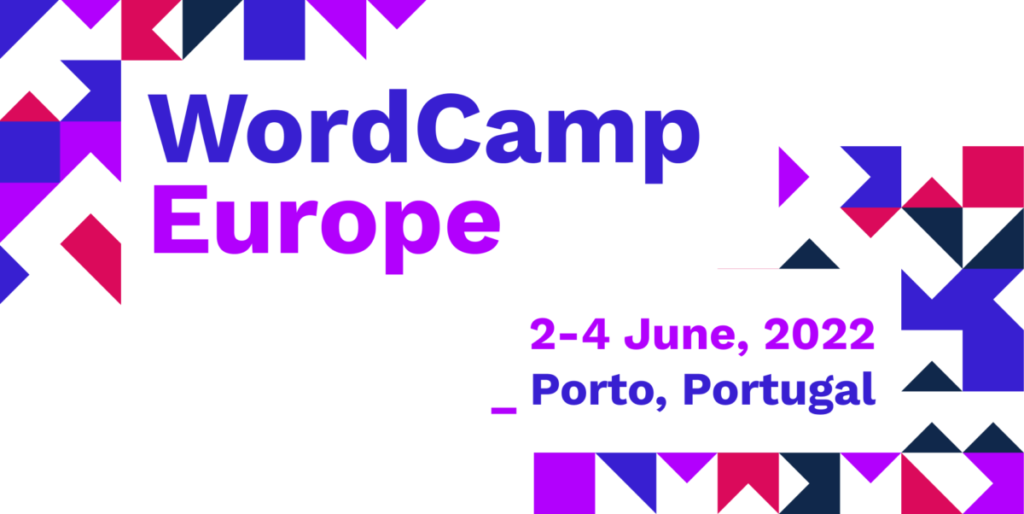 Below you'll find all the key information of the Word­Camp 2022 Europe:
Location: Super Bock Arena (Pavilhão Rosa Mota), Porto, Portugal
Duration: 2 to 4 June 2022
Participants: 2,500+
Events: 50+ (27 discussion sessions, and 18 workshops)
Speakers: 70
Organizers: 90
Volunteers: 164
Sponsors: 69
Media Partners: 11
Source: Word­Camp Europe 2022 Official Website.
Last two years, all the WordCamps were arranged online. This is why people were super excited for WordCamp Europe 2022 to meet everyone in person again.
It was the 10th edition of WCEU and people celebrated the event with great diligence and appreciation. And they left the premises with the determination to make WordPress an even better and more robust web management platform.
If you are a new WordPress enthusiastic, here is a quick overview of Word­Camp Europe: WordCamp Europe (WCEU) is an informal gathering of all WordPress-related personalities that takes place in different parts of Europe. There they discuss different topics related to the industry.
WordCamp gives you the opportunity to meet with the core developers, well-known marketers, CEOs, CTOs, and many people related to the WordPress industry. Here you can attend a lot of sessions and get a fun learning experience from experts. From casual users to core developers here everyone is free to share their views, suggestions, possible updates, and future enhancements, and create personal relationships.
Word­Camp Europe 2022: 3 Days of Exciting Events
Word­Camp Europe 2022 arranged more than 50 different types of events this time. Such as discussions, workshops, panel sessions, and open networking. Here we'll discuss the core events of the conference-
The Contributor Day
Beginning of the Main Event
The Final Day of the Event
WP Café
Speaker, Sponsor, Volunteer Dinner
Find brief discussion along with relevant resources, like videos and docs to understand the outcome of WCEU 2022.
The Contributor Day
There are 20 teams working on different WordPress projects. Contributor day gives you the opportunity to know about these teams and start contributing to the teams.
Like previous years, this WordCamp also began with the "Contributor Day". At the beginning of the day every team gave a quick overview of their working process and what they'd be doing on that day. After that attendees get divided into those teams according to their personal interests. It was a great chance to talk in person to the team members.
A group photo was taken during lunchtime and shared from the official Twitter page-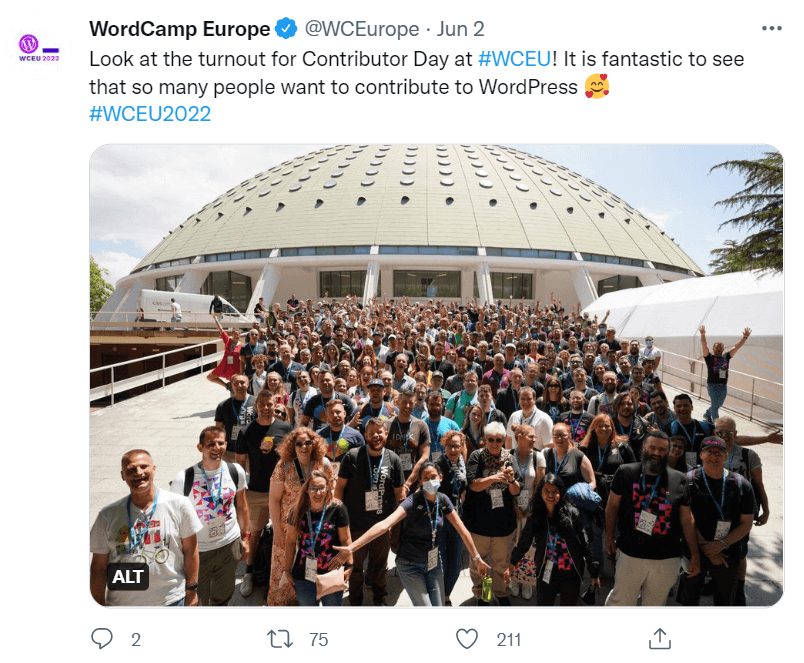 Since WordPress is an open-source platform and most of its resources are the contributions of the community. This is why WordCamp dedicated one day to contributors. This time also several hundred attendees made their contributions to the WordPress ecosystem – including the core, themes, and plugins.
Beginning of the Main Event
The main event started on the second day of WordCamp, 3rd June. It began with an open networking session after the registration.
The second day in brief: 14 discussions and sessions, and 10 workshops.
We've picked some special moments for you from the second-day conference-
Why We Community by Milan Ivanovic
It was the first formal session of the day and super exciting. Milan Ivanović took this session. He is a well-known WordPress developer and trainer based in Serbia. He shared his own story of how the community changed his life.
The code is poetry, but the community is where the heart is.

Milan Ivanović
With this simple line, he described the immense role of the community in the WordPress ecosystem. Find the full session below-
Milan also added- "WordPress Community taught me diversity, provided support when I needed it the most, and gave me friends for life. Spreading the word and being involved is my mission to give back,"
Growing in WordPress Through Partnerships by Jonathan Wold
In his session, Jonathan Wold demonstrated the way of conquering the tradeoffs of the open-source nature of WordPress through building partnerships. Jonathan is a famous WordPress community leader.
You can get the full session here-
According to him- "WordPress as an open-source ecosystem is decentralized and we all enjoy the benefits. There are tradeoffs of decentralization, though. Strategic partnerships are the key to mitigating those tradeoffs and growing in the WordPress ecosystem."
The Final Day of the Event
4th May was the last day of WordCamp Europe 2022. It was remarkable for many attractive events including the conversation with WordPress founder Matt Mullenweg.
The third day in brief: 13 discussions and sessions, and 8 workshops.
Some significant events you may like to hear about-
A Glimpse into the Future of WordPress from a Frontend Point of View by Pablo Postigo
Though WordPress started its journey as a blogging platform with time now it becomes one of the top choices to build any type of business site as well. Pablo Postigo, a promising software engineer from Spain, discussed all the possibilities to make WordPress the best web development platform in near future.
Check the full discussion here-
Last summer Pablo and his team started working with Gutenberg and Full Site Editing. And become the full-time contributors to the Core. According to them- "WordPress can become the best development platform on the web."
How Headless WordPress Benefits Enterprises by Ivan Popov
Headless WordPress lets you work individually both on the front-end and backend. This makes customization easier and enhances the possibility of web development.
In his session, Ivan Popov described the benefits of this new technique of web development and how it helps many enterprises to grow their businesses. He is a Bulgaria-based WordPress developer.
Watch this session and others by clicking the link below:
The WordCamp Europe 2022 ended with a conversation participated by Matt Mullenweg, Matias Ventura, and Josepha Haden Chomphosy, followed by closing remarks. The next day on 5th June, all the participants joined an after-party.
Connect With The Whole Community at WP Café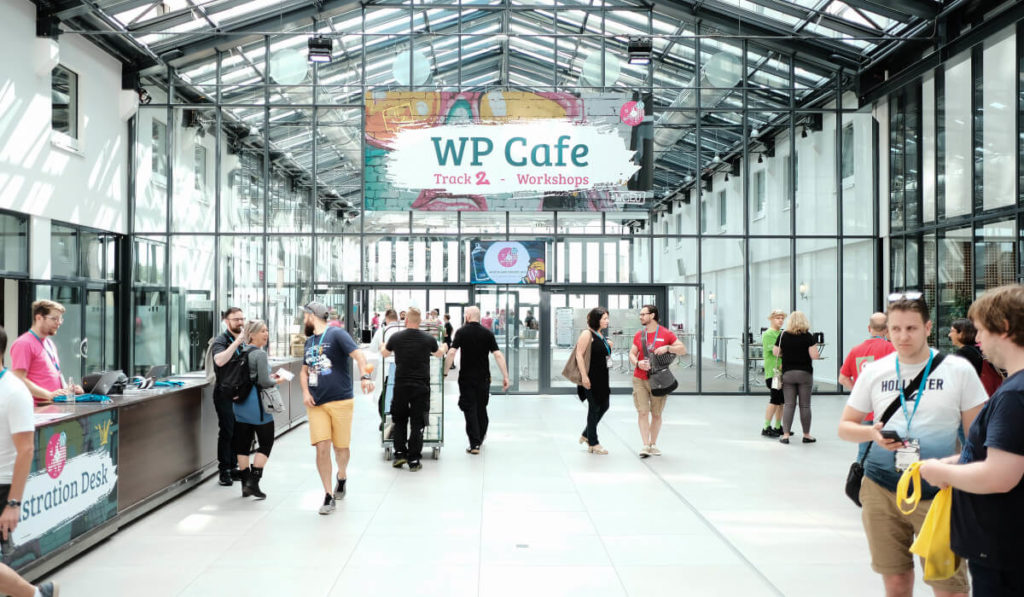 As we've mentioned above, WordCamp is the place to create personal bonds. WP Cafe is a great place to make things happen over coffee. In WCEU 2022, attendees spend time here to connect with others. Organizers especially made this place for attendees to meet and chat about different topics related to their interests. Also, there were many scheduled morning and afternoon sessions covering a wide range of useful topics. Such as Gutenberg blocks, upgrading of themes & plugins, WordPress SEO, the importance of getting involved in the community, and others.
Speaker, Sponsor, Volunteer Dinner
To make this event successful there was a team of four talented and experienced people who lead the full arrangement.
Bernard Kau
José Ramón Padrón
Lesley Molecke
Taeke Reijenga
60 highly qualified industry experts have taken sessions on diverse topics of WordPress in 3 days of WCEU 2022. You can check their profile and session details here!
WordCamp honored these people who worked really hard to make this event successful. There was a grand dinner for the speaker, sponsor, and volunteer crew. It includes a trip across the city to the Porto Cruise Terminal and the tuk-tuk ride to the venue. Participants also enjoyed the breathtaking view of the shoreline at dusk.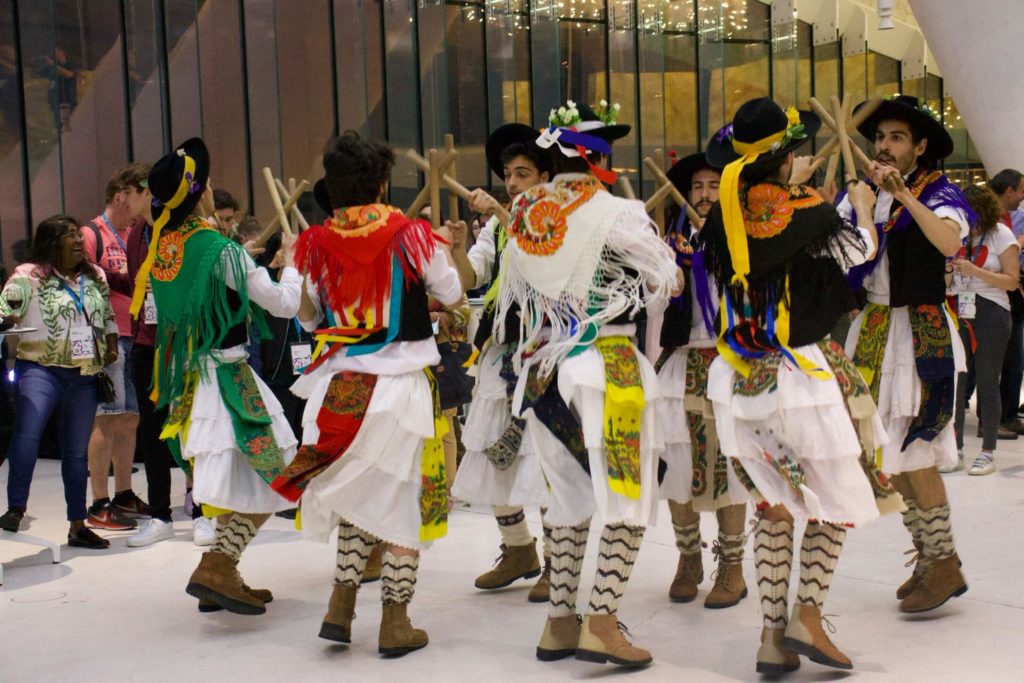 After that, the team had supper with a DJ program along with the best views from the balcony overlooking the shoreline. A great surprise was the traditional music performance featuring a Galician Gaita, which is similar to a bagpipe.
Read Also: Word­Camp Europe 2022 Recap: What Happened and The Outcome!
WCEU 2022 Introduces The Latest Wapuu- Galito
If you have attended previous WordCamps and Meetups you might be familiar with Wapuus. Kazuko Kaneuchi first designed the Wappu and gifted it to the WordPress community. It was an effective attempt to promote WordPress in Japan. After 2011, there comes dozens of Wapuus to promote WordPress-related products at different events.
WCEU 2022 brought the new design of Wapuu that is called- Galito.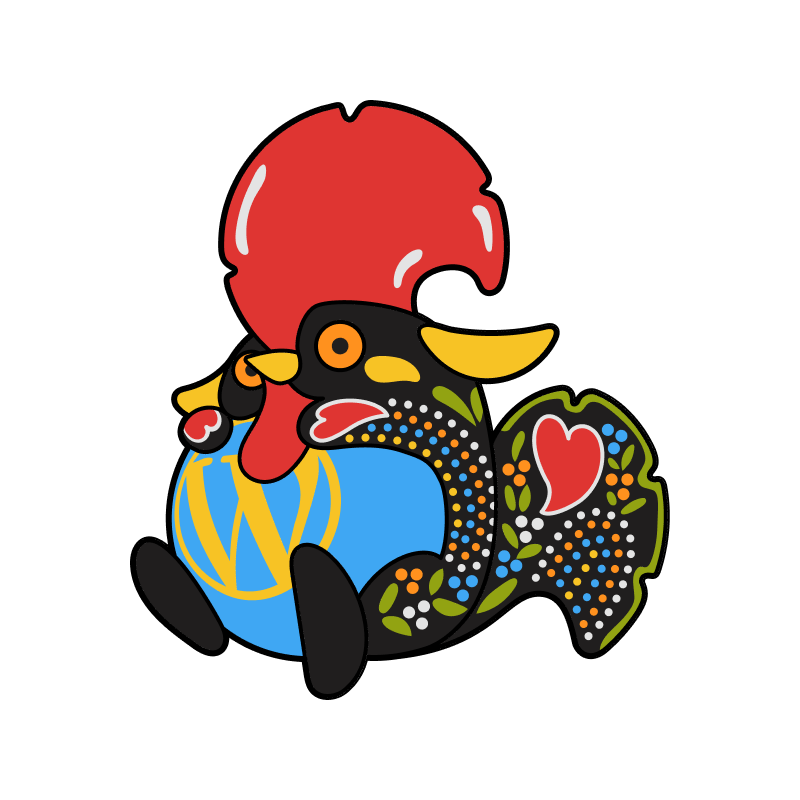 This design is inspired by the popular symbol of Portugal- the Barcelos Rooster. It represents the Portuguese love of life. You can find this bright and energetic character in many forms in shops around Porto and across Portugal.
The Barcelos Rooster exemplifies all together- faith, honesty, justice, and luck.
weDevs Sponsored WCEU 2022 in The Author Sponsors Category
Over 65+ WordPress companies sponsored Word­Camp Europe 2022 in 8 different categories. weDevs participated in the Author Sponsors group. We set up our own booth at the superblock arena and 3 members of our team went there to join the biggest community meetup.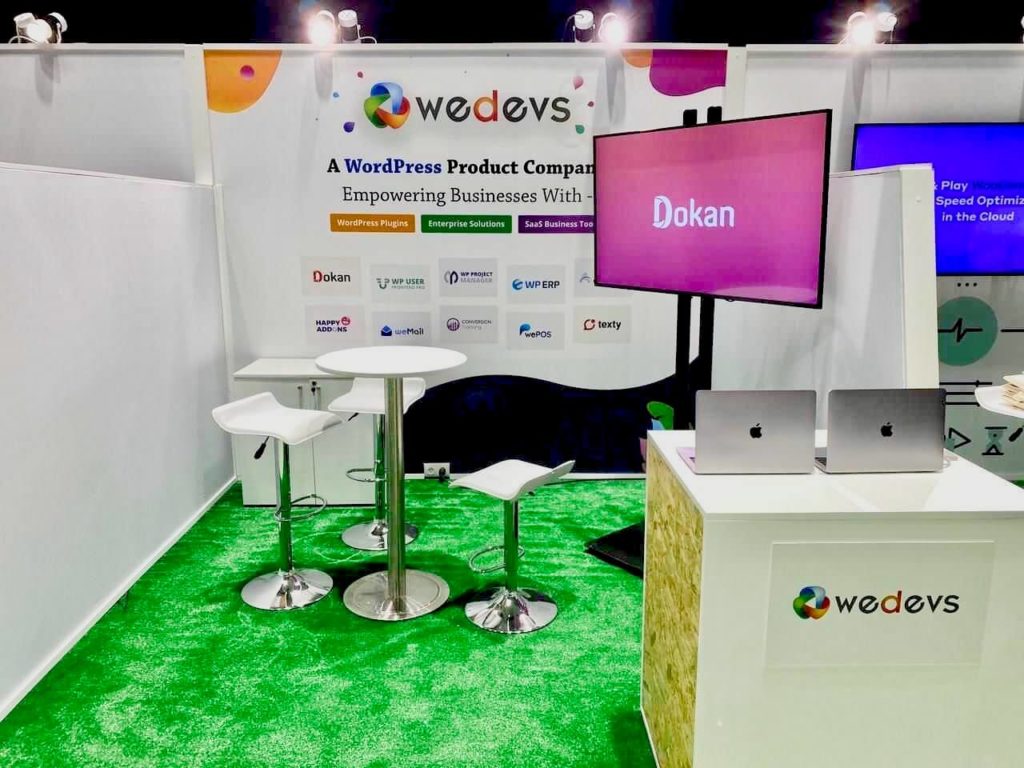 During the 3 days of the event, we thoroughly enjoyed networking with people from different areas. We welcomed the attendees to our pavilion and described our product overview and functionalities. And our booth was always crowded 🤩 🥳.
WordCamps always exciting because here you can meet with like-minded people and learn from each other. Also, you get the chance to meet the people in person for the first time whom you have been following for many years or interacting with for ages! For us, it was really enjoyable to meet our friends and associates from different parts of the world after such a long time period.
Also, you can read about our WordCamp Europe 2017 experience!
The Significant Outcomes of Word­Camp Europe 2022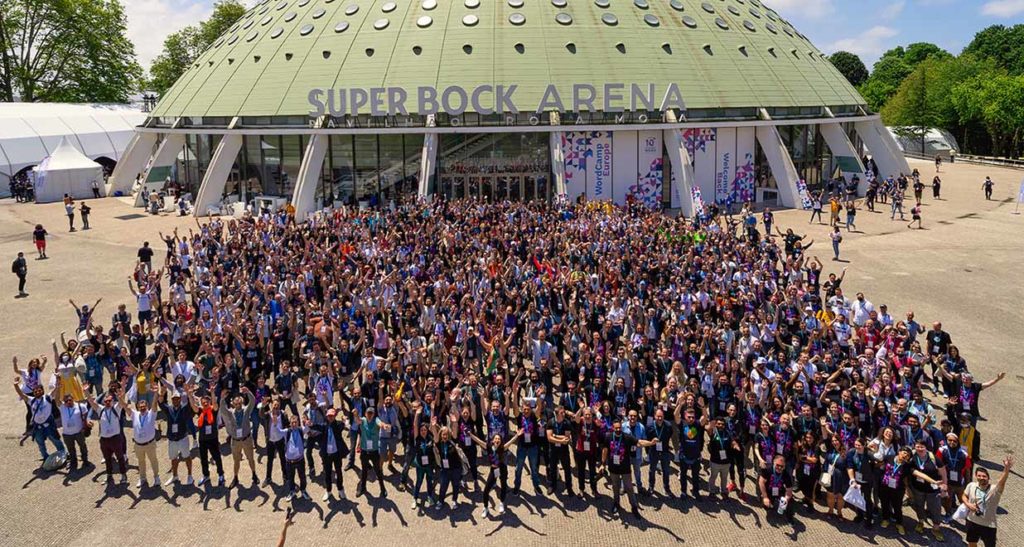 WordCamp always reunites the whole community in one place. It's an opportunity to share your views & ideas, and get a fun learning experience. Meeting different types of people, connecting with them, opening new possibilities to grow- these are the exciting facts about all the WordCamp. This WordCamp Europe 2022 was also no exception. Although people were more excited since they could meet again in person after the destructive COVID period.
In one word, the outcome is huge. These are some significant points you should go through-
Make WordPress a more robust and user-friendly platform
Give more focus on WordPress security
Escalate on accessibility & full site editing in the next updates
Emphasis on performance improvement and optimization
Prioritize community activities & build partnerships
Strengthen the bond among the community members
Every WordCamp aims to make WordPress better through sharing knowledge and exchanging views. On this note, the participants also made this 10th Word­Camp Europe successful with some special remarks.
See You at the Next Word­Camp Europe 2023 in Athens
Next WordCamp Europe 2023 will be held in Athens, Greece from 8 to 10 June. This is a city of history that spans more than 25 centuries. People who love WordPress will meet again with new ideas to expand the industry to the next level.
Although you can even apply to the 11th edition of the Word­Camp from now on.
See you in the 11th edition of WordCamp Europe, in Athens, Greece!