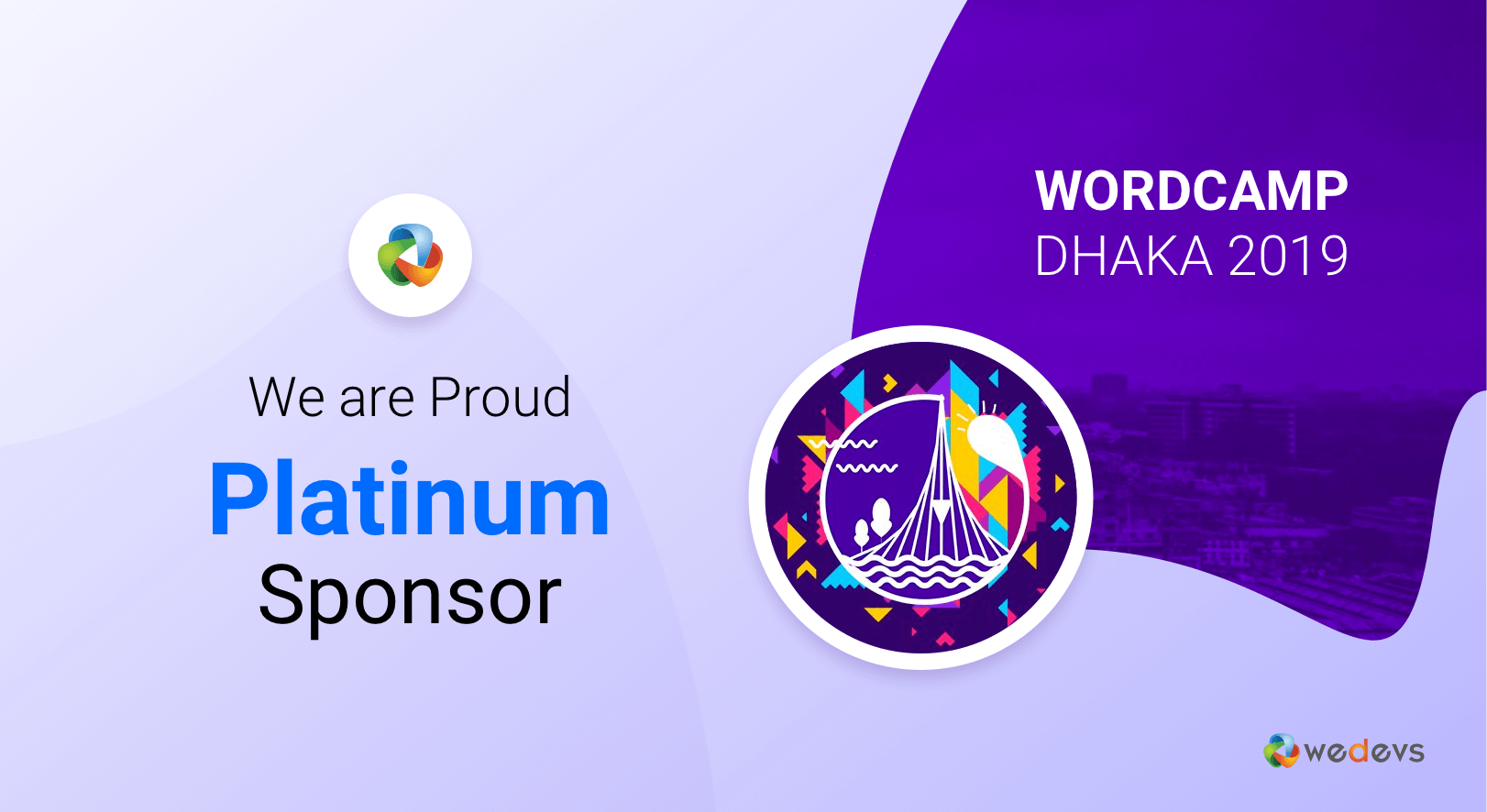 weDevs is the Proud Platinum Sponsor of WordCamp Dhaka 2019
Finally, It's going to happen!
WordCamp Dhaka 2019 is scheduled to be held on September 28th. And the good news is- weDevs is participating in this magnificent event as a Platinum Sponsor. Not only that, our Founder & CTO Tareq Hasan; Co-Founder & CEO Nizam Uddin will be attending as the speakers and panelists.
They will share their thoughts-experiences about WordPress Ecosystem and its future prospects, Product Development, Digital Marketing, and more.
Many of our emerging talents and qualified team-members will play a key role in the event as speakers, organizers and also volunteers. And as a participant, you will find exciting giveaways including t-shirts, backpacks, stickers, pen, keyring, up to 100% special discounts and what's not!
In this post, we have talked about various aspects of WordCamp Dhaka 2019 and beyond. Also, you will get a clear idea of WordCamps, how they work and why should you attend. So, let's get started.
Matt Mullenweg & WordPress Community: The Story behind WordCamps
WordCamps are informal, locally-organized conferences spreading everything about WordPress. The first such event was WordCamp 2006 in August that year in San Francisco. It was the brainchild of the Automattic Founder & CEO Matt Mullenweg.
On July 9, 2006, Matt shared this idea on his personal blog- ma.tt.
The idea is to bring WordPress users and developers so we can meet each other face to face, share stories, and try to figure out the future of our little corner of the online publishing revolution

–Matt Mullenweg
With the short notice of less than one month, Matt's dream became a reality.
The first WordCamp outside San Francisco was held in Beijing on September 2007. Since then, there have been 1,022+ WordCamps in over 75 cities in 65 different countries around the world.
WordCamp San Francisco 2014 was the last official annual conference of WordPress, taking place in San Francisco, That's now been replaced with WordCamp US.
The first regional WordCamp ran in 2013 as WordCamp Europe. The purpose behind regional WordCamps is connecting people who aren't already active in their local communities. And encourage them to get in touch with WordPress professionals in their hometowns.
This year's WordCamp Dhaka 2019 is going to be held with the same purpose in Bangladesh.
WordCamp Dhaka 2019 at a Glance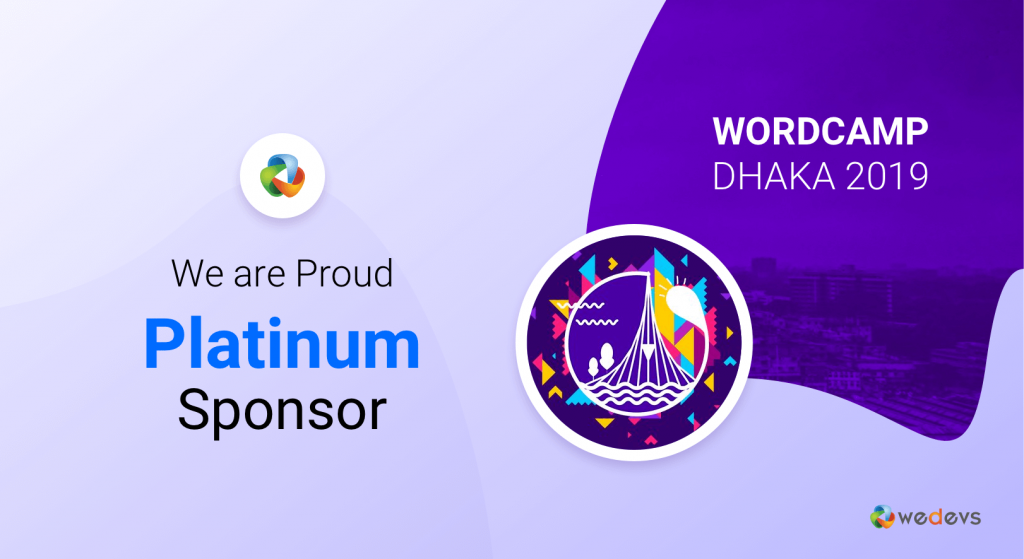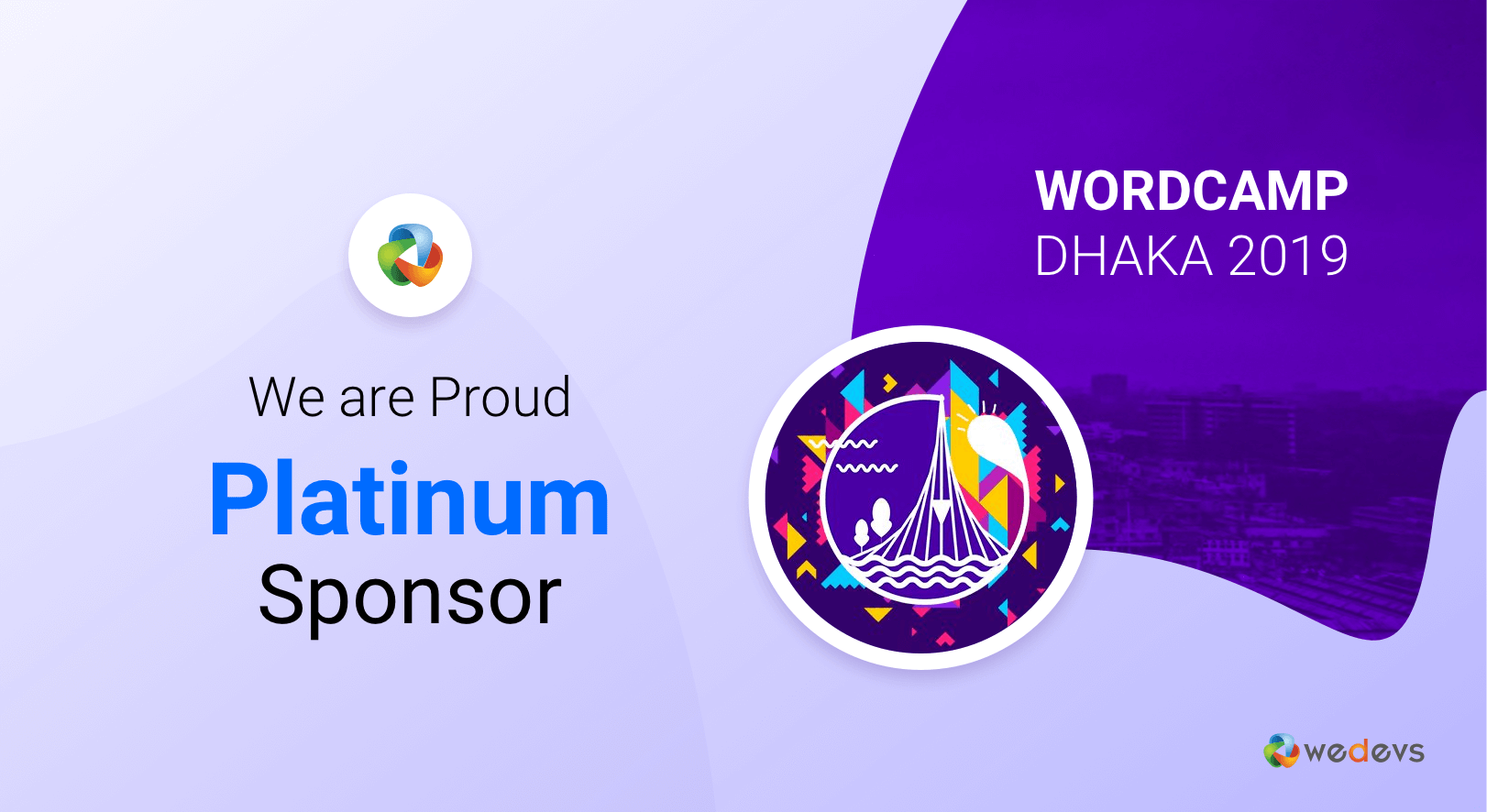 The WordCamp Dhaka 2019 is a day-long casual community meet-up of WordPress professionals including product developers, designers, marketers, bloggers, and others who are enthusiastic about WordPress. Like other regional WordCamps, it's also organized by the local WordPress community members.
We are very excited and hoping to do everything WordPress here at WordCamp Dhaka 2019 with a total blast so that you can learn, connect and contribute and make WordPress better for everyone.

–WordCamp Dhaka Team
As it's the first country-wise Community Meet-up in Bangladesh, just imagine what could be happening there!
The program will start at 8:00 am. There will be around 15 sessions, workshops and a special panel discussion on- 'Future Prospects in WordPress: Business & Beyond!' The attendees will get the opportunity to participate in different Quiz and win exciting giveaways. Also, there will be amazing swags waiting to be distributed among all the participants.
This day-long program will end with an awesome After Party meet-up at 8:00 pm.
Visit Our Stall and Get Swagged!
You already know that weDevs is attending this event as the Platinum Sponsor. So, there are lots more to get.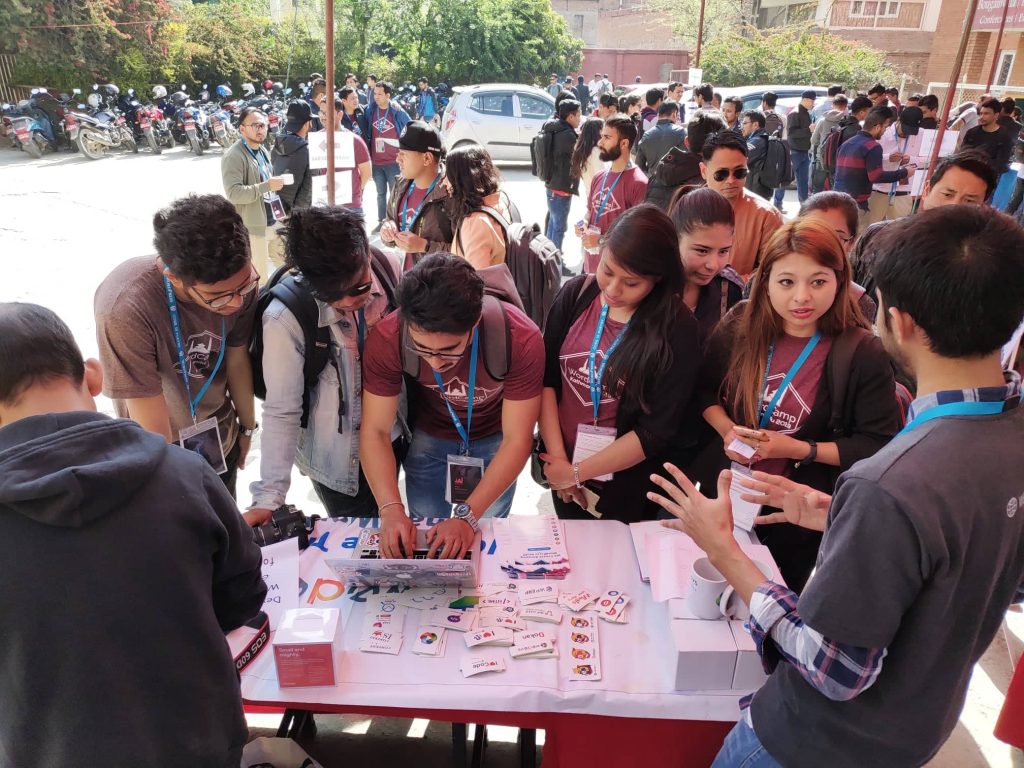 We are ready with a huge collection of swags including Stickers, Mugs, Wrist Bands, Key Ring, Pen for everyone. And it's just the beginning! Check what more is waiting for you.
1. Developer Quiz Contest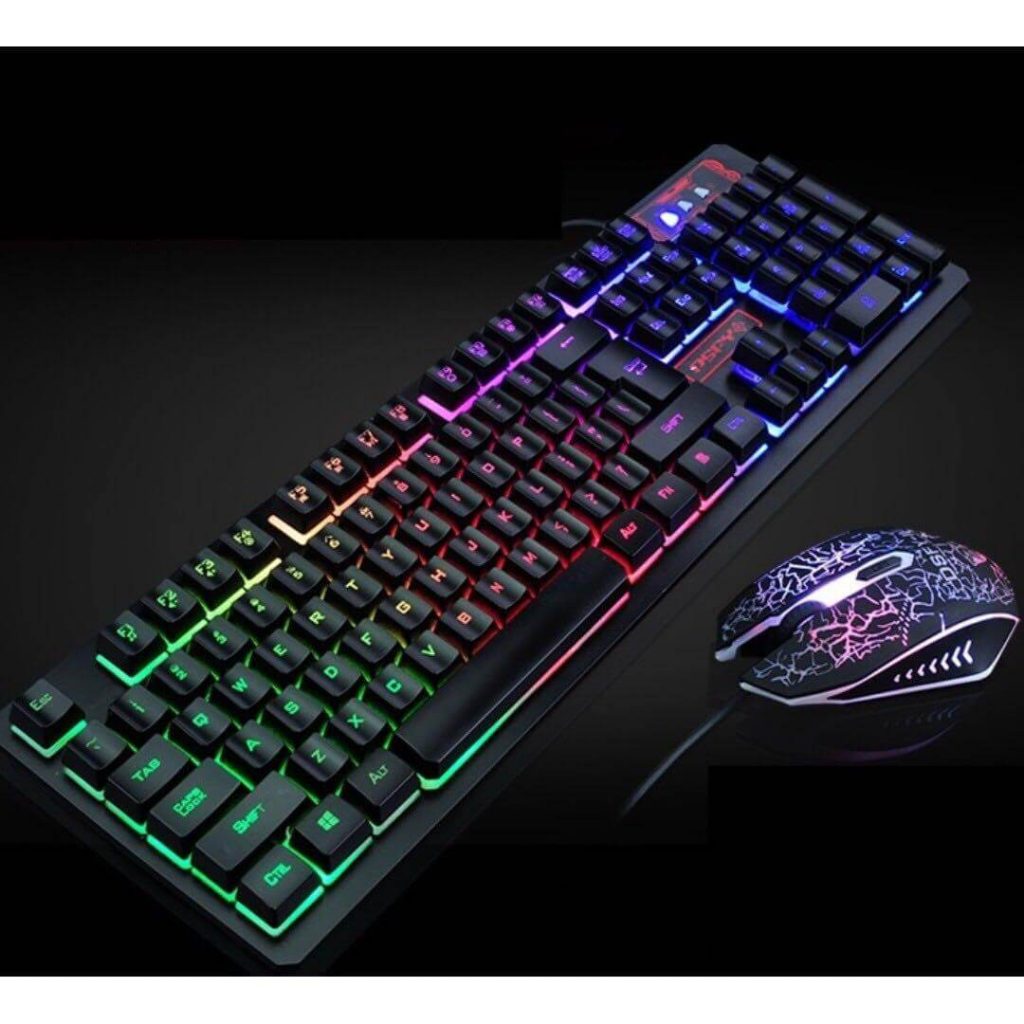 This is a special Quiz Contest designed for developers. If you're a WordPress developer attending this WordCamp, you also can participate and win an awesome gift. The gift for this contest is a Mechanical Keyboard.
2. Share & Win
This is a 'Share and Win' contest for the general audience. The attendees will get the opportunity to share their thoughts on our products on their social media profiles or timeline and win swags like a shoulder bag, Mi band 4, wireless headphones, Power bank, and more. Give a check!
3. 25% Discount on Any Purchase Order!
Yes, you can get a special 25% discount for your each and every purchase up to the end of September-19. And it's open for anyone across the world! You also have the opportunity to be part of this WordCamp.
So, pick up any of your favorite plugins and claim the discount!

How Do WordCamps Work
The purpose behind WordCamps is to build perfect communication among those who are working with this great CMS platform as developers, marketers, authors or in other ways. So that they will be able to work more efficiently in the upcoming days. And the WordPress ecosystem gets more powerful through the way.
WordCamps are very helpful to maintain proper interaction and understanding
Experts get the chance to talk, share knowledge and thoughts, discuss what they are going to do, what needs to do or more. And WordCamps are the only stage where they can build the perfect understanding and interactions, which is very rewarding and effective for everyone at the end of the day.
Usually, WordCamps are one or two days of casual meet-ups. Organizers may have a workshop or contributor day
WordCamps also create a lovely relationship between locals community members, as well as those who are working globally.
Besides, product companies get the opportunity to brand and promote themselves. And there are expert people who share their thoughts and experiences to help others; do personal branding. These are the core achievements of WordCamps.
Why WordCamps are Important
Now the question is –
Is it possible to get those benefits without WordCamps?… not actually! In this digital age, we are globally connected mainly through the internet and modern devices. It's ok and even enough for the basic working purpose. But physical meet-ups are essential for building a strong, sustainable, and emotional relationship.
WordCamps bring all kinds of WordPress related people under one umbrella, give them a chance to get together.
We can say- the idea of organizing camps was one of Matt Mullenweg's revolutionary thoughts, which has been happening since 2006, from the very early age of WordPress.
Why weDevs Attends WordCamps
Here at weDevs, we appreciate WordCamps very much. As a WordPress based product company, we believe that WordCamps give us the opportunity to perform some of our particular duties and responsibilities towards the community.
We believe that giving back to the community has the same importance
Sponsoring WordCamps is not about generating revenue or doing business. It's about making the community strong. There are many people who we work with regularly can't meet face to face. WordCamps help us to meet our friends and create a happy reunion. Also, helping the community by sponsoring gives us peace of mind that we are helping WordPress to grow more.
We have been sponsoring and participating in WordCamps every year since 2014. Have a look at some of our WordCamps stories.
Looking Forwards
Our Founder and CTO Tareq Hasan, weDevs' Co-Founder and running CEO Nizam Uddin are ensuring their participation and contribution to various local and global WordCamps at the same time. We are not only the sponsor of this year's 'WordCamp Dhaka 2019' but also one of the core organizers.
And that's how we want to strengthen our relationship with the WordPress community today and in the future.
We are working to build a stronger community along with our beloved customers so that we can prepare a culture of creating harmony and the tendency of sharing and caring in the WordPress ecosystem. Thus, we want you to be a part of it as well.
Let's meet at WordCamp Dhaka or some other future WordCamps 🙂