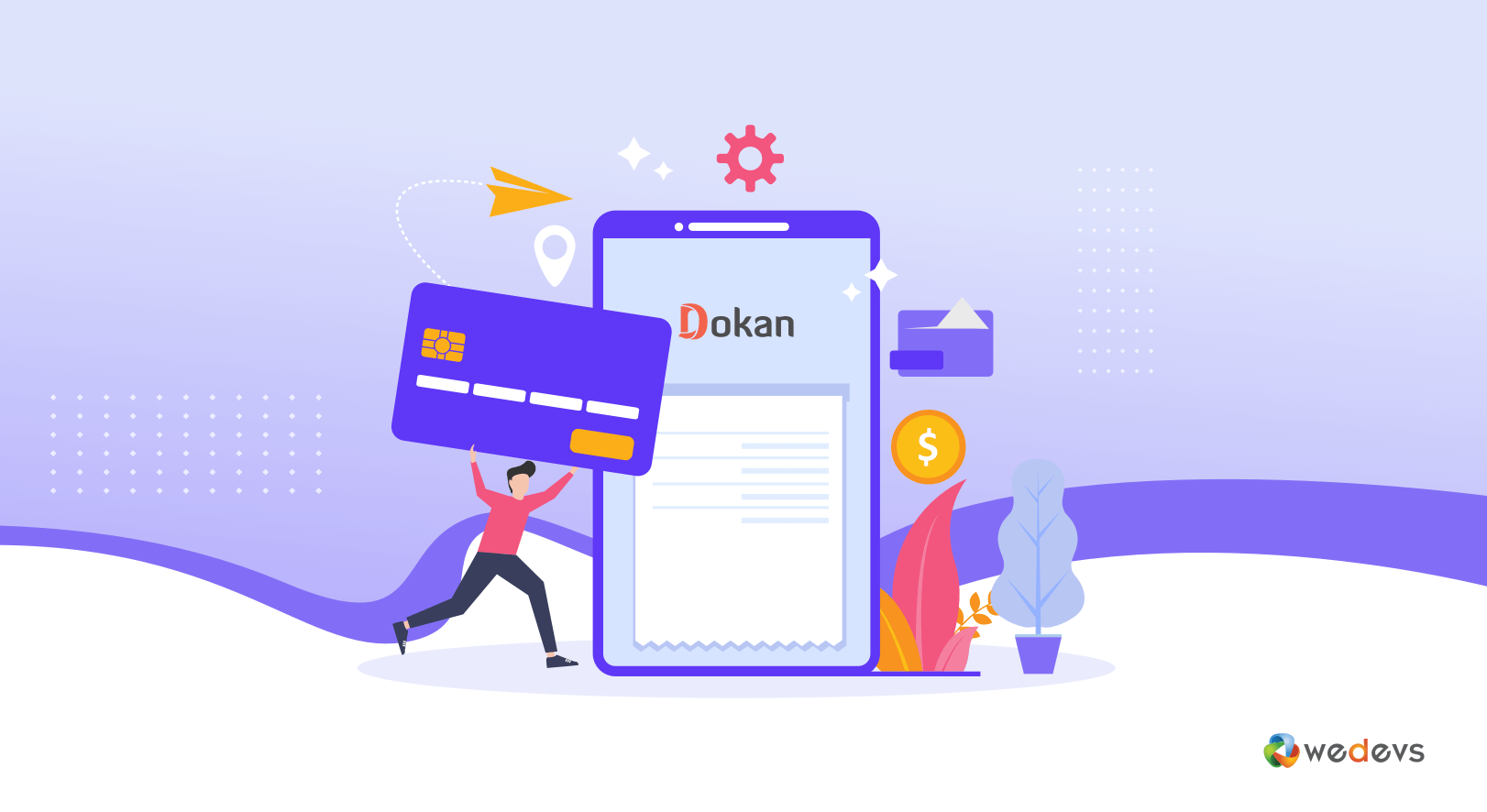 How to Choose the Best Marketplace Payment Gateway in WordPress
A payment gateway plays an important role in any e-commerce website, as it provides a medium to carry out transactions between the customers and the sellers. The type of payment gateway may also be responsible for influencing your visitors' perception of your brand, and act as a deciding factor whether they make purchases or not.
For instance, suppose you are running a diamond business but your payment method does not seem reliable. Then you probably will lose potential customers just because they are not convinced with the type of payment. So, having a payment gateway is not just enough, but it should be trustworthy and something that consumers can easily rely on.
PayPal is the oldest online payment gateway. However, due to its relatively higher transaction charges and blocking account on petty issues, it has resulted in a major loss of a number of PayPal users. That is why switching to a better alternative is worth considering, and that is how Stripe comes into the game.
Today you'll walk you through all the benefits of getting Stripe to your online marketplace and show you how to add the Stripe payment gateway with your eCommerce marketplace.
What is Stripe Connect?
Stripe Connect offers all the tools that marketplaces and online platforms need to enable users to pay. It helps with identity confirmation, tax reporting, and more; doing all the heavy lifting while giving you control over everything from the UI to the timing of transfers.
Because of its global presence, it enables your platform to support sellers from anywhere Stripe functions. Stripe Connect allows your platform to customize complex flows that span many customers, sellers, and anyone who needs to get paid as a part of your business.
It is tightly coupled with the rest of Stripe, letting customers pay from across the globe, either through the desktop or mobile devices. It charges as low as 2.9% + 30 cents per transaction.
What Makes Stripe the Best Marketplace Payment Gateway
In terms of user-friendliness and rich features, Stripe is the best marketplace payment gateway. Stripe is one such competent payment gateway provider that accepts payments from all over the globe. Stripe is basically built for developers, and users with a basic to intermediate knowledge of coding can configure it successfully.
Plus, developers can enable their online stores to receive payments through Stripe instead of getting a merchant account. Stripe is designed with a set of unified APIs and tools. This immediately enables businesses to accept and manage online payments.

It is compatible with all major credit and debit cards, including MasterCard, American Express, JCB, Visa, Discover, and Diners Club. Whether you are creating a marketplace, mobile app, e-commerce storefront, or subscription service, Stripe has all the features you need. Moreover, there are also various Stripe plugins available for WordPress websites.
How To Configure Dokan Stripe Connect on Your WooCoomerce Marketplace
Let's assume you've already set up your eCommerce marketplace on your WordPress site using Dokan. Here we'll show you how to install, activate and configure the Stripe Connect module to your online marketplace.
Stripe Installation: The Best Marketplace Payment Gateway
Navigate to your WP dashboard → Dokan  → Modules. Find Stripe Connect and turn on the toggle button to activate this module.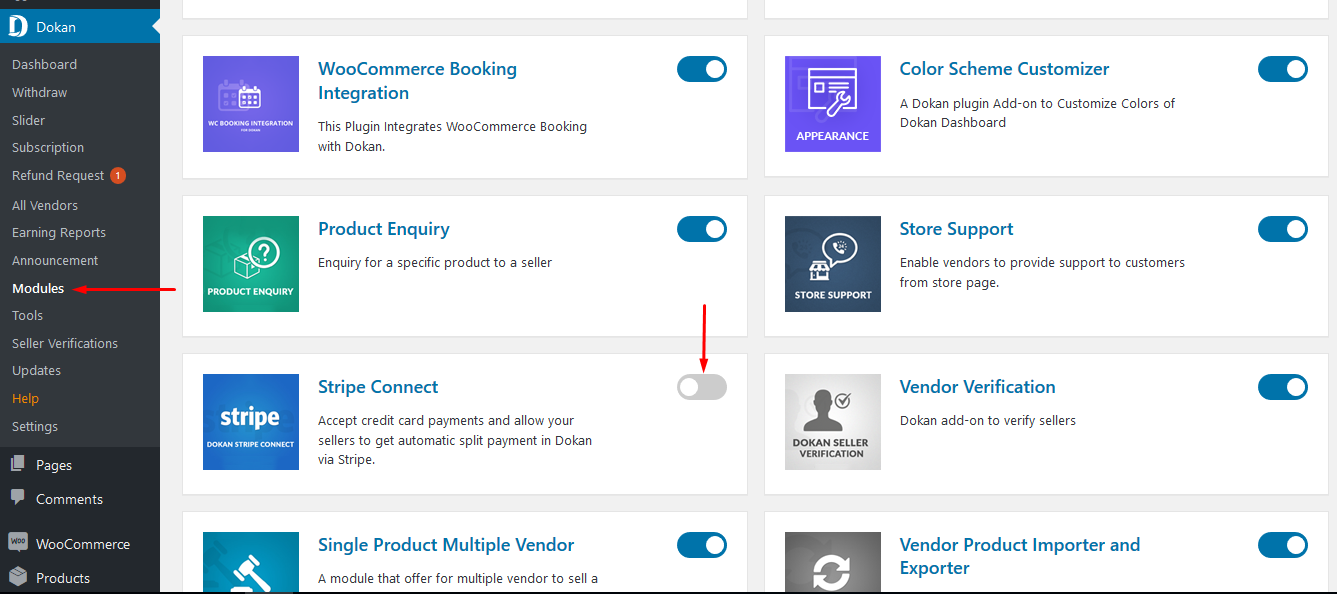 Enabling Stripe Connect
Go to WP Dashboard → WooCommerce → Settings→ Payments.
To enable this payment gateway, toggle On the 'Dokan Stripe Connect'. Then click on 'Manage'  to get to the option for Dokan Stripe payments as shown below.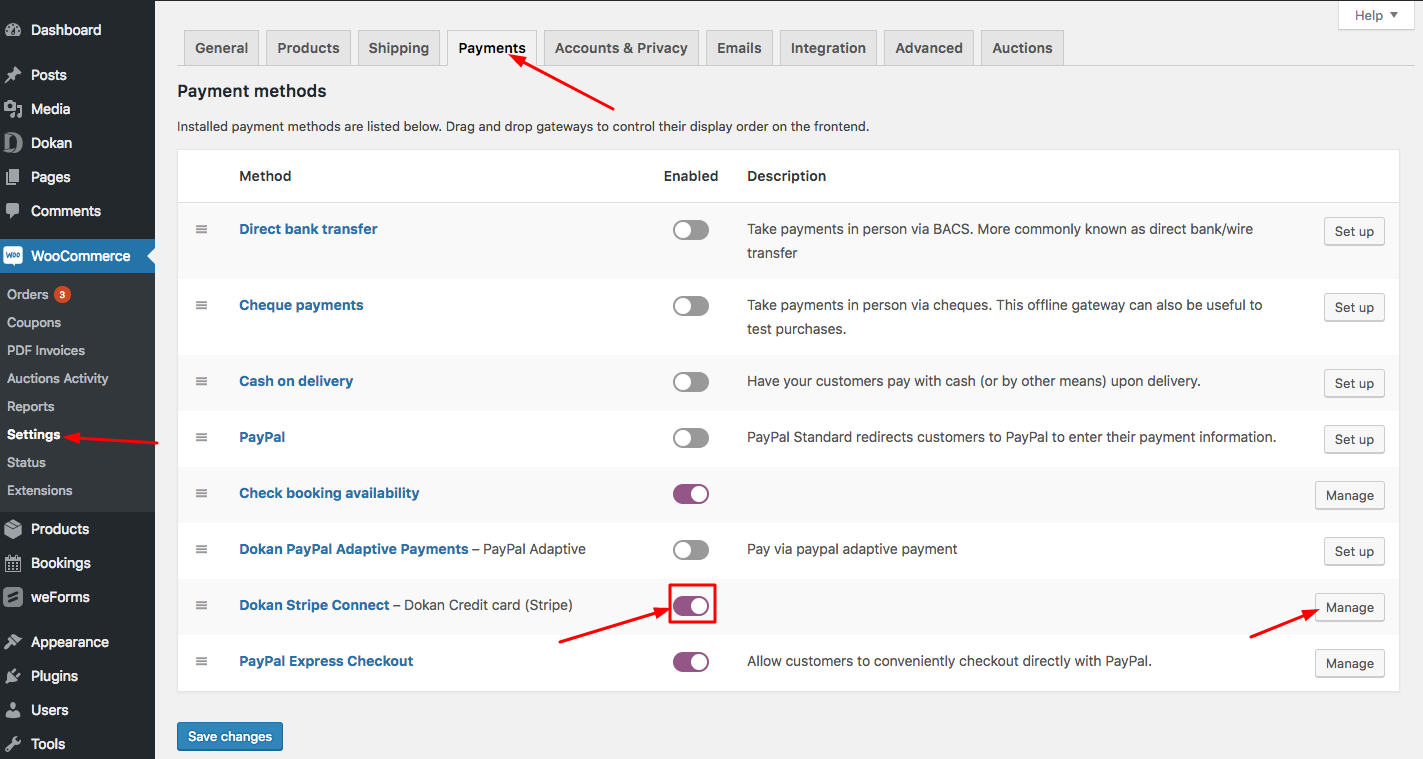 Check the "Enable Stripe" option. Next include Title and Description. The plugin already has default text added, you can change it according to your needs.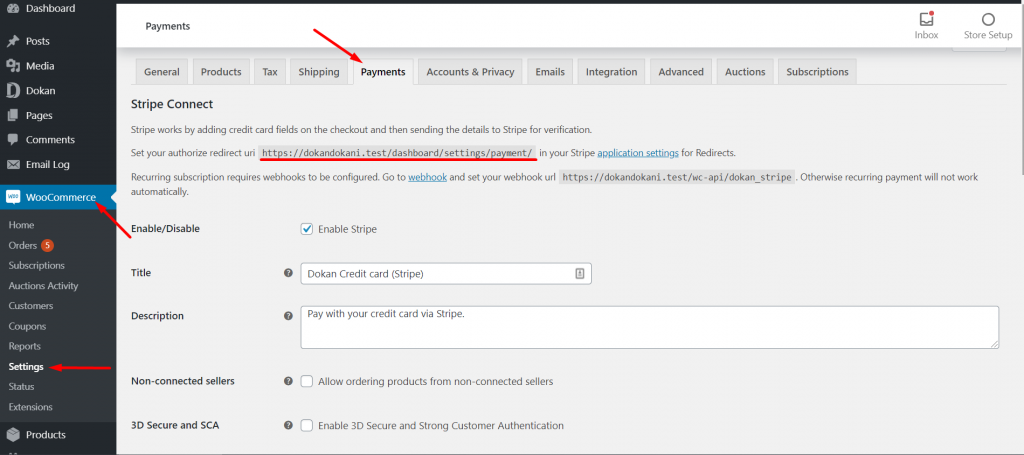 Here, we have enabled the test mode to test the payment system. For live transactions, you don't have to check this box.
You can enable the Stripe Checkout option. This will show a "pay button" and a modal credit card from the checkout page. This also enables a popup that will open and will ask for credentials to pay. You can either turn this on or off. It is totally optional.
To get the redirect URL, copy the line from "Set your authorized redirect URL https://dokandokani.test/dashboard/settings/payment/ in your Stripe application settings for Redirects."
Now copy the URL and paste it into the Redirect URL field at your stripe account.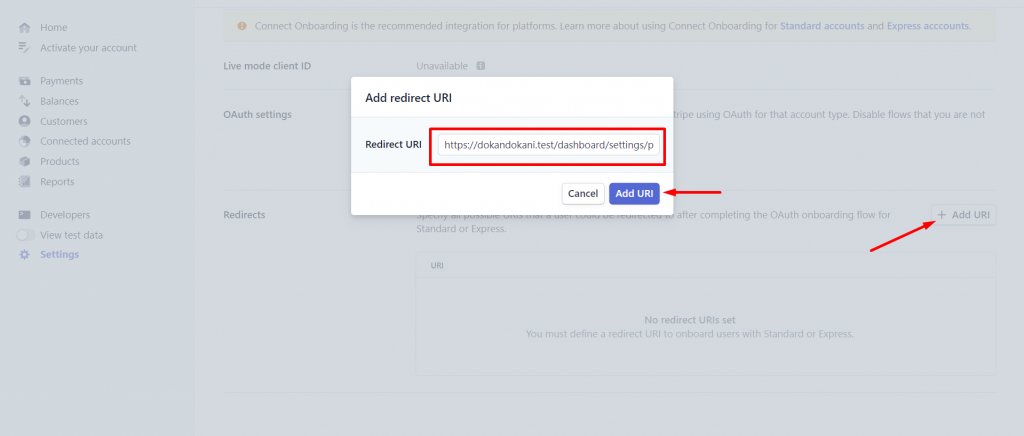 Note: If you want to enable the vendor to collect orders & payments from non-connected sellers, you simply need to check the 'Non-connected seller' section as shown in the screenshot above.

The Saved cards option allows users to pay with their saved cards during the checkout process. Stripe serve saves the card details (not on your stores) thus ensures security.
Credentials to Setup Stripe on Your Marketplace
The Stripe Settings has Live Credentials and Test Credentials configuration.
Here, you have to enter the secret key and publishable key in case of live transactions. You can also test the payment system using the test credentials.
All you have to do is to enter the Secret Key, Publishable Key, and Client ID from Stripe and Save changes.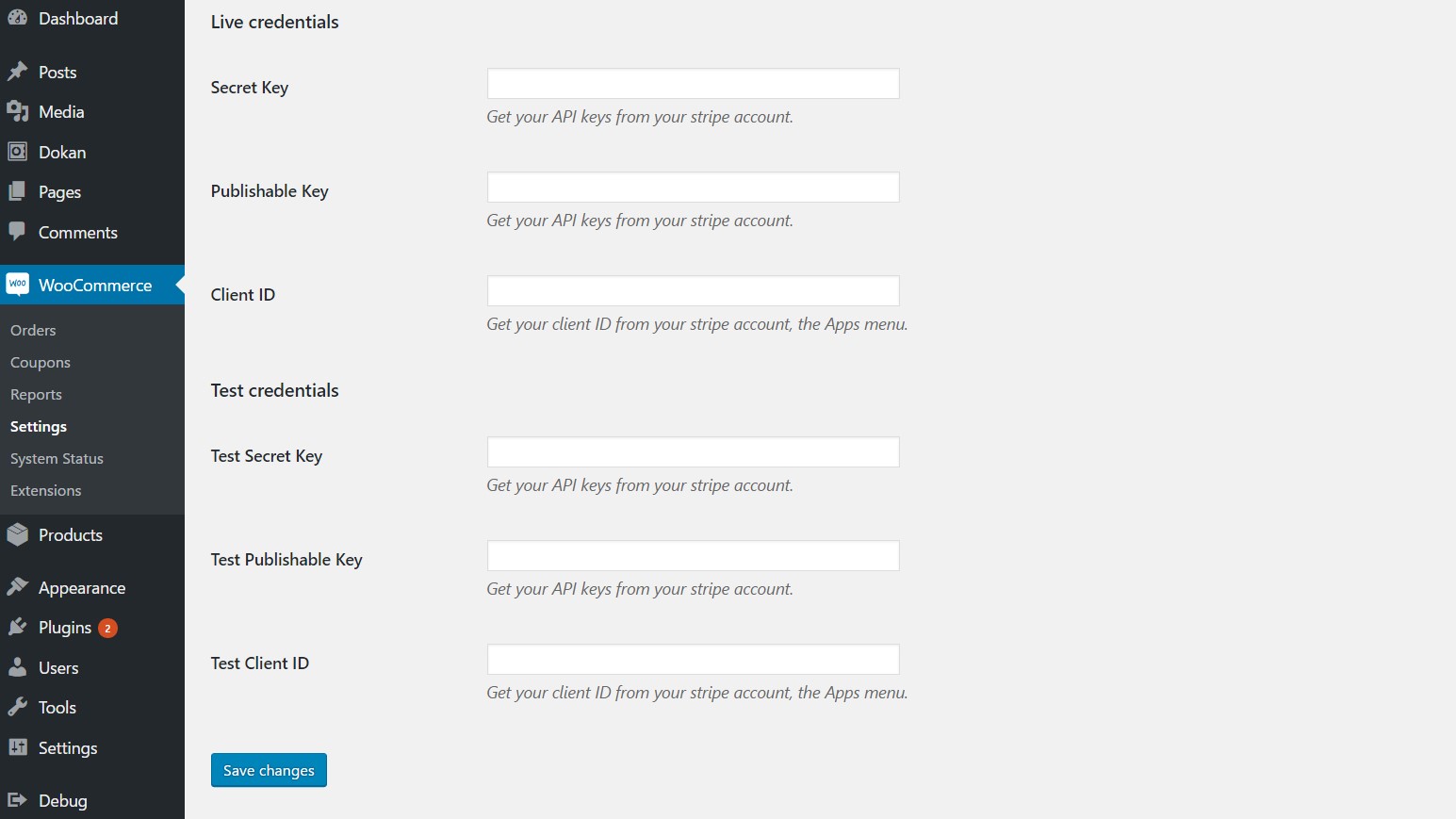 Check the full process of Getting the Credentials and Activating Stripe for Vendors right from the official document of Dokan Stripe Connect.
Or check the video below-
Why Stripe is Better than PayPal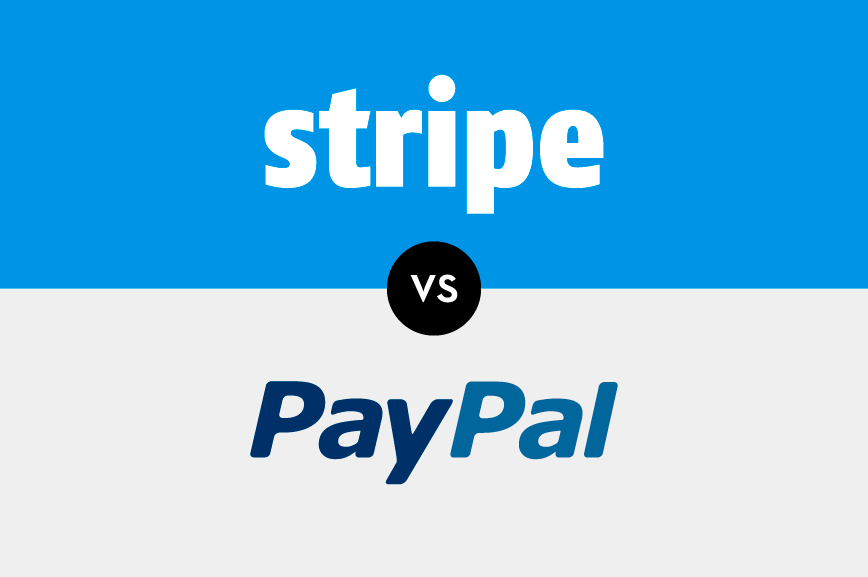 Switching to Stripe will bring great benefits to your business that you might not get with other payment processors. As Stripe allows customers to make the payment without redirecting them to another portal, it will give a flawless shopping experience to the customers, bypassing the unnecessary steps, resulting in more customer retention.
These are the core benefits you'll get from Stripe:
Anyone who ever paid via PayPal knows that when you're paying via PayPal, you have to go through PayPal's website, leaving the original site behind. Stripe does not make your customers leave your website during the checkout process. Stripe's payments are self-hosted. This is a big plus and often deciding factor for many online business owners.
Stripe does not charge any cross-border fees. And, if you are receiving payment in another currency, it will charge a 2% conversion fee. While PayPal, on the other hand, charges a cross-border fee, which varies from country to country, and if you are accepting payment in a different currency, it will charge a flat 2.5% conversion fee. Although both the gateways are totally secure, the checkout process is simply easier with Stripe.
With Super Stripe, you can integrate the Stripe payment gateway for your website. No need to acquire or install an SSL certificate 
Stripe allows data portability, while PayPal does not. Meaning, if you would like to switch from PayPal to another payment processor, PayPal simply would not allow you to migrate credit card information. All your existing customers will have to sign up again. But, if you want to leave Stripe, it will help you transfer all payment data in a secure and PCI-compliant way.
When it comes to customer service, PayPal had slow and unreliable customer service and there were countless terrible stories of PayPal suspending funds for no reason. Stripe has open channels for customer support, where executives can chat with you and get live help from the engineers. This is invaluable if you run into a tough problem and need some instant help.
These exclusive features make Stripe the best marketplace payment gateway. With businesses growing far and beyond, you are likely to receive customers from all over the world. So, you will always receive the full payment that has been paid by your consumers. 

Ensure Smooth Transaction with The Best Marketplace Payment Gateway
Selecting the right payment gateway is one of the challenges faced by many individuals and businesses in getting their companies off the ground. Although both services are not mutually exclusive, it is clearly being concluded that Stripe is merely a good alternative to PayPal. It will be interesting to watch how these companies develop and compete over the years, as ultimately it would be us to receive better offerings because of it.
Still, have some queries about Dokan Stripe Connect? Do use the comment section below and we'll respond to you shortly.