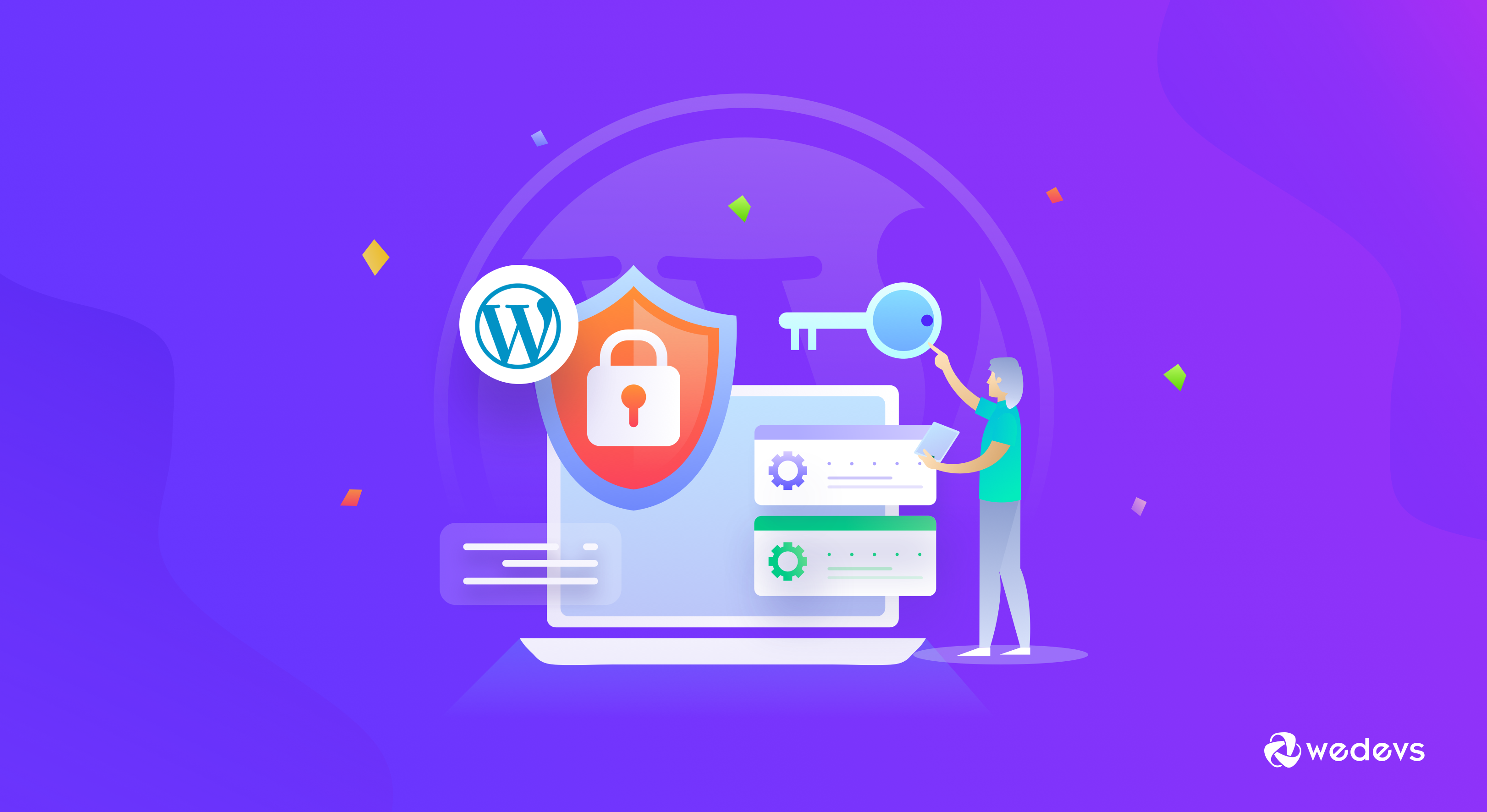 8 Best WordPress Security Plugins (FREE) for Your Website
Looking for the best WordPress security plugins to protect your site from hacking attempts? In this article, we have shared our expert pick of the 8 free WordPress plugins to keep your site safe.
Ensuring the safety and security of a website is the foremost essentiality for any business domain. You should take proper steps to keep your WordPress site safer and secure from the prying eyes of hackers, viruses, spam, and more.
Hackers around the world are continuously trying to look for any loophole to make an attempt to intervene in the security system of the website.
According to a report, nearly 30,000 websites are hacked each day globally, including both non-WordPress and WordPress websites.

techjury.net
But thankfully enough, a solid WordPress security plugin will be able to prevent hackers from doing that. And so today's post is all about introducing some of the best yet free WordPress security plugins of recent times.
We are hopeful once you are done with the post, you will already have the right erudition to pick the best-suited security plugins for your WordPress website.
So let's get on with it, shall we?
Why You Should Use a WordPress Security Plugin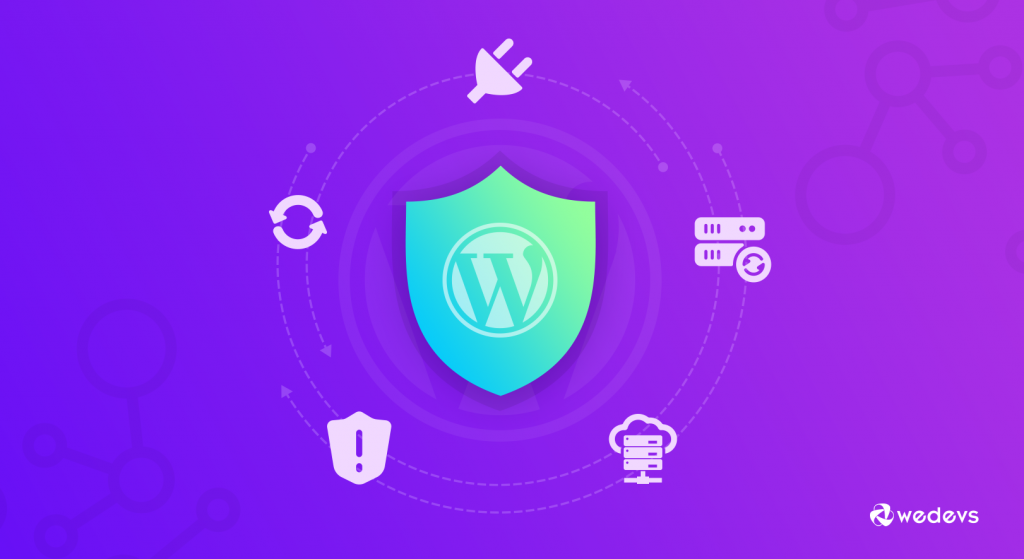 WordPress is usually a pretty secure platform. But sometimes people use external themes or third-party plugins/add-ons that compromise. This makes the site vulnerable to outside hackers.
Even then, when a situation like that occurs, the developers typically push an update to patch the vulnerabilities of the website from hackers.
But still, due to the usage of various third-party plugins, there could be every chance of other security threats that you could miss out on. This could lead your website to stay exposed to further attacks.
In this situation, you can strengthen your website's security and protect it against various threats by using a WordPress security plugin.
WordPress security plugin is important for several reasons. Such as-
Gives protection against malware and hacking attempts
Performs vulnerability monitoring and patching
Offers a web application firewall
Keeps regular backup of your website's files and database
Helps you configure and manage SSL/TLS certificates
From the list below you will be able to get a complete idea about the security plugins that are truly the best for your WordPress sites and business.
Features that a Powerful Security Plugin Should Have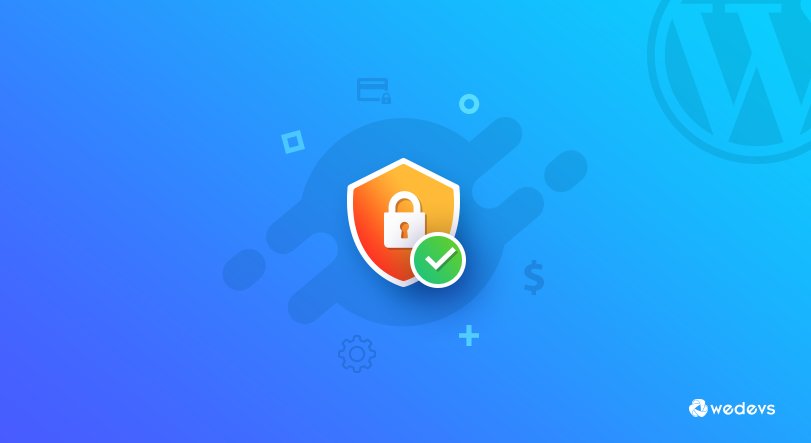 Before moving on to the top security plugins of WordPress sites, let's quickly find out what features a complete plugin should have. A reliable and effective plugin needs to have the following features and functionalities.
Complete detection ability of Malware, Viruses & Spam
Protection of the login page
Keep your website secured yet fast
Quick fixing ability of the site before it gets suspended or blacklisted
Malware traffic prevention ability through a strong firewall
No limit to removing viruses or malware
Security hardening measures
Prompt & active customer response
Multiple site management abilities through a single dashboard
Looking for essential plugins for your personal blog site? Check this list of 16 exclusive WordPress plugins for blogs.
Best WordPress Security Plugins to Protect Your Website
We are already aware of the fact that in order to protect your website from hackers or unauthorized entry you need to have a robust yet exceptionally feature-rich security plugin. Nowadays hackers are able to break into any website very easily. Which makes it even more essential for you to install a reliable security plugin for your WordPress website.
So let's get some real ideas about some of the top-listed WordPress security plugins so that you are able to pick the best suitable one for your needs.
Wordfence
Sucuri Security
All In One WP Security & Firewall
MalCare
BulletProof Security
SolidWP
Shield Security
Jetpack
1. Wordfence

With over 2 million people using this popular security plugin, the solution is able to take care of and detect any vulnerabilities of the website in WordPress. This widely used plugin is updated regularly and is a fully-featured and powerful solution for your WordPress security.
This security solution for WordPress provides complete protection to your site with the new rules of firewall, malware, and malicious IP addresses that are required to keep the website clean.
The plugin also comes with one interesting feature like Real-Time live traffic. It enables you to get real-time updates on the traffic as well as the attempt of hacking on your site.
Key Highlights & Features
Web application firewall that identifies and blocks malicious traffic
Enable deep integration with WordPress to protect the site at the endpoint
Blocks request that contain malicious content or code with an integrated malware scanner
Limit login attempts providing protection from brute force attacks
Real-time malware signature updates (Premium feature)
One of the most secure forms of the remote system with two-factor authentication
Active Installations: 4M+
Average User Ratings: 4.5/5*
2. Sucuri Security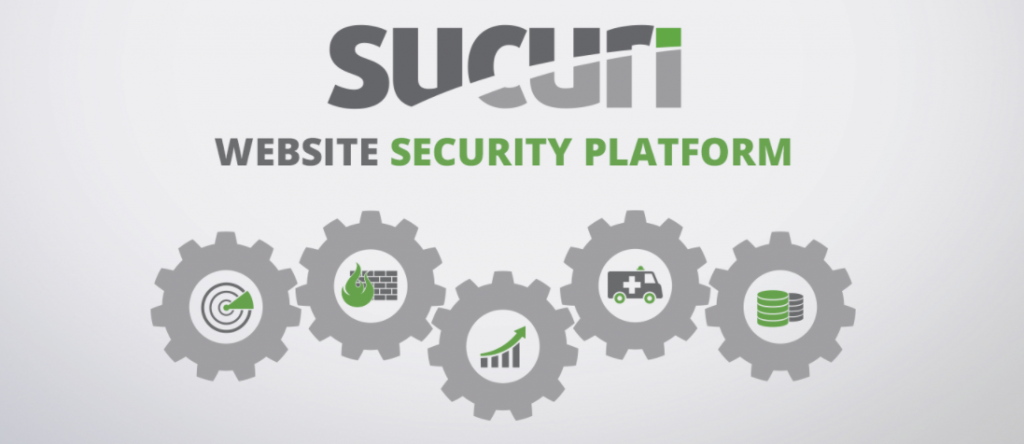 Another quite popular and easy-to-use WordPress security plugin in this list is Sucuri. Not just WordPress, the solution provides protection to websites on other platforms like Magento Drupal, Joomla, etc. The company that it is owned by is itself known to be a very prominent and highly rated one for website security solutions out there hence one can rely on them with their eyes closed.
The best part of this security solution is that it is absolutely free and provides a complete check on your site for spam, blacklisting, malware along with other security-related issues like hidden evil code, .htaccess, etc. For the best security level protection for your site, you can use this solution with the best WordPress security plugins like WordFence or SolidWP.
It mainly consists of four features i.e Remote Malware Scanner, File integrity monitoring, security activity auditing, and overall WordPress Security Hardening. Moreover, this free security tool is more suitable for experienced users with developing skills as it requires a fair bit of WordPress files & coding knowledge.
Key Highlights & Features
Detects any changes to the file
DNS Level Firewall protection
Complete protection from brute force attacks
Hassle-free recovery from hacked websites & post hacking security actions
Most effective security hardening
Notifications for security-related actions
Protections against DDOS attack
Active Installations: 900,000+
Average User Ratings: 4.5/5*
3. All In One WP Security & Firewall

This is another very popular and free security plugin that is designed by some highly skilled professionals. As it is quite easy to install & use therefore it is one of the most preferred security tools for beginners. Due to its user-friendly user interface, configuring the plugin's security option is easier than ever for anyone.
The level of protection in it is top-notch and takes your WordPress site's security to a new level. In order to minimize the vulnerability risk of your website, this plugin implements the latest recommended security techniques and checks. The solution adds a powerful firewall to keep your site protected, improving your website's security. Any change in the WordPress code by malicious scripts is prevented with this firewall.
Moreover, the firewall can also prevent the hot-linking of website images and will block fake bots of Google from crawling your site. For your account, the plugin also helps you to create strong passwords. Security features like login lockdown can prevent an IP address from guessing your password after making failed attempts of continuous login.
Key Highlights & Features
Powerful security firewall
Scanner for file change detection
Create strong passwords with the password strength tool
Complete protection from "Brute Force Login Attack'
Stops user enumeration so that others can't discover user info with author permalink
Ability to whitelist one or more IP addresses for special cases.
Monitor and view full account activity by tracking all login/logout info
Active Installations: 1M+
Average User Ratings: 4.5/5*
4. MalCare

MalCare is known to be one of the most powerful and comprehensive security plugins for WordPress. It detects and removes malware faster than any other plugin out there on the market. It, not just auto-cleans a hacked site but also prevents it from having further security compromises. Its login protection and firewall feature blocks out any suspicious IPs or malicious activities without shredding the server resources.
It has a first-in-kind one-click malware removal tool that just about catches any malware under the radar. It also alleviates the need for hiring any security professional for any small errors as anyone can operate it. One of the good things about it is that every scan work that it runs is done on Malcare's end as a result there is no chance to affect your site's speed or performance.
The plugin possesses intelligent technology that powers up the plugin to protect your WordPress website. At regular intervals, its server collects data from all the websites. It then analyzes the data and employs it to prevent future attacks on your website within the network. If you are managing client websites then its white labeling and client reporting features can come in real handy. All-in-all a solid and effective security solution that protects your WordPress sites from known or unknown threats anytime.
Key Highlights & Features
A cloud-based security plugin that doesn't slows down the WordPress site
A very user-friendly plugin that totally cleans traces of malware from WordPress sites
WordPress Firewall Protection in real-time
Monitor uptime and performances
The scheduled and custom reporting feature
Runs on its own server to keep the performance of the site unaffected
Backups and restoring facility is integrated
Active Installations: 100k+
Average User Ratings: 4/5*
5. BulletProof Security

Another very highly rated and robust security plugin for your WordPress site that keeps the site secured by including a powerful firewall and protecting it from "Brute Force Attack'. All it needs is to set it up carefully and once it is up and running you are all set to host all your website's basic security measures.
Moreover, the solution protects the database & backs it up, and also mitigates the chances of affecting website security and speed by scanning the .htaccess file. With its one-click installation wizard, installing and setting up the plugin itself is easier than ever. But configuring it could be a little tricky as its interface might not look too user-friendly for all.
There is also a manual mode of this application that you can configure for its advanced functionalities. Its free version is already sufficient enough to secure your WordPress website. But if you need to unlock some advanced features, you can always get its pro version. The plugin is ideal for detecting fake malicious traffic and blocking login attempts. More importantly, it notifies the user in case any issue arises while checking the source code of themes and WordPress plugins.
Key Highlights & Features
Full-proof login security & monitoring
Provides file upload protection and integrity monitoring
Idle session logout to prevent exploiting of users when they are away
Solid intrusion detection and prevention system for WordPress site
Has in-built code scanners, can limit failed login attempts, block IP, and looks for fake traffic
Adds caching to optimize the performance of your website
The pro version enables the user to use it with unlimited sites
Active Installations: 40,000+
Average User Ratings: 4.5/5*
6. SolidWP Solid Security
Previously known as Better WP Security, this cutting-edge security plugin protects your websites from web attacks and other security vulnerabilities using its more than 30+ designed and in-built ways of protecting the website from hackers and bots. It is one of the people's favorite security applications for WordPress since 2008. And the tool is built to fix common security vulnerabilities. It also keeps a close check on the password strength of the account.
Once any kind of suspicious activity is detected in the system of the website, it automatically locks down the WordPress site to keep it unharmed from further outside attacks. The security tool itself is most suitable for both beginners and professional-level users.
For easy setup, it has an ever-friendly single-click installation process. While the advanced features of it are able to configure right from the dashboard. Once the installation is complete, the plugin then automatically runs a security check in order to make sure all the recommended security settings are being used.
To ensure an easier maintenance drill, there is a checklist of security in the plugin dashboard. There are also customizable options for each security feature that can be done using the same dashboard. The tool adds more security features that enable its user to stop automated attacks.
Any indication of compromise due to the changes in the file system and database gets reported right away. It also provides its users with the all-famous & important two-factor authentication system with its premium version.
So you won't need to worry about the extra security that you desire for your WordPress site. The solution always looks to work on blocking all the evil users and improving the security of the site's vital information as well as passwords.
Key Highlights & Features
The strong Brute Force Attack system prevents invalid login attempts are made
Attacks on all the filesystems and databases are detected and blocked
Complete database lost protection with its backup features
Re-enforces strong passwords for all accounts
Instant email notifications when any web attack takes place or any file has been changed
Monitor to detect any unauthorized changes in the file system
Instantly reports any existing issues and fixes them quickly.
Active Installations: 1M+
Average User Ratings: 4.5/5*
7. Shield Security

This is another free yet very powerful & popular security plugin for your WordPress site. It offers some basic protection along with proper cleaning & scanning option. The dashboard of the plugin itself has a very interesting way of showing the number of possible intrusions that have been blocked. It also highlights the potential security threats to your website so that any required action is possible to be taken instantly.
Not to mention it is probably one of the highly-rated security plugins that are available in the repository of WordPress.org. Constant notification can be irritating so it mostly automates all its required functions in the background & turns the plugin as silent as possible by keeping the notification and warning to the users regarding issues to the minimum. The setting up process is easier than ever as it comes with an effortless configuration wizard of guided instructions.
The developers of the Shield have done an excellent job in designing the solution to be as user-friendly as possible. It is indeed a tool that secures your website in the best way. The solution moreover provides one of the most powerful WordPress core file scanners. Its system has an automatic option for IP blacklisting and blocking of automated comments (Spam). The plugin even provides support with audit trails and user activity logging. All-in-all it is an application that will help you easily configure and run security scans like a pro.
Key Highlights & Features
Provides a secured WordPress login page protection
Core file scanner that detects malicious files automatically
Monitors complete user activity
Scans for vulnerability issues in plugins & themes
Full-proof firewall protection for your website
Limits attempts of failed login & automatically block Brute Force attacks
Import & export option of settings from any website where the plugin is present
Active Installations: 70000+
Average User Ratings: 5/5*
8. Jetpack

This advanced security plugin vows to provide the user to enjoy their WordPress site with a smoother, faster & safer experience. Back up your whole site in real time without any storage limitations. It even restores everything in just a single click.
This WordPress plugin is known to be an all-in-one package that enables you to benefit from design, marketing & security. Once you install it on your WordPress, you will be able to customize any kind of website with some of its exciting features from designing benefits like a high-end and faster content delivery network, solid customization tools, etc. From marketing benefits, features like analysis & statistics, tools for SEO, Facebook Ads, Google AdSense, Google Adwords advertising programs, etc.
In terms of security benefits, a WordPress user would get feature benefits like a backup of the complete website in real-time, Malware & Spam protection, login security, reliable user support from WordPress experts, etc. This decorated security tool provides you with the site's basic protection for free while its pro plans include the more extensive features of site backup and other highly advanced automated protection on the WordPress site.
Key Highlights & Features
Provides instant downtime alerts to take prompt action by email
Automatic site backup in real-time
Ideal for e-commerce sites like WooCommerce since it provides unlimited backup storage
Has anti-spam features to block form responses and spam comments
Brute Force Attack protection to protect from attacks
Easy site management & maintenance option due to auto-update features of plugins
Get priority support about any issues from WordPress experts
Active Installations: 5+ million
Average User Ratings: 4/5*
Keep Your Website Safe & Secured with the Best WordPress Security Plugins
Although WordPress provides you with a vast range of plugins and it is in your hand to keep your site safe & protected from outsiders. The sole purpose of this post was to get you all the well-informed information about the best WordPress security plugins that are right now at the top of their business.
Since WordPress is an open-source platform, therefore in order to prevent outsiders or hackers from breaching your website you need to follow the best possible practice. Many people still take manual steps to boost their site's security.
But the right security plugins have all the necessary features that can do the job even better. And so these security plugins take away the workload that you need to do for your site's manual measures. This is why one should always look to utilize a security plugin that meets the requirements of the mode of business and website.
Moreover, most of these plugins have a pro version in case you need further advanced features to secure your website.
We are hopeful, after reading this post right now you have all the precise information to choose the best WordPress security plugins for business websites.
Also if you are using any of the listed security plugins that we have mentioned above then feel free to let us know your experience with it in the comments below.