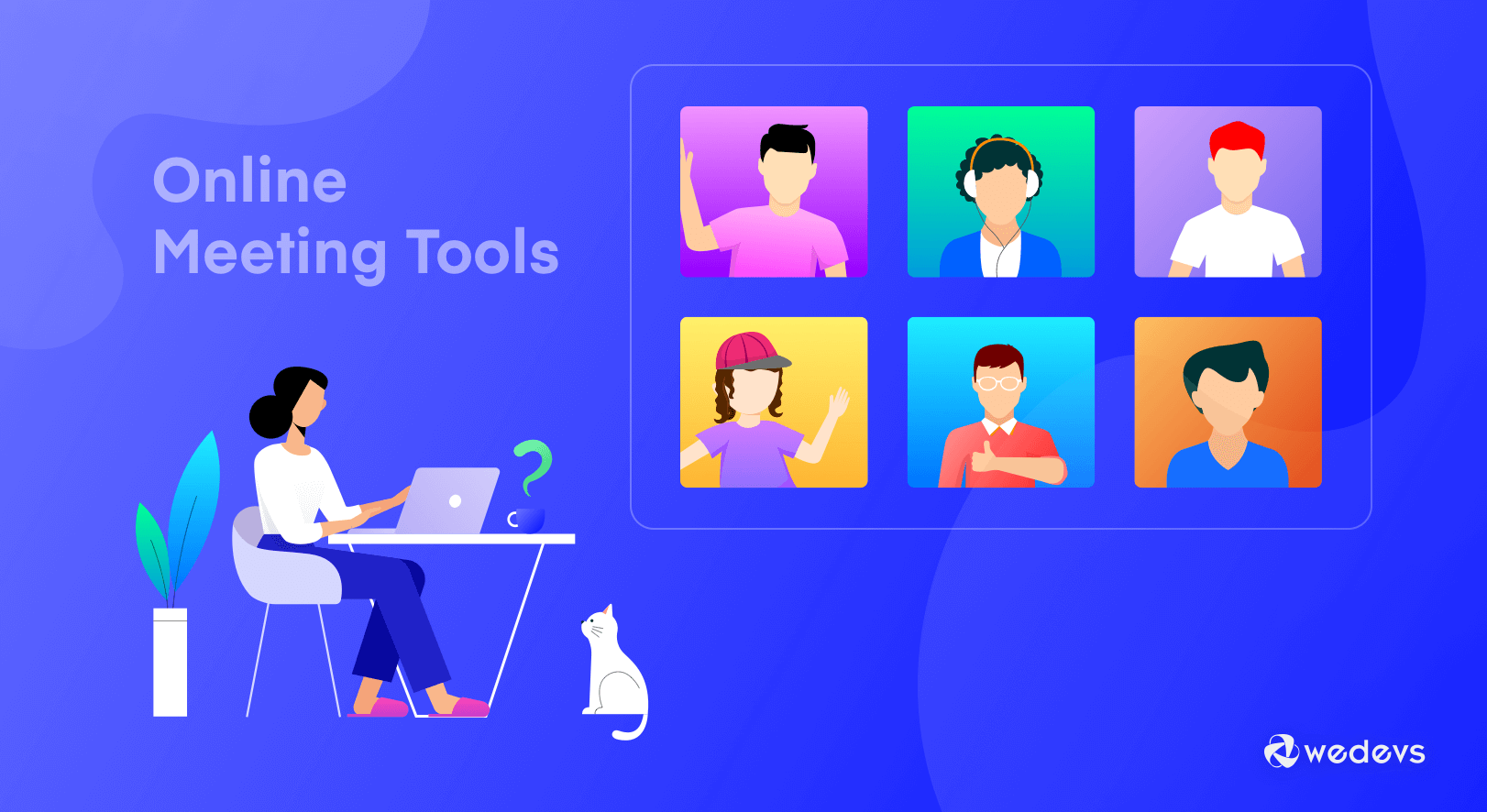 7+ Free Online Meeting Tools: Which One to Choose for Your Team & Why
After the pandemic there was a rise in remote work and online meeting tools have become an essential part of modern-day communication. These tools have made it possible for teams to collaborate and communicate from anywhere in the world.
30% of global companies started using video conferencing for the first time during COVID-19. And the video conferencing market is projected to hit $13.82 billion at the end of 2023.
However, with so many options available, it can be challenging to choose the right one for your team.
In this blog, we will explore 8 free online meeting tools and discuss their features, pros, and cons to help you make an informed decision about which tool is best suited for your team's needs.
Whether you're looking for a tool for video conferencing, screen sharing, or team collaboration, we've got you covered. So let's dive in and find the perfect online meeting tool for your team!
Essential Features You Should Look for in a Video Conferencing Tool
The pandemic has made us realize how much a video conferencing tool can help us. Several video conferencing tools were available out there for years. But, we used those tools occasionally at that time. And now?… Research says that 58% of companies use video conferencing in their day-to-day operations.
So, whenever you want to choose a free online meeting tool, you should look for some common features that must be available with that tool. Let us show you those features:
i) Screen Sharing
When you want to present something important to your team members in an online meeting, there is no alternative without a screen-sharing option. If you're able to show your team members what's on your screen, you'll save time that would otherwise be spent explaining what you see.
ii) Meeting Recording
Being able to record your conferences is very useful for many reasons. You will be able to review your meeting after completing the meeting. And, if anyone misses the meeting, he/she will understand every topic by watching that recorded video.
iii) Text Chatting
Video, voice, and text are the cornerstones of any conferencing software. Text chat is just as important as voice and video chat since it allows you to share any important topics while in your virtual meeting room with your team members. You can even share links instantly through this feature.
iv) Mobile Support
This is another powerful feature of an online meeting tool. Suppose one of your team members is away from his computer, and you want him to join the online meeting. Your online meeting tool should allow him to join through his smartphone.
v) Slideshow
A slideshow can be a great way to organize the information you present during your web meeting. Consider using a slideshow template for a more professional presentation.
vi) Private Chat
Private chat is the ability of several team members to communicate privately during the main meeting. This can be useful for answering questions.
7+ Best Free Online Meeting Tools to Collaborate with Your Team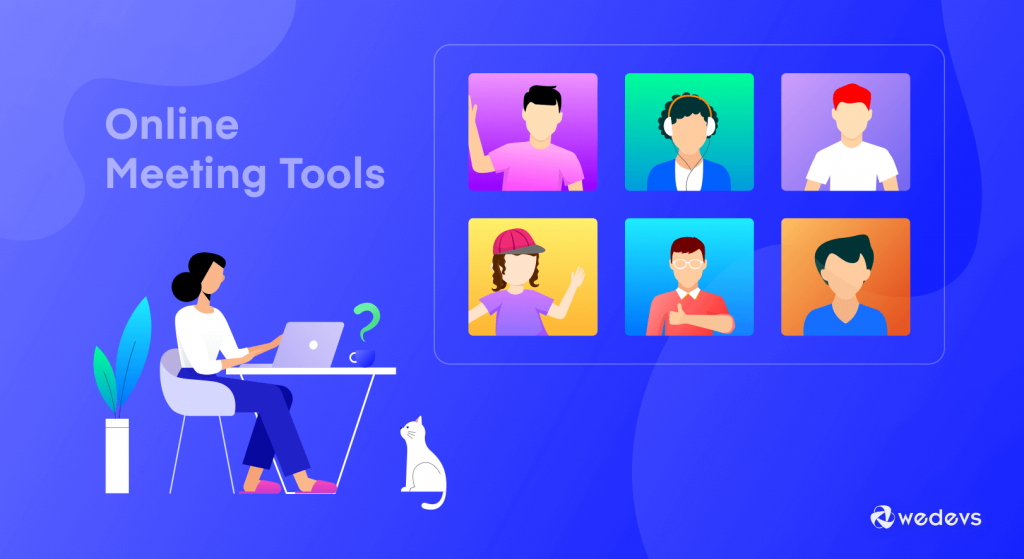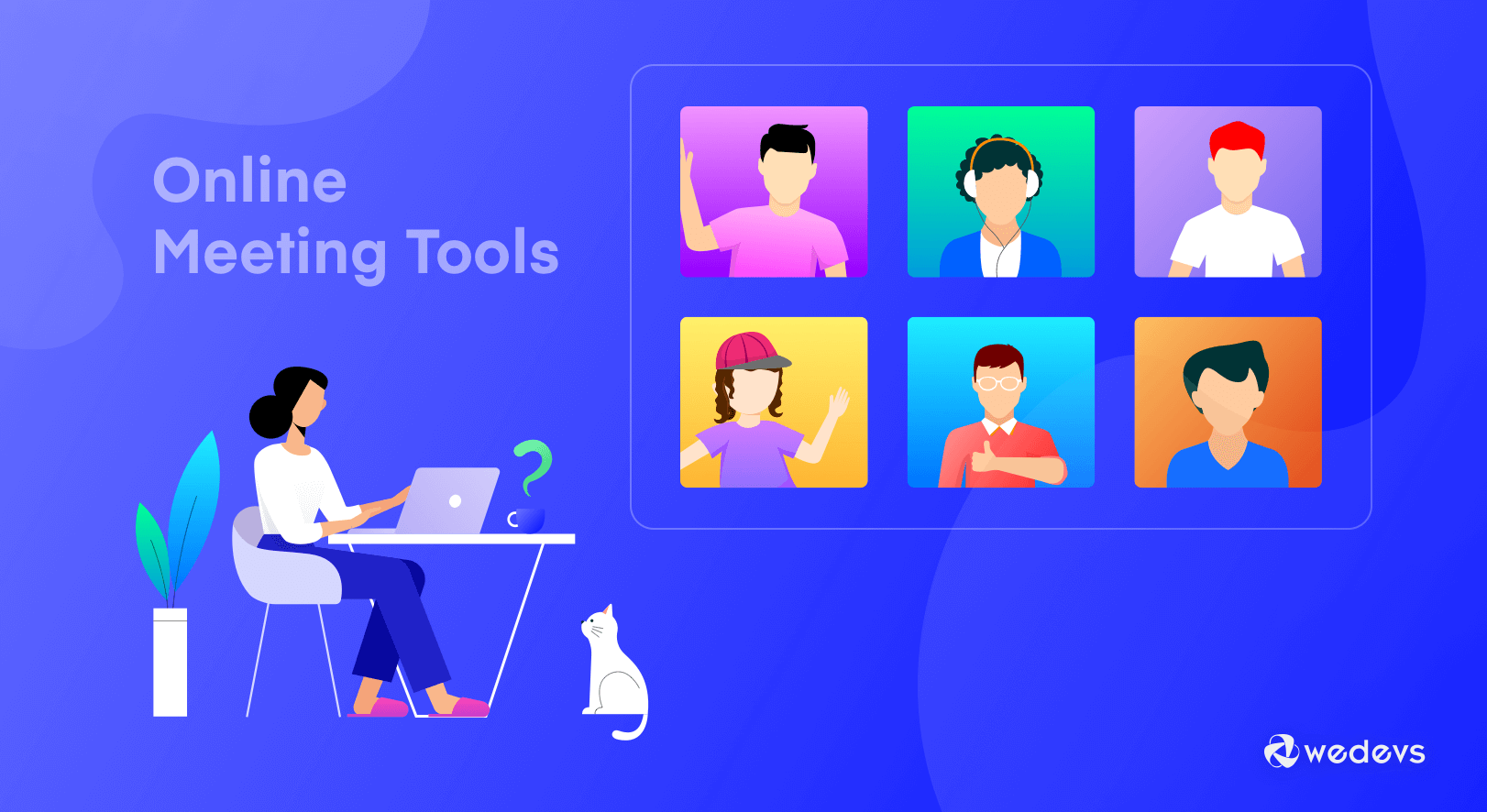 If you have the proper online meeting tool, your team members can get connected with each other and the workflow of your business will go smoothly. From team messaging, to screen sharing or even sending an important file amidst a live meeting, these meeting tools have covered everything.
There are several online meeting tools available around you. We have prepared a handpicked list among them that can fulfill your requirements.
Zoom
Google Meet
Skype
GoToMeeting
Cisco WebEx
TeamViewer
UberConference
Slack
Let's explore the feature list of every mentioned tool-
1. Zoom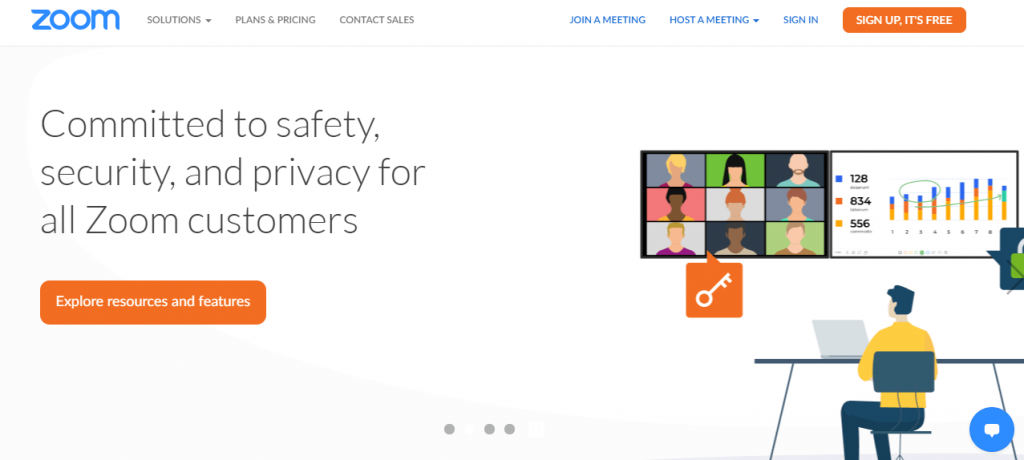 When it comes to video conferencing software, Zoom is one of the most popular options out there. Currently, 50% of Fortune 500 companies have at least one Zoom account.
There's a 40-minute limit on group meetings if you're subscribed to the free plan. So you should remind that if you'll be using the software for longer online meetings, your call will be terminated after 40 minutes automatically. Multiple attendees can share their screens at the same time, making it easy to collaborate remotely.
Top Features of Zoom:
Allows you to split into as many as 50 rooms for dedicated discussions
HD voice and audio with a range of call options
Co-annotations, screen sharing, and simultaneous screen sharing
Great group messaging options are available
Allows PPT, PDF, and DOC file uploads
Limitations of Zoom
Difficult to join the meeting via the browser
Cloud storage is low
Limited meeting time in free mode
Who Should Use Zoom?
Zoom is ideal for anyone who works remotely or has remote team members. Zoom allows for simple, easy-setup meetings or regular meetings in your personal meeting room. Quickly create and share a private meeting link with an individual or team and connect remote team members through video.
Pricing: The Zoom Premium version starts from $149.90/year/user.
2. Google Meet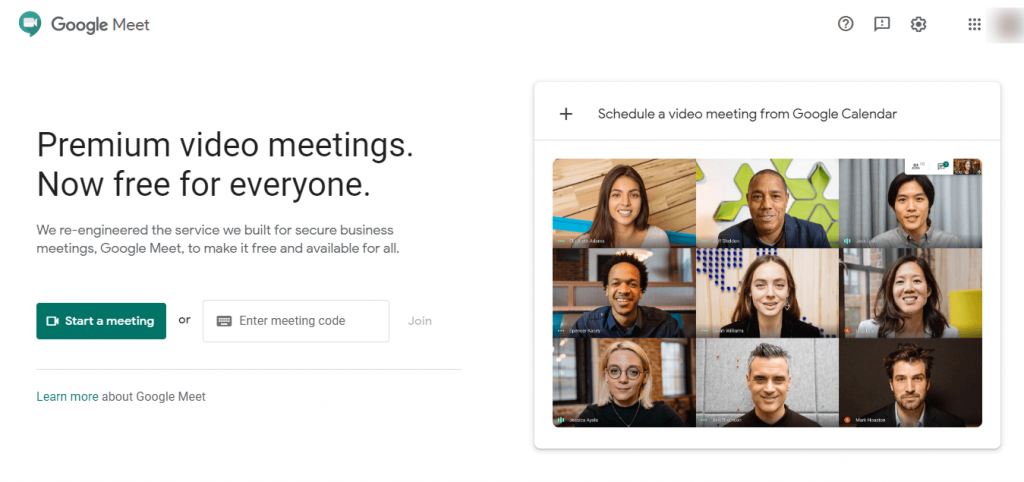 Google Meet, previously named Google Hangouts Meet, is Google's enterprise video conferencing software, offered as part of G Suite and also to free Google users. People call Google Meet as an answer to Zoom from Google. Google Meet will let you share your full desktop, a single Chrome tab, or a single window.
It has support for up to 250 participants (premium plan) and 100,000 live-stream viewers. You can turn off your camera, mute your mic, raise your hand, record screen, or share your screen—and you can see each call participant on the right side of your screen.
Top Features of Google Meet
The free version supports up to 100 video participants in a meeting
Video, audio, and messenger conversations at a time
Supports video meetings or conference recording
Join calls using Google Calendar
Supports screen sharing with your team members in a running online meeting or webinar
Limitations of Google Meet
It drains your battery and kicks in your laptop's fans on longer calls.
Has no recording facility
Who Should Use Google Meet?
Google Meet is a simple way to connect with Google contacts (or those outsides of your network) and can be used for personal or business reasons. Use this tool for individual conversations, team meetings, and online conferences.
Pricing: The premium version starts from $8 per user per month.
3. Skype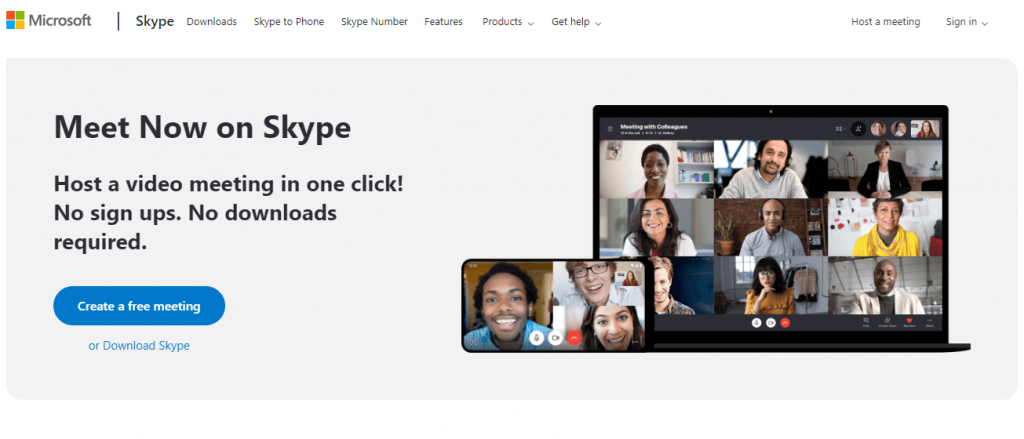 You can hardly find anyone who doesn't hear the name Skype. With over 300 million monthly active users, it is one of the largest free online meeting tools available to us.
A key selling point for Skype is its real-time translation capabilities. The voice translator supports 10 languages (English, Spanish, French, German, Mandarin, Italian, Portuguese, Arabic, and Russian) while the text translator supports over 60 languages. This makes multilingual conferences easier than ever before.
Top Features of Skype
Provides HD video calling facility
Screen sharing and video recording
Interactive video chats
Location sharing
Supports up to 50 people on a video call at a time
Cons of Skype
Takes time to customize the user's profile
Supports fewer people on free video calls compared to other free online video meeting tools
Who Should Use Skype?
The free version of Skype works well for small teams with less than 25 total members. It is a good tool if you need a simple way to video chat from your computer, phone, or tablet, and tends to have smaller group meetings or 1-1 conversations.
Pricing: Skype is completely free.
4. GoToMeeting (Premium + 14 Day Free Trial)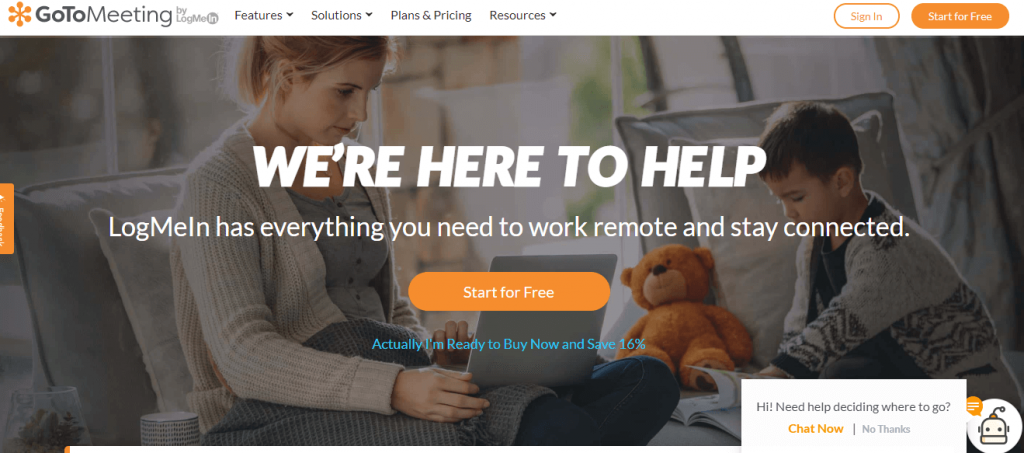 GoToMeeting also offers some wonderful video conferencing features. It comes with a free 14-day trial for up to 50 attendees. From fundamental functionalities like VoIP and phone conferencing, screen sharing, and texting, GoToMeeting provides you with 2 more options – GoToWebinar and GoToTraining for other conference environments.
All the 3 products come feature-packed with desktop and application sharing, one-click meetings, one-click recording, a dial-in option, and a personal meeting room to speak of a few. You can start your online meetings from anywhere- email, Mac, Android devices, or any instant-messaging tools.
Top Features of GoToMeeting
Set up a personal meeting room with your own URL
Allows you to share your desktop in real-time
Record your meeting and store it in the cloud
The free trial hosts up to 3 participants
Cons of GoToMeeting
Anyone using GoToMeeting's free trial option is limited to only audio conferencing. Video conferencing is dedicated to paid plans.
Who Should Use GoToMeeting
GoToMeeting free version offers 3 persons in an online meeting. So, anyone seeking a quick web conferencing solution for a small team should consider this web conferencing software.
Pricing: The premium plan starts from $12/organizer /month.
5. Cisco WebEx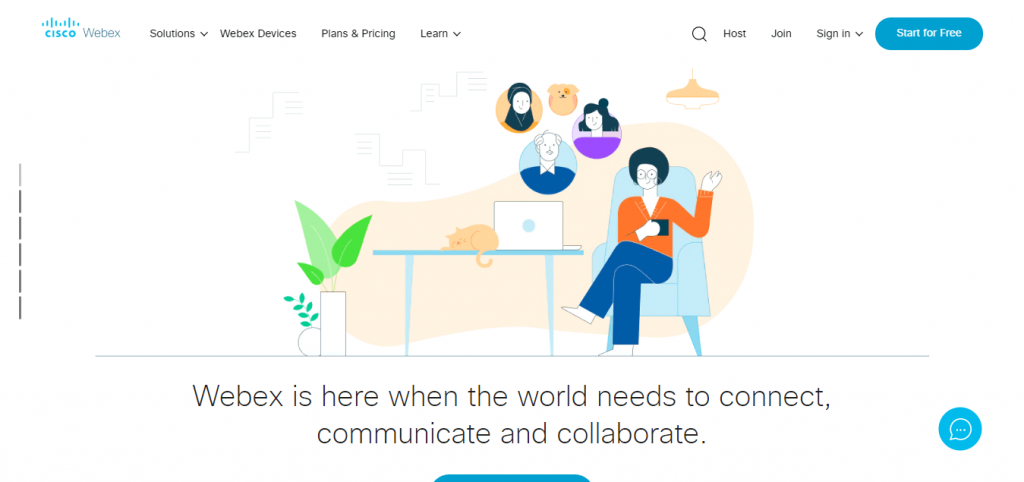 If ease of use is top of your list, then Cisco Webex's fewest-click approach will help you; start a meeting, switch presenters, and open the whiteboard without needing to waste time digging through the application.
With this live video conferencing software, you'll enjoy many features including screen sharing, cloud recording, personal video meeting rooms, and more. The number of people you can include in your web meeting depends on the level of package your purchase. With the free starter level, you can include 100 participants.
Top Features of WebEx
includes extra tools like polling, whiteboard, and more
Background noise detection for fewer distractions
Third-party recording tools
Call Me allows you to call participants who can't join the meeting
Outstanding security and encryption
Cons of WebEx
No closed captions & meeting highlights in the free plan
40-minute time limit on the free plan
Who Should Use WebEx
WebEx free plan supports 40 minutes time limit for a single meeting. You will get 1 GB of cloud storage and the ability to add as many as 100 participants at a time. So a small to mid-level team is perfect for using this free online meeting tool.
Pricing: The premium plan starts at $25/license/mo.
6. TeamViewer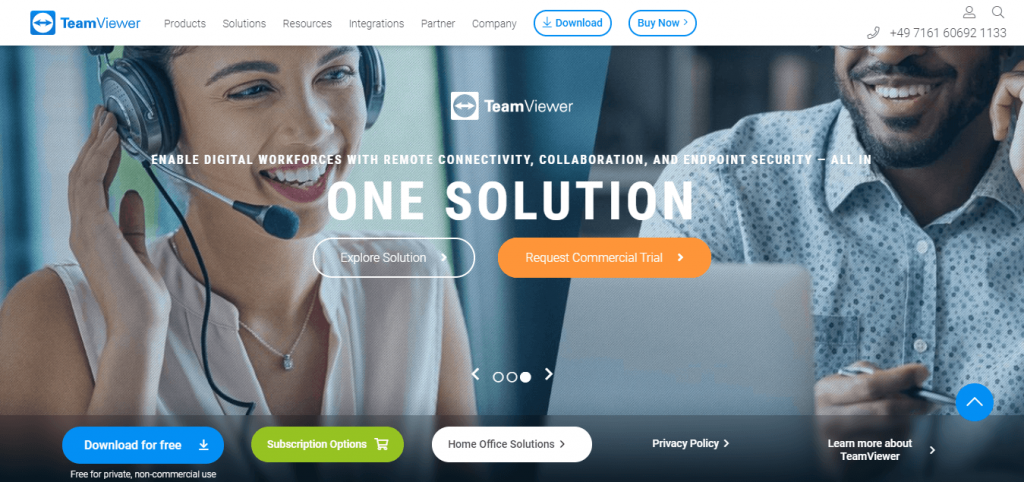 TeamViewer is a full-featured, enterprise-capable remote access and shared-meeting app that runs on all desktop and mobile platforms, including Windows, macOS, Android, iOS, and even Chrome OS and BlackBerry OS. It also offers a simpler free account for non-commercial use.
Top Features of TeamViewer
Multi-level security
Elegantly designed viewing window
Multi-monitor support at a time
Combines remote access and online meetings in one app
Free version for non-commercial use
Cons of TeamViewer
Some options are difficult to find
Security features can be annoying
Who Can Use TeamViewer?
Unlike other free online meeting tools, you can get full access to your team member's computers through this tool. So, whenever any of your team members is unable to solve any issue, you can do it yourself instead of him to his computer using this free online meeting tool.
Pricing: The premium version starts from $79.90 ⁄ month.
7. UberConference (Now Dialpad) (Premium + Free 14 Days)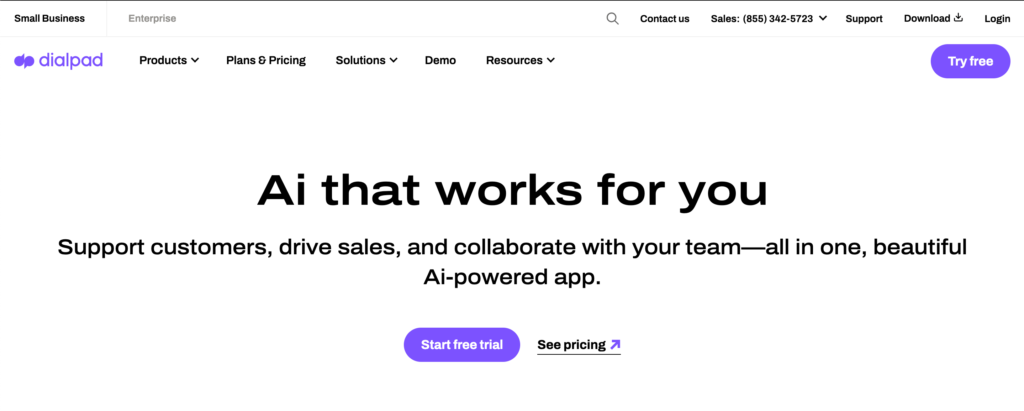 If you mostly host small web meetings and you're looking for free web conferencing software, this option may be for you. The free version of UberConference allows you to have up to ten meeting participants. The free level even includes screen sharing and the ability to record a call. There's even HD video. It's worth noting that the call is limited to 45 minutes with the free version.
One of the main benefits of using UberConference is the fact that it's a completely browser-based video call solution. There's no need to download any program, although mobile apps exist for those who want to use UberConference on their smartphone or tablet.
Top Features of UberConference
Allows conferences or meetings through the mobile app or your browser
Provides HD audio & video
You can continue with UberConference without downloading this app
Conference recording and playback facility
Cons of UberConference
10-user limit on free trial conferences
PINs are required unless you upgrade to the paid plan
Who Should Use UberConference?
The free version of UberConference is ideal for teams of 10 or fewer. The free trial version limits your video call duration to 45 minutes, so it's ideal for shorter meetings.
Pricing: The premium version starts from $15 per user/month.
8. Slack
Slack, a widely used collaboration tool in organizations worldwide, has incorporated video conferencing capabilities. If your organization is not currently using Slack, it may not be practical to adopt it solely for video conferencing purposes. However, if you are already utilizing Slack, it provides a convenient option for conducting quick video calls.
Video conferencing serves as an additional feature within Slack's functionality and can be particularly beneficial for integrating hybrid teams. One-on-one video chats are available for free in Slack's basic account, and you can initiate calls with up to 15 individuals when starting a call from a channel. However, for larger meetings, customized enterprise pricing is required, necessitating a personalized quote based on specific requirements.
Note: In 2021, Salesforce purchased Slack for $28 billion. It was the most expensive subscription software acquisition of all time, with Salesforce paying around 26 times Slack's forward.
Top Features of Slack
Real-time communication for instant collaboration.
Channel-based organization for focused discussions.
File sharing and collaboration within channels.
Integrations with other tools and services for streamlined workflows.
Built-in voice and video calling for virtual meetings.
Powerful search functionality for finding past conversations and files.
Accessibility across multiple platforms (web, desktop, mobile).
Cons of Slack
Information overload due to the constant flow of messages.
Potential for notification fatigue if not managed effectively.
Possibility of distractions and non-work-related conversations.
Cost for advanced features and premium subscriptions.
Limited Message backup in the free version.
Who Should Use Slack?
Slack currently has a 20 million user base. And top companies and platforms like WordPress, Airbnb, Pinterest, Shopify, Udemy, Instacart, and weDevs are using Slack for internal communication. The tool is perfect for communications between individual teams based on different channels.
Pricing: The premium version starts from $7.25 USD/month.
Honorable Mentions: Here are some other online meeting tools you can check out-
BlueJeans
Zoho Meeting
Adobe Connect
ClickMeeting
Livestorm
Jitsi
Free Conference Call
Google Workspace
AnyMeeting
Microsoft Teams
Join. me.
8 Free Online Meeting Tools Comparison Table- Check All The Important Data in One Place
We have prepared a comparison table between 7 free online tools for you. Hopefully, it will help you to narrow down your choices and eventually choose the best-suited meeting tool for your team.
| Tool | Maximum Participants | Screen Sharing | Recording | Virtual Background | Chat | Breakout Rooms | Waiting Room |
| --- | --- | --- | --- | --- | --- | --- | --- |
| Zoom | 100 | Yes | Yes | Yes | Yes | Yes | Yes |
| Google Meet | 100 | Yes | Yes | Yes | Yes | Yes | Yes |
| Skype | 50 | Yes | Yes | No | Yes | No | No |
| GoToMeeting | 3 | Yes | No | No | Yes | No | No |
| Cisco WebEx | 100 | Yes | Yes | Yes | Yes | Yes | Yes |
| TeamViewer | 25 | Yes | Yes | No | Yes | No | No |
| UberConference | 100 | Yes | Yes | No | Yes | No | No |
| Slack | Unlimited | Yes | Yes | No | Yes | No | No |
Pick the Best Free Online Meeting Tools to Manage Your Remote Team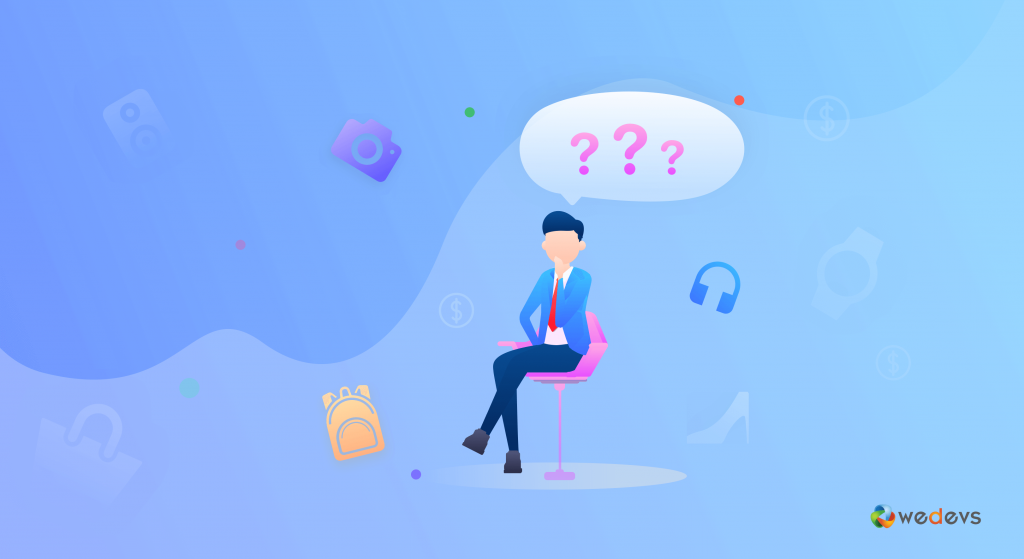 Choosing anything varies from person to person. When you are at the market for shopping, buying anything depends on your choice. In the same way, when you choose an app or service for your business, it should depend on your business requirements.
Suppose you have a team of 20 members. Then it is apparent that you won't pick an online meeting tool that hosts 10 people in a meeting. So, choose any of the free online meeting tools that will perfectly suit your business and team requirements.
If we want to put a summary of every online meeting tool that we have mentioned here, then we can say that;
Zoom, Google Meet, UberConference, Slack, and Cisco WebEx is the perfect choice for companies like small to mid-level with 10 to 100 people on their team.
On the other hand, Skype and TeamViewer will be reliable choices for a team of fewer than 25 people.
Finally, GoToMeeting is the best option for 1-1 conversations.
Basically, finding the best tool depends on your particular use case. So, why not take advantage of a free trial and give one a thorough test?
Manage Your Remote Team with a Reliable Project Management Software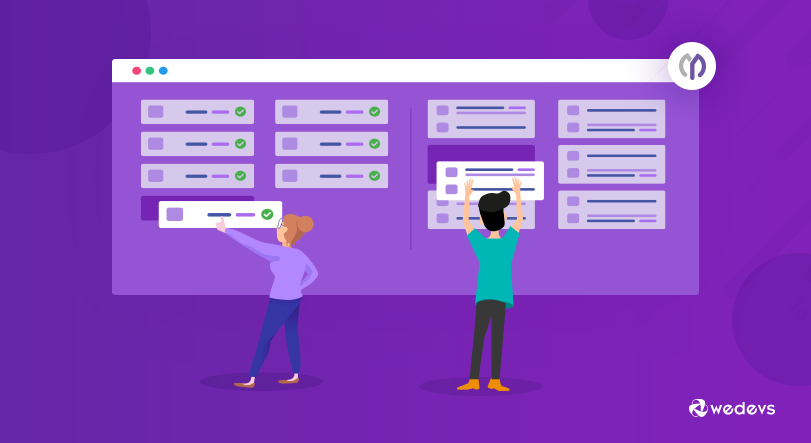 Once you have chosen an online meeting tool for your members, you will need project management software that can perfectly manage your projects in a smart way.
When you are working as a remote team, you would expect your team member never to miss a deadline, to keep in communication with every member, to be on track to complete their distributed tasks, and so on. Missing any of these points can collapse your remote team. To ensure this facility, choose a project management tool that can help you in this situation.
As we are talking about the online meeting tools that come with a free version, we will recommend you a project manager that comes with a free version as well.
Here, we strongly recommend you choose the WP Project Manager free which comes with a long list of features. Let me show you what else WP Project Manager will do for you.
Add individual tasks for individual team members
You can also break this task into a number of sub-tasks
Set deadlines and track time for every project
Track the progress of every running task
Offers modules like WooCommerce Store, Stripe Gateway, BuddyPress, Recurring Task, Invoice, Gantt Chart, Kanban Board, and many more
Auto-generated reporting system
So, these are the key features that WP Project Manager comes with. Grab the free version of this tool and give it a try to explore it more.
Leverage a Free Online Meeting Tool to Ensure Seamless Communication
Our daily life had come to a standstill and thousands of people were confined to their homes due to COVID-19. But thanks to online meeting tools, organizations were able to continue their operations and keep the profit rate turning. And after the pandemic, people are still relying on online meeting tools as now anyone can work from anywhere.
That is why business leaders are also searching for the best tools to maintain team engagement. Here is a recap of the online tools we mentioned-
Zoom – Reliable and Trusted by millions
Google Meet – Straightforward to use
Skype – Completely free
GoToMeeting – Provides different conference environments
Cisco WebEx – Background noise detection feature
TeamViewer – Access to team members' device
UberConference – Browser-based online tool
Slack – Channel-Based feature
Use a free online meeting tool to keep your company's goals and your team in sync. It will take care of your online meetings and conferences. So that you can help your teams stay productive while working from home.
On the contrary, a free project management tool will help you to manage your projects smoothly. This is what we want as team leaders or company owners, right? In short, having both tools can really relieve you of this pandemic.
What do you think? Do you have any better alternative ideas? Share your idea through the comment box below to let us know about it.