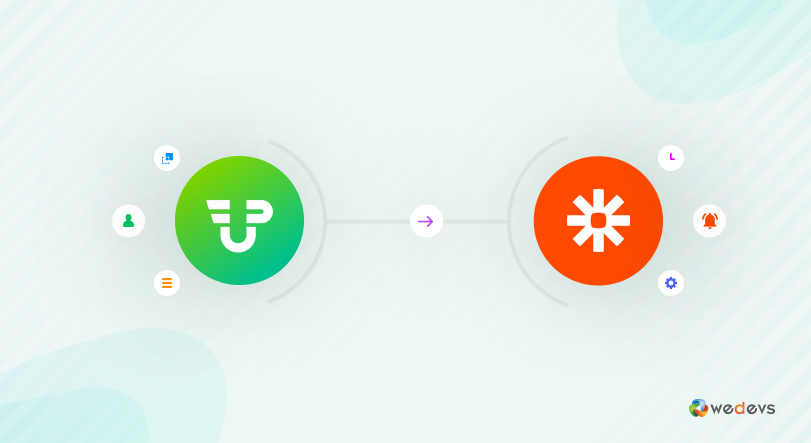 Use Zapier Integration To Automate Workflow For Your WordPress Site
Say you are running a subscription drive for your site and you are missing out on some important notifications. Would it be helpful for your cause? Certainly not? This is where a Zapier Integration comes into play to automate the workflow of the activities on your website.
Over the years, weDevs has worked on some great and useful integrations with its plugins. And this time the Zapier integration takes its turn with WP User Frontend Pro.
Over the years Zapier has established itself as an application trusted by many big names like BuzzFeed, Adobe, Invision, Spotify, etc. So, now along with WP User Frontend, we have brought the integration together to give you the ultimate freedom of not missing out on any important information from the frontend registration on your WordPress.
Prerequisites For Zapier-WP User Frontend Integration
For successful completion of the integration, you would require the below 2 things:
How This Integration Works
Activate Zapier Module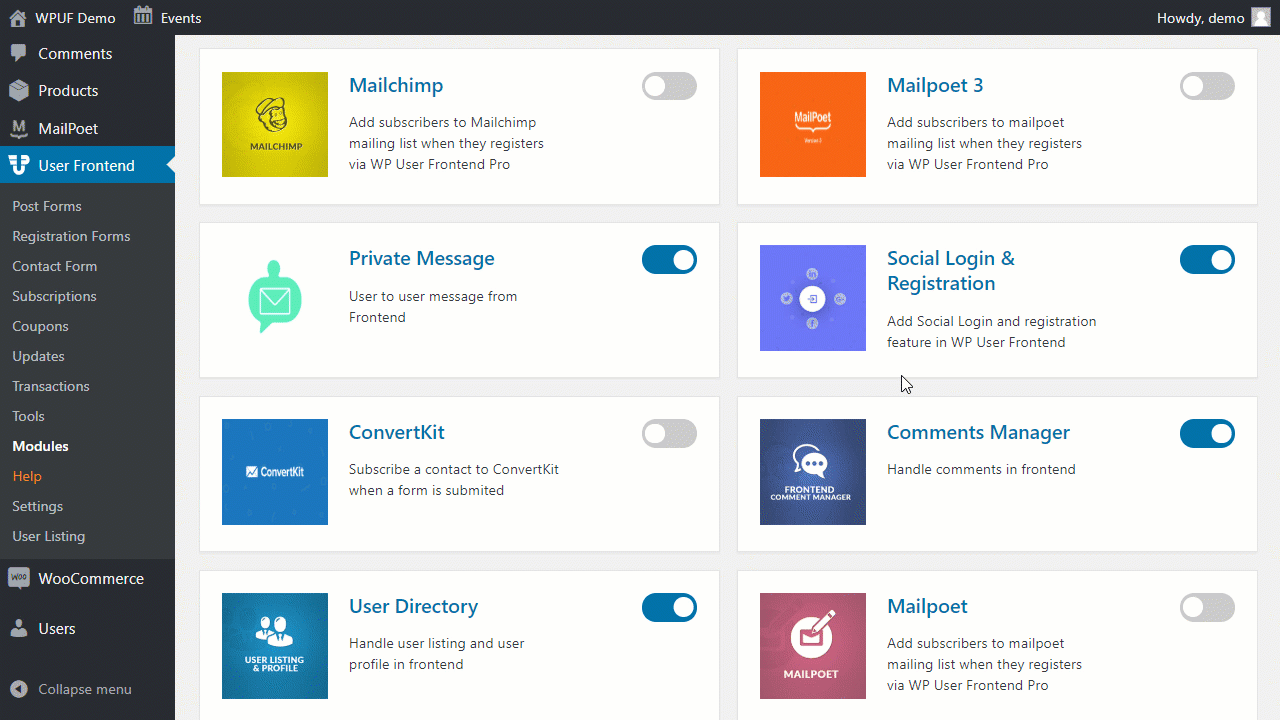 The demonstration above shows the way you can easily activate the Zapier module in the WP User Frontend to use it with it. Simply get to the Modules tab and find Zapier. Then click on the toggle bar on the top right corner Zapier to enable this useful Zapier module.
Enable Zapier For Registration Form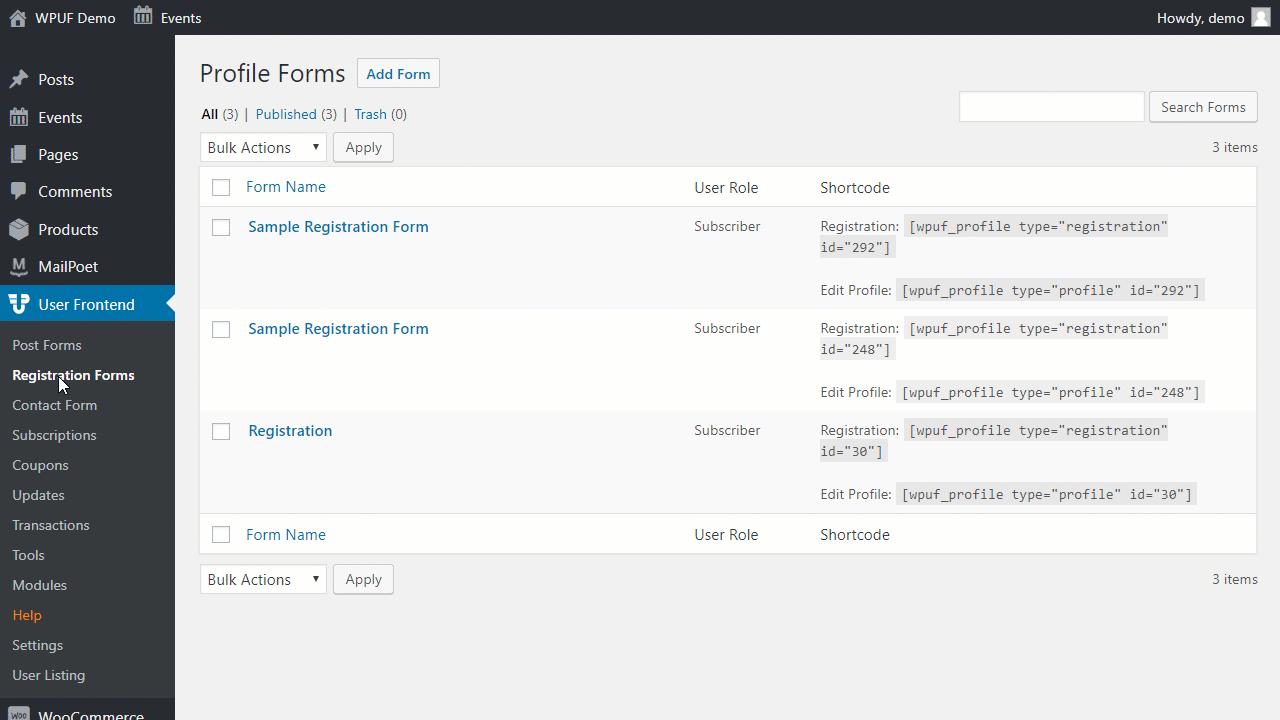 For each form, you will be required to enable Zapier from the form settings of Zapier as seen above. But you only have to do this once! The submissions for this form will now automatically be connected with Zapier.
The Zapier Webhook URL can be found in the link provided in the settings.
Creating Page For Frontend Posting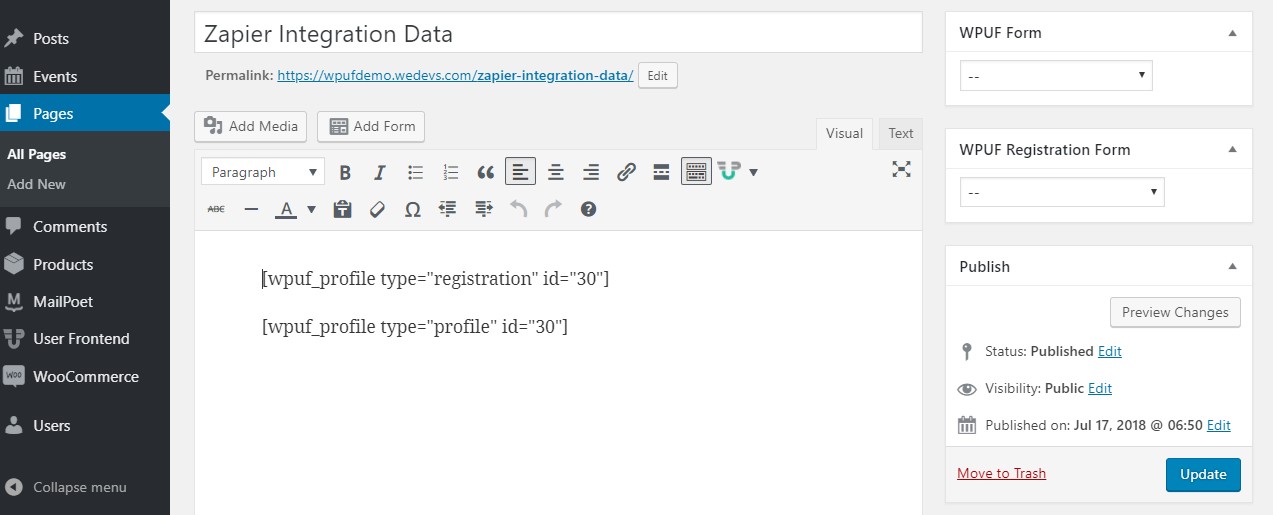 For the Zapier module to perform its activity in WP User Frontend, for frontend posting of the registration form you will need to create and publish a new form page by copy-pasting the shortcode of the individual registration form that you have linked with Zapier.
Webhooks To Connect By Zapier For Individual Registration Form

Once you create the registration form, you will have to get a custom webhook URL from the provided Zapier weblink to connect it with WP User Frontend.

Get to the registration form Zapier settings and input the webhook URL that you get from the Zapier Webhook URL link.
Frontend Registration

Now, once Zapier connects with the WP User Frontend registration form with the webhook URL, the Zapier also starts to work as soon as a user registers from the frontend.
Creating Google Spreadsheet To Transfer Data
As an example we are using Google Spreadsheets here to connect with WPUF via Zapier: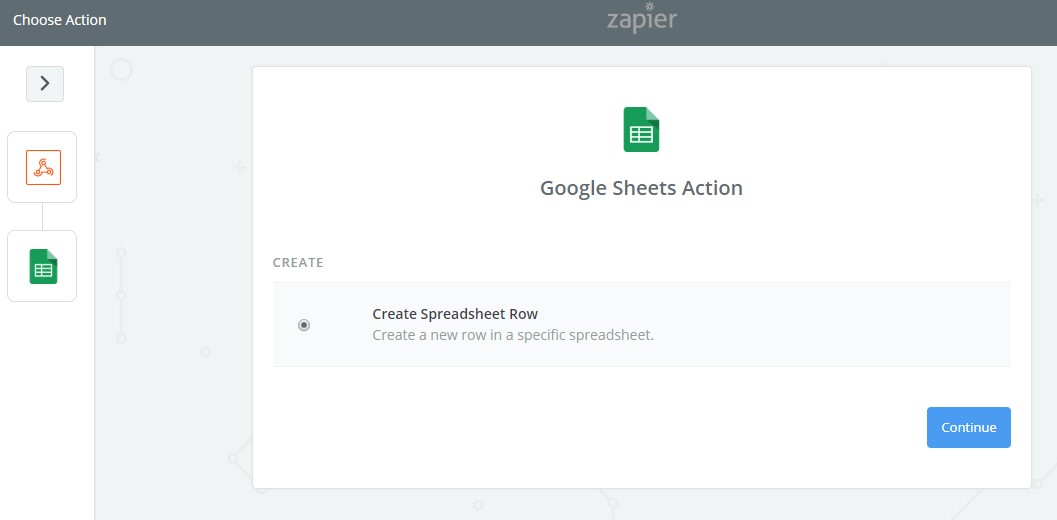 After user registers, you can now transfer their information by connecting it to a designated google sheet with Zapier.
Connecting An Account For Google Spreadsheet Data Transfer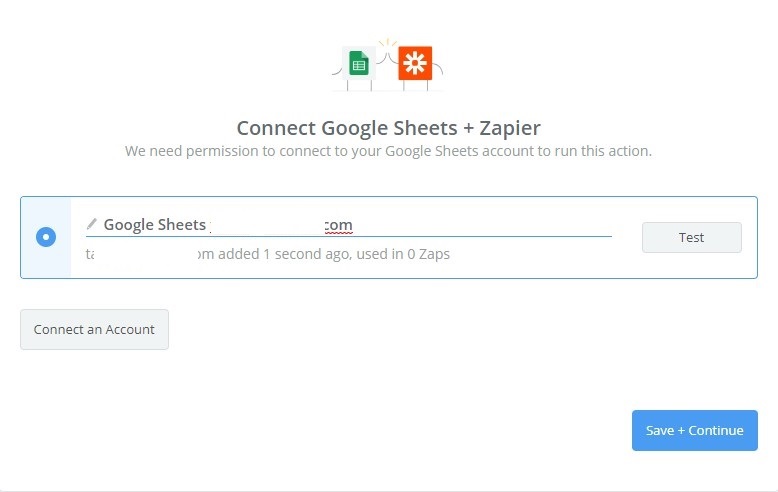 But to transfer the registered user data to a google sheet of your choice, you will need to connect it with a Google account.
Google Spreadsheet Row Setup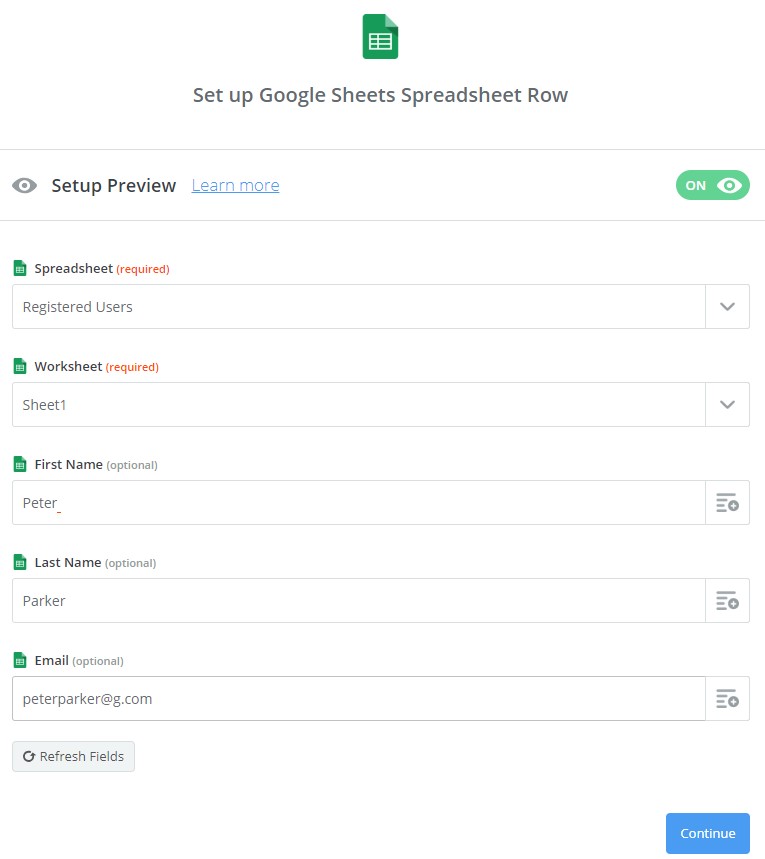 Once the Google account connects to transfer data to Google spreadsheet, now you can set up the rows you want in it.
Send Data To A New Google Spreadsheet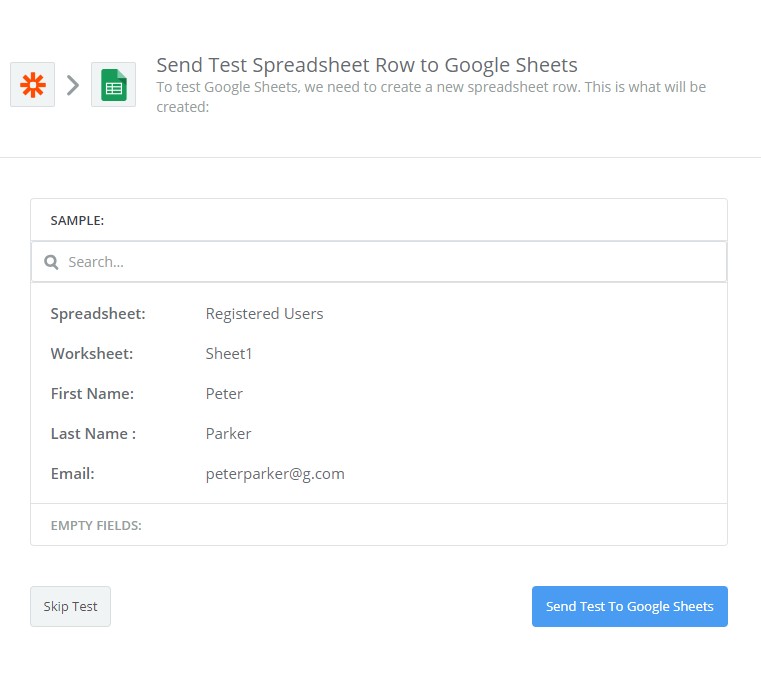 After the rows are set up, you get to preview it in Zapier before you decide to transfer this information to your Google spreadsheet.
Test Successful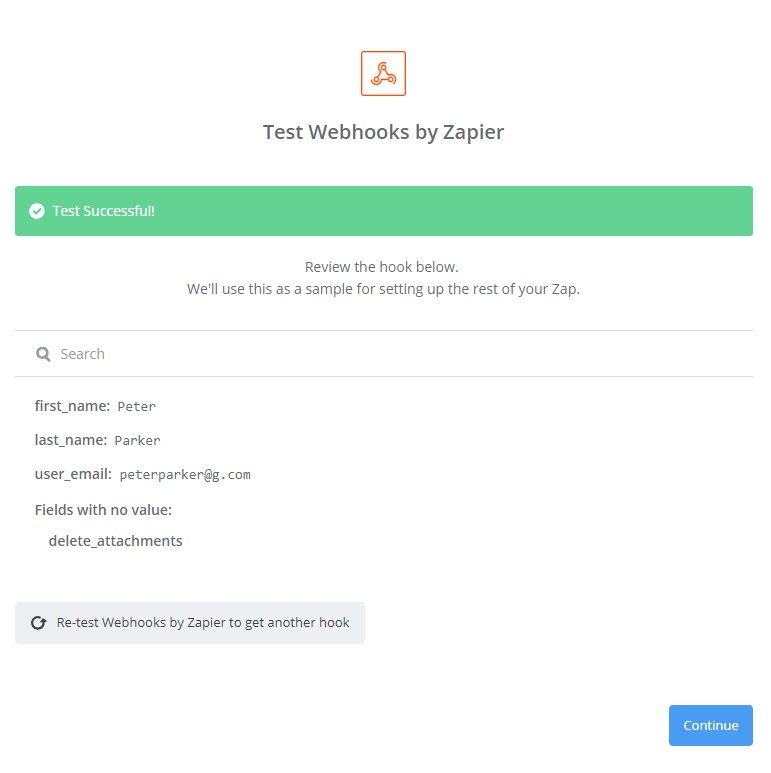 Once you send the data, you get to review the hook yet again. Zapier will use this hook sample to set up the rest of the Zap.
Data Successfully Sent To Google Spreadsheet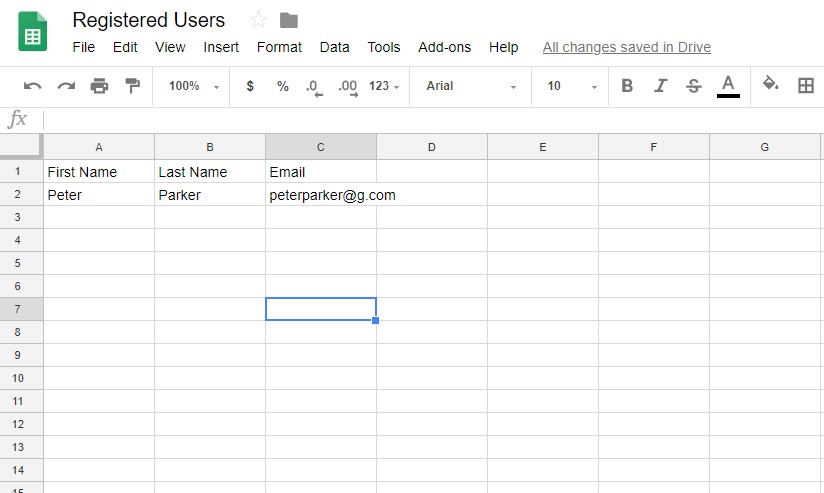 The sheet rows are fixed and the information is already sent from Zapier. So now it automatically updates it in the Google spreadsheet the way you can see above.
If you are still confused with the process then here is the whole setup process of Zapier-WP User Frontend Pro integration.
For the step-by-step configuration, check out the WPUF-Zapier module integration official documentation.
Discover Smart Ways To Pass Info Between Apps
It's important to note that you can enjoy the useful Zapier integration with the Business Plan of WP User Frontend Pro.
The user of WP User Frontend Pro business plan will not miss important information that comes through their frontend registration. This workflow automation doesn't only take away your hassle of manual data entry but also saves valuable hours each week. The integration will quietly work in the background handling all the information that you need seamlessly.
Zapier with WP User Frontend will certainly work as your extra team member in the company. It will help build processes and bring automation into your business.
Not a user of WP User Frontend yet? Then you can easily check it out for FREE to decide it for yourself. Simply click on the link below to get the complete idea of this powerful frontend solution plugin for WordPress.
And also if you have any suggestions or feedback do let us know by commenting below or contacting our dedicated support team.