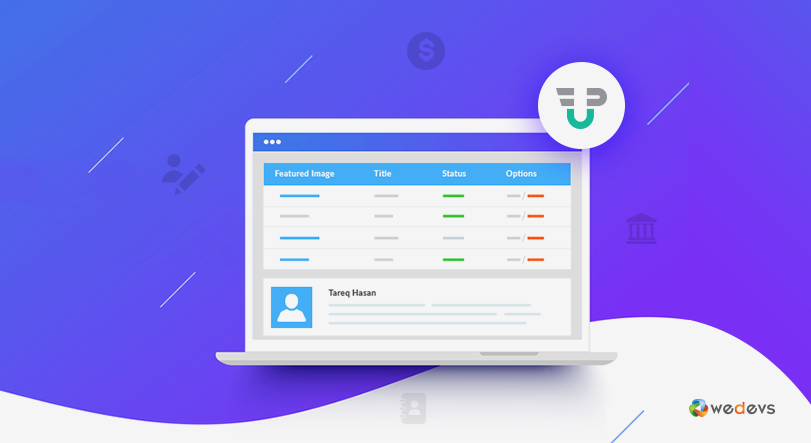 Best WordPress User Dashboard Plugin – Manage Everything from Frontend
Are you tired of navigating the sometimes-confusing WordPress admin area just to make simple updates to your website? Do you wish there was a more straightforward and user-friendly way to handle content, user profiles, and settings?
Well, you're not alone!
According to a recent survey, over 70% of WordPress users find the backend interface overwhelming.
But fret not, because we have the perfect solution that will make your website management a breeze! A WordPress user dashboard plugin allows you to take complete control of your site, all from the frontend. Yes, you heard that right – no more backend headaches!
In this article, we'll walk you through the top user dashboard plugin that brings essential backend functionalities right to the frontend of your site. Say goodbye to confusion and embrace a seamless and intuitive user experience.
So, let's get started and discover the plugin that suits your needs best. Ready? Let's go!
What Is WordPress Frontend Dashboard Plugin?
A WordPress Frontend Dashboard Plugin is a tool designed to bring specific backend functionalities of WordPress to the frontend.
This allows users to manage various aspects of their website without accessing the traditional WordPress admin area. The goal is to make website management more accessible and user-friendly for certain tasks, especially for non-technical users.
If you are still not sure what exactly a WordPress frontend dashboard plugin does, no worries. Just grab a cup of coffee and sit tight, cause we are going to dig deeper right away.
Why You Need to Use WordPress User Dashboard Plugin in Frontend?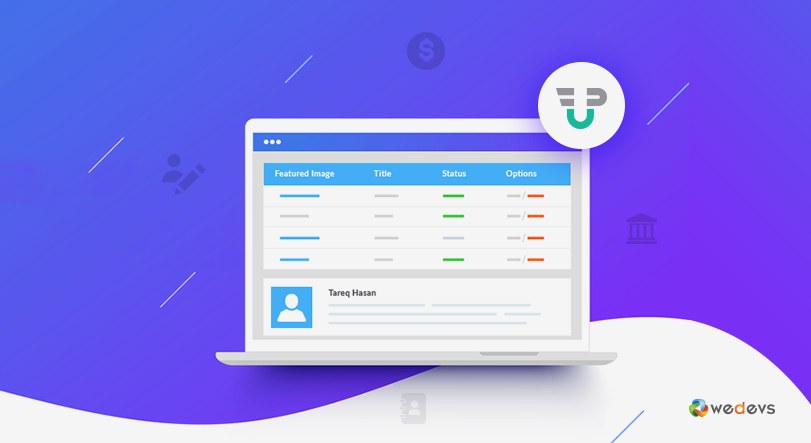 Well, managing your website from the backend can be really tricky and time-consuming. On the contrary, if you install the best WordPress user dashboard plugin for frontend usage, things would feel buttery smooth and fast!
You along with your users could perform all the tasks ranging from administrative ones to guest user posts not even going to the back end by all means.
Here is why you should use a WordPress user dashboard in frontend:
Improved User Experience: A user dashboard on the frontend makes it easier and more intuitive for users to interact with your website. They can access and manage their profiles, submitted content, and other relevant information without navigating the WordPress admin area, which may be overwhelming for non-technical users.
Frontend Content Management: With a user dashboard plugin, you can enable frontend content editing and submission. This feature is particularly useful if you allow user-generated content, guest posting, or collaborative content creation on your website.
Streamlined User Registration: Some user dashboard plugins include frontend user registration forms, making it convenient for visitors to sign up and create accounts without leaving the frontend of your site.
Reduced Backend Access: By providing frontend management capabilities, you can limit backend access to only those users who truly need it, enhancing the security of your WordPress site.
User Engagement and Retention: With a user-friendly frontend dashboard, users are more likely to engage with your site, submit content, and return for future interactions. This can lead to increased user retention and a more active community.
Better Collaboration: If you have multiple contributors or authors on your site, a frontend dashboard can facilitate seamless collaboration and content management.
What You Should Look for in a WordPress User Dashboard Plugin?
When you are thinking to choose a user dashboard plugin for your WordPress website, you should come up with a checklist that will help you to choose the best suited plugin for you.
Check this list to know what features should come with your chosen user dashboard plugin:
1. Unlimited Custom Posts or Pages from Frontend
Even if they are using the backend admin panel, WordPress users are really prone to get stuck in case they are trying to create unlimited posts/pages/custom post types. In this regard, a WordPress frontend dashboard plugin may be a cog in the machine providing the feature of creating unlimited custom posts or pages!
2. Guest Posting and Auto-Registering
To be a be-all and end-all WP frontend dashboard plugin, it is mandatory to have guest posting support. Meaning that your users don't need to register at all to post anything. Additionally, it is also expected that the plugin has the feature to auto-register the guests with their provided name and email address.
3. Full Control over the Submitted Posts
You should have full control over the submitted posts by the users. Having said that, a well-developed frontend dashboard plugin is to help you to moderate the status of a particular post. For instance, while your users edit his submitted post you could set the status of the post as pending, draft, or published, and so on.
4. Breaking Down Forms into Multiple Steps!
If you would like to break down a long form into multiple steps then with a good frontend dashboard plugin you can do it almost effortlessly. Besides, multi-step forms create an illusion of comfort for the users' eyes.
5. Stops Unauthorized Access to the Backend
What if your website gets hacked? Horrible, isn't it? In fact, your website is always vulnerable to the threat of hacking when you give back-end access to someone.
Hence, a good WordPress frontend dashboard plugin will restrict access to the backend of your website from any unauthorized person. This is really helpful to root out the hazard of hacking.
6. Frontend Dashboard
As we are talking about front-end utility, the plugin must logically have a frontend dashboard for managing all the hassles. Definitely, it will not make any sense unless your plugin doesn't have the functionality to provide a unique and personalized dashboard for each and every user in the frontend.
7. Registration and Profile Builder
Just as the backend WordPress User Dashboard does have the feature to carry out any Registration and Profile Building-related tasks, a frontend dashboard plugin should also give you such amenities.
Unlike the backend WordPress User Dashboard Plugin, a fully developed frontend WordPress User Dashboard plugin will make it possible to:
Edit Profile and Upload Your Avatar from Frontend
Edit and update your profile on the front end. You can even upload your avatar photo from the front end. You can create and customize the default profile edit form from the frontend. There are only a few top-notch WordPress frontend dashboard plugins out there that will allow you to do so.
Automatically Change User Profiles in Backend too!
Whenever you edit or customize anything in the frontend with WPUF, it also saves the changes in the backend admin panel. It will eventually enhance the dynamics of WordPress which is pretty awesome.
Introducing WP User Frontend- Best User Dashboard Plugin
Introducing WP User Frontend- Best WordPress User Dashboard Plugin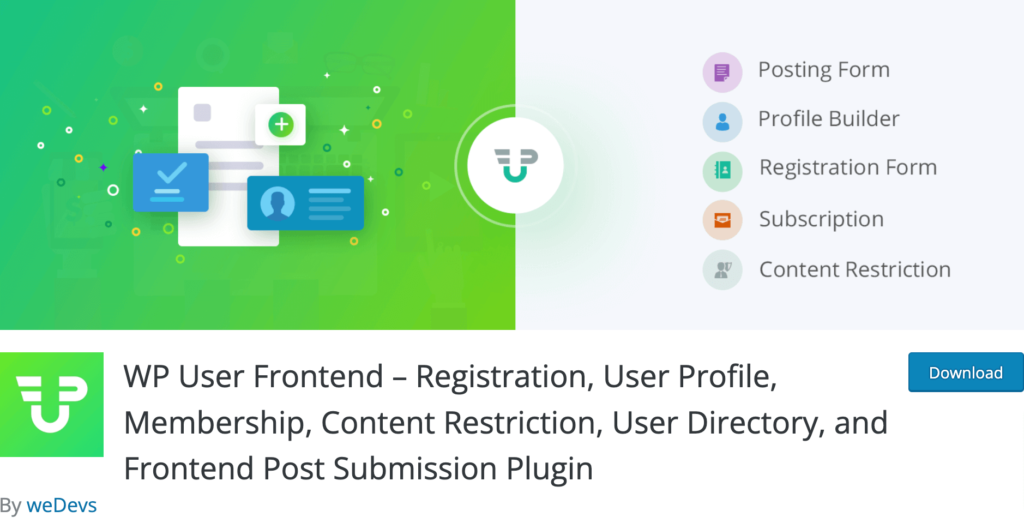 Today, we are going to introduce such a WordPress frontend dashboard plugin that has almost all the cool features under the sun that we have described above.
The developer of the plugin, weDevs has created the plugin based on the design philosophy that embraces all the importance of clean, fast, and unique functionalities — not just for you, but for your users as well.
To cite an example: Creating coupons for subscription packs is such a feature as has made the plugin really unique.
Having more than 20,000 plus active installs and a very good rating, the plugin speaks for itself. We bet this foolproof and intuitive plugin will help you go a long way by saving your valuable time and effort.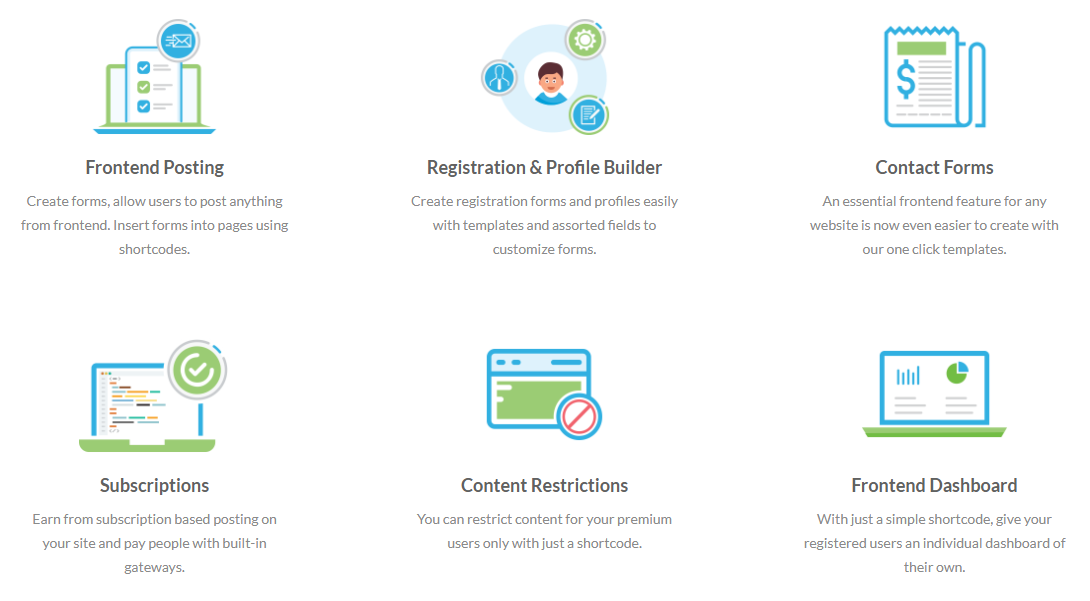 If you read the section "What are the features of a good frontend dashboard plugin?" of this post from above then you will understand that there is not a single missing feature in WP User Frontend.
A few features are so advanced and cutting-edge that they are beyond your imagination and will blow your mind. More importantly, whenever you use the plugin, you along with your users will feel so cozy that it would be impossible to think about something else that will make it any better.
However, the under-mentioned features are the most important ones that have literally made the plugin a well-oiled machine:
i) Creating Coupons
As of today, it is a unique feature of WP User Frontend. Not only does the plugin provides you the scope to create a Subscription Pack but also allows it to create coupons for the subscription pack.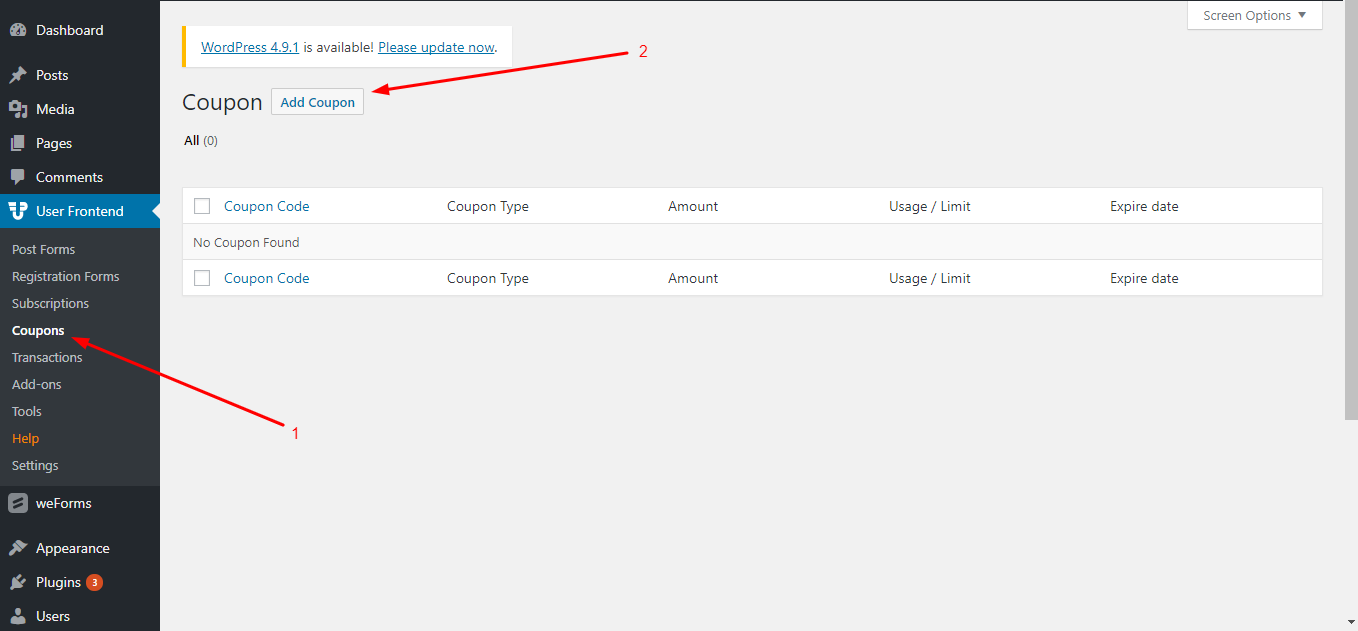 Fortunately, you can get this feature even in the free version.
ii) Guest Posts
Most of the plugins out there will charge you for this feature. Luckily, it is absolutely free in WPUF. Users can now post on your site without registering themselves. You can enable guest posting by heading to a form's "Post Settings → Enable Guest Post".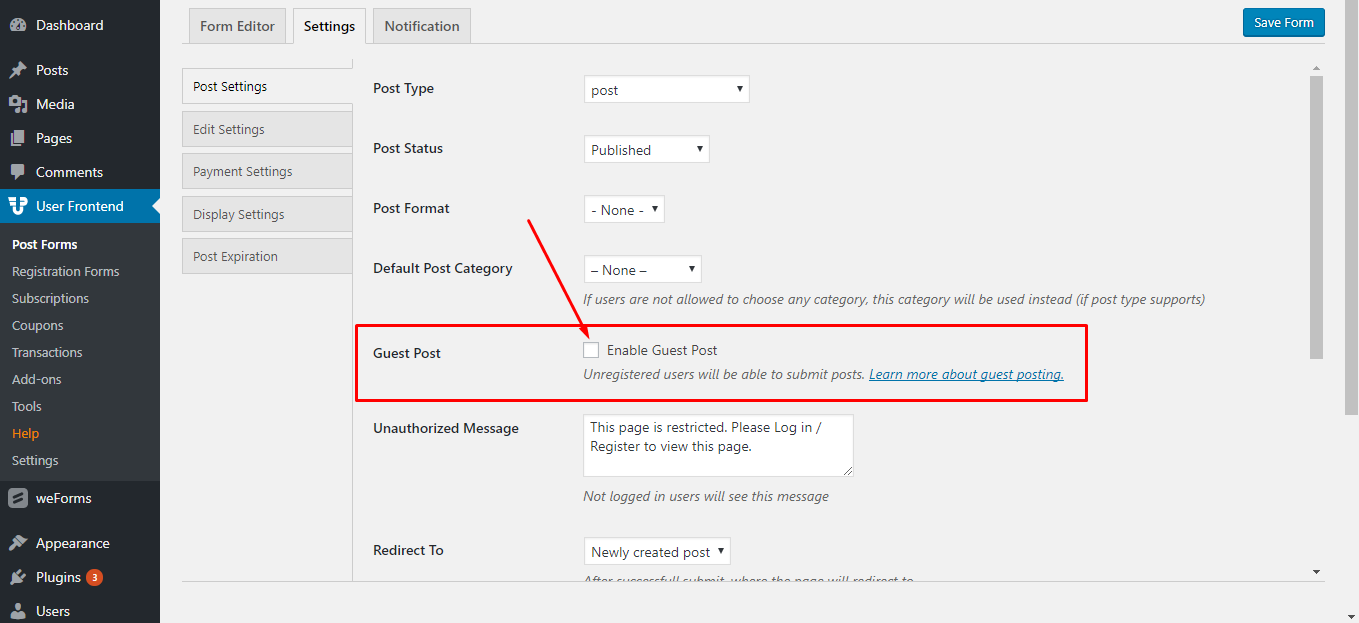 iii) Field-Based Content Restriction
This is one of the most exclusive features of the plugin. With this option, you can turn on/off the visibility of your website's contents.
For example: If you are managing a photography website this feature will be really effective. It will restrict the photos to the guest users and only will it show to the paid users. Navigate to "WP Admin Dashboard → WPUF → Post Settings → Enable Guest Post" to activate this option.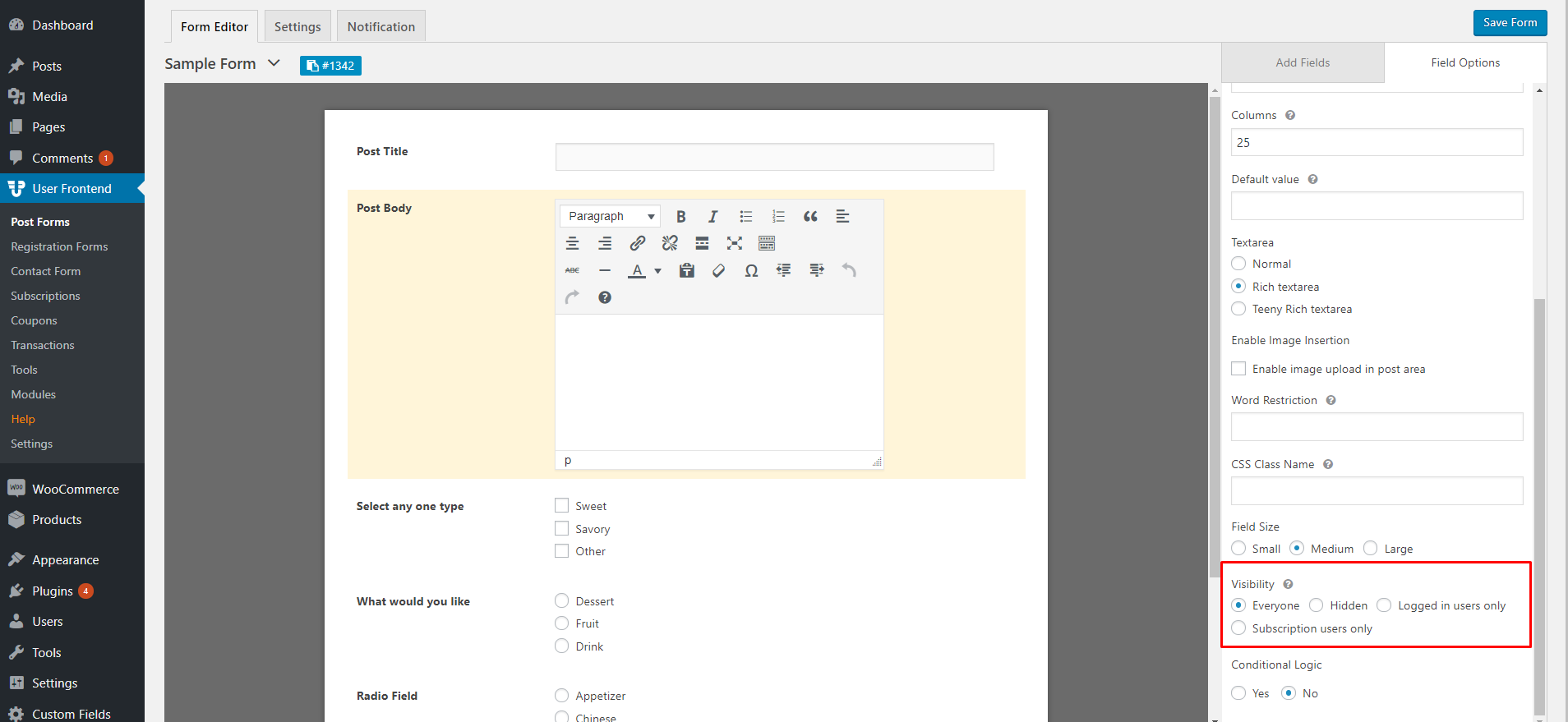 iv) Creating Unlimited forms
The power of Ajax has made the form pretty fast and the amazing drag and drop functionalities with the live preview option made the plugin neat indeed. Creating unlimited forms and customizing with ease has never been so easier before.
v) Shortcodes
You can feature your favorite users on a particular page with the help of this feature. Moreover, get almost everything done in a second using the shortcodes.
vi) Creating Invoices
With WPUF, you will be able to create invoice subscription packs automatically and of course in your own way. You could read this post to learn how to create Invoices for Subscription Packs in WP User Frontend Pro.
These are some of the unique and exclusive features that have made it the best WordPress user dashboard plugin.
Most Common FAQs on WordPress User Dashboard Plugin
Are WordPress User Dashboard Plugins easy to install and use?
Yes, most WordPress User Dashboard Plugins are designed to be user-friendly and straightforward to install. After installation, these plugins usually provide easy-to-navigate frontend interfaces, making it convenient for both website owners and users to manage content and settings.
Can I customize the frontend dashboard to match my website's branding?
Absolutely! Many WordPress User Dashboard Plugins offer customization options, allowing you to tailor the frontend interface to match your website's branding and design. You can usually adjust colors, layouts, and even add custom elements to ensure a seamless integration with your site's overall look and feel.
Can I control what specific features users can access from the frontend dashboard?
Yes, most WordPress User Dashboard Plugins offer role-based access control, allowing you to define which features and capabilities each user role can access from the frontend dashboard. For example, you can grant certain privileges to administrators while restricting contributors or subscribers to specific actions, ensuring better control over your website's content and settings.
Will using a User Dashboard Plugin slow down my website's performance?
The impact on website performance can vary depending on the specific plugin and how it's implemented. However, reputable User Dashboard Plugins are generally designed to be lightweight and optimized for speed. As with any plugin, it's essential to choose one that is regularly updated and well-maintained by its developers to ensure optimal performance.
Are User Dashboard Plugins compatible with other WordPress plugins and themes?
In most cases, User Dashboard Plugins are built to be compatible with popular WordPress themes and plugins. However, it's always a good idea to test the plugin in a staging environment or read the documentation to check for any known compatibility issues.
WordPress User Dashboard Plugin- Over to You
With a view to giving yourself an edge over the other cliche site owners, it is imperative to skyrocket your website with a catalyst that will give you clout. For some good reasons, this is exactly where WP User Frontend turns out to be that very catalyst to give you the upper hand.
Interesting point is that you can avail some of the premium features even in the free version which makes the plugin really discernible from the crowd. The bottom line is that the plugin doesn't cost arms and legs and your time and efforts are invaluable. Considering this fact, now, it's up to you to make the final decision.
We suggest you try out this demo version first to test its efficacy. Let us know your decision in the comment section by dropping a line.