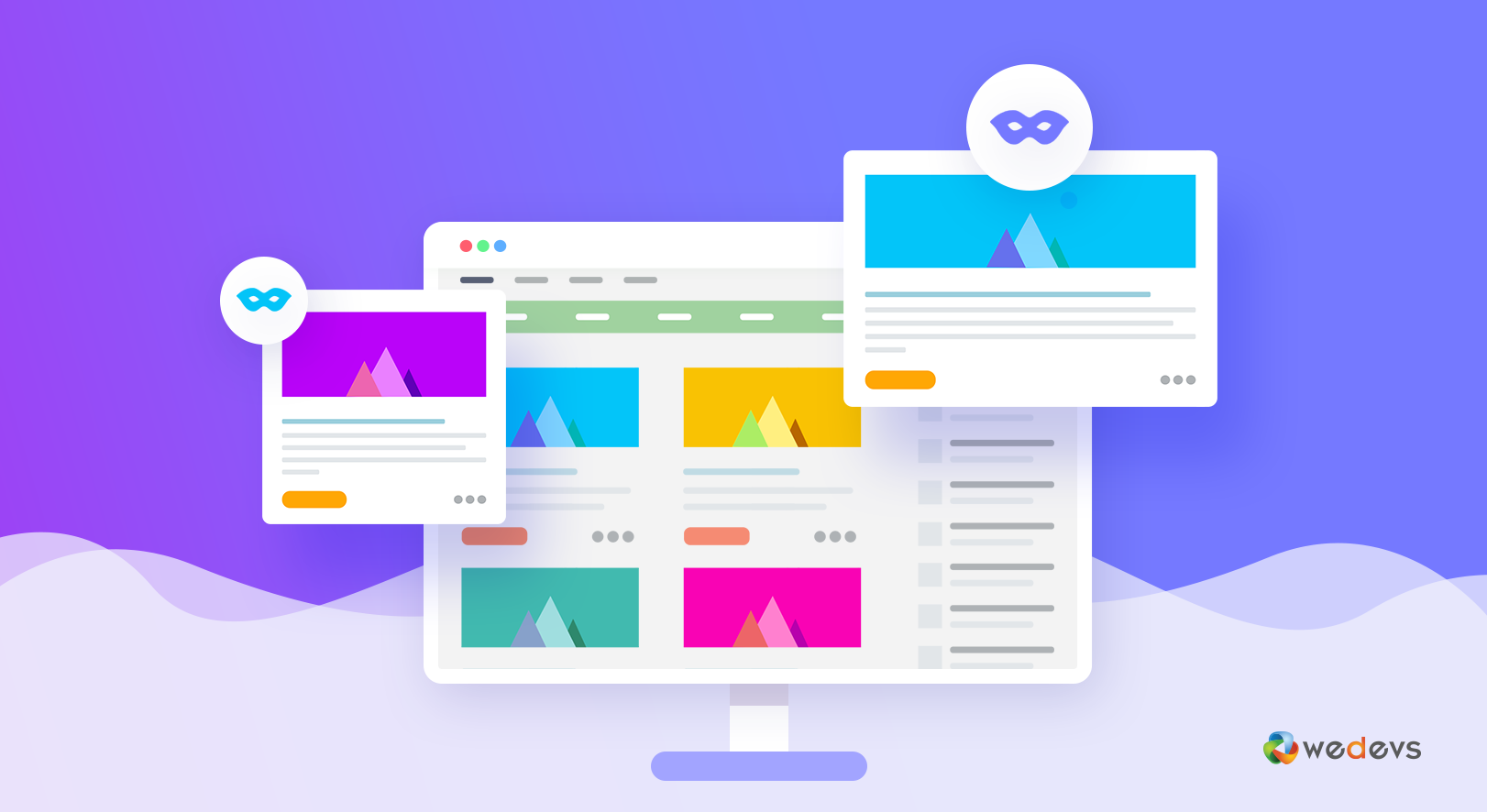 How to Enable Anonymous Guest Posting on Your WordPress Blog
Writing skill is a divine gift. You can honor the writers by enabling them to write on your blog anonymously! It will also help you to get more traffics, reach more audiences, and finally, increase your business growth.
In this article, we are going to show you how to enable anonymous guest posting on your WordPress blog with just fewer clicks.
So, let's start!
Anonymous Guest Posting Explained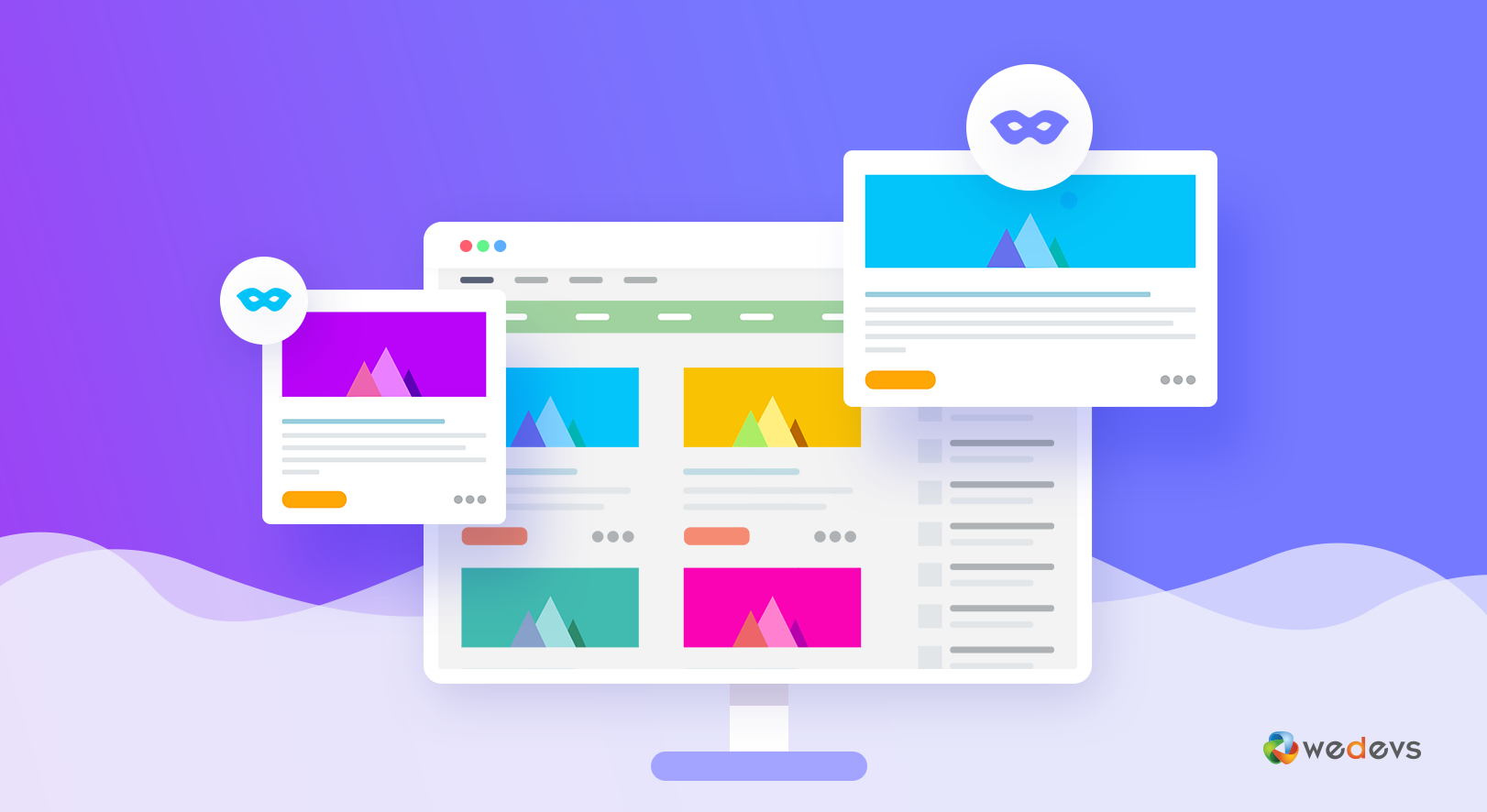 Anonymous guest posting is a proven way to build a strong relationship with the audiences. It will not only ensure a massive increase in your traffics but will bear the flagship of your strong bonding with the users.
Blog sites around the world usually follow a registration system for their guests to add a post by default. You need to provide some information to make you trustable enough for adding a post. This is important for certain reasons.
Enabling your guests to post anonymously from the first day may not be a wise decision.
But as a website holder, there is always an option for you. You can allow your users to add a post easily without any restriction whenever you want. Nowadays enabling guest posting is riding high in the world of blogs.
WordPress makes it safe for any site to allow their guest to post anonymously and control their action by user roles.
Why Enable Anonymous Guest Posting in Your Blog?
You may see and listen to some myths before enabling anonymous guest posting on your blog. Since you are using WordPress as your platform, there is nothing to worry about. You can manage your guest posting and control their actions by applying for user roles. So, don't think too much and just go ahead.
You can be benefited in many ways by enabling anonymous guest posting. Check the list below, you will wonder!
More engagement with your audiences.
Enriching your content, both by number and quality.
Differentiating your content strategy and presentation.
Encouraging your audiences to write for you and your products.
Adding more value to your brand image.
Establishing a strong bonding with your audiences.
Ensuring a rapid increase in your business growth.
And many more…

How to Enable Anonymous Guest Posting on Your Blog?
Enabling anonymous guest posting in WordPress is now very easy. All you need is WP User Frontend, a Frontend plugin. You can add or edit almost everything from your frontend by installing this amazing plugin on your site. And it's free for you!
If you don't have WP User Frontend yet, just follow our step by step guideline on how to install on your WordPress site.
You can enable your guest users for posting anonymously from your site's dashboard. Just create a Sample post form and uncheck the User details and Email verification button from your Sample Post Form. Follow the below instructions.
1. Create A Post Form
You need to create and publish a Sample Post Form to enable anonymous guest posting. Simply go to your WordPress Admin Dashboard, hit on WP User Frontend and then go to Post Forms.
Now, Select the Sample Form to create a post form, from your dashboard.
You can add any field you want or use the default ones. Once you have finished editing, click on the Save Form button.

Go to WP Admin Dashboard → User Frontend → Post Forms → Settings → Submission Restriction.

2. Enable anonymous guest posting
Now, check the Guest Post option and you will get some more options like below.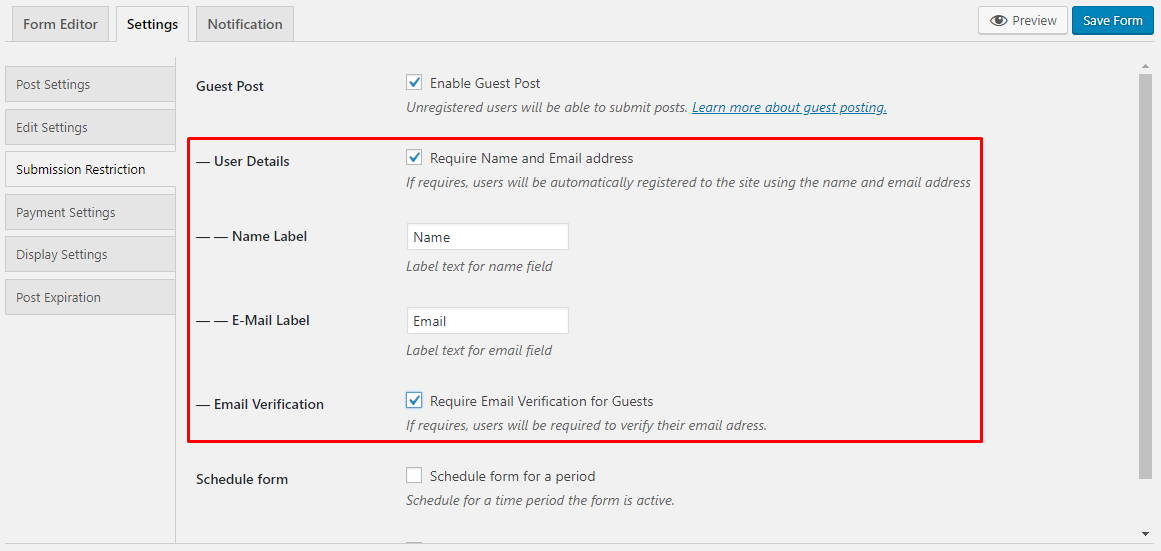 Now, carefully uncheck both of the areas of User Details and Email Verification.
After that, click on the Save Form button And you have just completed the action! Your site is now ready for anonymous guest posting.
3. Anonymous Guest Posting in Action
After you have completed the above steps, now it's time to see how WordPress anonymous guest posting works. Before that, you have to publish your newly created guest posting form. Copy the shortcode of your form.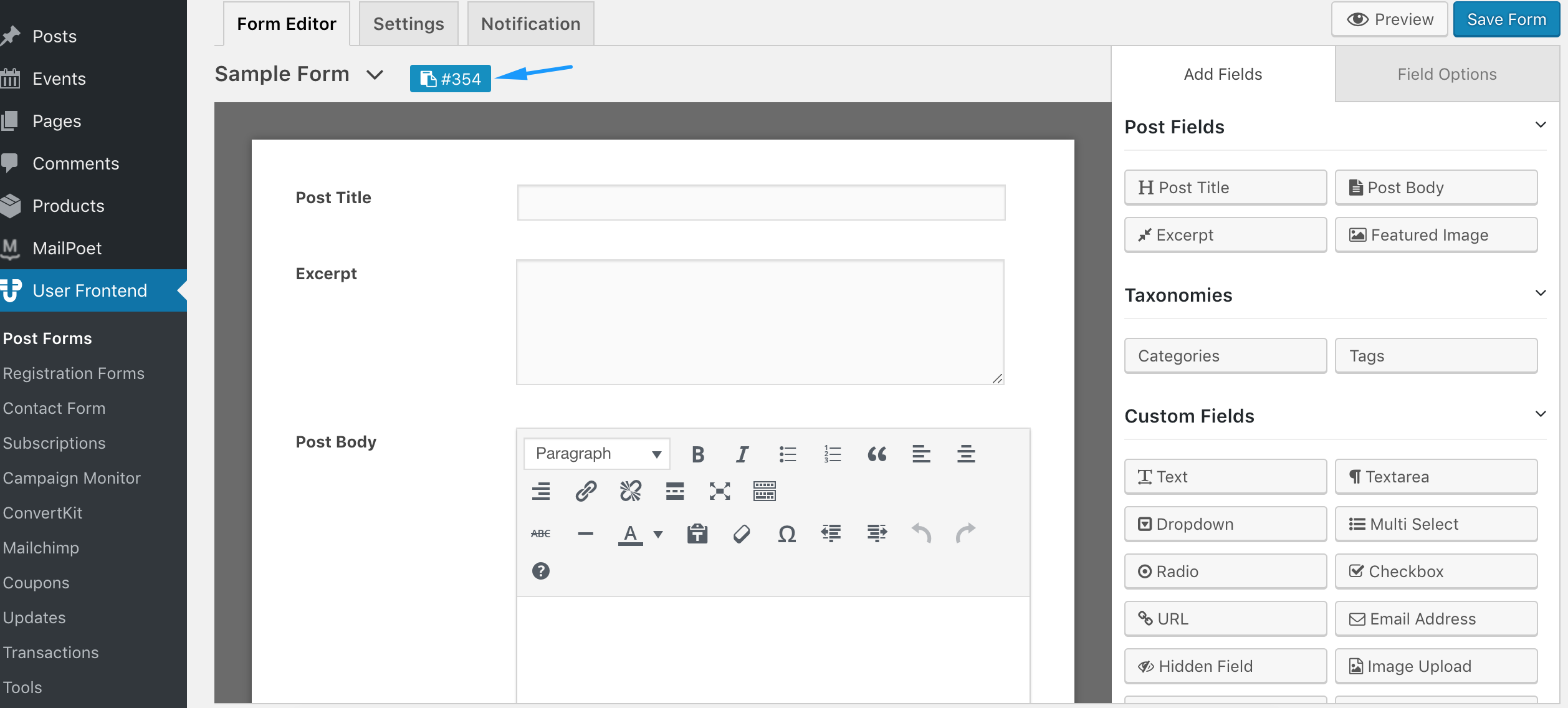 Now, create a new page from your WordPress Admin Dashboard. Put a title to your page and paste the shortcode in the body. Publish your post.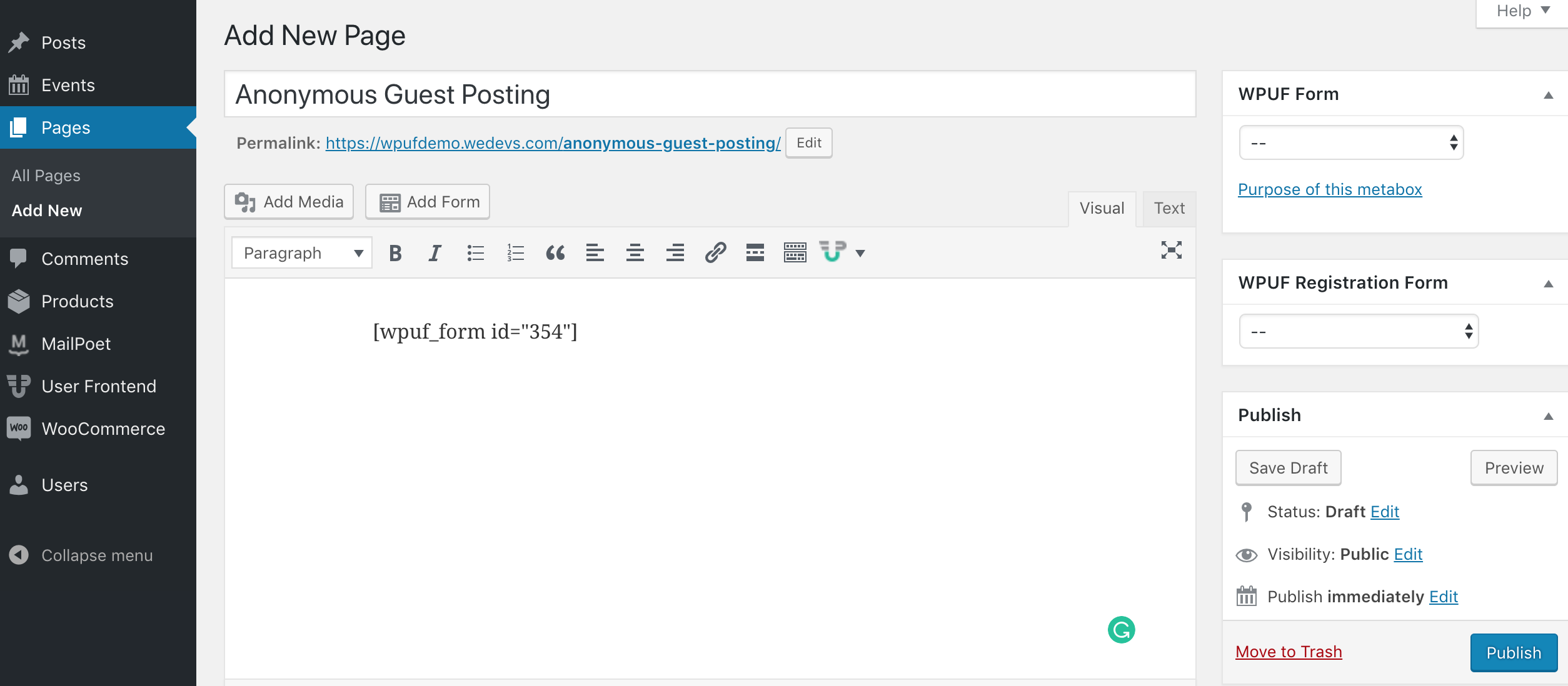 This is how the frontend post form looks like after publishing.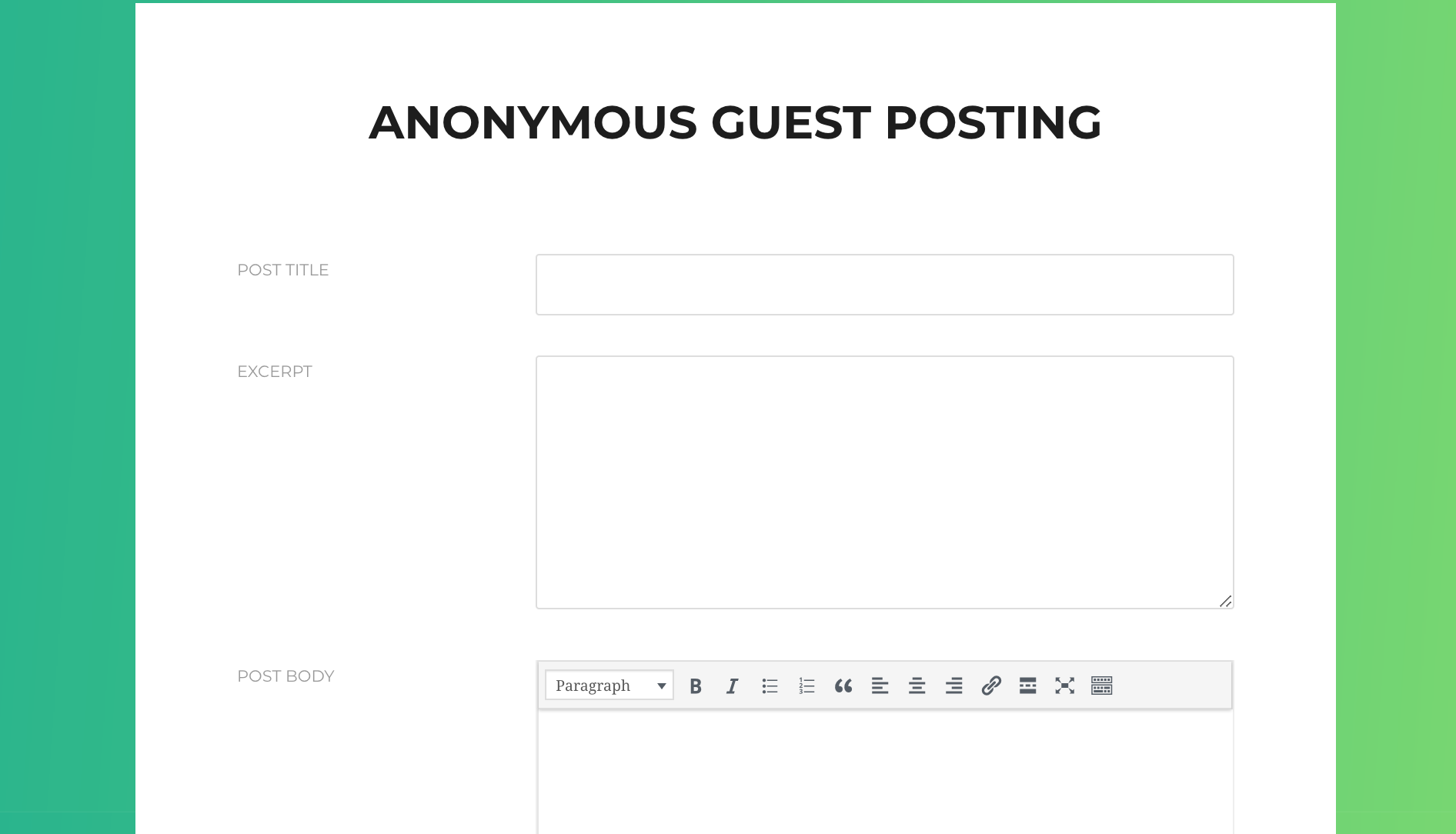 When a user fills up the form with the post title, body, featured image and other required fields. They can click the submit button for publishing it.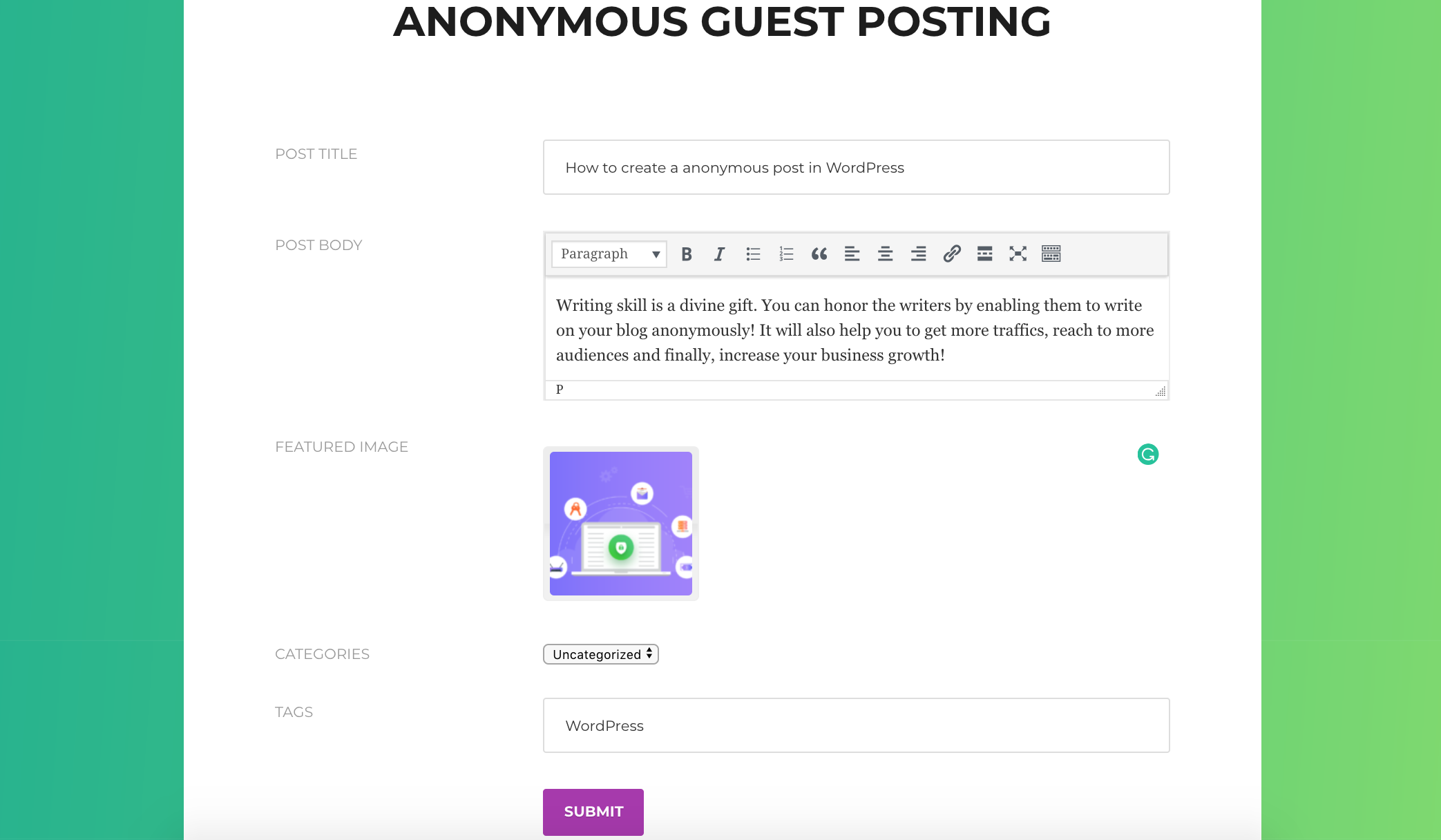 Finally, this is how the anonymous post will look like. This is the same as any other WordPress post.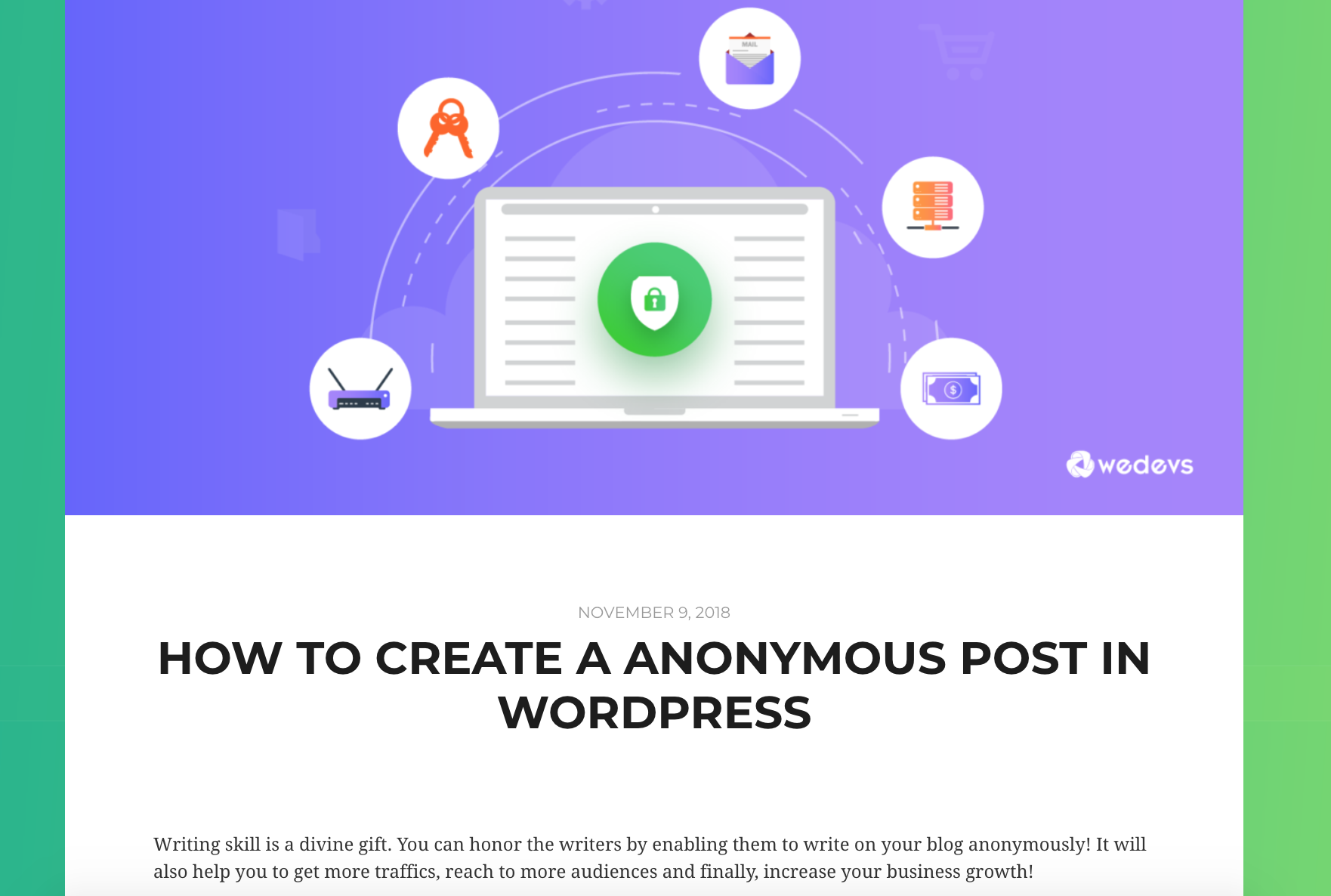 With WP User Frontend, users can even view all their posts from the frontend. This becomes very handy when you don't want your users to log into the backend of your WordPress website. There are many other numerous amazing features that WP User Frontend Pro offers and all of them are related to your WordPress Frontend just like Anonymous Guest Posting.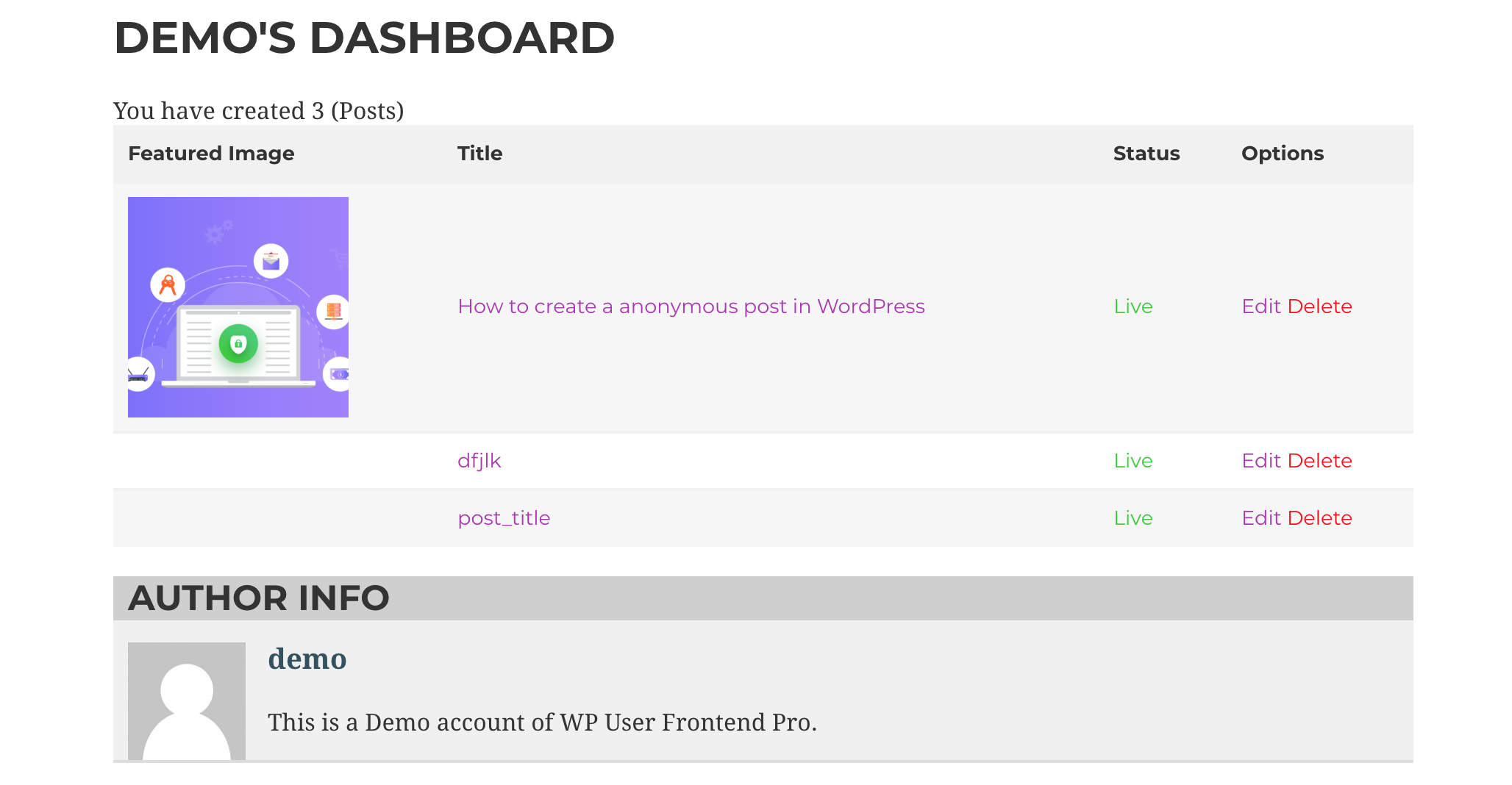 Final Thoughts
Enabling anonymous guest posting is a simple task when you have WP User Frontend installed. You can do that with a few clicks from your dashboard. You need to make only a decision- will you enable your users to post anonymously or not!
We hope- you have found this article helpful to finalize your decision and also to complete the process!
Let your users post on your site anonymously and ensure a massive increase in your traffics and as well as market share using WP User Frontend.