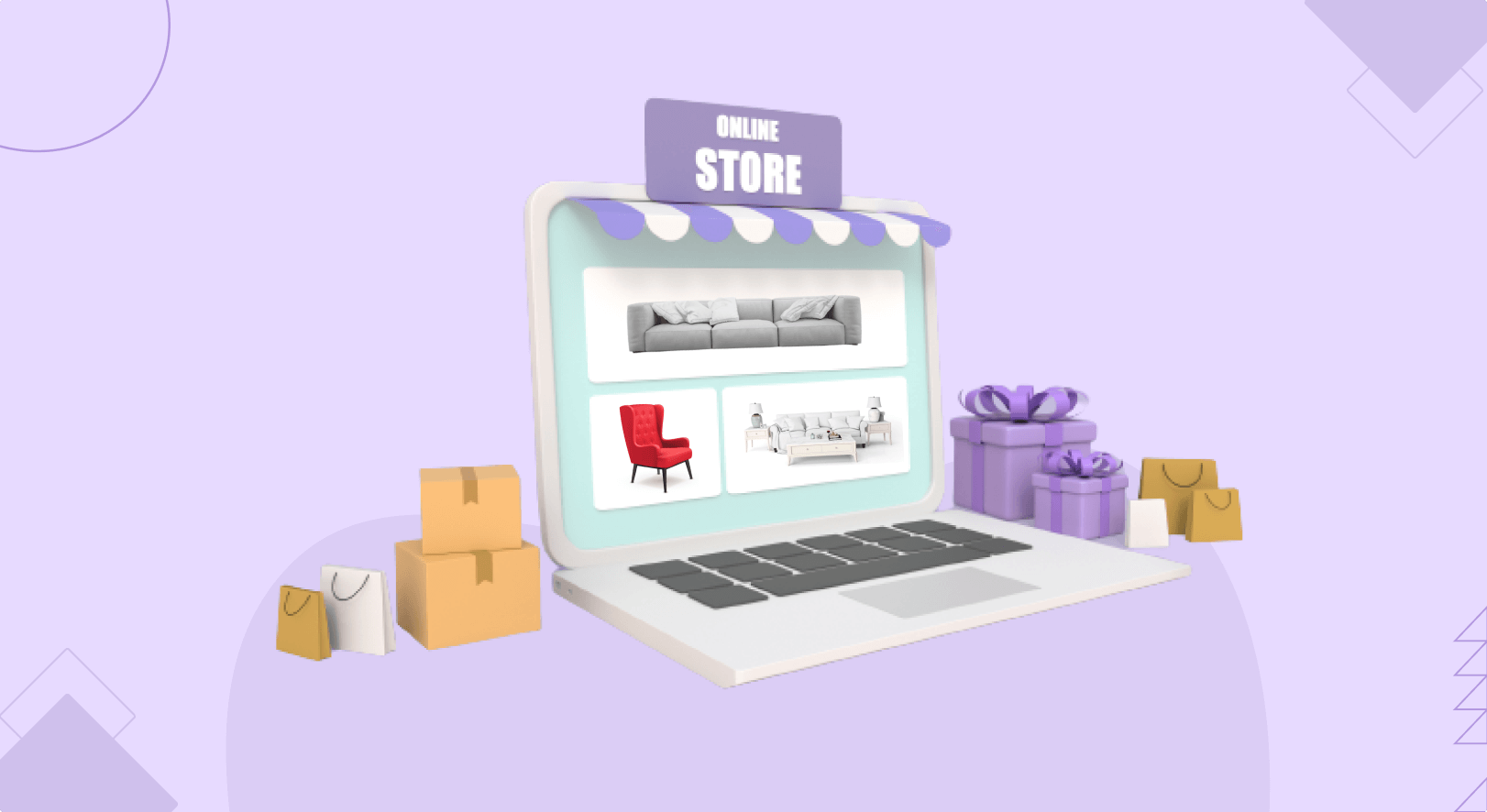 Creating Your Online Furniture Marketplace in WordPress: The Easy Way
You will hardly find any house without furniture. The same goes for the office, school, or any other organization. As long as there are humans, the necessity of furniture will remain relevant. Even nowadays we buy furniture for our pets as well, right?
One thing that has been changing in the furniture industry is how people buy it. A few years ago, people were bound to purchase furniture by visiting physical stores. But now people have the luxury to buy furniture from anywhere online.
As an entrepreneur, you should take this opportunity. How?
Well, you can create an online furniture marketplace where furniture sellers and buyers will come together to buy and sell their furniture. If you're still in doubt about whether you are capable of creating an online platform or not, here we are to guide you in this journey.
In this user-friendly tutorial, we'll guide you through the entire process, starting from installing a multivendor plugin to becoming a pro at promoting your marketplace. So, let's jump right in and unlock your potential in the world of the online furniture marketplace!
Online Furniture Marketplace Growth and Possibility in 2023 & Beyond
The online furniture marketplace has experienced tremendous growth over the past few years, and this trend is expected to continue in 2023 and beyond. According to a report by Statista,
The global online furniture market is expected to reach $209.5 billion by 2026, growing at a compound annual growth rate (CAGR) of 14.5% between 2021 and 2026.
One of the main drivers of this growth is the increasing penetration of the internet and mobile devices, which has made it easier for consumers to shop for furniture online.
Furthermore, online furniture marketplaces offer several advantages over traditional brick-and-mortar stores. They offer a wider range of products, often at lower prices, and provide convenient delivery and installation options. This has made them popular among consumers, particularly millennials and Gen Z, who value convenience and affordability.
Considering all these factors, it's safe to say that the online furniture marketplace has a lot of growth potential in 2023 and beyond. With more consumers shopping online and advancements in technology improving the online shopping experience, we can expect to see continued growth in this industry in the coming years.
Related: Online Store vs Marketplace: Everything You Need to Know
How to Build an Online Furniture Marketplace Using WordPress
Building an online furniture marketplace using WordPress is easier than you might think. In this step, we will guide you through the process, step by step. From setting up your WordPress site to selecting the right eCommerce plugin, customizing your marketplace, and optimizing it for a seamless user experience – we've got you covered.
Here are the steps that you need to follow:
Install and Activate Dokan Multivendor Plugin
Configure the General Settings of Dokan
Choose a WordPress Theme That Perfectly Matches Your Niche
Setup Admin Shop & Upload Products on Your Marketplace
Optimize Your Marketplace with Dokan Advanced Features
Allow Vendors to Sign Up on Your Furniture Marketplace
Promote Your Marketplace Like a Pro
Now let's embark on this exciting journey together and unlock the potential of your eCommerce venture!
Prerequisites for Building an Online Furniture Marketplace
Before jumping to the main tutorial, let us show you the prerequisites to get started with your furniture marketplace design. Here is a list of tasks that you must complete first, then follow the below steps to get your marketplace ready.
A suitable domain name and web hosting
A WordPress website
WooCommerce plugin
If you already have prepared for the above list, let's proceed to the next phase. Being said that, if you need help completing the prerequisites list, here we are to guide you. Follow the below-mentioned blogs to get your tasks done.
Now follow the below steps to design your first-ever online furniture marketplace. Let's get started with the first step-
Step 01: Install and Activate Dokan Multivendor Plugin
To turn your WooCommerce site into a multivendor marketplace, you have to install a WordPress multivendor plugin. When we are talking about the multivendor plugin, there is nothing that can beat the Dokan plugin.
Dokan is the number 1 multivendor plugin for WordPress websites. This is the most popular and feature-rich plugin that is easy to use without any major learning curve.
Installing Dokan is as simple as installing any other WordPress plugin.
Navigating to Admin Dashboard → Plugin → Add New → Click the search
Type Dokan → Install → Activate.
Dokan will also provide a setup wizard that will help you easily set up your marketplace. Configuring Dokan is very easy by using its own Wizard.
If you still have any confusion go through this video tutorial-
Step 02: Configure the General Settings of Dokan
Dokan is a full-fledged WordPress plugin for creating any type of online marketplace with ease. It comes with a few built-in general settings that you need to configure before going to the main customization.
To access the general settings of the Dokan multivendor plugin, navigate to, WP Admin -> Dokan -> Settings.
There you'll find all the general settings like-
Select store category
Enable vendors to display their products
Create essential tags
Setup the new product status
Choose withdrawal methods
Set minimum withdrawal limit, and
Include commission terms and rates.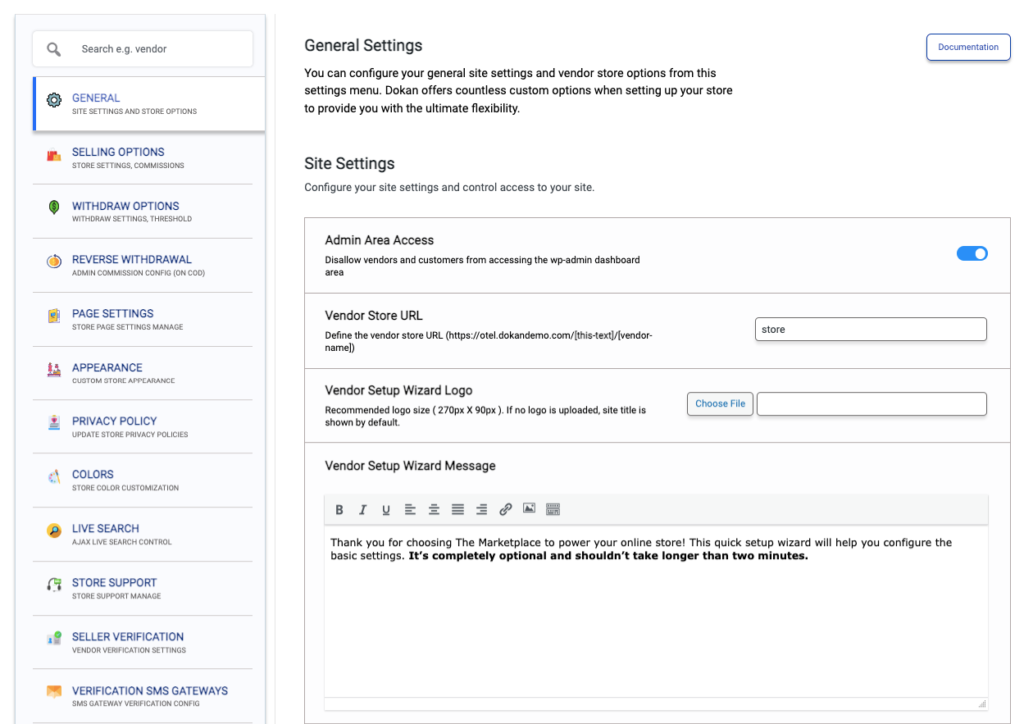 Under every tab, you'll see several setting options to personalize your furniture marketplace. Get a complete overview of Dokan multivendor plugin settings here!
Once you've done with all the changes, hit the button "Save Changes".
Note: For Dokan Lite, you will get limited setting options. To unveil more facilities you must use Dokan Pro. [Though for beginners Dokan Lite is enough to start with].
Step 03: Choose a WordPress Theme That Perfectly Matches Your Niche
The good news is any theme that is compatible with WooCoomerce is also compatible with Dokan multivendor plugin. That means you have the ultimate flexibility to choose any theme that complements your marketplace.
You can also take a look at our collection of Dokan Compatible Themes to explore your options.
If you don't want to use any third-party theme, you can use the Dokani theme created by the same team behind the Dokan plugin. With its sleek and modern attributes, Dokani instantly gives your eCommerce site a sophisticated look.
Key Features of the Dokani theme:
Responsive, lightning-fast, and SEO-friendly
Handles all technical aspects of your site's design effortlessly
Enhances your visual appeal and captivates visitors
Supports a wide range of useful widgets
Fully compatible with popular page builders
If in case, you need help installing your WordPress theme, check this Ultimate Guide to WordPress Themes.
Step 04: Setup Admin Shop & Upload Products on Your Marketplace
As an administrator of your furniture marketplace, there are two ways for you to make money:
Manage the marketplace and earn solely through commissions.
Sell your own products while also receiving a commission from the sales made by other vendors.
To sell your own products, you need to set up a mini store. First, enable yourself to add products to the marketplace.
In order to make yourself a vendor, go to WordPress Dashboard -> Dokan -> Vendor. Then turn on the toggle bar to enable the admin for adding products to the marketplace.

Now, it's time to decorate your mini store and upload new products.
There are two ways to upload products to your store. You can upload it from your frontend or backend. Let us show you how to upload products from the frontend.
Go to WordPress Dashboard -> Visit Vendor Dashboard -> Products. Then click on the Add new product.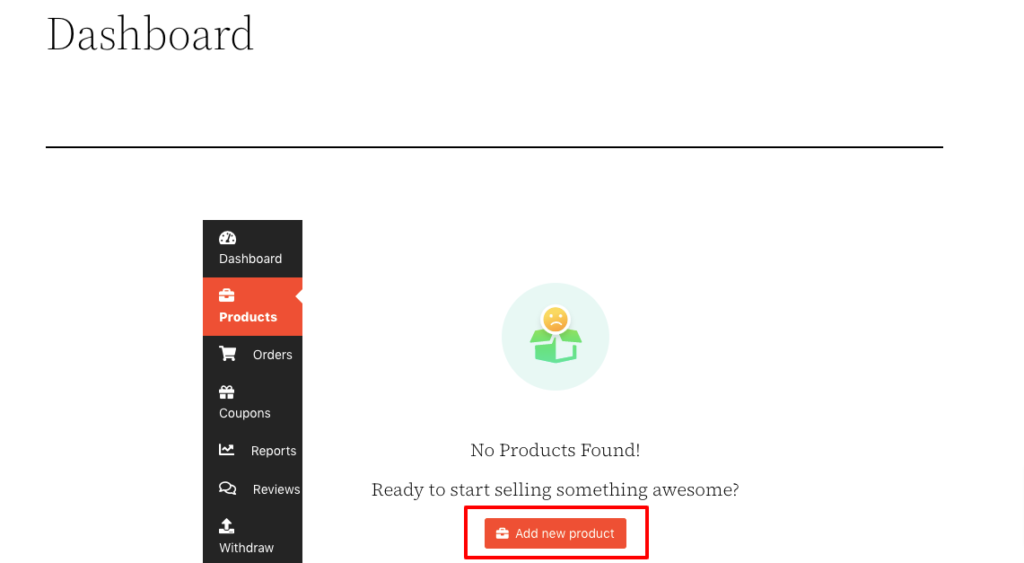 Now set the product details and click on Create Product to save the product.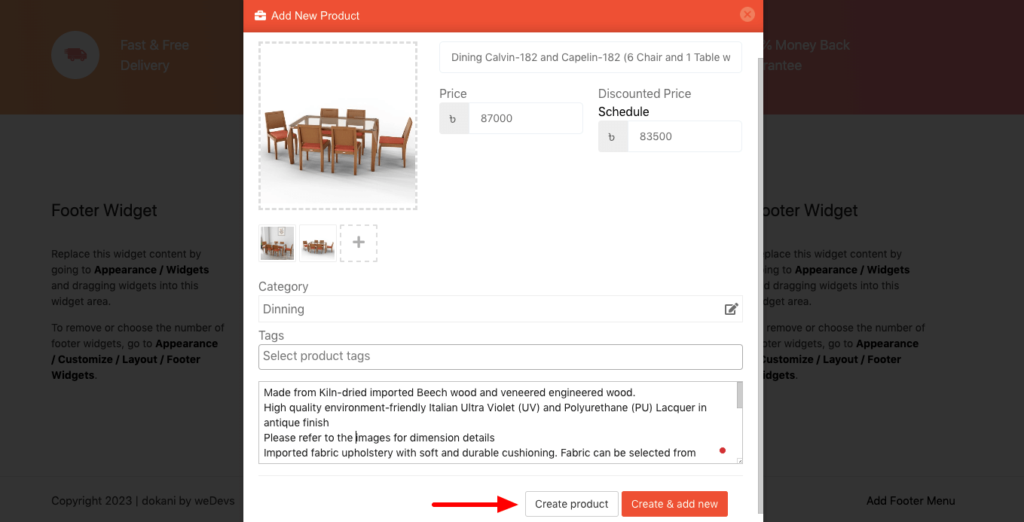 You have to add a few more details related to the product. After fulfilling these fields, click on Save Product to complete the process.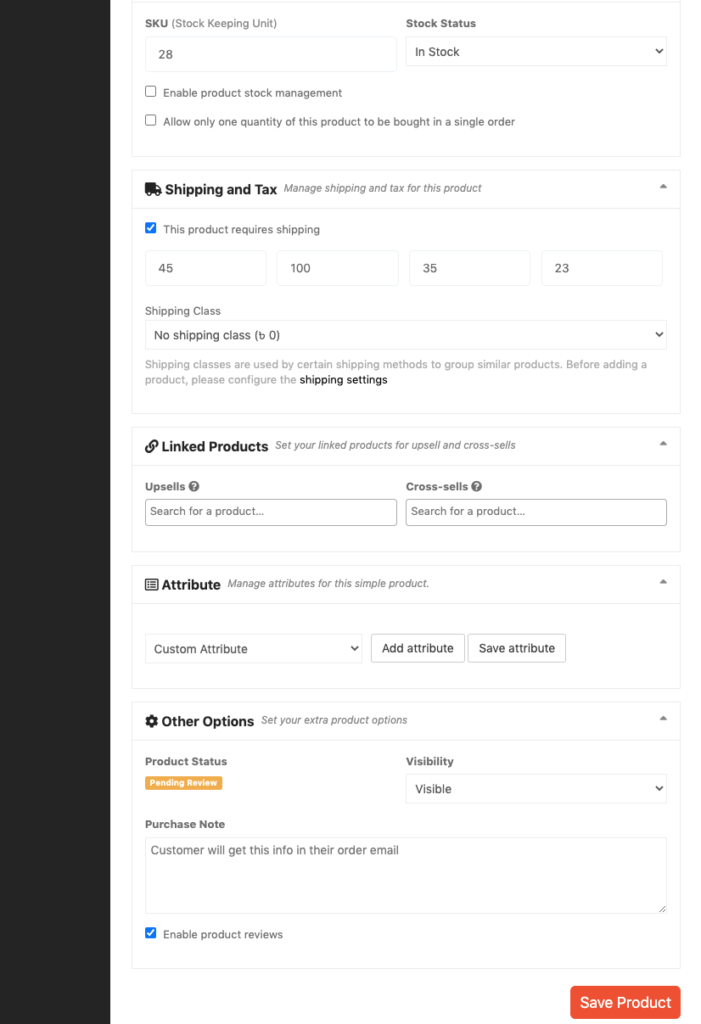 Now if you visit the Products tab, you'll find all of your newly added products are with pending status. Because the admin needs to approve these products to make them public.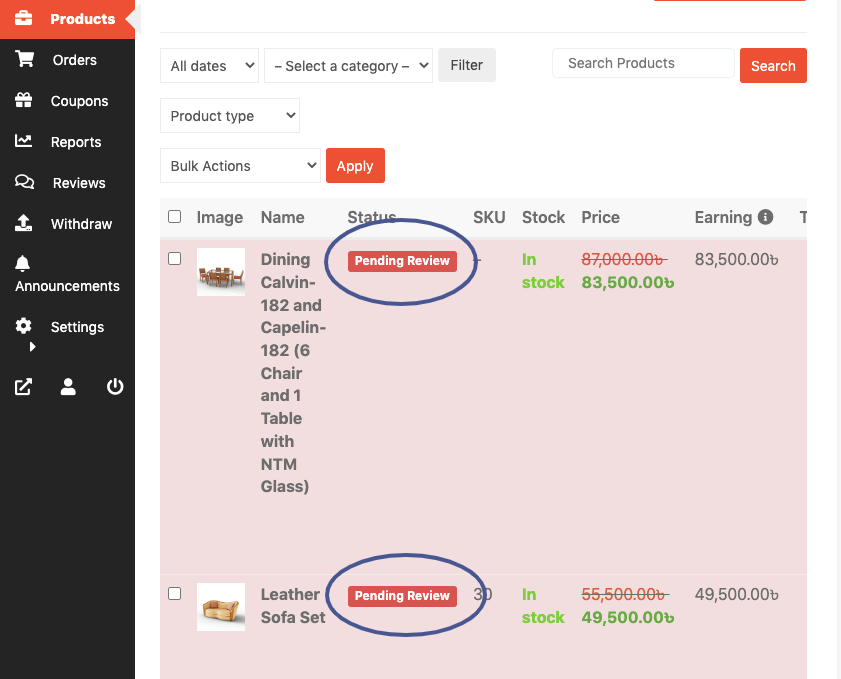 Now as an admin, visit your backend and approve these products to make them public. Click on the Products option, then click on the Quick Edit. There you will find the Status option. Choose the Published option and click the Update button to approve and publish the pending products.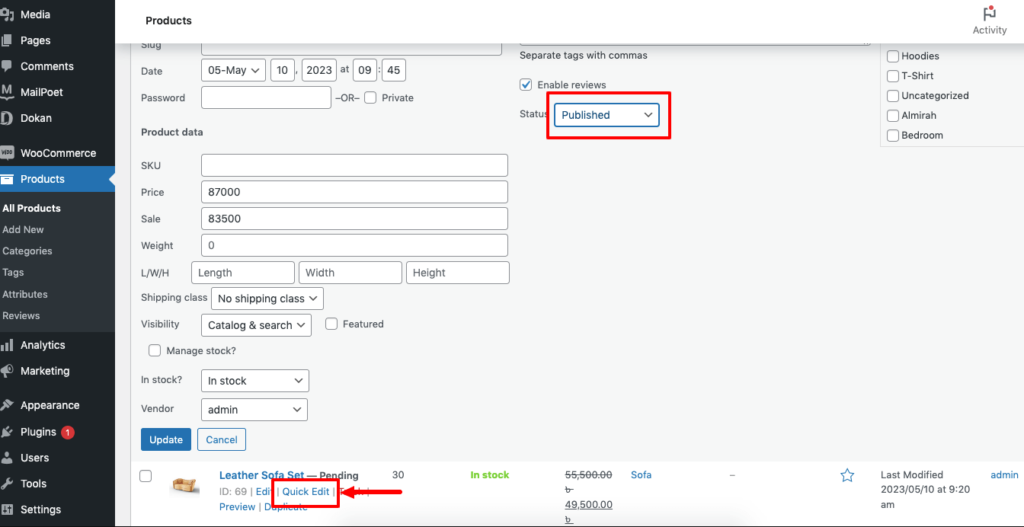 This is how you can add products from your frontend as a vendor. Now let us show you how to add products from the backend.
Go to your WordPress dashboard -> Products -> Add New to add upload new products.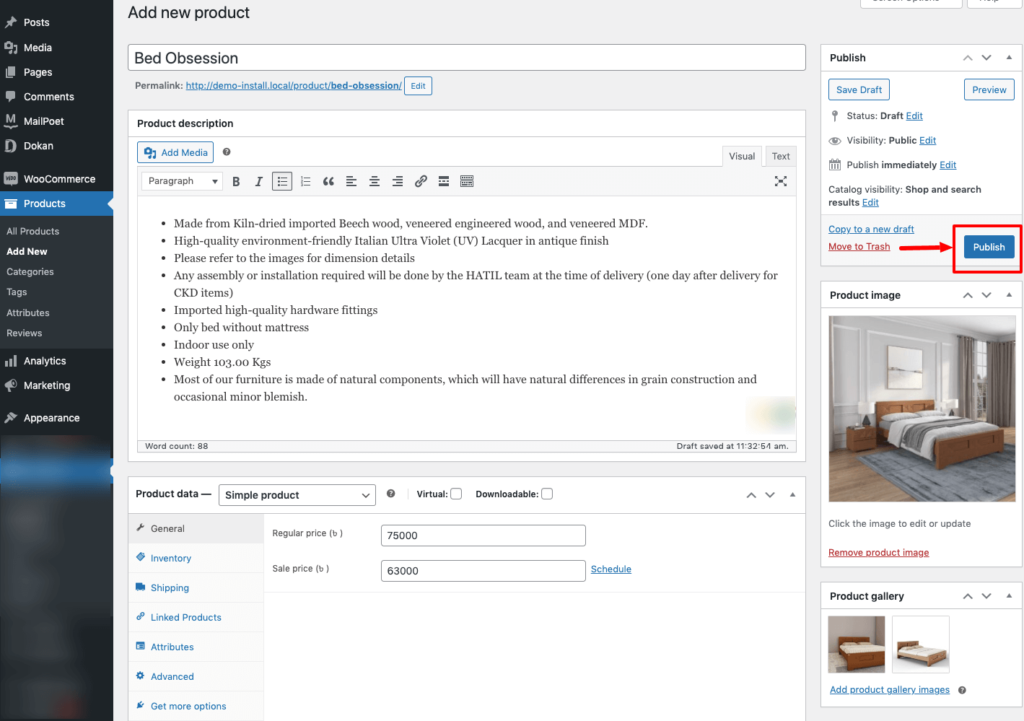 After inserting all the product-related information, finally, click on the Publish button to make the product accessible to everyone.
That's it!
You can customize your store design by going to Vendor Dashboard -> Settings. From here you can update your store name, address, opening & closing time, etc.
After doing all the customizations, your store looks like the below-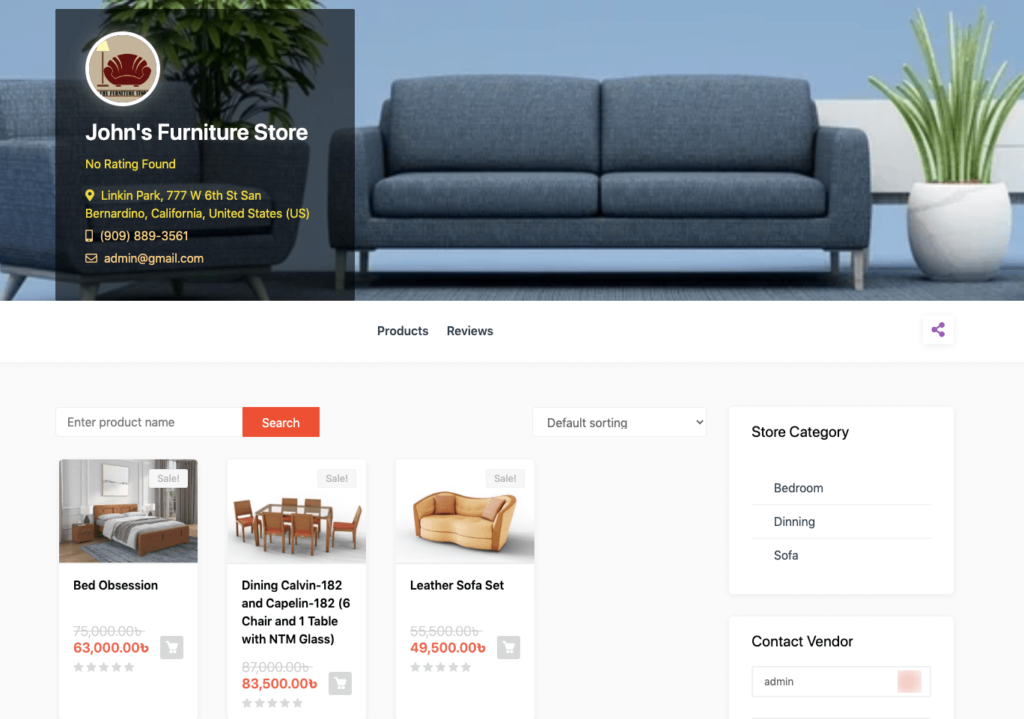 Special Note: Setting up the admin's shop is not mandatory unless you intend to sell your own products.
Step 05: Allow Vendors to Sign up on Your Online Furniture Marketplace
All the basic configurations are done. Now it's time to open your marketplace for third-party vendors.
First, you need to enable the "Anyone can register" option. In order to do this, go to WordPress Dashboard -> Settings -> General -> Membership. And put the check mark on it.
Also, don't forget to save the changes that you have made now by clicking on the "Save Changes" button.

Now vendors can fill up the registration form to sign up in your marketplace-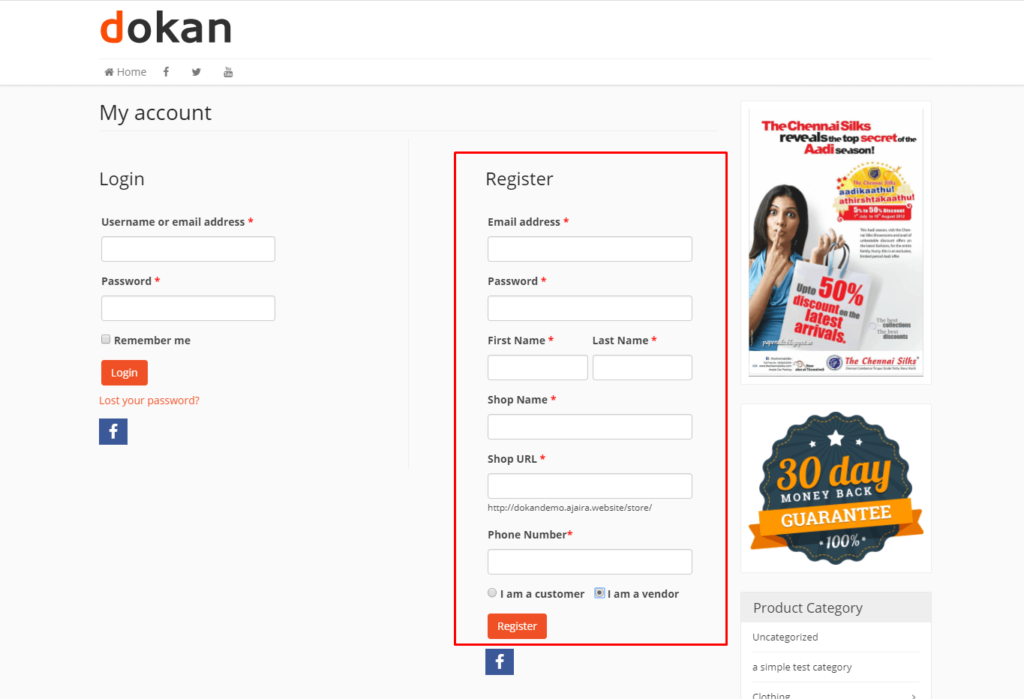 As an admin, you have the ability to review and manage all vendor registration requests from the backend. Take a look at the profiles of potential vendors and selectively approve those who meet your criteria to sell their products on your site.
Navigate to your WordPress dashboard then click on the Visit Stores to check all the registered stores on your furniture marketplace.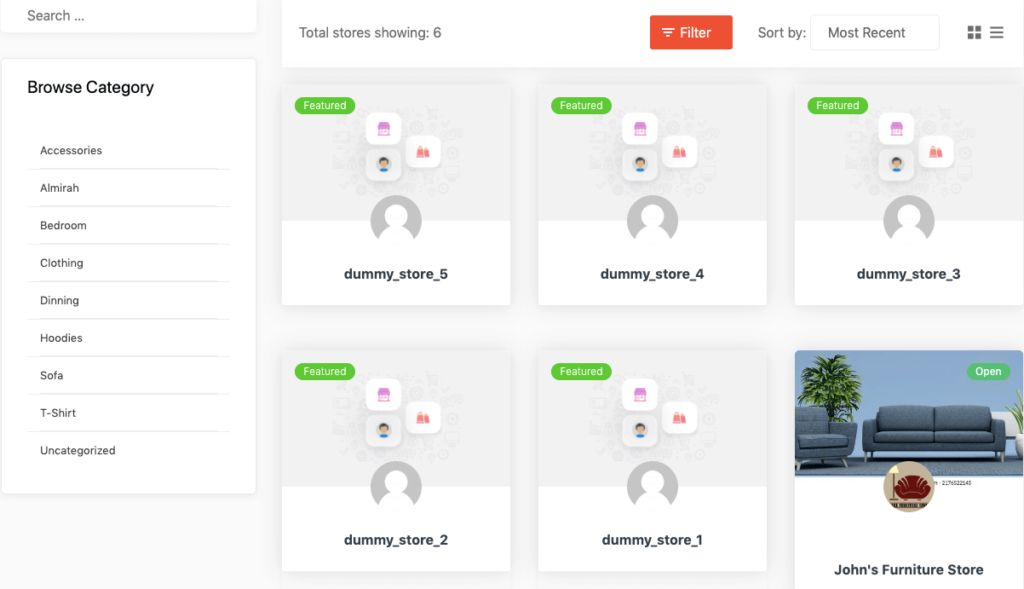 Once approved by the admin, vendors gain the freedom to create their own stores with unique URLs. Dokan also provides each vendor with an individual vendor dashboard, empowering them to effortlessly upload, manage, and successfully sell their products.
The store customization process for vendors is the same as we've shown above for an admin. From the frontend dashboard, a vendor can easily set up his shop.
Attracting vendors to your marketplace may pose a challenge, but there are effective strategies to employ. Send invitations to your vendor community and promote your marketplace actively. Additionally, offering incentives for early registered vendors can be an enticing idea to encourage participation.
Read more: How to Find and Convince Vendors for Your Multivendor Marketplace.
Step 06: Optimize Your Marketplace with Dokan Advanced Features
You can seamlessly manage your online furniture marketplace using Dokan free version. But once your marketplace starts to grow with more vendors and customers, you'll need to upgrade to the premium version to take your marketplace to a whole new level.
When you are a Dokan pro user, you will get to access 35+ Dokan modules for more advanced features. Here are some mandatory features for an online furniture marketplace that you can ensure with Dokan modules:
Shipping Management
Product Addon
Live Chat
Return and Warranty Request 
Payment Gateway
Now let's take about how you can implement these features for your furniture marketplace with Dokan modules.
a) Shipping Management
If you want to offer vendors the freedom to set their own shipping rates, look no further! With our Table Rate Shipping module, you can provide your vendors with unparalleled flexibility when it comes to shipping rates for their products.
Shipping rates can vary depending on factors like distance, weight, price, shipping class, or even the number of items in a shipment. Our platform empowers vendors to customize their shipping rates based on these parameters, ensuring precise calculations that align with their unique business needs.
b) Product Addons
Let's imagine a customer falls in love with a beautiful piece of furniture on your marketplace. However, he wishes to add matching cushions, a stylish throw blanket, and a few decorative pillows to complete the look. With our Product Addons module, they can effortlessly select and add these complementary items to their cart, creating a truly customized package.
But here's where it gets exciting. Unlike traditional shopping experiences, where all items are bundled together, our module enables separate billing for each additional item. This level of flexibility ensures transparency and empowers customers to curate their purchases according to their unique preferences and budget.
c) Live Chat
In the fast-paced world of online marketplaces, providing prompt and efficient customer support can make all the difference. We understand the importance of resolving customers' issues quickly to ensure their satisfaction and keep them coming back for more.
That's why Dokan has been integrated with a Live Chat module, a game-changing tool that enables vendors to deliver lightning-fast real-time support to customers through popular platforms like Facebook Messenger, WhatsApp, Talk.Js, or Tawk.to.
d) Return and Warranty Request
It's common for stores to provide customers with a return and refund window ranging from 15 to 30 days. This helps in building trust and credibility for your business. With the Dokan refund request module, managing refund requests becomes a breeze for both administrators and vendors.
As an admin, you will have full control over the refund management process. You can efficiently handle and oversee refund requests, ensuring a smooth and transparent resolution for your customers. This level of responsiveness strengthens their trust in your business and cultivates a positive shopping experience.
e) Payment Gateway
Multiple payment gateways play a pivotal role in the success of an online marketplace by offering customers flexibility and convenience in making their purchases. By providing a variety of payment options such as credit cards, debit cards, digital wallets, and bank transfers, a marketplace caters to diverse customer preferences and ensures a seamless checkout experience.
Dokan multivendor solution comes with several payment gateways like MANGOPAY, Razorpay, PayPal, and others. So, with Dokan, you can ensure multiple payment gateways on your online furniture marketplace.
Step 07: Promote Your Marketplace Like a Pro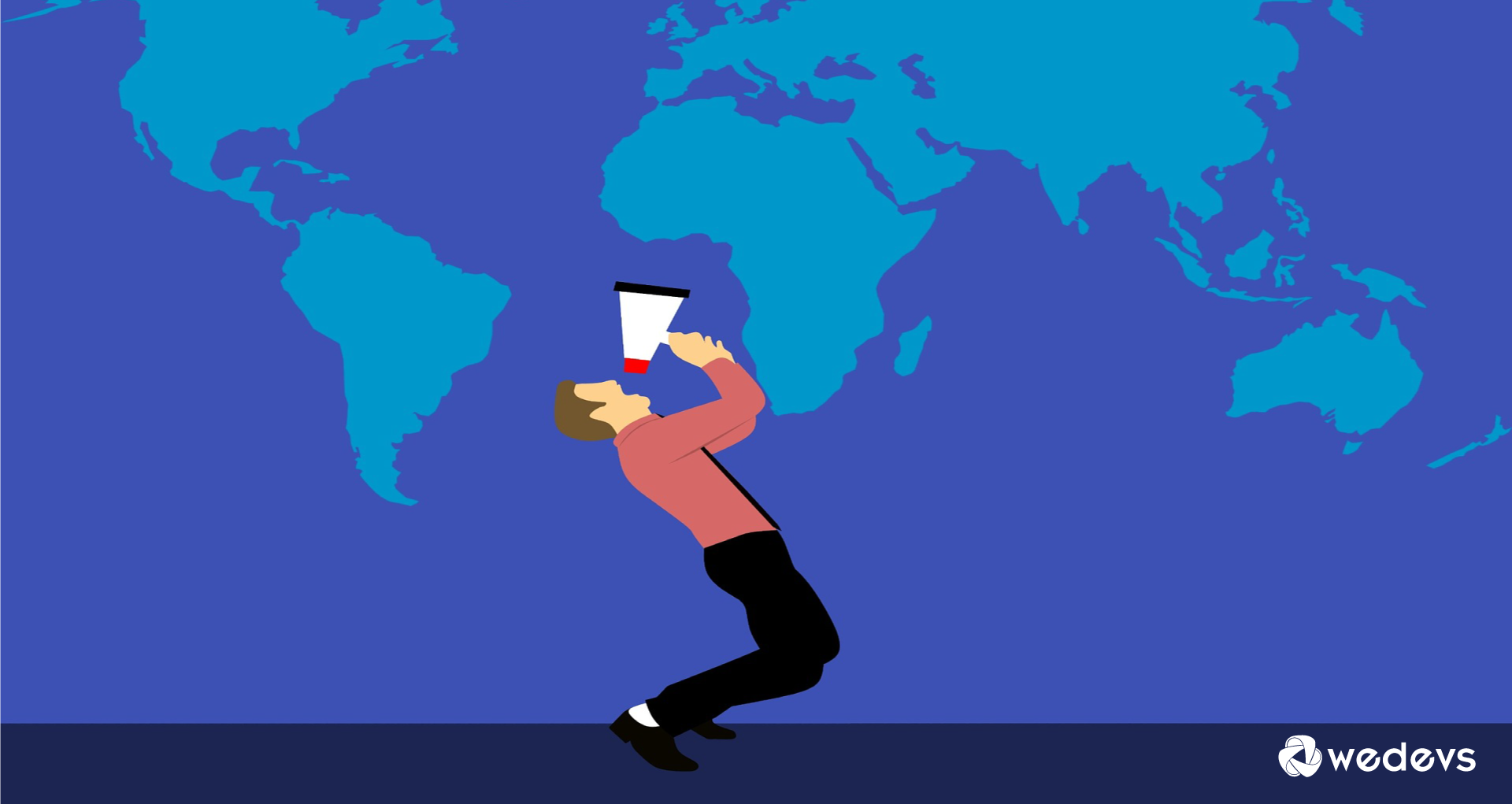 Promoting your online furniture marketplace effectively is crucial to attracting customers and increasing sales. Here are some strategies to help you promote your online furniture marketplace:
Define Your Unique Selling Proposition (USP): Identify what sets your furniture marketplace apart from the competition. Highlight the unique features, product range, pricing, or exceptional customer service that distinguishes your platform.
Create Compelling Content: Develop engaging and informative content that showcases your furniture offerings. Use high-quality images, videos, and detailed product descriptions to captivate potential customers and highlight the key benefits of shopping on your marketplace.
Utilize Social Media Marketing: Leverage popular social media platforms such as Facebook, Instagram, Pinterest, and Twitter to reach a wider audience. Share visually appealing furniture images, engage with followers, run targeted ads, and collaborate with influencers or bloggers in the home and interior design niche.
Implement Search Engine Optimization (SEO) Strategies: Optimize your website and product pages for search engines. Conduct keyword research to identify relevant search terms and incorporate them into your content. Focus on generating organic traffic through effective SEO practices like meta tags, keyword-rich descriptions, and internal linking.
Leverage Influencer Marketing: Partner with influencers or bloggers who specialize in home decor and furniture. Collaborate with them to promote your marketplace through sponsored posts, product reviews, or giveaways. Their authentic recommendations can significantly increase brand awareness and drive traffic to your website.
Engage in Email Marketing: Build an email subscriber list and send regular newsletters featuring new furniture arrivals, exclusive deals, and personalized recommendations. Use email marketing to nurture customer relationships, re-engage potential buyers, and drive repeat purchases.
Collaborate with Interior Designers or Home Staging Professionals: Forge partnerships with interior designers, home staging professionals, or real estate agencies. Offer exclusive discounts or commissions for referrals. Their recommendations and testimonials can enhance your marketplace's credibility and reach a targeted audience.
Utilize Paid Advertising: Consider running targeted ads on search engines, social media platforms, or relevant websites to increase visibility and reach. Set a budget for pay-per-click (PPC) campaigns and optimize them based on analytics and conversion data.
FAQs on Online Furniture Marketplace
Is WordPress a good platform for building an online furniture marketplace?
Yes, WordPress is a popular and powerful platform for building eCommerce websites, including online furniture marketplaces. It offers a wide range of themes, plugins, and customization options that make it easy to create a professional and functional website.
What are the essential features I need to include in my online furniture marketplace?
Some essential features for an online furniture marketplace include product listings with images and descriptions, search and filtering options, shopping cart and checkout functionality, secure payment options, customer reviews and ratings, and a responsive and user-friendly design.
How do I ensure my online furniture marketplace is secure and reliable?
It's important to use secure hosting, SSL certificates, and trusted payment gateways to ensure the security and reliability of your online furniture marketplace. Regularly updating your website and plugins, and implementing security measures such as two-factor authentication can also help prevent security breaches.
How do I promote my online furniture marketplace and attract customers?
There are several ways to promote your online furniture marketplace, including search engine optimization (SEO), social media marketing, email marketing, and paid advertising. You can also leverage influencer marketing and customer referrals to reach a wider audience and build brand awareness.
How to Build Online Furniture Marketplace- Key Takeaways
Building an online furniture marketplace requires careful planning, strategic execution, and a customer-centric approach. Throughout this blog, we've explored the key steps involved in creating and promoting your marketplace successfully. Here are the key takeaways to keep in mind:
Install and Activate Dokan Multivendor Plugin
Configure the General Settings of Dokan
Choose a WordPress Theme That Perfectly Matches Your Niche
Setup Admin Shop & Upload Products on Your Marketplace
Optimize Your Marketplace with Dokan Advanced Features
Allow Vendors to Sign Up on Your Furniture Marketplace
Promote Your Marketplace Like a Pro
By following these key takeaways, you can create a thriving online furniture marketplace that attracts customers, drives sales, and establishes your brand as a trusted destination for furniture shopping.
If you have anything to say related to this blog, you are always welcome to let us know through the comment section below. Thank you!