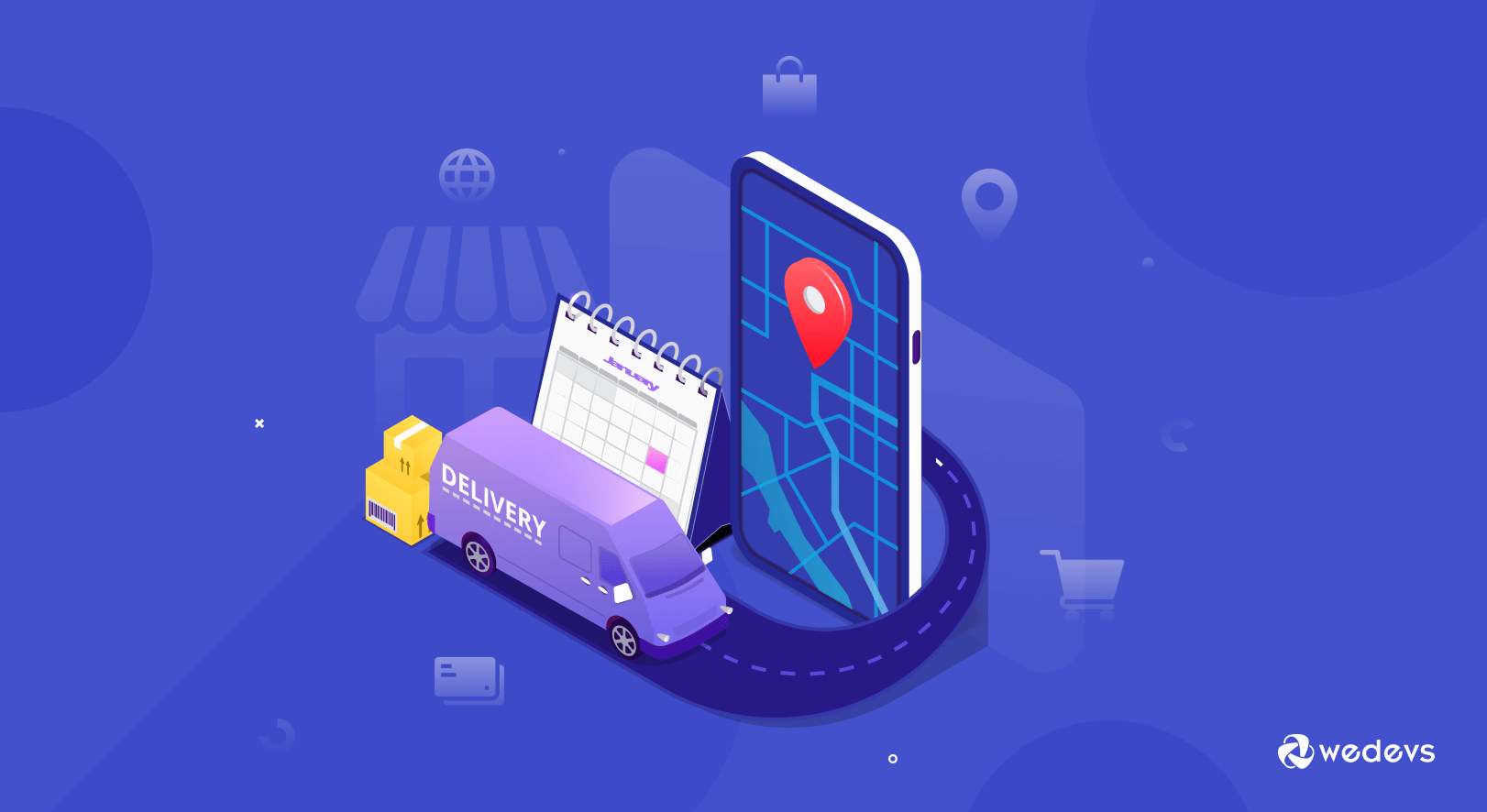 Understanding eCommerce Logistics for Online Marketplaces
What is eCommerce logistics? Well, eCommerce logistics refers to the processes involved in manufacturing, packing, storing, and finally shipping your product to the customer accordingly.
The whole process is seamless—and often automated— helping eCommerce companies deliver their products to digital customers.
The average online retailer spends 11% of their turnover on logistics. The industry grew by 27% last year, and is forecasted to reach almost $650 billion by 2025.
The components of logistics are dependent on each other and the eCommerce store must ensure each of them is running smoothly. Because, if businesses can't get the product to the customer when they need it, customers will find someone else who can.
As the days are going by eCommerce logistics have become more challenging. Customers are now expecting products to be delivered within 2 days thanks to big players like Amazon.
So, it is very important to nail the logistics part of your eCommerce store. And we are here for that. From this article, you will know the capabilities you need to gain success in logistics as well as manage the marketplace logistics.
What we are going to cover:
6 Critical eCommerce Logistics Capabilities You Need to Succeed
6 Strategies to Excel on Marketplace Logistics
9 Challenges You May Face While Managing Marketplace eCommerce Logistics
How WooCommerce Helps You Manage eCommerce Logistics
6 Critical eCommerce Logistics Capabilities You Need to Succeed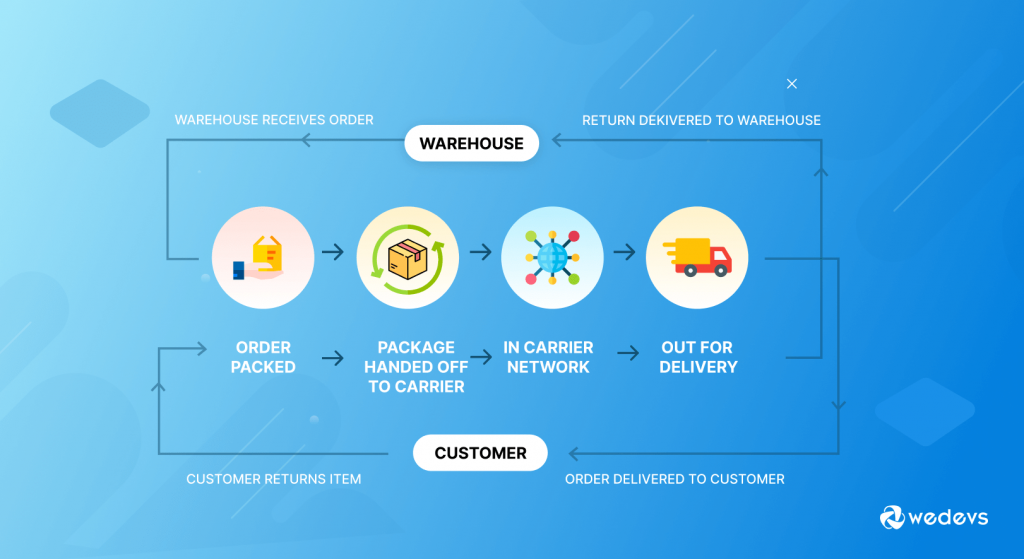 eCommerce is a part of the overall supply chain and it's just another distribution model to receive orders and distribute the products to the customers. All that is between the order from the customer and the order completion is the 'Logistics'. That explains the criticality of logistics and certainly, logistics is the key lever with the overall e-Commerce model.
Research says that 53% of shoppers consider the delivery speed before deciding to place an order. Whereas 25% of shoppers have canceled their order due to slow delivery speed.
You can't take these numbers lightly and it also sheds light on the importance of eCommerce logistics. So, as we said earlier, you need to get your strategy right. We will list the logistics capabilities you need to get your planning right and be successful.
Local Inventory Management
Follow the Data, Analyze Them Carefully
Automate Where You Need
Manage the Return Process
Synchronization Between Suppliers
Make Sure to Manage the "Last Mile"
1. Local Inventory Management
The fastest way to get your products to customers is by setting up local inventory management systems. When there was a 10-day shipping era, retailers used to deliver products from a small number of regional warehouses. But, now customers want faster delivery and it has motivated store owners to rethink their eCommerce logistics.
Now, they are distributing products to local warehouses and keeping them closer to populated areas in order for faster delivery. Along with that, they are able to use local carriers and store pickup, which was not possible long distance. Moreover, local carriers are cheaper than international carriers.
To manage this inventory more efficiently, you need to use inventory management tools and software.
2. Follow the Data, Analyze Them Carefully
Data is key to everything. People who can use data smartly tend to find success. And it is proven. If you can apply smart analytics to Big data then you can stay one step ahead.
You will understand the order pattern and also find the areas where the most orders are coming from. Moreover, you can forecast future trends and hot zones. You can place your local inventories in those places and elevate your efficiency.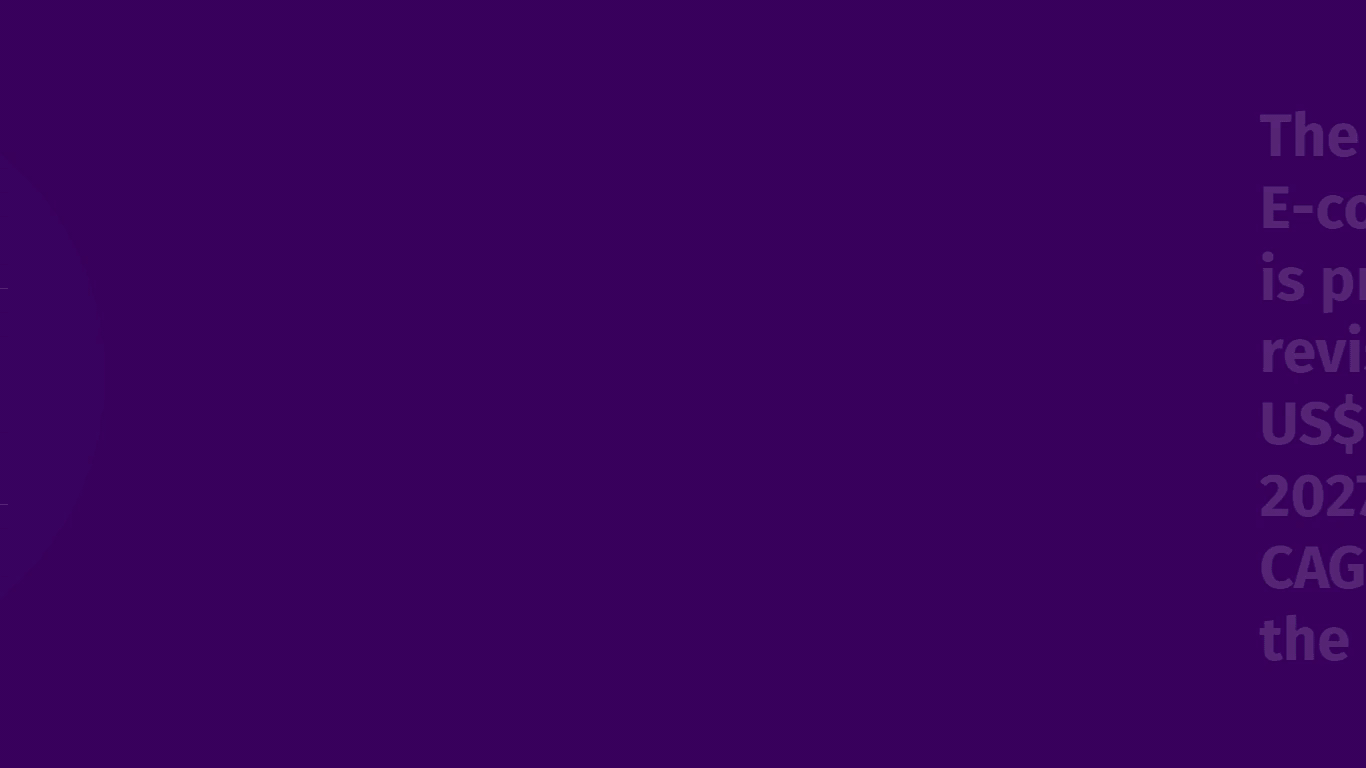 Big Data makes real-time data analytics possible. So combining Big Data with protective software can give you a big lift. Also, you can find the fastest routes that will surely reduce your delivery time.
3. Automate Where You Need
Without automation, don't even think about reducing your delivery times. Automation is a big part of eCommerce logistics. It will help you notify the customers if there is a delay in delivery or a problem with the supply chain process.
And, it will also place orders when there is a new inventory, preventing lost sales. Robotic warehouses have become common that help with packaging, loading, delivery, etc.
Although it requires a big investment, it will certainly increase your ROI and efficiency for companies with a large volume of products. But you can make do with an inventory management system that will work as your eCommerce logistics manager.
4. Manage the Return Process
Returns and exchanges accounts for 25% of eCommerce sales
Returns and exchanges are a big part of any eCommerce store. It can occur for many reasons like faulty products, delayed delivery, not getting the right products, etc. Then customers want to return or exchange the products. This is known as reverse logistics.
So, you need to handle the return processes as carefully as you manage the delivery system. It creates a huge impact on customer satisfaction.
5. Synchronization Between the Suppliers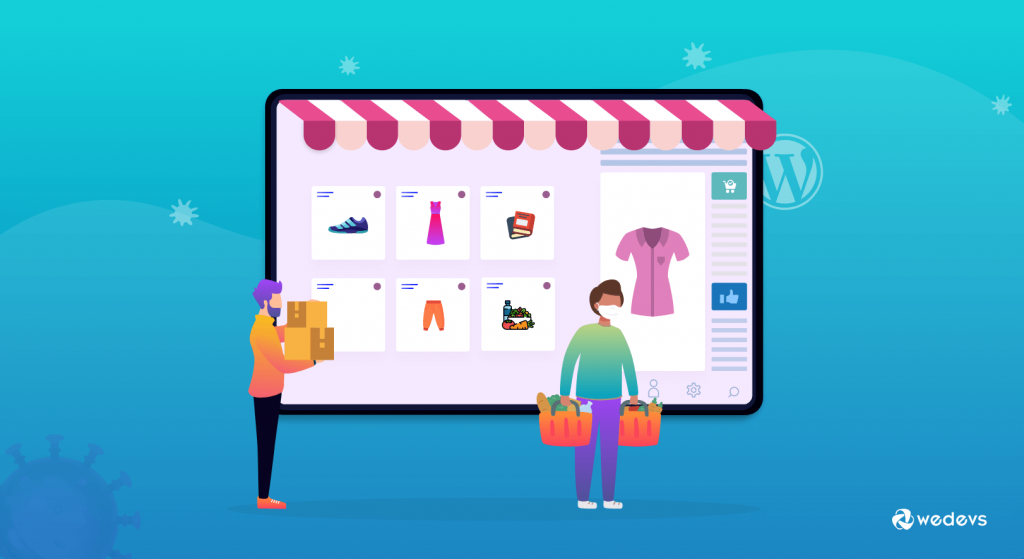 This is a very important factor in eCommerce and its logistics. When you are managing multiple warehouses in different regions, synchronization is very important. To meet the customer's expectations, every element of the supply chain has to communicate with each other.
For example, inventory tracking mechanics in the warehouse needs to coordinate with the online store. So that if the customers want to know the whereabouts of their package they can simply log in to their account and track their parcel. Moreover, they can know if the product is in stock before completing the checkout process.
6. Make Sure to Manage the "Last Mile"
The Last Mile is that stage of the delivery process when the parcel travels the last part to the customer's door. It is carried out by third-party shipping providers or local couriers. And it is one of the most complicated parts of eCommerce logistics.
last mile costs can be anywhere between 28% to 53% of the total shipping cost.

Shipwire
It is challenging because it can make or break your delivery system. In rural areas, lack of transport or smooth path can hamper the delivery time whereas in urban areas that time is eaten up by traffic. Also, it is the final interaction between your brand and customers. So, make sure to leave a good impression so that your retention rate is good.
So, if you are an eCommerce store owner you need to have these capabilities of your store to have a chance of success.
However, if you are an owner of a marketplace, you need to come up with additional strategies in order to succeed. Because the marketplace model is a whole different ball game than a regular eCommerce store. But don't worry we got that covered in the next part of our article.
6 Strategies to Excel on Marketplace Logistics
eCommerce marketplaces have gained immense popularity. It is a platform that helps vendors of different backgrounds come together and display their products. Moreover, customers find various types of products in one place and it is very convenient for them.
However, if you are a marketplace owner and don't get your logistics strategy right then it can hamper the success. In a marketplace, the admin takes care of marketing and attracting customers along with keeping a tab on the transactions and user interface.
The vendors take care of the availability of the products and the shipping. Marketplace admin takes a percentage of the sale as his/her revenue from the vendors.
As marketplaces don't hold any inventory, they avoid holding costs. However, there are a few strategies you need to build as a marketplace owner for your logistics.
Strategies You Need for Marketplace Logistics:
Make sure you keep control of your marketplace product stock levels. You need to add inventory management software to your marketplace. Also, make sure if any product is out of stock or sold out, your marketplace will show the message.
You need to have an order management and order tracking system. Also, you need to have a centralized order management system as well with a dynamic checkout process.
Payment systems. These need to be integrated with your order and shipping frameworks. That means choosing a suitable payment gateway such as Stripe that can be customized for your marketplace needs.
Choose the right carriers and third-party shipping companies. As you may have vendors and customers from all over the world, you need to make sure that you have tie-ups with local and international shipping companies.
Implement the right return policies. Because when you have a smooth return policy then it will increase the number of loyal customers. Return policies have become more important as millennials embrace experiences over possessions, with many turning to rentals and 'try-and-buy' services.
Last but not least, make sure you are clear about the roles of your vendors. Define clearly what they can control like shipping, payments, etc.
These are the strategies you need to implement to get your eCommerce logistics on point. In addition, you need these features-
Multiple shipping methods
Order tracking system
Inventory management software
Payment methods
Store pickup..
On your marketplace in order to match the marketplace logistic strategy.

9 Challenges You May Face While Managing Marketplace eCommerce Logistics
Sometimes sending the parcel to the customer's doorstep will feel like an even bigger challenge than getting visitors to your eCommerce store. Yes, that's how complex managing eCommerce logistics is.
More than half (53%) of retailers say delivery and fulfillment logistics pose a "significant" challenge.
We are going to list the challenges you will face when you are setting up your logistics strategy and also try to give you the solutions.
Order Tracking
Managing Shipping Costs
Managing the eCommerce Return Process
Keeping up With Customer's Expectations & Demand
Shipping Across International Borders
The Pressure of Offering Free Shipping
Managing Local Inventory & Warehouse
Unforced Shipping Errors
Finding the Right Shipping & Logistics Fulfillment Services.
Let's see them in detail-
1. Order Tracking
This is the first challenge you will face when you are managing logistics. After the customer hits the "Confirm Order" button, the countdown begins. The next experience is very important for your brand, as it can make or break the shipping experience.
Customers are impatient and they would want to know about the whereabouts of their parcels. So, it is very important to implement a shipment tracking system in your eCommerce store. It will not only reduce the pressure on your live chat but also customers will get regular updates.
And even if the order is delayed customers will know beforehand and take measures accordingly.
2. Managing Shipping Costs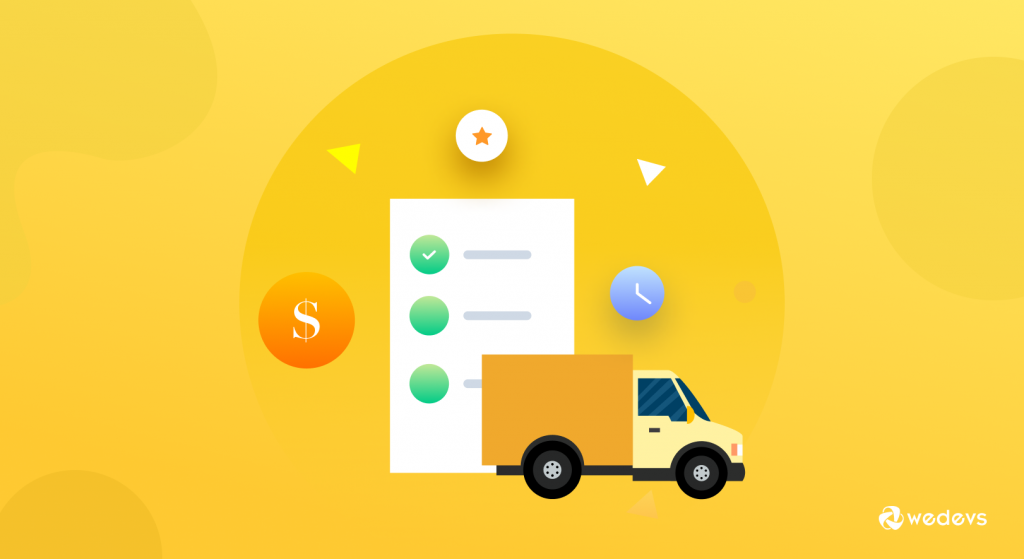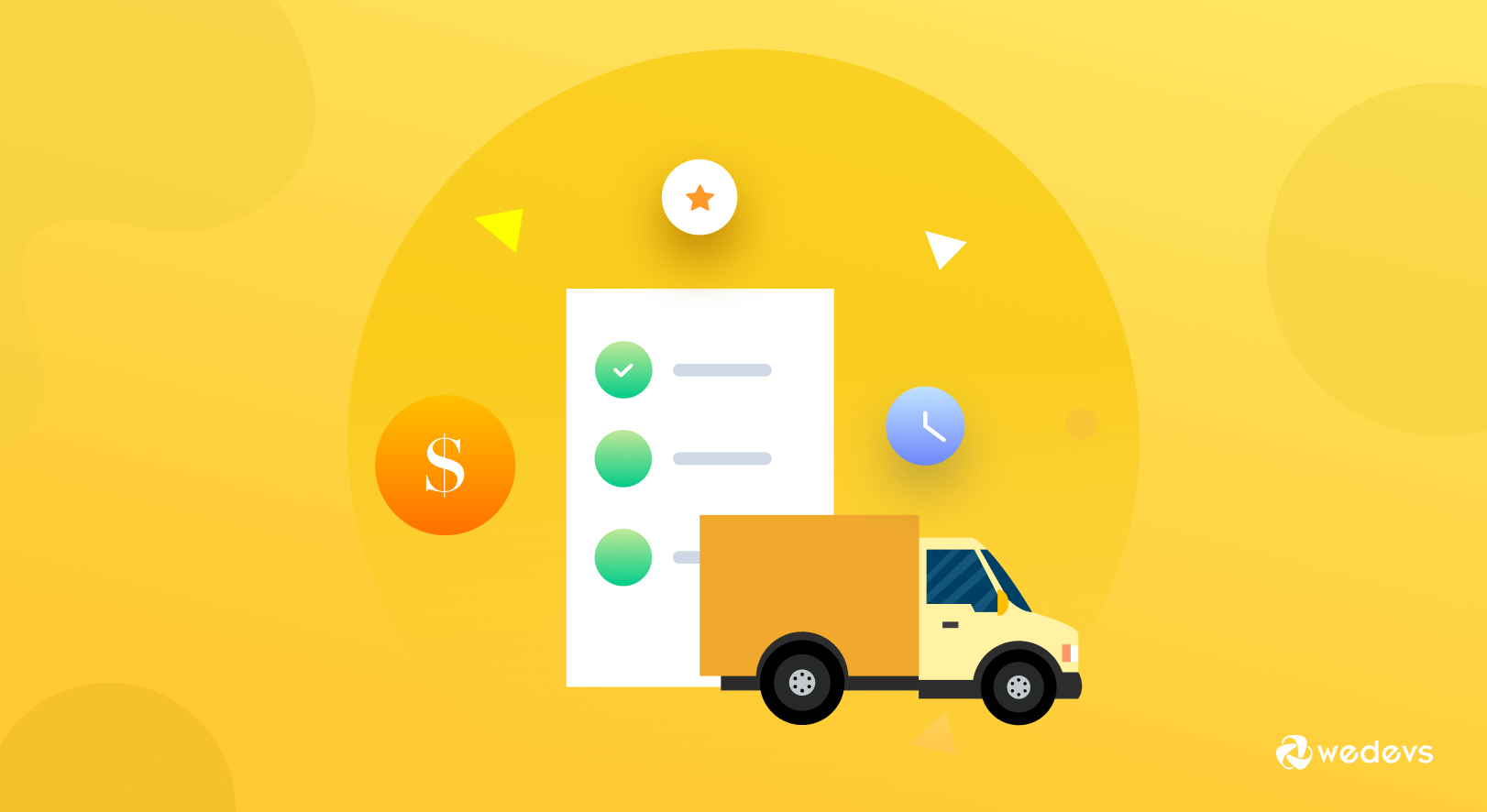 To ship faster or to ship at a lower cost? That is the question. It has been a challenge for eCommerce store owners for many years and it continues to be a challenge for everyone still. Finding the balance between these two is very difficult. You need to set your delivery charges so that it doesn't become a burden to the customer and also don't affect your profit margins as well. Customers are willing to wait if they have to pay less. But when they require express shipping it is better to offer extra fees on delivery fees.
3. Managing the eCommerce Return Process
Returns have become very normal for eCommerce businesses. If the item is wrong sized or damaged, the customers would want to return the goods.
30% shoppers returns the goods if they don't live up to their expectations.
So, the main challenge is to come up with a return policy that will help the customers. As 56% of customers will make a purchase decision based on the return policy. You must ensure that your reverse logistics for returns are as efficient as their shipping logistics.
4. Keeping up With Customer's Expectations & Demand
Don't bite off more than you can chew. The problem with online sales is keeping up with the demand of the customers. Without proper warehouse management, product supplies, etc it is very difficult to meet the customer's expectations.
So you need to ensure dynamic scaling logistics that will enable you to increase or decrease your supply chain without overleveraging your assets.
5. Shipping Across International Border
When you go global, you need to ship your products not only inside your country but also globally as well. Clearing custom fees, and taxes, you need to be prepared so that you don't get caught off-guard with additional fees. That is why you need to have a shipping partner that will present you with the true cost of delivery.
6. The Pressure of Offering Free Shipping


Who doesn't like to receive free products or free shipping? If you can offer free shipping, it will boost your product sales. But in reality, offering free shipping depends on a few factors like,
Value of the products
Weight of the items being shipped
Average ecommerce order amount
Customer's expected delivery window.
In order to offer free shipping and still make a profit, eCommerce brands need to tailor the shipping charges to the product cost and come up with an offer that suits both of them.
7. Managing Local Inventory & Warehouse
Well, as we said before, to ensure faster delivery you need to set up local warehouses and distribute your products. But when selecting the warehouse, you need to be very careful.
Selecting a place that is oversized will end up being expensive whereas choosing an undersized warehouse will create product backlogs. Also, you need to factor in the location of the warehouse so that it doesn't hamper the delivery window.
It is better to take suggestions from 3PL companies in order to choose the perfect warehouse that will be perfect for your inventory.
8. Unforced Shipping Errors
At the end of the day we are human and to error is human! Typing the wrong address, putting the wrong product in the package, losing tracking numbers, etc can happen at any time. It not only creates a headache for the eCommerce company but also frustrates the customers.
It's better to automate these processes rather than go manually. There is software available in the market that will take care of these.
9. Finding the Right Shipping & Logistics Fulfillment Services
Well, this is a no-brainer. Third-party logistics services will help fulfill a number of challenges. But, choosing the right logistics partner is also a challenge.
Although many eCommerce leaders outsource their fulfillment processes to 3PL providers, the key is finding a fulfillment service that respects the attention to detail your online brand has worked so hard to create.
So, these are the challenges you may face while you manage eCommerce logistics.
Bonus: How WooCommerce Helps in eCommerce Logistics Management
Creating an eCommerce store has become easy thanks to WooCommerce, a powerful WordPress plugin with rich features to create the perfect eCommerce store. It currently has 5million+ active installations and some amazing extensions to elevate your eCommerce store experience.
And yes, WooCommerce will help you with your eCommerce logistics as well. It has the necessary extensions available that will cover all the capabilities of logistics. We will go through them one by one.
1. Bulk Stock Management Extension to Manage Your Inventory
With the Bulk Stock Management extension, you will get a cool interface that will help with your eCommerce inventory. You can easily visualize and modify the stock levels for all your products.
The interface will show the products and variations with their stock status, SKU, and quantity. Also, you will be able to filter products by type, stock status, and more.

2. Multiple Shipping Methods
With WooCommerce you will get multiple shipping methods like Free Shipping, Zone Wise Shipping, etc. Under Zone Wise Shipping you will get the Table Rate Shipping method that will help you create flexible shipping rates for your eCommerce store.
Offering multiple shipping methods will help you increase your sales.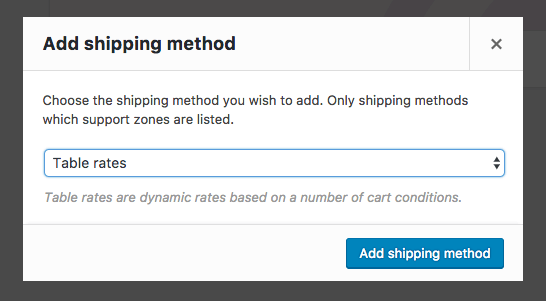 3. WooCommerce Print Invoices & Packing Lists Extension to Streamline Your Pick & Pack Process
For order accuracy, you can use this extension that you can use to print or email pick and packing lists straight from your WooCommerce Orders page.
After you install the plugin, a new action button will appear next to each order on the WooCommerce > Orders list. Clicking the documents icon will open a box with the option to print or email your lists. The extension also supports several bulk actions you can use to speed up your order fulfillment.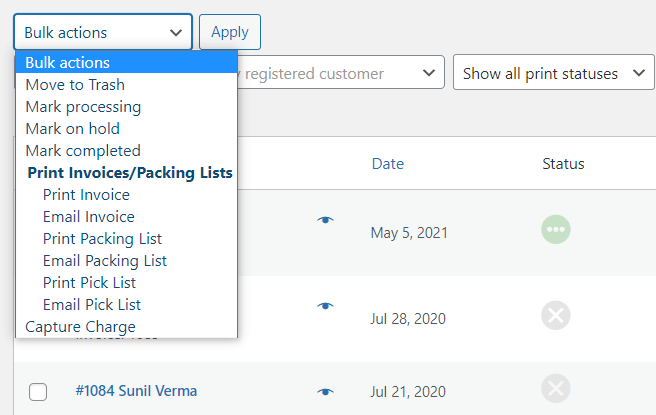 4. AutomateWoo Extension to Keep Customers in the Loop
Email is the most likely communication channel with your customers. This extension is a powerful email platform that you can set up to send automated emails with order status updates.
You could set up a flow for "order paid" and "is not completed" to send five days later. That way, if a customer pays for an order but it isn't completed within that five-day window, the customer would get a follow-up email apologizing for the delay.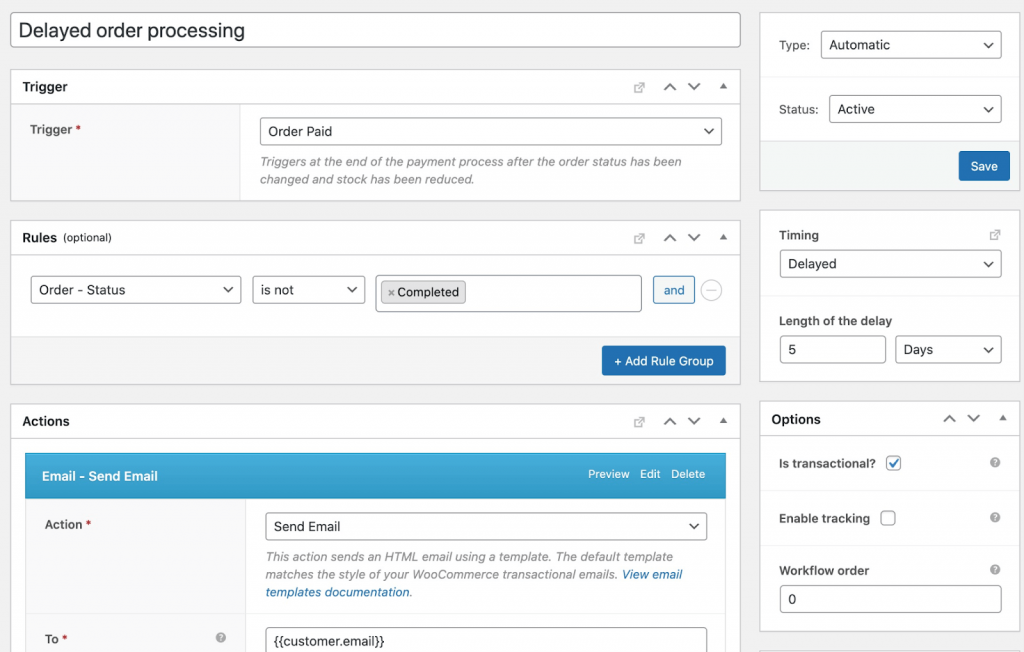 5. WooCommerce Shipment Tracking Extension to Track Orders
You can use this extension to give your customers the shipping information easily. When you download this plugin, your Edit order pages will contain a Shipment Tracking panel. You can use this to add tracking details to the order. The tracking information will then appear in transactional emails and the customer's account.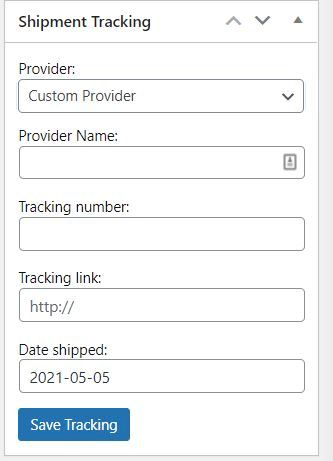 This is how WooCommerce helps with managing the eCommerce logistics.
And if you have a marketplace built with Dokan, a WooCommerce powered marketplace plugin, you will get modules and features that will help your vendors to manage their logistics and you will also be able to overview everything.
FAQ(s) for eCommerce Logistics
Is logistics part of e-commerce?
Logistics involves the management of products or resources that are in storage and/or transit. So, yes, logistics can be a part of eCommerce. When applied to e-commerce, the process enables businesses to ship orders to customers. If you're running an e-commerce site, you'll come across the term logistics management.
What is the difference between logistics and e-logistics?
The E- logistics is more reliable and fast than traditional logistics. In Traditional logistics accountability of shipments is linked to the limited supply chain but in e- logistics, the accountability is expanded in the whole supply chain.
How do logistics work?
Logistics companies plan, implement, and control the movement and storage of goods, services, or information within a supply chain and between the points of origin and consumption.
How is e-commerce changing the logistics industry?
Just in time delivery has replaced the traditional long haul deliveries. This has led to an increasing preference for single warehouse locations rather than multiple storage facilities. Freight forwarders are also altering their fleet composition to cope with the demands of e-commerce.
What are the 3 types of logistics?
Logistics has three types; inbound, outbound, and reverse logistics.
Manage Your eCommerce & Marketplace Logistics Like a Pro!
Hopefully, you know more about eCommerce logistics now before reading this article. And also you can now overcome the challenges to successfully manage the logistics part of your eCommerce store.
The key takeaways from this article are,
Manage your local inventory
Analyze Your Data Before Making Decisions
Implement shipment tracking
Manage the return process
Choose the right logistics partner
Automate where possible
Manage the shipping costs efficiently.
Finding success in the eCommerce industry is tough. So you need to do the basic things right then think about doing something out of the box. And eCommerce logistics is basic as it gets. Follow our guide and do it right.
And if you have any more points to add, don't forget to comment below.