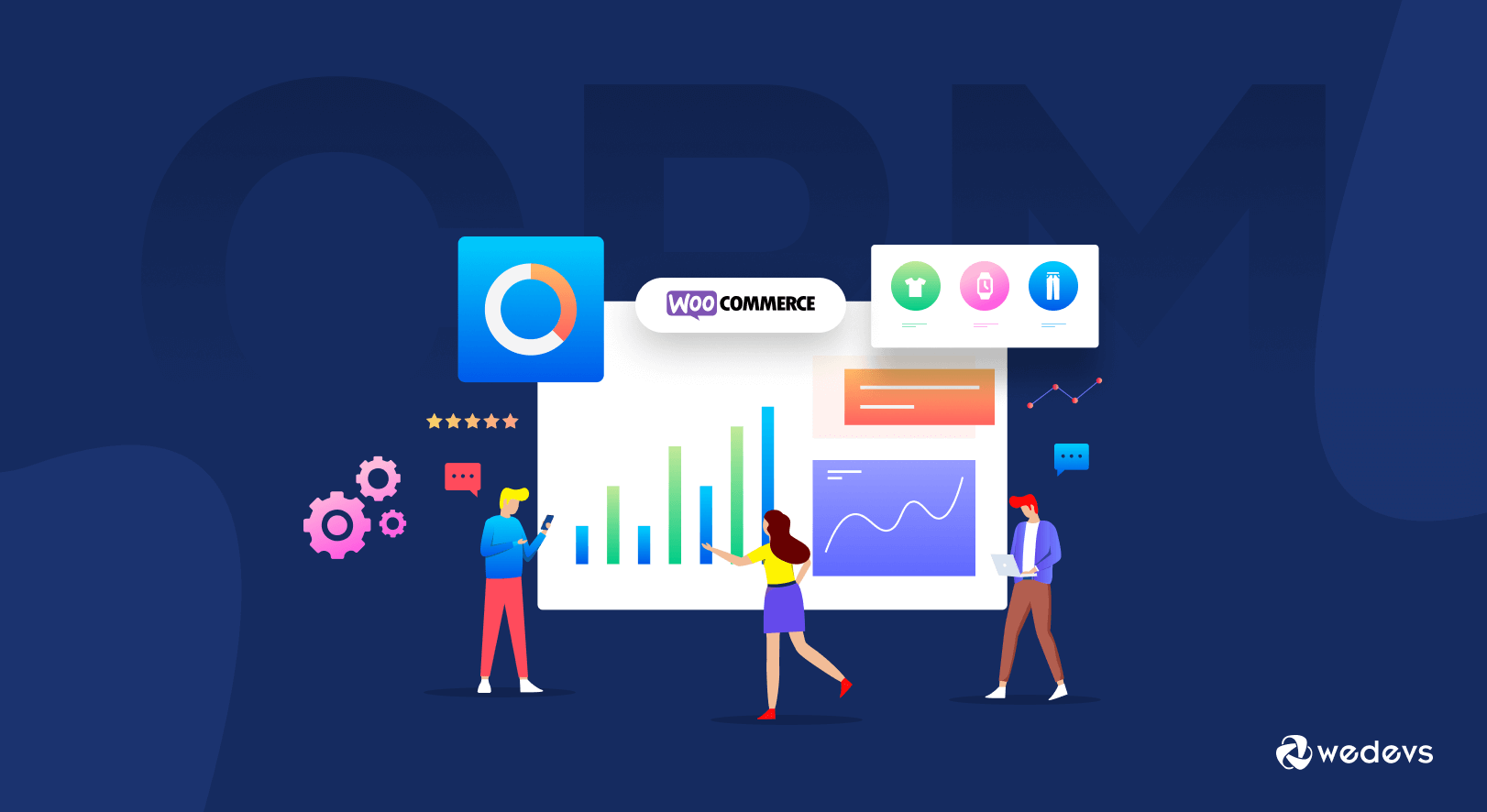 Importance of eCommerce CRM: A Guide to WooCommerce CRM
There is no doubt that WooCommerce is a perfect solution to build your eCommerce store. The secret behind WooCommerce's success is its scalability and customization opportunities. Because when you plan to deal with your customers in a more efficient way and retarget them, there's a gap. WooCommerce fills that gap.
By default, you can only see basic details and your customer's previous orders. That is where a WooCommerce CRM (customer relationship management) system comes into play.
WooCommerce along with a CRM system helps you to have an overview of your business and helps you to determine potential sales opportunities. So, for an eCommerce business, this tool works as a goldmine.
Researches say- A CRM application can help you increase sales by 29%.
With an efficient eCommerce CRM system, you can-
Engage potential buyers
Store relevant customer information
Understand your customers better
Lower your customer management costs
Track customer lifecycle and repeat transactions.
Today in this blog we'll show you how to choose and utilize an eCommerce CRM for your WooCommerce store.
Let's start with this basic question-
What Should You Look for in a WooCommerce CRM Software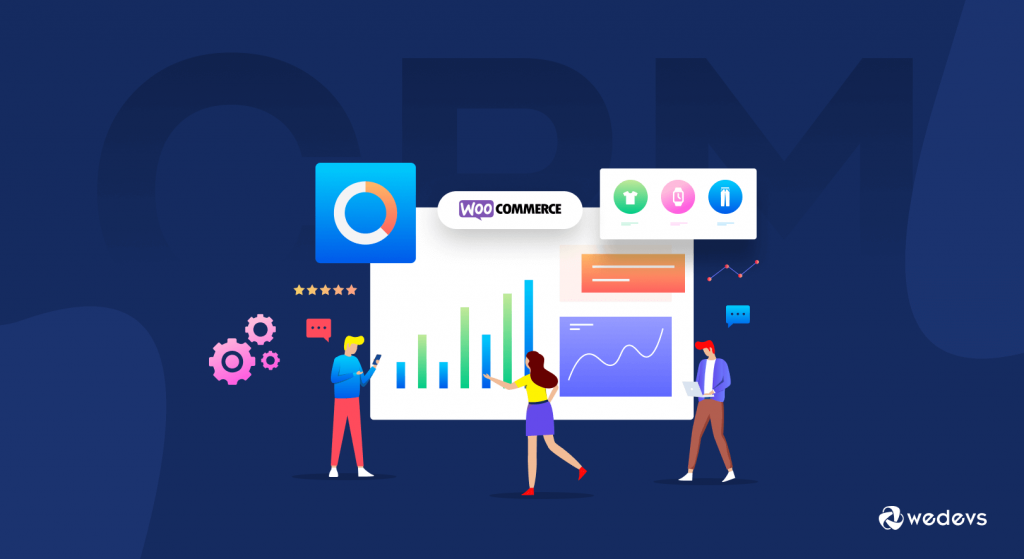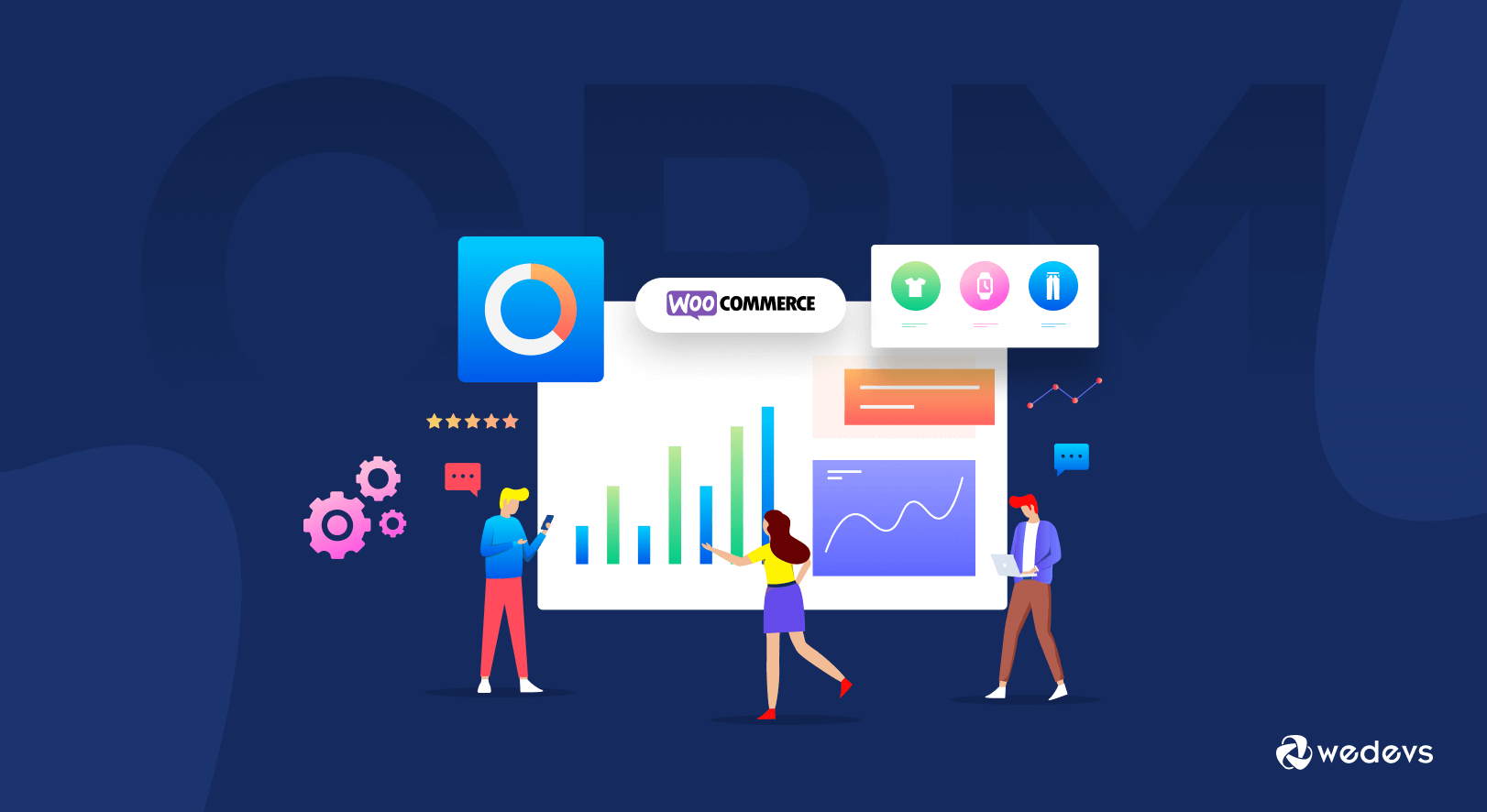 Finding the perfect WooCommerce CRM system that will comply perfectly with your eCommerce store is a bit difficult. However, if you know what you are looking for and what features you want, then this task can become easy.
A good eCommerce CRM system will help you understand and connect with your customers. And if you use it wisely, you can build better relationships, market more effectively, and offer better customer support. So, when you are choosing your CRM system, these are the following features you should look for,
Auto Sync all Your Customer Data
Control Over Data Import
Complete Sales Overview
Individual Customer Profiles
Smart Data Segmentation Rules
Activity Tracking
Subscription Management.
Let's see them in detail-
Auto Sync all Your Customer Data
A WooCommerce CRM system makes your work easier and automates most tasks. One of them is not having to enter your data manually.
You can easily sync your data between your CRM system and your store without the hassle of data import/export. Beyond customer details, you can easily sync orders, order status, etc.
Control Over Data Import
You can control what kind of data you want to add to your CRM system. Like adding life stages to every contact according to their status, set an owner for every contact, etc.
Complete Sales Overview
As a CRM system stores all the data in a centralized location, you will see all the details regarding your orders in one place. That way you will know which order is incomplete and take action accordingly.
Individual Customer Profiles
Whenever a customer buys a product, registers on your site, or places an order, a separate profile will be created for each of them by the CRM system. This way it will become easy to retarget them and also help you understand customer behavior and their order status.
Smart Data Segmentation Rules
Now, this is an important and interesting feature. If you know about contact segmentation then you know how useful this feature is. You can create detailed segments based on users' behavior.
For example, you were segmenting your highly-valued customers or customers who purchased a certain product and targeting them separately.
Activity Tracking
This feature comes with customer profiles. You can track what every customer is doing on your site. Like when they placed an order when that order was completed, if they gave any other orders, etc.
Subscription Management
If you can get your users to signup to your newsletter during checkout and then add them to a particular contact group of your choosing then you can retarget those users as well.
You can do that with your WooCommerce CRM system easily.
So now that you know what features to look for in an eCommerce CRM system, let's look at the popular CRM systems that integrate smoothly with WooCommerce.
Popular WooCommerce CRM Systems

There are not many CRM solution that has these necessary features in WordPress for WooCommere stores. But if we have to make a list, then two of them desire a position for sure.
WP ERP CRM
WooCommerce CRM by Jetpack
Other popular WooCommerce CRM are-
Metrilo
Agile CRM
Ninjodo
Salesforce Connector for WordPress WooCommerce
Sales AutoPilot for WooCommerce
WP-CRM System
ReadyCloud CRM
HubSpot for WooCommerce
WooCommerce Integrations with Email Platforms
We are going to cover the first two-
WP ERP CRM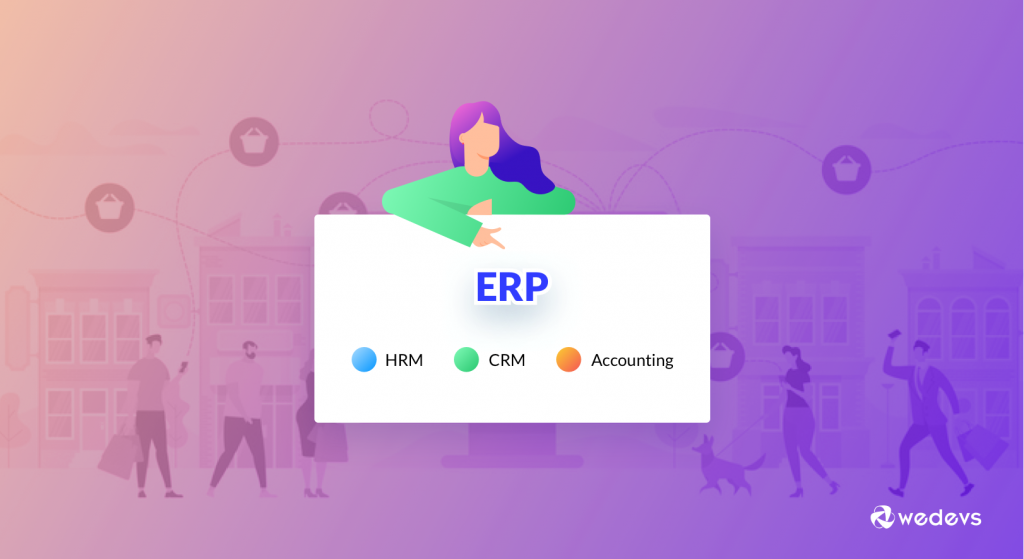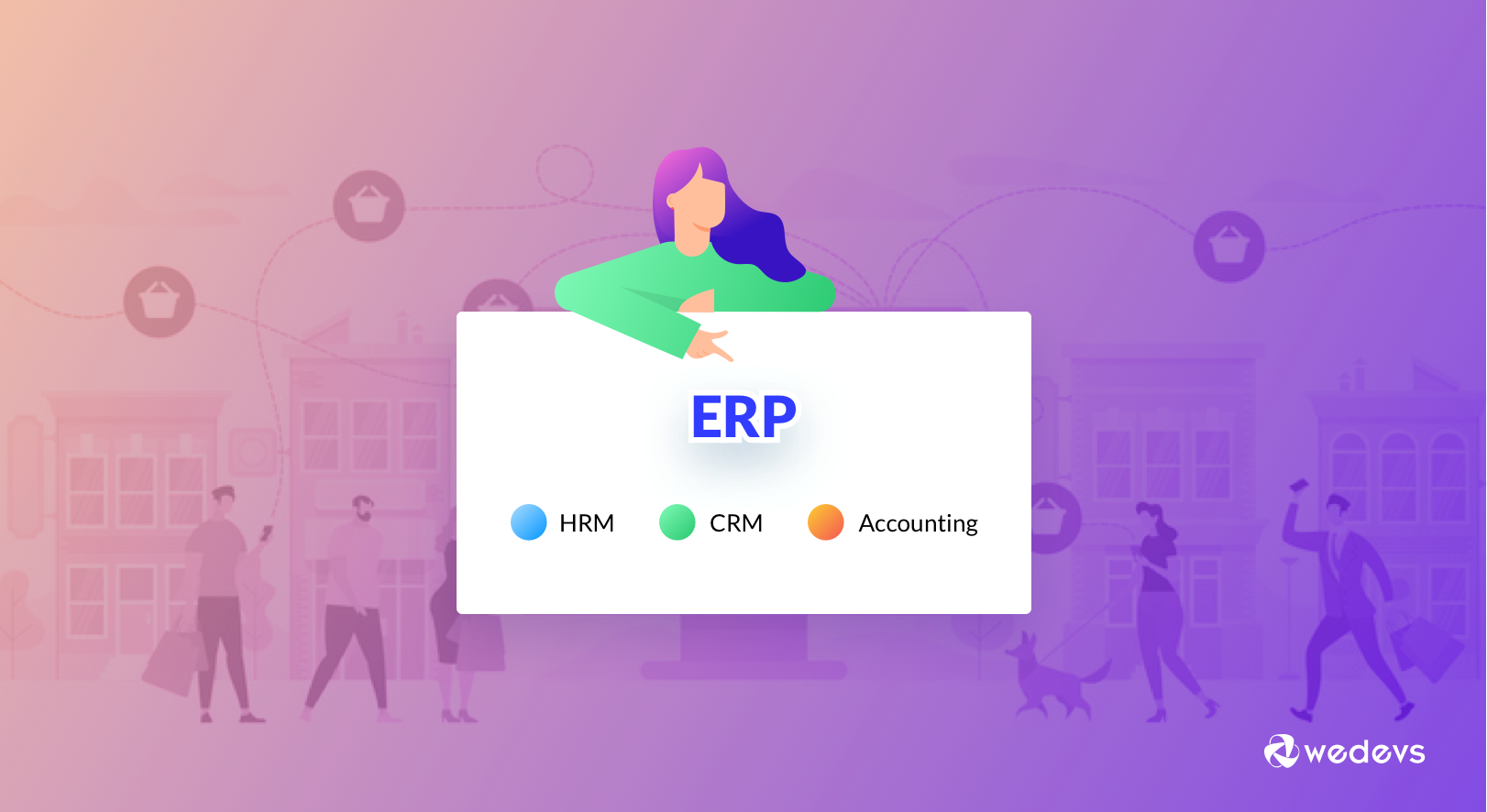 Using WP ERP CRM for WooCommerce, you can easily track & follow up the queries from leads, subscribers & clients. Here are some amazing things you can do using WP ERP CRM WooCommerce integration,
Manage your WooCommerce customers like a pro
Keep all their valuable data in an organized way
Create groups and assign customers to them depending on various characteristics
Schedule meetings, calls, and SMS
Create tasks for your sales agents or team members
Log activity for future events
Segment your contacts in four different stages – Subscriber, Opportunity, Lead, and Customer
Get a bird's eye view of your customer base and get a clear understanding of whats happening on your CRM.
WooCommerce CRM by Jetpack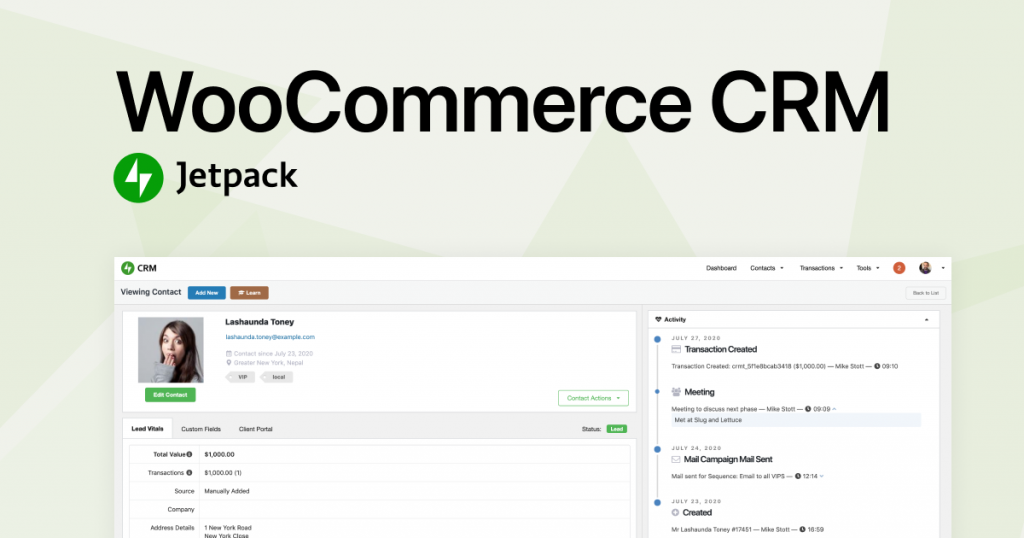 This is an extension created by WooCommerce itself. This extension will help you convert more leads into customers. You will see everything in one place. Also, you will view how many orders a customer has made and quickly view that contact's full record. Here are some amazing features of this extension,
Send emails and create email campaigns
Modular and extendable
No limits on the number of contacts in your CRM
All orders are imported and assigned to your contacts.
We will talk about the WP ERP CRM plugin as it is the best one of these two. Let's see how to install and use WP ERP CRM on your WooCommerce store.
How to Install WP ERP CRM for Your WooCommerce Store
Before starting you need to have the following plugins installed on your WordPress site,
WooCommerce
WP ERP Free Version
How to the Configure CRM Module
There are three modules in WP ERP,
We are going to configure the CRM module.
First, you need to enable the CRM module and then configure the module for your WooCommerce store. You can set up your eCommerce store general information while choosing the ERP modules you want to use.
Here are the steps to install and configure WP ERP CRM-
Setting Up WooCommerce CRM Extension
Sync WooCommerce Data with CRM
Subscription Settings
Segmentation
Setting Up WooCommerce CRM Extension
You will find the WooCommerce CRM extension in WP ERP> Modules. Then activate WooCommerce.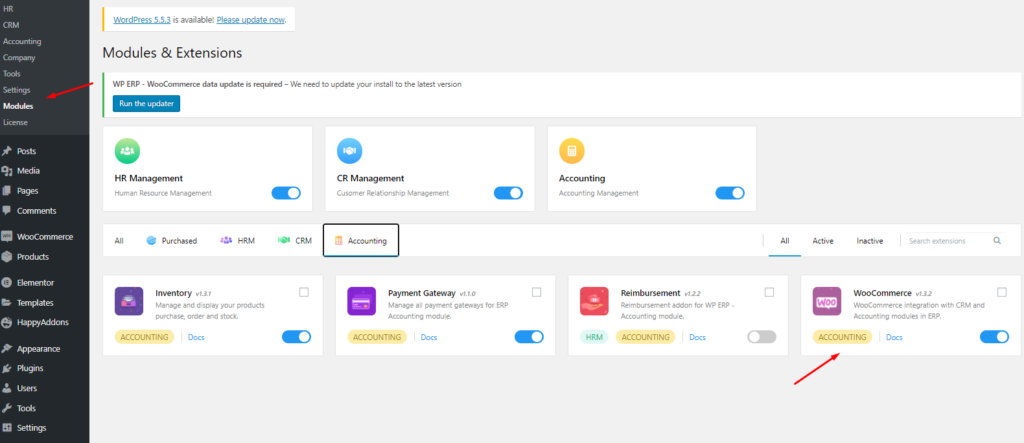 After activating the extension, you can configure it from the WP ERP Settings menu on your WordPress Admin Dashboard. On the WooCommerce tab, you will find four separate options – Synchronization, Subscription, CRM, and Accounting.
Click on the Synchronize Data button to sync all the data.
Sync WooCommerce Data with CRM
You can sync all your existing WooCommerce data with the CRM system in one click. Select Yes to enable the CRM Sync option.
Also, you can select the life stages of the customers. For example, when a customer places an order you can mark the customer as Lead or Opportunity.
Moreover, choose a default contact owner for every contact.
Read: How to use WooCommerce CRM Integration for WP ERP.
Subscription Settings
You can create an easy subscription process for your customers using the WooCommerce CRM integration. You can add an auto sign-up option for your customers when they checkout. For this, visit the Subscription menu on the settings page. Now, check the box – Show signup at checkout.
This is how your customers will view the subscription option while checkout.
Segmentation
You can filter your contacts using the smart segment option. WooCommerce billing, shipping, order, etc. information can be used to create new searches. You can use these saved searches to sent newsletters and emails using different email plugins.
You can also view your contacts profile individually as well. Just click on the contact name and you can see their individual profile as well.
Learn all about WooCommerce CRM of WP ERP and take control of your online store.
That is how you can install WP ERP CRM for your WooCommerce store and build better, stronger relationships with your customers.
FAQs about WooCommerce CRM
Here are the answers to some queries that users were asking online-
1. Does WooCommerce have a CRM?
Ans: WP ERP CRM. It is the best CRM software for big/medium/small companies. With its rich features, you can manage your WooCommerce customer data, build a strong relationship, design effective marketing campaigns, and offer better support.
2. How do I manage customers in WooCommerce?
Ans: By using a WooCommerce CRM system. A CRM system will work as a centralized database system where all your customer data will be stored. You can get every detail regarding every customer and easily manage them.
3. How do I change my order details in WooCommerce?
Ans: Go to WooCommerce > Settings > Order Statuses to view, create, and edit new WooCommerce order details.
4. What is the best CRM for eCommerce?
WP ERP CRM is the best CRM for eCommerce. With its rich features, you can manage your WooCommerce customer data, build a strong relationship, design effective marketing campaigns and offer better support
Take Control of Your WooCommerce Store using a CRM System
When you have an online store you can't ignore the fact that you need a strong customer relationship. For this, you will need a suitable WooCommerce CRM system. That is why store owners look for CRM solutions for their businesses.
In this write-up, we have mentioned WP ERP CRM, the perfect CRM solution for any WooCommerce store.
But in the end, the solution you choose comes down to your specific needs. And we are hopeful that WP ERP CRM will meet every criteria of any WooCommerce store owner.
So, why wait? Purchase WooCommerce Integration for WP ERP today and give your WooCommerce store a fully functional CRM application. We have mentioned two exciting tools. You can always try the WP ERP demo for both of the tools and find out whether it's effective for your business or not.