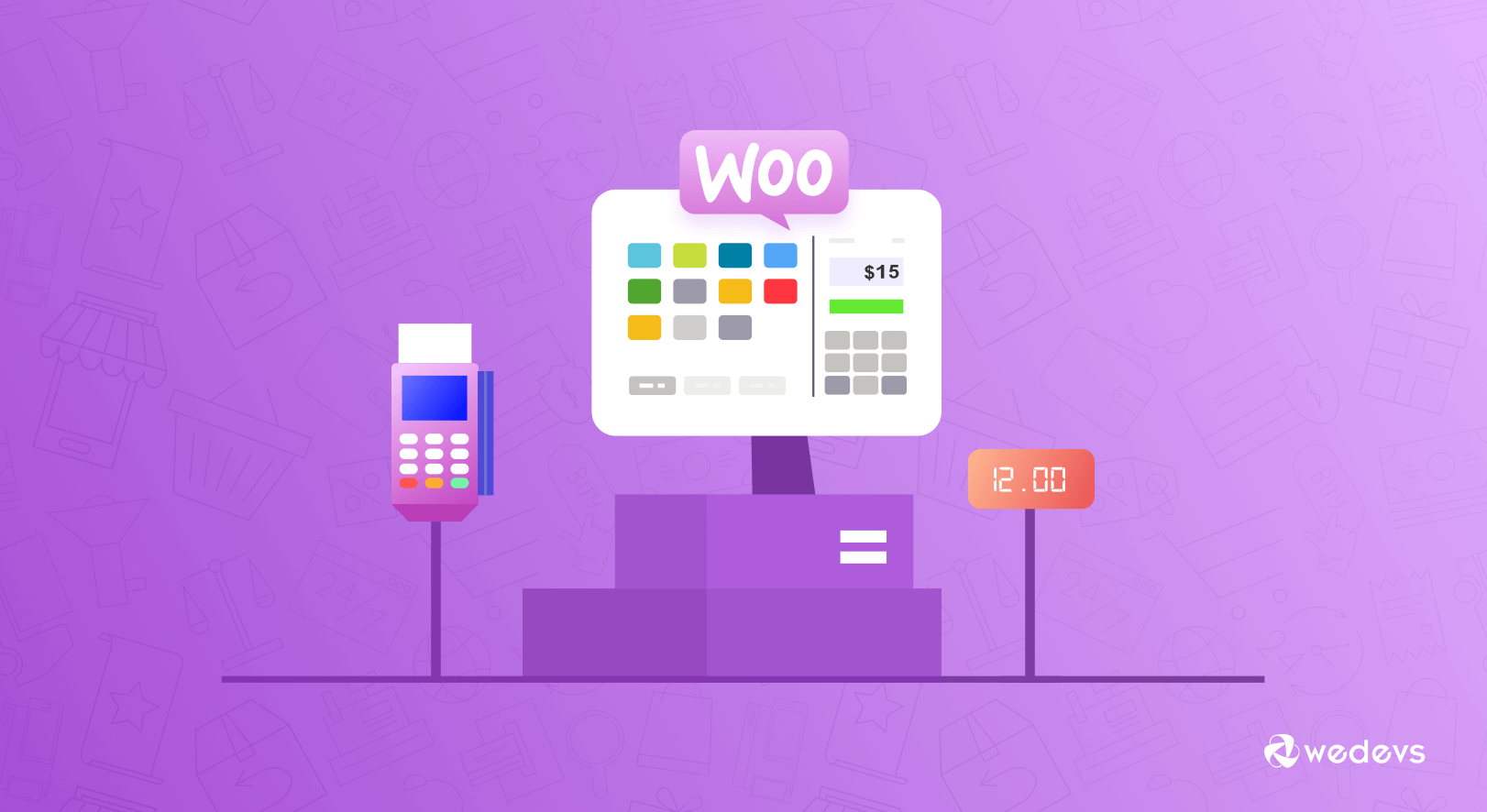 5 Best WooCommerce POS Plugins for 2023
If you are running a WooCommerce site you can synchronize all the data regarding product billing and stock calculation with the best WooCommerce POS plugin.
It will automate your store management system by taking orders, processing transactions, updating inventory and maintaining analytics.
Integration of a fast and responsive WooCommerce Point of Sale (POS) plugin allows you to take orders and track your inventory through the WooCommerce store.
While picking the best POS system for your online store you should consider the following aspects carefully:
Usability and unique features
Payment gateways
Supported platforms and devices
Set-up cost and compatibility with your eShop
Integration with third-party plugin
In this article, we have listed the top 5 WooCommerce POS Plugins for WordPress that you can choose the best fit for your eShop easily.
Best WooCommerce POS Plugins for WordPress
POS Plugins simplify the process of order taking & inventory management. Here are the top 5 POS solutions for WordPress users.
wePOS
Hike POS
WooCommerce POS
WooCommerce Square
Lightspeed POS Integration
1. wePOS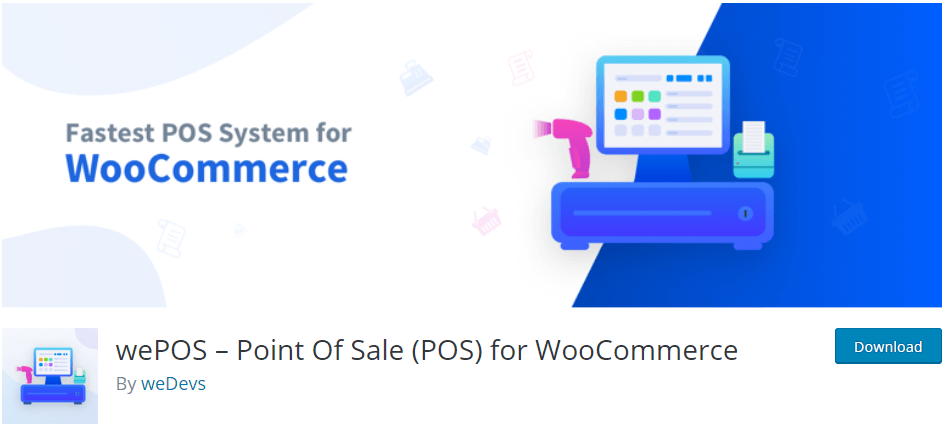 wePOS is a fast promising WooCommerce Point of Sales plugin. If you have a WooCommerce store it needs only a few clicks to integrate a smart solution with wePOS. It simplifies the process of tracking inventory and managing orders effectively.
With this smarter Point of Sale system, you can trigger all the POS functionality on your WooCommerce shop in an optimized way. It's a single-page application that can process all the orders and transactions super fast. Therefore, you will get a boost to your business growth and customer experience.
Furthermore, you will get a user-friendly and attractive interface that is easy to operate. With wePOS you can organize your eShop appropriately and find an efficient approach to counting inventory.
Surprisingly, you can manage your physical shop along with the online store in a disciplined way by using shortcut keys. It let your sale executive read the QR codes and process the orders with pace.
Specially designed for WooCommerce
Advanced UI design
Custom barcode support
Able to handle multiple orders at a time
Super responsive and compatible with all sized devices
Easily integrate with your online and offline retail store
Price & Support: Free version is available now. The Premium version is about to launch soon. However, you will get 24/7 support with the free version also.
2. Hike POS

Hike POS is a renowned retail POS software in the cloud to manage your business with intuitive inventory and insightful reporting. It is a fully customized all-in-one plugin to run and grow your business widely.
With Hike, you can improve your sales, customer service, and inventory management system seamlessly. It elaborates your ability to manage all your sales channels and transactions accordingly. This advanced solution works smoothly on all devices like iPad, PC, and Mac.
Most amazingly, Hike also works offline so you can do business even when the internet is down. The data will be synced automatically back to the cloud when you will be online again.
Hence, it is more reliable and faster compared to generic cloud POS systems. Also, this robust solution is suitable for all types of online retail businesses.
Highlights of Hike POS:
Custom design for each register
Better sales reporting analytics
Barcode scanning
Compatible with other accounting, eCommerce, payments & marketing apps.
No limit for adding cash registers, users or even store locations
Price & Support: Different packages are available starting from $59 USD/month to $129/month. We will get an option of a 14-days free trial with 24/7 customer support.
3. WooCommerce POS

WooCommerce POS by kilbot provides a simple interface for taking orders using your WooCommerce store. It can be a great alternative to Vend or Shopify POS.
This self-hosted system uses the same database as your store. Therefore you can own your data without monthly subscription fees. Also, your inventory will always in sync with all transactions. You can configure and use this WordPress plugin following a few easy steps or you can do it manually as well.
In addition, with the premium version of WooCommerce POS, you can explore more advanced features like payment gateways, customer relationship management, multiple report generator, and many more.
Highlights of WooCommerce POS:
Translatable into your native language
Compatible with all browsers
Fast searching and filtering products
Quickly adjustable product inventory, titles, and price
Add and choose a shipping method and set tax rate
Create multiple stores with multiple tax rates and custom receipts
Price & Support: You can acquire the free version without spending a penny. The pro version comes at $129 USD for a single site license including 1 year of upgrades and support.
4. WooCommerce Square

Square Point of Sale is a cloud-based POS software that can be integrated into your WooCommerce store to enable retail POS functionality. It allows you to sync inventory and product data connectively between WooCommerce and Square POS.
Square is a leading point of sale system that will help you to manage the inventory, direct all the transactions, generate reports and receipts, and so on. After installing this plugin in your WooCommerce store it will automatically update and synchronize all the changes in your inventory from Square to WooCommerce.
Highlights of WooCommerce Point of Sale:
Provide chargeback protection
Fast fund deposits
Track your sales and listings across all channels on a common platform
Supports online payments through all major debit and credit cards worldwide.
Price & Support: $79 USD for a single site subscription. The subscription comes with one year of updates and support.
5. Lightspeed POS Integration

Lightspeed POS Integration allows you to run the business with all functionalities connecting your WooCommerce store and Lightspeed Point of Sale account concurrently. It will keep the inventory in sync and conduct all the transactions smoothly.
With Lightspeed POS, you can manage inventory, service, data, staff, and customer relationships from a single interface.
Highlights of Lightspeed POS Integration:
Manage all transactions from one platform
Communicate and sync the inventory when a new sale comes
Help to update the stock qualities in the WooCommerce interface
Manage inventory across multiple channels
Price & Support: It costs $149 with 30 days money-back guarantee. Also, it offers support teams world-wide and safe online payments.
FAQ on Best WooCommerce POS System

Let check the most popular queries about integrating WooCommerce POS before making the final decision.
What is a POS System?
The point of sale or point of purchase is a computerized system that allows a retail shop owner to process an order, the number of products that customers take, calculate the amount, complete the transaction, update the inventory, generate invoices for the customers and refer the options for the customer to make payment.
With an advanced POS system, you will be able to take orders and count your inventories in the easiest manner.
What is WooCommerce POS?
You can integrate a POS system in your WooCommerce store to manage the orders and track the stock simultaneously. It's a smart approach to automate your store management system and handle all the data from a common platform.
How does the POS system work?
A smart POS system manages all the data regarding processing orders, tracking inventory, sale transactions, and payment methods from a centralized database. It maintains communication among all the departments and updates the database immediately. Hence, it automates the stock management and billing system.
Why should you consider a POS system for your store?
A POS system with built-in stock control features can sync your stock while you complete a sale. Therefore, you can easily track product movements and make smarter decisions about purchasing and sales. It saves your time and effort and maximizes the profit line by aligning all the management procedures in an organized way.
What are some of the pros and cons of WooCommerce POS?
A POS system allows a trade merchant to effectively track sales, update inventory, maintain sale trends, generate expenses reports in detail as well as allow you to manage employees and other store operations.
However, sometimes people find it a little bit costly and face difficulties to adopt the new system.
How much does a POS plugin cost?
It depends on your business size and customer quantity. However, you can lower the initial cost by installing a free POS plugin on your WooCommerce store.
How do I use wePOS?
You can track your sales and inventory easier than ever with wePOS. You can simply integrate this POS functional plugin in your WooCommerce store following a few easy steps.
We assume that you have a WordPress site, powered WooCommerce shop. Now, to install the wePOS plugin, go through this brief documentation.
Final Thought
An automated Point of Sale system extends the capability of your business synchronizing all the data regarding customer management and purchase details. If you own a WooCommerce shop then get the best WooCommerce POS for your eShop to keep all the transactions transparent and manage the stock concurrently.
In order to manage every part of your WooCommerce business effectively with inventory management and analytics, you should introduce a smart POS solution into your business immediately.